You must have heard of or seen "MBTI personality types" or "Myers-Briggs personality types" somewhere on the internet. Now, if you're already familiar with it, that's great! But if you're not, it must have got you scratching your head because what can "INTP" or "ENFP" even mean? Four letters strung together give nothing away, do they?
Click on the image below to know about the anime characters of your specific MBTI Personality Type.
Don't worry, though! Today we'll go over each of the 16 Myers-Briggs anime personality types and understand them through an anime character of that personality type you are most familiar with.
We'll also take a look at some other anime characters of each personality type so that you can get a better idea of it.
Just like it is possible to assign a personality type to individuals in real life, it's possible for fictional characters from movies, books, TV shows, anime, manga, etc. too!
But before we get to it, let's go over some deets.
What is MBTI or Myers-Briggs® ?
The MBTI test (Myers-Briggs Type Indicator®) is a personality test that assigns a personality type from sixteen personality types based on four psychological functions of perception and decision-making of the Myers-Briggs Theory: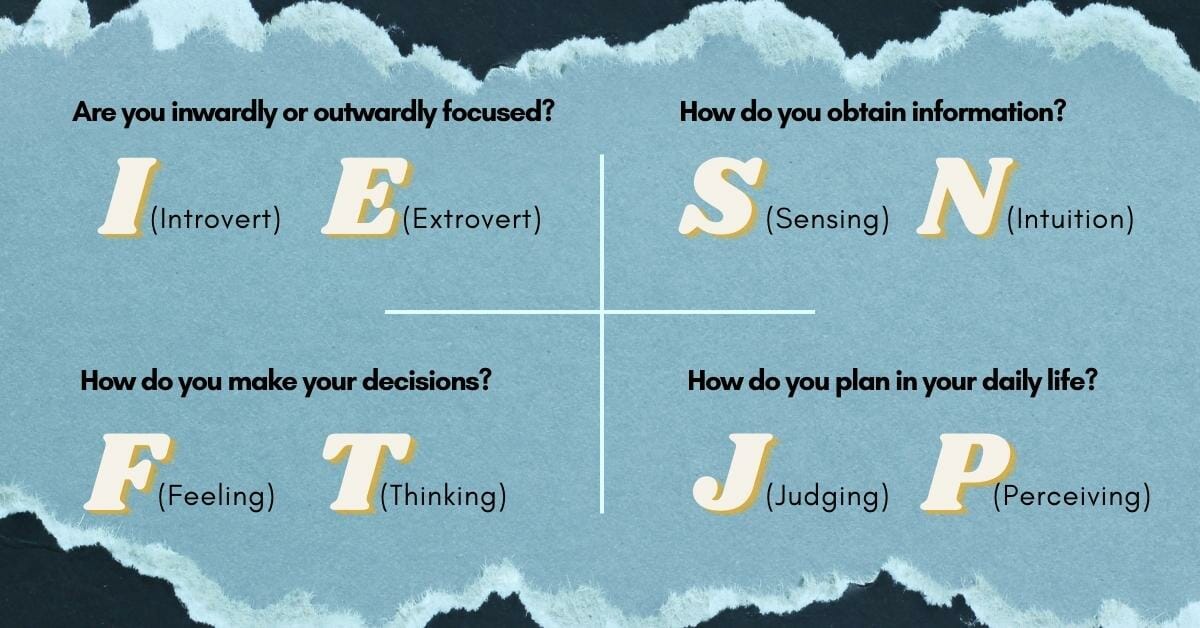 Introvert (I) or Extrovert (E)
Sensing (S) or Intuition (N)
Feeling (F) or Thinking (T)
Judging (J) or Perceiving (P)
Now with the basic stuff out of the way, let's dive into the main course, anime MBTI!
Well, if you don't know your MBTI personality type, you can always take a test.
ESTJ – The Supervisor/Executive
ESTJ individuals are faithful to their traditions and principles, and others often look up to them and seek their advice or support.
Naturally, it's easy for others to follow them. It makes them great leaders who use their skills efficiently to mobilize their group by assigning proper roles for proper tasks. 
In anime, they are mostly the "role model" archetype. They are rational, organized, managerial, and very productive and make practical decisions that produce desirable results.
JEAN KIRSTEIN (ATTACK ON TITAN) – Jean Kirstein is one of the best representations of the ESTJ personality type.
Remember him taking charge to lead his squad to the headquarters when the place was prowling with titans in season 1? Or when The Armin asked him to take the lead temporarily to handle the situation during the Shiganshina Arc?
Jean's leadership abilities, reliability, and excellent judgment become more apparent throughout the series.
Although he does not take a clear leading position like Erwin Smith or Hange Zoe, his friends and comrades find it easy to rely on his judgments and decision-making abilities.
Other notable ESTJ Anime Characters:
Erza Scarlet (Fairy Tail)
Vegeta (Dragon Ball)
Maki Zenin (Jujutsu Kaisen)
Sebastian Michaelis (Black Butler)
Nami (One Piece)
Vegeta (Dragon Ball)
Tenya Iida (My Hero Academia)
Kugisaki Nobara (Jujutsu Kaisen)
Floch Forster (Attack on Titan)
ENTJ – The Commander/Leader
ENTJ-type individuals make great leaders. Their eyes are always fixed on their goals, and they work really hard to achieve their dreams.
In anime, too, an ENTJ is most likely to be the best "leader." Many ENTJ tend to become the antagonist or the villain of the story.
Now, it is not to infer that ENTJ individuals are "bad" people; it is simply an observation that many famous anime antagonists are ENTJ.
Their antagonistic tendency usually stems from their highly ambitious goals backed by a strong will and a calculative mind. They make bold and bizarre decisions and are capable of sacrificing more than others. Thus they often clash with the protagonist of the story.
GRIFFITH (BERSERK) – Griffith perfectly personifies every characteristic of the ENTJ personality type. He is a true leader who confides in his comrades and carries out his missions flawlessly.
The Hawks trust him and blindly follow him because of his exceptional leadership abilities.
But his strong ambitions make him sacrifice everything and everyone around him, making him one of the best antagonists in anime.
Other notable ENTJ Anime Characters:
Erwin Smith (Attack on Titan)
Light Yagami (Death Note)
Bakugo Katsuki (My Hero Academia)
Uchiha Madara (Naruto)
Frieza (Dragon Ball)
Roy Mustang (Fullmetal Alchemist: Brotherhood)
Muzan Kibutsuji (Demon Slayer: Kimetsu no Yaiba)
Ryomen Sukuna (Jujutsu Kaisen)
Dio Brando (JoJo's Bizarre Adventures)
ESFJ – The Provider/Consul
ESFJ individuals are known to be very caring and helpful. Since they give to get their energy from being around many people and interacting with them, they tend to gain the spotlight without trying.
In anime, those of the MBTI personality type ESFJ often play the role of a "supportive friend" who gets along with everyone and is very considerate, pleasant, and generous.
They are usually easy-going and good to be around, and more often than not, they act as a support system to the protagonist. So whenever they are on screen, you feel the latter is safe around them.
REINER BRAUN (ATTACK ON TITAN) – Reiner Braun is one of the many-layered characters in Attack on Titan, yet you can tell he is an ESFJ.
He is initially the "big brother" character to Eren and a helpful and supportive friend to all the 104th cadets.
Keeping aside his conflicted mind, deep down, he is someone who genuinely cares about his friends and moves without thinking whenever someone close to him needs help.
Other notable ESFJ Anime Characters:
Asuna Yuuki (Sword Art Online)
Historia Reiss (Attack on Titan)
Sakura Haruno (Naruto)
Shouko Nishimiya (A Silent Voice)
Tohru Honda (Fruits Basket)
Leorio Paradinight (Hunter x Hunter)
Ochaco Uraraka (My Hero Academia)
Maka Albarn (Soul Eater)
Shiina Mayuri (Steins;Gate)
ENFJ – The Giver/Protagonist
ENFP personality type is associated with charisma that moves people. These individuals have an appeal that attracts people to them. They are sincere, accepting of others, and have the power to bring people together, so they can also be fantastic leaders.
In anime, individuals of ENFP MBTI type are the "inspirer." They may be the main character or a character that strongly impacts the lives of those around them.
You somehow always feel their presence in their story, even if they do not have much screen time. These characters are usually fan-favorites.
KAMADO TANJIRO (DEMON SLAYER: KIMETSU NO YAIBA) – Kamado Tanjiro, the main character of Demon Slayer, is a character you cannot dislike.
He is highly charismatic and full of life despite his burdens, and everyone who meets him instantly warms up to him (this includes friends AND enemies, what a guy!).
Kamdo inspires everyone around him without realizing it. He is also a wonderful brother and friend and acts as a responsible leader of the main trio.
Other notable ENFJ Anime Characters:
Oikawa Tooru (Haikyuu!!)
Rock Lee (Naruto)
Vinsmoke Sanji (One Piece)
All Might (My Hero Academia)
Falco Grice (Attack on Titan)
Rengoku Kyojuro (Demon Slayer: Kimetsu no Yaiba)
Minato Namikaze (Naruto)
Emma (The Promised Neverland)
Yona (Yona of the Dawn)
ISTJ – The Inspector/Logistician
Individuals of the ISTJ personality type are very hard-working, organized, pragmatic, and reserved critical thinkers. They usually know what they are doing and have strong reasoning backing it up.
In anime, ISTJ characters are generally the "reliable" secondary or supporting characters who are intimidating (mainly because of their stoic demeanor), always calm and composed no matter the situation.
They are so trustworthy because they do not compromise with evidence and facts. Whatever decision they make is based on deep and careful thinking.
Although they prefer staying to themselves, they are socially responsible individuals with a strong sense of right and wrong.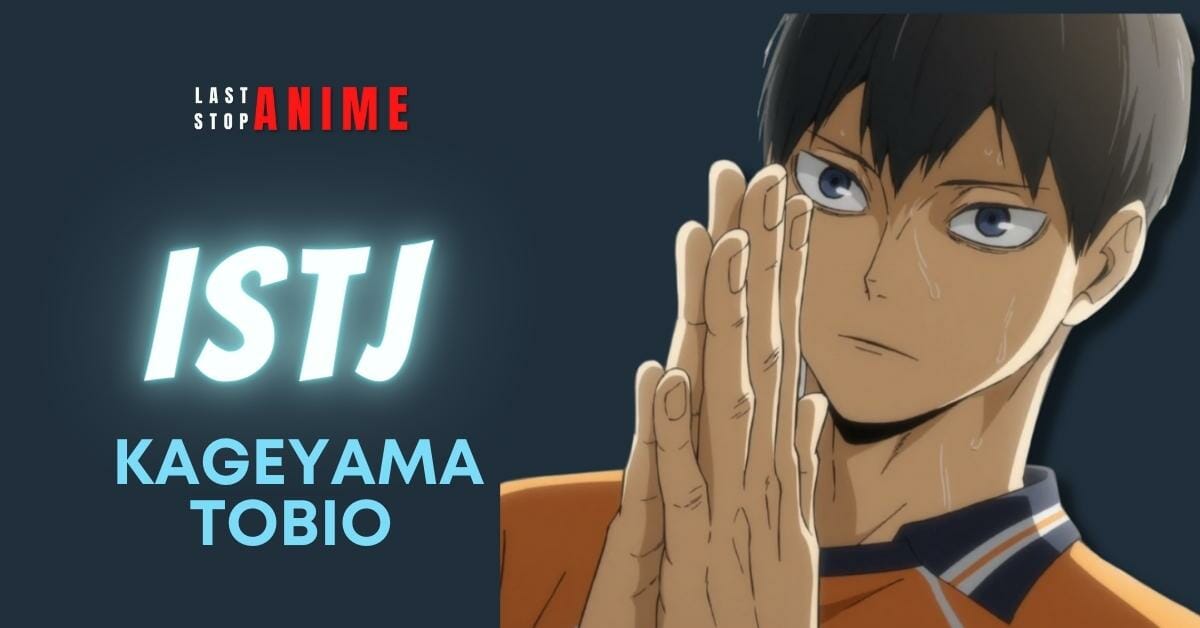 KAGEYAMA TOBIO (HAIKYUU!!) – Kageyama Tobio, the well-loved deuteragonist of Haikyuu, is an excellent example of an ISTJ character.
He is very rational, extremely diligent despite his inherent talent, and can calmly decide what to do next in a split moment during a game.
He may come off as unsociable and cold, but he is a very reliable teammate who knows how to work in a team and respects others despite their differences.
Other notable ISTJ Anime Characters:
Fushiguro Megumi (Jujutsu Kaisen)
Mikasa Ackermann (Attack on Titan)
Violet Evergarden (Violet Evergarden)
Langa Hasegawa (SK8)
Nanami Kento (Jujutsu Kaisen)
Rei Ayanami (Neon Genesis Evangelion)
Tomioka Giyuu (Demon Slayer: Kimetsu no Yaiba)
Teru Mikami (Death Note)
Sakurajima Mai (Rascal Does Not Dream of Bunny Girl Senpai)
ISFJ – The Nurturer/Defender
Individuals of ISFJ personality type are known to be the kindest and most caring of all personality types.
They are the most giving, sacrificial, warm, and tender-hearted people who are always there to help others, whether it is a friend or foe. They are very protective of their loved ones and can go to extreme lengths to fight for them.
In anime, this personality type is best-portrayed in "waifus," which everybody loves. They are selfless, devoted, and thoughtful of people close to them and make the best "caretakers."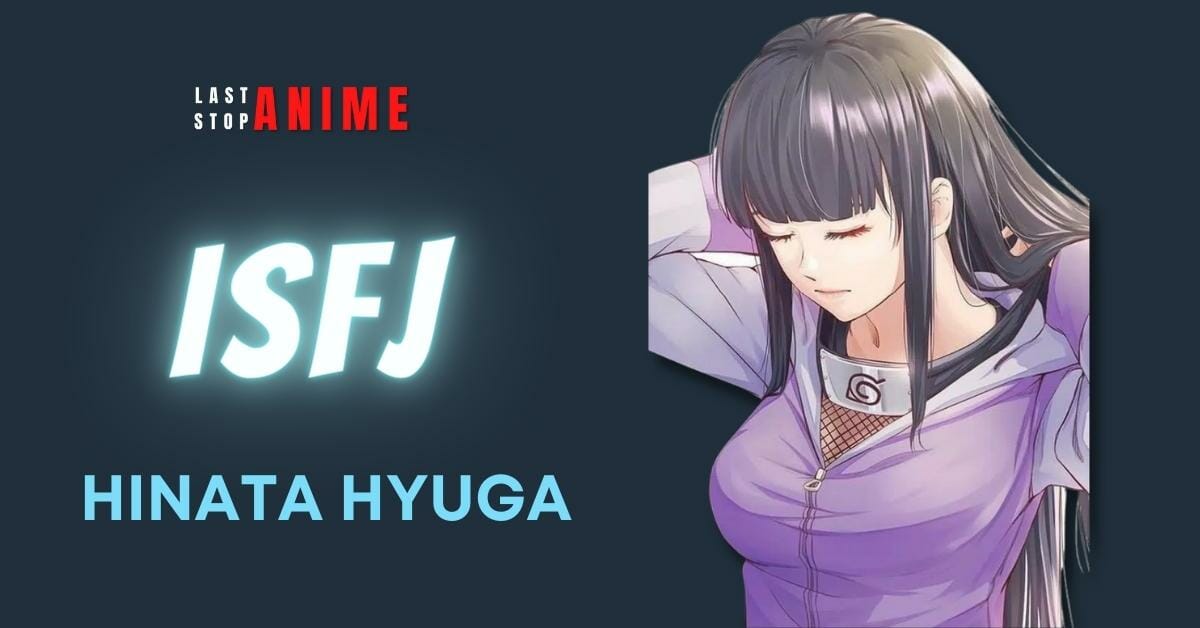 HINATA HYUGA (NARUTO) – Hinata Hyuga is one of the most dearly loved supporting characters in the Naruto series and the eternal favorite waifu of many anime fans.
She is always thoughtful of Naruto, her friends, and her dear ones and has a warm nature despite being extremely shy and timid.
Though Hinata is a true pacifist, she is daring and fearless when need be. We all remember her jumping in to fight Pain, someone way more powerful than her, to protect Naruto.
Other notable ISFJ Anime Characters:
Madoka Kaname (Puella Magi Madoka Magica)
Rem (Re:Zero − Starting Life in Another World)
Nezuko Kamado (Demon Slayer: Kimetsu no Yaiba)
Yor Forger (Spy x Family)
Bertolt Hoover (Attack on Titan)
Suzaku Kururugi (Code Geass)
Tony Tony Chopper (One Piece)
Momo Yaoyorozu (My Hero Academia)
Sophie Hatter (Howl's Moving Castle)
INTJ – The Mastermind/Architect
INTJ individuals are known to be the most efficient planners, theorists, and strategists. They are highly imaginative but also skeptical of things, which renders them capable of devising no-risk plans, whether it is for the immediate or distant future.
In anime, INTJ characters are usually "lone wolves" who like to work alone in their own space because they are reserved individuals who find it hard to carry out their plans with other people around that may get in the way of the pursuit of their goals. Just like ENTJ characters, they make for excellent anti-heroes and antagonists.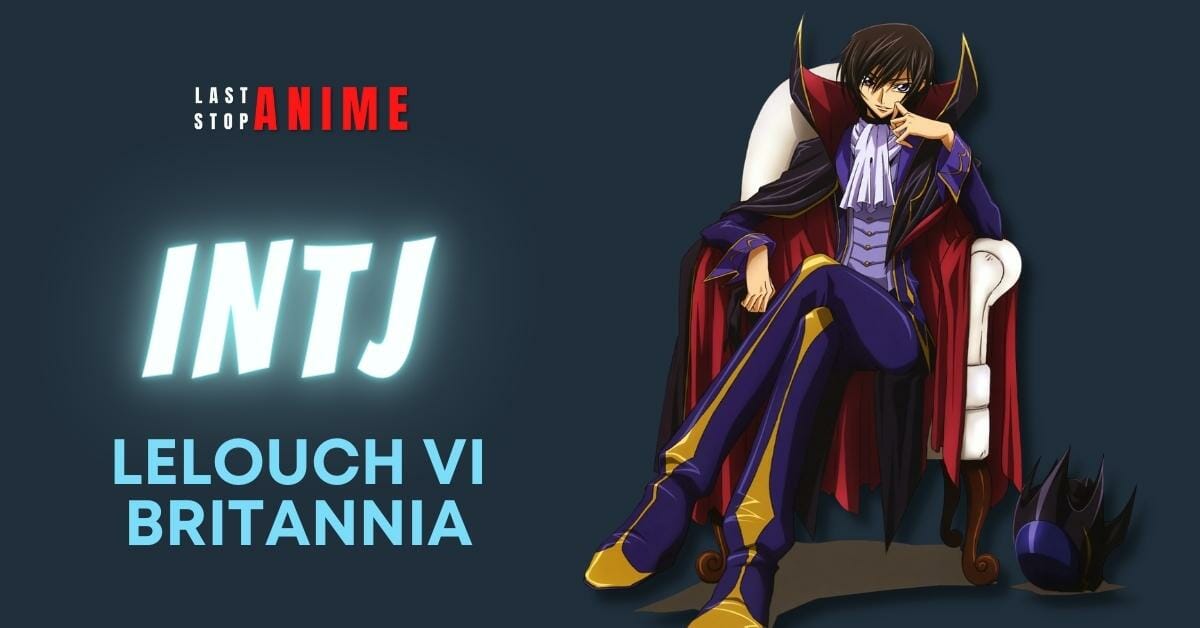 LELOUCH VI BRITANNIA (CODE GEASS) – Lelouch vi Britannia, or Lelouch Lamperouge, one of the most well-loved main characters in the anime world, is the number one favorite character of anime fans on MyAnimeList.
Like other INTJ characters, he is extremely intelligent and comes up with the most elaborate and brilliantly devised strategies with a guaranteed success rate.
He works alone, keeps an eye on everything in his surroundings, and makes sure his plans come to fruition because losing is not an option for him.
Other notable INTJ Anime Characters:
Sasuke Uchiha (Naruto)
Todoroki Shoto (My Hero Academia)
Kurapika (Hunter x Hunter)
Kiyotaka Ayanokouji (Classroom of the Elite)
Loid Forger (Spy x Family)
Near (Death Note)
Kaguya Shinomiya (Kaguya-sama: Love is War)
Sosuke Aizen (Bleach)
Meruem (Hunter x Hunter)
INFJ – The Counsellor/Advocate
INFJ is the rarest MBTI personality type in real life because of attributes that don't generally mix. They are caring and thoughtful individuals. Despite being introverts (or fi users), they put in a lot of effort thinking of ways to cooperate with others.
In anime, this personality type comprises mainly the "hard-to-read tacticians" who can be brilliant manipulators.
Their motives and actions are undecipherable though they are usually charitable characters with a do-good mentality.
They are generally calm and collected individuals who firmly believe in their idealistic thoughts and can also be a source of inspiration for others.
ITACHI UCHIHA (NARUTO) – Itachi Uchiha, another fan-favorite character from Naruto, is someone with lots of layers to his personality.
He is very mysterious, and his motives are unclear until later in the series when Tobi thoroughly explains his true intentions.
He is a true altruist who sacrifices his life for the greater good and a brighter future for his village, the world, and particularly his brother, Sasuke.
Other notable INFJ Anime Characters:
Johan Liebert (Monster)
Izuku Midoriya (My Hero Academia)
Armin Arlert (Attack on Titan)
Future Trunks (Dragon Ball Z)
Chrollo Lucifer (Hunter x Hunter)
Norman (The Promised Neverland)
Kiritsugu Emiya (Fate/Zero)
Shouko Komi (Komi Can't Communicate)
Yuno Gasai (Future Diary)
ESTP – The Doer/Entrepreneur
ESTP individuals are very amiable, outgoing, energetic people who are not afraid to keep trying new things.
Although they can be very impulsive, they are smart, pragmatic, and quick thinkers who do not break a sweat solving problems right when they present themselves. They are also great negotiators.
In anime, they often fit the "unconventional" archetype. They like to live in the moment and not ponder over the particulars.
They can also often act hastily, but because they are incredibly perceptive, they quickly come up with solutions to immediate problems.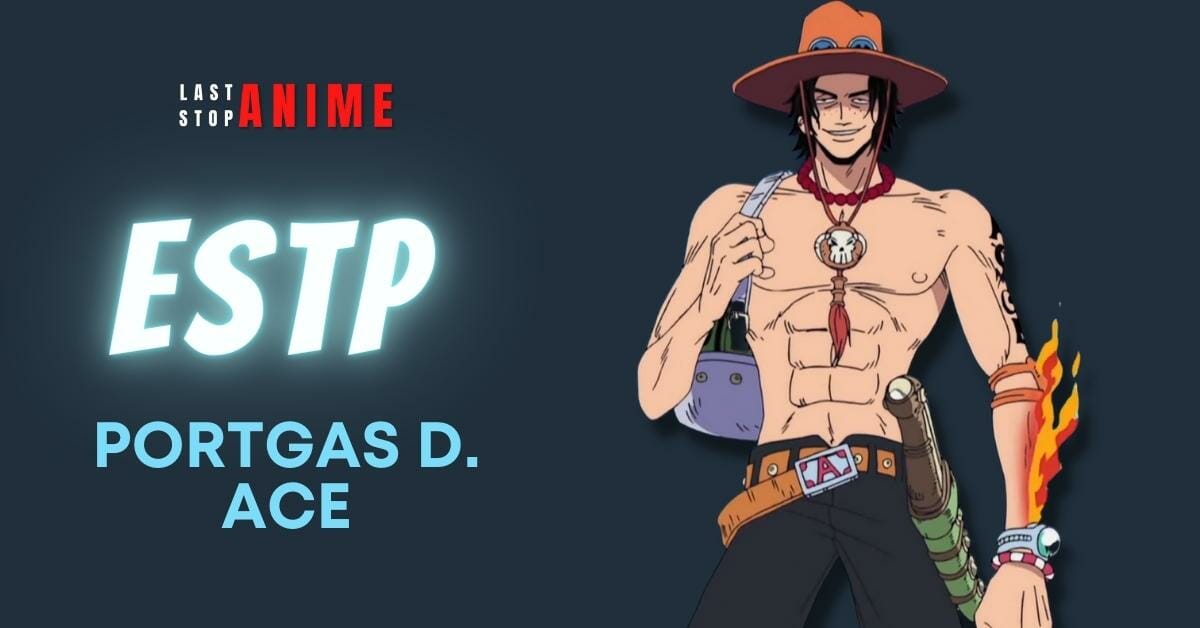 PORTGAS D. ACE (ONE PIECE) – Portgas D. Ace from One Piece is a brilliant example of an ESTP. He is friendly, fun-loving, and full of life and gets along really well with others.
Ace does not think twice before doing things that interest him and does not put much thought into what comes next.
Like Luffy, he can be impulsive and act rashly in many situations, but he has a sharp perception of his surroundings and can quickly come up with ways to handle problems.
Other notable ESTP Anime Characters:
Draken (Tokyo Revengers)
Joseph Joestar (JoJo's Bizarre Adventures)
Zero Two (Darling in the Franxx)
Master Roshi (Dragon Ball)
Jabami Yumeko (Kakegurui)
Hashibira Inosuke (Demon Slayer: Kimetsu no Yaiba)
Chuuya Nakahara (Bungou Stray Dogs)
Miya Atsumu (Haikyuu!!)
Natsuki Subaru (Re:Zero − Starting Life in Another World)
ESFP – The Performer/Entertainer
Any individual with this MBTI personality is the most fun to be around. They are energetic and humorous and can light up the room instantly. They are also sentimental and, more often than not, unpredictable to a certain extent.
In anime, they are often the "entertainer" and are always fun to watch whenever they are on the screen. They are also very sympathetic and considerate towards others.
Naturally, they have a magnetic nature. Just as they give energy to other people, they thrive on the energy they get from being around others.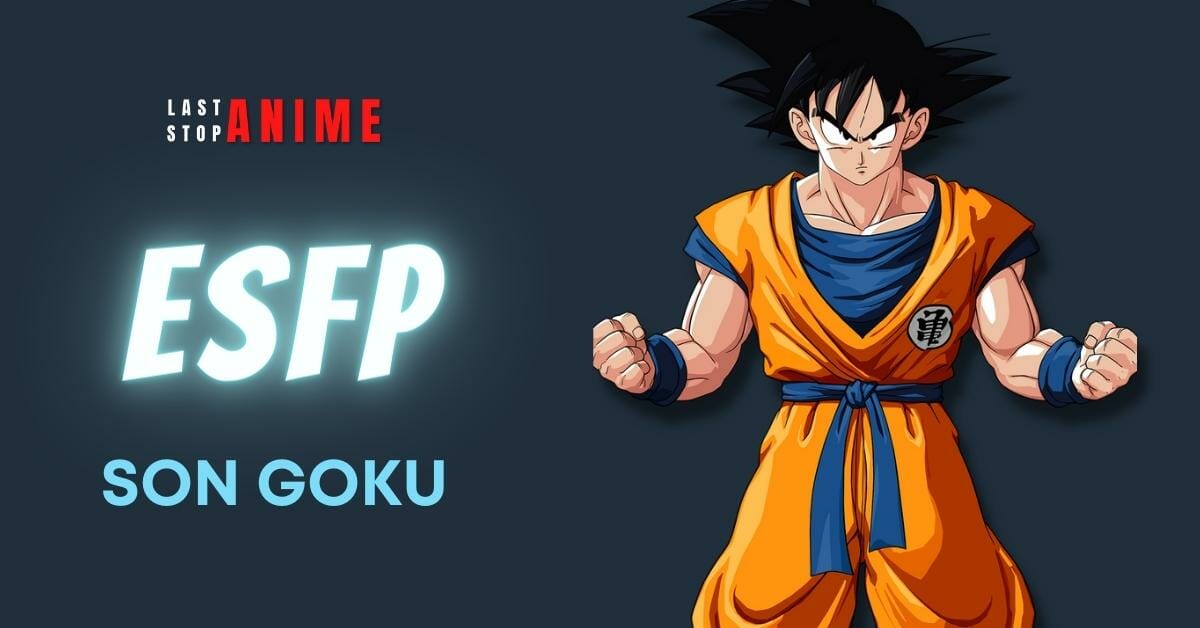 SON GOKU (DRAGON BALL) – Son Goku, the main protagonist of Dragon Ball and an insanely popular anime character, is the perfect representation of an ESFP.
He makes friends quickly, is always thinking of others, and is always brimming with positive energy. Just like everyone around him, you get filled with hope just watching him.
He is always the life of the party, and you never get bored watching him do his thing.
Other notable ESFP Anime Characters:
Monkey D. Luffy (One Piece)
Sasha Braus (Attack on Titan)
Gon Freecss (Hunter x Hunter)
Misa Amane (Death Note)
Hinata Shoyo (Haikyuu!!)
Asta (Black Clover)
Gabi Braun (Attack on Titan)
Ash Ketchum/Satoshi (Pokémon)
Natsu Dragneel (Fairy Tail)
ENTP – The Visionary/Debater
ENTP individuals are usually smart and resourceful people who are always looking for new challenges and keep questioning things because of their immense curiosity.
They absolutely love logical, theoretical, and intellectual conversations.
In anime, they are often the "intellectual visionary" who always thinks outside the box. They are always curious and enjoy debating various things about reality, and their actions have an analytical and inventive approach.
GOJO SATORU (JUJUTSU KAISEN) – Gojo Satoru, everyone's favorite from Jujutsu Kaisen, perfectly represents the ENTP personality type. On the surface, Gojo is very extroverted and easygoing.
But beneath his goofy exterior lies an incredibly visionary pair of eyes that does not believe in short-term solutions.
Gojo believes that the higher-ups will always remain rotten unless he intervenes and uses education to raise powerful and sensible comrades who will one day reform the Jujutsu world.
Other notable ENTP Anime Characters:
Edward Elric (Fullmetal Alchemist Brotherhood)
Osamu Dazai (Bungou Stray Dogs)
Hisoka Morow (Hunter x Hunter)
Okabe Rintarou (Steins; Gate)
Karma Akabane (Assassination Classroom)
Usopp (One Piece)
Ryuk (Death Note)
Orochimaru (Naruto)
Bulma (Dragon Ball)
ENFP – The Champion/Campaigner
ENFP individuals are the most free-spirited souls who are always optimistic and full of enthusiasm. They are always excited to do new things and never hesitate to take the difficult road.
In anime, they often have the "hero" energy. They are the champion of their life, and although full of impulse, they have a keen perception and a strong intuition that enables them to make bold decisions.
ENFPs carve their own path in life without the fear of losing. They are also very easy-going and thoughtful of those around them, and they always lift others, knowingly or unknowingly.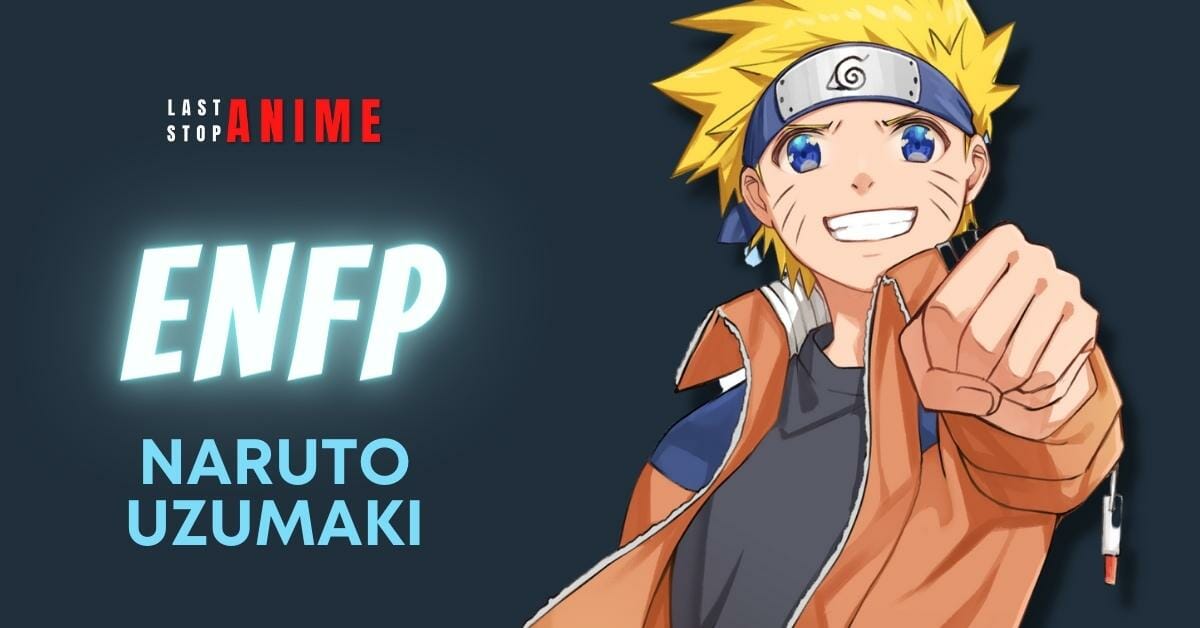 NARUTO UZUMAKI (NARUTO) – Naruto is an excellent example of an ENFP character. Right from the beginning, you can tell he is bold and fearless, with an unwavering resolve to create his own path in life.
Even though the villagers treat him harshly, he is optimistic and confident in himself.
Naruto is a very kind soul who never thinks twice before helping others, be it an enemy. He is a "hero" to the core, and people are naturally drawn to him when they get to know him.
He is also goofy most of the time, but surprisingly he exhibits impressive perception and skills in battle.
Other notable ENFP Anime Characters:
Anya Forger (Spy x Family)
Haruhi Suzumiya (Haruhi Suzumiya)
Yui Hirasawa (K-On)
Usagi Tsukino/Sailor Moon (Sailor Moon)
Howl Jenkins Pendragon (Howl's Moving Castle)
Mello (Death Note)
Chika Fujiwara (Kaguya-sama: Love is War)
Jiraiya (Naruto)
Kaori Miyazono (Your Lie in April)
ISTP – The Craftsman/Virtuoso
Individuals of ISTP MBTI type are always proactive and practical in their approach to things. They are exceptionally hardworking and like to work alone, as they are more efficient when not around others.
In anime, they are usually the "laid-back" ones who are absolutely badass and manage to do what they are supposed to effortlessly. They are also fan favorites because of their brimming charm.
LEVI (ATTACK ON TITAN) – Levi, an anime character that is not unknown to anyone, is an ISTP. He is bold, fearless, and very rational in his approach, even under immense pressure.
No matter the situation, he has a keen perception and is pragmatic enough to get over things as quickly as possible.
Although his subordinates greatly admire him, Levi is not exactly fond of taking on a leading role and would instead work on his own without getting others in harm's way.
He does not have grand goals and never loses touch with reality.
Other notable ISTP Anime Characters:
Ash Lynx (Banana Fish)
Spike Spiegel (Cowboy Bebop)
Kogami Shinya (Psycho-Pass)
Shota Aizawa (My Hero Academia)
Guts (Berserk)
Roronoa Zoro (One Piece)
Saitama (One Punch-Man)
Touka Kirishima (Tokyo Ghoul)
Dabi (My Hero Academia)
ISFP – The Composer/Adventurer
ISFP personality type is associated with great imagination and inventiveness. These individuals are brilliant artists who love to explore new things and are spontaneous and experimental in their endeavors.
They are also great friends and listeners, though they may take a while to open up to others.
In anime, they are usually those charming figures full of imagination and creativity that are always up to discover new things, the "explorers." They love life and find peace in their inner circle.
EREN YEAGER (ATTACK ON TITAN) – Eren Yeager, one of the best-written characters in anime, may be hard to comprehend, but he is an ideal example of ISFP.
Ever since he was a young boy, he has been hungry to explore the outside world. Eren has an unquenchable desire to be free to explore, to discover new things.
He hates the way humans live their lives inside the walls. Eren is also a wonderful friend. He understands others and tries to aid them in any way possible.
Other notable ISFP Anime Characters:
Agatsuma Zenitsu (Demon Slayer: Kimetsu no Yaiba)
Itadori Yuuji (Jujutsu Kaisen)
Thorfinn (Vinland Saga)
Ichigo Kurosaki (Bleach)
San (Princess Mononoke)
Haruka Nanase (Free!)
Ryunosuke Akutagawa (Bungou Stray Dogs)
Nana Osaki (Nana)
Hanagaki Takemichi (Tokyo Revengers)
INTP – The Thinker/Logician
INTP individuals have high intelligence and exceptional critical thinking skills. They are very observant and analytical, so they analyze people and situations quickly.
INTPs have an insatiable hunger for knowledge and make great scientists. They always take an innovative and logical approach to things that seem outside the scope of reality.
In anime, they are the "tacticians." They like to be independent and often set high standards for themselves. They have a habit of planning ahead, and though they may not be very organized, they get things done anyway.
L (DEATH NOTE) – The dynamics between L and Light Yagami in Death Note are memorable to all fans. Without L, the true brilliance of Light Yagami and the plot of Death Note could not have been possible.
Just when you'd think Light is steps ahead of L, the latter would prove him wrong. L is a very intriguing character.
He works well with the police, but you can tell he likes to be independent and would rather keep to himself, showing himself only when he finds it necessary.
Other notable INTP Anime Characters:
Kakashi Hatake (Naruto)
Killua Zoldyck (Hunter x Hunter)
Mikey (Tokyo Revengers)
Nico Robin (One Piece)
Ray (The Promised Neverland)
Saiki Kusuo (The Disastrous Life of Saiki K)
Shikamaru Nara (Naruto)
C.C. (Code Geass)
Urahara Kisuke (Bleach)
INFP – The Idealist/Mediator
INFP-type individuals are true idealists. They have strong values and are always stepping in to help others, even at their own cost.
They are sensitive and often find bliss in solitude, though they don't mind being around others.
INFPs are very poetic and like to have their imagination run wild. They are good at setting ideals that they continue to strive for.
INFP anime characters often fit the "altruist" archetype who is kind and sacrificial if it means helping others or contributing to a greater good. They tend to treat a foe the same way they would treat a friend.
KEN KANEKI (TOKYO GHOUL) – Ken Kaneki, like most INFP characters, is a kind-hearted person who finds it hard to hate the person who ruined his life.
Initially, we see how he loves books and loves to immerse himself in the world of imagination.
He is also a terrific friend who would do anything for them, as is evident when he leaves Anteiku to protect his loved ones even though he is broken beyond repair.
Other notable INFP Anime Characters:
Dr. Kenzo Tenma (Monster)
Shinji Ikari (Neon Genesis Evangelion)
Gaara (Naruto)
Atsushi Nakajima (Bungou Stray Dogs)
Alphonse Elric (Fullmetal Alchemist: Brotherhood)
Son Gohan (Dragon Ball Z)
Izumi Miyamura (Horimiya)
Tamaki Amajiki (My Hero Academia)