Nowadays, anime is growing vastly all over the world with a lot of different genres. However, dark fantasy anime is amongst the most popular genre.
It constitutes the biggest hits of all time. It contains bloody action, thrill with enormous human emotions, and mature themes like intense violence, torture, and a storyline.
Although dark fantasy anime have supernatural creatures and powers, they connect viewers to some harsh aspects of life in a very relatable manner. They work on a deeper level, which collectively makes them very interesting.
We at Last Stop Anime have come up with the list of 15 Dark Fantasy Anime that we are confident you will love too!
15. Dororo
Studio – Tezuka Production, MAPPA
Watch It On: Amazon, Netflix
Dororo is a supernatural, action anime with a dark fantasy setting. It's a historical samurai anime with lots of blood and fights. His father sacrifices the main character to 12 demons.
Fortunately or unfortunately, the boy survives but lives without limbs, eyes, nose, or even skin. Now, he is on a rampage to kill the demons and regain his body parts.
Written by Osamu Tezuka and adapted into an anime by Tezuka production and MAPPA, this anime is a great mix of realism, Japanese mythology, and folktales.
The boys, the main character, and dororo, who met him on his journey, fight hard for their survival and humanity with dreadful demons. The main character goes on a rampage to kill demons that include a lot of kills and the blood of innocents.
These very engaging and on-the-edge fights between a person who can't see, smell or sense anything and the fearful demons are something you may not want to miss!
14. Death Parade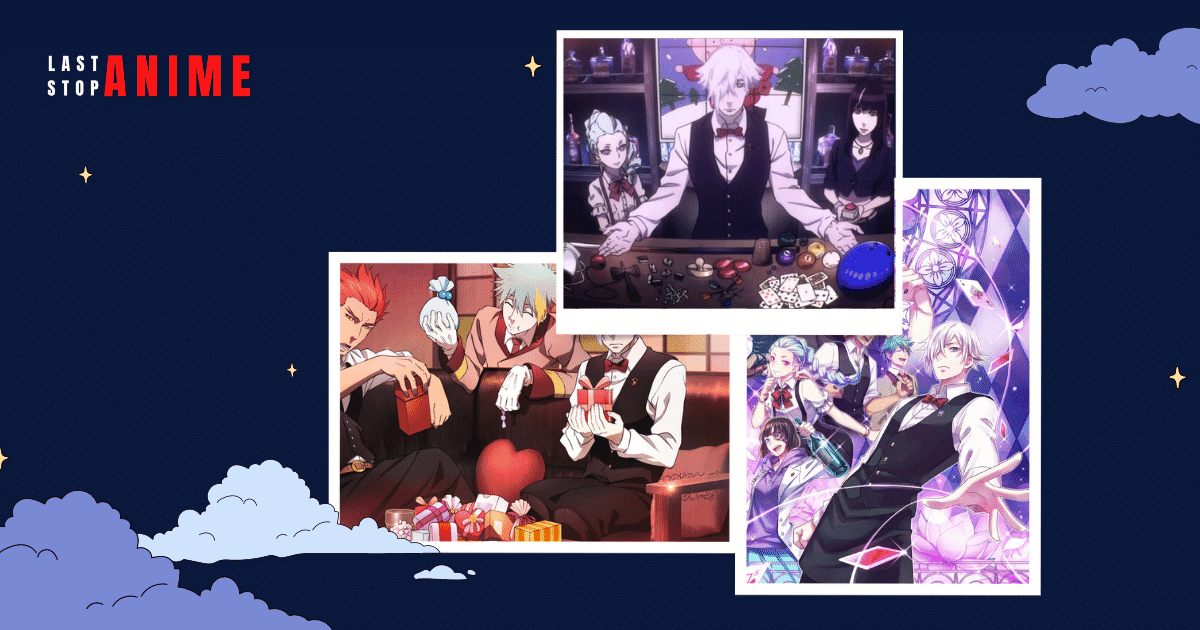 Studio – Madhouse
Watch It On: Amazon, Crunchyroll, Hulu, Funimation, Netflix
Death Parade is written by Yuzuru Tachikawa and adapted into an anime by madhouse. It's an anime revealing humans' dark sides and their sins.
It's an episodic anime setting in a bar named Quindecim. Decim, the arbitrary of the bar, is an enigmatic figure that passes judgment on the people coming into the bar. Pretty normal, right?
Here's the twist: people coming into the bar, the already dead people who don't know it. People always come in a pair who have died at the same time.
To pass the judgment, these are compelled to play life-threatening games that decide if a person should be reincarnated or sent into a void, never to be seen again.
It's fascinating to see people counting, realizing, and accepting their sins as they proceed in the games. Revenge, jealousy, suicide, hatred, isolation, justice, and other mature content is the show's focus.
No matter if a person wins or loses the game, it will reveal their basic morality of them. Some may leave you in awe, and some will make you feel disgusted.
Everything is shown with great effect. Even a simple murder becomes very intense. On top of that, Decim is a thriller and very intimidating. Some anime dealing with these themes can give you an idea of how deadly the show can be.
13. Re: Zero
Studio – White Fox
Watch It On: Crunchyroll, Funimation, Netflix
Re: Zero is a dark fantasy anime that effectively combines dark psychological elements with an upbeat fantasy setting. Subaru Natsuki, the protagonist, finds himself transported into a fantasy world.
However, it could be more exciting. The moment he stepped there, he was beaten badly by some thugs but fortunately was saved by a half-elf Emilia. Thus, afterward, they both start their adventure.
However, things start to spice up when Subaru is brutely murdered, and the next thing he knows, he is back to the thugs and meets Emilia again.
It's a time travel dark fantasy you should watch. It may sound boring, but it isn't. It's interesting to see how the protagonist tries to save his loved ones, fighting the creatures and monsters, yet fails repeatedly.
Think of a person living the past he had not just for once. Aren't you curious about what happens when he fails again and again?
12. Puella Magi Madoka Magica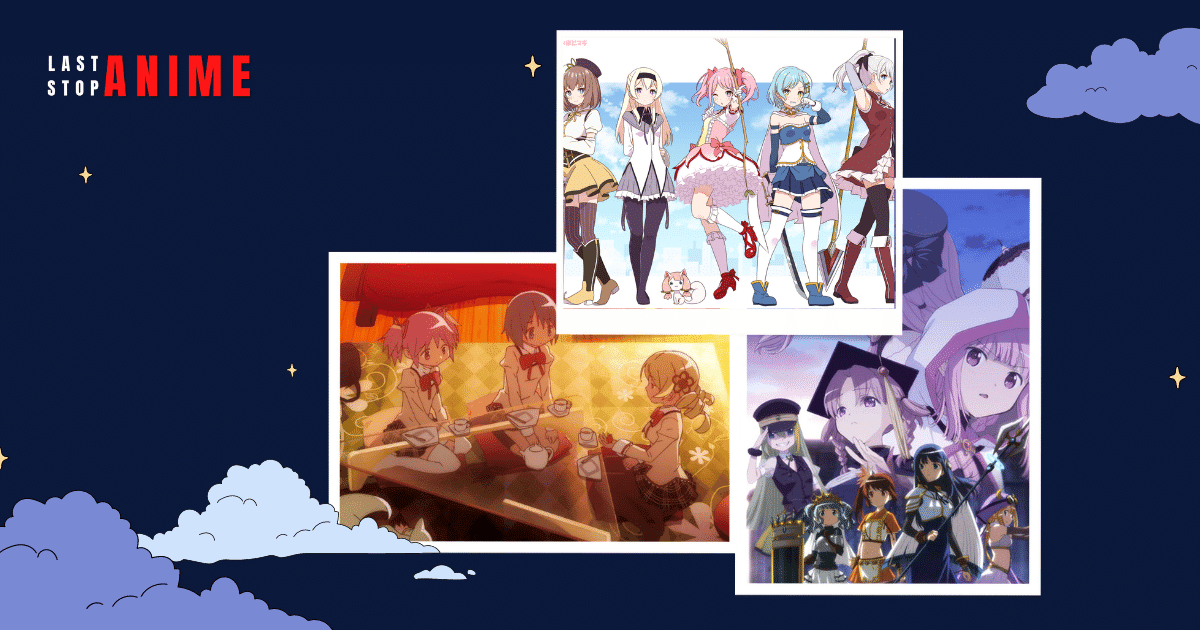 Studio – Shaft
Watch It On: Crunchyroll, Hulu, Funimation, Netflix
Puella magi Madoka Magica is quite a notorious dark fantasy anime. It's a unique, cute-styled anime with darkness and complexity underneath.
It's a magical girl genre in which Madoka Kaname and Sayaka Miki, two ordinary girls, meet a cat named Kyuubey, that offers them to grant one wish in exchange for becoming magical girls.
Homura Akemi, a transfer student and a magical girl herself, warns the girls not to accept it as everything is not what it seems. The power and the magic can be tempting but remember, and it's a price paid to make their dreams come true.
Madoka Magica lures one into something sweet, but the anime has other wishes to hunt you for your lifetime. The charm of the anime is the symbolism and images presented through its art style.
You can't look away even if you want to. Get yourself ready for plot twists, drama, emotional depths, and heartbreaking and heartwarming moments in a sweet fairylike executed dark fantasy anime.
Written by Afro and adapted by studio Shaft, anime was highly praised during its release and won many awards. So why leave something like this? It would be best if you watched it.
11. Made in Abyss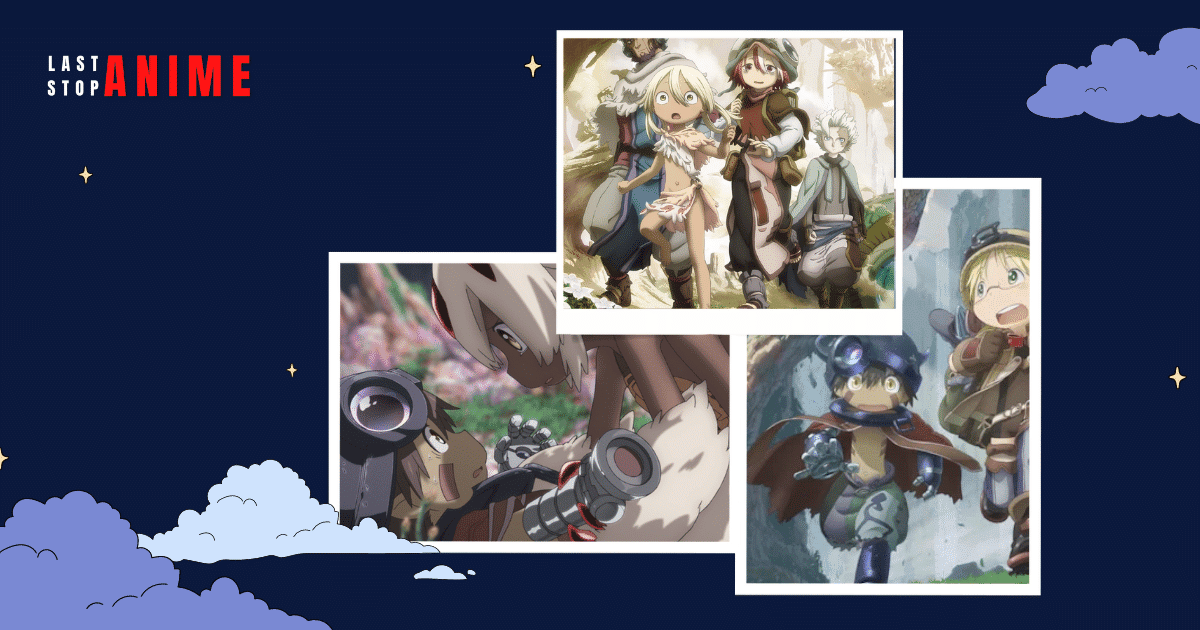 Studio – Kinema Citrus
Watch It On: Crunchyroll, Disney+, Hulu, HiDive, Netflix
The Abyss is the gap stretching deep down into the earth, a mystical place filled with creatures. That is the only thing that came to be known.
However, some brave individuals known as divers go down into the darkest realms and solve their mysteries one by one and give answers to a lot of questions. The bravest diver was the White Whistles, declared a legend by the surface.
Made in Abyss starts as a normal cute, beautiful fantasy anime where a girl named Riko wants to be like her missing mother, White Whistles but is only permitted to go on its upper layer.
Roaming there, she found a mysterious robot, Reg looking like a young boy who doesn't remember anything of his creation.
Things start to get serious and darker when together, they both decide to descend into an abyss that is full of treasures and wonders but comes at a certain cost. Entering the Abyss is easy but coming out of it is the most challenging.
The deeper one goes, the more dangerous the creatures become. In the anime, you can expect death, blood, falls, fights, and survival.
It's hell in the name of an abyss. The background music is something that counts to the anime's dark themes and makes it more thrilling.
10. The Promised Neverland
Studio – Cloverworks
Watch It On: Crunchyroll, Hulu, Funimation, Netflix
The Promised Neverland is a great anime filled with horror, thriller, suspense, and mystery. Although the main characters are children, the anime is nowhere near childish. These children are very skillful, talented, and highly intelligent.
Written by Kaiu Shirai, perfectly adapted into anime by Cloverworks studio, gives chills as it proceeds through the series. The music written and used is very creepy, adding a complimentary horror environment to the series.
Get ready to be surprised by the children's intelligence and reality with lots of questions, twists, and turns. One tip for the viewers, don't trust anyone.
It is an anime that, once you start watching, you will binge-watch it. However, it is recommended to move to the manga after the first season as anime needs more things.
9. Kenpuu Denki Berserk
Studio – OLM
Watch It On: Amazon, Crunchyroll, Netflix
Kenpuu Denki Berserk is a true dark fantasy show. As we are talking about anime here, I placed it in the top 10, but if we had talked about manga, it would have been number one.
Berserk tells the story of Guts, a young travel mercenary who seeks revenge for the deaths of his former mercenary band known as The band of Hawk. Violence and never-ending war is going over everywhere.
Apart from violence, the berserk world is the crappiest, full of blood, abuse, and hopelessness. It leaves many characters traumatized, including Guts, the protagonist.
It's a tragedy of fate, friendship, and love. However, Guts refuse to accept fate and fights for what he believes is right.
Berserk is a very haunted and emotional story that shows the worst cases humanity has to offer.
Berserk is a legacy for the dark fantasy genre that one must watch. Or, if you can read the manga, you should not wait and jump straight into it. It will make you thrilled in a way you have ever experienced.
8. Tokyo Ghoul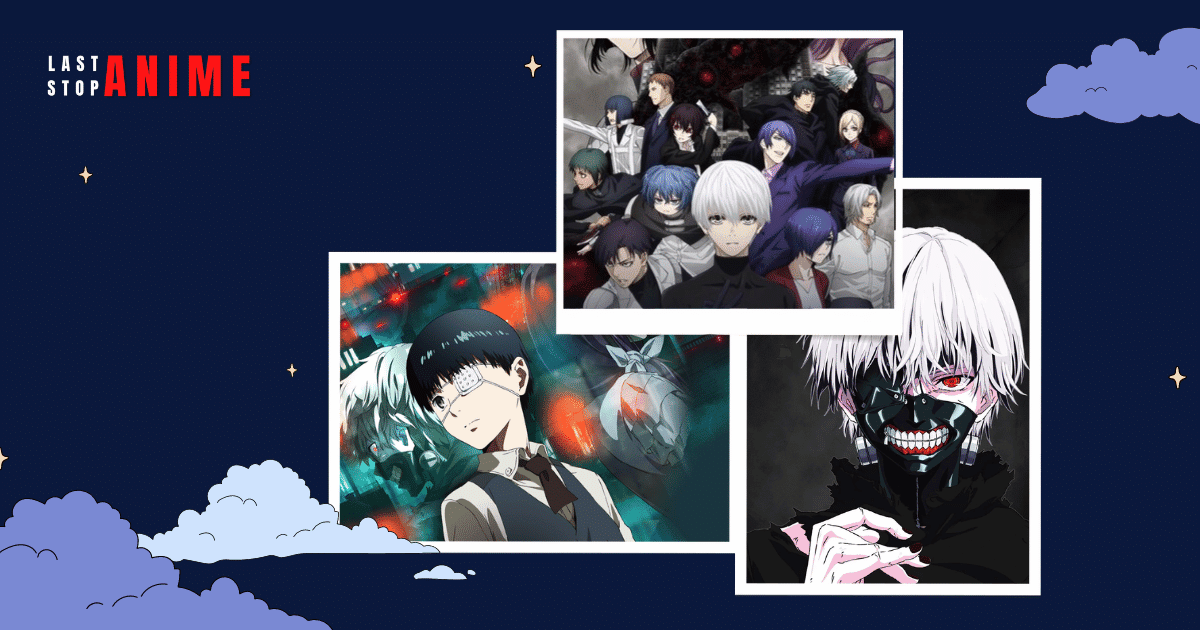 Studio – Pierrot
Watch It On: Amazon, Crunchyroll, Hulu, Funimation, Netflix
Tokyo Ghoul was written by Sui Ishida and was adapted into an anime by Pierrot. It is a horror, thriller, and action anime. Bloodshed is a very small work when it comes to Ghouls.
Ghouls are people who kill and eat humans. They kill them brutally, sniff them, bite them, lick them, and enjoy eating their flesh and drinking their blood.
The story is about Kaneki, a little, sweet, precious, innocent, and kind boy whose date turned out to be a nightmare in his life.
His date was a ghoul who attacked him. Hopefully, he was saved and sent to a hospital. However, the doctor who treated him experimented on him and made him a hybrid. After that, Kaneki's life has never been the same.
One of the all-time epic scenes is on an extreme level of terrific and horrible feeling.
Everything happens in that scene, and the whole anime is quite scary. A horror anime where humanity is threatened by destruction and overpowered predators is something I am sure you want to watch.
7. Parasyte
Studio – Madhouse
Watch It On: Amazon, Hulu, Netflix
Parasyte is a dark anime. It comes under the psychological, horror, and sci-fi genre. It has some alien concepts mixed with the parasitic concepts of science. In science, parasites are bacteria and viruses.
Here, the sudden invasion of a species known as aliens is the parasites that invade human brains and control them.
They can morph humans into blades and others to create massacres. They feed on their anterior parts and don't think twice before killing them.
A high school scholar, Izumi Shinichi, is attacked by a parasite that fails to take over his brain and ends up in his right arm.
As he can't take over the brain, he depends on Shinichi for his survival, so he gives him every information about parasites and helps him fight them.
There are many killings, blood, and gore as these aliens are not humans. They don't understand humanity and don't give a second thought before killing, and the town is in control of them.
It's entertaining and fun to see the fights with great art style, animation, music, and voice acting.
6. Fullmetal Alchemist: Brotherhood
Studio – Bones
Watch It On: Amazon, Crunchyroll, Hulu, Funimation, Netflix
Fullmetal Alchemist: Brotherhood follows two brothers whose horrific alchemy experiment to bring their dead mother back to life goes wrong. As a result, Edward loses his leg and lives with a metal arm, and Alphonse's soul gets trapped inside a metal suit of armor.
The Elric brothers now go on an adventure to find the philosopher's stone which will help them defy nature's law of equivalent exchange. Do you think it's going to be easy for them?
Full metal alchemist brotherhood is known for its complex yet solid storyline and fascinating characters.
As a dark fantasy anime, Fullmetal alchemist brotherhood tackles many dark themes like war and genocide, human nature, morality, loss, sacrifice, forgiveness, redemption, fascism, and oppression.
It has a lot of gory deaths and blood. However, there's hope and humor set up by the author even in the middle of the chaos.
5. Fate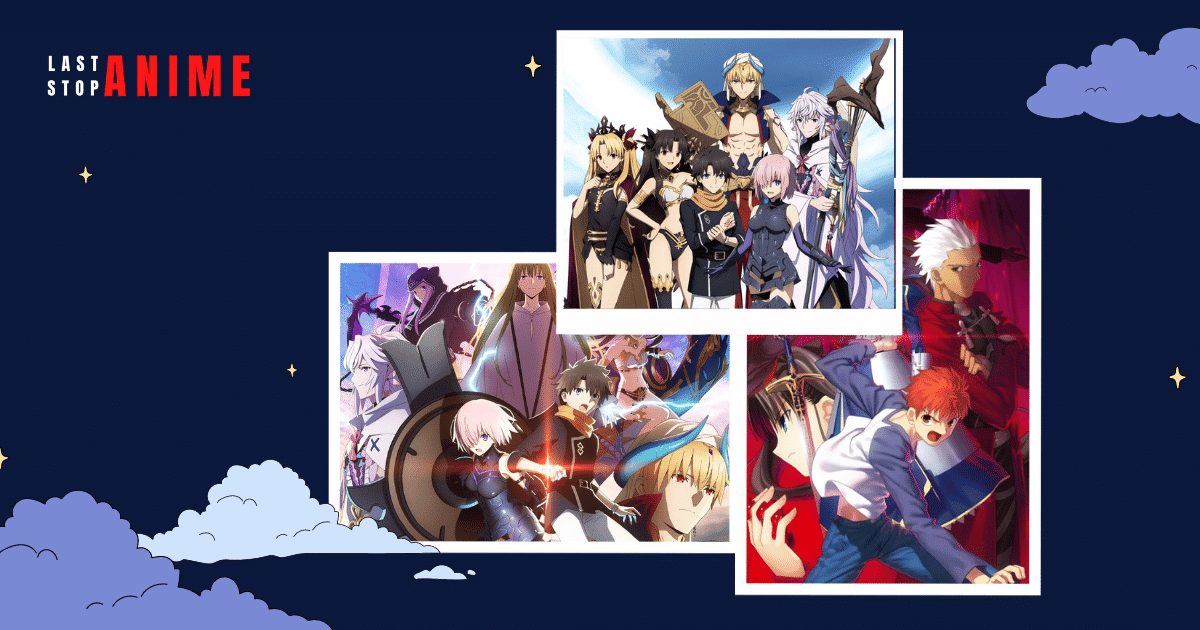 Studio – Ufotable
Watch It On: Crunchyroll, Hulu, Netflix
The Fate series is very popular for its level of animation, done by Ufotable. It has a good storyline, and the fights seem on another level due to the animation.
Fate revolves around wars. The omnipotent Holy Grail triggered three cruel wars in the past already in a trap of granting a wish.
Einzbern family, as getting a hold of the vessel of Holy Grail, thinks that the next, fourth one will be totally different, and for that, they hire Kiritsugu Emiya, also known as "Magus Killer."
Kiritsugu Emiya now plays this game of survival, facing six other opponents with fire in their eyes with their ideals and desires.
These wages stood face to face with each other in the war fight by summoning warriors from history.
Now, Kiritsugu is ready for the immense fight with Saber, a notorious mercenary in the fourth holy grail war. Fate provides a very dark and brooding environment as you go through the series.
4. Death Note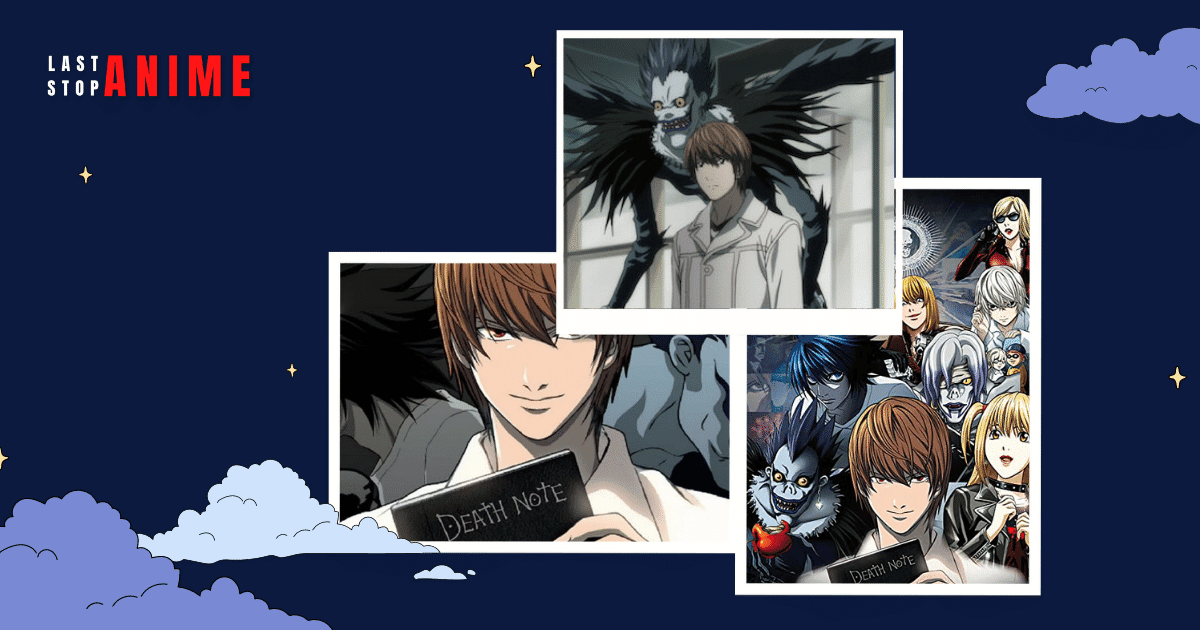 Studio – Madhouse
Watch It On: Amazon, Crunchyroll, Hulu, Netflix
Even thinking about Death Note gives me chills. It is one of the old legendary anime written by Tsugumi Ohba and adapted into an anime by Madhouse. It's a psychological thriller that has the power of playing with one's mind. You will feel lost in it and controlled by the main character.
Talking about characters, death note characters are very dark. You will find yourself in a dilemma about the intentions of Yagami Light, who goes by the name of Kira and sees himself in the position of god after having the notebook.
Oh, the notebook itself is a very big mystery, which belongs to shinigami, the death god, and whomsoever name is written in it dies.
So, you can see what a dreadful power got up to Light. On the other hand, L, one of the best-written characters along with Light, is incredibly intelligent and was hired to solve this case of Kira.
The intelligence of L will amuse you, but Light has a death note along with his brain, so it's thrilling to see them going their heads on with each other, neither of them going back.
Trace Light's character deeply; you will notice similarities and differences. You will even empathize with him at some point. You will be bound to think if he is a protagonist or an antagonist.
Disclaimer: Here, We are talking about anime or manga and not the Netflix adaptation. Please watch out for that. Netflix adaptation has a lot of changes and has diverted from the original theme or plot, so it's not recommended. Also, Check our piece on anime similar to Death Note.
3. Demon Slayer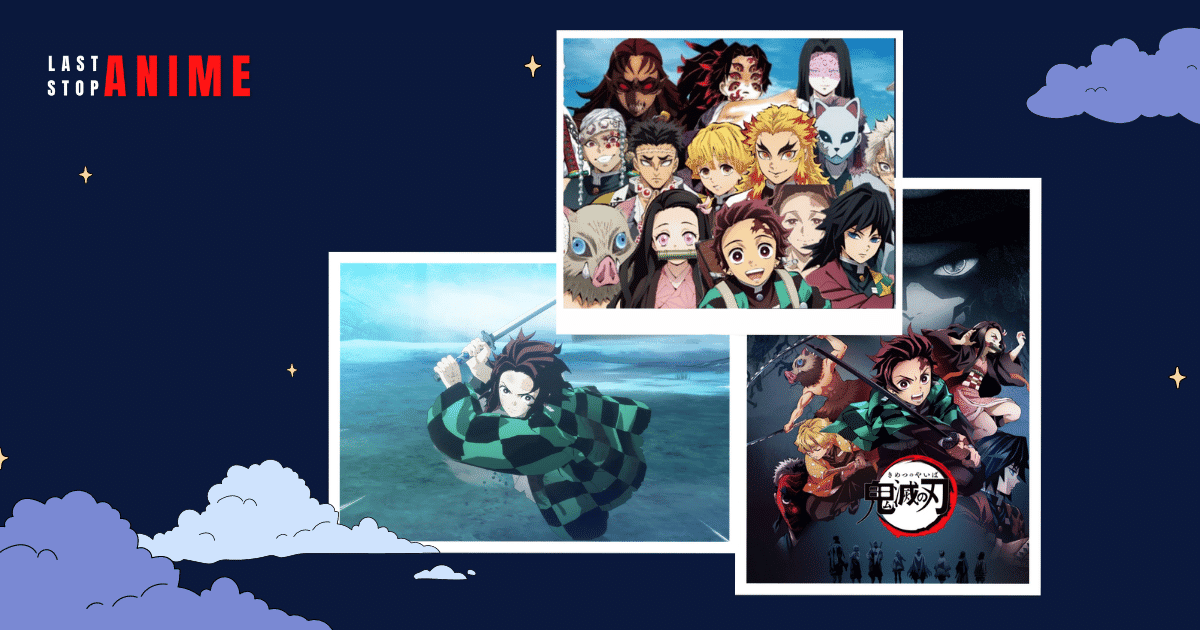 Studio – Ufotable
Watch It On: Crunchyroll, Hulu, Netflix
Demon Slayer or Kimetsu no Yaiba is a very famous dark fantasy anime and manga, written by a female writer Koyoharu Gotouge and adapted as an anime by Ufotable. It was the anime of the year 2020.
It is an anime whose dark elements are perfectly balanced by light-hearted, sweet moments between the characters. So if you don't want to go into depression, it is for you.
Demon Slayer does not show dark themes, but if you look closely, you will see how different people are suffering, not because of something big like wars but a small thing like hate given by another human himself.
It's sad how the lack of humanity, understanding, love, and kindness force one to be something they are not and leave them forever in the hands of darkness and despair.
You can imagine how intense that fight will be that is between a demon slayer, a mere human, and demons, who can only die when their head is ripped completely off their body only with the katana demon slayers use or if they are exposed to the sunlight otherwise they can regenerate instantly.
There are demons with so much power which can even kill a Hashira, the uppermost rank of demon slayers known for killing many demons and are very powerful.
As it's a dark fantasy, I hope you are not expecting the hasiras or your favorite characters to be alive after encountering the upper-rank demons, the 12 kizukis, and their leader Muzan who has this power and aura of freezing someone still under his gaze alone.
I don't know what you are waiting for, but demon slayer comes under the must-watch anime category for an anime fan, it's that good.
2. Jujutsu Kaisen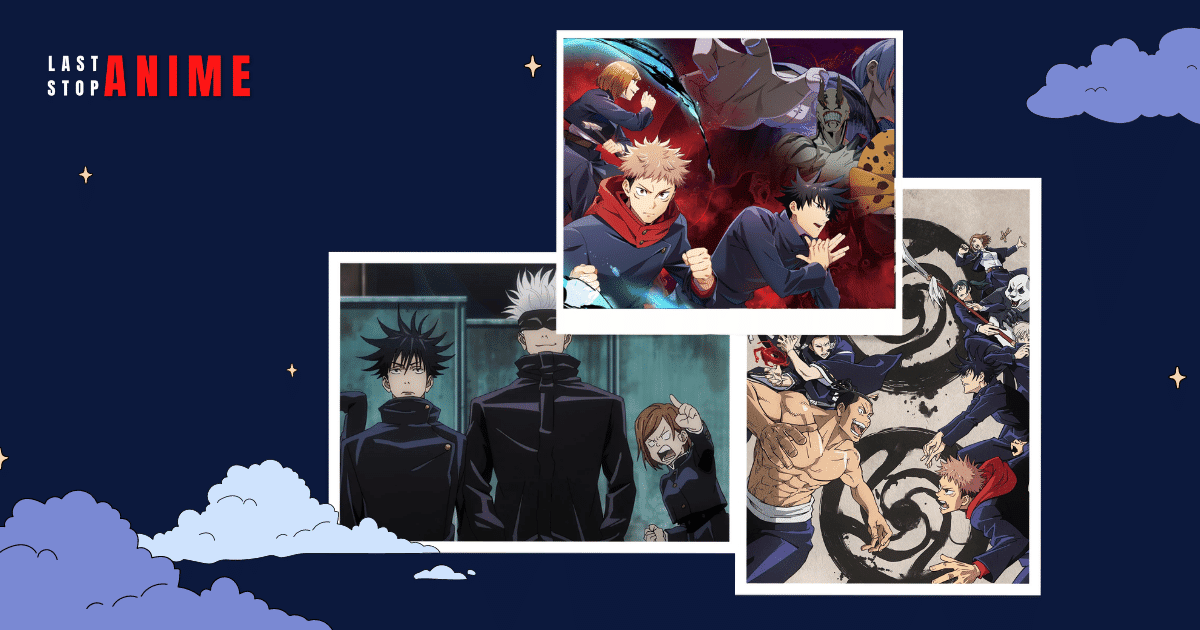 Studio – MAPPA
Watch It On: Crunchyroll, Disney+, Netflix
Jujutsu Kaisen is a dark fantasy horror series written by Gege Akutami and an anime adapted by MAPPA. It is one of the most terrifying, dark, and thrilling series ever, making it very popular!
For those who don't know, Jujutsu Kaisen is one of the best-selling manga. Its anime was anime of the year 2021, and its recently released movie, a prequel, is the second highest-grossing anime movie in history.
Anyways coming back to the dark elements, as there's no plot armor, death is on rage in this series! It spares no one, not civilians, cursed spirits, or the main characters.
Even if there are no death scenes, the fighting scenes are so intense and heavy that you may feel your heart racing sitting in your room with a lump in your throat.
It's hard even to blink an eye while watching the anime or reading the manga. Not only this, the characters of Jujutsu Kaisen are so empowering and leading.
For example, Gojo Satoru is an overwhelming, powerful, and mystical character who gives chills and goosebumps and gets our heads spinning by just standing there doing nothing.
The same goes with the villainous characters like Sukuna and Geto Suguru, absolutely horrific and terrifying because they can rip your head in microseconds without hesitation with a sweet smile and smirk on their face.
As the anime is based on curses born on human grief, you may find many problems hidden in the anime.
These curses can only be exorcised using cursed energy, which is yet another dark element to see, which is very exciting. Every character has a unique curse that is highly powerful.
You should watch it! Get a taste of Jujutsu Kaisen, and there's no going back!
1. Attack on Titan
Studio – Wit Studio, last season by MAPPA
Watch It On: Amazon, Crunchyroll, Hulu, Netflix
And the first position, without any doubt, goes to Attack On Titan, an incredibly flawless anime I have ever watched. It's a masterpiece written by Hajime Isayama. The manga was adapted into an anime by wit studio and the last season by MAPPA.
It has stunning music with one of the greatest art styles and animations ever. The way its story is developed and unfolded is what makes it darker.
Both main and side characters are so well-written, but despite that, people die like ants under the foot, and there are a lot of fights between man-eating creatures called titan and mare humans, resulting in a lot of bloodshed.
If you think AOT is just another anime and your favorite will be spared, forget that. No matter how loved or unloved a character is, their death is as highly unpredictable as it is in real life.
AOT is full of mysteries and uncovers a lot of social problems. It's not just a story with the main character. It also goes very deep into the real circumstances like corruption, racism, wars, and political and religious masks.
What makes it more interesting is that this all is woven so beautifully in the story that many people miss it as they do in reality.
Other things that are carved so beautifully are human emotions and understanding.
Every character is unique in their way and relatable as well. However, the main character, Eren Yeager, is someone remarkably realistic! A riddle that can't be solved just by seeing it! A human you think you knew!
A highly recommended and one of the most popular anime one should not miss at any cost.
You May Also Like:
Vampire hunter
Claymore
Goblin slayer
Kabaneri of the Iron Fortress
Ninja Scroll
Black bullet.