People often confuse action anime to Shounen though Shounen is a Japanese term and not just a genre for action anime. You'll be surprised that other anime fall under the Shounen demographic, but those anime are different from your usual action anime.
In contrast to a common misconception, Shounen is not an anime or manga subgenre but a specific audience.
When most people hear the term Shounen, they immediately think of intense battles or that every other Shounen anime is just mindless action-packed. Because anime encompasses many different genres and aesthetics, it produces compelling stories that appeal to many viewers.
Each anime subgenre has its fanbase, and every year a plethora of new hits are released, but Shounen anime consistently creates the biggest impression and lasts for many years.
In addition to action programs, Shounen also includes dramas, comedies, romances, and horror shows—some of which you may not even be aware fall under the Shounen genre!
The Shounen genre is notorious for its violence, yet there are still some thrilling shows that forgo fighting in favor of more interesting forms of conflict.
So today, we will list some suggestions for awesome anime without action that may or may not be Shounen. While many of these titles have action components in anime, the series' main topic is not fighting.
Disclaimer: This list will neither include anime movies nor anime series with fan service.
List Of Must Watch Anime Without Action
15. NHK ni Youkoso! (Welcome to the NHK)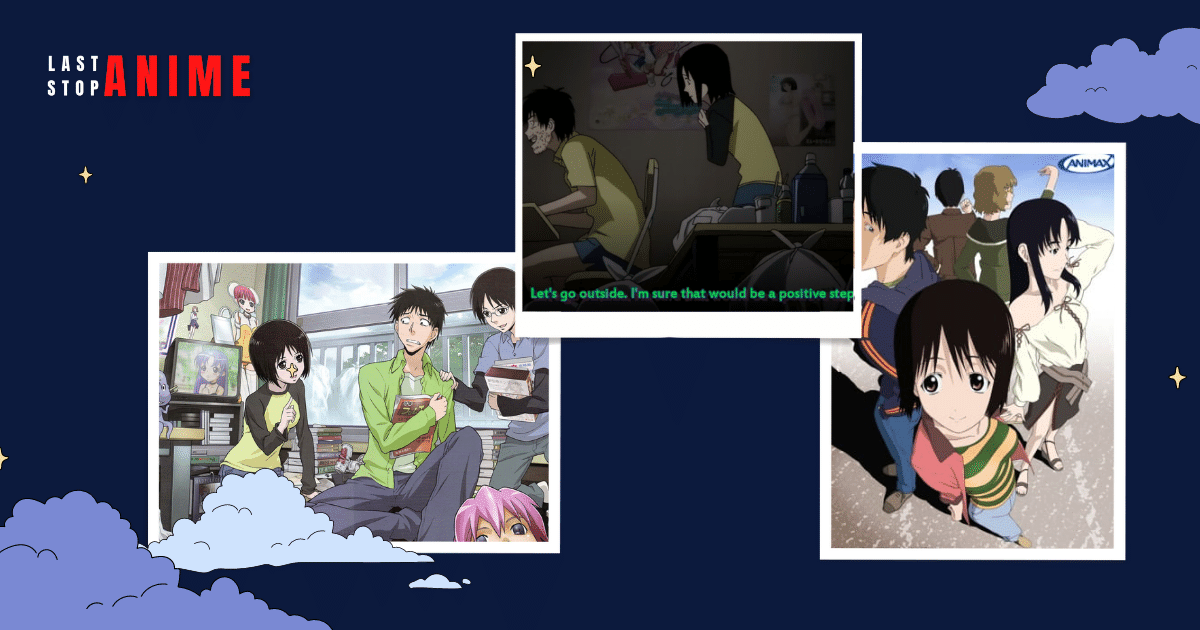 Episodes: 24
Status: Finished Airing
Genres: Comedy, Drama, Romance
Watch It On: Amazon, Crunchyroll, Funimation,
When you start watching Welcome to the NHK, you might get a little confused as to why this anime is considered Shonen anime rather than Seinen, as the series focuses on serious issues such as depression, porn addiction and social isolation.
The only rational explanation for marketing this anime franchise to teenagers is that it may act as a shining example of how not to conduct your adult life.
If you have been an anime fan for a long time or are watching Welcome to NHK as an adult, you might undoubtedly chuckle and even find yourself thinking a lot about your missteps and mental health issues.
All the characters are well designed, but the animation and art, on the other hand, are pretty average. The storyline Welcome to the NHK is skillfully written and told and deals with an important and serious subject.
The story's main character Satou Tatsuhiro is a college dropout. He believes the NHK, aka Nihon Hikomori Kiyoukai or Japan Hikomori Association, is a gigantic organization that spans the entire planet and is always attempting to ruin his life and ensure that he remains a shut-in for all time. He is a complete conspiracy theorist.
His preoccupation with conspiracies appears to have started when he became close friends in high school with a senior named Kashiwa Hitomi.
Satou understands he cannot continue living as a shut-in permanently and wants to leave the lifestyle and defeat the NHK's schemes, but he is terrified and unsure of how to proceed.
Then, one day, he meets Nakahara Misaki, a girl who offers to free him from his reclusive life in exchange for a contract and the opportunity to be the topic of her "project," and everything changes.
14. Yakusoku no Neverland (The Promised Neverland)
Episodes: 12
Status: Finished Airing
Genres: Mystery, Sci-Fi, Suspense, Fantasy
Watch It On: Crunchyroll, Disney+, Hulu, Funimation, Netflix
Back in 2019, when The Promised Neverland came out, it garnered a lot of attention. Many people began to praise the plot, the cast, and the faithful adaptation. Season one ended with a cliffhanger, and many looked forward to season 2. Although Season 2 didn't quite live up to the expectations of Season 1, it is still good.
The Promised Neverland is not your typical Shonen action anime that includes intense battles, even though demons exist in their world. It is a fantasy thriller about children working together to find a way out of a terrible situation.
The Promised Neverland is the best example of breaking the stereotype that an anime is sweet and light if it features kids. If you think Promised Neverland is light-hearted because it features kids, you are in for a ride.
The premise revolves around Grace Field House—an orphanage, and the children residing there. The main characters, Emma, Ray, and Norman, are exceptionally skilled and intelligent despite their young age. Not just intelligence, but they also have excellent physical traits.
In the orphanage, their "Mom," aka Isabella, is the caregiver. After learning the truth about their lives, these three agree to flee their home and their precarious fate.
The rest of the anime focuses on these three intellectual prodigies' cleverness and their attempts to outsmart Isabella and escape with not only their own lives but also the lives of their younger siblings, who are all under the age of 10.
If you are a Shonen anime fan and want to try something other than your average action anime, then The Promised Neverland is one of the best anime to watch.
13. The Great Pretender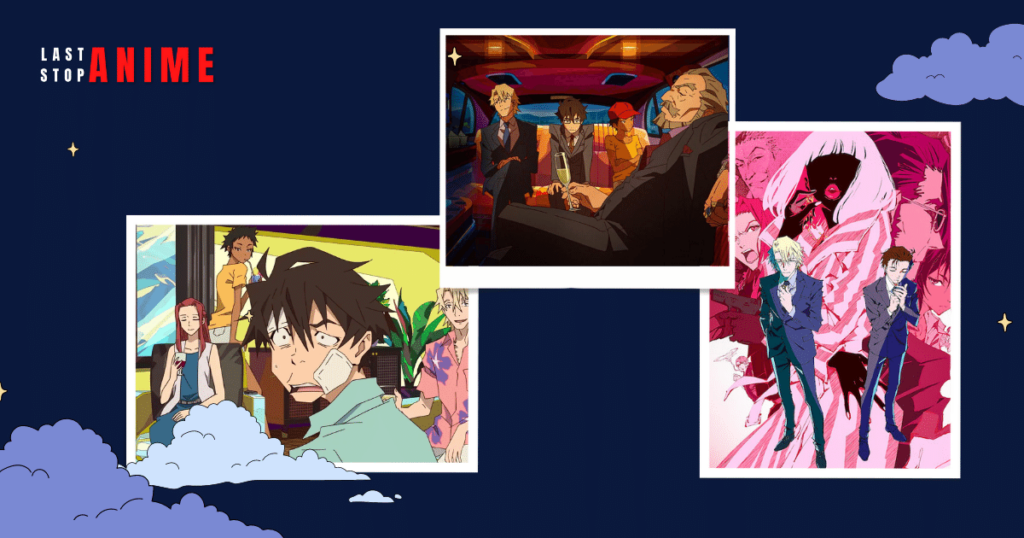 Episodes: 23
Status: Finished Airing
Genres: Action, Adventure, Mystery
Watch It On: Netflix
It's challenging to deny that Netflix's brand-new crime anime, Great Pretender is anything other than outstanding. You must attend The Great Pretender since it skillfully combines suspense and humorous balance.
The dramatic irony that The Great Pretender attempts to convey is impressive. The three main cons thus far are the relatively brief, tight, and lack of filler stories in each episode. Nevertheless, there is never a boring or unnecessary scene in the series.
The character-driven story never fails to be fun and interesting. Every scene has more weight when the characters' decisions and deeds move the plot along since there is more suspense and comic possibilities in every scene.
Apart from the main characters, other characters play an important role and are the reason that makes the anime series more enjoyable.
The art and animation is aesthetically pleasing. There's just one problem with anime: it can sometimes get predictable. But this will do if you want to watch a Shonen that is not an action anime.
The Great Pretender is a good anime that focuses on con artists, while when it comes to character diversity, it is one of the great anime. Anime fans who want diversity in anime will surely enjoy this one.
Makoto "Edamame" Edamura adopted a life of crime, picking pockets and defrauding people for a living due to a string of tragic incidents.
Makoto learns that he was the one who was deceived after scamming an oblivious tourist, and to make matters even worse, the authorities are now chasing him.
Laurent Thierry, a fellow con artist, is revealed to be the tourist when he stumbles into him again while trying to flee, and he winds up pursuing him to Los Angeles.
Makoto challenges his competitor to a scam contest to maintain his reputation as Japan's greatest swindler.
Laurent sets them off in front of a massive home after accepting the challenge, telling them their intended victim will be the top mafia boss on the west coast.
The Great Pretender, which jumps from city to city, explores Makoto's adventures and those of crafty Laurent and his diverse cohorts in the realm of rising global scams.
As his self-declared skills are repeatedly challenged, Mako soon finds that he has received more than he bargained for.
12. Azumanga Daioh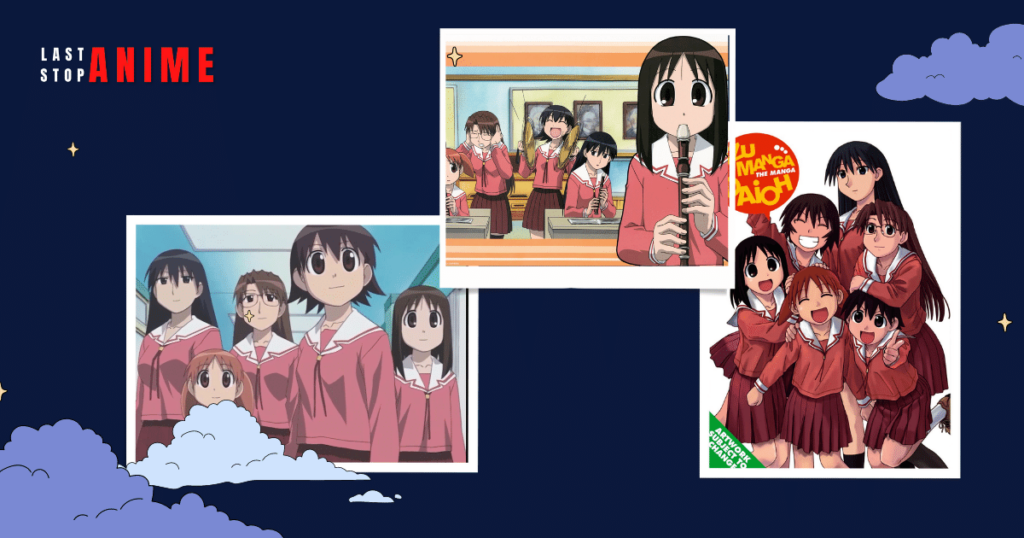 Episodes: 26
Status: Finished Airing
Genres: Comedy, Slice of Life
Watch It On: HiDive, Yidio
People typically make one of two assumptions about Azumanga Daioh's intended audience. Either it's a Shoujo anime since the main characters are all teenage girls, and it has a high school theme, or it's Senien. The reason for Senien is that some assume it is targeted at adult male weebs.
However, they are both mistaken because Azumanga Daioh is labeled a Shonen. If you're interested in other Shonen comedies like it, watch Nichijou and Lucky Star. The plot takes the form of a slice-of-life anime sitcom centered on high school girls.
There isn't much plot, and thankfully there aren't any multi-part episodes around. However, there needs to be more drama or character development in Azumanga. Each episode is different since it is adapted from 4 Koma manga.
Azumanga is a parody anime that aims to make viewers laugh out loud. The story's plot isn't particularly complicated; it essentially revolves around the ordinary daily lives of six high school students. However, how it is presented plays a vital role, and it is in no way dull to read or watch.
Throughout the 26 episodes of the anime, it alternates between odd adventures, ridiculous scenes, and so on.
11. Hi-Score Girl (High Score Girl)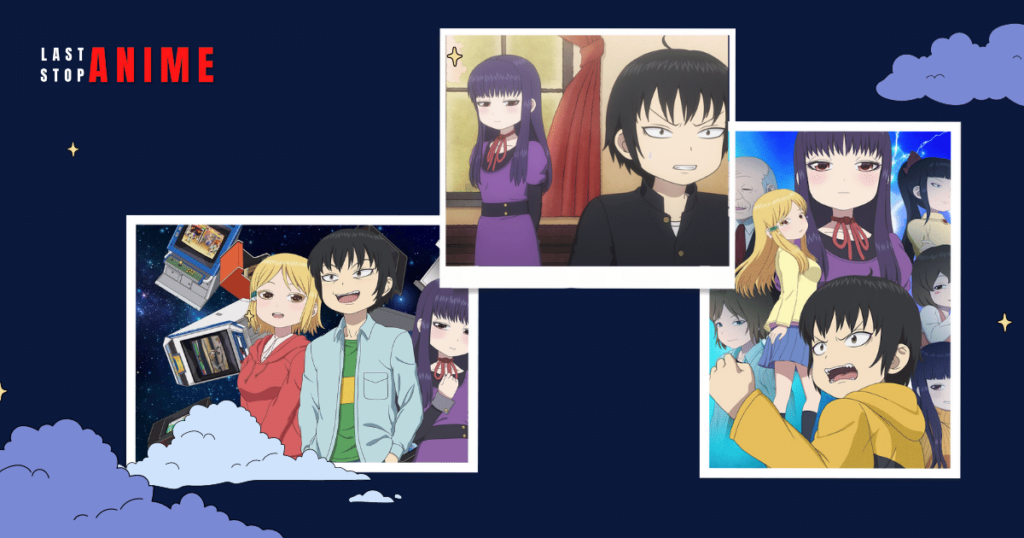 Episodes: 12
Status: Finished Airing
Genre: Comedy
Watch It On: Netflix
High Score Girl focuses on Video games. Whether the two adapt to one another or play about in each other's worlds, there is a strong connection between anime and video games.
The video game story notion is one of the most well-liked, but it is also among the most challenging to develop.
It is a coming-of-age story about two people who meet because of their shared love of gaming and learn how the real world works outside of it.
This anime series may initially seem like your standard joyful rom-com story. Still, as the anime series continues, it gradually moves beyond that and explores more complex and realistic subjects like denial of free will, child abuse, and giving up hobbies to advance your studies.
It's nearly only possible to discuss this series by mentioning its visual aesthetic. In the end, the show has a mood that combines computer game graphics with an old-school look.
Even the theme music was written in that unique video game style. It's a good thing that it stays true to the manga, particularly in aspects of character design.
Since the story focuses on children, it lacks fan service, but the animation, music, and characters make High Score Girl a good anime without action more enjoyable.
It's 1991, and the most recent trend is arcade video games. In a field that is still developing, becoming a professional gamer is a distant goal. However, Haruo Yaguchi, a sixth student, wants to choose that route.
Sixth student HaruoYaguchi whose gaming prowess has made him well-known in the local arcades and given him respect and glory wants to go that route.
However, these feelings are dashed when Akira Oono, a different student, easily defeats him in Street Fighter 2.
Akira is as close to a perfect girl as it is possible to get. She is wealthy, attractive, and intelligent. However, Haruo had never given a thought to these issues because, in his eyes, his dominance in video games was undeniable despite his many flaws as a person.
Thus, a part of him is forced to despise her now that someone who can compete with him has emerged. Akira is more than capable, but another part of him aches for someone who can compete with him on equal terms.
10. Anohana: The Flower We Saw That Day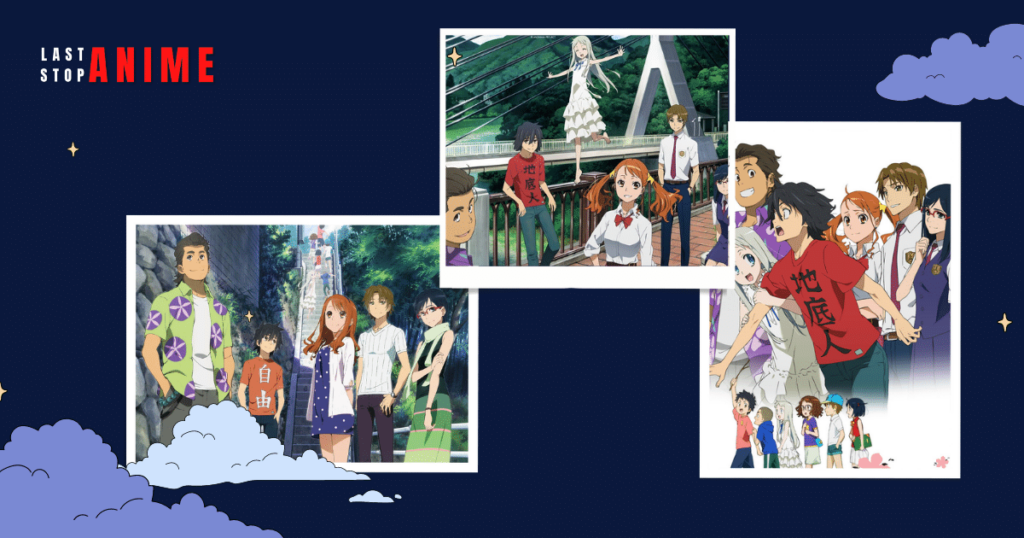 Episodes: 11
Status: Finished Airing
Genres: Drama, Slice of Life, Supernatural
Watch It On: Amazon, Crunchyroll, Funimation, Netflix
Regardless of age, dealing with a friend or loved one's death is difficult, and everyone deals with grief differently. Adults may turn to alcohol to numb the pain, embark on a self-discovery quest, lose themselves in their work, or develop other coping mechanisms.
Unfortunately, children do not have the same advantage and frequently cannot effectively handle the emotional upheaval that takes place.
Anohana: The Flower We Saw That Day centers on a group of kids who suffer the loss of a friend due to an accident, and a few years later, the anime picks up to show how these friends have been affected by the incident. The series addresses death, grieving, and figuring out how to handle losing a loved one.
Jinta Yadomi is contentedly leading a solitary life, spending his days at home playing video games instead of attending school.
He is pestered to fulfill a forgotten wish by his childhood friend Meiko Honma, aka Menma, on a steamy summer day.
Although it irritates her, he doesn't give a damn about her. And besides, Menma had already passed away. It takes Jinta a while to realize that what he sees is Menma's ghost, despite his initial belief that he is simply experiencing summertime hallucinations.
Jinta and his childhood friends lost touch after Menma unexpectedly passed away.
Jinta and his friends rekindle their friendship as they strive to bury Menma's ghost. Would they have the strength to let go of their sorrow and guilt while allowing Menma and themselves to go on?
09. Hoyouka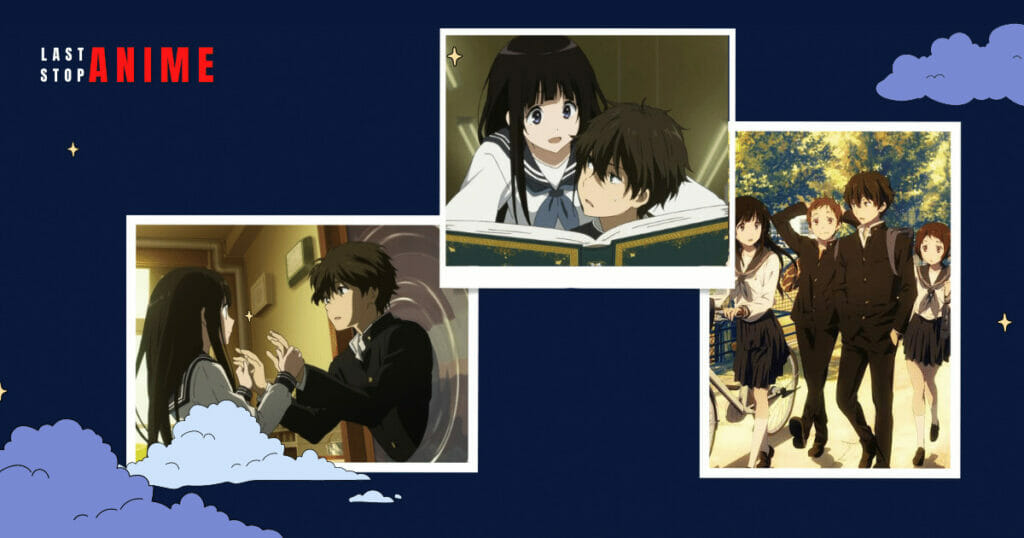 Episodes: 22
Status: Finished Airing
Genres: Mystery, Slice of Life
Watch It On: Amazon, Crunchyroll, Funimation, Netflix
Every mystery doesn't have to involve a grisly murder or violence. The mysteries can occasionally be simple but engaging, as is the case with those that the Classics Club of Hyouka solves.
They look into a ghost that haunts a hot spring, why a student is summoned to the office, and other intriguing enough topics to move the story along.
Hyouka's characters, however, are where its real strength lies. Houtarou Oreki is lethargic, lazy, and mainly uninterested in the world, but Eru Chitanda's contagious zeal compels him to reconsider his way of life.
The protagonist of Hyouka is a young man named Oreki Houtarou. A young man with hardly any passion for anything or anyone, an apathetic dude. His life's mission is not to take any actions unless he has to. And when that time comes, he does it quickly.
However, he accepts when his older sister in India asks him to join the classical club to prevent it from being closed down. He reasons the club could be a nice place to be by himself and preserve his time and energy.
But when he learns that a curious girl named Chitanda Eru is also a member of the club, his traditional way of life is jeopardized.
08. Sora yori mo Tooi Basho (A Place Further Than The Universe)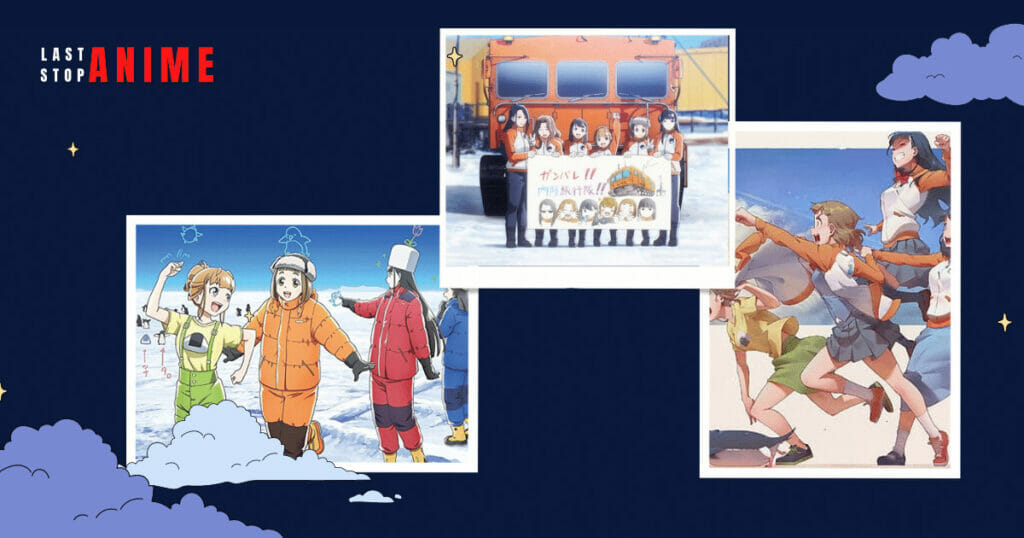 Episodes: 13
Status: Finished Airing
Genres: Adventure, Comedy, Drama
Watch It On: Crunchyroll, Disney+, Netflix
Despite having only 13 episodes, A Place Further Than The Universe leads you through a stunning voyage from Japan to Antarctica. You accompany the characters on their psychological journey and character arcs as they travel the physical route.
At the beginning of the first episode, the four major protagonists are strangers to one another. Because of the difficulties they encountered on the journey, they had developed into fantastic friends by the end of the last episode.
Some might think this is your average cutesy anime, but you're mistaken. The characters are well written and have much more to offer than just being cute. Watching this anime will surely make you feel good as well as motivated.
Mari Tamaki wants to make the most of her youth while she is still a teenager, but her anxiousness is getting in the way. She is motivated to travel to Antarctica from Japan after meeting Shirase Kobuchizawa, a classmate who is adamant about doing so.
There is no violence in this anime unless you count raging waves strong enough to cause seasickness, icy temperatures, or other dangerous Antarctic circumstances.
07. K-ON!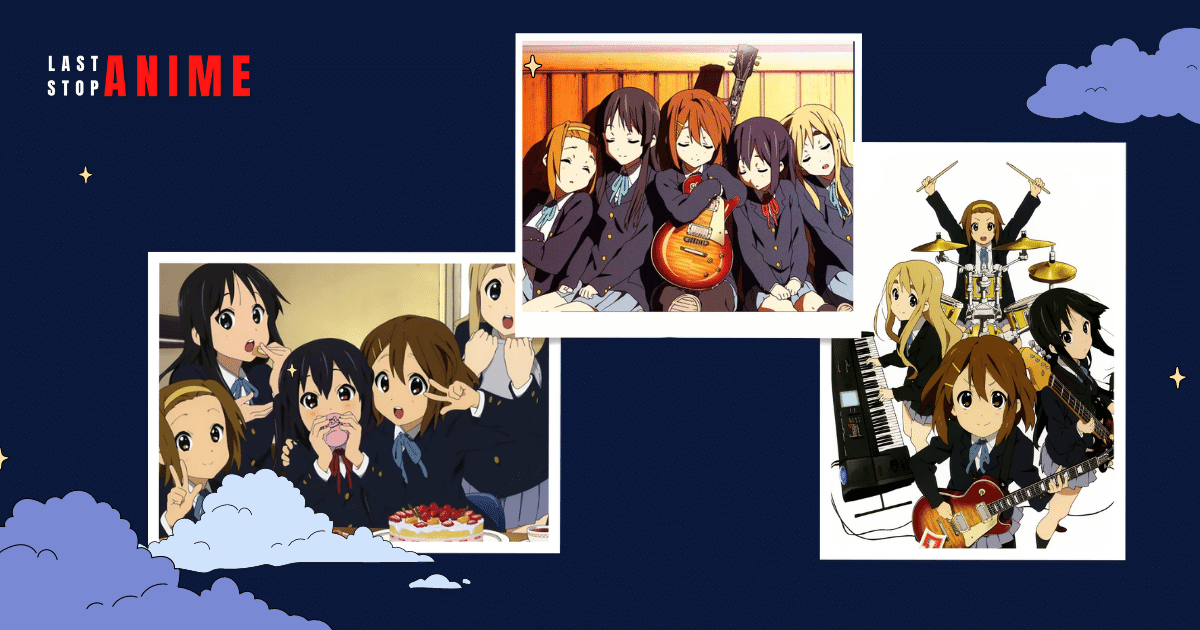 Episodes: 13
Status: Finished Airing
Genre: Comedy
Watch It On: Amazon, Crunchyroll, Funimation
The story of K-ON! is generic yet very entertaining to watch. The animation is good, and the same goes for the music. The story is different; we have high school-related topics like clubs.
The music is catchy and enjoyable. We have our typical Japanese cutesy girls singing and making music.
Yui Hirasawa is a novice guitarist who joins the Light Music Club without musical knowledge. Her clubmates are unhappy, but if they want to avoid disbanding the club, they'll need to teach their new member the basics.
The club participants discover genuine friendships and how to express themselves artistically while making music.
06. Mahoutsukai no Yome (The Ancient Magus Bride)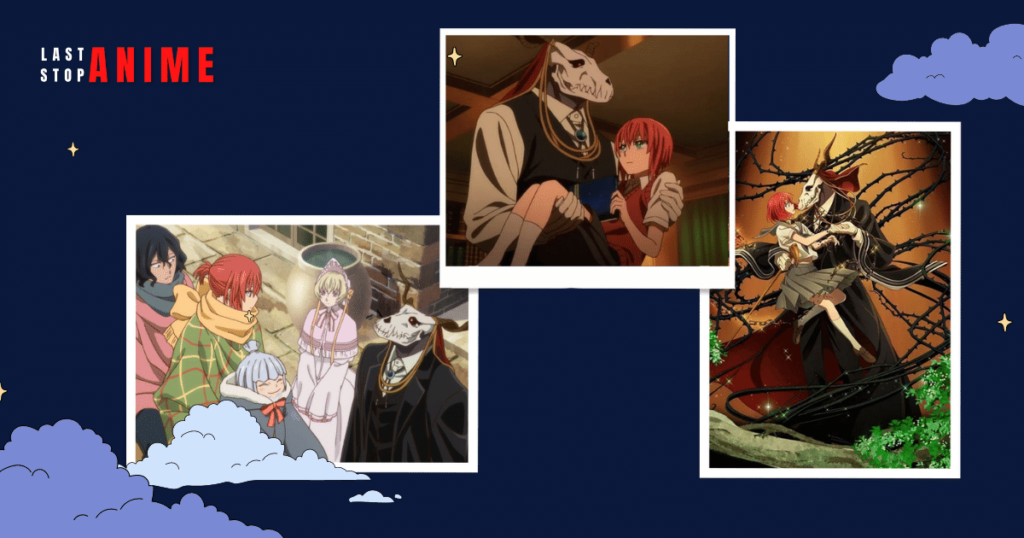 Episodes: 24
Status: Finished Airing
Genre: Fantasy
Watch It On: Crunchyroll, Funimation
No, this is not Shoujo, but The Ancient Magus Bride focuses more on character development. There is a lot of magic and action, but Chise's interior development and interpersonal connections take center stage.
A 15-year-old Japanese girl named Chise Hatori was bought at auction for £5,000,000 by a tall, masked guy. She hears robed men conversing and whining about how they were able to find a rare "Sleigh Beggy" along the road while she is chained up and on her way to an uncertain doom.
The mystery man is identified as a magus named Elias Ainsworth when he leads the girl to a study while dismissing her whispers.
When Chise first arrives, she is greeted by fairies and surrounded by unusual and beautiful creatures. This is the beginning of her story as the student and alleged spouse of the famed magus.
05. Mushi-shi
Episodes: 26
Status: Finished Airing
Genres: Adventure, Fantasy, Mystery, Slice of Life, Supernatural
Watch It On: Amazon, Crunchyroll, Hulu, Funimation
In the stunningly animated series Mushi-shi, elemental life forms known as Mushi rule a world where humans are their hosts and have magical powers that include the ability to create sentient swamps and confer psychic powers.
Every episode features Ginko resolving issues brought on by these species while learning more about them.
This anime contains some violence since Mushi may sometimes be harmful to humans. However, those small moments of tension were perfectly balanced by its subdued atmosphere and emphasis on peace with nature.
04. Bakuman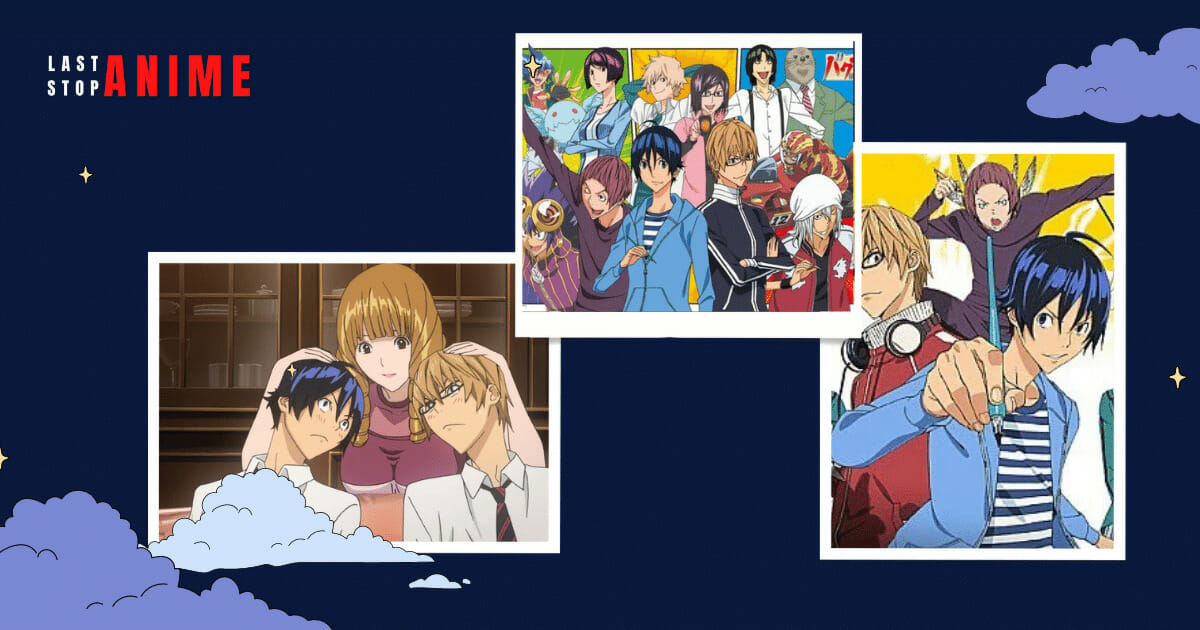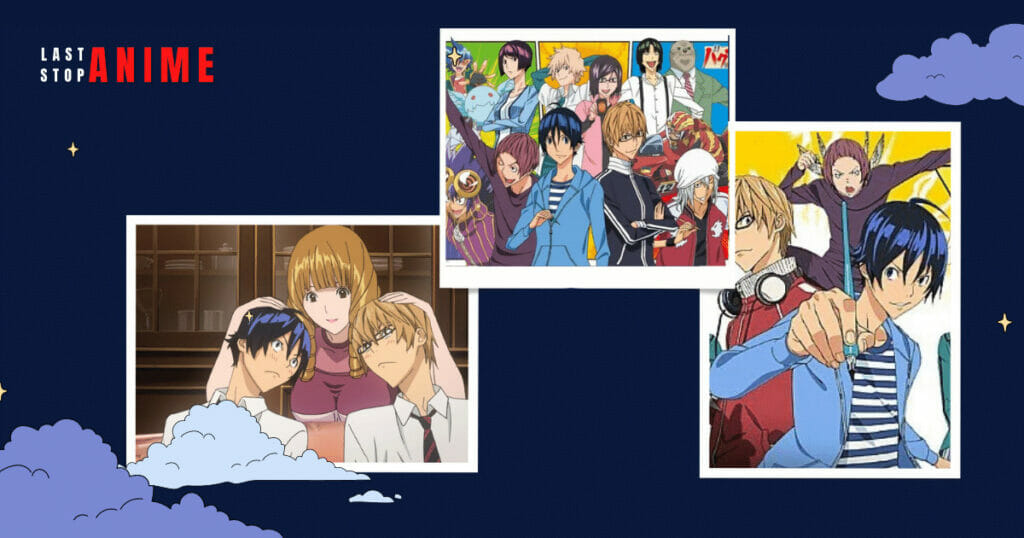 Episodes: 25
Status: Finished Airing
Genres: Comedy, Drama, Romance
Watch It On: Hulu, Peacock, Netflix
Bakuman offers a distinctive look at how manga is created and the unexpected friendship between two high school students while following the journey of an aspiring mangaka partnership.
Moritaka Mashiro is approached by author and classmate Akito Takagi to form a partnership and write comics after he has mostly given up on his dream of becoming a mangaka.
There are many exciting moments in the manga's production and the dynamics of the main characters, even though it isn't your typical action anime.
Another connection that can potentially be a fantastic shonen anime romance is that between Mashiro and his crush, Miho Azuki. If their manga is adapted into an anime, Mashiro promises Azuki that she will voice the main character.
03. Doctor Stone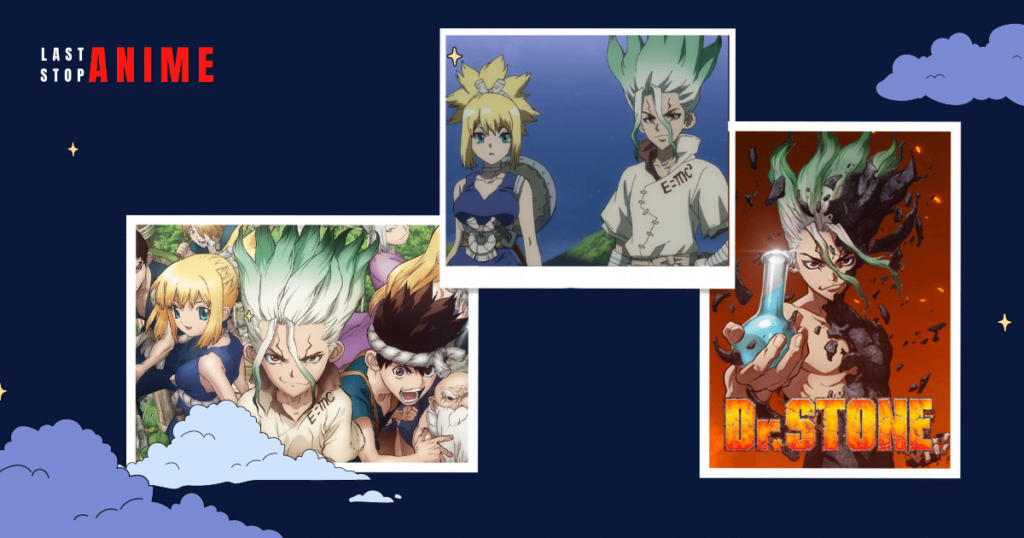 Episodes: 24
Status: Finished Airing
Genres: Adventure, Comedy, Sci-Fi
Watch It On: Amazon, Crunchyroll, Disney+, HBO Max, Funimation, Netflix
Dr. Stone is a brilliant example that makes science into a superpower, proving that it is possible to mix fun with learning.
Senku Ishigami is the leader of an adventurous band of survivors trying to restore civilization to the world thousands of years after society collapsed.
Yes, the second season of the anime, Dr. Stone: Stone Wars, does touch on the subject of warfare, but it does so as a byproduct of the ongoing scientific presentation.
The characters in Dr. Stone favor intellect over strength, and the anime proves that knowledge may occasionally be the most powerful weapon.
02. Death Note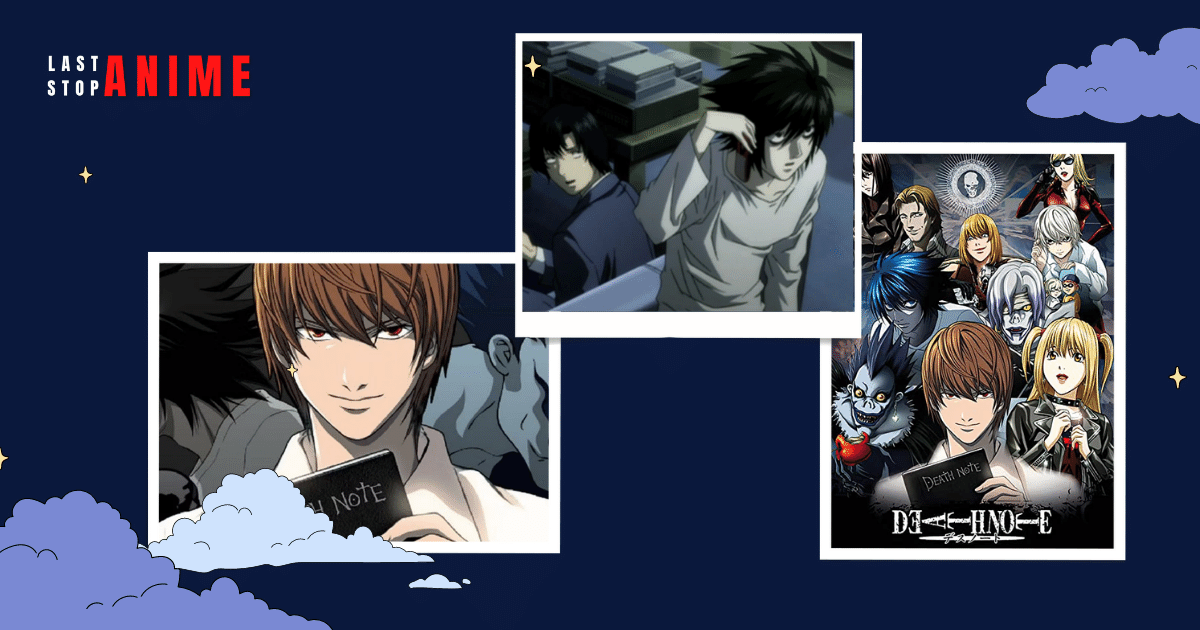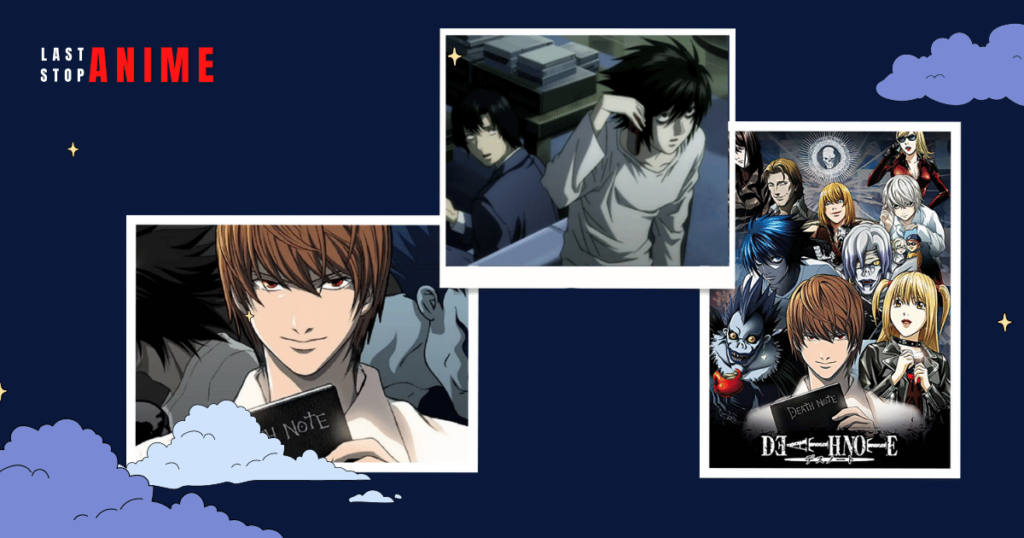 Episodes: 37
Status: Finished Airing
Genres: Supernatural, Suspense
Watch It On: Amazon, Crunchyroll, Hulu, Netflix
You must live under a rock if you haven't heard of Death Note. Death Note is so admired because it depicts a thrilling fight between a hero and a villain, yet it is achieved through a contest of wits with the aid of a dangerous and enigmatic weapon.
Death Note shines in the way that Light Yagami, the complicated protagonist, transforms into a scary antagonist over time.
The Shonen series can be full of death but free of battles and fighting because of the Death Note and its highly dangerous forces.
If you have already watched Death Note and liked it, check out anime similar to death note.
01. Haikyuu!!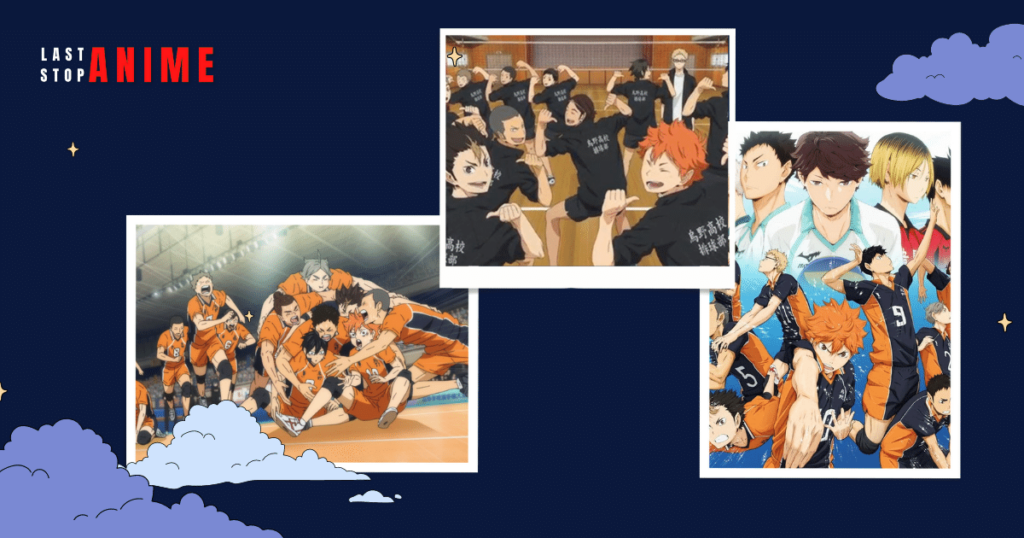 Episodes: 25
Status: Finished Airing
Genre: Sports
Watch It On: Amazon, Crunchyroll, Hulu, Funimation, Netflix
Haikyuu is considered one of the best anime in the sports anime category. When sports anime tries to incorporate explanations of how specific components of the sport work, it might detract from the plot. The implementation by Haiykuu! is amazing.
Haikyuu! is a sports anime, much like everyone else! Even experts find some moves to be out of this world and unattainable.
Haikyuu! does a fantastic job of character development. You are familiar with the personalities of each character.
How do they fit into the squad and the court? Even if they aren't participating in the game, you may still connect with and feel for the characters sitting on the bench.
As is customary for sports anime, the plot opens with Hinata and Kageyama bumping into each other and fighting before they join the Karasuno volleyball team and take on rival teams to the inter-highs.
You can also check out our piece on anime to watch if you liked Haikyuu!