After the end of Season 4, Haikyuu fans patiently waited for an announcement for the new season. It was strangely stated by the series' official Twitter account that a two-part movie titled Haikyuu!! Final is now in production rather than a new anime season.
The official release dates for Haikyuu!! are currently unknown. Although the exact movies have yet to be revealed, the series account tweeted that a premiere event will take place in August 2023.
What Makes Haikyuu!! A Great Anime?
Haikyuu!! is a sports anime that focuses on the volleyball team at Karasuno High School. The main character, Shōyō Hinata, wants to become like Little Giant, a volleyball player known as Little Giant in play.
This motivated young man creates his own team with classmates and enters a competition despite not meeting the essential playing criteria of height.
Haikyuu!! is arguably one of the best anime in the sports genre. The plot is simple yet draws the viewer in. Not only is the plot, but the characters in anime are also the main highlight.
You feel like watching a real-life volleyball match instead of an anime. The emotions, the tension and the efforts put by the characters feel real.
Talking about real life, Haikyuu!! teaches some real-life lessons too. It teaches about team spirit, failure, improving, getting stronger, and learning something new.
Every character has their own introduction. We get to know their motivations, how they were treated in middle school and whatnot. We know their struggles, how hard they practiced, and what their personalities are.
Now comes the best quality of Haikyuu!! It doesn't make you feel stupid about not knowing the game's rules. Rather Haikyuu!! incorporate game rules into the match without making viewers feel left out. The rules are explained in a simple way that engages the audience.
Every time a new word or term is used, a simple explanation is followed right after.
You can stream Haikyuu!! on Amazon, Crunchyroll, Disney+, Netflix
Now that we know everything about it, we are listing down 11 anime like Haikyuu!!
11. Ahiru no Sora (Sora The Duck)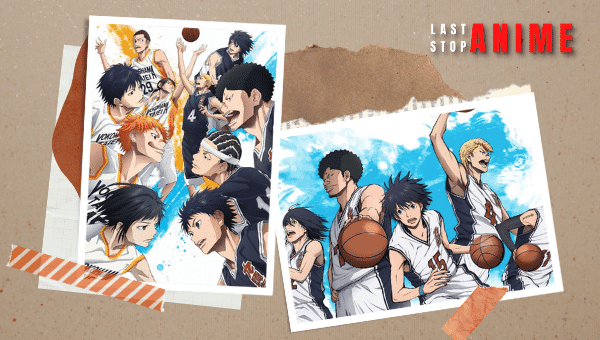 Type of Sport: Basketball
Number of episodes: 50
Number of seasons: 4
Genre: Sports
Sora Kurumatani has played basketball since he was a little child and has faced several challenges.
Despite his small stature, he excelled in the sport and worked hard to defeat some taller competitors who would have otherwise had the upper hand due to Sora's short stature.
Sora enrolls in Kuzuryuu High School to join the basketball team and actively participate in competitions. But he is upset when he learns that every member is a punk who doesn't give a damn about playing.
Sora also learns from his new friends, Momoharu Hanazono and Chiaki, that they are no longer as enthusiastic about playing as they once were.
Sora challenged the guys to a match with him to reinvigorate the school team, but the boys were easily defeated by Sora's swift footwork and rapid moves.
They gradually began to feel their worn-out passion for this game ignited because of Sora's remarkable talents, unrelenting effort, and unshakable commitment to basketball, which was apparent in every dribble or shot he made against them.
Like Haikyuu, which features fun sports stories with consistently faithful main characters, Ahiru no Sora is worth your time.
The show emphasizes players who are short but make up for it with talent, and it's worth watching since Ahiru no Sora gives a distinctive viewpoint along with an incredible character journey.
What makes Ahiru No Sora an anime like Haikyuu!! is the fact that the main characters of both series are short and have quick movements.
10. Baby Steps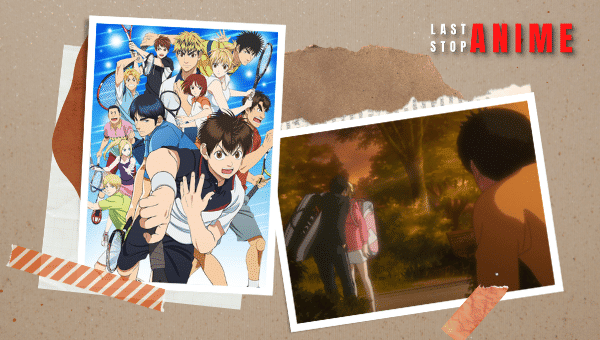 Type of Sport: Tennis
Number of episodes: 50
Number of seasons: 2
Genre: Sports
Eiichirou Maruo stands out in the time-constrained world of an intense and diligent honor student. This freshman decides to join the Southern Tennis Club after seeing their flyer on campus because he is concerned about his health due to his lack of exercise.
The tennis club may not only seem like a place for exercise and competition at first. He meets Natsu Takasaki, a young woman who is not only a talented player but also aspires to be a professional.
His talents eventually caught up to those of the pros as he practiced and learned more. Ei-chan, the main character, is a tennis novice. Every episode allows the audience to watch him get better at the game and learn new techniques for hitting the ball.
Even though others have been at it for far longer than he has, he has a lot of amusing times that make you wish for him to thrive! Similar to Haikyuu!!, Baby Steps is a cute show with lots of uplifting moments.
Baby Steps is appreciated for its accurate and thorough portrayal of tennis; the characters don't possess superhuman strength or agility.
Instead, the anime strongly emphasizes regularly practicing to advance one's abilities and using strategic moves when playing games.
One of the best anime when it comes to tennis, with many cool characters and some funny moments here and there.
09. Ballroom e Youkoso (Welcome to the Ballroom)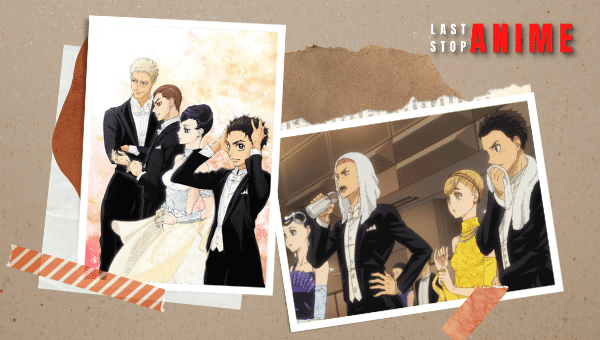 Type of Sport: Competitive Dancing
Number of episodes: 24
Number of seasons: 1
Genres: Comedy, Drama, Romance, Sports
This sports anime focuses on competitive dancing and have the same team that worked on Haikyuu!!
Fujita has spent his entire life attempting to fit in with the crowd because he lacks a distinguishing characteristic or line of work.
He finds a dance studio by pure chance, and the proprietor welcomes him in right away and enrolls him in a beginner's ballroom class.
Tatara is invited to Kaname's dance studio, who ordinarily would never enter such a place, is drawn in by Sengoku's powerful presence and embarks on a journey into the competitive world of ballroom dancing with classmate Shizuku Hanaoka, who frequently practices at Kaname's Studio.
Tatara discovers that he is captivated by the dancers' movements and fervor as he watches them perform.
He decides to enter the world of competitive dance with these new, unexpected emotions and the sincerity that comes from realizing that he has the chance to change the course of his life.
Welcome to the Ballroom, in which elegant dancers move in perfect harmony across honed floors. Those who enjoy Haikyuu should definitely watch this anime!
08. Yowamushi Pedal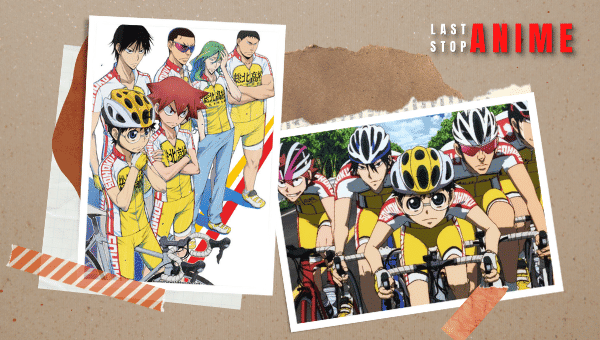 Type of Sport: Cycling
Number of episodes: 38 (Yowamushi Pedal) 24 (Yowamushi Pedal Grande Road) 25 (Yowamushi Pedal: New Generation) 25 (Yowamushi Pedal: Glory Line)
Number of seasons: 4
Genres: Comedy, Drama, Sports
Up next, we have a different sports anime that centers around cycling. Sakamichi Onoda is an upbeat otaku looking forward to making friends at his new school but is disappointed to learn that the anime club has been shut down.
He decides it is up to him to resurrect this group by recruiting students. Onoda plans to ride his outmoded and cumbersome city bicycle to Akihabara in the hopes of finding success.
Since the fourth grade, he has completed this weekly 90-kilometer ride. Shunsuke Imaizumi, a tenacious rider who utilized the school's steep hill for practicing, was a fellow first-year student who introduced Onoda to the realm of high school bike racing.
Yowamushi Pedal is yet another sports anime with excellent character development, and it shares many of the same topics as Haikyuu!! Sakamichi completes the turn and enters a completely different atmosphere.
While he doesn't fit the mold of a sports anime protagonist, it's difficult to despise him. Yowamushi Pedal is a fun trip from start to finish, with a charming cast of supporting characters and intriguing adversaries.
The show isn't as implausible as some other sports games, but it's also not your typical slice-of-life.
07. Kaze ga Tsuyoku Fuiteiru (Run With the Wind)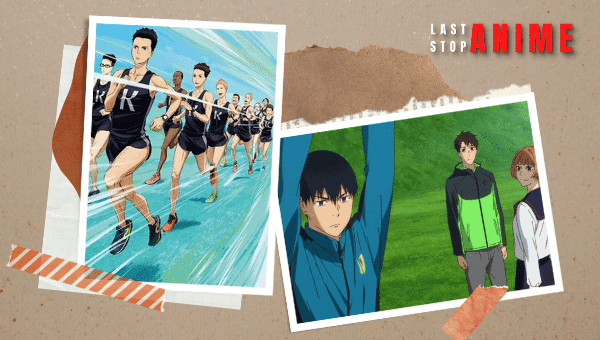 Type of Sport: Track and Field – Athletics – Running
Number of episodes: 23
Number of seasons: 1
Genres: Drama, Sports
Few games are as straightforward and uncomplicated as running. Even today, in memory of the renowned Pheidippides, the Olympics carry the torch over great distances.
Run With the Wind was another sports anime produced by the same studio as Haikyuu!! and Welcome to the Ballroom.
As the name of this sports anime suggests, Run With The Wind is just about running. The storyline is centered on the characters.
Every character has their own issues to untangle, and each has their own motivations for running. For the majority of them, running turns out to be a type of therapy.
Kakeru Kurahara was Sendai Josei High School's ace runner. He was once caught stealing from a convenience store.
After evading his assailant, he bumped into Haiji Kiyose, who convinced him to move into Chikusei-sou, an old apartment complex with some sketchy tenants where there was no room left. However, that doesn't stop them either!
The typical themes of character growth, introspection, and overcoming adversity are taken in Run with the Wind and changed from a personal viewpoint to a larger cast of individuals.
We can delve into more detail regarding the attitudes, feelings, and opinions that people have when they come across something their heart desires to pursue, from fully embarking on the journey to completely refusing to partake in it, thanks to the diverse personalities and struggles of each protagonist.
Its likable characters make Run with the Wind an amazing sports anime. Each member of the club has a unique personality.
06. Diamond no Ace (Ace of Diamond)
Type of Sport: Baseball
Number of episodes: 126 + 5 OVA (Ace of Diamond) 52 (Ace of Diamond Act II)
Number of seasons: 2
Genre: Sports
Ace of Diamond focuses on a baseball team. Fun Fact: Baseball is considered the most popular sport in Japan. Given this, Diamond No Ace is a must on our list.
The plot of Ace of Diamonds begins with a rather obvious premise: baseball prodigy Eijun Sawamura wants to lead his high school team to a championship.
They worked to win the coveted high school baseball tournament known as the National Koshien, which is extremely competitive, and they played every summer with their team.
The anime's great character development is what sets it apart. The series offers enough material—126 episodes and 5 OVAs—to fully develop each character's personalities, stories, and special abilities.
Ace of Diamond is just another anime like Haikyuu!! that includes amazing characters that are occasionally given attention, demonstrating how important it is for every team member to perform their own job.
Game theory is effectively employed in Ace of Diamond to break down the game, making it easier for anime fans unfamiliar with baseball to follow.
Like in Haikyuu!, the characters are likewise immensely endearing and humorous. Viewers will be keen to support the team as they win, just like they did with Kuroko no Basket.
Diamond No Ace is an amazing anime about a baseball team, and many fans will be satisfied with the adaptation. Ace of Diamond is one of the most popular sports anime and a must-watch anime.
05. Shokugeki no Souma (Food Wars!)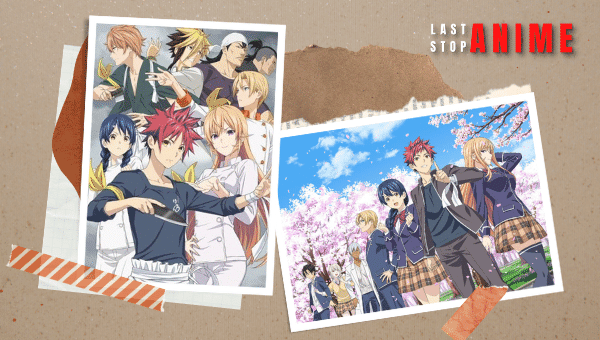 Type of Sport: Competitive Cooking
Number of episodes: 73
Number of seasons: 5
Genres: Gourmet, Ecchi
Now we know you will question whether cooking is a sport or not and why Food Wars is on the list of anime like Haikyuu!!
Those who have watched Food Wars know that this anime doesn't have a sports theme. But like Haikyuu!! has some life lessons, Food Wars teaches us about cooking.
As the plot is just about cooking and the culinary world, Food Wars can be considered the best anime for cooking or the culinary world.
Despite being an anime about cooking, Food Wars! is also regarded as a shonen sports anime. Souma Yukihira is a talented chef who learned from his talented chef father, who runs his own restaurant.
As a result of his father's rash decision to close the family restaurant, Souma was sent away from home and decided to enroll at Japan's most prestigious culinary school, Tootsuki Culinary Academy.
Fewer than 10 percent of students enrolling at Tootsuki Culinary Academy graduate with a degree.
It is well known for its "Shokugeki," or food wars, in which fierce competition between competing chefs and cooks is held with a high degree of stakes to establish which cuisine is the best.
Souma impresses many people with his culinary abilities when he enrolls in a cooking school. However, he still faces challenges before graduating and being acknowledged as the best chef in the facility.
Just like Haikyuu!! the other characters are incredibly charming and have a great fighting spirit. If you like Ecchi and want to learn about cooking, then Food Wars is the perfect anime for you, and we are sure you won't regret watching it.
04. Ookiku Furikabutte (Big Windup!)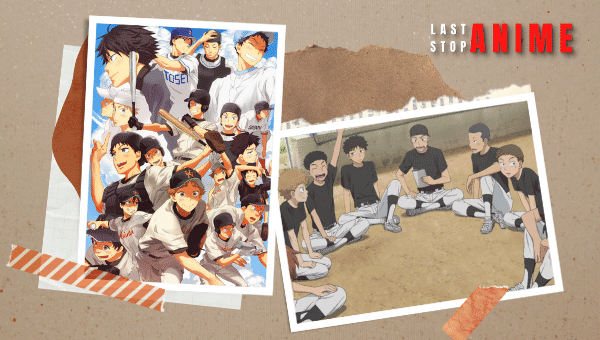 Type of Sport: Baseball
Number of episodes: 38 + 2 OVA (Ookiku Furikabutte: Natsu no Scorebook) 2 Special
Number of seasons: 2
Genre: Sports, Comedy
This baseball anime shows a different side of this sport. Despite being the middle school baseball team's ace, Ren Mihashi's subpar pitching prevented his club from winning a game.
Mihashi's persistent defeats eventually got to the point where his teammates started mocking him and gave up attempting to win.
As a result, he struggled to maintain his self-esteem as he finished high school and decided to never play baseball again, not even in a new prefecture.
A series of unfortunate circumstances forced Kenta to join the baseball team at Nishiura High.
Ookiku Furikabutte is just another anime like Haikyuu!! This anime has slapstick humor conveyed directly, making it fun to watch.
03. Slam Dunk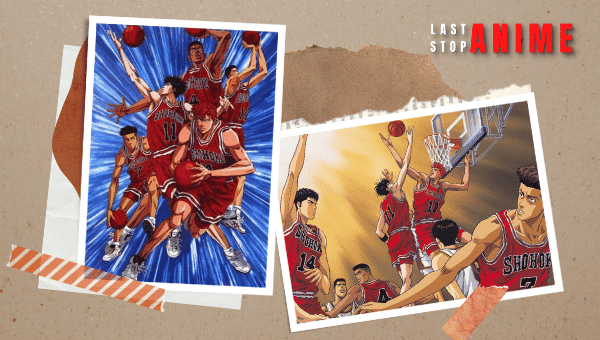 Type of Sport: Basketball
Number of episodes: 101 + 5 Movies + 1 Special
Number of seasons: 1
Genre: Sports
Hanamichi Sakuragi is a straightforward person who only wants a girlfriend. He joins Shohoku High's basketball team to become closer to Haruko Akagi, the club's captain's sister, to accomplish this goal.
Hanamichi develops a bond with basketball over time. Slam Dunk is a legendary series that is both funny and realistic; the anime is the only thing keeping it from being perfect.
Hanamichi's development is depicted realistically since he needs to work hard to improve; even so, it is unlikely that he will be qualified to play in the NBA by the final arc.
Slam Dunk and Haikyuu feature characters who, despite having distinct motivations, strive to be the best in their respective sports, making it an anime like Haikyuu!!
It's the kind of basketball anime where the characters battle to overcome obstacles in life and endure grueling competitions in an effort to reach the top.
You'll be hooked from the beginning to the end of this action-packed series featuring a comedy-infused sports action animation!
02. Kuroko no Basket (Kuroko's Basketball)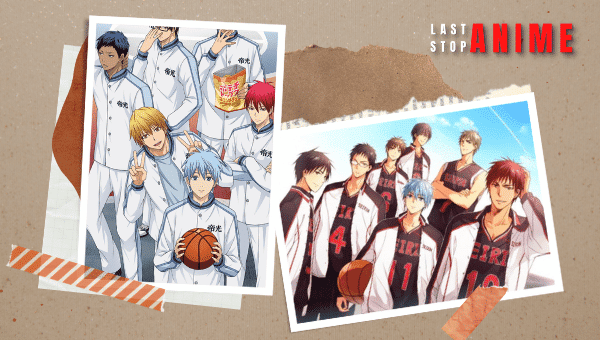 Type of Sport: Basketball
Number of episodes: 75 + 3 OVA
Number of seasons: 3
Genre: Sports
At the second spot, we have an anime with the same studio as Haikyuu!! It's challenging to unseat Slam Dunk, the enduring basketball anime classic from the 1990s, but Kuroko No Basket succeeds.
Kuroko no Basuke is another of the most well-liked sports anime alongside Haikyuu!! has a long run of 75 episodes, allowing you to binge to your heart's content.
The narrative centers on a high school basketball team attempting to qualify for the Interhigh Championship, an annual high school basketball competition.
Kuroko no Basket is one of the most popular sports anime of the modern age, along with Haikyuu!! There is no better place to seek the battle and team dynamic Haikyuu!! portrays than the basketball team of Seirin.
Kuroko and Kagami, two rookies on this club, are truly giving the team unexpected strength.
When you add the rest of the endearing characters to Kuroko and Taiga's developing friendship as teammates, it's impossible not to fall in love with the Seirin High squad.
There are moments when watching the squad defeat rival teams while using players from the "Generation of Miracles" makes the game seem more like an epic battle.
The anime series' sheer excess lends it a great charm and heart-pounding excitement.
The usage of supernatural abilities in sports anime has drawn criticism for being ridiculous, but fans have complimented the series for skillfully fusing magical elements with basketball maneuvers.
Tetsuya Kuroko, the main character, and other characters face challenging opponents, unlike normal sports animes where the protagonist always succeeds. They battle, fall short and overcome difficulties.
You'll be kept on your toes by the show, which makes it much more enjoyable to watch the characters succeed.
Other Sports Anime Similar To Haikyuu!! That You Will Enjoy Watching:
Tsurune: Kazemai Koukou Kyuudoubu (Tsurune: Kazemai High School Kyudo Club)
Yuri!!! on Ice
SK8 The Infinity
Chihayafuru
Ping Pong The Animation
01. Free! (Free! – Iwatobi Swim Club)
Type of Sport: Swimming
Number of episodes: 37 + 3 Movies
Number of seasons: 3
Genre: Sports
At the top spot, we have one of the most popular sports anime, Freee! Iwatobi swim club. The best anime when it comes to swimming and team spirit.
Haruka Nanase enjoys swimming and being near water. When they were in elementary school, he participated in a relay race with his three friends, Rin Matsuoka, Nagisa Hazuki, and Makoto Tachibana.
They parted ways when he declared himself the winner of the competition. When talented swimmer Haruka Nanase meets up with his childhood friends in high school, they collaborate to rebuild their damaged friendships and restore the swim club to its former glory.
The main character of Free is considered the even more reserved version of Tobio Kageyama. This sports anime is very heartfelt and addresses the problem of deciding what to do after high school.
The program offers much more than just gorgeous males in swimwear. This anime is highly compelling due to the complicated interactions and ties between the main characters.