Anime fans would agree that whenever we find masked characters in an anime, it unknowingly entices our interest to know more about that character and apparently hooks us to watch the entire series.
Moreover, masked characters always come with a compelling storyline encapsulated with mystery, secrecy, and a great show.
Most of the time, anime characters wear masks to conceal their true identities, their emotions, or some dark hidden secrets that garner interest from viewers and thus, create an intriguing atmosphere for the viewers to adhere to the show until they unravel the truth of that mysterious masked anime character, like a Sherlock Holmes of the Japanese anime world.
So, our dear readers, we have listed down the best 15 masked anime characters that either wear a mask all the time or only do so during the fighting scenes, such as when they unleash their power, yet maintain consistent grandeur and charming effect throughout the show. Therefore, without further ado, let's dive into the list!
A WORD OF CAUTION: This list might contain spoilers, So read ahead at your own risk.
15. Shin-Ah
Anime: Yona of the Dawn
Watch It On: Amazon Prime, Crunchyroll, Hulu, Funimation, Netflix
Shin-Ah is a handsome young man with blue dragon eyes that aid him in seeing objects from miles away.
His power is in his dragon eyes which he has yet to fully control. If he stares into someone's eyes, his eyes' ability affects them badly, including himself.
His victims experience terrible hallucinations, and his own body becomes paralyzed due to the utilization of the ability.
Why Does Shin-Ah Wear A Mask?
Shin Ah wears a horned skull mask to cover his eyes since they can hurt people unknowingly. Moreover, he does not like the idea of losing himself.
14. Overhaul
Anime: My Hero Academia
Watch It On: Amazon Prime, Crunchyroll, Hulu, Funimation, Netflix
Overhaul is the Quirk of Kai Chisaki. After the manifestation of his quirk, he turned into a rebellious villain. He is the antagonist of the My Hero Academia's Shie Hassaikai Arc in manga and anime series.
Overhaul dreams of creating a quirkless world since he is traumatized by his manifested quirk. He also becomes the leader of the criminal world, which consists of evil and wicked quirk users to accomplish his ambition.
Why Does Overhaul Wear A Mask?
Overhaul has worn two different masks. Earlier, he has seen wearing a simple black mask. Later, he started donning a plague doctor mask after turning into a villain.
One of the reasons why Overhaul wears a plague doctor mask is that he is a germaphobe and hates coming into contact with people. Even his subordinates wear masks around him.
His plague mask covers his nose and mouth. Moreover, it has air filters to purify the air. Sanitation is a must around him, or else he loses his composure.
13. Mystogan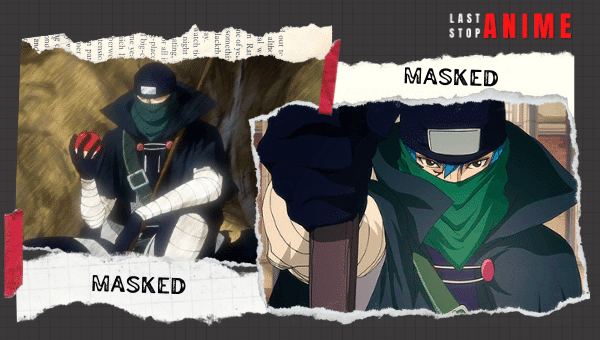 Anime: Fairy Tail
Watch It On: Crunchyroll, Hulu, Funimation
Mystogan is one character that stayed mysterious all through the Fairy Tail series. He is the ruler of Edolas and also an S-class Mage.
His real name is "Jellal," but he's not Jellal Fernandes, although they share the same dark eyes, blue hair, and the tattoo on their face.
Mystogan is from the parallel world of Jellal Fernandes, who is from the Tower of Heaven.
Why Does Mystogan Wear A Mask?
Mystogan wears a dark green mask that covers much of his face to hide his identity from the guild members.
He also uses his magic to put everyone to sleep whenever he appears in the guild.
12. Bach Licht
Anime: Plunderer
Watch It On: Amazon Prime, Crunchyroll, Hulu, Funimation, Netflix
Licht Bach's real name is Sakai Rihito. He looks strange, blatantly perverted upon initial meeting, yet he is one of the strongest Legendary Red Barons.
He possesses superhuman reflexes and speed. Moreover, being a baron, he also has flashing strike ability.
Why Does Licht Bach Wear A Mask?
In Plunderer, Licht has worn a variety of masks. These are generally traditional masks called "Noh," used in theatres.
He once claimed that he hides his face by donning a mask because of frequently being turned down by the girls, which is somewhat accurate but still deceptive.
Moreover, Licht's flash mask has the significance of its own since it symbolizes his misery and guilt for his own mistakes.
11. San
Anime: Princess Mononoke
Watch It On: Amazon, HBO Max, Netflix
San is a young and beautiful girl who is also known as a "Wolf girl" because she is raised by a wolf goddess Moro.
She considers herself a wolf and strongly hates humans. For her, protecting the forests and their inhabitants is the top priority. She guards them while risking her own life.
Why Does San Wear A Mask?
Throughout the movie, San dons two different types of masks.
During the fight, she wears a red mask having white wavy lines with three circular openings for the eyes and mouth. It covers her entire face and thus protects her from getting hit.
The other mask is also similar in design, but with the exception of her mouth area, it only covers the upper half of her face.
10. Tempest Rimuru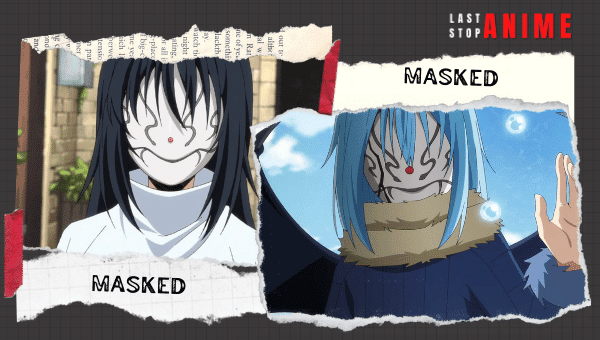 Anime: That Time I Reincarnated as a Slime
Watch It On: Amazon Prime, Crunchyroll, Funimation, Netflix
Rimuru Tempest, the main protagonist of the anime series was originally a 37 years old human, Mikami Satoru, who died and reincarnated as a slime.
In the slime world, Rimuru is the founder and the ruler of the monster country called Jura-Tempest Federation. Moreover, later Rimuru also becomes a True Demon Lord after evolving into an ultimate slime.
Why Does Rimuru Tempest Wear A Mask?
Rimuru wears an Anti-Magic Mask that he received after Shizue's death.
As the name "Anti Magic" suggests, the mask subdues the magic attacks and enhances the user's senses. Also, it provides breathing support while eliminating the toxicity of coming into close contact with the user.
9. Kurosaki Ichigo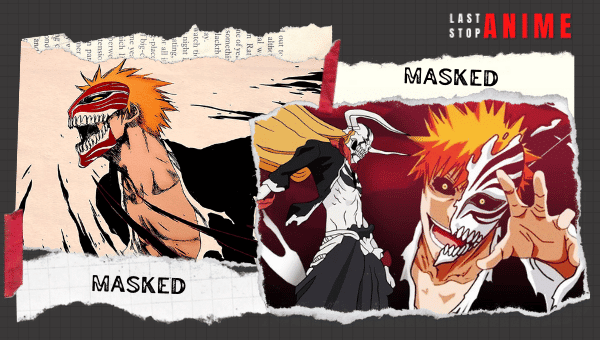 Anime: Bleach
Watch It On: Crunchyroll, Hulu, Netflix
Ichigo Kurosaki is the main protagonist of the Bleach anime. He becomes a soul reaper after accepting Rukia's powers.
He hunts down the hollows- the corrupted spirits along with his friends. They together formed a group referred to as "The Visored." All of them possess special abilities that help them during the battles.
Why Does Ichigo Kurosaki Wear A Mask?
Ichigo Kurosaki doesn't sport a mask as such. The peculiar mask that appears on his face is actually his hollow form.
The hollow mask helps him to strengthen his powers and gives him immense speed and reflexes.
Moreover, the full possession of his hollow form makes him lose control of himself and turns him into a wild, strong, powerful, hollow entity.
8. Hei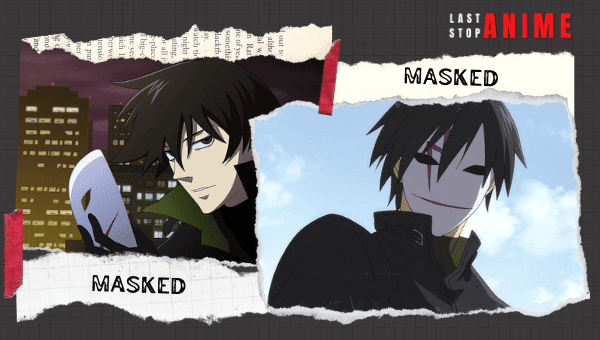 Anime: Darker than Black
Watch It On: Amazon, Crunchyroll
In Darker than Black anime character Hei is a contractor who possesses the ability to generate electricity.
In Chinese, "Hei" means "Black," who lives with two identities. One is Li Shengshun, who is a foreign exchange student and is known for being well-mannered, while the other as Assassin, also referred to as "The Black Reaper" or "BK-201," who possesses contractor powers- the supernatural powers given to humans in exchange for their humanity.
Why Does Hei Wear A Mask?
During his missions, Hei usually wears a pierrot-style white mask with a thin red slit on the mouth to hide his secret identity.
He also wears a black bulletproof coat which complements his black hair and gives him a proper appearance of the Black Reaper.
His white mask also has a lightning strike symbol on the top right side, reflecting his power of electricity manipulation.
7. Hashibira Inosuke
Anime: Demon Slayer: Kimetsu no Yaiba
Watch It On: Crunchyroll, Hulu, Funimation, Netflix
Inosuke is one of the main characters of Demon Slayer, who appears oddly energetic and short-tempered. Yet, he possesses exceptional agility and special abilities that make him defeat lower-rank demons without breaking a sweat.
Furthermore, Inosuke is highly talented and one of the truly gifted members of the Demon Slayer Corps.
Additionally, he likes to challenge everyone to fight him to receive praise from them.
Why Does Inosuke Hashibira Wear A Mask?
Inosuke wears a grey boar mask as a tribute to his adoptive boar mother, who raised him when he was abandoned in the woods.
This is also the reason why he has less understanding of human behavior.
The mask is the hollowed-out head of a boar, which he always wears to show his love and respect for his only mother.
6. Ideale Zora
Anime: Black Clover
Watch It On: Crunchyroll, Funimation, Netflix
Zora Ideale is the supporting character in the Black Clover series. He is a magic knight and a member of the Royal Knight and Black Bulls squads.
Zora is a mischievous, unpredictable character who loathes nobles to his core. Moreover, he is highly intelligent and possesses incredible magical powers.
Why Does Zora Ideale Wear A Mask?
Zora dons a black mask with an artificial mouth showing sharpened teeth. Moreover, he wears it as a tribute to his father, Zara Ideale, the first commoner magic knight.
5. Zero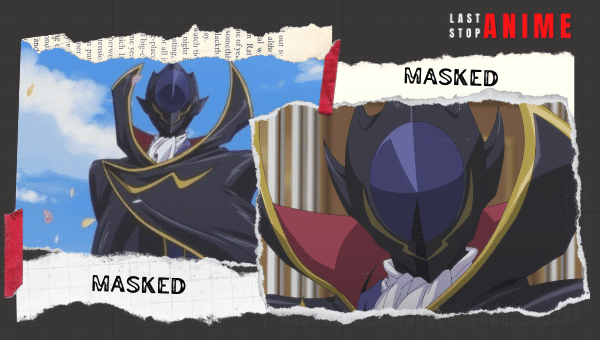 Anime: Code Geass
Watch It On: Amazon Prime, Crunchyroll, Hulu, Funimation, Netflix
Zero is the alter ego of Lelouch Lamperouge, the main anime character of the Code Geass anime series.
He is the leader of "The Black Knights," who fight against the Holy Britannian Empire.
Initially, his goal was to take revenge for the death of his mother but soon, it turns out to be a revolt for everyone's sake where they can live in harmony without any suffering.
Why Does Zero Wear A Mask?
From the outside, Zero's mask is quite distinctive owing to the black spiky structures around the centered indigo color on the helmet. The extended golden Geass Sigil over the lower part of the mask, while from the inside, it is completely transparent.
The mask also has a retractable plate that helps the wearer to use his Geass easily while keeping his entire face hidden.
Zero dons a mask to hide his real identity since he is the prince of the Holy Britannian Empire in reality, and he is going against his own Empire.
4. Hatake Kakashi
Anime: Naruto
Watch It On: Amazon Prime, Crunchyroll, Hulu, Netflix
Kakashi Hatake is a well-known and one of the popular anime characters in the anime community. He is also one of the strongest and highly skilled shinobi of the Hidden Leaf Village.
In the Naruto series, Kakashi is introduced as the Sensei of Team 7 members, Naruto Uzumaki, Sasuke Uchiha, and Sakura Haruno, and teaches them the value of teamwork and friendship.
He is widely renowned as "The Copy Ninja" for copying the jutsu/techniques of his opponents with the help of his Sharingan eye. He is claimed to have copied more than a thousand jutsu by now.
The Sharingan eye is given to him by Obito Uchiha since Kakashi doesn't belong to the Uchiha clan. Only they can possess and awaken the Sharingan in their eyes. However, he usually hides it by his forehead protector because the Sharingan always stays active and uses much of his chakra/energy.
Why Does Kakashi Hatake Wear A Mask?
Many theories revolve around among anime fans as to why Kakashi hides his handsome face with a mask that covers his mouth and neck area.
However, in the non-canon Naruto spin-off series, it was mentioned that he hides his nosebleeds with it while reading Make-out Tactics (his favorite adult romance book series).
Moreover, Kakashi also feels self-conscious about his beauty mark, a mole on his chin; therefore, he always wears a mask to cover it up.
3. Satoru Gojo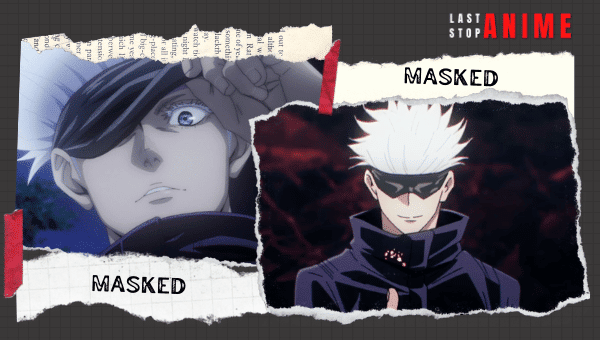 Anime: Jujutsu Kaisen
Watch It On: Crunchyroll, Netflix
It wouldn't be inaccurate to say that he is one of the most beloved anime characters. You must have come across a viral post displaying a smart white-haired tall man with covered eyes, wearing a purple jacket, saying, Daijoubu desho datte kimi yowai mo (It's okay because you are weak). Yes, you got it right, it's him!
Gojo Satoru is an immensely powerful and strongest sorcerer of Tokyo Metropolitan Curse Technical College. He is a mentor but quite different from a typical teacher. He is known for his playful and carefree nature with his students.
Aside from his nonchalant and unpredictable demeanor, he possesses extremely formidable techniques and a tremendous amount of cursed energy, which makes his foes think twice before starting a fight with him.
Why Does Gojo Satoru Wear A Mask?
Being from the Gojo clan, he has inherited the Limitless Techniques, which work on the concept of infinity and enable spatial manipulation and distortion at the user's will. Apart from this, he also has Six Eyes that display cursed energy with high precision.
Furthermore, Gojo doesn't cover any other part of his face except his eyes by wearing a blindfold to conceal his stunning blue eyes to lessen the intensity of the cursed energy. Also, it would tire him out if he kept using them constantly.
Nonetheless, wearing a blindfold does not affect any of his abilities. He can sense everything around him by localizing the flow of cursed energy in his surroundings.
2. Tobi
Anime: Naruto Shippuden
Watch It On: Crunchyroll, Hulu, Netflix
Tobi is one character that remains weirdly mysterious throughout the Naruto Shippuden series. Even his origin and abilities are unknown.
He is one of the members of Akatsuki with a very odd personality. Like Naruto, he is seen as mischievous and whimsical many times.
Why Does Tobi Wear A Mask?
Tobi wears an orange mask with only one eye hole, which encloses his entire face completely except for his right eye.
Moreover, the mask design includes a swirl pattern centered around the right eye hole.
Tobi wears a mask to hide his identity and does a great job throughout the series. Later, it gets revealed that he is none other than Obito Uchiha, who disguised himself as Tobi.
Honorable Mentions:
Sogeking (One Piece)
Death Gun (Sword Art Online)
Sniper Kamen (High-Rise Invasion)
Kagetane Hiruko (Black Bullet)
Tuxedo Mask (Sailor Moon)
1. Ken Kaneki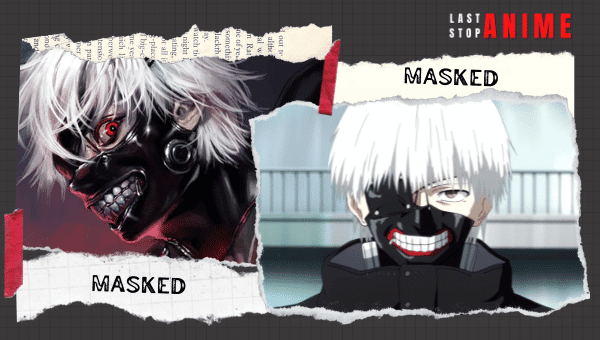 Anime: Tokyo Ghoul
Watch It On: Amazon Prime, Crunchyroll, Hulu, Funimation, Netflix
In the Tokyo Ghoul series, Ken Kaneki is the main character whose life turns upside down after his first meeting with Rize Kamishiro, a sly and deceptive female ghoul.
His tragedy starts when Rize attacks him and tries to feed on him however, she dies, leaving Kaneki in a half-dead state.
To save his life, her organs are transplanted to him, which creates more ruckus in his life. Eventually, Kaneki turns out to be a half-ghoul/ human-ghoul hybrid.
He is popularly known as "One-Eyed ghoul," "Eye Patch," "Centipede," and "The Black Reaper," all of which have a story associated with them.
Why Does Ken Kaneki Wear A Mask?
Initially, Kaneki uses an eye patch to cover his ghoul eye to hide his true identity from his best friend- Hideyoshi Nagachika.
Later, Kaneki dons his signature mask designed by Uta.
It is a black leather mask (arguably the most iconic anime mask) that covers most of Kaneki's face, exposing his left eye to expose his ghoul existence to his opponents.
The mask design also features a lipless mouth with artificial teeth and gums to give it a more lifelike appearance.