Shounen is a Japanese term referring to a manga or anime that is primarily for young male audiences. It is used for anime and manga with a young boy under fifteen as a protagonist. This term translates to "boy" or "youth."
Although it is a category that includes every genre, action, comedy, romance, a slice of life, etc., these are usually more focused on action, adventure, and fighting.
List Of Top Shounen Anime To Watch
21. Hajime No Ippo
Genre – Sports
Theme – Combat Sports-Boxing
Seasons – 3 seasons
Studio – Madhouse
Where can I watch it – Crunchyroll
In his father's absence, teenager Ippo Makunouchi helps his mother run her fishing boat rental business. Ippo's timid nature makes him an easy target for bullies to be beaten daily.
One day Mamoru Takamura, an upcoming boxer, rescues him from an after-school incident and takes him to his boxing academy for recovery.
Takamura and his fellow boxers were stunned by Ippo's solid and powerful punches.
Training under Takamura, Ippo impresses other boxers in a practice match against a prodigy Ichirou Miyata. As a result, he gains a rivalry with Miyata and coach Genji Kamogawa.
As he steps into his official boxing career, his journey awaits outstanding achievements with victories, losses, and a whole cycle of training.
Why we recommend Hajime No Ippo?
Even if you aren't a boxing fan, you should watch Hajime no Ippo. It's a sports anime you won't be disappointed with.
There's a comedy, romance and a lot of plot. It's fascinating to see Ippo following his journey to become a professional boxer. It has a simple story with great supporting actors.
20. Seven Deadly Sins
Genre – Action, Adventure, Fantasy
Theme – Superpower, Sins
Seasons – 5 Seasons
Studio – A-1 Pictures (season 1 and 2), Studio Deen (seasons 3,4 and 5)
Where can I watch it – Funimation, Netflix
During the European middle ages, powerful magical Holy knights protect the region of Britannia and its kingdom. However, some of them betrayed and turned their swords against their comrades to overthrow the King of Liones.
Holy Knights defeated these, and they believed that these legendary knights, known as the "Seven deadly sins," were still alive.
Ten years later, the Holy Knights themselves staged a coup d'état and became the new ruler of the Liones.
Based on the best-selling manga series of the same name, it marks the adventure of Elizabeth, the third princess of the kingdom, in search of seven deadly sins.
But, with their help, she only wants the kingdom back but also seeks justice in this unjust world.
Why we recommend Seven Deadly Sins?
Seven deadly sins is an excellent anime with the first and second seasons very successful. They had good colors, characters, art style, and animation.
The story and fight scenes are great too. However, the story kind of gets blended after season 2 with no character development.
Also, the new studio didn't seem to have that impression as the previous one. However, the first and second seasons are delightful! They were a huge success. Anime fans liked it very much.
19. Dr. Stone
Genre – Adventure, Comedy, Sci-fi
Theme – Survival, Time Travel
Seasons – 2 seasons till now (3rd one is announced for 2023)
Studio – TMS Entertainment
Where can I watch it – Crunchyroll, Funimation, Netflix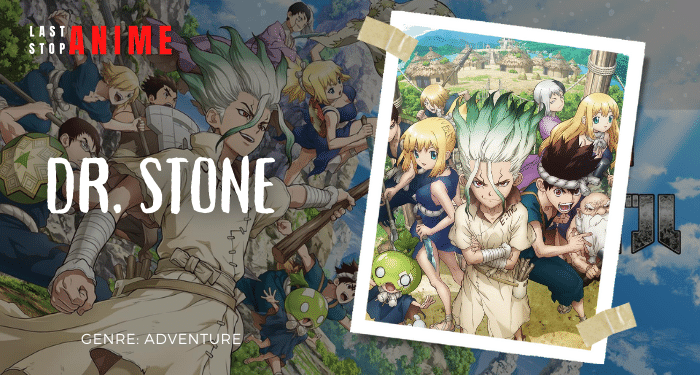 A high school scholar, Taiju Ooki, was about to confess his love for Yuzuriha Ogawa when a green light struck and turned every human into a stone.
Several millennia later, Taiju awakens to find the modern world nonexistent. Nature flourished, and humanity stood still.
Taiju found one other living human, his science-loving friend, Senkuu, who has been active for a few months. Taiju learns that Senkuu developed a grand scheme to launch a complete revival, and they work together to accomplish the same.
Why we recommend Dr. Stone? 
Dr. Stone is said to be one of the best anime of the 2010s. It is quite an interesting anime that focuses on the brilliance of Senkuu and the small science team he gathers.
The anime has fantastic artwork with a very detailed background and character design.
As it's sci-fi, any person who loves science will love this anime a lot. It may lack a few things, but it does incredible in its genre.
18. Spy X Family
Genre – Action, Comedy
Theme – Spy, Childcare
Seasons – One only with part 2 announced in October
Studio – Wit studio and Cloverworks
Where can I watch it – Crunchyroll, Netflix, Hulu
"Twilight" is a code name for a spy who accomplishes dangerous missions one after another in the hope of bringing peace to the country so that no child has to experience the horror of war.
For his new mission, in the busting Ostanian city of Berlint, he alias as "Loid Forger," an esteemed psychiatrist, to gather intelligence on prominent politician Donovan Desmond.
The latter rarely appears, only at his son's prestigious school, Eden Academy. Getting help from city hall clerk Yor Briar and adopting six-year-old Anya as his daughter, he plans to achieve his mission.
But, first, he intends to enroll Anya in the elite school Eden in the hope she will give him a chance to meet his target.
Just like Loid is hiding his true identity and his mission and aim, Yor, an underground assassin known as "Thorn Princess," and Anya, who can read minds, have no plans to reveal their secrets either.
Why we recommend Spy X Family?
Spy x family got an anime adaptation recently in spring 2022. It's worth watching anime series as it is funny, light-hearted, and super cute without any cliche.
It has everything from action to hilarious situations to very heart-touching moments. It's an imperfectly perfect anime.
The manga was written by Tatsuya Endo and published on March 24, 2019, and is still running.
Some facts and awards – As this anime was recently aired so have to wait for anime awards. However:
Manga was named "No. 1 popular Shonen Jump+Work" and "Signature work of Jump+" of 2019.
In 2019, the manga won Next Manga Award in Japan for best web manga.
In 2021, it was nominated for both the Eisner and Harvey Awards in the USA.
The debut episode was the second most-watched on Japanese streaming sites.
17. Gintama
Genre – Action, Comedy, Sic-fi
Theme – Historical, Parady, Samurai
Seasons – 4 seasons*
Studio – Sunrise
Where can I watch it – Crunchyroll, Hulu
Edo was a city and home to Samurai across the country. One day. It was attacked by powerful aliens named Amanto. They pass a new law to ban all swords in public.
Gintama Sakata, an eccentric silver-haired man, always carries a wooden sword and maintains his samurai posture despite the ban.
He makes the Yorozuya club for odd jobs and helps people who always work in a strange and unforeseen way. Shinpachi Shimura, Kagura, and Sadaharu also join his club to help people in the new strange world.
Why we recommend Gintama? 
Gintama is a very popular anime in the shounen genre. You may find a few haters for a lot of anime, but no one hates Gintama.
Its multiple seasons come under the top anime list on MAL based on fan ratings. It's an anime that binds other anime fans in one place.
Its comedy factor is on another level with great characters and art style. The story includes a parody of different anime which is liked by every fan.
However, watching a lot of anime first is recommended so you may understand the inside jokes.
16. Dragon Ball
Genre – Adventure, Comedy, Fantasy
Theme – Martial Arts, Superpower
Seasons – 5 seasons
Studio – Toei animation
Where can I watch it – Crunchyroll, Funimation, Hulu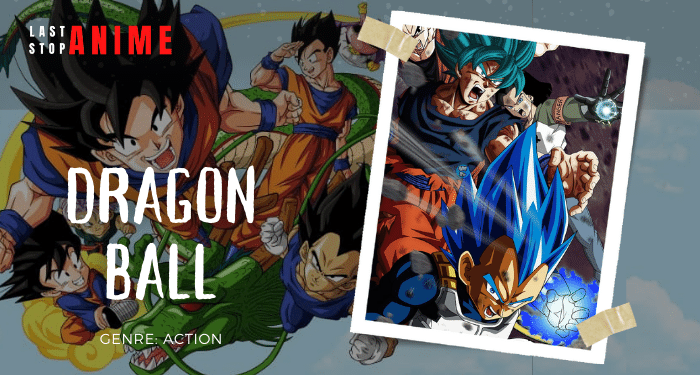 Gokuu Son, a young boy, once met a girl named Bulma who ran into him in search of a magical object called "Dragon Ball." It was said to grant one wish to whoever collects all seven of them. Bulma wanted a perfect boyfriend, so she was in search of one.
Goku was fascinated by the Dragon balls; he tagged along on a journey of a lifetime with her on the condition that he would let the girl use the powers of the balls.
They don't go alone. They meet a Muten-Roshi and wannabe disciple, Kuririn, with whom he learns and becomes a stronger martial artist for the World Martial Arts tournament.
However, it was not just for it. They train and become more robust to stop people who abuse this legendary power.
Why we recommend Dragon Ball? 
Dragon ball z became so famous worldwide that it made Dragon ball one of the most successful anime of all time. The characters are likable, and Goku is still number one for many fans.
Akira Toriyama writes Dragon ball. It is a battle shonen anime adapted from the manga of the same name. Yes, it may have an old art style, but it suits it, and when you once start watching it, there's no going back.
As it's an ancient anime, fans are also emotionally attached to it. It is one of those anime that influenced and inspired modern ones.
15. Black Clover
Genre – Action, Comedy, Fantasy
Theme – Magical alternate Universe
Seasons – 4 seasons till now
Studio – Pierrot
Where can I watch it – Crunchyroll, Funimation
Asta and Yuno are two children abandoned in a church on the same day. These two come to know about the "Wizard King" and promise to compete with one another for the same position.
However, there was a stark difference between them. Yuno was able to wield magic with great power and control. On the other side, Asta tries to awaken his powers by training physically.
When they became 15 years old, Yuno was given a spectacular Grimoire with a four-leaf clover. Lebuty attacked him to steal the Grimoire.
Asta fought with Lebuty, but he was outmatched. On the brink of defeat, he finds strength in Yuno's voice, unleashes his emotions in a rage, and receives a five-leaf clover known as "Black Clover."
A few days later, both friends go out in the world to achieve the same goal, to be a Wizard King.
Why we recommend Black Clover?
Black clover is the shounen anime known for its fight scenes. It has some amazing and impressive fight scenes.
Not only that, all the main characters are incredibly written and have a fantastic character design. Black Clover's music is also good. It's said that it has the best story in shounen.
14. Jojo's Bizarre Adventure
Genre – Action, Adventure, Supernatural
Theme – Vampire
Seasons – 5 seasons
Studio – David production
Where can I watch it – Crunchyroll, Netflix, Hulu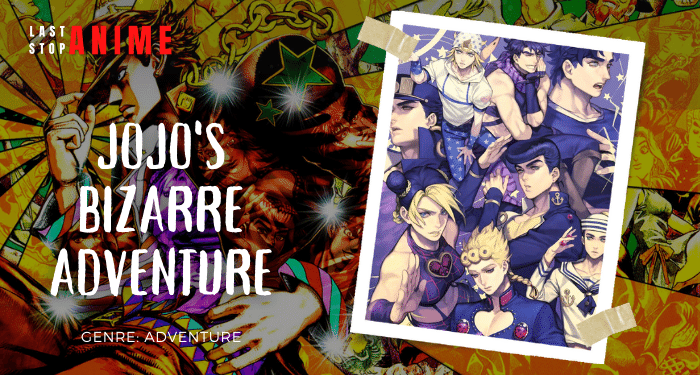 In 1868, English nobleman George Joestar and his son Jonathan got indebted to Dario Brando after being rescued from a carriage incident.
Later, they learned that his intention was not to save them. He thought they were dead, so he was there to rob their belongings.
However, even after that, Geroge adopted his son Dio to pay his debt after Dario died.
Dio publically pretends to be fond of his foster father, but deep inside, he plans to steal Geroge's fortune. After he failed to do so, years later, he became friends with Jonathan.
However, trouble brews again as George starts to fall ill, only to find out that Dio has a lot up his sleeves.
Why we recommend Jojo's Bizarre Adventure?
Jojo's bizarre adventure, also known as Jojo no kimyou na bouken is very famous and a great anime.
It has the best protagonist and antagonist in every part, with exciting and great side characters.
Talking about the art style, it's very different and unique. Music used in Jojo no kimyou na bouken is appreciable as well.
13. Haikyuu!!
Genre – Sports
Theme – School, Team sports Volleyball
Seasons – 4 seasons with
Studio – I.G Production
Where can I watch it – Crunchyroll, Netflix
Since witnessing the "Little Giant," Hinata Shouyou has been fascinated by Volleyball. He wanted to debut in the game and failed very badly in his middle school tournament.
However, he longs to prove that his not-so-impressive height can't hinder becoming a well-known excellent player.
When Hinata enrolls in Karasuno High School, he got to find out that Kageyama Tobio, a prodigy who humiliated Hinata's middle school volleyball team and defeated them, is now his teammate.
To remain in the team and achieve his goal, he has to smooth out his relations with Kageyama. Only when Hinata learns what it is to be a part of the team will he be able to join his race to the top.
Why we recommend Haikyuu!! 
Haikyuu! is the best sports anime I have ever seen! It has a brilliant art style with incredible animation and camerawork.
All characters and team are so loving and good. The cheers, music, and suspense anime created are very appreciable.
Not forgetting the voice actors, they have done a fantastic job! Every match is so interesting. Very enjoyable. All the seasons feel superior. Once anyone steps into Haikyuu, they want more and more.
12. Death Note
Genre – Psycological, Thriller, Suspence
Theme – Supernatural, Justice will prevail
Seasons – one season only
Studio – Madhouse
Where can I watch it – Crunchyroll, Netflix, Hulu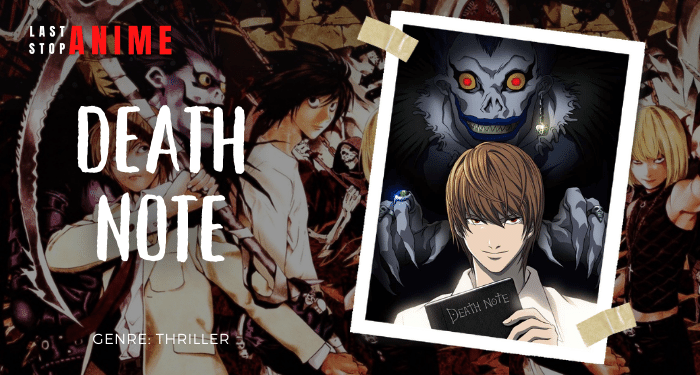 For his amusement, a sadistic god of death, Ryuk drops his death note into the human world. A 17- year old Japanese student, Yagami Light trip over it and opens it.
There were some rules written over it that seemed ridiculous to him. They say anyone whose name is written on the death note shall die.
However, the temptation is too good, and Light experiments on it, leading to his first murder.
Well aware of this god-like power that has fallen into Light's hands, he started killing criminals in the name of justice and cleansing the world.
Now, a mastermind detective, L is already on his work to catch this person without a clue. But, as Light's and L's brilliance clashes, the grand chase turns into an intense battle that can only end with either one's death.
Why we recommend Death Note?
Death note is again a must-watch shounen anime brilliantly written by Tsugumi Obata. Yagami Light and L come under the best characters of all time.
The anime adaptation is impressive, with the best voice actors, music, art, and animation. Anime fans say that it's one of the best shonen anime.
It always remains in the top 3 when it comes to shounen anime.
It is that good that a movie is created based on it originally by Netflix. However, I won't recommend it to you as there are a lot of changes in there that distract the film from its original track—no anime fan or death note fans like it.
Some facts and awards –
Several adaptations include TV drama, Light novels, video games, and a unique thing-musical.
Mamoru Miyano was awarded as best VA for Yagami Light by the Tokyo Anime awards in 2008.
The anime also won notable entries in the Tokyo Anime Awards 2007.
(If there would have been more anime awards like now, I am sure it would have won a lot)
11. My Hero Academia
Genre – Action
Theme – School, Superpowers
Seasons – 5 seasons till now
Studio – Bones
Where can I watch it – Crunchyroll, Funimation, Netflix, Hulu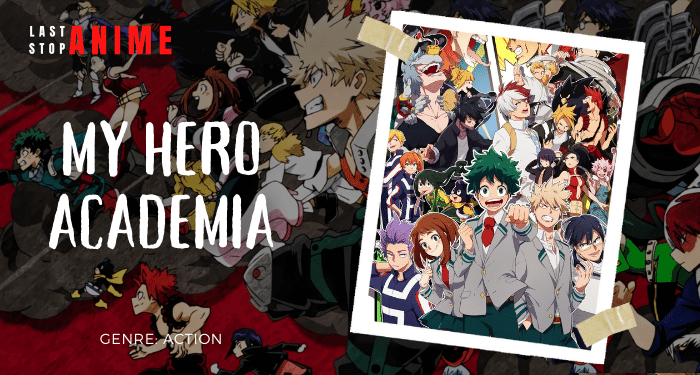 The appearance of "Quirks," a newly discovered superpower, increased over the year, and now 80% of humanity bears it, possessing various abilities to manipulate elements to shape-shifting.
Unfortunately, it makes the remaining humans completely powerless. Izuku Midoriya is one of them. From childhood, he wanted to be a hero and started taking notes on his heroes whenever he could.
One day he encounters his number one hero and personal idol, All Might, whose quirk is a unique ability that can be inherited, and he chooses Midoriya as his successor.
After many months of hard training, he gets admission to UA school, a highly prestigious high school famous for its excellent hero training program. With highly talented classmates, Izuku soon learns to be a hero.
Why we recommend My Hero Academia?
My Hero academia is highly enjoyable and super good shonen anime. Written by Kohei Horikoshi, My Hero academia is very popular and one of the great anime of all time.
It won anime of the year in 2016 at Crunchyroll awards and won the best animation for season 2 in 2017. It has some of the best fight scenes of all time.
Without any doubt, it has some great music on its sleeves as well, which also won awards at Crunchyroll awards. Midoriya is the best boy in the anime, and Shoto Todoroki is a trendy guy everyone loves.
All voice actors are stunning, especially Nobuhiko Okamoto, who played Bakugo in the anime.
10. Dororo
Genre – Action, Supernatural
Theme – Historical, Mythology, Samurai
Seasons – One only
Studio – Tezuka Production, MAPPA
Where can I watch it – Prime Video
A greedy samurai lord, Daigo Kagemitsu's land was dying. So he prayed and listened to his prayers by 12 demons who granted him the powers he desired with a price.
The price was that when his first child was born, he may not have any limbs, eyes, nose, or even skin.
The boy was thrown into a river and forgotten, but fortunately, he was alive and saved by a medicine man who gave him weapons to survive and feed himself.
Although he can not smell, hear, or feel anything, he must defeat the demons who took him as a sacrifice.
Whenever he defeats one of those demons, he regains one part of himself. Over the years, he wandered alone until one day, and he met dororo. Both the boys now fight for their survival and humanity.
Why we recommend Dororo? 
Everything this shonen anime does is shockingly well. It's a great mix between realism and Japanese folktale. The artwork and animation done by the studio are great.
Music is something worth mentioning too. The story of Dororo is quite engaging from the very first episode. Its strength lies in its pacing as the story goes on. Both the main characters are very likable.
9. Bleach
Genre – Action, Fantasy
Theme – Supernatural
Seasons – Two parts (2nd is scheduled for October 2022)
Studio – Pierrot
Where can I watch it – Crunchyroll, Funimation, Netflix, Hulu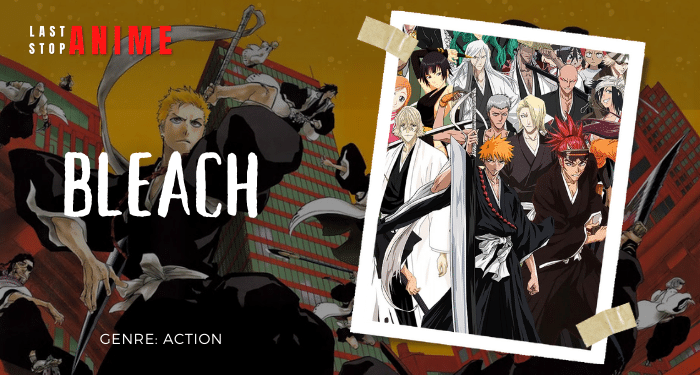 Ichigo Kurosaki is an ordinary high school student whose family was once attacked by a hollow that is the evil spirits who devour humans.
It was then when he met a Soul reaper Kuchiki Rukia who got injured and gave Ichigo her powers so he could save his family.
Unable to get her powers back, Ichigo had to do her job as a Soul Reaper and hunt down hollows coming into their town.
In this journey as a Soul Reaper, he meets many people, friends, and foes. And as it goes down, Ichigo learns that hollows are not the only threat to humans.
Why we recommend Bleach?
Bleach is one of those shounen anime that got the title of Big three. Bleach's manga, written by Tite Kubo, has some wild art style in those years with a lot of details.
The anime adaptation was very successful and was one of the legendary anime. There are many unforgettable characters with vast and unique abilities, especially the villains.
Even after years of its release, no one can beat Bleach's soundtrack. It's 10/10.
Some facts and awards –
In 2005, Its manga was awarded the 50th Shogakukan Manga Award in the shōnen category.
One with one of the best-selling manga.
The anime was discontinued in 2012 with no official explanation.
It is coming back in October 2022 with its last most popular "Thousand-year Blood War" arc.
8. Fullmetal Alchemist: Brotherhood
Genre – Action, Fantasy
Theme – Military
Seasons – only one
Studio – Bones
Where can I watch it – Crunchyroll, Funimation, Hulu, Prime Video
After an alchemy experiment goes wrong, brothers Edward and Alphonse are trapped in a new reality. The boys were trying to bring back their recently deceased mother.
Instead, they suffered brutal personal loss. Alphonse's body disintegrates while Edward loses a leg and sacrifices his arm to bind his brother's soul to armor to keep it in the physical release.
The brothers were rescued by their neighbor Pinako Rockbell and her granddaughter Winry. Winry is Known as a biomechanical engineering prodigy.
She created prosthetic limbs for Edward. After years of training, the Elric brothers went in search of a Philosopher's stone that allows an alchemist to defy the traditional laws of Equivalent Exchange to restore their bodies.
Why we recommended it Fullmetal Alchemist: Brotherhood?
Fullmetal alchemist brotherhood has many fans for a reason. It's a good, unique, inspired, and creative show and a classic. It is the second adaptation of the manga written by Hiroshi Ōnogi.
Some facts and awards –
It is one of the top anime on MAL
Its manga received the Seiun Award for best science fiction comic in 2011
Apart from live-action and video games, art and guidebooks are also created on FMAB.
7. Code Geass
Genre – Action, Sci-fi
Theme – Mecha, Military, Superpower
Seasons – 2 seasons
Studio – Sunrise
Where can I watch it – Crunchyroll, Funimation, Netflix, Hulu
In 2010, the Holy Empire of Britannia established itself as a dominant military nation. Starting of Japan was renamed area 11 after its defeat, trying to regain its independence.
Unfortunately, Lelouch Lamperouge, a Britannian student, finds himself caught between the Britannian and the Area 11 rebel armed forces.
Thanks to the appearance of a mysterious girl C.C who gave him some power of absolute obedience. Lelouch, now masked as Zero, seeks revenge on Britannia for once and all.
Why we recommend Code Geass?
Code Geass is also one of the best shounen anime. Even after not having a prior manga, it blew everyone's mind.
The main character Lelouch Lamperouge is still talked about a lot and holds the first position as the most favorite character on MAL.
Code Geass, a sunrise original written by Gorō Taniguchi & Ichirō Ōkouchi, has a fantastic story that will draw you towards it, and you will love it. Anime fans think it's anime everyone should watch.
Some Facts and awards –
Code Geass won Notable entry for TV category at Tokyo Anime awards in 2007 and 2008.
Ichirō Ōkouchi was the best screenplay winner, and Jun Fukuyama got the best voice actor award for Code Geass in 2008.
6. Jujutsu Kaisen
Genre – Action, Fantasy
Theme – Curses
Seasons – one season for now and a movie
Studio – MAPPA
Where can I watch it – Crunchyroll, Funimation, Netflix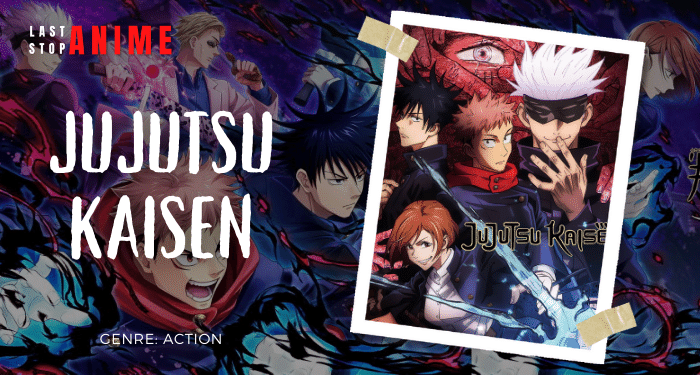 Itadori Yuji spent his day either at a school club or in the hospital where his grandfather was bedridden. However, this ordinary, simple lifestyle turned into a strange, dangerous path after encountering an unknown, cursed item.
Triggering supernatural occurrences, Yuji finds himself thrust into the world of curses. Highly dreadful, being formed by human malice and negativity, these curses were born.
He was brought up by an incident where he swallowed the cursed item. That cursed item was revealed to be the finger of the "King of Curses" Sukuna Ryoumen.
Introduced to the Tokyo Metropolitan Jujutsu Technical High School, he begins to walk down a path, the path of a Jujutsu sorcerer.
Why we recommend Jujutsu Kaisen?
Based on the manga by Gege Akutami, the anime adaptation is record-breaking with its brilliant art style and animations, impressive fight scenes, and fantastic voice actors.
Jujutsu Kaisen is enjoyable, fun, and worth mentioning the opening and ending. Talking about characters, every character is so well written and described.
Some Facts and awards –
One of the best-selling manga series.
Jujutsu Kaisen becomes the second highest-grossing anime movie in history.
Won animation of the year at Tokyo Anime Awards in 2022
The music director won the Young Artist award at the Young entertainer awards for JJK in 2020.
Won Anime of the year at Crunchyroll in 2021
Won a lot of categories, including best fight scenes, character design, antagonist, and best ending in the years 2022 and 21.
5. Demon Slayer
Genre – Action, Fantasy
Theme – Historical, Demons
Seasons – 2 seasons, 3rd is announced
Studio – Ufotable
Where can I watch it – Crunchyroll, Funimation, Netflix, Hulu
Ever since his father's death, the burden of supporting his family falls upon Kamado Tanjiro's shoulders. Living on a remote mountain, the Kamado family lived a peaceful, happy life.
Then, one day, Tanjiro went to a little village down the hill to sell some charcoal to make money.
On his way home, it went dark, and a strange man sheltered him and warned him about the man-eating demons wandering in the woods.
The next day, he met with a very horrifying site. His whole family was slaughtered. The only survivor is one of his little sisters Nezuko who had turned into a demon.
Now Tanjiro's goal is to defeat the demons and bring her sister back to normal, back to a human known to no one except Muzan, the demon king.
Why we recommend Demon Slayer?
Demon Slayer is a blockbuster, record-breaking shounen anime adaptation. The animation of this anime is mind-blowing!
The characters are great, and the story is good too, with stunning music and fabulous voice actors! Delightful and jaw-breaking anime.
Some facts and awards –
Demon Slayer movie breaks the record of Spirited away, which was number one in 2001 and became Highest-Grossing Anime film worldwide with 440.15 million dollars.
It was the Biggest Anime Broadcast of the entire 21st century!
It won the Best animation, Voice actor, Actress, Anime of the year, Best action, and Best Fight scene in the years 2020 and 2022 at Crunchyroll awards.
It also won animation of the decade at Funimation, Animation of the year, Best script, Best animator, and Sound and Performance award in the Tokyo Anime award in 2020.
Other than this, they won several awards with those titles. Manga of Demon slayer also won a lot of awards.
The opening Gurenge by Lisa won billboard Japan hot 100, most downloaded, and the best animation award.
The Japan Golden disc awards also award it Animation album of the year!
Demon slayer also won a special achievement award worth mentioning from the 62nd Japan Record awards for animation of the year, popularity award, and outstanding achievement in music.
4. One Piece
Genre – Action, Adventure, Fantasy
Theme – Pirates
Seasons – One Part only
Studio – Toei animation
Where can I watch it – Crunchyroll, Funimation, Hulu
Gol D. Roger was known as the "Pirate King," the strongest who sailed to the Grand Line and revealed the existence of the greatest treasure, One Piece, before his last breath.
It was this announcement that brought Grand age pirates to attain One Piece.
Monkey D. Luffy is a 17-year-old boy whose personality won't define a pirate. Instead, he walked and rome around the village for fun.
Luffy's reason for being a pirate is to experience the exciting adventure, meet new people, and ultimately reach the promised treasure.
Following the steps of his childhood hero, Luffy with his crew sail on the Grand Line, where he experiences unpredictable adventure, dark mysteries, and strong enemies.
Why we recommend One Piece?
One Piece is one of the legendary manga and anime. It's written by Eiichiro Oda, the best-selling manga ever in history.
The anime isn't behind too. It is one of the big three. Oda sensei make characters very goofy, which is his unique style and is loved a lot.
The anime adapted it very well. They provided it with a very great artwork that suits it very well. The characters of One Piece are highly likable, from the main characters to the side or supporting characters.
3. Hunter X Hunter
Genre – Action, Adventure, Fantasy
Seasons – one season only
Studio – Madhouse and Studio Live
Where can I watch it – Crunchyroll, Netflix, Hulu
Hunters are people who devote themselves to completing dangerous tasks. However, it's not easy to become a hunter. First, one must pass an examination, a high-risk selection process in which most applicants either become disabled or even laid to death.
Ambitious applicants who challenge the dangerous exam have their reasons. For example, 12-year Gon walks on this path to find and meet his father, who was a hunter himself. He believed that he could meet him by becoming a hunter.
During the exam, he meets medical student Leorio Paladiknight, the vindictive Kurapika, and ex-assassin Killua Zoldyck and befriends them. Even with vast contrasting reasons, they come together for a common goal.
Why we recommended Hunter X Hunter?
Hunter x Hunter is an anime liked by everyone who sees it. It's an anime with great characters and the best fight scenes with many strategies.
Hunter x hunter has good soundtracks and brilliant voice actors. This anime is recommended by anime fans a lot. It has some fantastic voice actors that enhance the characters furthermore.
Some facts and awards –
Won the 2011 "Anime of the Decade" in Decade Awards.
It became Shueisha's best-selling manga series, with over 72 million copies in Japan alone in 2018.
2. Attack On Titan
Genre – Action, Dark Fantasy, Apocalyptic and post-apocalyptic fiction
Theme – Gore, Military, Survival
Seasons – 4 seasons with 3rd season having 2 parts and 4th season having 3 parts
Studio – First 3 seasons are by Wit Studio and the final season is by MAPPA
Where can I watch it – Crunchyroll, Funimation, Hulu
Years and years ago, humankind was almost slaughtered by creatures called Titans. In fear of them, the humans found large walls where they felt safe, resulting in zero titan encounters, and started their own lives.
What makes these titans more terrifying is that they don't eat humans out of hunger, but they do out of pleasure. So now, one day, there comes a colossal titan that breaches one of the outer walls.
Eren Yeager, who witnessed a horrific personal loss, decided to kill every single one of them. He joins Survey Corps, an elite military unit that combats titans outside the protective walls.
Now Eren and his childhood friends, Mikasa Ackermann and Armin Arlert join the brutal war with these enormous man-eating titans and discover a way of defeating them with other Survey Corps.
Why we recommend Shingeki No Kyojin (Attack On Titan)?
Shingeki no kyojin, also known as Attack On Titan (AOT), is a masterpiece. It's a perfect and flawless anime.
Written by Hajime Isayama, it has the ideal storyline, perfectly well-written characters (main, side, or supporting characters), and the best leading character development.
The anime adaptation has very popular and loved openings, endings, and background music. Remarkable with great voice actors and stunning art style and animation.
Some facts and awards –
Attack on Titan has been nominated for countless awards and won several of them, including the Kodansha Manga Award, the Attilio Micheluzzi Award, and the Harvey Award.
Attack on Titan won Anime of the Year, Best Male character for Eren, Best Female character for Mikasa, Best Voice actors, Best animation, Best opening, ending, theme song, soundtrack; Best fight scenes, Best action, Best Protagonist, Best Antagonist, Best Director and many more since 2013 and not just for once, they won every year with every season.
It was the most in-demand anime of 2021 worldwide and was awarded for the same by The Global TV demand Awards.
1. Naruto
Genre – Action, Fantasy
Theme – Ninja, Martial Arts
Seasons – (2 parts) Naruto and Naruto Shippuden
Studio – Pierrot
Where can I watch it – Crunchyroll, Funimation, Hulu, Netflix
Before the birth of Naruto Uzumaki, a demon nine-tailed fox attacked Konoha village and wreaked havoc. To save the village, the fourth village head, the fourth Hokage, sacrifice his life and seal that demon fox inside a newborn child named Naruto.
Now, Naruto is a hyperactive, knucklehead ninja of the hidden leaf village (Konoha village).
Naruto aims to become Hokage and gain the recognition and respect he deserves, as he is not treated right by the people of the village. This is his journey where he finds friends and deadly foes.
Why we recommend Naruto?
Naruto is one of the best shounen anime of all time. It's an anime with the best storyline and the best characters. Masashi Kishimoto generously writes the manga.
Every character is so damn good and very relatable, even the villains. Everything is perfect and unique in its music, openings, endings, and background music.
The voice actors are very impressive. It was given the title of "Big Three" and came under the category of must-match.
Some facts and awards –
Even after 15 years of its release, it's the most popular anime by % of global search volume.
It is the third best-selling manga in anime history, with over 220 million copies in print (130 in Japan and 75 overseas)
Won the Quill Award for best graphics in 2006 to honor its excellence in writing and publishing.
In 2014, the Japanese government's agency for Cultura Affairs announced the winners of the "Minister of Education, Culture, Sports, Science, and Technology Fine Arts Recommendation Awards." It awarded Masashi Kishimoto, the writer of Naruto, a "Rookie of the Year" award in the media Fine arts category for Naruto.