Anime is huge, with epic shows like Dragon Ball and One Piece being household names. But even the biggest action anime fans can appreciate a good old-fashioned slice of life story.
These shows are all about the everyday lives of their characters and can be filled with hilarious comedy, heart-wrenching drama, and even a touch of romance.
It all depends on what you're in the mood for. The best slice-of-life anime are the ones that everyone can enjoy, so give them a chance!
Anime has a ton of different genres, from epic adventures to spooky horrors.
But the slice of life romance genre is so popular because it feels so real and down to earth.
We see characters we can relate to, facing problems and situations that we can understand. It's like watching our own lives unfold on the screen.
Does Slice Of Life Anime Have Romance?
Slice-of-life romance anime is all about the everyday stuff that we can relate to. It's not about wild futuristic worlds or intense action scenes but about the simple things in life.
These shows are about living in the moment, enjoying the little things, and making meaningful connections with others.
Plus, they usually come with a good dose of humor, romance, and sometimes even a touch of magic!
Discover the ultimate list of calm and romantic anime stories! Here are the top most popular slice of life romance anime you'll enjoy.
Relax and enjoy a heartwarming tale of love, laughter, and adventure. Get ready to immerse yourself in a world of romance and emotions!
The anime on this list are not listed in any particular order. They are placed randomly.
1. Miss Kobayashi's Dragon Maid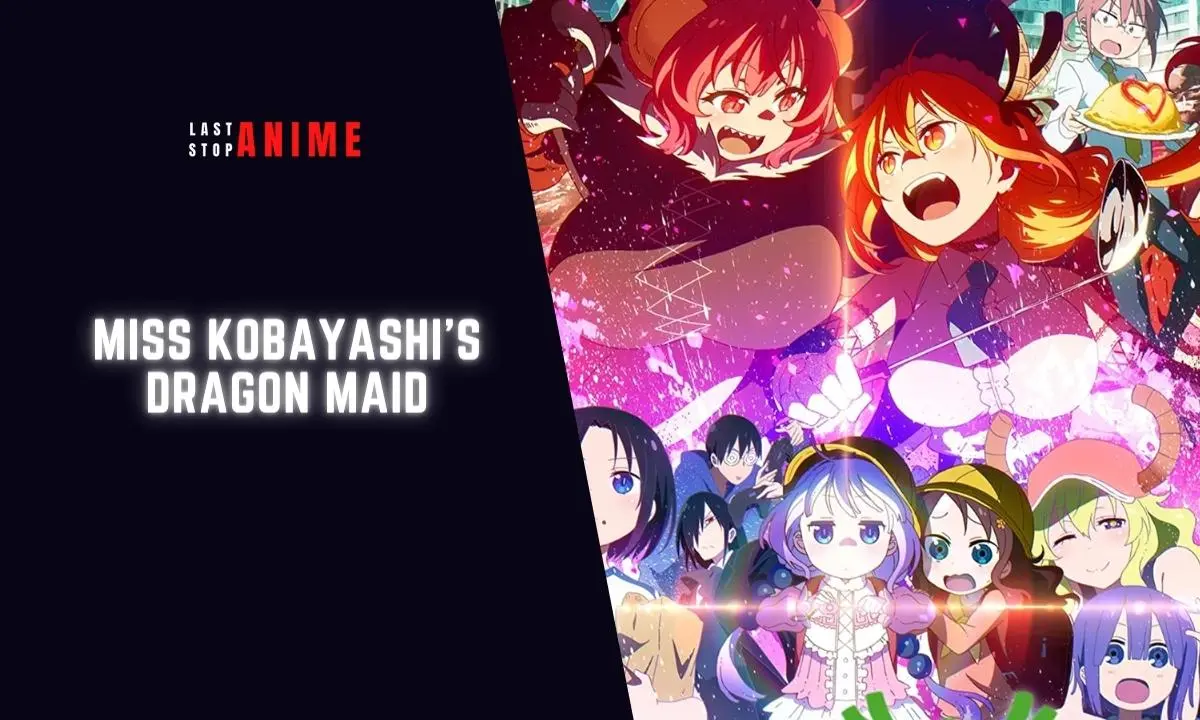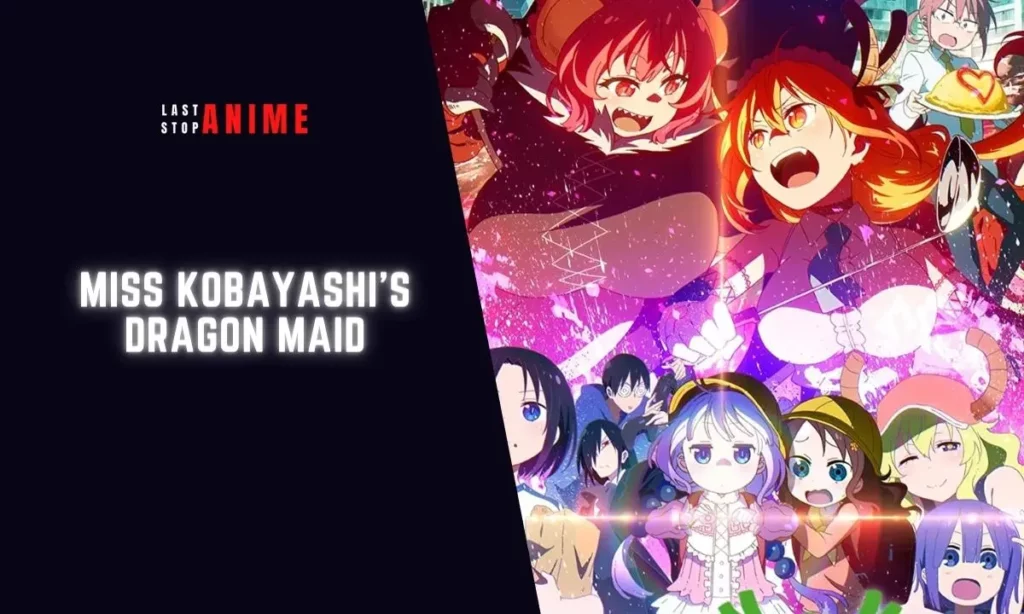 Where to Stream: Crunchyroll, Funimation, VRV
Genres: Fantasy, Slice of Life
Have you ever woken up from a wild night of partying and found yourself face-to-face with a dragon who now wants to serve you as a maid?
That's the wild and baffling world of Miss Kobayashi's Dragon Maid
But instead of just being a silly fantasy story, this show is a heartwarming tale of friendship and love.
Watch as a dragon turns into a maid, eager to serve and bring joy to her human friend's life.
You are in for a fun and emotional ride! The anime series focuses on cute girls doing cute things. Meet Kobayashi, a lonely programmer living a solitary life.
But that all changes when she encounters a dragon, and her world expands to include more dragons from their world.
But with all these new friends, Kobayashi starts to come out of her shell and open up to her new dragon family.
This is a heartwarming story about friendship, acceptance, and finding your place in the world.
2. My Dress Up Darling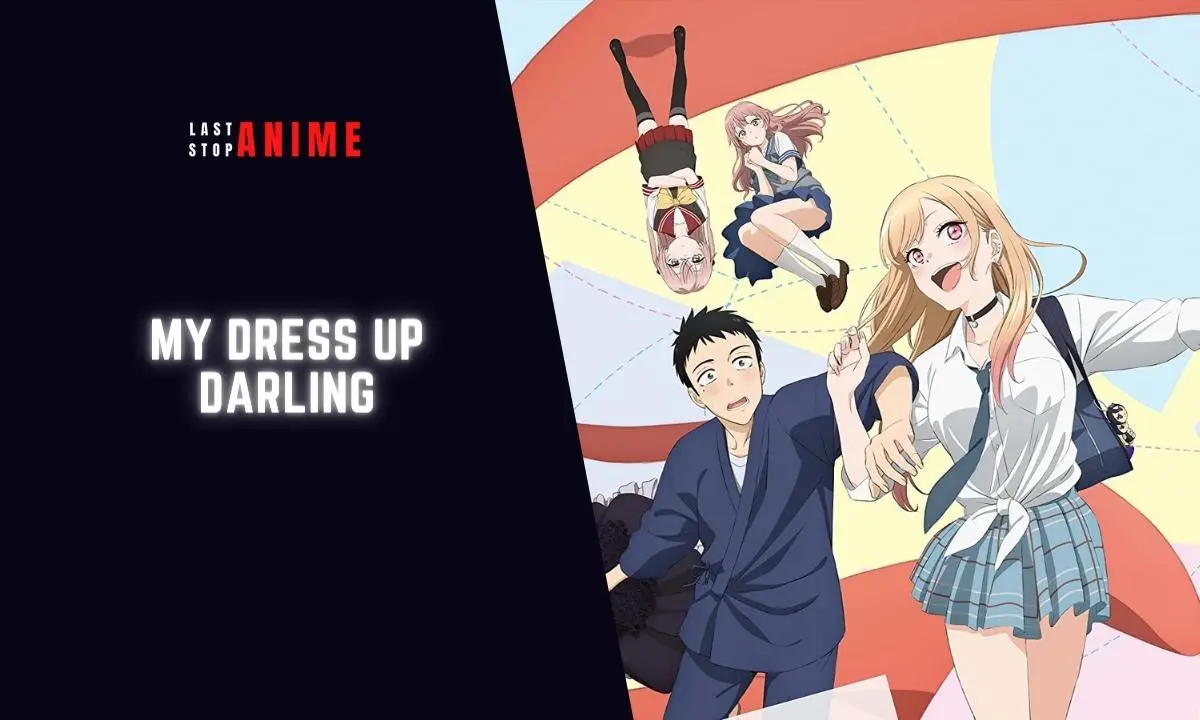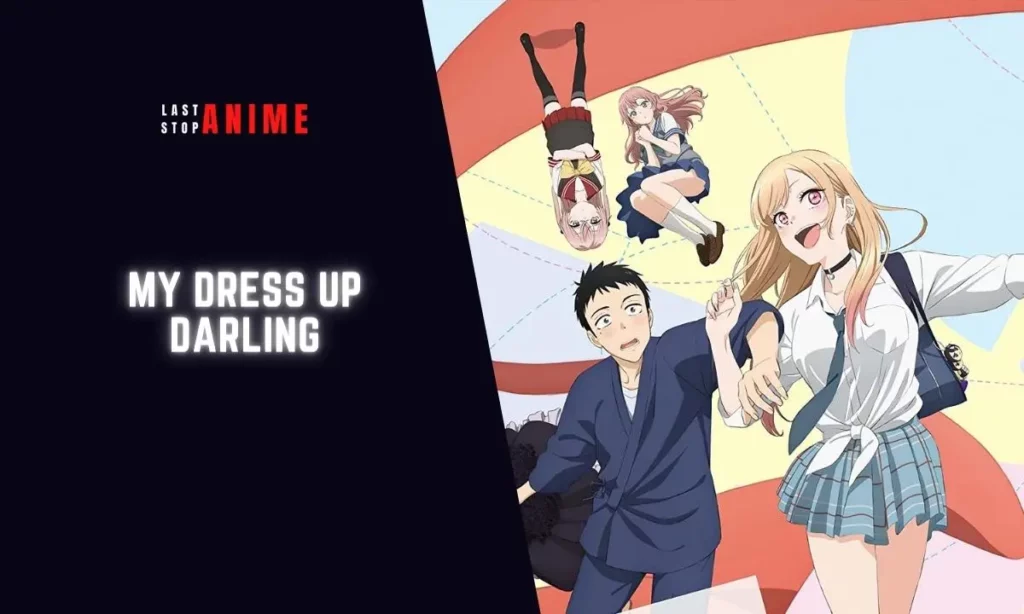 Where to Stream: Crunchyroll, Funimation, VRV
Genres: Romance, Slice of Life
My Dress-Up Darling is the epitome of pure and heartwarming anime! We follow the main characters, Marin Kitagawa and Wakana Gojou, as they explore their friendship and the art of cosplay.
The animation is stunning, and the positivity radiates from the screen.
You'll be swept up in their sweet romance and wholesome vibes as their relationship evolves.
Marin is a popular girl, while Gojou is an introvert; the dynamics between these two characters make for an interesting watch.
This series is a must-see for fans of slice-of-life anime with a touch of love. Don't miss out on this charming and unique experience!
3. Monthly Girl's Nozaki-Kun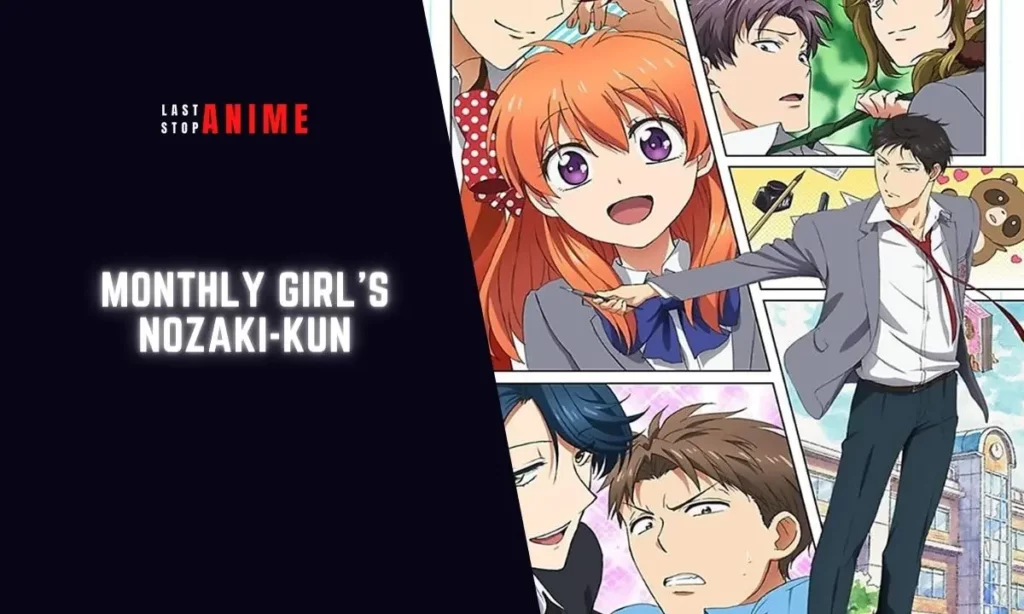 Where to Stream: Crunchyroll, HIDIVE, Netflix
Genres: Comedy, Romance
Confessing your crush can be a daunting experience, but what if they gave you their autograph instead?
That's exactly what happens to Chiyo Sakura, a high school girl who confesses her feelings to Umetaro Nozaki, a shoujo manga artist, only to be mistaken for a fan.
But this doesn't deter Sakura from pursuing her crush. Instead, she joins Nozaki in his manga work to get closer to him and learn more about his quirky personality.
Along the way, she meets a cast of hilarious and wacky characters that will have you in stitches.
Along the way, she met a cast of quirky and amusing characters. She was shocked to find out that the stoic and masculine Nozaki was the mastermind behind such romantic manga.
Despite the unexpected events, Sakura's feelings for Nozaki grew stronger.
Join Chiyo on her wild and hilarious journey filled with love and laughter in this charming slice-of-life romance anime.
4. Your Lie in April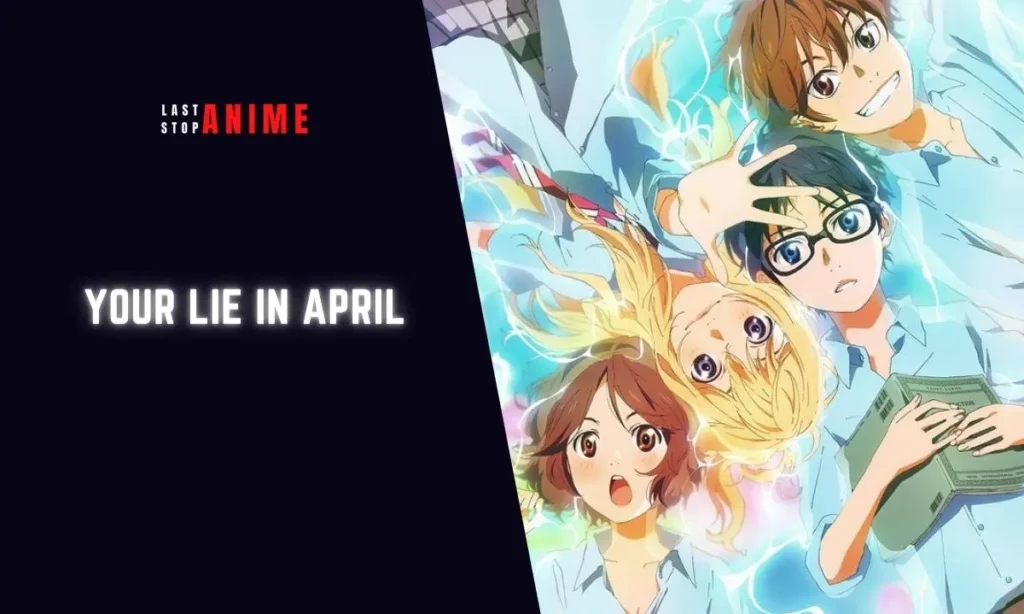 Where to Stream: Crunchyroll, Funimation, Netflix
Genres: Drama, Romance
Join Kosei Arima as he rediscovers the magic of music with the help of the lively Kaori Miyazono.
Arima was once a piano prodigy, but the memories of his mother's death and the past haunt him, making it impossible for him to play.
But when he meets Kaori, she brings back the joy of music in his life with her free-spirited violin playing.
Kaori challenges Arima to a duet and becomes his teacher, showing him the beauty of music and life.
Your Lie in April will leave a lasting impression with its realistic representation of depression and illness, which is often ignored in popular culture.
Your Lie in April is an excellent slice-of-life anime with romance in it. With its relatable characters, many slice-of-life anime fans even considered it a masterpiece.
5. Fruits Basket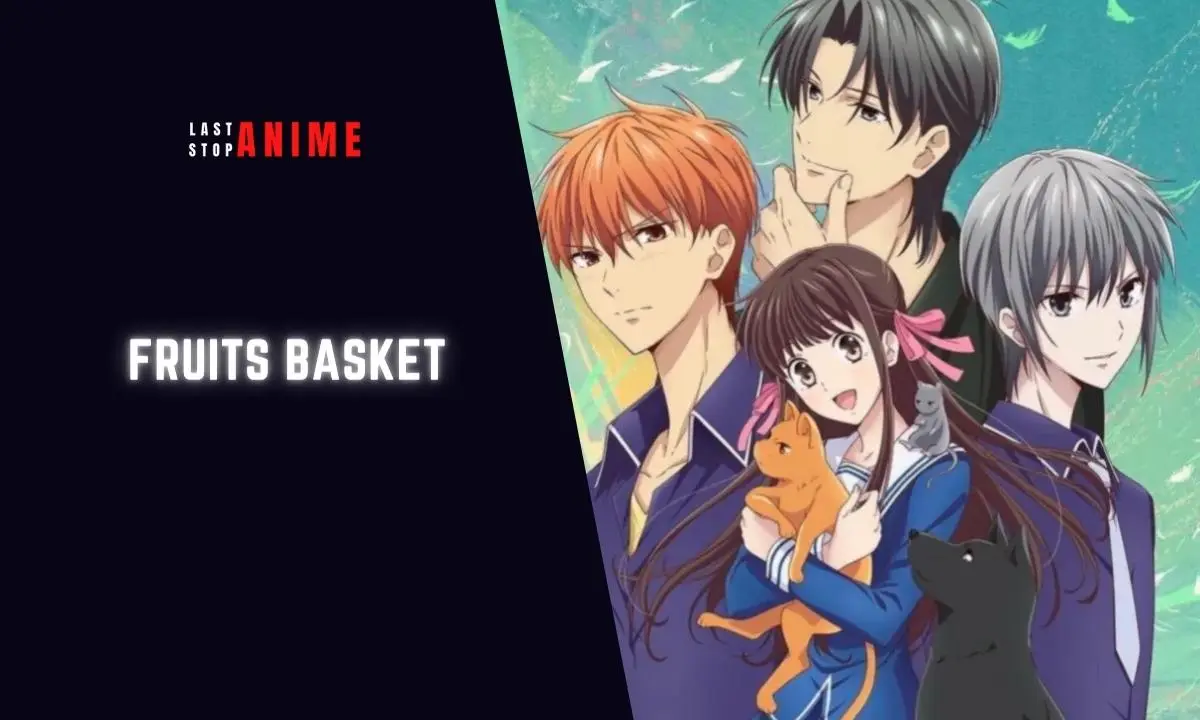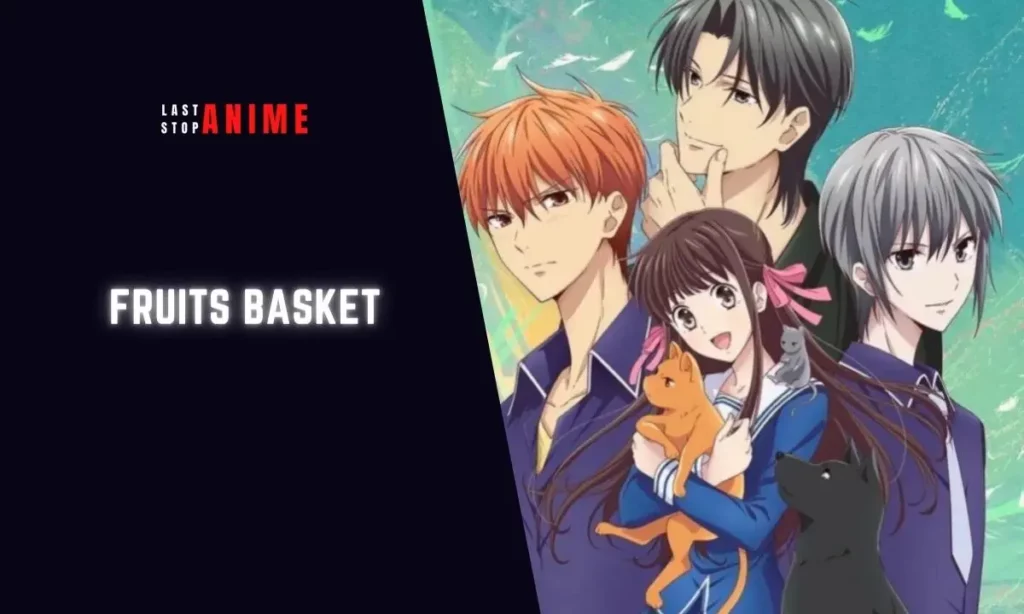 Where to Stream: Crunchyroll, Funimation, Hulu, VRV
Genres: Drama, Romance, Supernatural
The show follows Tooru Honda, an upbeat girl who finds herself living with the Souma family.
The Souma family is friendly and welcoming, but they have a big secret they've been hiding.
The show is all about Tooru's relationships with the Souma clan, especially Yuki and Kyou, and it's really good at getting to know each main character.
This anime does a fantastic job of bringing each character to life and making you care about them.
Fruits Basket is not your average slice-of-life anime; this is a love story with pretty intense drama.
This slice of life shows the struggles of the Souma family with likable characters.
So, if you're in the mood for a dramatic and touching series, Fruits Basket is definitely worth watching.
6. Silver Spoon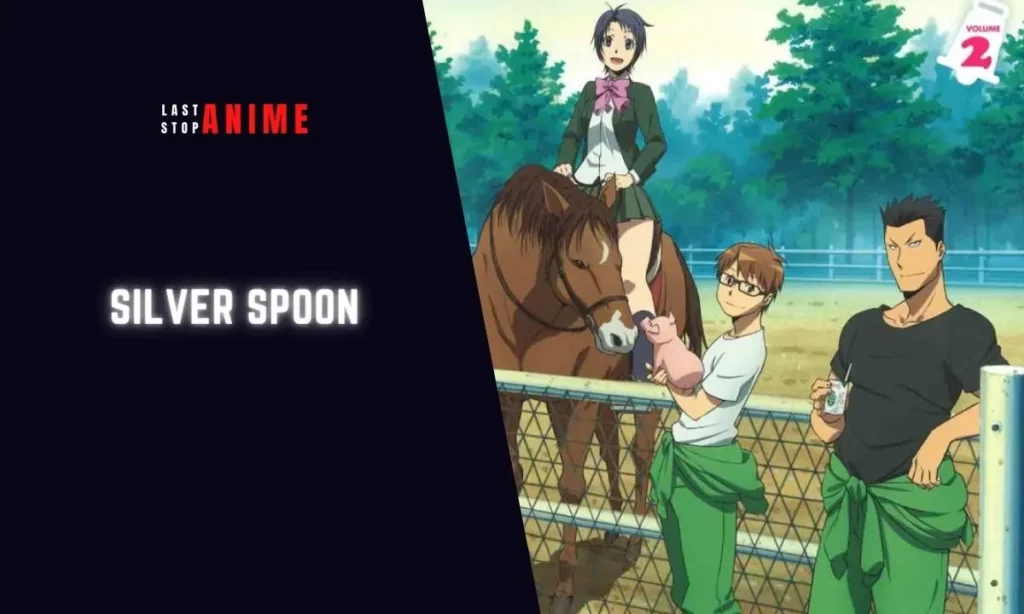 Where to Stream: Funimation
Genre: Comedy
Can you believe that the same person who created the thrilling Full Metal Alchemist also made Silver Spoon?
That's right, Hiromu Arakawa is the mastermind behind both shows.
But unlike Full Metal Alchemist, Silver Spoon is a much more relaxed and laid-back series that takes us on a journey to experience life on a farm.
So sit back, relax, and get ready to immerse yourself in the fascinating world of agriculture.
The show takes you through everything from butchery to egg production, but don't worry—it's all presented fun and lightheartedly.
The show is open and honest about topics like killing animals for food and where eggs come from. However, it still manages to keep these conversations light and enjoyable.
Seeing Yuugo grow and learn at this farming school is an exciting and fulfilling experience for everyone who joins him on his journey.
7. Lucky Star
Where to Stream: Crunchyroll, Funimation, VRV
Genre: Comedy
Lucky Star, the groundbreaking anime that was released in 2007, still holds immense influence in the slice-of-life genre even today.
This show set the standard for modern "cute girls doing cute things" anime, creating a blueprint that many have followed in its wake.
Despite its lasting impact, the series may seem a bit stale if revisited today, but don't be fooled!
The true magic of Lucky Star lies in its lovable and quirky cast of characters.
Konata Izumi, the anime's beloved otaku, takes the spotlight, but don't overlook the other characters!
Kagami's witty personality and sarcastic humor add a much-needed spark to the slow-paced narrative.
Although the first episode may not be the strongest, the true gems of the series lie ahead.
Embrace the slow-burning pace and get ready to fall in love with this charming and endearing cast of characters.
8. Nichijou – My Ordinary Life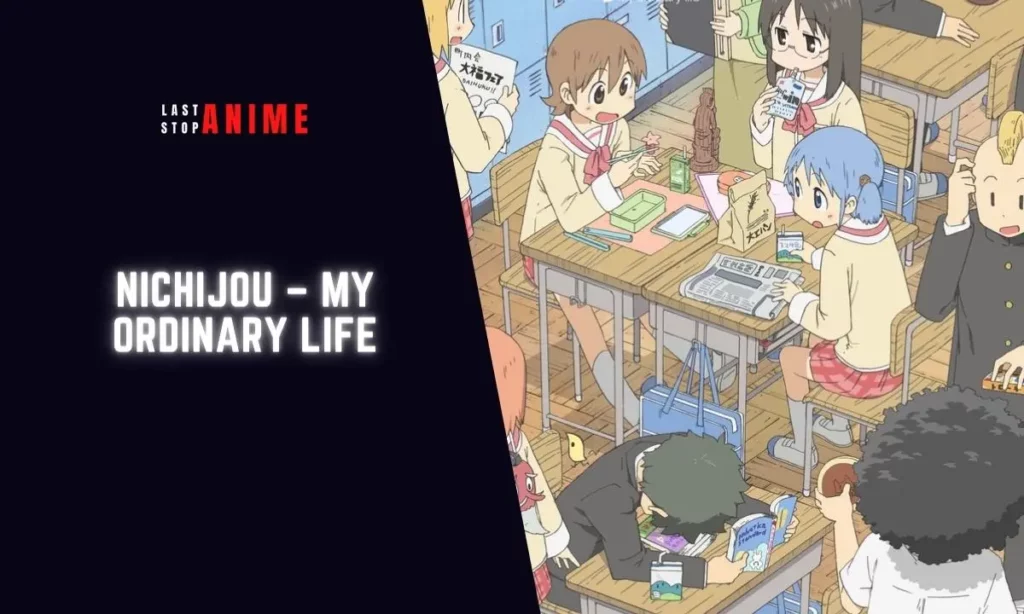 Where to Stream: Crunchyroll, Funimation
Genres: Comedy, Gag Humor, School
If you're a fan of comedy, you won't want to miss this one. Even if you haven't seen the show, chances are you've encountered its iconic characters in various memes circulating online.
This absurdly hilarious comedy series occurs in an ordinary high school where every character is secretly wacky and quirky.
Follow the daily antics of three high school girls and their unbreakable friendship in this unforgettable anime.
While there are moments that will feel familiar, its unique and excessive style is what truly sets it apart and adds to its immense charm.
This show is a wild ride, with a mix of traditional moments and an over-the-top sense of humor that makes it irresistible.
From the charmingly silly Yuuko to the quirky young Professor who's obsessed with sharks and snacks, to the robot girl with a crank, and the enthusiastic Mio who's secretly a fan of drawing amateur BL manga, each character has a unique and wacky secret that'll have you in stitches.
9. Blue Period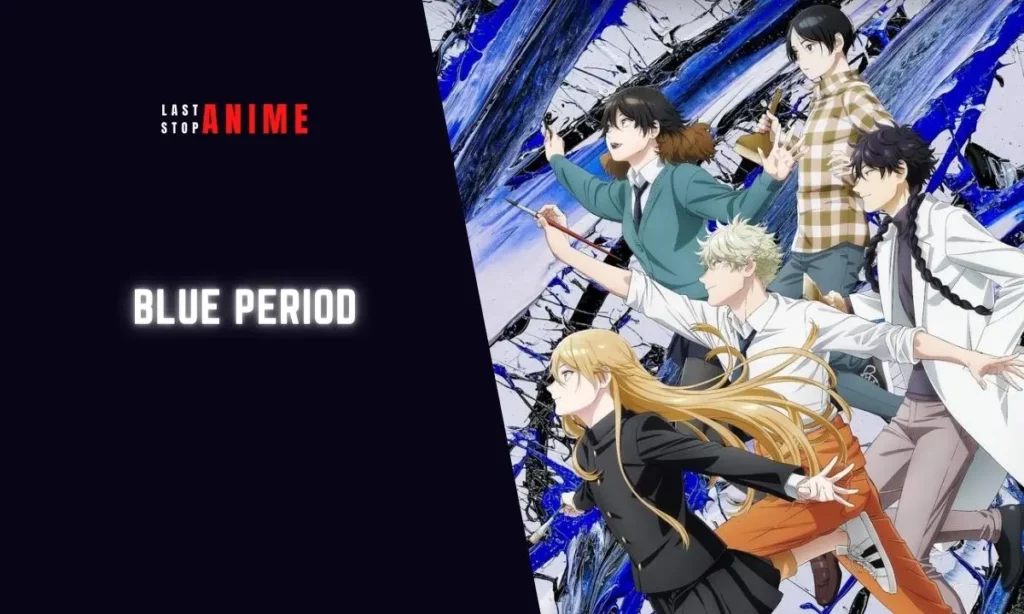 Where to Stream: Netflix
Genre: Drama, School
The story follows the journey of Yatora, a rebellious teenager and high school student who discovers his passion for painting.
Yatora never knew what he wanted to do after high school until he stumbled upon the art club and fell head over heels in love with a fellow classmate's artwork.
Fueled by his newfound passion, Yatora set his sights on attending the prestigious Tokyo University of Arts and devoted himself to honing his artistic skills.
But as Yatora quickly learns, pursuing his passion for art is not all sunshine and rainbows.
He discovers a steep learning curve and that pursuing his passion requires hard work, dedication, and determination.
However, despite his challenges, Yatora remains determined to bring his artistic vision to life.
Blue Period is a must-watch for anyone interested in art and creativity. It shows that sometimes, following your dreams requires hard work and dedication.
So, if you're ready for a journey of self-discovery and creativity, join Yatora on his art adventure.
10. Clannad
Where to Stream: HIDIVE, Funimation
Genres: Drama, Romance, Supernatural
Clannad started as a fun, and exciting story told in visual novel form.
But the story was so popular that it was turned into different forms of entertainment like manga comics, audio dramas, anime shows, and even a movie!
It's about a young man named Tomoya who struggles with attending school and figuring out what he wants to do with his life.
It all started to change when Okazaki met Nagisa.
She and her four friends were trying to bring back the school's drama club, and Okazaki decided to help.
Before he knew it, Okazaki felt a new sense of purpose and drive.
It's a refreshing change from the typical slice-of-life dramas focusing only on childhood or adolescence.
The show's first season got good reviews, but the second season was even better. People loved it!
11. Given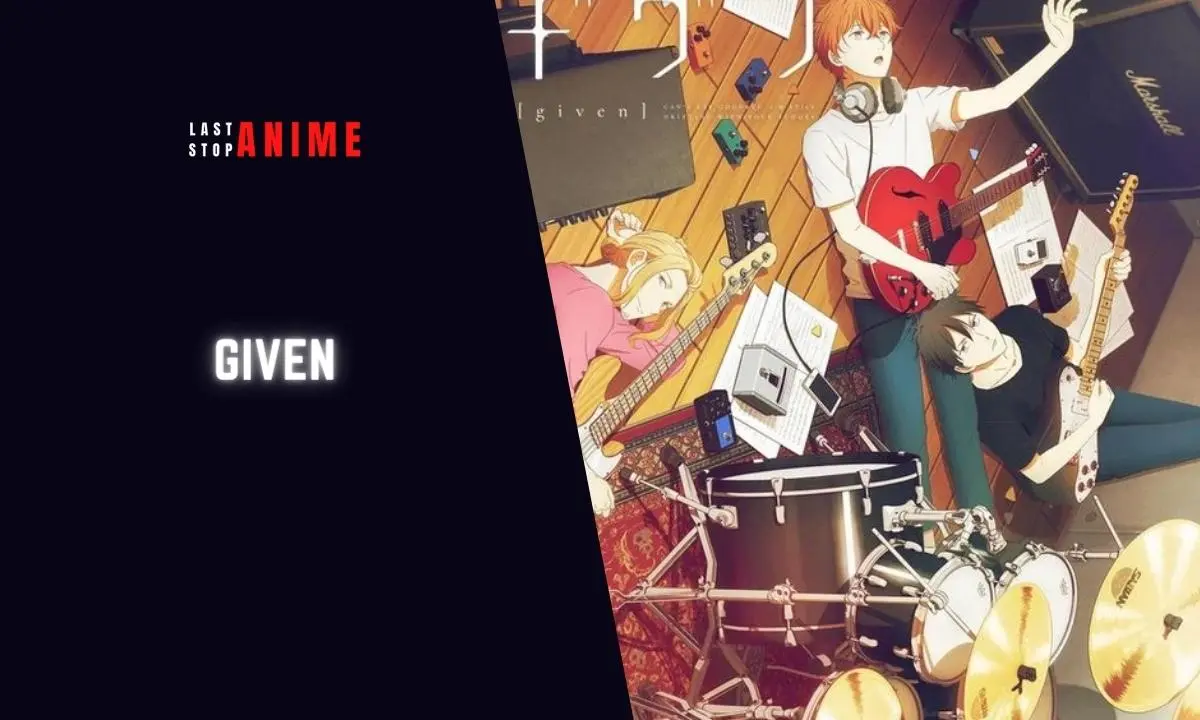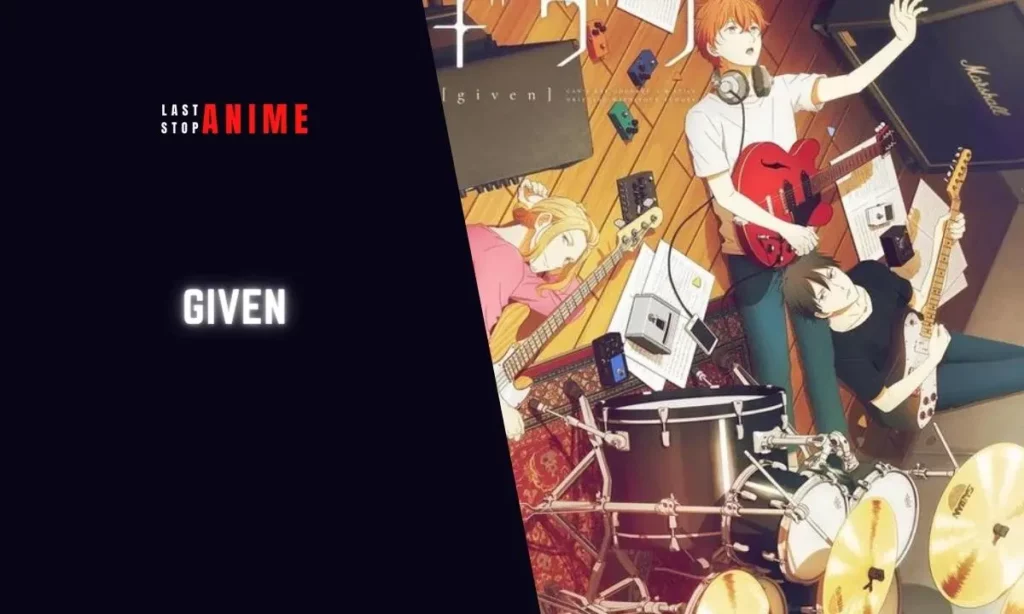 Where to Stream: Crunchyroll, Netflix
Genres: Boys Love, Drama, Romance
Given is an anime about love and heartbreak. The two main characters, Ritsuka and Mafuyu, bond over their love for music.
Looking for a change from the usual high school romance? Check out the movie centered around Haruki and Akihiko, the other couple from Given.
These two side characters start to have their own lives.
This anime is packed with great LGBTQ+ representation and shows the ups and downs of falling in love in a real and raw way.
12. Hyouka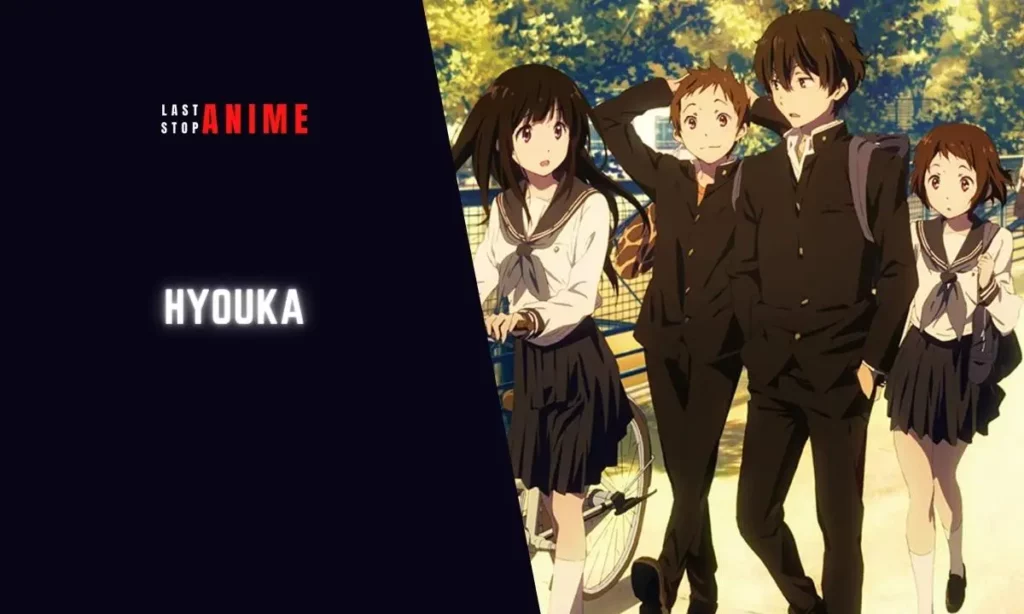 Where to Stream: Crunchyroll, Funimation
Genres: Mystery, Slice of Life
Hotaro Oreki wants to have an easy high school life without putting in too much effort.
His plan is disrupted when his sister asks him to join the Classic Literature Club at school to keep it going.
Oreki was surprised to find out that a student named Eru Chitanda was already interested in the club.
Eru is a very curious girl, and she asks many questions, which sometimes makes Oreki uncomfortable.
Oreki, Satoshi, and Mayaka go on exciting and mysterious adventures at their high school.
They explore different parts of their school and grow closer as friends.
Oreki realizes that Chitanda has changed him for the better and has shown him the amazing things the world has to offer.
Hyouka is a great show with fantastic animation, just like all shows from Kyoto Animation.
It takes time to show what high school life is like and how love can make a person grow positively.
13. Horimiya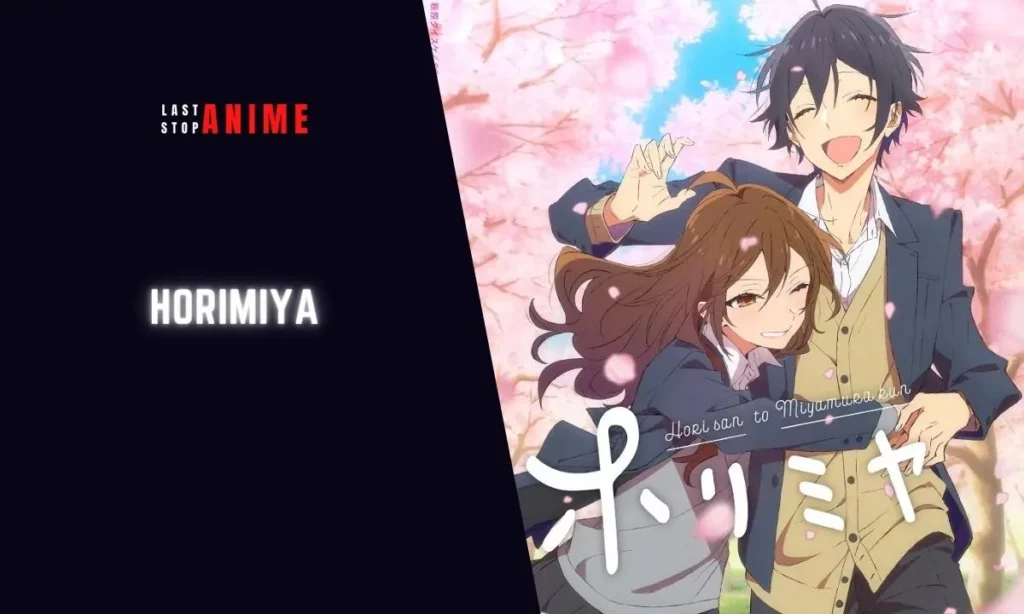 Where to Stream: Crunchyroll, Funimation, Hulu, VRV
Genre: Romance
Horimiya shows what happens after the characters confess their feelings to each other.
Unlike other romance anime that only show the characters' feelings growing, Horimiya gets straight to the point.
The "will-they-won't-they" drama is over quickly, and the story continues.
Miyamura and Hori appear to be very different from each other to everyone else. Still, they keep their true selves a secret from the rest of the world.
They act like a real couple, and Horimiya shows how the side characters are connected.
For example, Ishikawa tries to date Hori but gets rejected. Later, he starts going out with Yuki.
14. Toradora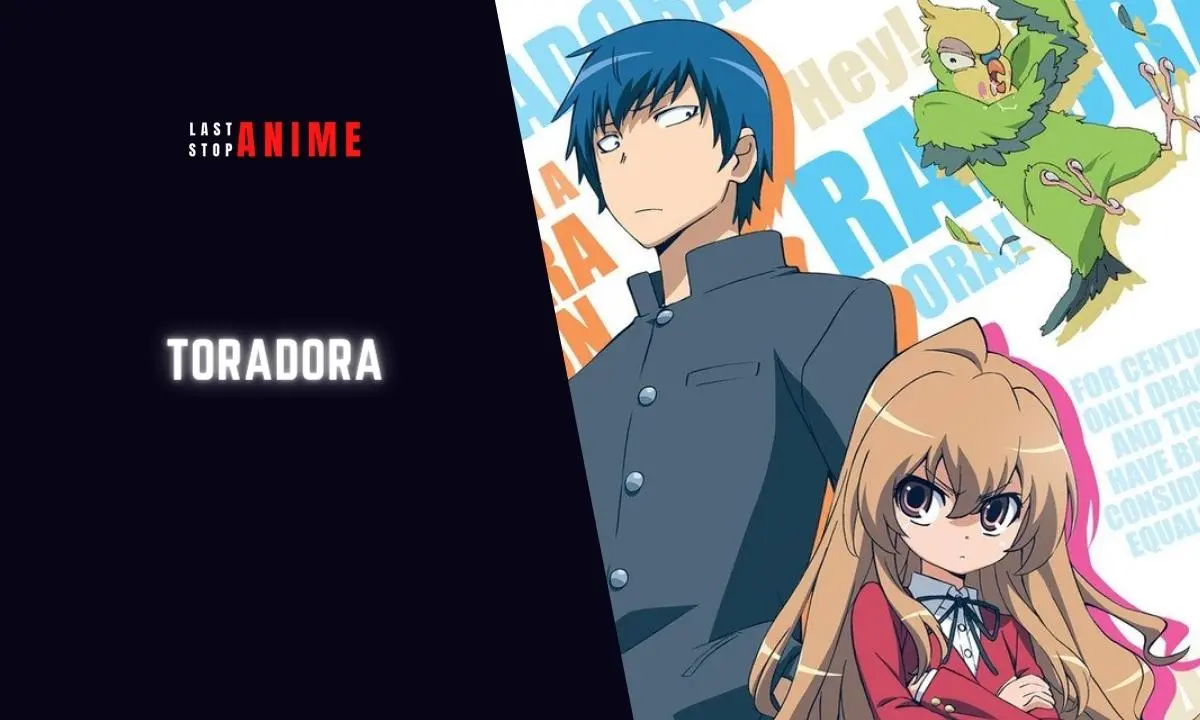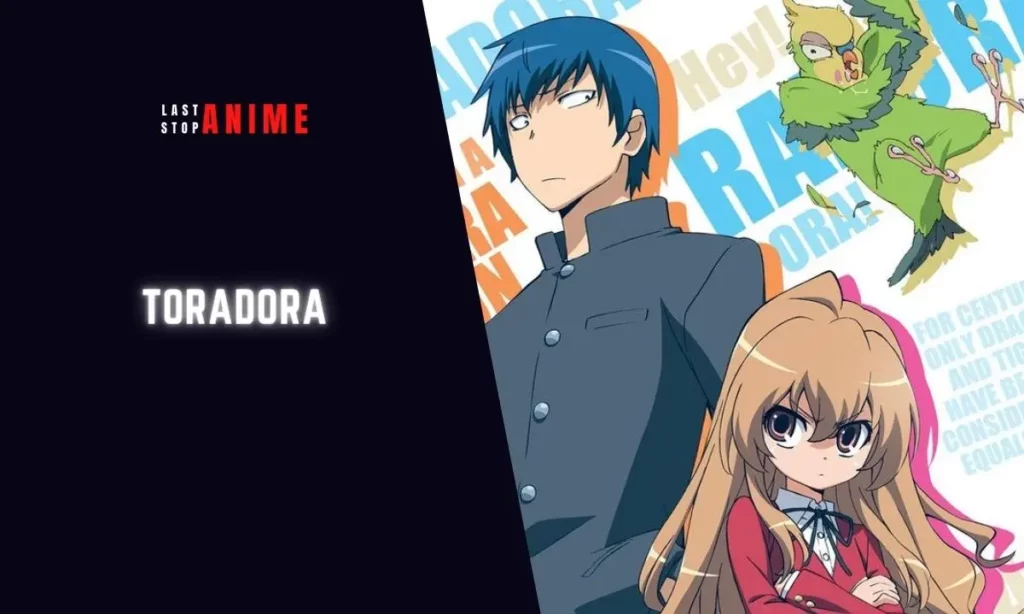 Where to Stream: Crunchyroll, Funimation, Netflix
Genres: Drama, Romance
Toradora! is a great anime show for fans of love stories. It's all about two characters, Ryuuji and Taiga, who are completely different from each other.
Ryuuji is calm and relaxed, while Taiga is known for being quick-tempered and aggressive, earning her the nickname "palm-top tiger."
Toradora! is a funny and touching show about two friends who try to help each other with their crushes, but things don't go as planned.
They end up in funny romantic situations that make for an exciting ride. The characters are the heart of this short and sweet romantic comedy.
15. Kimi ni Todoke: From Me to You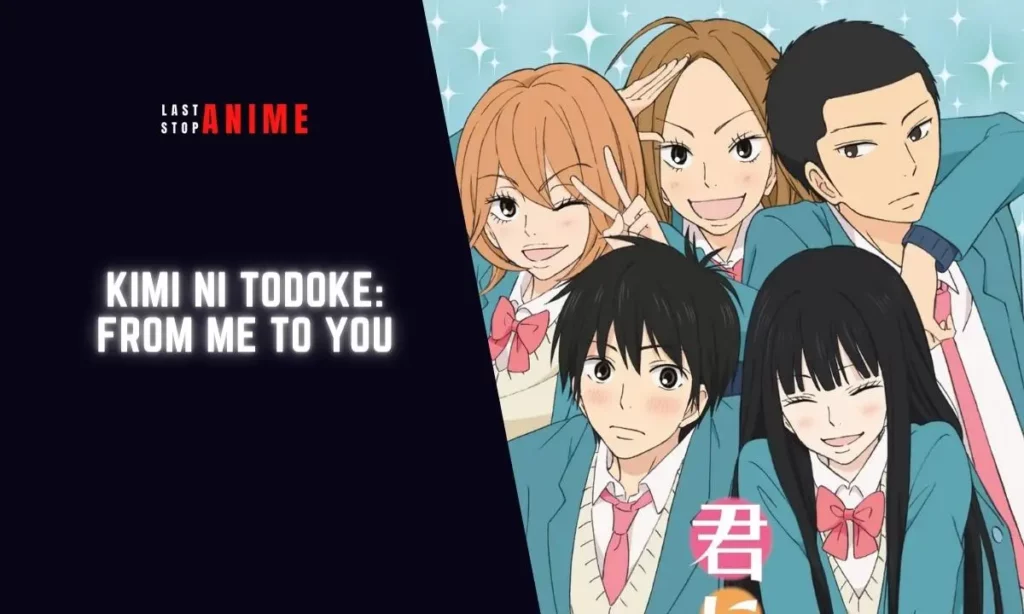 Where to Stream: Crunchyroll, Funimation, Netflix
Genres: Drama, Romance
Kimi ni Todoke is a heartwarming anime that offers a unique perspective on love.
It follows the story of Sawako, a seemingly attractive girl who encounters Shouta Kazehaya, the most popular boy in her class.
Shouta is handsome and an excellent student, inspiring admiration from those around him.
The anime delves deeper into the romantic relationship between Sawako and Shouta, showcasing their unwavering love and affection for each other as well as highlighting the charm of all the other characters in the story.
The series showcases their developing relationship, creating memorable moments and providing an unforgettable viewing experience.
16. Nana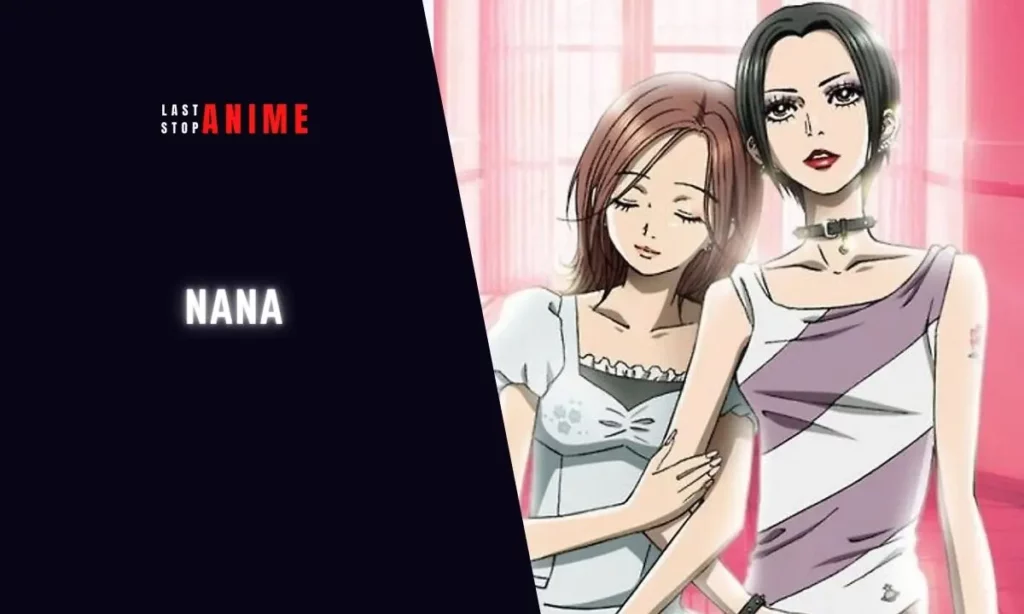 Where to Stream: Crunchyroll, Netflix
Genres: Drama, Romance
The anime series Nana captivates its massive audience with its mature and intriguing plot.
It revolves around two girls who share the same name, Nana, and each of them has a unique background that has molded their personalities.
When their paths intersect, they discover that the world is far more fascinating than ever imagined.
This encounter sets off the journey of Nana's growth and self-discovery as she strives for a better future.
This realistic portrayal of the protagonist's struggles and triumphs makes the show entertaining.
17. Komi Can't Communicate
Where to Stream: Netflix
Genre: Comedy
Shoko Komi, plagued by severe social anxiety, has lived a solitary life, her shyness misinterpreted as haughtiness and arrogance.
Determined to break out of her shell in high school, she sets a goal to make 100 friends, starting with the unpopular Hitohito Tadano.
Komi Can't Communicate is an inspiring series that sheds light on the realities of anxiety, particularly in its early episodes.
The relationship between Komi and Tadano is charming, and their friendship opens the door for introducing more eccentric characters.
18. Anohana: The Flower We Saw That Day
Where to Stream: Crunchyroll, Funimation, Netflix
Genres: Drama, Supernatural
Jinta Yadomi shuns society and spends his days playing video games at home, avoiding school.
One day, the spirit of his childhood friend Menma, who passed away in a tragic accident five years prior, unexpectedly appears and requests Jinta's aid in fulfilling a desire.
Anohana: The Flower We Saw That Day is a heartwarming tale of reuniting with lost childhood friends.
Jinta, the protagonist, brings his estranged friends together as they work to solve a mystery.
Throughout the journey, they are forced to confront hidden emotions and past memories.
With just 11 episodes, this anime has become a widely acclaimed masterpiece for its touching narrative.
19. The Pet Girl of Sakurasou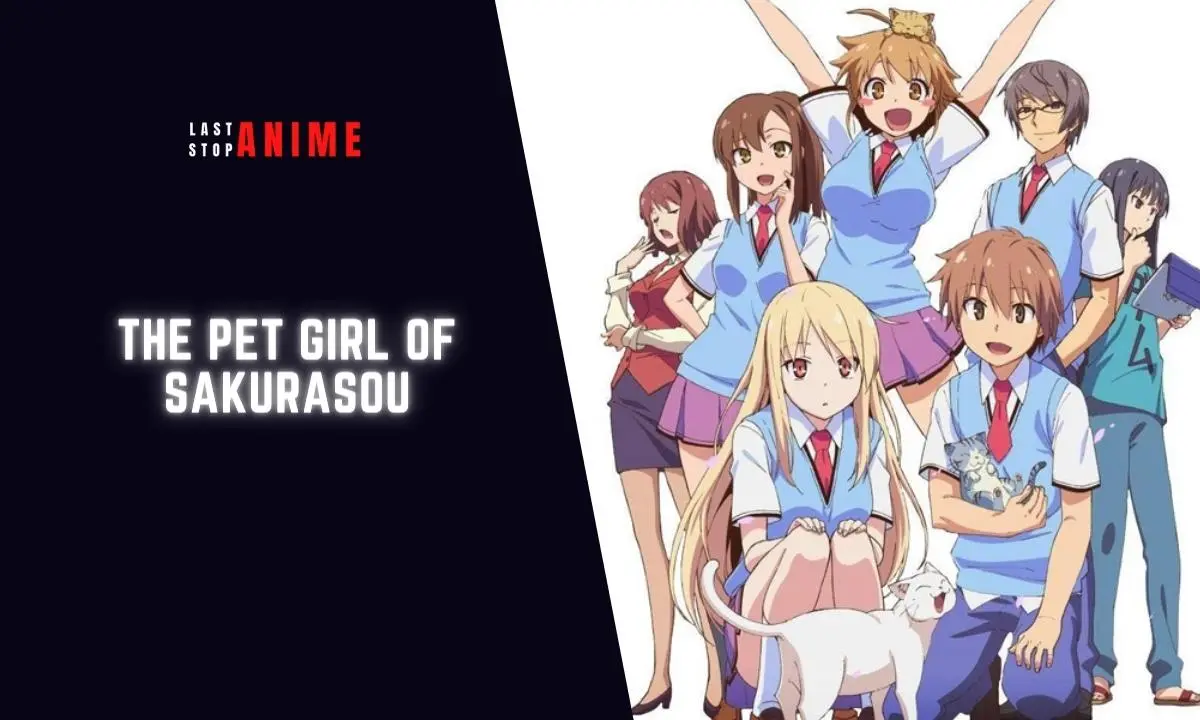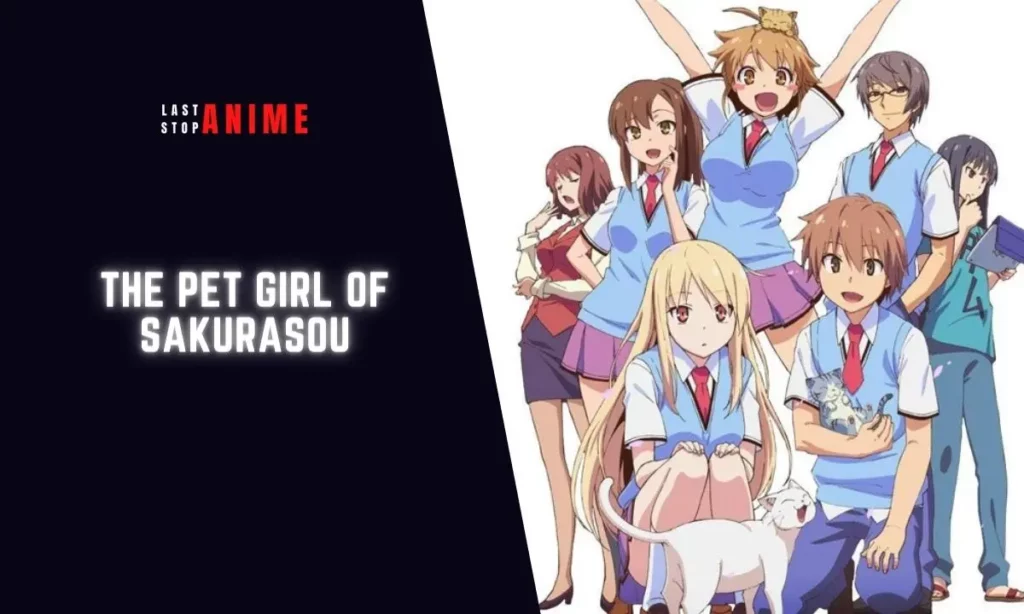 Where to Stream: HIDIVE, Netflix
Genres: Drama, Romance
Sorata Kanda discovers a stray cat that is hungry and malnourished on the streets and refuses to abandon it. As a result, he gets expelled from his previous dorm.
He is then relocated to Sakura Dormitory, known for housing some of the most talented art students with unique personalities.
t his new home, Sorata makes friends with remarkable individuals, including the globally renowned artist Mashiro Shiina, a transfer student who chose to abandon painting and pursue manga illustration instead.
Sorata is captivated by Mashiro, despite her lack of independence and self-care abilities.
As he grapples with figuring out his purpose and strengths, Sorata finds guidance from the quirky individuals around him and starts considering them his own family.
Focusing on relatable issues such as careers, aspirations, and talents, "The Pet Girl of Sakurasou" offers a compelling and heartwarming story.
The endearing cast of characters and the unique relationship between Sorata and Mashiro make it deserving of its spot on this list.
---
Other Romantic Slice Of Life Anime Series:
Tamako Love Story
Haganai: I Don't Have Many Friends
Danshi Koukousei No Nichijou (Daily Lives of High School Boys)