Your Lie in April or Shigatsu wa Kimi no Uso, by A-1 Pictures, came out in 2014 and is one of the most well-known anime of recent times. The noise did not die down the entire year but only increased in the subsequent years. Many veteran fans and mostly new fans consider it the best anime in its genre.
Synopsis:
Kosei Arima is a prodigious pianist well-known in the music community for his skills, thanks to his mother's strict training.
After his mother's death, trauma followed, rendering him unable to hear the sounds of the piano. He then decided to live a simple life away from the stage.
That is until he meets Kaori Miyazono, a violinist, who appears as just any other fun-loving middle school girl.
But when she asks Kosei to be her accompanist, he embarks on a new journey to find the true meaning of music in his own life.
He has by his side his friends that support him no matter what and the whimsical girl who turned his life upside down.
The strength of Your Lie in April lies in its characters and the brilliant execution of a fairly simple plotline. It makes you want to watch more, even though you already know what's next.
The art style, animation, and music make everything ten times more beautiful.
If Your Lie in April is your favorite anime, or you're looking for a similar anime to watch, you're in the right place. We'll take a look at some anime series that are thematically or narratively similar to Your Lie in April in one way or the other.
11. White Album 2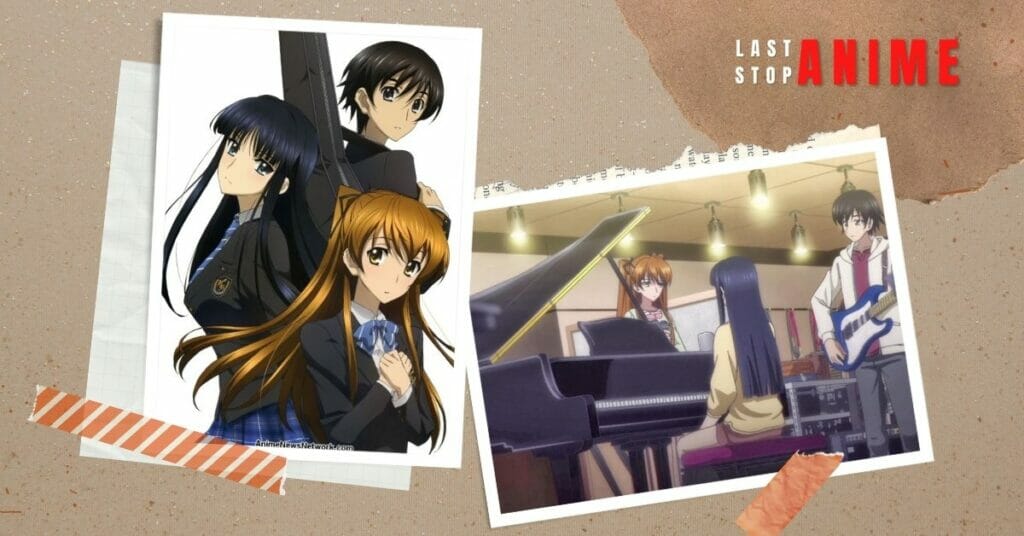 Genre: Music, Drama, Romance, Slice of life
No. of Episodes: 13
Watch It On: Crunchyroll, VRV
White Album 2, by Studio Satelight, is the anime adaptation of a visual novel of the same name. It is not the sequel to White Album but rather a different story with a similar setting.
White Album follows Haruki Kitahara, whose dream of performing at the school festival seems out of reach as his light music club is on the brink of dissolving.
But one day, when Haruki is playing the "White Album" song on his guitar, an unknown piano and an angelic voice of a girl begin harmonizing with his guitar.
This encounter would mark a new beginning for his path of music and romance in his final semester of high school.
The anime excels at evoking many emotions in you and takes you on a rollercoaster ride.
The pacing of this anime is perfect, and the use of gestures and expressions instead of plain words to convey thoughts and feelings is remarkable.
If you like Your Lie in April for the characterization, the musical journey, and the eventual development of a romance between the characters, you'll surely like White Album 2.
10. Golden Time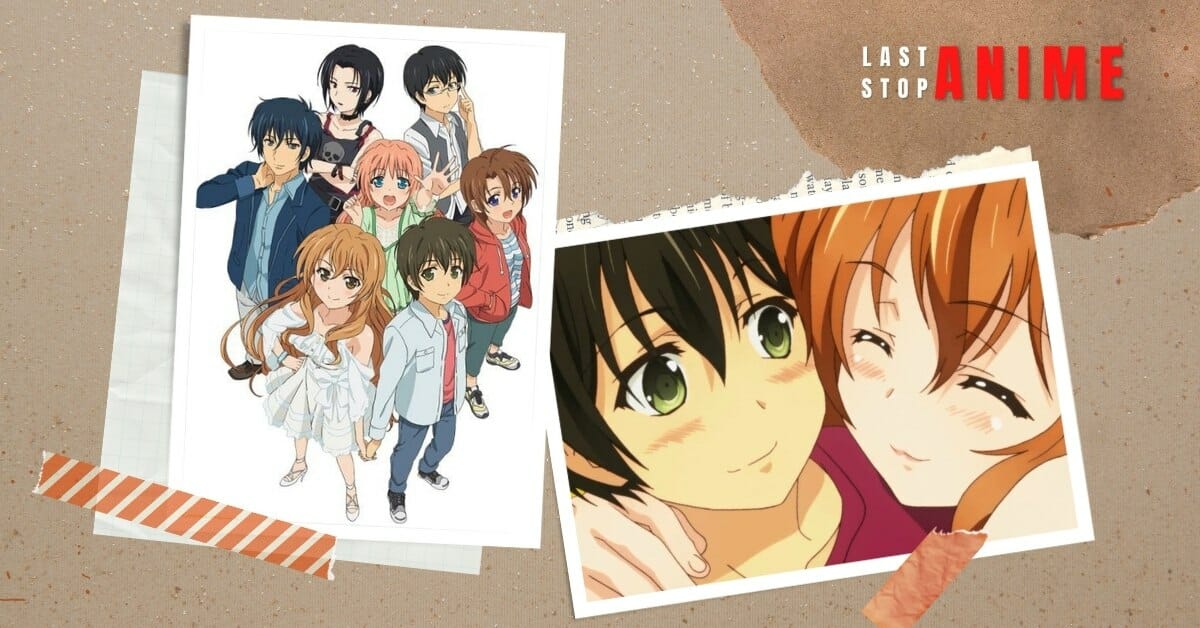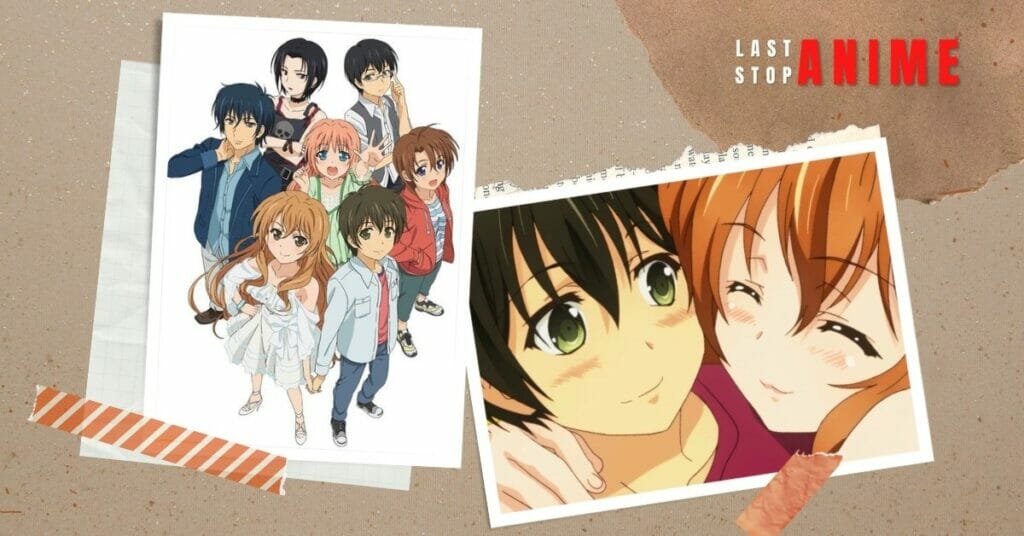 Genre: Music, Comedy, Romance, Drama
No. of Episodes: 24
Watch It On: Crunchyroll, HiDive
The Golden Time anime is an adaptation of a light novel of the same name. Studio J.C. Staff can never go with a rom-com anime, and they proved it agreeably with this adaptation.
The main character of Golden Time, Banri Tada, is a high-school graduate who suffers from amnesia from an accident and has spent the last year in recovery.
After meeting Mitsuo Yanagisawa, he decides to move forward and enroll in a private law school in the bustling city of Tokyo. As he gets used to his new life, Kouko Kaga, a girl in the same school, storms into his life and disrupts his passive world.
This chance encounter opens a new door in his life, and as he goes through his college life with his friends, he grows, learns, and eventually discovers his true self.
Golden Time has characters that are realistic to the core. The romance in this show is not your usual romance but a reflection of what you actually see in real life.
The show is character-driven, so the focus is not much on the storyline, but that's why it's such an enjoyable watch. Golden Time is different from other anime on this list as it is more light-hearted and fun.
After watching Your Lie in April, if you want to watch some other anime with a similar storyline minus the intense sorrow, Golden Time is the show for you!
9. Anohana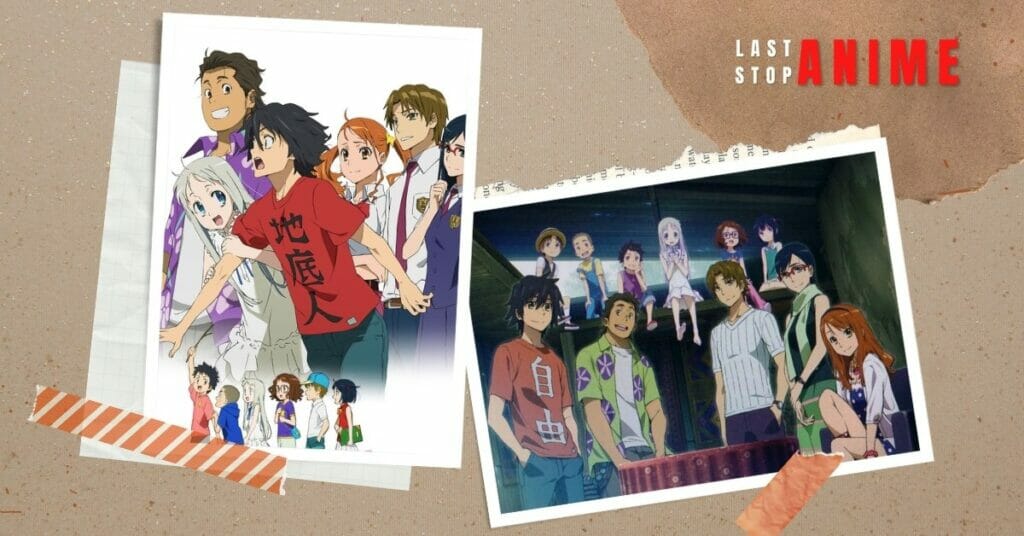 Genre: Drama, Supernatural, Slice of life
No. of Episodes: 11
Watch It On: Amazon, Crunchyroll, Netflix
Anohana: The Flower We Saw That Day, an original anime by Studio A-1 Pictures, is one of the studio's most popular anime, known in the anime community for its heart-wrenching story.
You might have seen the name somewhere on a list of "the saddest anime of all time."
Jinta Yadomi is living life as a shut-in, playing video games at home, away from school. One summer, his supposedly deceased childhood friend Meiko "Menma" Honma appears in front of him and asks him to fulfill her final wish.
Initially, he waves it off as a hallucination from the summer heat, but after a while, he realizes it is Menma's ghost.
This mythical incident brings together Jinta and his childhood group, who had drifted apart after Menma's death. Together these childhood friends relive sadness, despair, and tragedy as they attempt to put Menma's spirit to rest.
Anohana touches on some deep and relatable themes while appearing as a straightforward tale about a group of friends. The characters are exceptionally well-written, which is more palpable as the show progresses.
Anohana is similar to Your Lie in April, not in terms of the plotline, but mainly in their heavy emotional value.
Both of these shows can be heart-wrenching at times, yet you still cannot stop watching because they are what we can call painfully beautiful.
8. A Silent Voice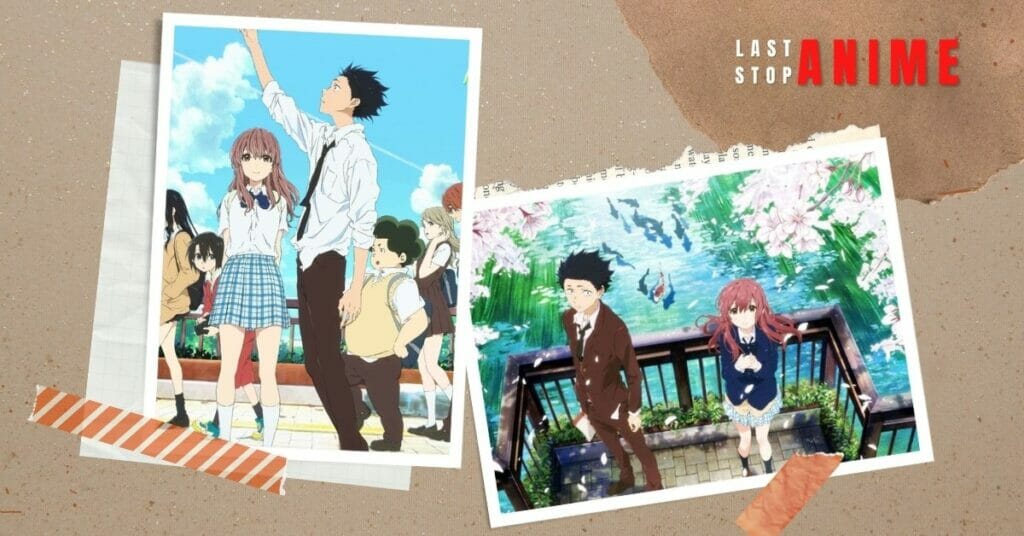 Genre: Shonen, Psychological Drama
Type: Movie
Watch It On: Amazon, Netflix
A Silent Voice, or Koe no Katachi, is a movie by Kyoto Animation based on a manga of the same title.
This movie needs no introduction to anime fans and even some non-anime fans, as it is one of the most popular and highest-rated anime movies of all time.
The recollections of the past haunt Shouya Ishida, a third-year high-school student, so much so that he lives his life with guilt.
During his elementary school days, he bullied a deaf girl Shouko Nishimiya along with his friends. They had made her school life so hellish she had to transfer to a new school.
When the matter blew up, Shouya's friends and everyone around him started ostracising him.
Still, with the memories fresh in mind, Shouya resolves to meet Shouko and reconcile with her, shed the guilt off himself, and maybe become a newer, better version of himself.
The art and animation in A Silent Voice are out of this world, as you would expect from Kyoto Animation, and the music is phenomenal.
The characters are very well-written and relatable. It is easy for you to put yourself in their shoes and feel every emotion they feel.
A Silent Voice is thematically similar to Your Lie in April in that both follow the story of a boy living in the shadow of his past.
A hopeful meeting causes him to eventually embark on a journey to heal and move forward in life. Not to mention, both are absolute tear-jerkers.
Also, Check out our article on anime to watch if you liked A Silent Voice
7. Plastic Memories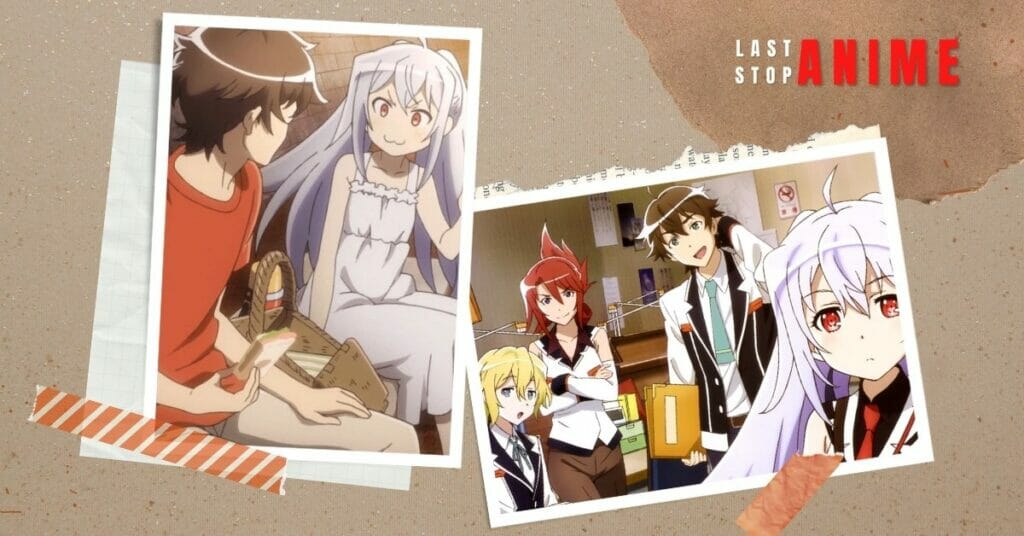 Genre: Drama, Sci-fi, Romance
No. of Episodes: 13
Watch It On: Crunchyroll, Hulu, Funimation
Plastic Memories, an original anime by Studio Doga Kobo, is an unusual blend of genres known in the anime community for emotional appeal.
After failing his college entrance exams, Tsukasa Mizugaki somehow manages to land a job at Sion Artificial Intelligence Corporation.
The SIA Corp creates "Giftias"- androids that look like human beings but have a life span of nine years and four months.
Tsukasa is stationed at Terminal Service one, the unit responsible for retrieving Giftias nearing their end before they reach the expiration date and become aggressive. Isla, a stoic and good-natured girl, is a Giftia partnered with Tsukasa.
While the two go on their job, Tsukasa quickly gets attached to her, fostering a desire for someone that cannot stay with him forever.
The artwork in this anime is pleasing to the eye, and the animation is smooth and seamless. The story has a fascinating premise with a likable cast of characters.
Plastic Memories is like Your Lie in April in that both trace a budding romance between two people that can not last forever because one of them is bound to leave this world sooner or later.
Both stories are beautiful, despite the inevitable sadness.
6. Kids on the Slope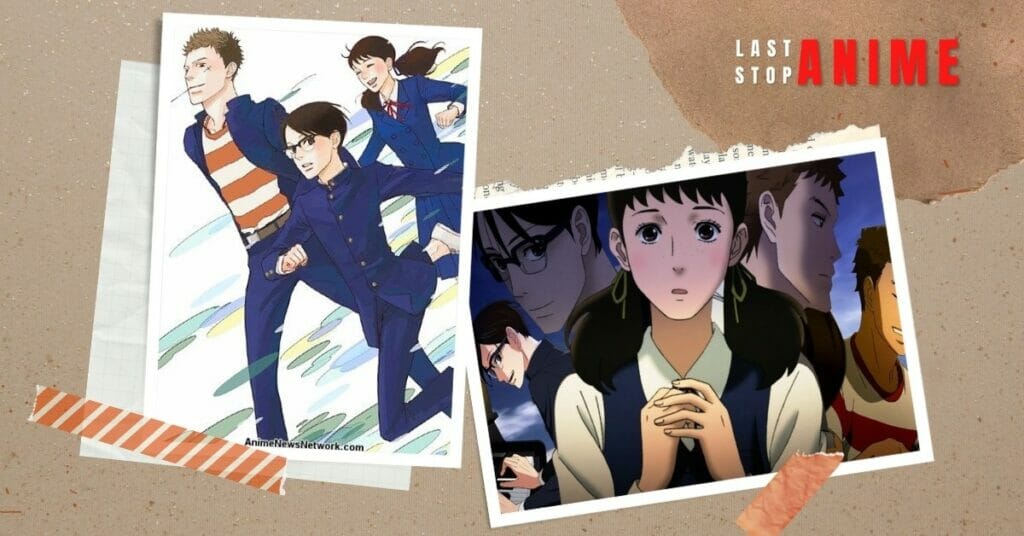 Genre: Josei, Music, Drama, Romance
No. of Episodes: 12
Watch It On: Crunchyroll, Netflix
Kids on the Slope, also known as Sakamichi no Apollon, is animated by studios Tezuka Productions and MAPPA, based on the manga of the same name. It is one of the most well-known josei anime.
Kaoru Nishimi, an introverted pianist, has just come to Kyushu for his first year in high school. He's used to being alone and prepares himself to stay that way.
That is until he meets Sentarou Kawabuchi, a delinquent who piques his interest with his immense love for jazz music. Kaoru befriends Sentarou, and they start to play music together with Ritsuko Mukae, who has a place for practice sessions.
The three gradually become close friends and head on a thrilling musical adventure bound by their mutual love for jazz music.
The main strengths of Kids on the Slope are the characterization and music used in the most intelligent ways, as you would expect from a musical anime.
The characters are written with utmost realism, so they don't feel too dramatic. They are both relatable and likable.
Like Your Lie in April, this anime shows how music brings people together and how it changes people in the most magical ways. Both trace common themes like friendship, romance, and individual growth.
5. Angel Beats
Genre: Supernatural, Drama
No. of Episodes: 13
Watch It On: Amazon, Crunchyroll, Netflix
Angel Beats is an original anime by studio P.A. Works, another name in the list of emotional anime that is a common favorite among fans.
17-year-old Yuzuru Otonashi finds out what happens to one when they die when he wakes up in a dimension between life and death. This place is a school that serves as a refuge for those that met an unwanted demise.
Feeling the unjustness of treatment of their lives on Earth, the other students form an Afterlife Battlefront to confront the God-like girl, Kanade Tachibana, the council president. The group leader compels Yuzuru to join them, and what ensues here on is a constant challenging battle between conflicting moralities.
The premise of Angel Beats is so engaging it hooks you from the very first episode.
The anime does an excellent job of dealing with serious themes and integrating incredible music, action, and even comedy into the narrative.
Angel Beats is like Your Lie in April in that it showcases very well the friendship between the characters and the growth of these characters with the help of others.
Both are bound to make you cry with their heart-piercing scenes, so prepare a box of tissues in advance.
4. March Comes in Like a Lion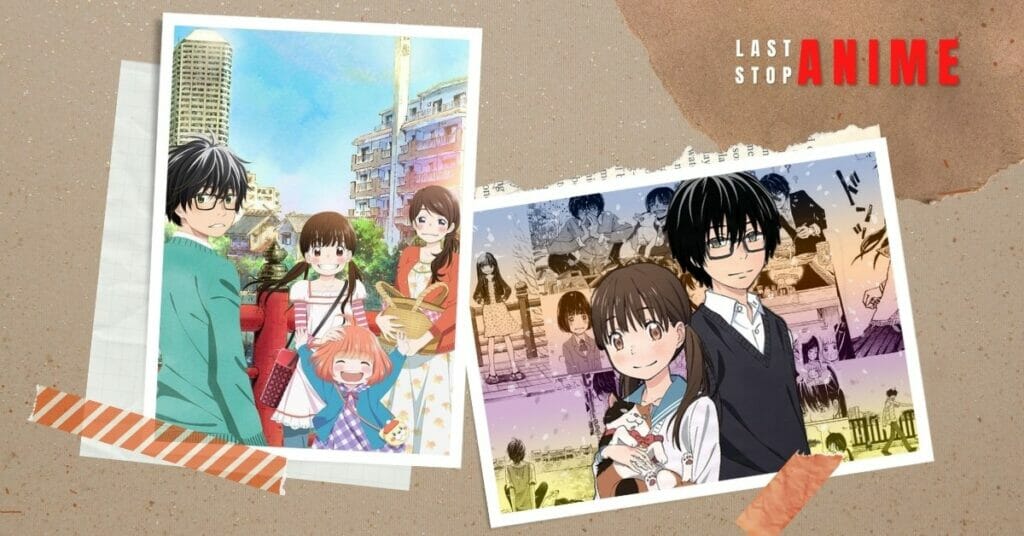 Genre: Seinen, Slice of life (Iyashikei), Drama
No. of episodes: 22
Watch It On: Crunchyroll, Netflix
March Comes in Like a Lion, based on a manga of the same name, is one of studio Shaft's most well-regarded adaptations.
The plot revolves around Rei Kiriyama, a 17-year-old who has earned the status of a professional elite shogi player at a young age.
After not wanting to attend high school for a year, he moves into his apartment in Tokyo, away from dependency on his adoptive parents.
Despite being unsociable, Rei receives only warmth from the Kawamoto sisters, Akari, Hinata, and Momo.
The eldest sister takes care of him just like a mother, and Rei slowly learns to give in to their affection and opens up to them. With them, he grows tremendously to become a truly independent and self-reliant individual.
The animation in March Comes in Like a Lion is stunning, like all other works of studio Shaft.
The music is astounding, and the overall mood is incredibly therapeutic and soothing to the mind, characteristic of an iyashikei anime.
As you can tell from the synopsis, it is an anime similar to Your Lie in April because of its thematic element.
The plot direction is also comparable: a prodigious but reclusive boy moving towards self-growth after meeting warm and bright people who help him escape his shell and build his lost confidence.
3. I Want to Eat Your Pancreas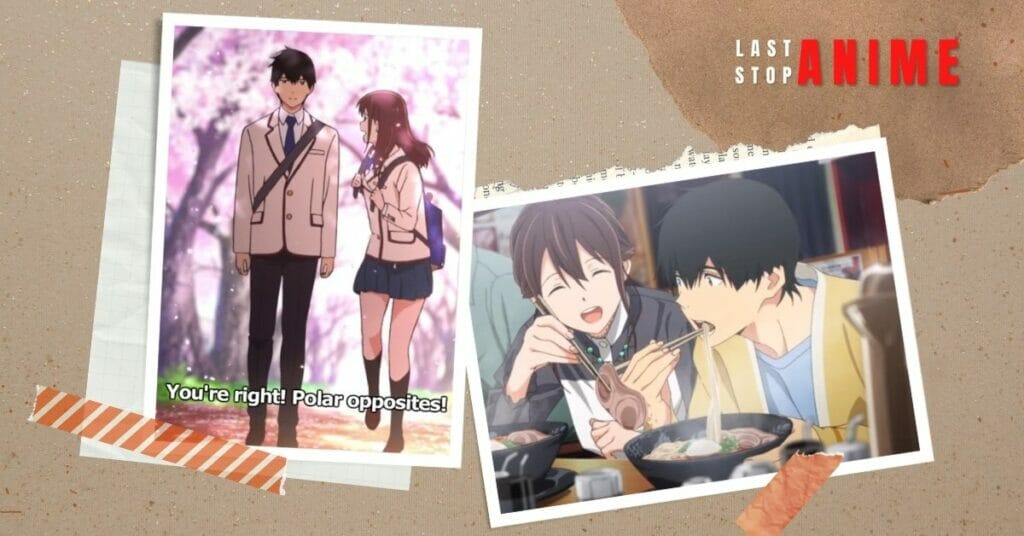 Genre: Drama, Romance, Slice-of-life
Type: Movie
Watch It On: Netflix
I Want to Eat Your Pancreas, or Kimi no Suizou wo Tabetai, animated by Studio VOLN, is based on a novel of the same title.
It is one of the most popular anime films, mostly known for being extremely heart-rending (one wouldn't guess from its bizarre-sounding name).
Shiga Haruki is a bookworm who keeps to himself as he has no interest in mingling with others and assumes that others feel the same towards him. One day when he comes across a secret diary titled "Living With Dying," he realizes it belongs to the popular girl, Sakura Yamauchi, who is also his classmate.
Although Haruki shows no sympathy to her for the pancreatic disease she suffers from. He ends up hanging out with her as she would not leave his side.
To his own surprise, Haruki starts opening up to Sakura, thanks to the vibrant energy she brings into his world. Because of her, he truly understands the meaning of living with dying.
I Want to Eat Your Pancreas is an all-around emotion-packed film that hits you like a truck. The story is stirring as it is, but the music, the stellar animation, and the artwork all contribute to making it a gem of a creation.
Out of all the anime on this list, I Want to Eat Your Pancreas is arguably the most similar to Your Lie in April in terms of storyline.
A shut-in guy meets a bubbly, cheerful girl who fills his life with colors and helps him break the walls he has built around him, with a budding romance on the horizon and dark clouds looming over it.
2. Given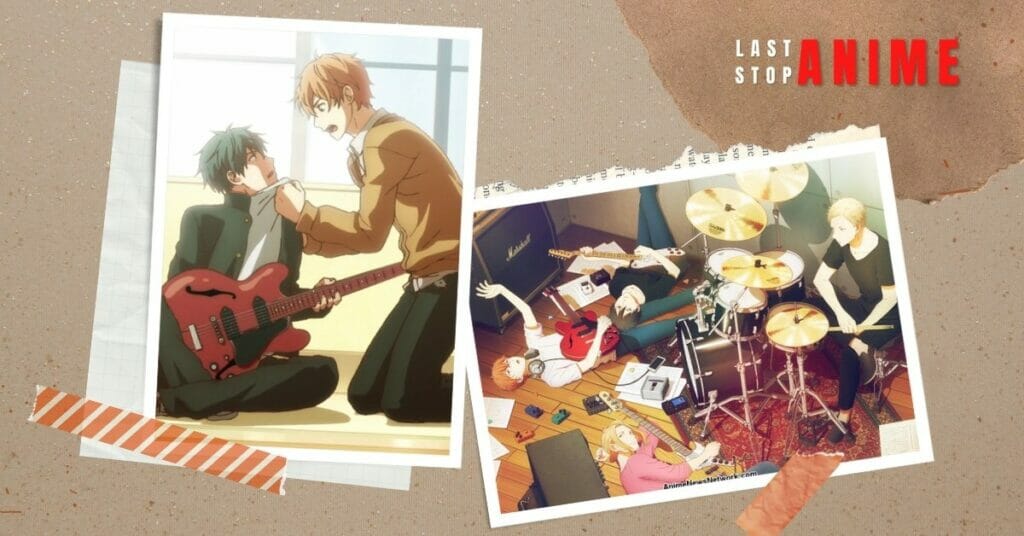 Genre: Music, Drama, Boys love, Romance, Slice-of-life
No. of Episodes: 11
Watch It On: Amazon, Crunchyroll, Netflix
Given, by Studio Lerche, based on a manga, is the highest-rated BL anime on MyAnimeList, and is one of the best music anime out there. It's hard to tell from its genre tags, but it is an exceptionally moving anime.
Mafuyu Satou always holds his red Gibson guitar to his chest. One afternoon when he is taking a nap at a school staircase, he meets Ritsuka Uenoyama, the guitar prodigy.
When the latter points out the broken string on Mafuyu's guitar, Mafuyu is thrilled.
Then when Uenoyama repairs it, Mafuyu asks him to teach him the guitar. Uenoyama is reluctant, but when the boy with puppy eyes follows him around, he gives in to his request, not knowing how this chance meeting will turn both of their worlds upside down.
This anime touches on several powerful themes through brilliantly written layered characters. The songs in this anime are spell-bounding, to say the least, and are undoubtedly a treat for music lovers.
Given is another anime similar to Your Lie in April in numerous ways. The protagonist deals with the loss of a loved one, and music helps him get through the pain along with the presence of a special individual.
Both shows constantly invoke a range of emotions in the viewers.
1. Nodame Cantabile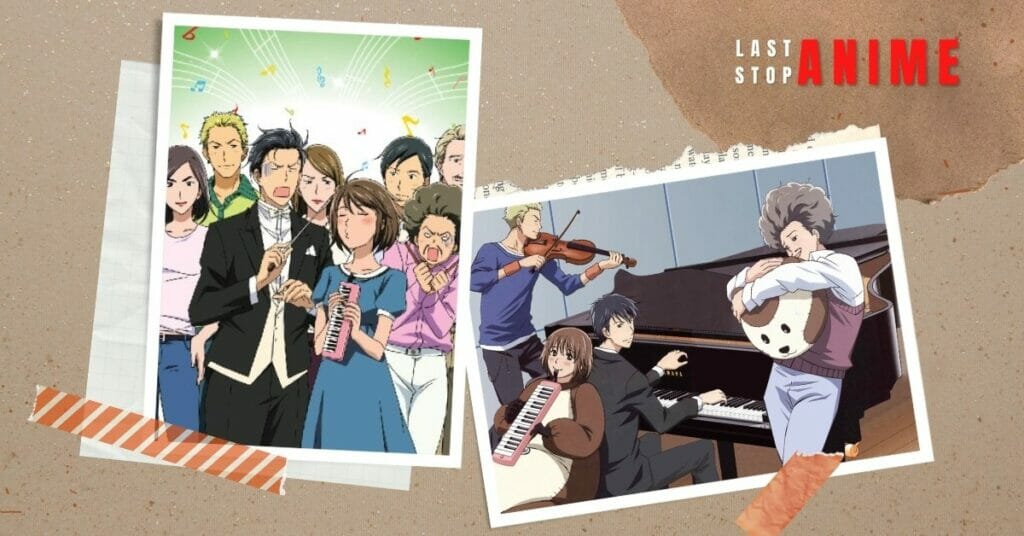 Genre:Josei, Music, Drama, Romance, Comedy, Slice-of-life
No. of Episodes: 23
Watch It On: Amazon, Netflix
Nodame Cantabile, another beauty by J.C. Staff, is based on a manga of the same name. If we're talking musical anime, it's a crime not to mention Nodame Cantabile.
Chiaki Shinichi is a well-regarded pianist and violinist who dreams of playing with musicians in Europe, but his fear of flying and his recent tussle with his piano instructor have made his future uncertain. In his fourth year at Japan's top music university, he meets Noda Megumi, or "Nodame," as she calls herself.
He takes her lightly at first, but when he hears her playing piano one day, it fills him with awe. Later he discovers that not only is she his neighbor, but she has also fallen in love with him.
The anime is very relatable, particularly to musicians, and there is visible progress in the characters and plot.
The best thing about this adaptation is that it religiously follows the manga and makes the content even better.
Nodame Cantabile is an anime similar to Shigatsu wa Kimi no Uso in most ways. The only key difference is the former is a story of young adults.
The main characters have a similar dynamic, and the piano and violin play a prominent role in the story. In both, a girl storms into the guy's world and drives him toward self-growth.
---
More Suggestions For Anime Like Your Lie in April:
Violet Evergarden
Anthem of the Heart
Clannad
Orange
Ao Haru Ride
Kimi no Na Wa
Tokyo Magnitude