You've just witnessed one of the masterpieces of anime movies and have vouched to explore more of such kind; hence, you're here in search of similar anime to A Silent Voice/Koe no Katachi. Well, with this list of Similar Anime Like A Silent Voice, the conclusion of your search is indubitable.
The mere aspect of engaging the global audience through a slow-paced yet intriguing cinema is a feat of its own. Naoko Yamada (Director) has certainly enhanced Reiko Yoshida's (Writer) storyline into breath-taking content.
A Silent Voice offered more than being just a movie. It featured the sorrowful life of a deaf girl and the depressed state of a high school student. However, the movie ended positively while providing a pleasing end.
Nonetheless, the anime community has numerous other anime series/movies bound to stir up your feelings.
Therefore, we recommend watching the following anime series/movies with similar characters and light-hearted content. Hopefully, you'll find the best possible choice in your search.
Anime Similar to A Silent Voice (Koe no Katachi)
01. The Garden Of Words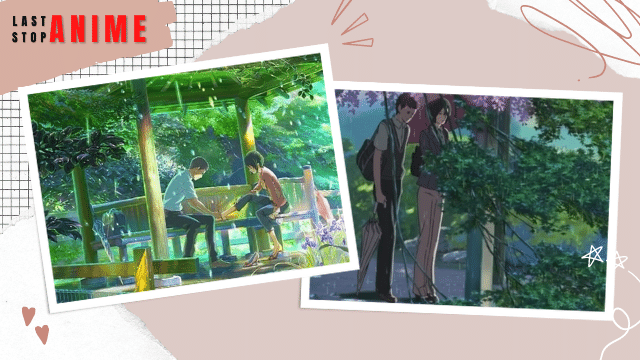 Starting off the list is Makoto Shinkai's The Garden of Words. The movie premiered back in 2013 and gained global attention rapidly.
The Garden of Words offers the same Slice of Life relation to Koe no Katachi. Moreover, the two movies share the same feeling.
Plot of The Garden of Words:
The movie revolves around two main characters- Takao Akizuki and Yukari Yukino. While Takao is just a 15-year-old aspiring to become a shoemaker, the female character Yukari is a 27-year-old woman who teaches literature.
The characters encounter each other in the garden at Shinjuku Gyoen during the rainy season.
Having different reasons to skip school/work, Takao and Yukari often meet in the garden.
The story follows Takao leading toward his goals and unravels Yukari's reason for skipping her work. It's amusing to see how the story follows up the relationship between the two individuals and their obstacles.
Where to Watch:
In the US, The Garden of Words is available with a subscription on HIDIVE. One can also buy/rent the movie on AppleTV. For most of the global audience, the movie is available on Netflix.
02. Anohana: The Flower We Saw That Day
Speaking of Slice of Life anime, Anohana tops the list. The anime was released in 2011 and is still the talk of the town when it comes to Slice of Life recommendations.
Furthermore, Anohana shares a similar dose of twists compared to A Silent Voice.
Plot of Anohana:
Jinta Yadomi has withdrawn from society and has stopped attending school. Suddenly, he starts hallucinating his friend Meiko "Menma" Honma, whom he lost in his childhood.
However, the Menma he thinks is a hallucination is much more than it. Menma has come back as an entity visible to only Jinta due to unknown reasons.
Jinta and Menma were a part of six sixth-grade childhood friends circles which drifted apart after Menma's death. While the others carried on with their lives, Jinta fell into solitude.
The story follows as Menma tries to reunite her former friends and find the reason for her presence. Anohana is undeniably a story every anime lover should see.
Where to Watch:
Owing to its immense popularity, Anohana is available on various platforms like VRV, Funimation, Crunchyroll, and Netflix.
03. Your Name
Another masterpiece by Makoto Shinkai, Your Name/ Kimi no Na Wa, is a globally renowned anime movie. Premiering back in 2016, the anime community often compares it to A Silent Voice.
With a similar pace as Koe no Katachi, Your Name is the third on this list. In addition, Kimi no Na Wa provides a similar heartwarming storyline as A Silent Voice.
Plot of Your Name:
The movie features two high school students, Mitsuha Miyamizu and Taki Tachibana. While Mitsuha resides in the rural town of Itomori, Taki is a high school student in Tokyo, Japan.
As the story follows, a weird phenomenon causes them to switch each other's bodies with each other every day.
Worried about this phenomenon and unable to stop it, the high schoolers start living like each other on alternate days.
On one fine day, the duo decides to meet each other. However, they don't find each other at the meeting spot. A drastic set of events occur, and Taki comes to know the valid reason for this bizarre occurrence.
Where to Watch:
One can buy or rent Kimi no Na Wa on multiple platforms, like Vudu, Amazon, Google Play, YouTube, AppleTV, etc., in the US. However, for most of the global audience, Your Name anime is available on platforms like HBO Max and Netflix.
04. Your Lie in April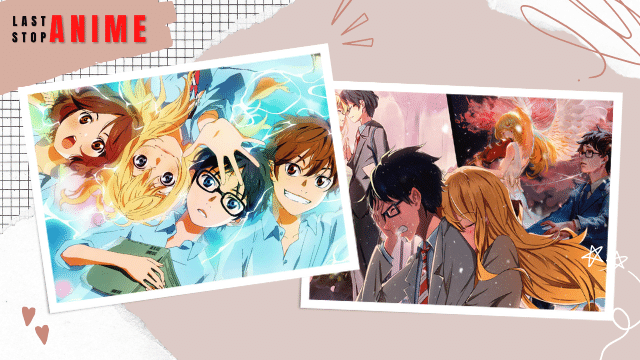 Naoshi Arakawa's Your Lie in April is beautifully animated and certainly fills the gap when searching for anime similar to A Silent Voice.
The anime comprises 22 episodes and aired back in 2014. Multiple viewers have rated the anime as awe-inspiring one.
Plot of Your Lie in April:
Kousei Arima- a middle school student, struggles to face the world after his mother's death two years ago. After winning multiple awards during his childhood, Kousei was on the brink of achieving greatness.
But, although the genius pianist didn't have a hearing disability, he couldn't listen to music notes anymore.
Upon meeting Kaori Miyazono via his childhood friend Tsubaki Sawabe, Kousei's life takes a 180° turn. Since Kaori is a violinist, she pursues Kousei to accompany her as her pianist in an upcoming competition.
Kousei starts falling in love with Kaori due to her eccentric playing style, although she's with one of his other old friends- Ryouta Watari.
Nonetheless, Ryouta and Kousei come to know of Kaori's terminal illness. S
ince Kaori views Kousei as a great friend, she keeps pursuing him to focus on his piano skills. Kousei continues to practice and starts recovering from his depression.
Where to Watch:
Your Lie in April is available streaming on Crunchyroll, Hulu, Vrv, and Funimation in the US. As for the global audience, the anime is most likely to be available on Crunchyroll and Netflix.
05. Orange
Unlike other anime on this list of anime similar to Silent Voice, Ichigo Takano's Orange initiates on a sad note. However, the storyline continues to amaze the viewers through its twists and turns.
The Slice of Life part of the anime showcases the difficulties teens face and how one should tackle them. One may binge the whole series through their curiosity.
Plot of Orange:
Naho Takamiya is a second-year high school girl who receives a mysterious letter from her future self. On the other hand, a new transfer student from Tokyo, Kakeru Naruse, seems a bit off.
The letter tells Naho to follow specific steps to prevent herself from having the biggest regrets of her life.
Taking the letter as a joke, Naho doesn't comply with it. As a result, Kakeru misses school for the next couple of weeks due to unknown reasons.
Naho Takamiya understands the importance of the letter and starts complying with them.
However, soon she finds out that Kakeru would die by suicide in the same year. Also, her other classmates receive similar letters from their future selves. Hence, a story follows where Naho does her best to avoid her Biggest Regrets.
Where to Watch:
The anime series is available on Crunchyroll, VRV, and AppleTV in the US. Netflix and Funimation also provide Orange in some other countries.
06. Kids on Slope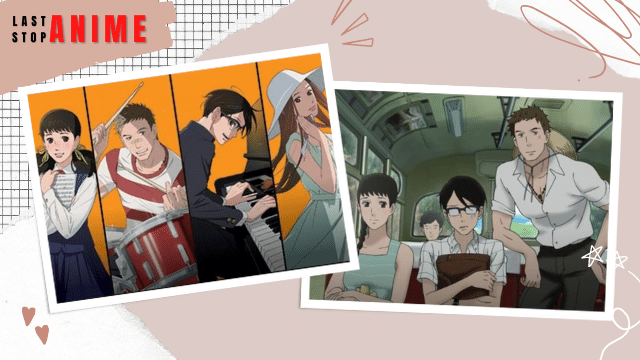 Amongst all the other anime on this list, Kids on Slope may not be the most popular one. Regardless, Yuki Kodama's Kids on Slope provides a great deal of content throughout its 12 episodes.
Accompanied by its melodious jazz, the anime provides an intriguing clash between love and life and is worth watching.
Plot of Kids on Slope:
Kaoru Nishimi is a new student who finds it hard to fit in with others. Since he has to relocate to different cities numerous times due to his father's career, Kaoru has lost hope for standard high school life.
Finally, however, he finds a new company in the form of Sentarou Kawabuchi, another misfit.
Sentaro is an infamous delinquent but has a particular affinity toward drums.
Together with Kaoru, Sentaro starts enjoying his high school days. After that, however, the anime takes sharp turns while introducing new characters and forming some complex love triangles.
Where to Watch:
You can view Kids on Slope with a subscription to VRV in the US. Also, it's available to buy on AppleTV.
07. Erased
This 2016 drama thriller took the world by storm through its intriguing storyline.
Kei Sanbe's Erased is a globally renowned anime that provides a substantial amount of twists and surprises, making it a must-watch. If you've loved A Silent Voice, you'll probably love this one as well.
Plot of Erased:
Satoru Fujinuma, the male protagonist, is a young man residing in Chiba. He inhabits a unique ability- Revival, which helps him to see future events and go back in time to stop any life-threatening incident.
Hence, he uses this power to prevent any life-threatening incident.
Nevertheless, his world changes when a mysterious person murders his mother in his apartment. Satoru jumps back in time to when he was a middle school student.
Curiously, there were some kidnapping and child harassment incidents when he was a young boy, which is somehow linked to his mother's demise.
Satoru starts solving these incidents to find the real culprit.
Where to Watch:
Multiple platforms are either streaming Erased or renting it. Since the anime has distinctive content, it is available on platforms like Netflix, Crunchyroll, Funimation, Hulu, VRV, etc.
08. Horimiya
Are you wishing to see a romantic drama after watching Silent Voice? Well, HERO's Horimiya is qualified enough to embrace you in its storyline.
With simplistic yet dramatic content, Horimiya is bound to pique one's interest.
Plot of Horimiya:
Kyoko Hori and Izumi Miyamura are two sides of the same coin. While Kyoko Hori is a bright and popular kid, Miyamura is a gloomy and nerdy one.
However, both of them have different personalities in their personal life.
Hori is like any other ordinary girl who takes care of her brother- Souta, and her home. But on the other hand, Miyamura is a handsome individual with a troublemaker personality having piercings and tattoos.
The two witness each other's hidden personality when Souta- Hori's brother, falls while playing. Miyamura is the one who takes Souta to his home.
Souta likes Miyamura's company, who then starts frequently visiting the Kyoki household.
While the story features the loving relationship between these two, it also features love triangles or the relation between other high school children.
Where to Watch:
The anime is available on Crunchyroll in multiple countries. You may also find it on Funimation, Netflix, and Hulu in other countries.
09. Violet Evergarden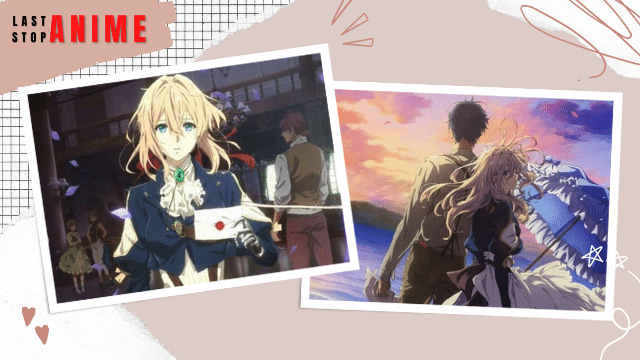 Violet Evergarden is in a league of its own and shares the same studio with A Silent Voice. The wonders Kyoto Animation has performed while providing an amazing animation to this delightful series.
Apart from the seductive storyline, Violet Evergarden has provided multiple tear-jerking episodes, making it worth watching.
Also, check our list of anime to watch if you enjoyed Violet Evergarden
Plot of  Violet Evergarden:
Violet Evergarden, the main lead, is a war child who lost both her arms during world war 1. However, her hands have been replaced by a new set of metallic components. Moreover, the most precious thing which she lost was Major Gilbert.
During the last moments of his life, the Major uttered the three magical words- I Love You. Since Violet has never had a normal childhood and has witnessed the battlefield all along with her life, she doesn't impose any feelings or emotions.
Violet becomes an auto memoire doll after World War I ends, hoping that she'll understand the value of the words Gilbert said. The series comprises multiple episodes wonderfully showcasing human emotions.
We witness Violet on her journey to find the true meaning of emotions and feelings while being an auto memoire doll.
Where to Watch:
The anime is available on AppleTV and Netflix in most parts of the world.
10. ReLIFE
ReLIFE is another not-so-popular but watch-worthy anime like Kids on Slope. Featuring a simplistic approach to the content, the anime provides an eccentric form of life.
More or less, ReLIFE is a lot similar in terms of Koe no Katachi in regards to its simplistic and light-hearted approach.
Plot of ReLIFE:
The story revolves around Arata Kaizaki, who thinks of himself as a failure in life since he isn't able to secure a job and works at a convenience store as a twenty-seven-year-old. His life changes after a fateful encounter with Ryō Yoake.
Ryo is from a company- ReLIFE, which provides pills to turn a person 10 years younger.
Ryo provides Arata with the pill, and in return, Arata has to attend a high school as a 17-year-old.
Where to Watch:
In the US, one can view the series on Crunchyroll and VRV. Also, you can buy the two seasons of ReLIFE on AppleTV, Microsoft Store, and Amazon.
11. Toradora
Yuyuko Takemiya's Toradora defines itself as an anime similar to Silent Voice. However, apart from its Slice of Life drama content, the anime also provides a genuine glimpse of high school romance.
Plot of Toradora:
Ryuji Takasu and Taiga Aisaka are infamous for their delinquent look and aggressive personality, respectively.
Regardless, Ryuji likes Taiga's best friend, Minori Kushieda, while Taiga has an affection for Ryuji's best friend, Yusaku Kitamura.
Therefore, the duo forms a pact to assist each other in approaching each other's best friends. As a result, a story commences where multiple events occur, where Taiga and Ryuji get closer.
Where to Watch:
Globally, Toradora is available on multiple platforms like Netflix, Prime Videos, Funimation, Crunchyroll, VRV, tubi, etc.
---
Honorable Mentions:
Since the anime community offers a lot, there are multiple anime or similar movies with the same theme as Koe no Katachi; not all of them could make it to the list.
Regardless, they deserve mention. So here's all the anime that could've been on the list of anime similar to A Silent Voice.
Death Parade
Blue Spring Ride
Weathering With You
5 Centimeters per Second
I Want to Eat Your Pancreas