Violet Evergarden, an exquisitely animated series by Kyoto Animation Studio, is well-known for making its viewers bawling their eyes out. It counts as one of the saddest anime of all time. Besides that, it has a heartwarming and beautifully narrated storyline that hooks you throughout the show.
Its sequel Violet Evergarden Movie from Kyoto Animation, is also popular among anime fans since its release. Outstanding visuals and gorgeous art style can also be seen in this movie.
Violet Evergarden is based on a light novel written by Kana Akatsuki. The story is centered on a young, strong female lead, Violet, a former child soldier who doesn't know what human emotions are.
All she knows is how to shed the enemies' blood and follow the given orders no matter what.
However, after losing her dearest person, who left her with nothing more than words she can not comprehend, she starts her journey as an Auto Memory Doll to find her own identity.
In other words, it is a story of an emotionless girl in search of her feelings and her purpose in life.
Violet Evergarden is a serious tear-jerker with brilliantly constructed drama in episodic storytelling form.
It is a perfect watch if you enjoy shows of the genres like Fantasy, Drama, and Slice of Life, including heavy emotions that can stir up your feelings.
We have handpicked 11 best anime series like Violet Evergarden that you will surely enjoy watching. Therefore, let's dive into the list right away!
11. The Ancient Magus' Bride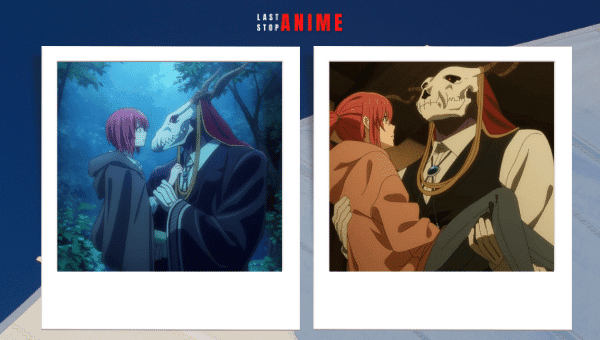 Genre: Shounen, Fantasy, Supernatural, Mystery
Watch It On: Amazon, Crunchyroll, Funimation
The Ancient Magus' Bride or Mahoutsukai no Yome is based on the manga of the same name written by Kore Yamazaki. Wit Studio has provided amazing animation and incredible character designs to this series.
If you enjoy anime with supernatural and surreal elements and a slice-of-life romance, this anime is a must-watch for you.
Synopsis:
The story follows Chise Hatori, a 15-years old lost girl who is ostracized by everyone around her and has no place to call her home.
She decides to sell herself to find a place to live in. She is sold to Elias Ainsworth, a tall man with an animal skull head, for five million pounds at an auction.
However, later Elias reveals his identity that he is none other than a magus himself and takes Chise with him to Great Britain, where Chise is introduced to a whole new world of strange supernatural beings which marks the beginning of her journey as a magic learner and the future bride of the magus.
Like Violet Evergarden, The Ancient Magus' Bride also has gorgeous artwork and great soundtracks.
Moreover, both the characters (Violet and Chise) develop into strong female leads after connecting with the world around them.
10. Iroduku: The World in Colors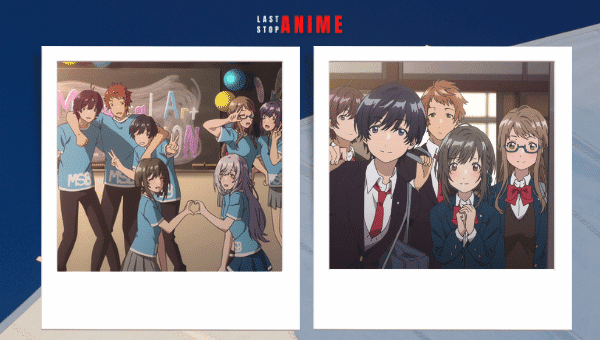 Genre: Drama, Romance, Time travel
Watch It On: Amazon Prime, Hidive
Iroduku: The World of Colors or Irozuku Sekai no Ashita Kara is a 13-episode anime produced by P.A. Works studio.
In this anime like Violet Evergarden, you will find eye-catching artwork, incredible music, and not to mention a very compelling storyline; certainly, an interesting anime to watch.
Synopsis:
The story revolves around Hitomi Tsukishiro, a colorblind girl born into a family of witches who hates magic since it causes her to lose her ability to see colors and the people around her.
Her Grandmother Kohaku tries to help her by casting a spell and transporting her 60 years back into the past when she was a 17-year-old high school girl
. After traveling, Hitomi finds herself in the photography club, where she makes new friends and begins to perceive the world from a different perspective.
Iroduku: The World of Colors is similar to anime like Violet Evergarden regarding self-discovery and the quest to learn more about the missing piece in their lives.
For Violet, it is human emotions, whereas for Hitomi, it is the ability to see colors. Moreover, both anime fall within the slice of life and coming of age genre.
9. Your Name
Genre: Drama, Supernatural, Romantic Subtext
Watch It On: Amazon, Crunchyroll, Funimation, Netflix
Mikoto Shinkai's Kimi no Na wa aka Your Name is a worldwide record breaker and, evidently, a huge success, which places it in the Top 3 highest-grossing anime movies of all time.
It has earned high praise for its mind-boggling animation, visuals, and music. Not to mention the intense emotions that reach deep into the viewer's heart until the very end of the movie.
Synopsis:
The storyline follows two high school students- Mitsuha Miyamizu, a teenage girl who lives in a small mountain village near the countryside of Japan, and Taki Tachibana, a young boy who lives a busy life in Tokyo.
Unexpectedly, one day, their bodies swapped, leaving both of them perplexed by the bizarre incident.
The strange phenomenon continues, making them switch their bodies and leaving them with no other choice than to live with it.
They start looking for each other to find the answer to the unusual occurrences. Well, did they find one another or not? For that, you need to watch the movie. It would satisfy you.
Like Violet Evergarden, Your Name is also drama-driven, overflowing with pure emotion, while gorgeous visuals and music by Radwimps are totally an addition.
8. A Silent Voice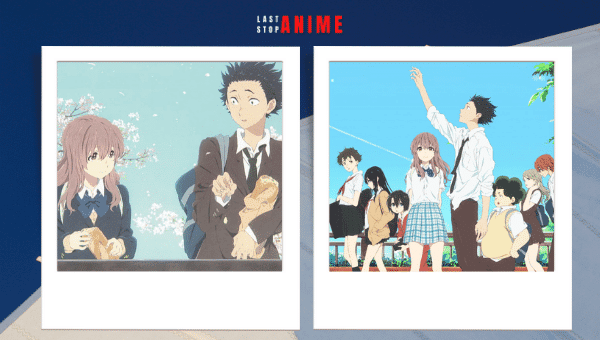 Genre: Shounen, Drama, Romantic Subtext
Watch It On: Amazon, Netflix
A Silent Voice or Koe no Katachi by Kyoto Animation has gathered a large audience globally because of its breathtaking art style and animation throughout the movie.
Synopsis:
The story revolves around two main characters – Shouko Nishimiya, a deaf little girl, and her classmate, Shouya Ishida, who used to humiliate her for amusement along with his friends in front of the entire class, which ultimately led her to transfer out of the school.
Shouya is a high schooler who wants to meet Shouko, the deaf girl since he regrets his previous interactions with her and wishes to make up for everything.
A Silent Voice is a work of art that highlights the impact of our actions on others in the most heartwarming way.
It shares the same studio with Violet Evergarden and also the rollercoaster ride of emotions where you will find deep characters interwoven into a simple yet beautiful story, thus inarguably a worth-watching show.
7. Plastic Memories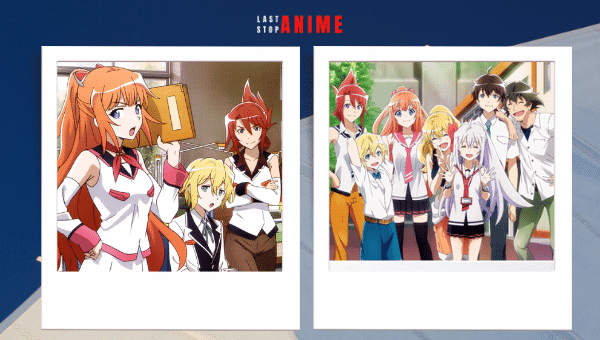 Genre: Drama, Romance, Sci-fi
Watch It On: Crunchyroll, Hulu, Funimation
Plastic memories is another best anime series animated by Doga Kobo studio and written by Naotaka Hayashi.
This anime is loaded with romantic, comic, and imaginary aspects, which draw the audience with various interests towards it.
One can always find Plastic Memories in the list of sad/depressing anime of all time owing to its gut-wrenching storyline.
Synopsis:
The story is set in the near future where "Giftias" (Humanoid androids) co-exist with humans. SAI Corporation creates these Giftias, and not only do they resemble humans, but they can also possess human emotions and memory.
Yet unlike humans, they have an expiration date and need to be shut down, which strips them away of their memories.
Furthermore, the plot follows our main character – Tsukasa Mizugaki, who has recently joined the SAI Corp and started working at Terminal Service One.
This group is in charge of retrieving Giftias and scrapping them before they become "wanderers."
The catch is that Tsukasa falls in love with a Giftia named Isla, and he is the one who is assigned to erase Isla's memory.
In another way, it is a story about a forbidden relationship between a human and a humanoid-like robot, accompanied by many tear-jerking moments.
Despite holding more of the romantic aspect in the anime, plastic memories are still similar to the Violet Evergarden anime series since both female protagonists (Isla and Violet) are devoid of emotions and struggle to know true emotions.
6. Death Parade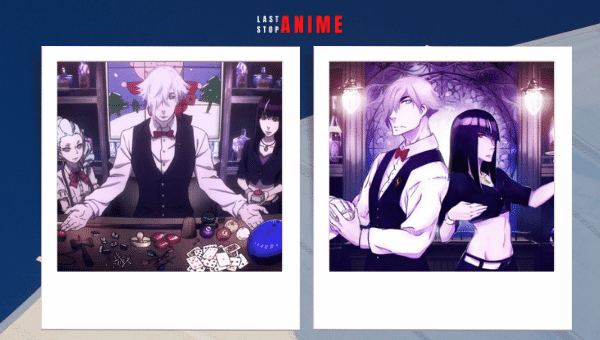 Genre: Drama, Supernatural, Psychological, Suspense
Watch It On: Amazon, Crunchyroll, Hulu, Funimation, Netflix
Death Parade from Madhouse is the finest anime of its kind. It is inspired by the short film Death Billiards.
Unlike Violet Evergarden, it has included suspense and Psychological elements, yet it follows similar storytelling in the anime like Violet Evergarden.
Synopsis:
The plot centers on the main character Decim, an enigmatic figure who acts as 0an arbiter in a bar named Quindecim.
The story is set in the afterlife setting where people enter this bar after their death with another person who has died simultaneously and play life-threatening games.
Decim serves his judgments on the players and decides whether the person should be reincarnated or sent into a void, where they would never emerge again.
However, soon he meets someone who renders him to question his judgments.
A remarkable aspect of Death Parade is its music, especially the opening song "Flyers" by BRADIO, which is quite popular.
Death Parade and Violet Evergarden are similar in several aspects, including episodic story structure with truly amazing flow and the ability to elicit emotions through the development of their main characters.
After encountering diverse people, both (Decim and Violet) begin to learn about human emotions.
5. To Your Eternity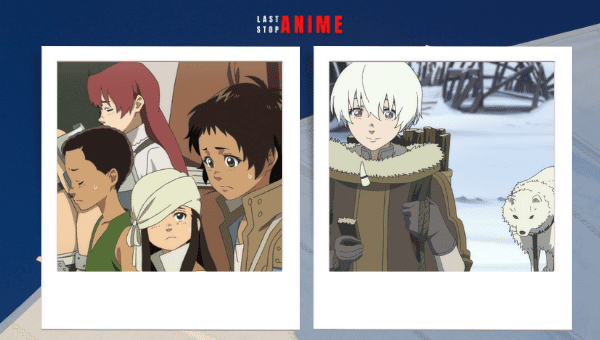 Genre: Shounen, Drama, Adventure, Supernatural
Watch It On: Crunchyroll, HBO Max, Netflix
To Your Eternity is more than just a brilliantly constructed supernatural drama because of its great storytelling and unique characters that evoke strong emotions in the audience.
It also adopts a similar serious tone and sad anime story to Violet Evergarden.
Synopsis:
The story begins with an orb named "It," who can transform itself into anything it captures the reflection of.
After changing its several forms, one snowy day, It takes the white wolf form when a wolf barely alive passes by and starts wandering around aimlessly.
However, later It (now the wolf) comes to know that wolf has a master, a young boy who is left behind by his tribe members, yet he hopes for their safe return every day.
After a long wait, one day, the young boy decides to go himself with It in search of his tribe members, but some unfortunate events lead to his death which leaves the wolf alone.
Furthermore, the wolf now changes itself into that young boy and embarks on a whole new journey.
In short, To Your Eternity portrays the tale of an immortal character encountering a diverse range of people while learning about mankind.
Parallels between Violet Evergarden and To Your Eternity can be seen in respect of the evolution of the main protagonists throughout the story.
In the case of Fushi (earlier referred to as It), initially, he was more of an inhuman character, but later, he develops into a more mature human being with a better understanding of human emotions; similarly, Violet who's known for her lack of emotions earlier starts feeling them while writing the letters of her customers.
4. Tegami Bachi: Letter Bee
Genre: Shounen, Adventure, Fantasy, Supernatural
Watch It On: Crunchyroll
Tegami Bachi (Letter Bee) is another superb anime based on the manga illustrated and written by Hiroyuki Asada and animated by Pierrot Plus Studio.
This anime, like violet Evergarden, has distinct characters and highly engaging storytelling.
Synopsis:
The plot sets in a strange land Amberground, also called the land of eternal twilight, since its capital (Akatsuki) illuminates partially under the artificial sunlight and otherwise stays covered in darkness.
In the capital, a postal delivery service, "Bee Hive," recruits "Letter Bees" to deliver the letters. Lag Seeing, our main character, comes as a "Letter" to be delivered after his mother is taken away from him.
Gauche Suede, a Letter Bee assigned to deliver Lag to a small town, Cambel Litus, saves his life several times, teaches him a lot about the Letter Bee's job, and eventually inspires Lag to be a Letter Bee someday.
Later, Lag becomes a Letter Bee with a special ability and follows an adventurous journey across Amberground with his dingo (Protective Pet) Niche.
Letter Bee and Violet Evergarden are comparable since both the anime are related to letters containing clients' personal stories.
In spite, one is about writing those feelings for them (Violet Evergarden), and the other is about delivering them to their destination.
Moreover, the main characters join this path after losing someone very dear to them.
3. Maquia: When the Promised Flower Blooms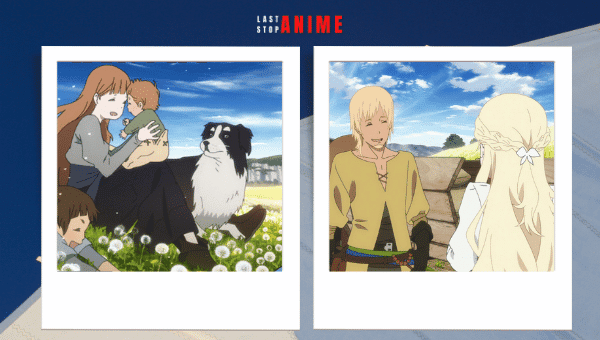 Genre: DRAMA, FANTASY
Watch It On: Amazon Prime, Netflix
Maquia: When the Promised Flower Blooms or Sayonara no Asa ni Yakusoku no Hana wo Kazarou is a very popular and stunningly animated movie by P.A. Works studio under the direction of Mari Okada, who is also the writer of the story.
Synopsis:
The story follows a fantasy world where a young girl, Maquia, an Iorph- a supernatural being with a long lifespan, lives a lonely life in her homeland despite being surrounded by other Iorphs.
She has never experienced the outside world until one day, the Kingdom of Mezarte attacks her village, and owing to certain events, she finds herself in a deserted forest.
Additionally, she hears the newborn's cries and decides to raise him alone. Consequently, she finds herself molding in the regular life of humans and somehow dealing with the challenges without foreknowledge.
Like Violet Evergarden, this anime also has gorgeous animation and a similar bitter-sweet atmosphere.
Both the anime have incredible character development of their female leads in the story.
If you enjoyed Violet Evergarden for its drama and tragedy elements in particular, then this anime will work perfectly for you.
2. Your Lie in April
Genre: Shounen, Drama, Romance, Music
Watch It On: Amazon, Crunchyroll, Hulu, Netflix
Your Lie in April or Shigatsu wa Kimi no Uso is another beautiful anime like Violet Evergarden. It is undoubtedly a masterpiece that tugs at your heartstrings throughout its 22 episodes.
Synopsis:
The anime story begins with Arima Kousei, a young pianist who has made his name in the music industry because of his mother, who forced him to intense training to hone his skills.
However, the young pianist finds himself falling into the darkness of depression after his mother's death, making him unable to hear the piano's sound.
While coping with the unfortunate events that occurred to him, he meets a girl named Kaori Miyazono, a beautiful violinist who persuades Arima endlessly not to give up on his skills. Getting to know Kaori was the turning point of his life.
Eventually, he begins to fall for her, but something unexpected happens that leads to the story's tragic ending.
Don't want to spoil it more for you, but surely a box of tissues will come in handy while watching this anime.
More or less, Your Lie in April is similar to Violet Evergarden; whether having a sad anime story or a brilliantly constructed drama with heavy tear-jerking emotions makes it worth watching.
1. Vivy: Flourite Eye's Song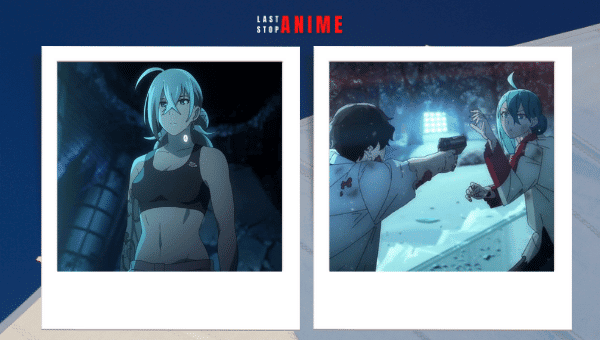 Genre: Action, Sci-fi, suspense, time travel
Watch It On: Amazon, Crunchyroll, Funimation, Netflix
Vivy: Flourite Eye's Song, which premiered in Spring 2021, is another best anime similar to Violet Evergarden in many aspects.
Wit Studio has animated it quite amazing. Be it the art or the camera angles essential to create the story's impact, and everything has been done with great precision.
Synopsis:
The anime revolves around the main character Vivy, the first autonomous AI programmed to spread happiness in human society with her singing, albeit hardly anyone listens to her voice.
Yet, she sings to the empty seats in the theme park every day.
However, the main chaotic story follows a little later.
The story setting is in the future world where technology has developed, and humans have become dependent on AIs. Those advanced AIs have gained more power over humans and started eradicating humanity.
Matsumoto, a scientist, turned the clock 100 years back to prevent this apocalypse from ever occurring.
He created "The Singularity Project" and asked for Vivy's help to change certain AI events of AIs to avoid the war 100 years in the making. Vivy's new objective is to stop the devastating war and save mankind.
Comparable to Violet Evergarden, Both the protagonists (Violet and Vivy) have similar personalities, whether to be emotionless or try to discover human emotions throughout the story.
---
Other Noteworthy Mentions:
Kino's Journey
Fullmetal Alchemist: Brotherhood
Clannad: After Story
A Place Further Than The Universe
Emma: A Victorian Romance