Psychological thriller anime series are quite unpredictable with plot twists and turns. The brain and the mind are frequently played with in psychological anime. Then there is thriller anime, which keeps you guessing what will happen next.
What if we said there are anime series combining both genres? Psychological thriller anime is a byproduct of both these genres combined. Often, psychological anime is paired with the horror genre.
One of the best things about psychological thriller anime is that the anime depicts important and dark issues without tiptoeing around.
The issues covered in psychological thriller anime are mostly bullying, depression, and murder.
The psychological horror anime has gore themes. They are often brutal and have immense violence in them.
So today, we are counting down our picks for the 21 best psychological thriller anime series.
List Of Must Watch Psychological Thriller Anime
21. B: The Beginning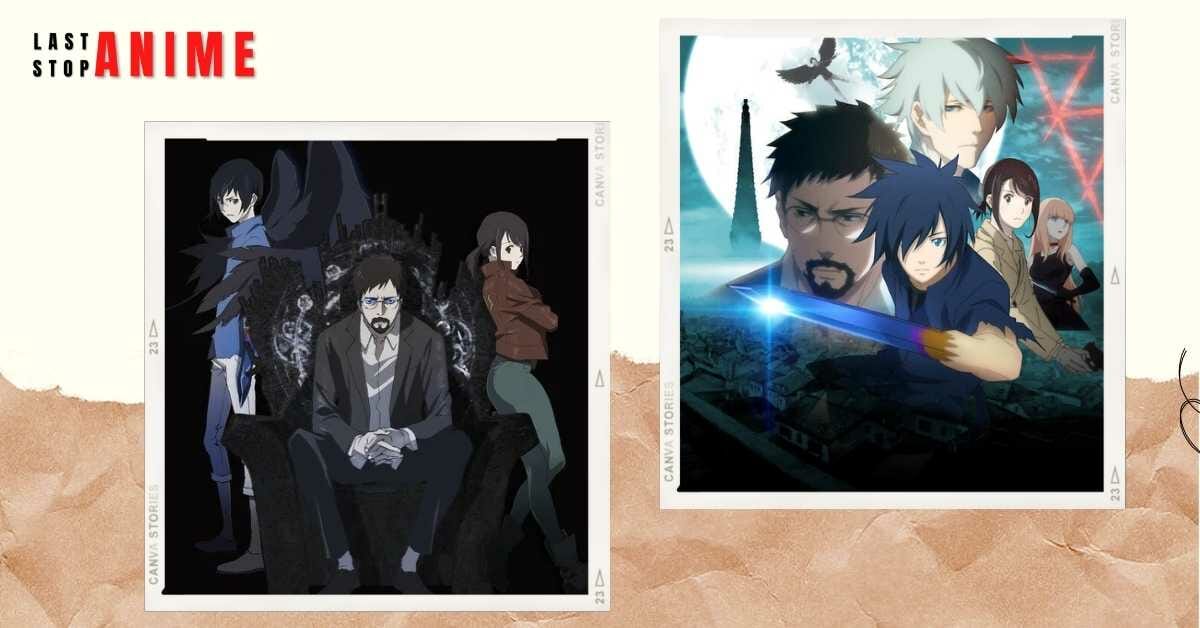 Episodes: 12
Status: Finished Airing
Genres: Action, Mystery, Supernatural, Suspense
Watch It On: Netflix, Yidio
Anime fans who love watching crime thrillers will enjoy this thriller anime. A mysterious entity known as Killer B causes havoc in the futuristic world of Cremona by enforcing vigilante justice there.
The Royal Investigation Service (RIS) requests the skilled detective Keith Flick to catch him off guard. Keith starts to unravel schemes involving domestic terrorism, covert groups, and human experiments.
The magnitude of the government's corruption and the reliability of close allies are called into doubt when the involvement of the RIS goes beyond the purview of justice.
B: The Beginning is a suspenseful thriller anime with a compelling plot full of unexpected turns. But although certain turns are "expected," others seem to come out of nowhere.
The reasons for the antagonists are ultimately revealed, with a twist. The animation is great. Each shot has superb cinematography and lighting, and the surrounding scenery is of the finest quality.
Not to mention that the CGI was expertly handled and directed, and the character designs were excellent and highly pleasing to the eye.
If you're searching for a fantastic anime thriller with strong main characters and an interesting, well-told tale, give this show a look.
20. Youkoso Jitsuryoku Shijou Shugi no Kyoushitsu e (Classroom of the Elite)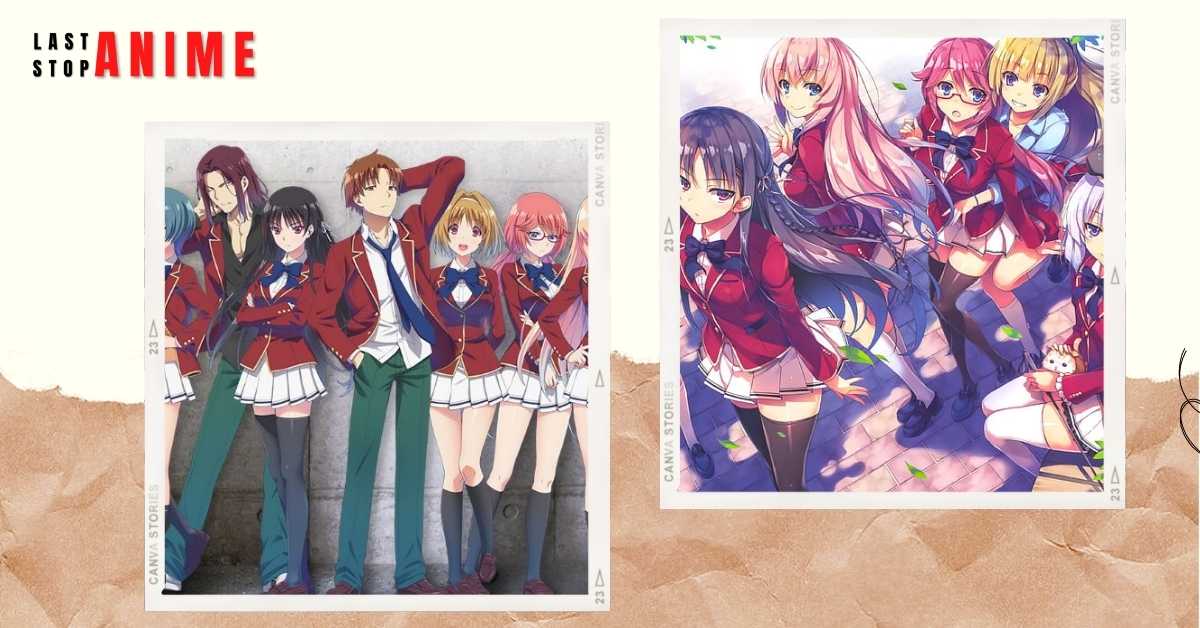 Episodes: 12
Status: Finished Airing
Genres: Drama, Psychological, School
Watch It On: Crunchyroll
Koudo Ikusei Senior High School is the perfect place. It is highly regarded in Japan and offers students a level of freedom that is unmatched. But the truth is far from perfect.
Only the top four classes—A through D—are given preferential treatment based on a ranking of their academic performance. Kiyotaka Ayanokouji is placed in class D, which has a reputation for having the weakest students.
At the Advanced Nurturing High School, he meets the friendly Kikyou Kushida, the class star who wishes to make as many friends as possible, and the shy Suzune Horikita, who wants to move up to class A because she believes she was placed in Class D by mistake.
Class rankings can change as long as students in lower-ranked classes outperform those in higher-ranked classes on the test; class membership is permanent. Furthermore, there are no restrictions on the strategies used in Class D to advance.
One of the series' key themes is equality, best illustrated by how students are divided into classes and the various masks that characters must don to survive in society.
The mask element works well to give the characters additional depth when coupled with their dispositions, which seem to be friendly and modest on the surface.
While the class conflicts highlight the distinctions in rank between the classes, with lower case classes being superior to higher case classes, this is best demonstrated by the disrespect that class A and class C members feel for class D.
19. Imawa no Kuni no Alice (Alice in Borderland)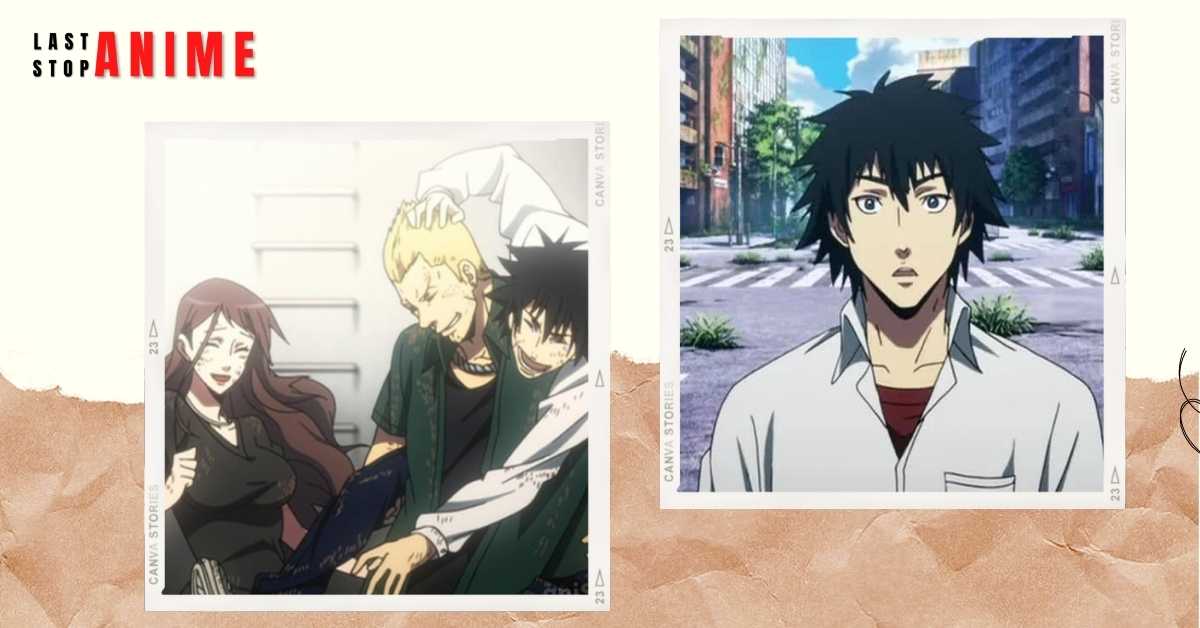 Type: OVA
Episodes: 3
Status: Finished Airing
Genres: Action, Supernatural, Suspense, Psychological
Watch It On: N/A
The recent Netflix-produced Live Action Adaptation made Alice In Borderland gain popularity worldwide. But before the Live-Action Adaptation, the original story already had a three-episode Original Video Animation(OVA). The OVA follows the manga rather than changing its story as the Live Action did.
In Alice In Borderland, Alice (Arisu) is the main character. Ryhei Arisu is a high school student who has no goals and merely wants to leave his pointless life behind.
However, he and his two pals, Daikichi Karube and Chota Segawa were present when a massive fireworks show was seen in the sky one day. Unbeknownst to them, one of the fireworks turns into a massive explosion that puts them to sleep.
When they regain consciousness, Arisu discovers that they are in a strange location and that no one else is nearby. Soon, the three must choose between playing survival games or ending up dead. Arisu and his friends must play to survive and find a way home.
Alice In Borderland is a good psychological thriller anime that shows human behavior most realistically.
The anime highlights how terrifying and uncomfortable circumstances can bring out a person's greedy and evil tendencies.
18. Boku dake ga Inai Machi (Erased)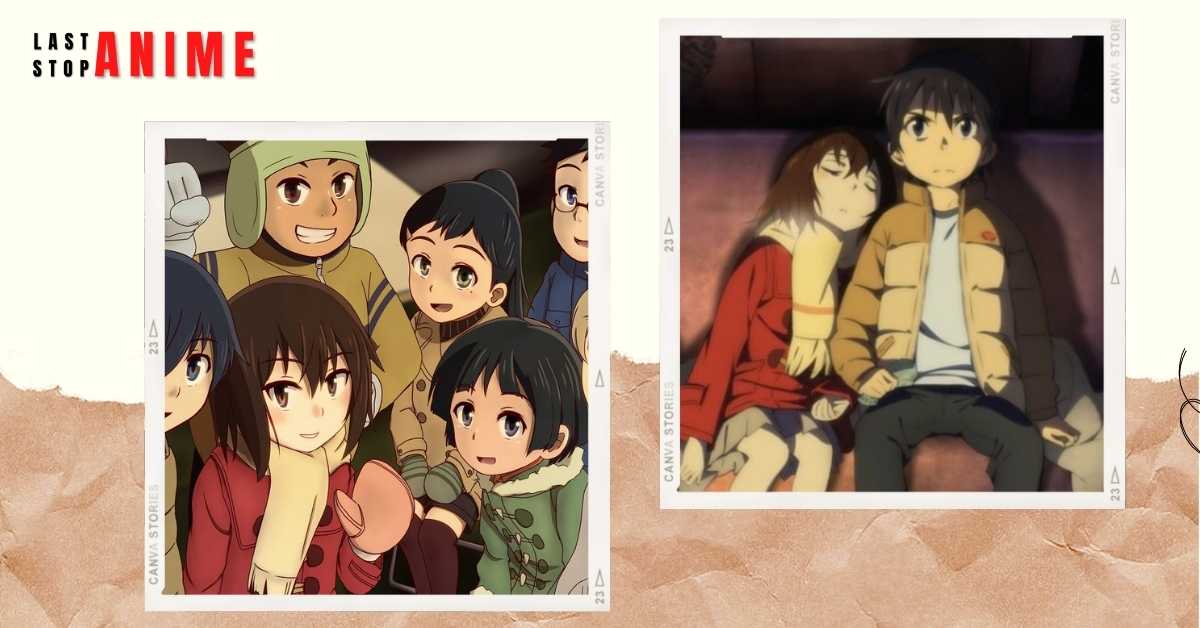 Episodes: 12
Status: Finished Airing
Genre: Mystery, Psychological, Time Travel
Watch It On: Crunchyroll, Hulu, Netflix
Erased, an anime that focuses on time travel is one of the underrated psychological thrillers. When it comes to the best time-travelling anime, Erased and Steins; Gate may face off like monsters. Erased is a Seinen film that is inappropriate for children.
The protagonist of Erased is Satoru, a pizza deliveryman and aspiring manga artist who has the ability to travel back in time when someone close to him is about to die.
But when his mother is killed, Satoru is unexpectedly sent back in time 20 years, allowing him another chance to stop a serial killer from killing one of his childhood friends as his 9-year-old self.
Erased is a mystery anime that makes you guess who the killer is. While the anime's suspense element serves as the main plot device, Satoru's relationship with the individuals he is trying to save and his reasons within the story account for most of the emotional connection Erased seeks to create.
17. Zankyou no Terror (Terror in Resonance)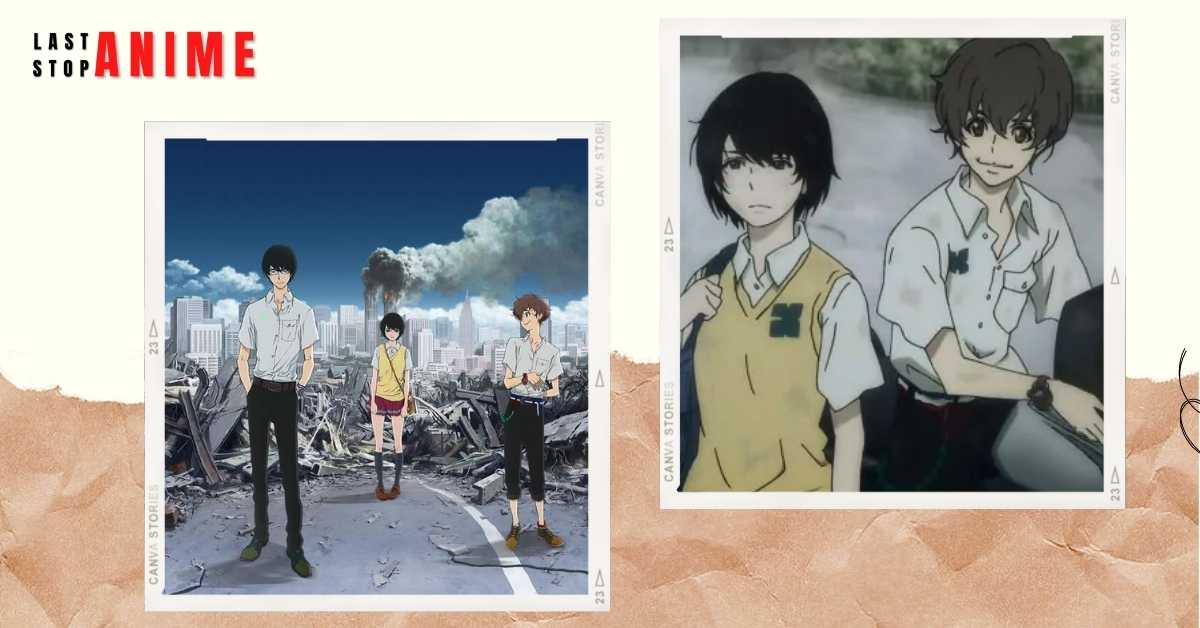 Episodes: 11
Status: Finished Airing
Genres: Mystery, Suspense
Watch It On: Crunchyroll, Funimation, Netflix
The only thing left standing after a terrorist attack on a nuclear facility in Japan is the word "VON," which has been painted crimson due to the government's inaction, which has left the police scrambling to find ways to punish offenders. The government has been completely destroyed.
Unknown to the general audience, a weird film appears on the internet six months later. Two adolescent lads who only go by the moniker "Sphinx" confront the police in it and threaten to wreak havoc across Tokyo.
At the epicenter of the police campaign to bring these terrorists to justice, he is powerless to halt the broad hysteria that is quickly sweeping the city and is desperately looking for any leads in their investigation.
Terror in Resonance uses the crime thriller genre to create its sociopolitical commentary on Japan, even if the subject is occasionally mentioned. This mystery anime is all about two boys who go by the name "Sphinx."
16. Tokyo Ghoul
Episodes: 12
Status: Finished Airing
Genres: Action, Fantasy, Horror
Watch It On: Amazon, Crunchyroll, Hulu, Funimation, Netflix
Tokyo Ghoul is one of the best psychological thriller anime and possibly one of the most popular psychological thrillers out there. Though the manga series is much more appreciated among anime fans, anime is nevertheless a big name in the community.
In the horror anime Tokyo Ghoul, ghouls eat human flesh to stay alive. When a bashful teenager named Kaneki Kens's date with a girl goes awry, his life is completely turned upside down. He is feasted upon by the girl, who is revealed to be a ghoul.
He somehow survived after a dozen beams fell on her. Kaneki was saved by having her organs transferred into his body, so he turned into a one-eyed ghoul.
The ghouls that operate Anteiku take him in and show him how to adapt to his new life. Two of his regular issues include adapting to ghoul culture and hiding his identity from his human friends, particularly his best friend, Hideyoshi.
The anime shows the dark side of everything. Depression, abuse, and torture are recurring concepts in the manga series as well as in the anime.
15. Serial Experiments Lain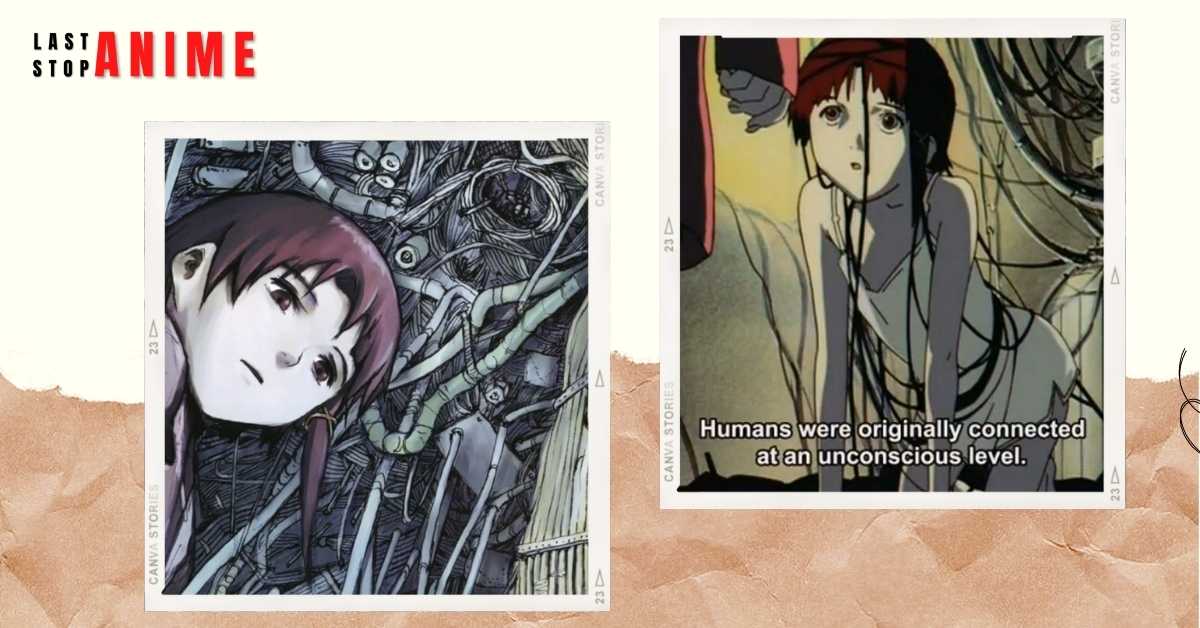 Episodes: 13
Status: Finished Airing
Genres: Avant Garde, Drama, Mystery, Sci-Fi, Supernatural
Watch It On: Amazon, Crunchyroll, Funimation
A troubling email from Chisa Yomoda, a student who had just committed suicide, was sent to numerous girls at Lain Iwakura's high school. Lain, who is a shy and introverted 14-year-old, is the one who received the mail.
When the technophobe reads the email, it takes her right into Wired, a virtual world of communication networks comparable to what we know as the internet, even though she lacks the motivation and knowledge to use even basic technology.
When Lain starts to experience mysterious mysteries one after another, her entire world is flipped upside down. Everywhere she goes, strange individuals are known as the "Men in Black" start showing up. They start interrogating her and seem to know more about her than she does.
Lain is thrust into increasingly strange situations where identity, consciousness, and perception are ideas that take on new meanings as the lines between reality and cyberspace become hazier.
Serial Experiments Lain is a psychological thriller anime that offers more than simply entertainment; it also offers wisdom, insightful viewpoints, and convictions about technology and its place in society.
14. Yuukoku no Moriarty (Moriarty the Patriot)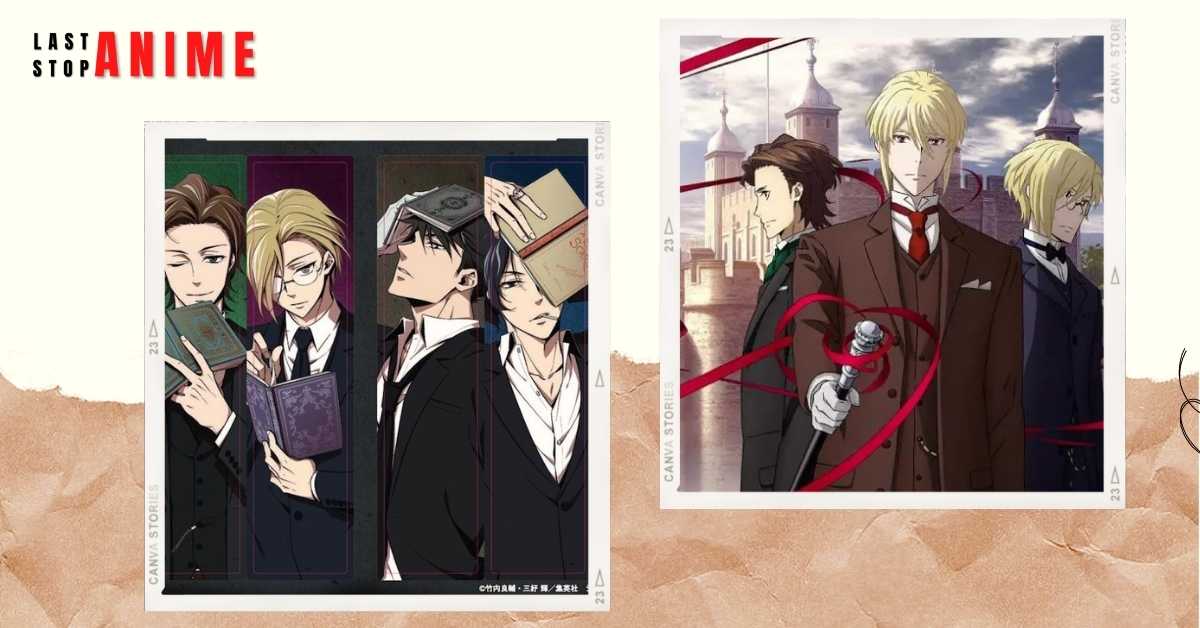 Episodes: 11
Status: Finished Airing
Genres: Mystery, Suspense
Watch It On: Crunchyroll, Funimation, Netflix
If you love Sherlock, then this is a must-watch for you. Unlike Sherlock, the anime focuses on William James Moriarty and narrates from his viewpoint.
Moriarty is most known as Holmes's rival with intelligence on par with the famous investigator. However, William James Moriarty is more than just a brilliant criminal mastermind in this series.
The show gives him sympathetic motivations, turning him into a sort of hero determined to purge his country of its most repulsive citizens.
The main character of Moriarty The patriot, is William James Moriarty, the second son of the Moriarty family and a typical nobleman. He serves as a consultant, helping regular people with their problems.
He wants to transform the world but also has a deep-seated urge to topple the system that currently governs British society and those who profit from it.
13. Mousou Dairinin (Paranoia Agent)
Episodes: 13
Status: Finished Airing
Genres: Avant Garde, Drama, Mystery, Supernatural, Suspense
Watch It On: Crunchyroll, Funimation, Netflix
You'll be surprised to know who the director of Paranoia Agents is. He is none other than the Perfect Blue director, Satoshi Kon.
Satoshi Kon's Paranoia Agent is one of the best mystery thrillers. In this psychological thriller anime, with his bent, golden bat, the young elementary school kid known as "Lil Slugger" (also known as "Shounen Bat") has been assaulting people.
Character designer Tsukiko Sagi, who is under pressure to surpass the popularity of her well-known pink dog, Maromi, becomes his first victim. A young boy from an elementary school attacks her one night with a golden baseball bat that has been bent.
After a new victim is discovered and public unease grows, detectives Ikari and Maniwa are dispatched on a quest to find and apprehend the murderer.
Two detectives start their investigation to stop this kid from carrying out any more attacks, but they soon find that the situation is much trickier than they had thought.
This is typical Satoshi Kon work; therefore there will be psychological issues, a tendency to trip out occasionally, and a blurring of dream and reality.
Each of these victims receives an episode dedicated to them in the plot. Their lives are combined to form a web of connections that essentially emphasizes the power of paranoia.
Paranoia Agent is an excellent psychological thriller anime that will blow your mind.
12. Yakusoku no Neverland (Promised Neverland)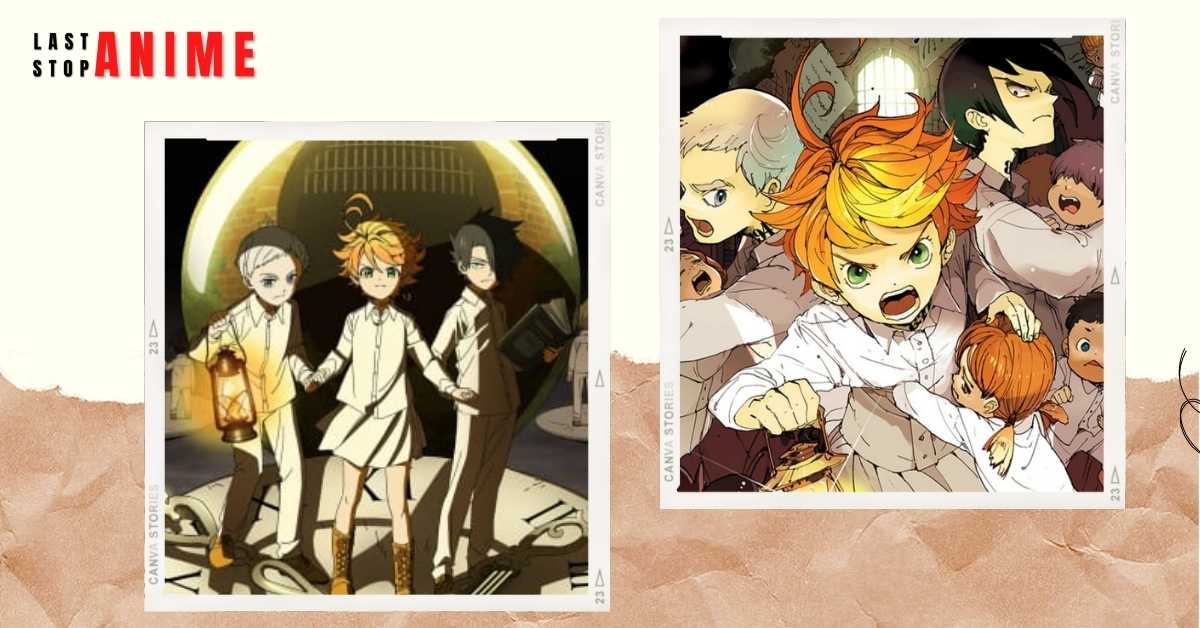 Episodes: 12
Status: Finished Airing
Genres: Mystery, Sci-Fi, Suspense
Watch It On: Crunchyroll, Hulu, Funimation, Netflix
The Grace Field House, which has a guarded entry and is surrounded by a forest, is home to a large family of orphans who are content to live together under Isabella's care.
The kids can do anything they want at their leisure; they usually play outside as long as they don't go too far from the orphanage. It is a rule they are obliged to abide by no matter what, even though they must take tests every day.
A child is adopted and brought to live with their new family every few months, but all good things must end because they are never heard from again.
The three oldest siblings, however, are unsure of what is going on at the orphanage and will soon find out about the terrible fate that awaits the other children staying at Grace Field, as well as the peculiar personality of their cherished mother.
Promised Neverland is a psychological thriller anime that does not have adults or teenagers as its main characters but kids as the main characters.
11. Steins; Gate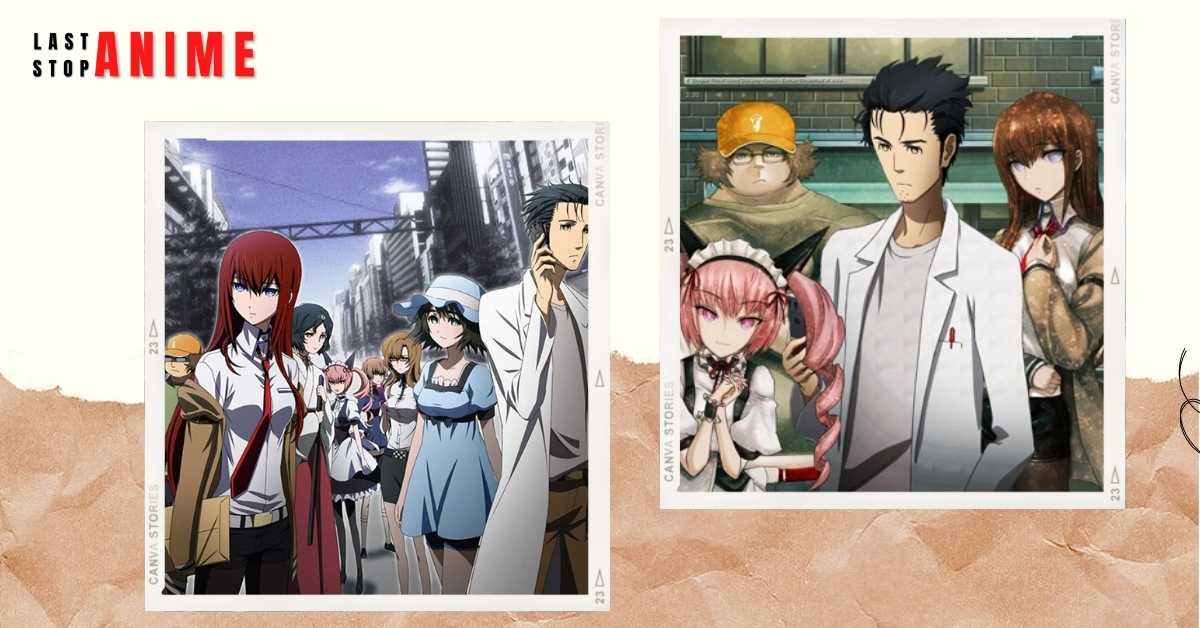 Episodes: 24
Status: Finished Airing
Genres: Drama, Sci-Fi, Suspense
Watch It On: Amazon, Hulu, Funimation, Netflix
In the thriller sci-fi anime Steins; Gate, a "mad scientist" named Okabe Rintarou discovers time travel by accident, allowing him to send emails into the past and change them.
However, his friend Mayuri is murdered when the research company SERN sends its men to retrieve it.
Okabe must quickly reverse the modifications they've made if she is to prevent Mayuri from meeting her end, but doing so will have repercussions.
Steins; Gate is an outstanding example of a time-traveling psychological thriller anime worth watching.
10. Higurashi no Naku Koro ni (When They Cry)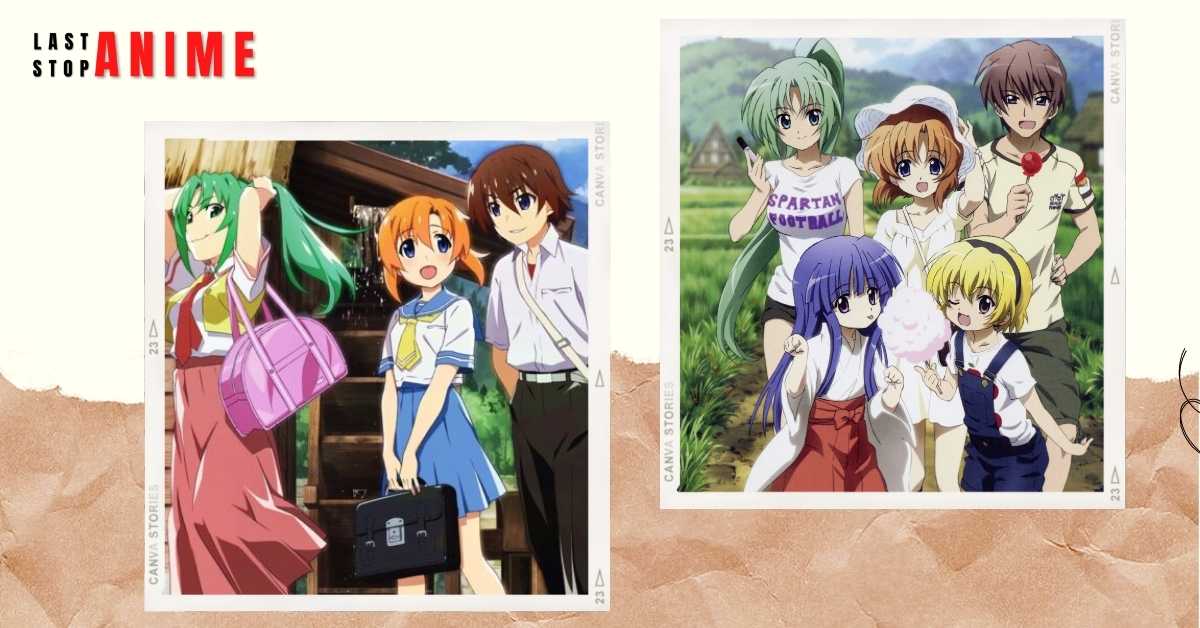 Episodes: 26
Status: Finished Airing
Genres: Horror, Mystery, Supernatural, Suspense
Watch It On: Hulu, Funimation, Netflix
In the summer of 1983, Keiichi Maebara relocates to the peaceful village of Hinamizawa and soon makes great friendships with classmates Rena Ryuuguu, Mion Sonozaki, Satoko Houjou, and Rika Furude. But beneath the lovely life they seem to live, there is darkness.
Keiichi discovers the myths associated with the village's annual event as it is being prepared. To his surprise, he learns that there have recently been a number of killings and disappearances in the village and that they all appear to be associated with the festival and the village patron god, Oyashiro.
Keiichi tries to ask his new friends about these occurrences, but they are oddly silent and won't give him the answers he needs.
He begins to question whether he can trust his friends as strange happenings continue to happen and what more they might be hiding from him.
He will jump straight into the secrets at play in Higurashi no Naku Koro ni. A story told over several arcs when craziness and terror start taking hold of his heart.
Higurashi no Naku Koro ni is a psychological thriller anime that will mess up your mind.
09. Neon Genesis Evangelion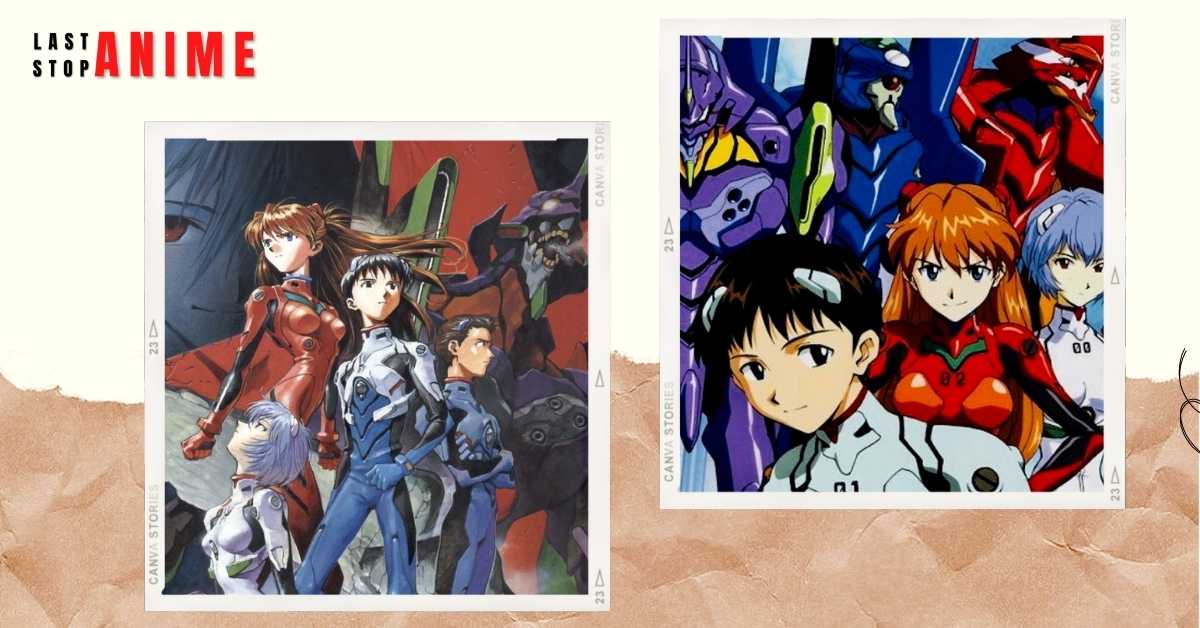 Episodes: 26
Status: Finished Airing
Genres: Action, Avant-Garde, Drama, Sci-Fi, Mecha, Psychological
Watch It On: Netflix
Neon Genesis Evangelion is a classic anime and one of the best anime of all time! And yes, this is a psychological thriller anime and not just Mecha.
The Evangelion series follows the corporation NERV, which employs massive mechas known as Evangelions to fight horrific monsters known as Angels.
Shinji Ikari, Asuka Sohryu, and Rei Ayanami are three particularly well-known protagonists who control Evangelions, or Eva, as they are commonly known.
The first few episodes generally concentrate on religious symbolism and Bible allusions. Still, later episodes tend to dive deeper into the characters' psyches, showing that many of them struggle with serious emotional and mental problems.
The characters are fantastic. This is crucial to note because they are the focus of the story rather than the Angels or NERV. Hideki Anno skillfully depicts Shinji's inner conflict through a series of intricate monologues and mainly successful experimental filmmaking approaches.
The other two chosen children, Asuka and Rei, are complete opposites and brilliant individuals. The core of Evangelion is character discovery and development, and both characters develop significantly and in a very interesting way throughout the series.
The doubt, loneliness, existential dread, and longing for human connection that come with being alive are all vividly depicted in Neon Genesis Evangelion.
It succeeds in expressing them in a way that is strong enough to mimic the enormous burden these issues throw on us, and it succeeds in responding to them in a straightforward, bittersweet, yet beautiful way.
08. Mirai Nikki (Future Diary)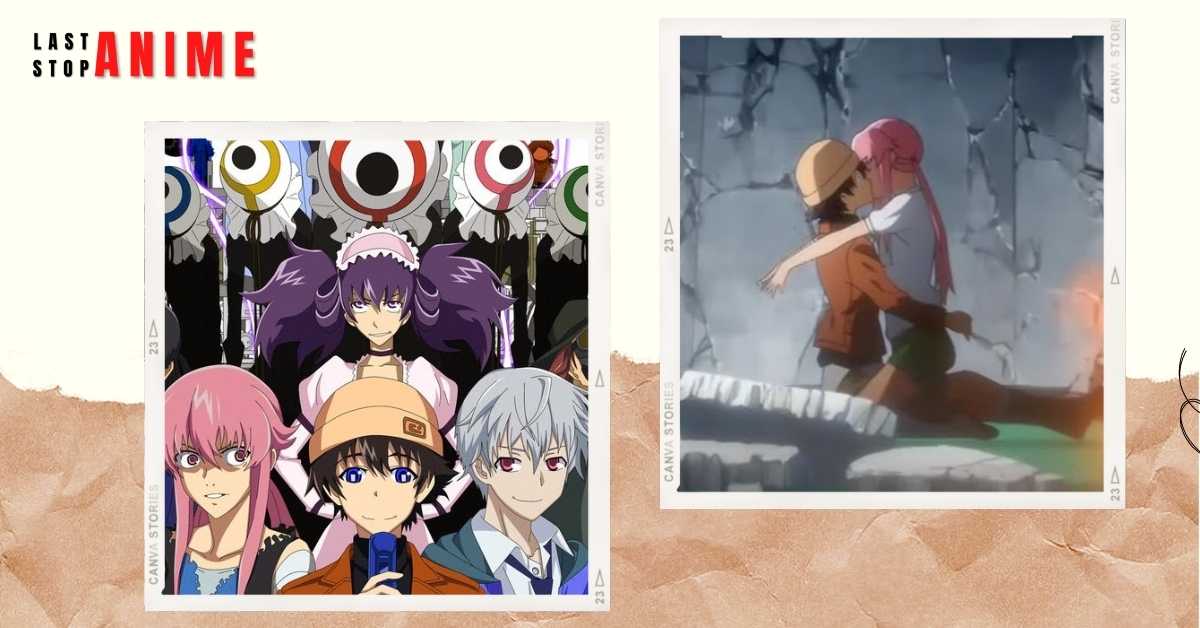 Episodes: 26
Status: Finished Airing
Genres: Action, Supernatural, Suspense
Watch It On: Crunchyroll, Hulu, Funimation
Well, this list won't be completed without mentioning Future Diary. If you are a fan of the survival game genre that is packed with mind games and action, then you should give Future Diary a chance. And while there is a lot of action, there are also some tremendous psychological thrills and surprises.
Deus ex Machina, the god of space and time, sets up a game of kill-or-be-killed between twelve players. These twelve people have the power to predict the future through their diaries in the series.
Yukiteru Amano, a loner in high school, spends his days on his phone writing a journal and talking to his two pals, Deus ex machina, the god of time and space, and Murmur, the gods' servant, who appear to be made-up characters.
After revealing himself to be an actual entity and giving them all "Random Diaries" containing extraordinarily detailed notes about the future, Yukiteru finds himself in a bloody battle royale with 11 other people who also have powerful future diaries.
07. Re: Zero—Starting Life in Another World
Episodes: 25
Status: Finished Airing
Genres: Drama, Fantasy, Suspense, Isekai, Psychological, Time Travel
Watch It On: Crunchyroll, Funimation, Netflix
An Isekai anime that is psychological? This is a rare combination. Time travel is most often paired with sci-fi anime, but here we have something different going on.
Isekai is mostly seen as a genre that offers action, comedy, and fanservice warped into a fantasy world. Sometimes the darkness in Re: Zero makes the fantasy environment seem improbable.
Re: Zero is a thriller anime about Natsuki Subaru being transported to another universe produced by Isekai. He gets attacked by some muggers there, but fortunately, Satella, a young woman, saves him. He joins her in locating her stolen insignia as a gesture of gratitude.
To their surprise, a much darker fate awaits them when they learn where her insignia is, and they are both brutally killed. When Natsuki awakes, the cycle has already been completed and is repeated.
06. Death Parade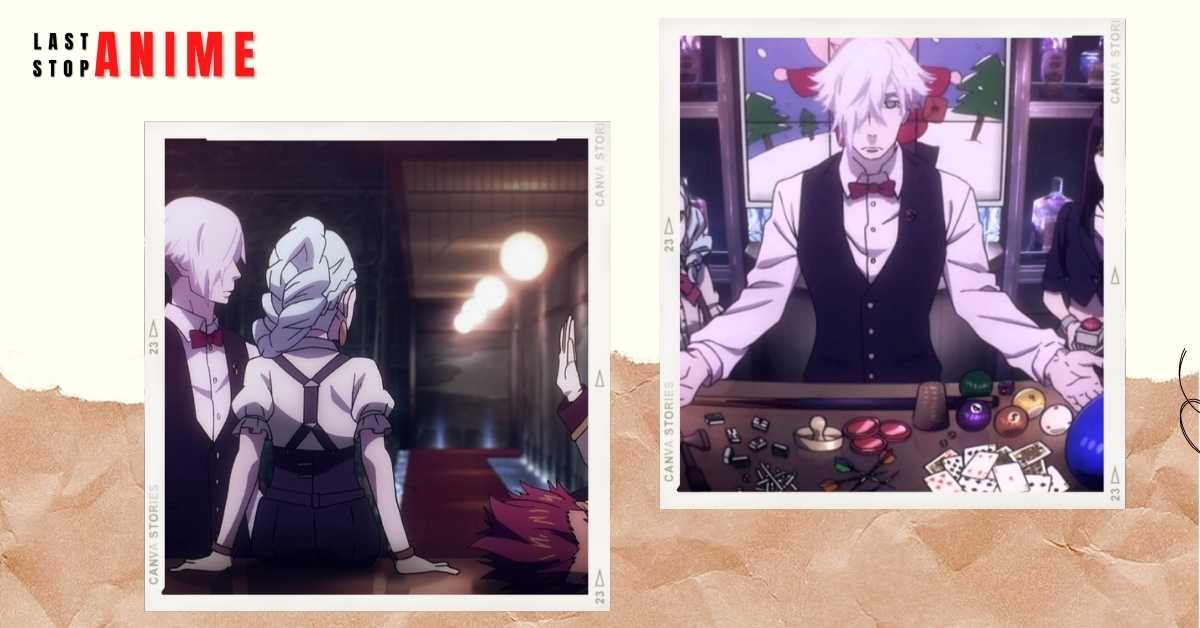 Episodes: 12
Status: Finished Airing
Genres: Drama, Supernatural, Suspense
Watch It On: Crunchyroll, Hulu, Funimation, Netflix
What will happen after we pass away is a concern that many of us will have during our lifetime. Death Parade presents a fresh perspective on the solution. There is no Heaven or Hell in the anime series.
People who pass away are taken to the Quindecim, a mystery bar operated by the Decim with white hair.
Decim engages in games with the dead that would reveal their nature to decide whether they should be resurrected or banished to the Void.
These games determine whether the player's soul will be reincarnated or consigned to the Void, where it will never be found again.
The true nature of each visitor gradually becomes apparent as they risk their souls on everything from darts to combat competition.
05. Perfect Blue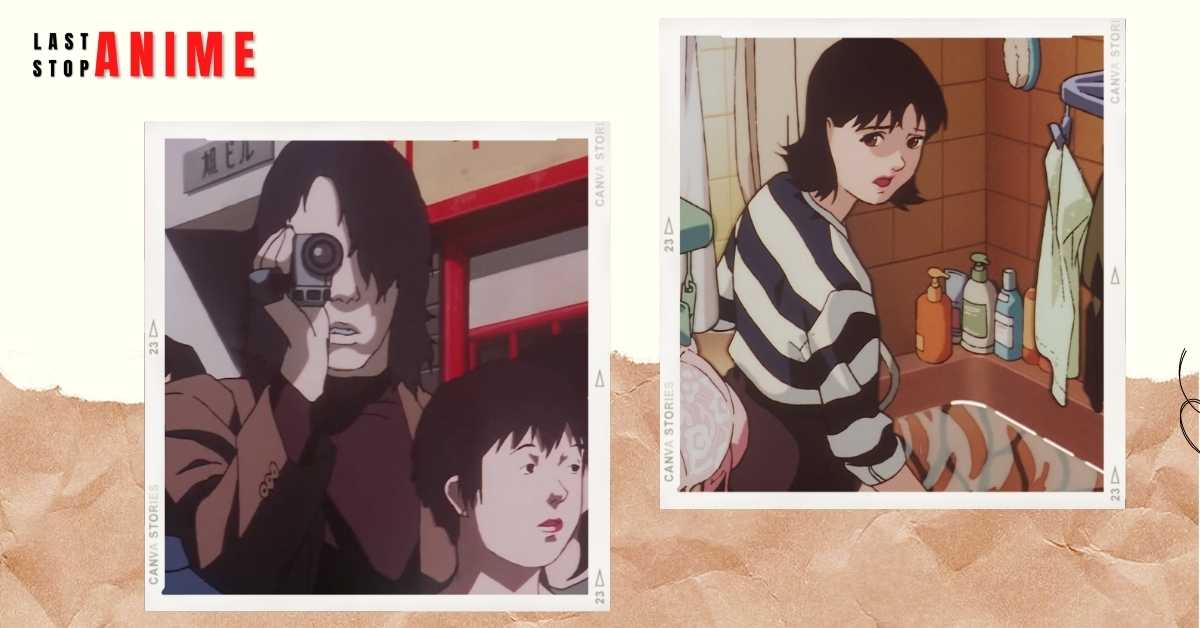 Type: Movie
Status: Finished Airing
Genres: Avant Garde, Drama, Horror
Watch It On: Amazon Prime
Fans of psychological thrillers should watch this 1997 movie, which is recognized as one of the all-time greats. In Perfect Blue, J-Pop sensation Mima Kirigoe decides to leave her band in order to pursue a career as an actor.
Mimas's life, however, appears to be declining as the task becomes more onerous and the group she left succeeds more without her.
She discovers, or more precisely, she assumes, a mirror image of herself who hasn't given up singing.
She is being pursued by an obsessed fan who posts every intimate detail of her life online. Mima's friends and acquaintances are attacked as Mima descends into a lethal realm of delusional imagination.
This masterpiece is considered one of the best psychological thrillers ever made and is a popular work of Satoshi Kon.
04. Code Geass: Hangyaku no Lelouch (Code Geass: Lelouch of the Rebellion)
Episodes: 25
Status: Finished Airing
Genres: Action, Drama, Sci-Fi
Watch It On: Crunchyroll, Hulu, Funimation, Netflix
On the surface, Code Geass appears to be a Mecha action anime, but it's much deeper than that.
Lelouch, a prince of Britannia who was banished and sent to Japan as a mere political pawn, serves as the series' main character.
After the British Empire invaded Japan, the nation was named "Area 11." In a life-or-death situation, Lelouch embraces the ability that C.C. grants him—the ability to order anyone to do anything.
To get revenge for the Empire's actions against his family, Lelouch declared war on the Brittanian Empire.
Lelouch adopts the persona of Zero in order to carry out the vow he made to himself as a child—using his newfound strength and cunning skills—to destroy Britannia.
Code Geass is not your typical mecha or action anime; it focuses on politics in great depth.
03. Psycho-Pass
Episodes: 22
Status: Finished Airing
Genres: Action, Sci-Fi, Suspense
Watch It On: Crunchyroll, Hulu, Funimation, Netflix
Justice and how it is applied have evolved. Japan implements the Sibyl System in the year 221, a system that uses a person's Psycho-Pass to assess their threat level by looking for indications of criminal intent.
The unpleasant work of inspectors, who uphold the rules by subjugating anyone bearing even the slightest evil intent, is carried out by enforcers, who are jaded inspectors who have transformed into latent criminals and are granted relative freedom in exchange.
Akane Tsunemori enters this world with the sincere intention of protecting justice. But she soon realizes that the Sibyl System's evaluations are not as precise as her fellow inspectors believe, as she works with experienced enforcer Shinya Kougami.
Akane questions what justice actually is and whether it can be upheld by using a system that might already be corrupt after having everything she has ever known thrown on its head.
Psycho-Pass is thought-provoking as well as one of the best psychological thriller anime.
02. Monster
Episodes: 74
Status: Finished Airing
Genres: Drama, Mystery, Suspense
Watch It On: Youtube, Amazon
We all saw this coming Monster on this list. The main character in Monster is a neurosurgeon who, against the hospital's orders, decides to save the life of a recently orphaned child before the city mayor.
After that, his life turns upside down as the youngster he once protected becomes a serial killer who murders unintentional victims.
As a result of his intense guilt and sense of responsibility, Kenzo decides to kill the youngster himself.
01. Death Note
Episodes: 37
Status: Finished Airing
Genres: Supernatural, Suspense
Watch It On: Crunchyroll, Hulu, Netflix
And in the first spot, to no one's surprise, we have Death Note. Most of you have already watched it, and if you haven't, what are you waiting for? Hurry up and watch death note right away.
The psychological thriller Death Note, which expertly incorporated supernatural aspects into a setting that closely resembles our own, is arguably the most well-known.
In the story, bright high school student Light Yagami picks up a notebook called Death Note, which has the ability to kill anyone who writes their name on its pages.
Using the Death Note, Light eliminates criminals thanks to his brilliant mind and perverse sense of justice.
As the "God of the New World," Light changes himself with the Death Note. But a mystery detective going by the name of L challenges him to a match of wits in which the loser would either be executed or arrested, putting an end to his murderous rampage.
If you have already watched Death Note, Check our piece on anime to watch if you liked Death Note.