Absolutely remarkable and a true masterpiece are a few words that spring to mind whenever Monster anime is concerned. The entire show is chock-full of thrilling suspense and complicated characters.
Naoki Urasawa's Monster is a timeless classic gem. It is brilliantly written with an excellent plot structure and a highly engaging story.
Moreover, Madhouse studio has done an incredible job with the anime adaptation. Monster portrays the human psychological aspects and various realistic themes in an efficient way.
Not to mention, Johan Liebert, the best antagonist of all time, is the centerpiece of this series along with Tenma. Their complex relationship and distinct personality will make you question your own thoughts and opinions.
The story follows Kenzou Tenma, a well-known Japanese neurosurgeon whose career is crippled by his one-life choice.
He is stripped of his position for saving a young boy's life instead of the town's mayor. However, Tenma miraculously recovers his position, only for a decision he made in the past to come back to haunt him years later.
In the list, I have selected the 11 best anime like Monster with a similar psychological thriller genre.
All of them will leave you amazed with their twisty plotlines and intriguing characters. The list also involves a multitude of suspense and mystery throughout the show. So, let's get started.
11 Similar Anime Like Monster To Watch
11. Black Jack
Genre: Psychological, Drama, Mystery, Suspense
Number of Episodes: 12
Watch It On: Amazon, Crunchyroll
Black Jack is an amazing medical series where a new drama will be introduced in every new episode. The anime is structured with multiple different cases involving different characters.
Synopsis: Black Jack follows Kuroo Hazama, an unauthorized doctor with an enigmatic history. He is quite known for saving many people's lives alongside her assistant Pinoko.
However, despite being famous for treating any disease, he also appears selfish and greedy to many.
In other words, this anime series narrates a tale of a mysterious world where Black Jack cures strange diseases. He did not even bother to risk his own life for it.
Similarities Between Monster And Black Jack:
The main character has the same profession in both anime.
Both (Tenma and Blue Jack) are doctors who never back off when it comes to their patients.
They both can risk their own lives to save other people's lives.
10. Higurashi When They Cry
Genre: Psychological, Mystery, Suspense, Horror, Supernatural, Gore
Number of Episodes: 26
Watch It On: Crunchyroll, Hulu, Funimation, Netflix
Higurashi When They Cry is an anime based on a visual novel by Studio Deen. It incorporates various themes that capture the viewers' interest to add it to their watch list.
Synopsis: The plot follows the main character Keiichi Maebara, a young boy who moves to Hinamizawa village.
He befriends a lot of his classmates and enjoys his summertime with them. However, during the annual festival, he learns about the horrifying occurrences in the village.
To his disbelief, no one tells him about the murders and disappearances occurring in the village, not even his friends.
Hence, prompts him to wonder about the ongoing circumstances and adds to the series' mysterious atmosphere.
Similarities Between Monster And Higurashi When They Cry:
It is another anime-like monster that contains a series of mysterious murders and a brilliantly constructed drama.
Moreover, both series have spine-tingling sound effects and background music.
9. Gunslinger Girl
Genre: Psychological, Action, Drama, Sci-Fi
Number of Episodes: 13
Watch It On: Amazon, Crunchyroll, Funimation
Gunslinger Girl is another best anime like monster that touches on heavy subject matters. It is one of the deep psychological as well as thought-provoking series.
Synopsis: The plot sets in Italy, where "The Agency" (Social Welfare Agency) claims to save young girls who have gone through near-death experiences.
However, subjecting them to cybernetics technologies. Moreover, the adult male handlers control and train them as assassins.
Along with the implants (carbon fiber frame and artificial muscles), which provide them extraordinary strength to take any damage, they are also brainwashed to stay loyal to their handlers.
In other ways, the series focuses on young girls used by a government organization to control anti-terrorist activities.
Similarities Between Monster And Gunslinger Girl: 
A remarkable aspect of both anime shows is their portrayal of human conditioning.
Moreover, both (Monster and Gunslinger Girl) are anime adaptations of Madhouse Studio.
8. Gankutsuou: The Count of Monte Cristo
Genre: Drama, Mystery, Suspense, Supernatural, Sci-fi
Number of Episodes: 24
Watch It On: Amazon Prime, Funimation
Gankutsuou incorporates various genres that garner attention from a huge audience. It features a psychological mystery with a character-driven narrative.
Synopsis: The story is set in the year 5053. When two french aristocrats, Viscount Albert de Morcerf and Baron Franz d'Epinay, decide to attend the carnival in the city of Luna.
During their visit, Albert meets a strange yet charming nobleman named The Count of Monte Cristo. He becomes friends with the Count and introduces him to French Society.
However, The Count seems to have other plans on his mind.
Similarities Between Monster And Gankutsuou:
Despite supernatural elements, Gankutsuou is similar to monster anime.
Both shows have highly charming yet manipulative and powerful antagonists (Johan and The Count).
Also, like monster anime, it leaves viewers guessing what will happen next.
7. Ergo Proxy
Genre: Psychological, Mystery, Sci-fi
Number of Episodes: 23
Watch It On: Amazon, Crunchyroll, Hulu, Funimation, Netflix
Ergo Proxy is an amazing anime series accompanied by mystery and suspense. Manglobe studio has made sure to give the visuals a realistic touch, creating extremely beautiful anime.
Synopsis: The anime follows a post-apocalyptic condition. A thousand years ago, when human civilizations were doomed, the remaining human population formed a domed city named Romdeau.
In the city, "AutoReivs" (humanoid-like robots) coexist with humans.
However, a strange disease called "Cogito Virus"(results in self-awareness) in AutoReivs causes a lot of chaos/murders in Romdeau.
A young girl, Re-I Mayer, also the granddaughter of the city's ruler, is called to investigate the issue. Along with Iggy, Vincent, and Pino, Re-I unfolds the mystery of the Romdeau.
Moreover, she confronts humankind's ugliest sins throughout the series.
Similarities Between Monster And Ergo Proxy:
Monster and Ergo Proxy have dark and sad settings.
Both anime are slow-paced and build the plot in a more reserved manner.
6. Erased
Genre: Seinen, Psychological, Suspense, Mystery, Time Travel
Number of Episodes: 12
Watch It On: Amazon, Crunchyroll, Hulu, Netflix
Erased or Boku Dake ga Inai Machi always comes in the top ten anime shows featuring the best psychological thrillers.
It also has a deeply engaging plot that provides continuous suspense and anticipation.
Synopsis: The story revolves around the main character Satoru Fujinuma. This 29-year-old young man, due to some unfortunate events, finds himself 18 years in the past.
Moreover, It was when one of his classmates, Kayo Hinazuki, was murdered.
He decides to unravel the truth of that mysterious killing and prevent her death. Though, it is not as easy as it sounds.
Similarities Between Monster And Erased:
Erased is another anime-like monster that involves chasing after a murderer.
The plot revolves around the mysterious death in both anime.
5. Perfect Blue
Genre: Psychological Thriller, Drama, Suspense, Horror
Type: Movie
Watch It On: Amazon Prime, Roku, Vudu
Perfect Blue is a classic thriller anime movie that perfectly fits the vibes of monster anime.
Synopsis: The story is centered on Mima Kirigoe, who is a member of a J- pop idol group CHAM!. However, following her passion for acting, she leaves the group.
To establish her image as an actress, she takes a role in a crime series.
Soon, she starts getting recognition in the industry. But unfortunately, a stalker brings a ruckus into her life.
Suddenly, everything starts falling apart, and she gradually loses herself. Even finds herself unable to distinguish between reality and fiction.
Similarities Between Monster And Perfect Blue:
Parallel to monster anime, the entire show builds a mysterious atmosphere from the start, including the spine-chilling background music and sound effects.
Moreover, both anime shows have the same studio (Madhouse), which is quite known for creating gems.
4. Paranoia Agent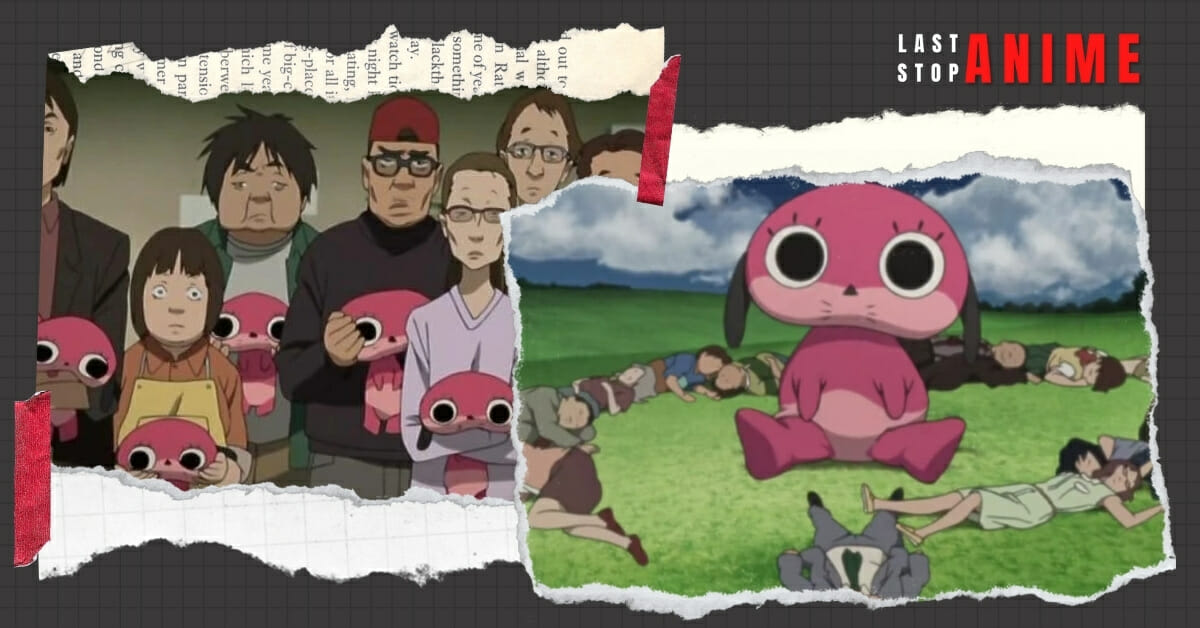 Genre: Psychological, Drama, Suspense, Supernatural, Mystery
Number of Episodes: 13
Watch It On: Amazon, Crunchyroll, Funimation, Netflix
Mousou Dairinin, also known as Paranoia Agent, is a popular thriller and detective anime series.
Synopsis: The plot follows a mysterious murderer, Shounen Bat (Lil' Slugger), who beats people with his golden bat. In Musashino City, the residents fall victim to his attacks.
Including Tsukiko Sagi, a character designer who is also the first victim of Lil' Slugger. Soon after hearing more cases, two investigators, Keiichi Ikari and Mitsuhiro Maniwa, begin their search for the attacker.
Will they be able to solve the mystery, or will they fall victim to it? Looking for answers to these questions makes the series interesting to watch until the end.
Similarities Between Monster And Paranoia Agent:
Monster and Paranoia Agent are well-crafted anime adaptations of Madhouse Studio.
Both of them portray human psychology extremely well. Paranoia Agent is an anime similar to monster that you will undoubtedly appreciate.
3. Terror in Resonance
Genre: Psychological, Mystery, Suspense
Number of Episodes: 11
Watch It On: Hulu, Funimation, Netflix
Zankyou no Terror or Terror in Resonance is another thriller that portrays the effect of isolation and social criticism in modern society.
It has a compelling story, accompanied by MAPPA studio's detailed character designs and realistic visual effects.
Synopsis: The story starts with a terrorist attack on a Japanese nuclear facility. After this, the ill-prepared government begins the search for the offenders.
However, not a single clue is found except a VON painted in red at the nuclear facility.
Moreover, after six months, a mysterious video surfaced on the internet in which two boys call themselves Sphinx, taking responsibility for the attack and threatened to do more across Tokyo.
Despite having a clue this time, the police yet struggle. And later involve detective Kenjirou Shibazaki to take the lead and solve the case.
Similarities Between Monster And Terror In Resonance:
Like Monster, Terror in Resonance also has complex characters who want to change society.
Both anime follows a realistic approach.
Moreover, they portray child experimentation and young characters committing crimes with no remorse.
2. Psycho-Pass
Genre: Psychological Thriller, Suspense, Sci-fi
Number of Episodes: 22
Watch It On: Crunchyroll, Hulu, Funimation, Netflix
Psycho pass is a top psychological thriller and detective anime that features a well-written plot and realistically grounded characters. You would not find anime like psycho pass easily, which makes it worth watching.
Synopsis: The story setting was the 22nd century when Japan imposed the Sibyl Justice System. According to this, every citizen should be assessed by examining their mental state for any criminal intent, called "Psycho-Pass."
Interestingly, there is a limit to the crime coefficient that should not be exceeded. If it does, the suspect will be regarded as a criminal.
Moreover, the Inspectors and Enforcers are assigned to uphold the law by killing those "criminals." However, soon Akane Tsunemori, a young Inspector, comes to learn the faults in Sibyl's System.
After her encounter with Shougo Makishima, a criminal mastermind who is also a target of a veteran Enforcer, Shinya Kougami. They both start working together to bring about changes in the corrupt system.
Similarities Between Monster And Psycho-Pass:
Monster and Psycho-pass explore human complexities and test the viewer's morality.
Both anime shows have antagonists who are manipulative and exhibit a powerful aura around themselves. (At one point, you will sense Johan's soul in Makishima).
Like Monster, Psycho pass also contains thought-provoking dialogues.
1. Death Note
Genre: Shounen, Psychological Thriller, Suspense, Supernatural
Number of Episodes: 37
Watch It On: Amazon, Crunchyroll, Hulu, Netflix
Death Note is a well-loved classic thriller anime that involves iconic characters and a deeply engaging storyline. Many fans also regard it as one of the best detective anime of all time.
Like Monster, Madhouse has also done an impeccable job in the anime adaptation of Death Note. Be it the well-crafted character designs or the detailed backgrounds.
Synopsis: The story begins with the Shinigami (God of Death) Ryuk, who drops the "Death Note" into the human world for his own amusement.
Death Note is not any ordinary notebook; it can cause death to the person whose name is written in it.
Interestingly, a boy named Light Yagami comes across Death Note. With his wicked sense of justice, he utilizes that power to serve punishment (death) to criminals.
He starts considering himself a supreme being. He disguises himself as "Kira" with the ultimate aim of cleansing the society of "bad people."(while he becomes the one himself).
However, a highly talented detective named L sets himself in search of him, resulting in a fierce battle of intellectuals. And the catch is that it will only end after one of them dies.
Similarities Between Monster And Death Note:
Death Note and Monster deal with personal and social morality, the depth of characters, and human nature.
Moreover, both anime provide a constant state of suspense and anticipation, accompanied by hair-raising background music and sound effects.
Additionally, you will sense the same gloomy and dark atmosphere throughout the series that you have experienced while watching monster.
---
Honorable Mentions For Monster Like Anime:
Legends of galactic heroes
Berserk
Fullmetal Alchemist: Brotherhood
Serial Experiments Lain
Neon Genesis Evangelion