If you are looking for an anime that will tempt you to come out of your shell, give you a wonderful glimpse of the anime world where characters are somewhat like you, and will temporarily make you forget about your actual world, then you've come to the right place to find some of the best anime for loners.
We're willing to lead you on the tour of 11 such anime for loners who can find it relatable and instantly come to love it!
In this list, you'll find anime with various genres ranging from romance, action, psychological, fantasy, and so on that will inarguably hook you throughout the series.
So brace yourself for the rollercoaster ride of emotions, and without further ado.
Best Anime For Loners To Kill Loneliness
11. Komi Can't Communicate
Genres: Shounen, Comedy, Romantic Subtext
No. of Episodes: 12
Watch It On: Netflix
Komi Can't Communicate anime is based on a very popular manga and is animated by OLM studio.
If you struggle to interact with others, like the main character in this anime, then I recommend watching it as you may be able to relate to it.
Even if you don't, still give it a shot anyhow; you won't be disappointed!
What can you expect from Komi Can't Communicate ?
Great animation
A large cast of characters with diverse personalities
Amazing delivery of a relatively simple concept
Very likeable characters
Captivating Soundtracks
Synopsis: The story revolves around Komi, a gorgeous young girl who has extreme social anxiety that she can not even speak to anyone properly.
Despite her intriguing personality, Komi is highly adored by everyone.
Her classmate, Hitohito Tadano, is an ordinary boy who once sits next to her and realizes she cannot communicate properly.
Later, he learns that Komi wants to make 100 friends and decides to help her, thus also ending up being her first friend in the process.
10. Your lie in April
Genres: Shounen, Drama, Music, Romance
No. of Episodes: 22
Watch It On: Hulu, Crunchyroll, Funimation
Your Lie In April is the heartwarming story of how music unites two young musicians who help one another through difficult times.
Despite what it may seem like, the anime's focus is not so much on romance; rather, it is about discovering how to move on and embrace the pieces of ourselves that we'd prefer to deny exist.
It is a must-watch anime for all the loners because I'm sure loners will somehow find themselves connected to the main lead and will enjoy the entire series.
What can you expect?
Stunning animation
The magnificent artistic design
Compelling storyline
Easily likeable characters
Incredible soundtracks
Synopsis: The story begins with the main character Arima Kousei, a pianist whose mother put him through rigorous training to refine his talent to the highest standards.
He thus excels in every piano competition and rapidly establishes himself in the music industry.
However, after his mother's death, Arima suffers from the trauma of the tragedy that renders him unable to hear the sound of a piano, and he never performs on the stage again.
Currently, Arima is a high school student living a normal life while coping with the loss of his mother when he meets a girl named Kaori Miyazono, a stunning violinist, who flooded his tranquil life with various melodies.
The girl, Kaori, plays a major role in this anime as she drags Arima back into the exciting competitive world and urges him to be her on-stage pianist.
The two musicians grow together, support one another, and have an unexpectedly large impact on each other's life.
9. Violet Evergarden
Genres: Drama, Fantasy, Slice of life
No. of Episodes: 13
Watch It On: Netflix, Funimaiton
It is based on the light novel series by Kana Akatsuki, in which Violet Evergarden, a beautiful young girl devoid of emotions, serves as the central character in the story as she yearns for her life's purpose.
This anime is beautifully animated by Kyoto Animation studio.
And believe me when I say this anime series has heavy tear-jerking emotions, so be prepared for it!
What can you expect?
Aesthetically attractive visuals
Great animation
Heartwrenching sentiments
Distinct storytelling
Detailed background setting with European style architecture
Synopsis: Violet, a young girl who seems emotionless, was used as a weapon in battle and followed only one person in her life.
However, when that person leaves her with nothing but his final words, violet is left puzzled because she cannot understand the emotion or the meaning behind those simple words.
Currently, in Colonel Hodgins' care, Violet unknowingly comes across the work of an "Auto Memoir Doll." Auto Memoir Dolls are young women that type their clients' feelings and sentiments into letters.
Violet becomes intrigued by the position and sets out on her path to becoming an Auto Memoir Doll.
By making this choice, she would redirect her life in a direction where she would encounter other individuals, learn about their and her sentiments, and perhaps find herself along the way.
8. Noragami
Genres: Shounen, Action, Fantasy, Supernatural
No. of Episodes: 12
Watch It On: Hulu, Crunchyroll, Funimation
It is another enjoyable anime that can instantly brighten up your mood thanks to its pretty good comedy and no overwhelming plot in the story.
Noragami (meaning, Stray God) is animated by Bones studio, based on its manga written and illustrated by Adachitoka.
What can you expect?
Good animation, particularly in fight scenes
Interesting storyline
Stunning characters design
Pretty lovable characters
Ear pleasing soundtracks
Synopsis: Yato is a deity who calls himself the "Delivery God" and has hopes of being worshipped by millions of people.
His objectives, however, are a long way from being accomplished when not even a single shrine is dedicated to his name, which is quite funny.
He also works on odd tasks, no matter how big, just for five yen for the whole day, till his weapon partner gets tired of his useless master and leaves him.
One day, Hiyori Iki, a teenage girl, saves Yato from an accident; however that incident causes her soul to leave her body and move freely.
Hiyori insists Yato restore her to normal, but when she learns that he must find a new partner, she reluctantly agrees to assist him.
Perhaps now, with the help of Hiyori, Yato's situation will turn around.
7. The Promised Neverland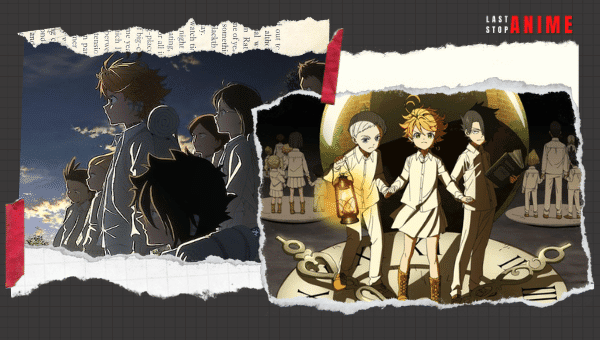 Genres: Shounen, Psychological, Mystery, Sci-Fi, Suspense
No. of Episodes: 12
Watch It On: Hulu, Crunchyroll, Funimation
Yakusoku no Neverland or The Promised Neverland is an amazing anime series fully packed with suspense and mystery elements that will captivate your attention throughout the series.
The CloverWorks studio has graciously created an anime adaptation of the novel, successfully and effectively portraying the story's theme.
You will be thrilled with each episode of this anime as it unfolds a new mystery. Moreover, I highly recommend it to everyone who enjoys well-written thrillers and mysteries.
What can you expect?
Unique storyline with well-structured plot twists
Highly engaging plot
Very well-written characters
A constant state of suspense, thrill, and anticipation
Great use of eerie background music and sound effects throughout the show
Synopsis: The Grace Field House, which has a guarded entry and is surrounded by a forest, is home to a large family of orphans who are content to live together under Isabella's care.
The children are free to spend their time as they choose, but there are certain rules that they must follow.
Moreover, whenever a child is adopted from the orphanage, no one gets to know any news regarding their new family or even about that adopted child.
The three highly intelligent and eldest children, a girl named Emma and two boys Norman, and Ray, enjoy their time in the orphanage together with the other kids.
These three eldest siblings, however, have their suspicion that something is going on at the orphanage and are about to uncover the awful destiny that is in store for the kids living at Grace Field.
This anime won't let you down, so I wouldn't say anything more about it for fear of giving anything away.
6. Parasyte: The Maxim
Genres: Seinen, Action, Horror, Psychological, Sci-Fi
No. of Episodes: 24
Watch It On: Hulu, Netflix
Parasyte: The Maxim is another famous anime produced by Madhouse studio. It is particularly well-liked by horror and thriller anime enthusiasts.
You should check this out if you're comfortable with grotesque visuals.
What can you expect?
Highly engrossing plot
Unique and intriguing storyline
Excellent artwork despite being an adaptation of a 90s manga
Numerous intense and emotional moments
Pretty good selection of music
Synopsis: The story begins with the invasion of alien parasites on Earth. These parasites have invaded humanity by taking over human brains and controlling them for survival.
Shinichi Izumi, a 16-year-old high schooler, gets infected by one of these parasites, but instead of taking over his brain, it settles in his right hand.
The parasite, now known as Migi, cannot leave its current location, and for its survival, it depends on Shinichi now.
As a result, the duo is compelled to coexist and must protect themselves from predatory parasites that want to annihilate the whole human race.
5. Classroom of the Elite
Genres: Drama, Psychological thriller
No. of Episodes: 12
Watch It On: Crunchyroll, Funimation, Netflix
Classroom of the Elite or "Youkoso Jitsuryoku Shijou Shugi no Kyoushitsu e" is another fantastic anime series that is the adaptation of the light novel of the same name.
Each episode of this anime will entice you to begin the next right away!
What can you expect?
Great storyline with a highly engaging premise
Extremely likeable characters with varied personalities
The quite distinct art style
A whole lot of intense, intellect, and strategic moves
Phenomenal voice acting
Synopsis: Koudo Ikusei Senior High School is an ideal school from the outside that offers students an unmatched degree of freedom. However, it is far from perfect in reality.
In this school, the students are divided into 4 classes- Class A to Class D- based on merit.
Class D, the lowest-ranked class, is filled with problem-makers of the school who are also treated as low. At the same time, the students in the top classes are treated well and enjoy their life.
The main characters of this anime, Kiyotaka Ayanokouji, a cool, friendly guy and Suzune Horikita, an unapproachable girl, belong to Class D.
They make a lot of strategies together to overcome the hurdles coming their way.
Since the class rankings are temporary and there are no rules on how one should proceed, students in lower-ranked classes can move up without following any restrictions, and they just need to do better than students in top classes.
However, that is not as easy a task as it may sound. So now, the question arises will they be able to succeed and reach the top? Well, for that, you have to watch the anime.
4. Attack on Titan
Genres: Shounen, Action, Dark Fantasy, Gore
No. of Episodes: 25
Watch It On: Hulu, Crunchyroll
Attack on Titan is a masterpiece written by Hajime Isayama, which is animated by Wit Studio quite wonderfully.
This anime is an ideal choice if dark and heavy themes fascinate you. Moreover, this anime has Gore elements involved, so if you are comfortable with it, you are in for this wild journey.
Pro tip: If you plan to watch this anime, don't make any character from Attack on Titan your favorite, because who knows, that character might end up getting gobbled up mercilessly while attempting to defend humanity in some way.
What can you expect?
Incredible plot twists.
A fantastic tale with perfect pacing.
Excellent animation.
Action-packed battle sequences.
Great soundtracks
Synopsis: Many years ago, the monsters called "Titans" came perilously near to eradicating humanity. The fact that these titans enjoy devouring humans rather than doing so out of necessity makes them even more dangerous.
Humans were terrified of them, so they sought safety behind high walls, where they began to live peacefully for a hundred years without ever coming across a titan.
Nevertheless, this calm was abruptly broken and wrecked havoc when a massive titan burst through one of the outer walls.
Following a devastating personal tragedy, now Eren Yeager has decided to kill every one of them.
For that, he enlists in the elite Survey Corps, which fights titans outside of guarded barriers.
Mikasa Ackermann and Armin Arlert, two of Eren's close friends, also join the horrific war against these giant man-eating titans to find a means to beat them before the last walls are torn down.
3. Death Note
Genres: Shounen, Psychological thriller, Suspense
No. of Episodes: 37
Watch It On: Crunchyroll, Netflix, Hulu
Death Note is a timeless classic anime that hasn't lost any of its charms over the years.
The entire story of this anime serves as an excellent illustration of morality and the idea of justice. Undoubtedly, this anime will get you hooked from the very first episode.
What can you expect?
A distinct and intriguing story
Mind-boggling plot twists
The finest protagonist-antagonist interactions ever.
Highly engaging plot
The viewers' morality is put to the test.
Synopsis: Light Yagami, a high school student, finds a strange notebook known as the "Death Note," which is not just any ordinary notebook—it can kill whoever has their name inscribed.
Light quickly learns that the notebook was dropped on the ground by Ryuk, the Shinigami (God of Death), who did it out of boredom and to have fun.
Light, who has a strong sense of justice, uses Death Note's abilities to establish himself as the supreme being in a world where only criminals would be punished in pursuing a peaceful and prosperous society.
Moreover, He gives his judgement under the guide of "Kira." As a result, the highly regarded detective, L is tasked by the government with figuring out Kira's identity.
Between Light and L, who are each adamant about keeping their identities a secret, a furious intellectual conflict breaks out at this point.
Check out our pick on similar anime like death note, if you have watched Death Note.
2. Monster
Genres: Seinen, Drama, Psychological, Mystery, Suspense
No. of Episodes: 74
Watch It On: Amazon Prime Video
Monster anime is a real gem of Naoki Urasawa, animated by Madhouse Studios, in which the story exhibits societal realism with an excellent plot structure.
The anime series launches into a spectacular rollercoaster of action, suspense, and character development once the characters and setting have been established.
Most of the time, viewers will be glued to the screen not to miss crucial information revealing the grand mystery in the series.
What can you expect?
Highly engaging storyline with a realistic setting
Excellent execution of the concept of human psychology
Well-written complex characters
A constant state of suspense and anticipation
Music and sound effects set the perfect tone for the series
Synopsis: Japanese neurosurgeon Kenzou Tenma practices in Düsseldorf, Germany, and is well-known for his expertise.
In one crucial incident, he risks his career by saving a young boy's life rather than the city mayor.
Tenma's reputation suffers as a result of this choice, and the hospital director dismisses him from his position.
Years later, at the height of his career and having finally restored his lost respect, Tenma finds himself again in a predicament.
The same boy he risked his career to save nine years ago is at the centre of a string of crimes this time.
1. Naruto
Genres: Shounen, Action, Fantasy, Adventure
No. of Episodes: 220
Watch It On: Crunchyroll, Hulu, Netflix
It's a must-watch anime series for all the loners out there because the main character, Naruto, is a very good example of a loner since both of his parents passed away shortly after his birth.
A long but good cast of characters is meticulously fabricated in the entire series, and each episode eloquently captures the sentiments of loners and the value of friendship that matters to them the most.
Even the dialogues of the villains are thought-provoking many times which is truly the beauty of this anime.
What can you expect?
Strong connection with the characters
A Solid storyline with well-interwoven plots
Strategic and exciting battles
Amazing soundtracks
Outstanding main and supporting casts
Synopsis: Konohagakure, the Hidden Leaf Village, was invaded twelve years ago by a terrifying monster known as the Nine-Tailed Fox ("Kyuubi").
With no alternative, the Fourth Hokage (the village leader) sacrificed himself and sealed the fox within the newborn Naruto.
As a result of the tragedy, the villagers now fear and mock Naruto for possessing the fox demon.
Despite the harsh treatment, Naruto seems upbeat, enthusiastic, and cunning. He wants to be recognized by everyone. Thus he has his sights set on being the Hokage (leader) one day.
However, that is just the beginning of his journey; he also needs to learn how to become a shinobi (ninja), get along with others, find teammates, go on missions, and fight strong opponents.
Other Remarkable Anime For Loners:
After you've hopefully seen every anime series we've listed above, we'd like to recommend some additional well-known anime for loners that won't let you down!
March Comes In Like a Lion
Natsume's Book of Friends
My Teen Romantic Comedy SNAFU
NHK ni Youkoso!
WataMote: No Matter How I Look At It, It's You Guys' Fault I'm Not Popular!