We all love playing anime games and exploring them. We've played many games as a veteran otaku. One Piece, GOH, Dragon Ball Legends, and Bleach Brave Souls are some of the anime mobile games we've played.
Our exploration weren't only limited to Shonen games; we also had fun with idol training mobile games.
While playing an idol training mobile game, we came across this game called Cue!, which Liber Entertainment produces.
Cue is a mobile anime game focusing on voice acting and voice actors. we liked the game's story, so we searched more about it, and, to our surprise, Cue! had an anime adaptation.
The game and the anime series both revolve around rookie voice actors. These aspiring voice actors want to be a big hit in the anime industry and dominate the entertainment industry.
They want to find their unique voice and sound and make their mark in the competitive industry. Cue shows the daily struggle of a voice actor.
With this long introduction out of the way, we bring you 11 similar anime like Cue! So without wasting any time, let's get started.
11. Love Get Chu
Episodes: 25
Status: Finished Airing
Genres: Comedy, Romance
Watch It On: N/A
Five aspiring Seiyuu girls sign up for a training program in Love Get Chu to pursue their shared dream of becoming voice actors.
Love Get Chu traces the development of aspiring Seiyuu performers.
You can get a glimpse of anime industry issues through a love story involving a boy who works for an animation firm.
10. New Game!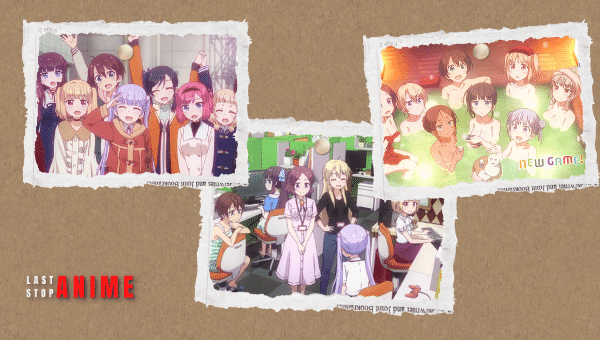 Episodes: 12
Status: Finished Airing
Genres: Comedy
Watch It On: Crunchyroll, Funimation, VRV
Suzukaze Aoba joins Eagle Jump, the video game studio that created Fairies Story, the game she spent her entire childhood playing after graduating high school.
Aoba travels to work on a crowded train during the morning rush hour on her first day as a contributing member of society.
She makes it to the office building without difficulty, but she pauses and questions whether it is okay for her to take the final step and go inside.
At that point, Toyama Rin, a senior employee, arrives at work and safely guides Aoba inside the Eagle Jump headquarters.
Both anime shows feature a group of cute girls and offer insights into the otaku world.
If you're interested in programming, coding, or the inner workings of the gaming industry, New Game is a great anime to watch.
New Game! is not your average idol anime; rather, it focuses on normal life and the gaming industry, so not everyone will enjoy this since it's more in the workplace genre.
09. Hibike! Euphonium (Sound! Euphonium)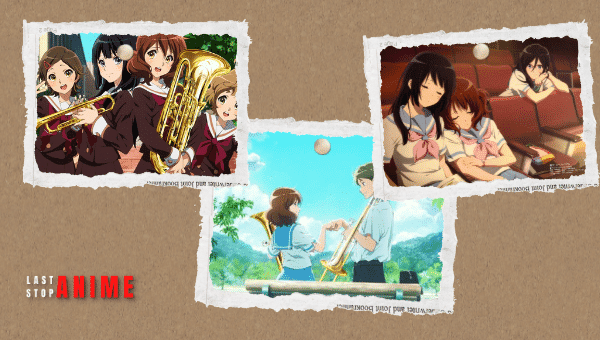 Episodes: 13
Status: Finished Airing
Genres: Drama
Watch It On: Crunchyroll
Sound! Euphonium explores the Kitauji High School Concert Band on their quest to achieve what they had previously only referred to as a pipe dream: winning gold at the Nationals.
Along the way, the band members develop as musicians and individuals.
The plot is rather straightforward, but the real appeal is how the characters focus on the path they must take to reach their objectives.
The band must continuously resolve the internal and external struggles that arise within it due to being made up of different people.
08. Glass No Kamen (Glass Mask)
Episodes: 54
Status: Finished Airing
Genres: Drama
Watch It On: Crunchyroll
Kitajima Maya was always a typical young lady. She works after school to help pay for her mother's housing and board and her own. In addition, she has a strong tendency to become distracted by dramas.
Tsukikage Chigusa, a former actress who had to quit performing after an accident left her scarred, notices her when she is acting out performance for some young children.
Maya has enormous acting potential, and Tsukikage is determined to help her hone these skills so she can ultimately play the coveted Crimson Goddess part.
A part that hasn't been performed on stage since Tukikage left. Hayami Masumi, the teenage heir to the vast Daito entertainment empire, notices this.
Maya's abilities also catch Himekawa Ayumi's eye, a young actress with exceptional talent. A young woman who aspires to play the Crimson Goddess.
Since only one person can take the role of Crimson Goddess, they must prove their worth in the competitive world.
07. THE IDOLM@STER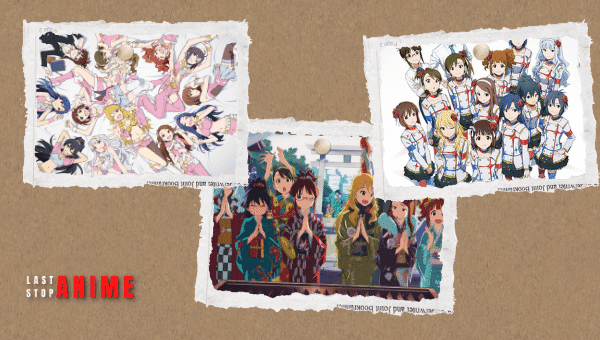 Episodes: 25
Status: Finished Airing
Genres: Comedy, Drama
Watch It On: Crunchyroll
In the same way that Cue presents audiences with the world of seiyuu, The iDOLM@STER tells the tale of top-tier professional idols striving for stardom.
The main characters of the iDOLM@STER are 13 beauties from the 765 production studio, whose only ambition is to top the idol rankings in Japan.
You will support the girls of IDOLM@STER as they ascend the mountain, along with the smiles, challenges, and tears that are inextricably a part of their trip!
06. Re:Stage! Dream Days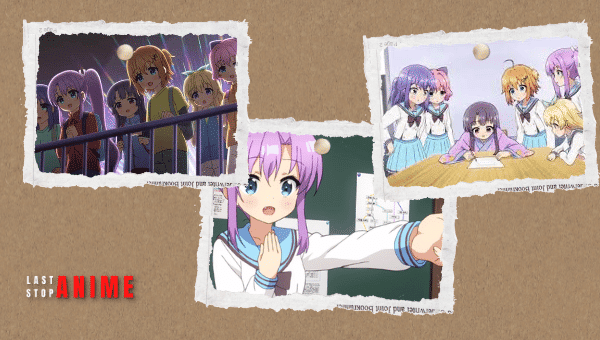 Episodes: 25
Status: Finished Airing
Genres: Music, Slice of Life, School
Watch It On: HiDive, Apple Tv
Mana Shikimiya, when she was young, had enormous goals, but she put them aside once she entered middle school to lead an ordinary life.
Mana Shikimiya recently changed schools to Marehoshi Academy, where each student is required to join one of the numerous sports or cultural groups.
Minori Hasegawa, vice president of the student council, gives Mana a guided tour of most of the clubs before she discovers the lyrical traditional dance club.
There she encounters Sayu Tsukisaka and Mizuha Ikishima, the only two individuals in the singing and dancing club.
Mana, who is attracted to their singing and dancing, joins the group, and the three of them work together to achieve their goal of winning the Prism Stage Competition, a nationwide contest to find the best idols in the nation.
She will give her all to win the prism stage competition and be crowned the top idol. There are no dreams too large when her friends are by her side.
The group is about to be dissolved by the student council, so Mana and her new companions must deal with that issue first before worrying about the Prism Stage.
05. Sore ga Seiyuu! (Seiyu's Life!)
Episodes: 13
Status: Finished Airing
Genres: Comedy, Slice of Life, Workspace
Watch It On: Crunchyroll
As the title suggests, the anime series focuses on Seiyu's life.
Futaba Ichinose, a newcomer to the tough world and fast-paced field of voice acting, scrambles around in search of auditions and performance opportunities while harboring dreams of becoming a top-tier professional.
She works alongside some of the most well-known figures in the field while attempting to develop her unique voice and style.
She makes two key acquaintances on her journey: Ichigo Moesaki, an aspiring idol who believes she is royalty from some other planet, and Rin Kohana, a cheerful child actress who does her best to juggle her career and academics.
Together, the girls brave the challenges of the entertainment business.
However, Futaba might find her career ending earlier than anticipated as her agency's performance evaluation is looming around the corner.
Seiyu's life is a humorous and sincere celebration, offering a different perspective on the voice acting industry.
Sore Ga Seiyuu not only manages to highlight issues in the voice acting industry and the anime industry but also shows how the adult world works.
Cue! and Seiyu's Life focus on young women who strive to make it big in the seiyuu business.
04. Action Heroine Cheer Fruits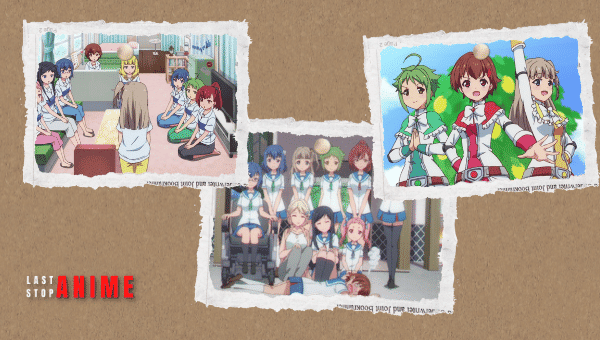 Episodes: 12
Status: Finished Airing
Genres: Comedy, Slice of Life, School
Watch It On: Crunchyroll, HiDive
The "local heroine fighter" rose to fame in a particular city and became a national celebrity.
Local heroines, or superhero figures who represent communities and put on theatrical productions to boost their town's reputation, saw a rise in popularity a few years back.
Yuzu, the younger sister of Mikan Kise, is thrilled about the upcoming performance of Kamidaio, the most well-known of these local heroines, in the small village of Hinano.
Mikan learns that the performance has been cancelled when she brings Yuzu to it.
She assures her distraught sister that she will make every effort to attend the performance.
To avoid disappointing her, Mikan turns to her classmate, An Akagi, a local heroine enthusiast, for assistance.
Even though their Kamidaio show has low production value and is performed by Mikan and Ann in homemade costumes, the young audience members appreciate it.
The student council president, Misaki Shirogane, records the event and uploads it online to get attention.
Misaki, who comes from a political family, has made it her mission to reinvigorate Hinano.
She hires Mikan and An after being moved by their performance to serve as the town's local heroines.
The group enlists various colorful people to assist them as they seek to improve their concerts.
The anime series features cute girls and rich individuality from other characters. However, the Action Heroine Cheer Fruits plot does not revolve around the voice actor(s).
03. Wake Up, Girls!

Episodes: 12
Status: Finished Airing
Genres: Drama
Watch It On: Crunchyroll, HiDive
With little fanfare, the band Wake Up performed their debut song to a tiny crowd on Christmas 2013.
Just after the show, the band's manager flees with the money, leaving Green Leaves Entertainment in danger of bankruptcy and the band's future in limbo.
Despite this tumultuous beginning, the girls are given a second opportunity because of a shadowy benefactor and a shady business proposal.
The girls are prepared to make the difficult trek up from here, paved with rocks.
From securing and accepting gigs to fighting for fame with other pop bands, Wake up Girls explores the difficulties and challenges of managing a small idol girl band.
02. Shirobako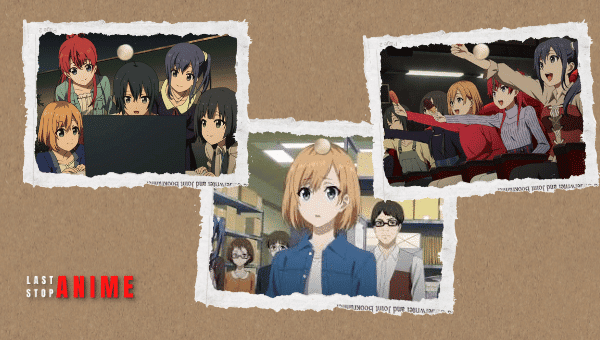 Episodes: 24
Status: Finished Airing
Genres: Comedy, Slice of Life, Drama
Watch It On: Crunchyroll
Five close friends—Aoi Miyamori, Ema Yasuhara, Midori Imai, Shizuka Sakaki, and Misa Toudou—were classmates at Kaminoyama High School at the time—discovered their shared love of all things anime and founded the animation club.
The group produced their first amateur animation together, screened it at a school festival, and then vowed to pursue work in the industry.
They hope to collaborate to produce their mainstream show eventually.
Two and a half years later, Aoi and Ema landed jobs at the famed Musashino Animation production company. Others, however, struggle to find their ideal career.
Shizuka's burgeoning voice acting career involves more time waiting than recording.
Misa has a stable job at an automobile manufacturer, creating 3D models for them, but she is not satisfied.
Midori is a college student who has decided to follow her ambition of becoming a writer.
These five girls learn that while numerous roadblocks are on the way to success, persistence and an oddball imagination may also pave the way.
01. Gi(a)rlish Number (Girlish Number)
Episodes: 12
Status: Finished Airing
Genre: Slice of Life
Watch It On: Crunchyroll, HiDive
Chitose Karasuma, a college student, tries to avoid the mundane as she transitions into adulthood.
This harsh lady enters an institution that trains aspiring voice actors and actresses to achieve this goal. She succeeds in finding work at Number One Produce, a seiyuu agency owned by her big brother Gojou.
Chitose believes she is destined for stardom. Therefore she is perplexed when she keeps receiving little jobs.
Chitose will realize that there is much more to success in this cutthroat profession than she anticipated as she conflicts with other females in the firm, including a crafty airhead and a girl with a Kansai accent.
---
Honorable Mentions For Cue Like Anime:
Keep Your Hands Off Eizouken!
IDOLiSH7
K-On
Love Live School Idol Project
Bakuman
Tokyo 7th Sisters: Bokura wa Aozora ni Naru (It's an animated film)