The Japanese animation industry has unified the world through its content multiple times. Several anime fans around the globe love viewing this awe-inspiring content. Although most of the anime is set in Japan, viewers around the globe can easily connect with them.
However, there are numerous other anime that are set in foreign countries as well. Here we'll mention anime that is set in The United States of America.
This list has information regarding the anime set in the USA, the plot of the anime, genre, episode count, and why and where to watch the anime.
Furthermore, the following list won't mention those anime that features the United States Of America in certain parts only.
The list comprises only those anime solely set in the United States. Hopefully, you'll find a suitable anime to view through the end of the list.
11. Pet Shop of Horrors (Los Angeles)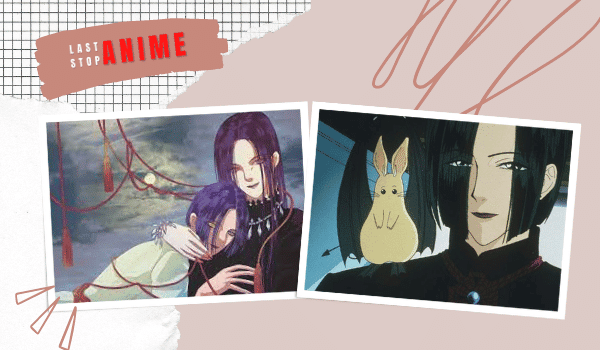 Genre: Horror Fantasy, Mystery
Episode Count: 4
IMDb: 7.3
MyAnimeList: 7.25
Set in the Los Angeles Chinatown district, Pet Shop of Horrors proves itself to be a worthy inclusion on the list. The anime provides the right amount of generic horror to keep viewers on their toes.
The story revolves around a mysterious individual- Count D, who owns a pet shop in Chinatown. However, the shop accommodates unusual pets with strange humanoid appearances.
Count D sells unusual pets with a contract comprising three significant points.
Among these, the common one states that the buyer can't show the contract to anyone. Additionally, breaking any point on the contract will result in a dreadful situation for the buyer.
Why and Where to Watch Pet Shop of Horrors?
The anime exhibits a unique storyline baffling enough to keep one occupied.
With fewer episodes, one can view this anime in one go.
All the characters of the series have impressive dialogue sequences.
The first season of Pet Shop of Horrors is available with a subscription to Hi-Dive. There are no other platforms where you can either rent or buy the whole anime series.
10. Gunsmith Cats (Chicago)
Genre: Crime, Adventure
Episode Count: 3
IMDb: 7.2
MyAnimeList: 7.3
Although Gunsmith Cats is just a three-episode long Original Video Animation (OVA), the animation team had put immense effort into animating it.
The anime also features an extended chase scene at the Chicago Turnpike.
Irene Vincent (Rally) is 19 year old who operates the Gunsmith Cats gun shop and works as a bounty hunter along with her housemate – May Hopkins (Minnie). While Rally is an excellent shooter and a great driver, Minnie is an explosives expert.
The duo is encountered by Bill Collins, who works as an agent for the Chicago branch of the Bureau of Alcohol, Tobacco, Firearms, and Explosives.
Since Rally has questionable legality to her Firearms shop, Bill manages to blackmail the duo into assisting him on a case.
The OVA features a great storyline around this premise where Rally and Minnie unravel the secrets of this case.
Why and Where to Watch Gunsmith Cats?
Owing to the effort of the animation team, which visited multiple locations in Chicago, like the police academy, the animation of the anime is top-notch for its generation.
The action segments of the anime are awe-inspiring.
It features quite an interesting twist which will always make you reminisce about this anime.
Crunchyroll has acquired the right to stream the anime on its platform. Apart from Crunchyroll, 9Anime features Gunsmith Cats in the US.
09. Chrono Crusade (Central City/New York)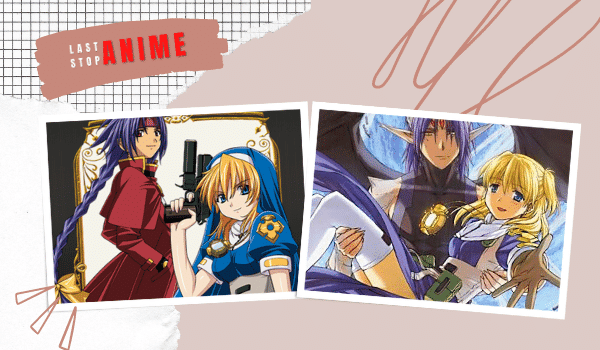 Genre: Action, Supernatural
Episode Count: 24
IMDb: 7.1
MyAnimeList: 7.6
You might've already guessed this anime to be on the list. If not, you should pay a visit to the distinctive storyline of the Chrono Crusade.
Chrono Crusade or Chrno Crusade follows the storyline of Chrno and his partner- Sister Rosette Christopher.
Set during the post world war 1 era, the story throws classic battles between demons and the church- The Order of Magdalene.
Chrno and Rosette work under the New York one among the numerous branches of the Order of Magdalene. The duo fight is encroaching demons through religion-fueled science weapons.
These include handguns like Colt 1911 containing holy water bullets and Soul Dive technologies to perform an exorcism.
Chrno and Sister Rosette possess a grudge against the sinner and demon- Aion. While Rosette is looking for her brother Joshua, who Aion captured, Chrno has a bloody history against him.
Hence, the story follows the duo through a series of adventures toward their destiny.
Why and Where to Watch Chrono Crusade?
The series employs numerous exhilarating battle sequences anime.
Multiple comedic scenes lighten the mood from time to time.
Captures the viewer's attention through its immersing storyline.
In the US, the first season of Chrno Crusade is currently streaming on Funimation, and Crunchyroll
08. Blood Blockade Battlefront/Kekkai Sensen (New York)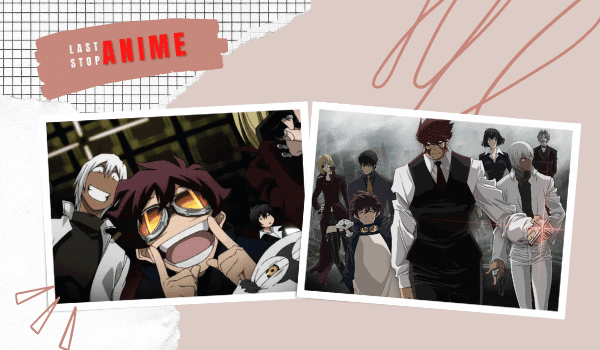 Genre: Action, Science Fiction, Urban Fantasy
Episode Count: 24+
IMDb: 7.2
MyAnimeList: 7.6
Coming at no. 8 is Studio Bones' Sci-fi fantasy Blood Blockade Battlefront or Kekkai Sensen.
Hellsalem's Lot, formerly known as New York, is a location that comprises multiple supernatural creatures like supersonic monkeys, vampires, and talking fishmen.
These creatures have lived alongside humans since a gateway between Earth and Beyond opened three years ago.
To maintain peace in the country, a secret organization called Libra works in the shadows. Leonardo Watch is an aspiring photographer who lives a simple life.
However, his simplistic life turns upside down when he gains the powers of the "All-seeing Eyes of the Gods."
Nonetheless, Leo's sister loses her eyesight after he gains his power. In the hope of finding some answers, Leo proceeds to Hellsalem's Lot, where he unexpectedly joins the ranks of Libra.
Regardless, there's more to the story since Kekkai Sensen follows Leo on his misadventures.
Why and Where to Watch Blood Blockade Battlefront?
The unique concept would envelop you in its storyline.
There are amusing characters in Blood Blockade Battlefront and fascinating powers to keep the viewers entertained.
The dub version of Kekkai Sensen has some excellent voice actors, and the dialogues are hilarious enough to make you laugh.
In the US, Blood Blockade Battlefront is available on streaming platforms like Funimation, and Crunchyroll. You can also buy both seasons on Amazon Store, Google Play Store, AppleTV, and Microsoft Store.
07. Freedom (Las Vegas)
Genre: Science Fiction, Action, Adventure, Mystery
Episode Count: 6
IMDb: 7.2
MyAnimeList: 7.4
Although the six-episode series was a Nissin food cup noodles promotional anime, it featured some enjoyable content. Freedom has a straightforward, simplistic storyline with mysterious elements.
The story kicks off with humble beginnings and shows the adventure of the main protagonist- Takeru.
Takeru is a problem child who has discovered the secret of this world. Over 160 years since humans colonized the Moon, a new government of Republic Eden has formed.
To get integrated into society, children must complete a program. Takeru decides to participate in one such race.
However, the vehicle he uses is handmade and causes an accident in the middle of a road. Henceforth, he gets 10 hours of community service.
While completing his punishment, he finds a crashed capsule with photos and articles from Earth, which should've been uninhabitable. Thus, a journey commences where Takeru finds true freedom.
Why and Where to Watch Freedom?
The anime has a superb OST which tends to mesmerize its viewers.
There are multiple lovable characters in the anime.
The mystery element of Freedom keeps one occupied throughout the series.
Unfortunately, Freedom isn't available on any of the streaming platforms in the US. Since the anime is just a promotional project, it's only available in Japan.
6. JoJo's Bizarre Adventure: Stone Ocean (Florida)
Genre: Crime, Action, Adventure, Supernatural
Episode Count: 12+
IMDb: 8.2
MyAnimeList: 8.4
Next on the list is one of the spin-off seasons of JoJo's Bizzare Adventures.
JoJo's Bizarre Adventure: Stone Ocean focuses on Jotaro's daughter- Jolyne Cujo. Jolyne is sentenced to 15 years in prison for murder.
Nevertheless, Jotaro soon finds out that one of Dio's followers has framed Jolyne to assassinate her in prison. Luckily, Jotaro can convey this information to his daughter.
While Jolyne is in the Green Dolphin Street Prison, someone steals Jotaro's Stand disc and Memory Disc.
As a result, Jolyne has to escape the prison, fend off her assassins and save her father quickly.
Why and Where to Watch JoJo's Bizarre Adventure: Stone Ocean?
JoJo's Bizarre Adventure is a globally renowned anime series that has never failed to entertain its viewers.
Multiple components in this season have exhilarating battle sequences.
The animation and the main character design are uniquely likable.
Netflix has acquired the right to stream Stone Ocean on its platform officially. There are no other platforms where you could buy or stream Stone Ocean officially.
05. Red Garden (New York)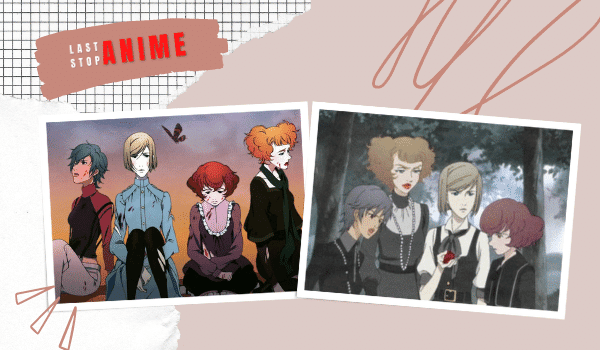 Genre: Horror, Psychological, Supernatural
Episode Count: 22
IMDb: 6.7
MyAnimeList: 7.1
Set in New York City, Red Garden is a classic horror mystery of the early 2000s. The story follows four girls who attend the same private school on Roosevelt Island, New York.
One day, Kate, Rachel, Rose, and Claire wake up feeling uneasy since they can't remember anything about the previous night.
Their anxiety escalates when they discover another school student, Lisa took her life. As a result, it's a day off, but the girls follow certain butterflies which only they can see.
The butterflies lead the girls to a park where a man and a woman approach them. Upon meeting them, the mysterious couple informs the girls that they all died the previous night.
The story revolves around the four girls who solve the mystery of their deaths and find a way to return.
Why and Where to Watch Red Garden?
The anime is a horror classic with a great storyline.
It occupies the attention of viewers magnificently due to its mystery aspect.
In the US, Red Garden is available on Funimation, Crunchyroll. Also, you can buy the anime on Amazon Store.
04. Heroman (Los Angeles)
Genre: Action, Sci-fi, Superhero
Episode Count: 26
IMDb: 7.1
MyAnimeList: 6.8
Viewers often confuse Heroman as a Marvel Series since the original manga's author is none other than the legend – Stan Lee.
The sci-fi show comprises the adventures of Joseph "Joey" Carter, a shy yet kind-hearted boy.
Joey's family is financially burdened, and he's often bullied at school. Being a robotics enthusiast, the kid aspires to get the new robotic toy Heybo which he can't due to his poor background.
However, Joey's friend- Simon "Psy" Kaina, finds a discarded Heybo. Joey takes the toy home and tries to fix it, failing miserably.
Nonetheless, an unnatural lightning strike hits the toy, which increases its size immensely.
Joey names it Heroman and proceeds to protect the citizens of Center City (a fictionalized version of Los Angeles) from an alien invasion.
The adventures of Heroman and Joey commence where they protect the citizens of the center city against the aliens- Skrugg.
Why and Where to Watch Heroman?
The storyline is simplistic and adventurous yet doesn't fail to entertain the viewers.
Heroman's TV Broadcast was popular among the kids and is still a fun anime.
The first and only season of Heroman is available on streaming platforms like Crunchyroll and VRV. No platform is either renting or selling the anime.
03. Baccano (New York)
Genre: Adventure, Mystery, Supernatural
Episode Count: 16
IMDb: 8.2
MyAnimeList: 8.4
Coming off at number 3 is the globally renowned anime series- Baccano. To connect the audience with the West, the anime's art director visited multiple New York landmarks like the Grand Central Station, China Town, and Hell's Kitchen.
Hence, there are multiple similarities between the New York locations of this anime and reality.
The series follows a series of intertwining stories where the cast converges during the storyline, which takes place around the prohibition era.
While the anime starts with stories of different characters which seem unrelated, the resultant outcome compiles all these characters in the end.
These stories involve Mafia, alchemists, immortality, etc.
Why and Where to Watch Baccano?
It's a globally renowned anime with an immersing storyline.
There are multiple engaging characters in the anime.
Baccano used to be available on streaming platforms like Hulu and Funimation. However, their license expired in 2016. Moreover, the anime is also not available on Google Play anymore. One can only view the anime through DVDs in the US.
02. Michiko to Hatchin (South America)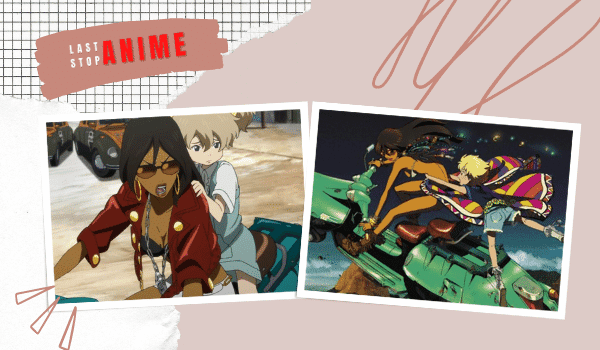 Genre: Adventure, Action
Episode Count: 22
IMDb: 7.5
MyAnimeList: 7.8
Next on the list is an action thriller in the fictionalized versions of the cities of South America. Michiko to Hatchin is another famous anime that compiles iconic characters and an interesting storyline.
Michiko Malandro has just broken out of a high-security prison for the 4th time in her life. She's searching for a man from her past- Hiroshi Morenos.
While tracing him, Michiko comes across a young girl- Hannah Morenos (Hatchin), who's Hiroshi's child. Hanna lives with foster parents who are often abusive and hence runs off with Michiko.
The duo adventure through the lands of South America to search for Hiroshi. Furthermore, the duo gets involved in gang warfare along with the police officials trying to catch Michiko.
Why and Where to Watch Michiko to Hatchin?
Multiple exhilarating scenes throughout the anime will grasp your attention.
The journey of Michiko and Hatchin is remarkable, and the bond they form at the end of the anime is a feast for the eyes.
This anime comprises superb OST during the gunfights, which don't fail to amuse its audience.
You can view the HD version of Michiko and Hatchin on Funimation and a lower-quality version on Crunchyroll. The anime is also available online stores like AppleTV, Google Play Store, and Microsoft Store.
01. Banana Fish (New York)
Genre: Drama, Thriller
Episode Count: 24
IMDb: 8.2
MyAnimeList: 8.5
Finishing off the list is none other than one of the best drama thrillers of all time. Banana Fish is a must-watch anime for all the otakus out there.
The series star Aslan Jade Callenreese or Ash Lynx, a runaway and a leader of his gang.
Ash tries to investigate the words Banana Fish which his elder brother has been uttering after returning from the Iraq War.
However, their father- Dino Golzine, sends men after Ash to stop his pursuit of the truth.
During one conference, Dino's men kidnap two of Ash's friends- Eiji and Skip. As a result, Ash has to rescue his friends from the gang while unveiling the secret of Banana Fish.
Why and Where to Watch Banana Fish?
The series' main characters are interesting, and overall it's a great anime to watch.
There's a mystery around the word Banana Fish which often piques the viewers' interest.
It has an impressive storyline along with a remarkable ending.
In the US, Banana Fish is available only with a subscription to Amazon Prime Video.
Anime Set in America: Honorable Mentions
Mad Bull
Soul Eater
91 Days
Kaleido Star
Supernatural: The Animation
Space Brothers