Mermaid anime is an exciting genre for anime fans. Apart from featuring brilliant plotlines and beautifully crafted characters, the genre is famous for its animation. Even though most of the mermaid anime series are heavily inspired by the Little Mermaid, some of them provide a fresh look at the original fairytale, proving to be more than just mere adaptations.
Here are some of the best mermaid anime series and films that are truly the highlights of the genre.
List Of Best Mermaid Anime To Watch
1. Mermaid Melody: Pichi Pichi Pitch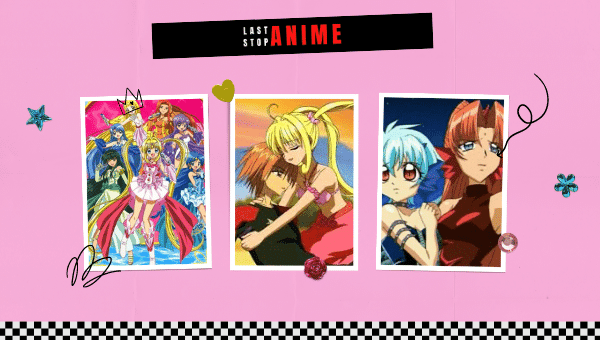 Genre: Fantasy
Episodes: 91
Where To Watch: Yidio
This beautifully animated early 2000s anime is centered around Lucia Nanami. Lucia is a mermaid princess who saves a boy from a tsunami wave and entrusts him with her pink pearl.
Seven years later, Lucia- who had fallen in love with the now-teenaged boy, returns to the land and tries to win him over.
The catch is that the mermaid princess can't reveal to him that she is the same mermaid who saved him all those years back.
Based on the more stereotypical themes of romance and drama, Mermaid Melody: Pichi Pichi Pitch also incorporates some elements of music and action to provide an entertaining and engaging watch for the viewers.
2. Mermaid Forest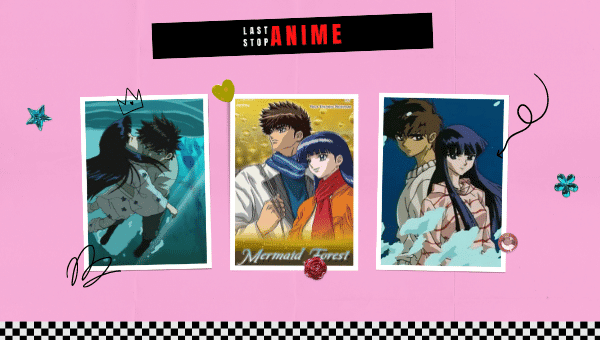 Genre: Horror fantasy, Romance, Supernatural
Episodes: 1
Where To Watch: Reelgood
Based on the manga series Mermaid Saga, Mermaid Forest is an OVA (original video animation) that came out in 1991, meaning that the animation is a masterpiece.
But more than the animation, what made Mermaid Forest a cult favorite was that it turned the conventional romantic-mermaid genre on its head and became a violent horror show.
So yes, if you are looking for lighter shows, you should avoid Mermaid Forest.
The plot is centered around a legend that states that eating mermaid flesh will grant one immortality. A young man named Yuta became immortal by doing as the legend states- he ate mermaid flesh.
But after 500 years, he grows bored of being immortal. He travels across Japan, searching for a way to end his immortality and return to everyday human life.
3. Bride is a Mermaid
Genre: Harem, Romantic comedy
Episodes: 26
Where To Watch: Crunchyroll
A laugh-riot is the best way to describe My Bride is a Mermaid. The plot follows the adventures of a young teenage boy named Nagasumi Michishio.
While on holiday at the Seto Inland Sea, Nagasumi starts drowning- but is saved by a mermaid named Sun Seto.
Nagasumi's happiness at having survived is short-lived because he soon finds out that under mermaid law, he now has to marry Sun; otherwise, either Sun or he will be executed.
The situation becomes even more frustrating for Nagasumi when he discovers that his bride, Sun's family is full of Yakuza mermaids; his father-in-law has instantly disliked him.
The rest of the series follows Nagasumi as he navigates between the human world, the ocean world and his constant escapades from his yakuza relatives and another antagonist while trying to live a normal teenage life with a mermaid wife.
4. Hans Christian Anderson's The Little Mermaid
Genre: Romance, Tragedy
Episodes: 1
Where To Watch: Reelgood
Hans Christian Anderson's The Little Mermaid is a 1975 Japanese anime film that came out 14 years before Disney's much-loved animated adaption.
However, the anime film scores ahead of the Disney adaptation in terms of staying faithful to Han Christian Anderson's original tale.
The film starts and ends with live-action shots of Denmark, which makes it a rarity because live-action shots are almost never featured in anime.
The film is centered around Princess Marina- the little mermaid- who is forbidden from venturing to the surface because she has not yet come of age.
Even so, she ignores her family's opposition and ventures to the surface when she notices and falls in love with a young prince.
The prince is thrown into the sea during a storm, and Marina saves him.
Unable to keep away from him, she strikes a deal with the Sea Witch, who gives her a potion in exchange for her voice. The potion allows her to have human legs.
She goes up to the surface to be with her prince. But what follows next is a tragic twist guaranteed to make you shed some tears.
5. The Prince and The Coral Sea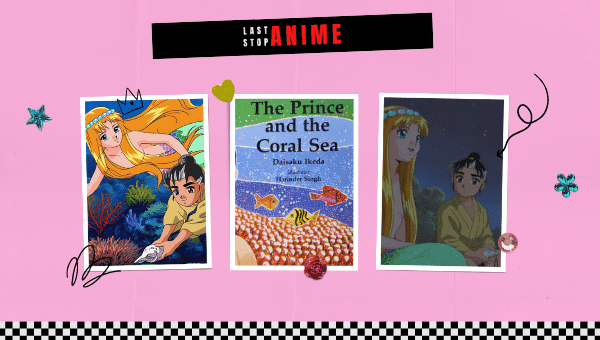 Genre: Fantasy, Nature
Episodes: 1
Where To Watch: N/A
Sango no Umi to Ouji, or The Prince and The Coral Sea, is a 30-minute OVA that aired in 2000. The film is set near the island of Okinawa.
The protagonist Ray is a kind-hearted human being who is alarmed at the destruction that humans cause to the nature around them.
Ray meets a cute mermaid who helps him understand more about the gravity of the issue as humanity's influence on the island and the sea surrounding it is slowly destroying everything.
He resolves to stop the destruction of the island's natural forests and coral reefs. But will he be able to do so in time before a tidal wave comes in and kills the island's people?
The movie has a very straightforward plot, but its moments- especially with the 90s-style animation- make it an enjoyable watch.
6. Valkyrie Drive: Mermaid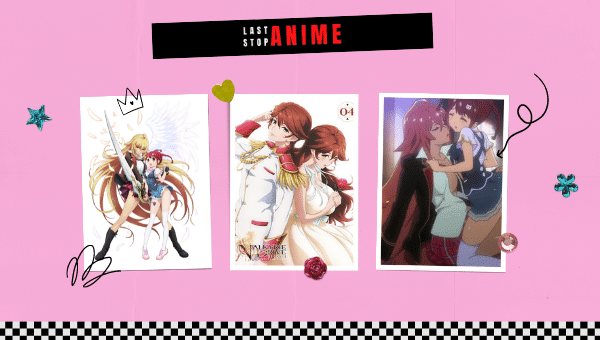 Genre: Ecchi, Action, Yuri, Supernatural
Episodes: 12+6
Where To Watch: Crunchyroll
Valkyrie Drive: Mermaid is not your typical mermaid series. While the other series tend to be focused on romance and fantasy, Valkyrie Drive: Mermaid doesn't shy away from showing nudity, sex and same-sex relationships.
The plot focuses on Mamori Tokonome, a timid girl who contacts the A-virus. Mamori-san is an Extar, meaning that when she is sexually aroused, she can transform into a powerful weapon wielded by a user named Mirei- a Liberator. Her powers are awakened after sharing one passionate kiss with Mirei.
Mamori is abducted and transported to Mermaid island, where she and other girls who have contracted the A-Virus must stay for as long as the government deems them dangerous to society.
The rest of the series focuses on Mamori and her adventures alongside the protective Liberator, Mirei Shikishima, as they combat various threats on the island.
7. A Lull in the Sea
Genre: Fantasy, Romance
Episodes: 26
Where To Watch: Crunchyroll, Funimation, Reelgood
A Lull in the Sea doesn't feature your conventional idea of a mermaid with fish scales for feet. But it touches upon a deeper issue while remaining light in its treatment.
The series is set in a world where humanity has been divided into two. One section lives and can breathe underwater, whereas the other has left the oceans and thrives on land.
The series covers the lives of four 14-year-old students who must go to the school on the surface after theirs closes down.
The show broaches topics like the othering of people and the treatment of different people. The students face many difficulties as they must adapt to their life above water.
But soon, things take a positive turn as the four kids become the connection that could bridge the gap between the two worlds.
8. Ponyo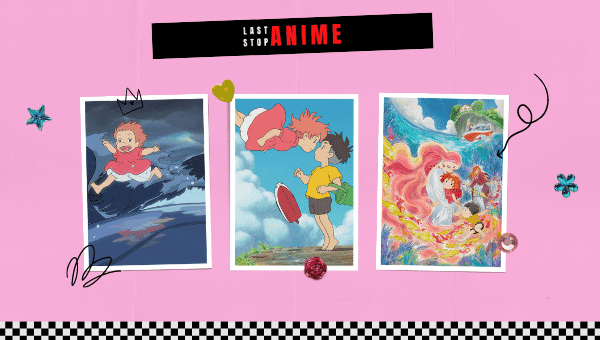 Genre: Fantasy, Nature
Episodes: 1
Where To Watch: Amazon Prime, Netflix
From the legendary Studio Ghibli and the even more legendary Hayao Miyazaki, Ponyo (or Ponyo on the Cliff by the Sea) is an anime film that came out in 2008.
The film is based on the original Little Mermaid fairytale. Still, with Miyazaki's touch, the original tale is transformed into a trippy tale of forbidden love and magic that warns against the dangers of screwing around with nature.
Ponyo's most significant win is its characters- they are richly detailed and have personal quirks and oddities that make them memorable. Even more breathtaking is the animation- but that is given with a Studio Ghibli production.
If you are a fan of mermaid anime and Studio Ghibli, then Ponyo is a must-watch.
9. Lu over the Wall
Genre: Fantasy, Nature, Drama, Musical
Episodes: 1
Where To Watch: Amazon Prime, Reelgood
Most of the mermaid series and films featured tend to be inspired by Hans Christian Anderson's The Little Mermaid. Inadvertently, the narrative focuses on how romantic feelings drive the central mermaid character into knowingly or unknowingly causing some level of fatality. Ultimately, at some level, the blame falls on the mermaid.
Lu over the Wall features a fresh look at the mermaid genre because here, the Little Mermaid character- Lu- is not the one who causes any problems.
Instead, human nature leads to incidents that cover the film's climax. But all hope is not lost because it is human nature that leads to salvation.
Lu over the Wall might be a mermaid anime, but it is also a deeper study of humanity and our nature.
The animation is top-notch, and the plot offers a fresh look at the original fairytale. Even the voice acting is noteworthy here- this film is definitely worth watching.
10. Merman in My Tub (Orenchi no Furo Jijou)
Genre: Comedy, Slice of life
Episodes: 14
Where To Watch: Crunchyroll
Orenchi no Furo Jijou or Merman in My Tub is a slice-of-life comedy anime series that covers the adventures of a young teenager who has a merman living in his bathtub.
Tatsumi is a high-school boy who lives by himself. He finds a man hurt by the riverbank and decides to help. He brings the man home- but soon realizes that the man is a merman.
Tatsumi reveals his name to be Wakasa, a timid yet self-centered merman. He left his old home, a polluted river near the dam, because human beings had started bothering him.
The rest of the series covers their lives together as an assortment of mythical characters visits Wakasa, and Tatsumi has to put up with his terrible houseguest and antics.
11. Umi Monogatari
Genre: Action, Magical girl
Episodes: 12
Where To Watch:
Umi Monogatari is a Japanese anime series that came out in 2009. The series is based on a popular pachinko (arcade) game. The plot is focused on two sea dwellers, Marin and Urin, and what happens after they meet a human girl named Kanon.
Marin and Urin are not biologically related but consider themselves to be sisters. They yearn to leave the sea and venture to the surface.
One day, they find a beautiful ring in the ocean. They promptly decide to return it to its owner- by going up to the surface.
After a rough journey, they finally manage to reach the isolated island where the ring's owner Kanon lives. Urin mistakenly unlocks an ancient power that was locked on the island and now threatens it.
This leads Marina and Kanon to join forces to become the sky and sea priestesses who might be able to defeat the ancient power- the evil Sedna.
Filled with an exciting set of characters, a pretty straightforward plotline and some great action sequences- Umi Monogatari is an amazing watch if you are looking for something different in the anime genre.
12. Tropical-Rouge! Pretty Cure
Genre: Magical girl
Episodes: 46
Where To Watch: Crunchyroll
The series is focused on the life of Manatsu Natsuumi. She is a first-year middle school student who has just moved to the fictional Aozora City. She meets a mysterious person one day- who turns out to be a mermaid called Luara.
Laura is looking for the legendary warriors of the Grand Ocean so that they can help her combat the evil Witch of Delays. The Witch has already begun a conquest of Laura's kingdom- and this is her last respite.
While looking for the warriors, one of the Witch's minions attacks Aozora City, and Manatsu suddenly gains powers of the sea that allows her to become Cure Summer, one of the legendary warriors foretold in the legends of the Grand Ocean.
Soon enough, Laura and Manatsu can find the rest of the warriors and form the Tropical-Rouge team! Pretty Cure.
With a particular focus on friendship and team-building, the series features some fantastic scenes and is a must-watch for magical girl anime fans as much as it is for mermaid anime fans.
13. Squid Girl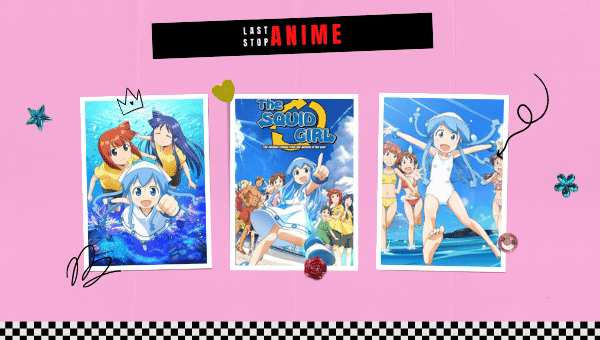 Genre: Comedy, slice of life
Episodes: 12
Where To Watch: Crunchyroll
Squid Gil focuses on the character of the same name, who is resolute in her desire to take over humanity as a means of punishment for its sin of polluting and harming nature.
She plans to take over the Lemon Beach House as a base for her operation. The Lemon, managed by the Aizawa cousins, is damaged by Squid Girl after she swats a mosquito into a wall- destroying it.
As a way to pay back for the damages caused by her, Squid Girl is employed by the Aizawa cousins as a waitress at the Lemon Beach House.
Temporarily on break from world domination, the series follows Squid Girl's life as she navigates daily mundane human life and her dreams of taking over humanity.
14. This Boy Caught a Merman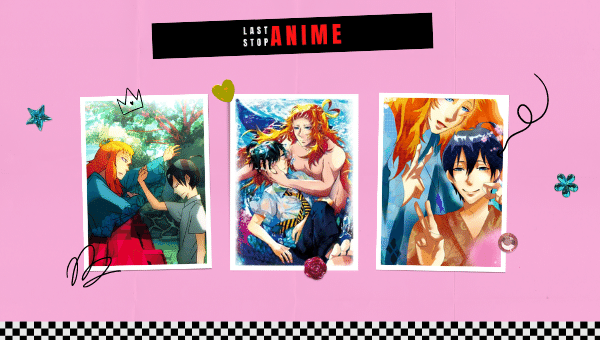 Genre: Yaoi, Romance, Fantasy
Episodes: 1
Where To Watch: N/A
This Boy Caught a Merman is a 28-minute-long OVA episode premiered in 2012. The plot features yaoi elements and is not timid in its representation of the same-sex relationship that the two main characters share.
The plot focuses on Shima Kawauchi, a young boy of shy nature who used to live with his grandfather after his parents divorced each other.
Always trying to be the perfect obedient child, he had overcritical parents and could never be his true self.
Even with his grandfather, although he was happy, he felt lonely. His loneliness becomes even more intense after his grandfather dies. He accidentally falls into the sea but is saved by a merman- who picks the name 'Isaki'.
Isaki and Shima decide to stay together for a while as Shima copes with his grief, Isaki starts to fall in love with the human, but he is forced to watch as Shima makes new friends in his school.
Will he be able to navigate his complicated feelings? Or will he leave and let Shima be alone again? Watch this heartwarming romantic OVA to find out.
15. Doraemon: Nobita's Great Battle of the Mermaid King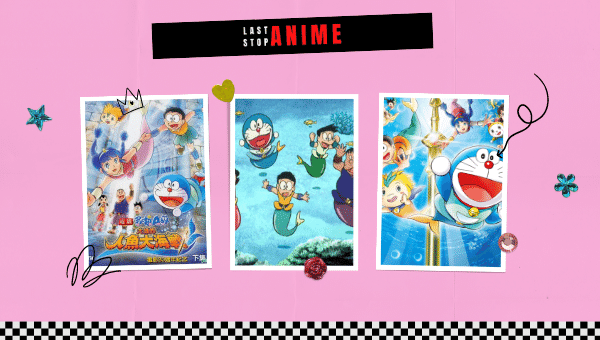 Genre: Fantasy, Sci-Fi, Action
Episodes: 1
Where To Watch: N/A
Doraemon: Nobita's Great Battle of the Mermaid King is an anime film that features the globally-adored anime character Doraemon and his friends Nobita, Shizuka, Suneo and Gian.
After converting the city of Tokyo into a diving pool through his gadget, Doraemon and Nobita enjoy diving at night. The next day they notice that the water has gone, but the fish remain.
Even after they somehow manage to put the fish back in the ocean, they are even more surprised to find a mermaid stuck in their backyard tree.
The mermaid reveals her name to be Sophie, and she asks Doraemon and his friends to aid her in protecting the kingdom of Mermaids.
It is under attack by the King of the Mermans- who is after the Mermaid Sword. You will have to watch the series to find out how Doraemon can save the day yet again.