Anime is not always corny, and not all Shonen anime follows the story of a powerless guy miraculously getting powers, and now he wants to protect his loved ones. There's one anime that is an exception to your average Shonen plot. Also known as Summer Time Rendering aka Summer Time Render.
The 2022 spring anime season was packed with some great anime, but among those, the one that stood out to me the most was Summertime Rendering.
When I watched the first episode, my initial thoughts were, "Oh, another anime like Re: Zero," but Summertime Rendering proved me wrong.
Today, anime's common tropes are time travel, fixing mistakes, and avoiding obstacles. Still, few can do it successfully with strong writing, and an engaging atmosphere that makes it seem like the audience is traveling through time.
Despite some people comparing it to other anime that incorporates time looping, Summertime Rendering distinguishes it from the competition.
Summertime Render follows our main character, Shinpei Ajiro, who visits his hometown of Wakayama when he gets the news about Ushio's death, his childhood friend.
With mystical undertones, Summertime Rendering is the ideal fusion of drama and suspense.
As the protagonists engage in action-packed, witty conflicts with one another, the anime creates the right atmosphere through clever tactics.
Since the anime is coming to an end, fans of mystery thrillers might want to give a try to other popular anime like Summer Time Rendering.
When we say that Summer Time Rendering is similar, we mean that the anime will incorporate themes such as time travel and a murder mystery.
Without wasting any time, let's get on the list.
11. YU-NO: A Girl Who Chants Love at the Bound of This World
Episodes: 26
Status: Finished Airing
Genres: Drama, Sci-Fi
Watch It On: Crunchyroll, Funimation
This is the perfect example of a time-traveling anime, where viewers have to savor its gradual yet complicated evolution through a well-narrated world-building process.
This is another anime you should check out if you're a fan of Steins; Gate because it explores the various paths that fate can take and argues that our decisions always determine our fate.
A young student named Takuya Arima recently lost contact with his father, a historian who has undertaken several studies.
During the summer, Takuya receives a strange parcel from his absent father, along with a letter that describes the existence of numerous parallel worlds.
Takuya initially dismisses it as unimportant, but he quickly understands that he actually has a tool that enables him to enter other realities. Is his father still alive? If so, where is he now?
Similarities Between Summer Time Rendering and Yu-No
YU-NO covers alternate dimensions and time travel, which makes it an anime like Summer Time Rendering in some aspects.
10. Link Click
Episodes: 11
Status: Finished Airing
Genres: Drama, Supernatural
Watch It On: Funimation, 9Anime
Link Click is a Chinese anime, also known as Donghua, that has earned a spot on the list of the most watched anime of all time, and for good reason, of course.
Due to its beautifully told plot and compelling characters, whose interactions are among the highest rated, Link Click has established itself as a massive title and a forerunner among Chinese anime.
The anime's entire premise revolves around the concept of time travel, and it tells the tale of two boys named "Xiaoshi" and "Guang," who own and operate a business called "Time Photo Studio."
The unique quality of these guys is that they can both enter images, go into the past, and view the events depicted in the image from the photographer's viewpoint.
People usually pay these boys to fix problems or alter situations for their benefit while the picture is taken. However, tremendous power also entails great responsibility.
Even if they made a minor error in the past, their clients might see huge changes in the future.
Similarities Between Summer Time Rendering and Link Click
The antics of this Donghua are comparable to those of Summer Time Render since the main protagonists in this Donghua can travel back and forth in time.
However, their ability to do so is somewhat constrained since they can only do so within the next 24 hours and only by using an image taken earlier in the day.
09. Wonder Egg Priority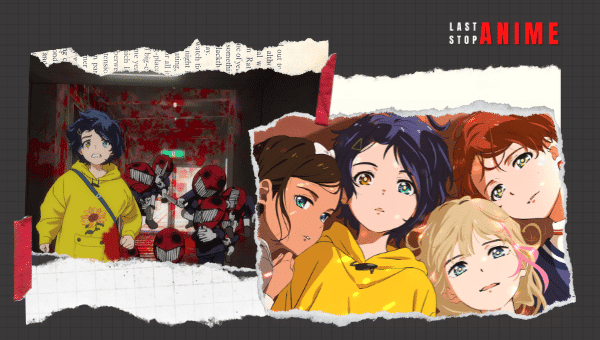 Episodes: 12 + 1 special
Status: Finished Airing
Genres: Drama, Fantasy
Watch It On: Crunchyroll, Funimation
Ai Ooto retreats into solitude when her best friend died by suicide, refusing to attend school and socialize with others. However, one day she encounters an unusual creature that persuades her to buy a "Wonder Egg."
When she breaks the egg at home in the safety of her bed, she discovers that it transports her to a world where those who killed themselves have their troubles and fears manifest as actual fleshed-out beings.
Similarities Between Summer Time Rendering and Wonder Egg Priority
The same enigmatic cloak of mystery and inexplicability surrounds Wonder Egg Priority as it does Summer Time Rendering. Additionally, it incorporates the same elements of fantasy, horror, and psychology while preserving the atmosphere of "regular life."
Whereas Summer Time Rendering horrifies viewers with murders and bloodletting, Wonder Egg Priority horrifies viewers by exploring trauma, abuse, and other very dark subjects.
The main character in this anime with a similar time-traveling plot also has heterochromia (different eye colors), just like Shinpei.
08. Shiki (Corpse Demon)
Episodes: 24
Status: Finished Airing
Genres: Mystery, Horror, Psychological, Supernatural, Thriller, Vampire
Watch It On: Amazon Prime Video, 9Anime
In keeping with the curse theme, Shiki is a horror series set in the remote town of Sotoba in hot summer, where everyone knows everyone.
Everyone in the town is alarmed by the death of Megumi, a young, vibrant girl who wants to lead a glamorous life.
She initially passes away owing to a pandemic that has spread throughout the village, according to the only doctor in the community.
So everyone remains in their homes in the hopes of improvement.
But gradually, as the story unfolds, the theories lean more and more toward the idea that a curse was cast by the new family that recently moved to this town.
Later on, we discover that the victims of the illness that claimed Megumi's life also turn into "Shiki" (zombies) after passing away.
Similarities Between Summer Time Rendering and Corpse Demon
The quiet village where the storyline is set is the same setting. Strange and incomprehensible events continue to occur, but they are mingled with regular everydayness, making them much creepier.
Both shows don't hesitate to display extremely dark and bloody themes as people continue to vanish and die in strange scenarios.
07. Id:Invaded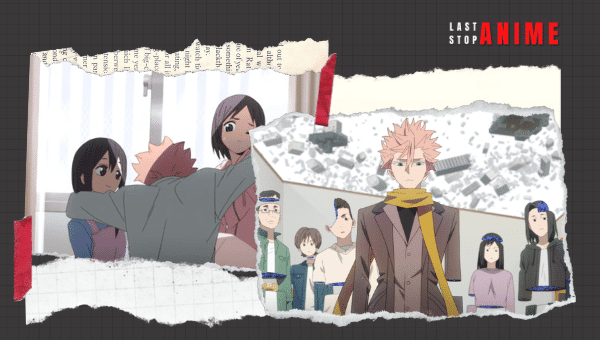 Episodes: 13
Status: Finished Airing
Genres: Mystery, Sci-Fi
Watch It On: Crunchyroll, Funimation, Hulu
Summer Time Rendering is the basis of a brand-new sci-fi-tinged anime series. It fails to share the time travel or curse elements adequately, but it amplifies the mystery element.
ID: INVADED portrays the story of "Narihisago," a detective imprisoned after killing his daughter's murderer.
A program called the Mizuhanome System gives users access to the human mind. Detectives can create the virtual worlds of the murderer's mind and, via its exploration, identify the offender by gathering "cognition particles" left at crime scenes by the perpetrator.
Given the circumstances surrounding his daughter's case, he is slightly fascinated with assassination.
Despite all of this, he continues to work for the detective agency Kura, conducting "ID well" investigations into criminal cases.
Narihisago is the ideal volunteer for this because he is a prisoner, but if someone is slain in the "ID well," they risk dying.
As you delve into the twisted minds of murderers, you will observe dark characteristics in both Narihisago and the assassins throughout all of the criminal instances.
Similarities Between Summer Time Rendering and Id:Invaded
ID: Invaded is more of a murder mystery/science fiction hybrid, although fans of Summer time Rendering's investigative style will likely love it.
Similar to Summer Time Rendering, numerous hints about the mystery's nature are dotted throughout the anime.
Audiences can get a decent notion of the plot's overall future development if they pay attention to each episode.
Although it does not contain time loops, there is a parallel universe in which the investigator, whenever he is murdered in the "Mizuhanome System," is, in fact, "revived." Still, he has no memory of his previous "life."
This one will probably appeal to you if you enjoy psychological murder mysteries.
06. Parasyte: The Maxim
Episodes: 24
Status: Finished Airing
Genres: Action, Horror, Sci-Fi
Watch It On: Amazon Prime Video, Hulu, Netflix
The curse theme from Summer Time Rendering is carried over into Parasyte animation. It takes place in a world where tiny extraterrestrial creatures known as "parasites" have taken over and are in control of people by invading their brains.
However, our main protagonist, "Shinichi," must deal with a parasite that stays in his hand and cannot enter his head.
Shinichi and his parasite Migi work to rid the planet of parasites by developing a symbiotic connection.
Shinichi encounters a girl named "Kana" at this time who can detect the presence of parasites in people.
Throughout the anime, events take various turns, and we discover that a parasite cannot comprehend many aspects of the human heart.
Similarities Between Summer Time Rendering and Parasyte: The Maxim
Like Summer Time Rendering, threatening shape-changing monsters that kill and then impersonate people are also present.
Both include some of these monsters engaged in combat on the opposing side for various motives.
There is a lot of bloody action, but Summer Time has a stronger mystery element.
The Parasyte is a beautiful anime that, in many ways, resembles Summer Time Rendering since it has similar beings that steal one's identity to fool those around them.
Unlike Parasyte: The Maxim, which uses "parasites" that can take over a person's body and control them, Summer Time Rendering uses "shadows" that duplicate a person's data to adopt their form.
Though this is not a time travel series, the curse aspect and a strong story make their way into our list.
05. Steins;Gate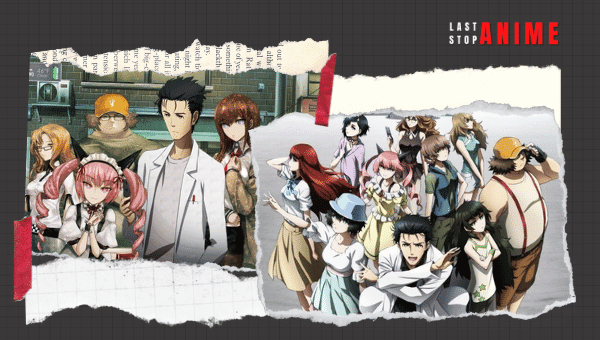 Episodes: 24
Number of seasons: 1
Status: Finished Airing
Genres: Drama, Sci-Fi, Suspense
Watch It On: Crunchyroll, Hulu, Funimation, Netflix
Steins; Gate is also built around time travel, just like Summer Time Rendering.
The protagonist of Steins; Gate is Rinatrou Okabe, a self-proclaimed mad scientist who established the Future Gadget Laboratory in his room with his two companions, Mayuri and Hashida.
Despite his efforts to develop numerous devices, he only has one successful creation: a phone microwave that can convert bananas into a green gel.
However, Okabe eventually learns that the phone microwave could be used to communicate with the past, which impacts the present.
Similarities Between Summer Time Rendering and Steins; Gate
Time loops, strange fantasies, and murders abound in the anime, resembling Summer Time Rendering despite having a more serious subject matter.
There is a clear distinction between the two: Steins; Gate is far slower-paced, intellectual, and scientific than Summer Time Rendering.
Steins; Gate time travel experiments and efforts to solve a crime. Stein; Gate's story is similar to Summer Time Rendering if we consider the time traveling aspect.
04. Re:ZERO -Starting Life in Another World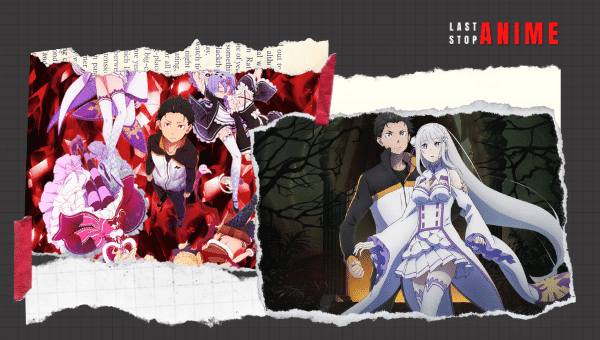 Episodes: 25
Number of seasons: 2
Status: Finished Airing
Genres: Drama, Fantasy, Suspense
Watch It On: Crunchyroll, Netflix
You had this one coming. Back in 2016, when the anime was released, it was immediately considered a roaring success. People who watch this know there are many similarities between the two anime.
One of the main similarities is that the main characters share the same time-traveling ability.
When Subaru Natsuki was returning from the convenience store, he was suddenly called to another realm. A chain of events occurs when Subaru Natsuki unexpectedly finds himself in a fantasy world.
The only person to reach out to him was a stunning girl with silver hair as he was lost and perplexed in a new world where he didn't even know left from right.
Although the premise sounds like any other Isekai story ever written, the humor of this anime derives from the protagonist's constant parody of the cliched series of events that keep happening to him even though he is fully aware of this.
Subaru also has the strange power to "return-by-death": each time he dies, he travels back in time to certain periods and can change (or at least attempt, and try, and try again) the circumstances that led to his death.
Similarities Between Summer Time Rendering and Re: ZERO
Characters with mysterious abilities cause each unexplained event in both shows.
Both shows are psychological thrillers in which various unsolved secrets surface, and the protagonists must determine how to alter the present and the future.
The thriller Summer Time Rendering is centered on a murder mystery. On the other side, Re: ZERO – Starting Life in Another World is an isekai fantasy that prioritizes action and adventure.
The main characters had to endure numerous deaths to discover the path that would increase their chances of survival.
The only difference between them is a supernatural ability for Summer Time Rendering, whereas it is a magic ability for Re: Zero. Both series, it goes without saying, strongly rely on their fantasy and horror components.
03. Tokyo Revengers
Episodes: 24
Status: Finished Airing
Genres: Action, Drama, Supernatural
Watch It On: Crunchyroll, Disney+, Netflix
Tokyo revengers were one of the most popular anime in the year 2021. Hanagaki Takemichi unexpectedly travels back to his high school days, when he was a gang member before he was shoved to death in front of a moving train.
Takemichi uses this opportunity to save the individuals he loves who, in the absence of the notorious Tokyo Manji Gang, would otherwise perish.
When he returns to the present, he realizes that whatever series of events he altered appears to have impacted the future.
Although his ex-girlfriend and her brother are no longer killed, the perpetrator can still carry out the original crime and is nowhere to be located.
This is a tale about confronting fate, learning the truth, and going back in the past to prevent deaths.
Similarities Between Summer Time Rendering and Tokyo Revengers
The plot of Tokyo Revengers includes a murder mystery and an element of investigation, much as Summer Time Rendering.
In contrast to Summer Time Rendering, Tokyo Revengers, which heavily emphasizes its time loop, focuses more on the perilous, alluring, and brutal lives of the teenage gangs than it does on time travel.
In contrast to Summertime Rendering, Tokyo Revengers does not require the protagonist to pass away for his abilities to become active.
Hanagaki Takemichi, the protagonist, can travel back and forth in time, making changes in the past and seeing how they affect the future.
02. When They Cry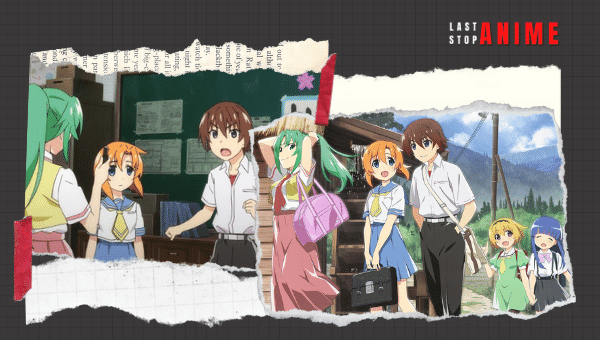 Episodes: 24 + specials
Number of seasons: 7
Status: Finished Airing
Genres: Mystery, Dementia, Horror, Psychological, Supernatural, Thriller
Watch It On: Funimation, Hulu, Netflix
There are seven seasons for Higurashi When They Cry, and the latest anime season was aired in 2021. Now we are not going to talk about the new season but the OG one, which aired in 2006.
The story of Higurashi follows Keiichi Maebara as he relocates to the serene village of Hinamizawa. Keiichi makes friends easily with Satoko, Rika, Mion, and Rena and loves his free time in the small town.
However, as luck would have it when the annual festival of Hinamizawa draws near, Keiichi learns about a puzzling string of fatalities that appear to occur in the village every year at approximately the same time.
Similarities Between Summer Time Rendering and When They Cry
Both take place in a tiny, remote town in rural Japan. The plot includes time loops, which initially have a propensity to reset in horrifying ways.
Both anime appear to be slice-of-life at first, but the audience is soon horrified by the violence and graphic depictions of murder.
Both examine how the protagonist's psychology changes as he gradually adjusts to his new surroundings.
01. ERASED
Episodes: 12
Status: Finished Airing
Genres: Mystery, Psychological, Supernatural, Seinen
Watch It On: Amazon Prime, Crunchyroll, Hulu
In the anime Erased, Satoru Fujinuma, a poor manga artist who quit his job to deliver pizza, learns that he has a time-traveling ability called Revival.
He uses it to travel back in time to solve a string of killings, including those of his mother and a childhood friend.
Similarities Between Summer Time Rendering and Erased
Each of these features a paranormal mystery with time loops that appear to be set off by the protagonist's passing, and their plots are practically identical.
Both have violent murder scenes, several serious psychological topics, and adorable slice-of-life elements.
The atmosphere in Erased is more frigid and psychological. However, they have a similar plot, locale, and unique components, such as the presence of a group of friends that will join the main character on his mission.
The story Boku dake ga inai machi is packed with plot twists and focuses on themes such as life and death.
---
Honorable Mentions
Mononoke
Yojouhan Shinwa Taikei (The Tatami Galaxy)
Island
Rokka: Braves of the Six Flowers
Umineko no Naku Koro ni (Umineko: When They Cry)