Dementia anime refers to a specific sub-genre of anime that is so terrifyingly mind-blowing that it is guaranteed to make you question your reality. But then again, the world of anime provides almost everything.
They are usually dark-themed and have mind-bending plotlines. But unfortunately, things can turn ugly at any moment, and the thrill you could get from watching any dementia anime is almost cruel.
So yes, if you are looking for a comfortable watch, this is not for you.
Any lover of thrillers, gore, and mysterious dark adventures will be highly satisfied by what dementia anime has to offer.
11 Dementia Anime That Will Blow Your Minds
1. Neon Genesis Evangelion
One of the most popular dementia anime out there, Neon Genesis Evangelion, is a dark, fun, and thrilling sci-fi ride that will punch the viewers in the gut just as often as it comforts them.
From giant fighting robots, multiple tragic deaths, and simply brilliant plot twists, each episode of this highly-rated series keeps the audience on the edge of their seats.
Neon Genesis Evangelion is about the adventures of Shinji Ikari. He is quite the ordinary boy who lives a somewhat normal life, except for the fact that his father abandoned him as a child.
Years later, as the world stands on the brink of extinction, he receives a call from his estranged father.
He seeks compatible pilots who could pilot a bio-machine- Mecha suit called Evangelion.
But unfortunately, his father is a part of the shadowy special agency called Nerv, which aims to protect the planet from the brutal attacks of demonic creatures called "Angles."
What follows is a deep dive into the psychoanalytical deconstruction of the human condition- what causes us to do what we do, and what do our actions ultimately lead to?
Featuring elements from various myths bound the interest of the occasional mythology geek, Neon Genesis Evangelion's popularity at one point reignite the interest in anime- giving the industry a much-needed boost.
But the best part about this show? Despite having so many different sub-plots and multiple character arcs, all of them lead to the story's end goal.
All the more reason why Neon Genesis Evangelion deserves all the credit it gets.
2. Mind Game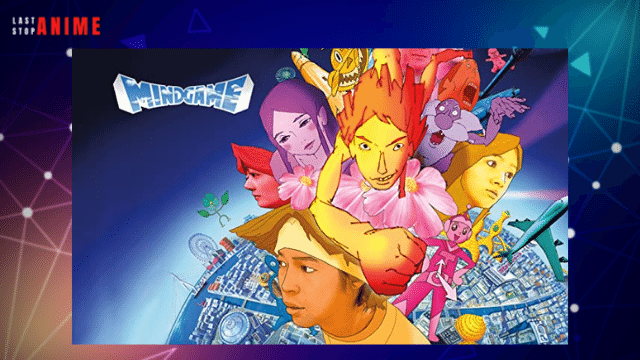 Based on Robin Nishi's manga of the same name, Mind Game is just weird. At one point, the main character uses his buttocks to grab a gun from a yakuza gang member to kill him. And it just gets way lot crazier after this.
Layered with meanings and never straightforward, Mind Game features multiple visual animation styles- which is a rare thing to see in a movie.
The story begins with Myon- the female lead- running from the yakuza on a train platform. Then it cuts to focus on the male lead- Nishi- a 20-something loser who once aspired to be a manga artist.
He runs into his childhood sweetheart Myon on the subway. Nishi has loved Myon since they were children, but unfortunately, he discovers that she will get married.
They decide to go to her father's restaurant and meet her fiancé and her family.
At the restaurant, they are ambushed by a couple of yakuza gang members who have a personal vendetta against Myon's father.
What follows is a near-death experience, a lengthy chase sequence, and a survival story of sorts, all of which are constructed on such an absurdist level that the ending credits say- "this story has never ended."
3. Boogiepop Phantom
There is an overbearing feeling of tension that clouds the entire viewing experience of Boogiepop Phantom. This dementia series is extremely dark- and the color palate the creators have chosen for it justifies the series' mood.
Boogiepop Phantom centers around the urban legend of Boogiepop.
Many consider this mythical figure to be a personification of death, while others laugh it off and question how it could exist in this time and age.
The series is set in a fictionalized and unnamed Japanese city, which remains haunted by mysterious and unsolved serial killings that happened five years ago.
The events in the show take place just a month after a mysterious pillar of light appears in the night sky. Soon enough, high school students start disappearing again.
The show follows multiple characters as they transverse events they witness that are bound to shake, confuse and mortify the viewers.
Consisting of just 12 episodes, give this fantastic anime a watch if you can stomach its darkness.
4. Serial Experiments Lain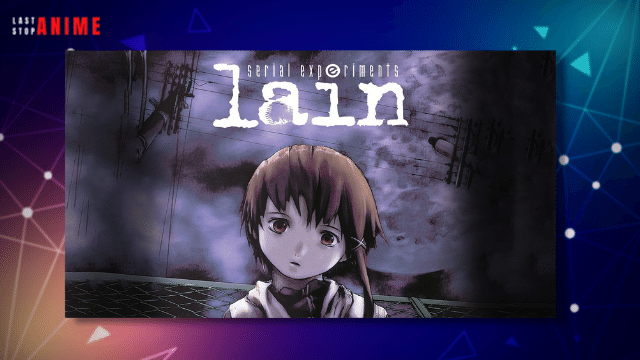 Serial Experiments Lain is perhaps the closest you can get to watching a delirious marriage between the reality-bending sci-fi genius of Lucy and The Matrix.
The series was conceived with stress on keeping it original to such levels that producing it would pose an enormous risk.
However, with such a radical intent toward producing anime, the series was bound to be mind-blowing.
Serial Experiments Lain centers around Lain Iwakura.
She is an adolescent girl who lives in suburban Japan with her computer-obsessed father, emotionally distant mother and an inexpressive older sister.
Awkward and socially isolated, the introverted fourteen-year-old Lain's life changes when she learns about a disturbing email sent by her classmate- Chisa Yomoda, who invites her to become a part of her larger destiny.
The weird part is that this very same Chisa had killed herself some time back.
Lain soon learns that the thin line between reality and the virtual world is slowly fading, to the point that human consciousness would be able to transverse the vast expanse of the Wired (the show's version of the internet) and access all sorts of human communication.
But beyond this promise lies something dark and sinister- something that threatens to spill out when one man tries to become God in this new world.
The rest of the series follows Lain as she discovers her role in this new world (even though she has neither the desire nor the intent to do anything with her destiny inside the Wired); and other characters who have their motives to control or subdue the Wired's new potentials.
5. Devilman Crybaby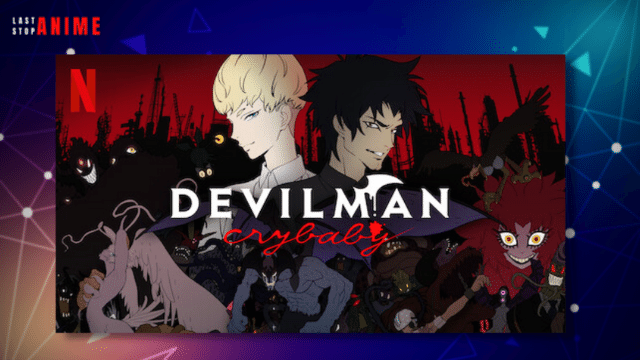 One of the most violent and bloodiest anime series, Devilman Crybaby, is not for the faint-hearted.
Touted as one of the best anime series of this decade (which features giants like Attack on Titan, Jujutsu Kaisen, and others- hence this is no mean feat), this show should be watched just for its visual brilliance.
The show is set around the life of Akira Fudou, a teenager who suffers from heart disease.
He accidentally runs into a childhood friend Ryo Asuka who convinces him of the existence of demons.
Ryo firmly believes that this ancient race of demons is set to destroy the entire human race if left unchecked.
So he proposes to Akira that he should merge with a demon- gaining its strengths but retaining his soul and humanity to fight against the demons.
In an underground club, after a bloody and violent fight, Akira manages to merge with a demon- Amon.
He transforms into a Devilman and begins his deep dive into violence against the demons who threaten to hurt him and those close to him.
But merging with a demon comes with its costs, and Akira learns fast enough that he might be on the wrong side of the war for once.
Delving into deeper themes like war, bigotry, nihilism, and more but still entertaining the audience with its treatment of the story, Devilman Crybaby is justifiably one of the best anime series of the decade, if not of all time.
6. Paranoia Agent
Coming from the creator of Paprika and Perfect Blue- Satoshi Kon's Paranoia Agent might not be as popular as the other dementia anime on this list.
Still, the sheer power in its plot and how it is untangled makes it worth the watch. The only weak point about the show is that the animation is sometimes somewhat tardy, even downright disappointing.
The plot centers around a serial assailant named the Lil' Slugger (whose Japanese name is the way cooler Shōnen Bat, which translates to "Bat Boy").
He is reported to be an elementary school student who wears golden in-line skates and a baseball cap and attacks with a bent golden baseball bat.
To write anything more about the show's plot would mean cheating the viewers of the suspense surrounding the show's depicted events.
But I will tell you this much- as the people affected by the Lil' Slugger's assaults scramble to figure out his identity and intentions- dark secrets spill out that affect their reality.
7. Yamishibai: Japanese Ghost Tales
Yamishibai: Japanese Ghost Tales is an anthology series that focuses on different stories in each episode. Comprising urban legends and myths scattered across Japan, the animation style seeks to mimic the kamishibai method of storytelling.
There are only two common elements in all the episodes.
The first element is the presence of a man in a yellow mask who calls children to listen to his stories.
He is the kamishibaiya or kamishibai narrator, who has a traditional paper scrolling device that shows illustrations mounted on the back of his bicycle.
The second element is that all these stories are so horrifying and thrilling that it would be unethical for any child to hear them. So yes, again, this particular show is not for the faint-hearted.
Yamishibai: Japanese Ghost Tales is an ongoing series with ten seasons with more than a hundred episodes.
A long and challenging watch, but for anyone who wants to experience Japanese horror in one of its best forms, this is probably the best place to start.
8. Ousama Game: The Animation
Ousama Game can be easily defined as Squid Game, but with depressed, violent, and scary Japanese teenagers replacing the cast.
If you remember the Whale Game challenge from a few years ago, Ousama Game's plotline will seem familiar.
The plot follows the students of Class 2-1 of Kure Academy who receives a text message on their cellphones from a person who identifies as "King."
These text messages contain "orders"- failure to obey these orders meant that the receiver risked punishment by death. Initially thinking of the texts as a joke, students ignore them- until their classmates start dying.
In the center of it all is the show's lead protagonist- Nobuaki Kanazawa. Nobuaki has a particular vendetta against King and his sadistic game- he has already played it before, and the last time he was the final survivor.
Filled with fantastic plot twists, betrayals and brutal representations of the human condition at its lowest, Ousama Game is a must-watch for dementia anime fans.
9. FLCL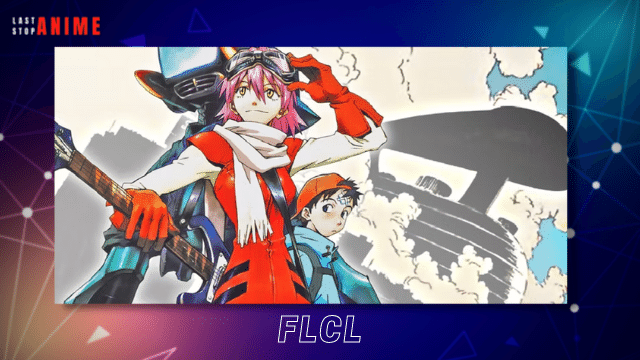 Imagine you are walking down a road, and someone slams their vehicle into you, knocking you out. Would you expect robots to appear out of your forehead that evening? Well, that's what happens to Naota Nandaba.
Naota is a 12-year-old boy who lives with his widowed father and grandfather in a city where nothing much happens.
His uneventful life is interrupted by the arrival of a pink-haired maniac named Haruko Haruhara, who slams her Vespa into the young boy.
He gets knocked out, and she revives so she can hit him on the head with an electric bass guitar.
What happens next is the inclusion of powerful alien beings that herald earth's ruin, space confederations that engage in fierce tactical operations to ensure the survival of the world; and weird robots.
All of which are guaranteed to make you grab onto the edge of your seats with thrill as you simultaneously rack your brains to understand the madness that is the plot of this delightful show.
10. Berserk (1997)
Dementia anime is infamous for the gore and violence that sometimes is necessary to shock the viewers. But even the more hardcore dementia anime fans will view Berserk as bonkers.
The plot is filled with gruesome twists and terrifying reveals, while the action and violence are enough to keep up on most nights.
Berserk features one of the most iconic protagonists of all time-Guts. A tortured soul marked to be haunted by evil spirits and demons for all his life, he started as a fierce warrior who found his way into the folds of a mercenary group called the Band of the Hawk.
Led by a charismatic and able leader Griffith, Guts rises to the top of the group and befriends Griffith, who shares his dream of having his kingdom rule one day.
The rest of the plot focuses on Guts and Griffith and what has led to Guts' present predicament, where he has resolved to hunt down Griffith for revenge.
Involving psychosexual themes and religious motifs that deepen the meaning behind almost every scene depicted, Berserk is perhaps one of the nets anime series of all time.
However, any graphic warning will fall short of making the audience ready for the bone-chilling violence depicted in the series (the manga is even more notorious in this aspect).
11. Perfect Blue
Any list of dementia anime will fall short without including at least one of Satoshi Kon's works.
Paprika is confusing and mind-bending, but the less popular yet just as highly-rated Perfect Blue takes the whole meaning of mind-bending to another level.
Perfect Blue's plot follows the events that take place in the life of Mima Kirigoe- a popular member of a Japanese idol group who retires from music to pursue a career in acting.
However, her actions seem to anger someone as she slowly discovers that she is being stalked, and soon enough, gruesome murders begin to occur around her.
Gradually, unable to cope, Mima starts to find it increasingly complex, what is the difference between fantasy and reality.
Much like Satoshi Kon's other works, Perfect Blue is a fantastic portrayal of what happens when a mind slips and begins to lose grip on reality.
There is a sharp focus on psychological themes that will keep the viewers engrossed and guessing until the last scene- how real is anything that they have been watching.