We often run away from a long commitment to a series, whether anime or any other show. That's why we look for short anime series to satiate our hunger for entertainment without being in a long commitment of hundreds of episodes to complete a story.
But as easy as it sounds, It isn't easy to pick the best 12-episode anime or less. So many short anime series exist in the anime world, and many fans like them, especially in the romance genre.
Therefore, we wanted to make it as versatile as possible to be suitable for everyone. However, the tops we pick are great shows; anyone watching them will find them entertaining.
Also, we are going to include My Anime List rating as it's a platform where fans judge and rate any show after watching it.
List of Best Anime Within 12 Episodes
16. Devilman crybaby
Genre: Dark Fantasy, Action
Number of episodes: 10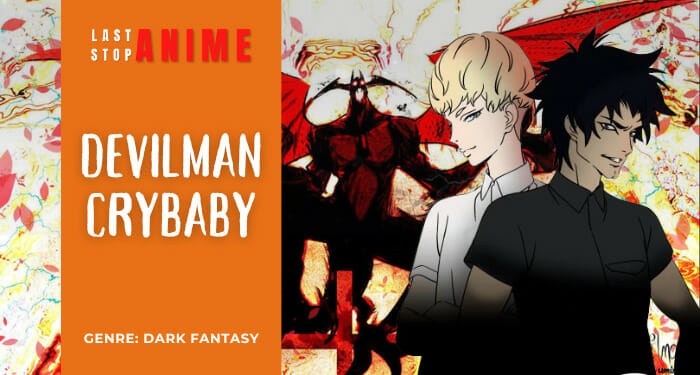 Devilman Crybaby is a story of a guy named Akira Fudou who, in order to save his friend, merges with the devil Amon and becomes a Devilman and starts to defeat demons for the sake of humanity.
The story sounds interesting. However, it received both types of reviews. Some find it good with nice pacing.
Others say it's good in the first few episodes but start to disappoint as it proceeds to the end. It also has some adult content that is fanservice to some, but others don't like it.
It has a rating of 7.7 out of 10 on My Anime List, which is good, but I think you should give it a try and see for yourself if it matches your taste or not.
I included it in the list as it is a short anime with less than 12 episodes and was the anime of the year in 2018 when it was released.
15. Owari no seraph
Genre: Dark Fantasy, Action, Drama
Number of episodes: 12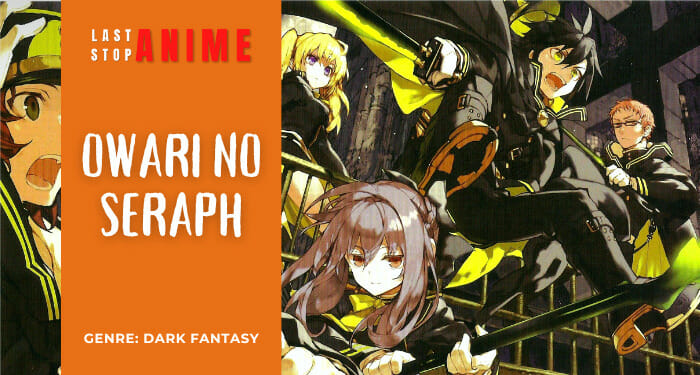 Owari no seraph shows the post-apocalyptic setting in which humans seek revenge over creatures that slaughtered their families.
It is an anime with children in the main cast. Yuuichirou, one of the captives from the orphanage, manages to survive and come out to the other side, where he has been found by a military unit that kills vampires in the country.
This anime's setting is good, a plot on which it is based but quickly gets distracted over the main theme and focuses on typical high school life.
Yes, obviously, there are action scenes. Art and sound are normal too. It is like just don't expect anything, especially nothing like the attack on titan, and you will be good.
You will enjoy the show. A must-try Short Anime with exactly 12 episodes.
14. Ao Haru Ride
Genre: Drama, Romane, Slice of life
Number of episodes: 12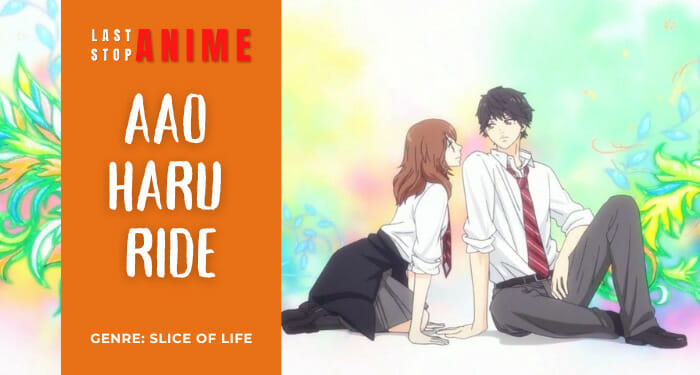 Ao Haru Ride is an anime series completely for Shojo fans. It may not be liked by shonen fans and find it cliche, but shojo fans will probably like it.
It's a story of a young girl and a man named Futaba Yoshioka and Kou Tanaka. Futaba was a very popular girl in her middle school and was liked by everyone.
She had a major crush on an innocent boy Kou Tanaka, but a fight between them separated them from each other. In high school life, she meets him again but with a different name and different personality.
The anime is about this girl who tries to find out what happened in the last three years that led them here. This anime has been rated 7.6 stars on My Anime List, which is good, so I guess you will enjoy it.
13. Mushoku Tensei: Jobless Incarnation
Genre: Drama, Fantasy, Ecchi
Number of episodes: 11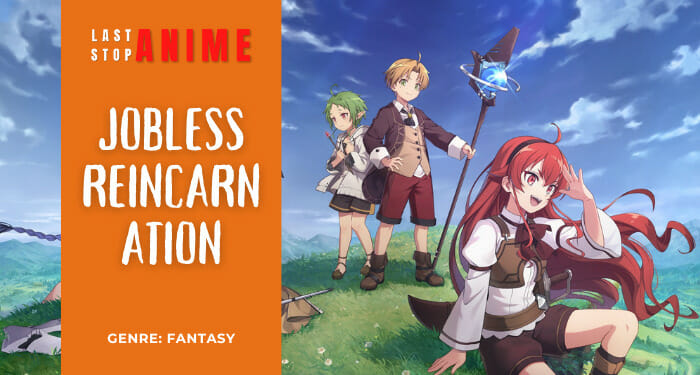 Mushoku Tensei is based on a fantasy world. The protagonist, after death, was reincarnated in a different world with all the memories retained.
A story of a boy who was once bullied, scorned, and oppressed now has everything and amazes people with his magical talent. However, he found something in this world that he could never find in the old world: Love.
Although it's a very controversial anime but is rated 8.3 out of 10 on My Anime List, so I think you will enjoy it.
12. Given
Genre: BL, Drama, Romance, Slice of life
Number of episodes: 11
It's been said that even if you are not a fan of BL, Given comes in must-watch anime. It is the only BL available on Netflix due to its popularity and is rated 8.3 stars out of 10 on My Anime List.
Given is beautifully themed with music. It is a highly relatable, warm, and down-to-earth anime. No unnecessary drama. Nothing like a typical romance anime.
Every dialogue spoken or written are very heart touching. Each and every character are given their own story. Nothing will feel like being out of space.
On top of all these things, the music given by Centimillimental is very praiseworthy. It brings goosebumps to the listeners. It's perfect.
Once again, Given is a special anime that combines realistic emotions, feelings, and music. This short anime will make you realize the importance of friends, time, and communication.
11. Yuri! On Ice
Genre: Sports, BL
Number of episodes: 12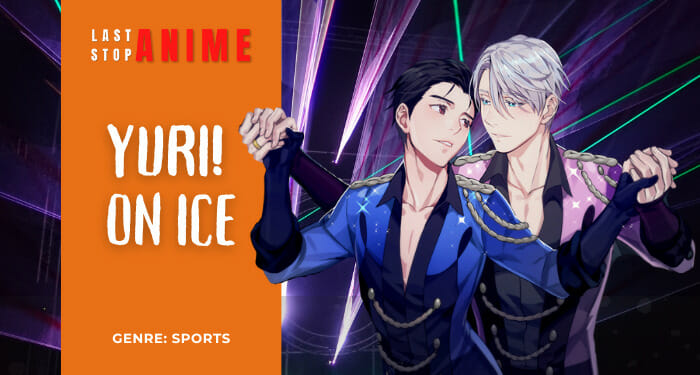 People judge an anime very easily, especially when discussing these types of anime. However, this anime is more than just a BL. In fact, it's a great sports anime before a BL anime series.
Yuri! On Ice is a figure skating sports anime that represents the life and growth of people. Nothing exaggerated. It's a very light-hearted series.
The anime's theme is uplifting, meaningful, and carefully woven into the plot. It's great. Yes, it features boy love, but that does not override the main theme. Rather it adds it to the story.
Another thing is the art style. The choreography is presented very beautifully with perfect songs. Animation is beautiful, with a balanced amount of comedy and seriousness that a sports anime should have.
If I talk about the characters, they aren't shown to chase their dreams by learning something.
Instead, they are already good at it and are shown to polish their skills and develop that one thing they lack. They are shown to face their flaws and fears.
In conclusion, it's a great short anime with only one season, which one should watch without prejudice.
10. Noragami
Genre: Action, Fantasy
Number of episodes: 12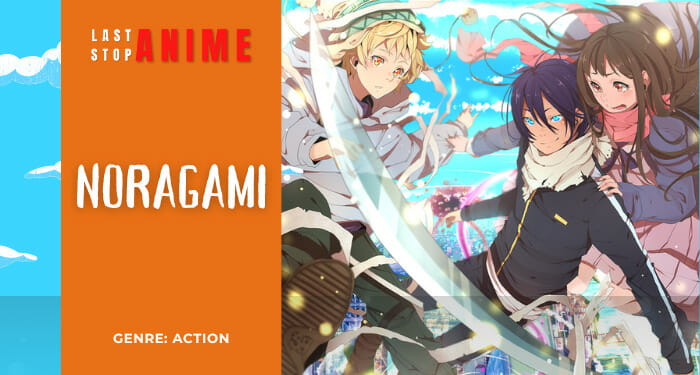 Noragami does not have an overwhelming plot but is a short anime with 12 episodes that keep you entertained. It's very enjoyable. The colors used by Studio bones in its arts are quite likable, and the animation in fight scenes is good too.
Yato, a deity who calls himself a god, is quite a mysterious character. He is very funny and works for people for just 5 yen, no matter how big the work is.
It's hard to deduce and judge what kind of character he is. He saves the other main characters; a girl named Hiyori Iki and a small 14-year-old boy named Yukine, who becomes Yato's weapon.
It's quite interesting to see them not going along at first and then developing, trusting, and learning about each other.
I want to appreciate the voice actors Hiroshi Kamiya and Yukki Kaji, who played Yato and Yukine, respectively.
Some people say a few words about characters like Yato and Bishamon, but I guess it's just hard for them to understand well-written, realistic characters that are a little complex to read.
If you are going for some fun after a tiring day, it's definitely for you! It also has another season, with more than 12 episodes, which are even greater. This anime is also on Netflix. So Netflix and chill!
9. Kaguya Sama: Love is War
Genre: Comedy, Romance, Slice of life
Number of episodes: 12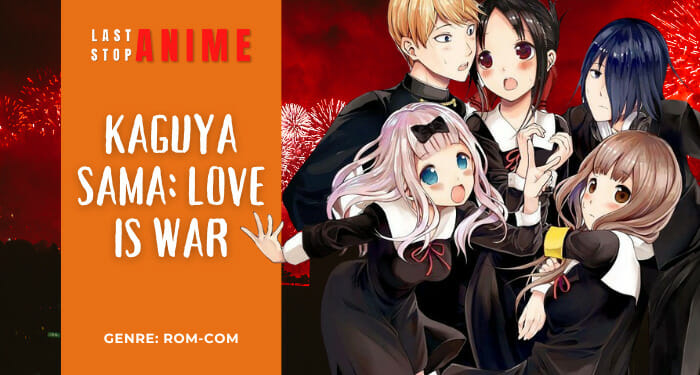 Kaguya Sama: Love is War is a very funny show. The name may seem weird, but the anime is weirder, and that's what makes it a good show.
You must have heard about a girl named Chika who, even being a side character, was all over the internet with her Chika dance and all innocent, cute moments.
Kaguya Sama, being a slice-of-life anime, doesn't have much of a story or plot to follow. It is based on two high school students who fall in love with each other, but no one confesses.
The funniest part is they try hard and their best to make each other confess their feelings but fail every time. The high schoolers who are the top students in their nation fail in their personal or love life. There are a lot of factors affecting in there, including Chika.
It is very fun to watch and with a very good comedy. It's ranked 8.4 at My Anime List and is highly in demand that it got 3rd season recently airing.
Also, because of its genre, you don't have to worry about where to stop and can watch it even after a tiring day for a smile on your face and a lighting mood and don't have to wait for a weekend to watch.
8. Erased
Genre: Psychological, Mystery, Sci-fi
Number of episodes: 12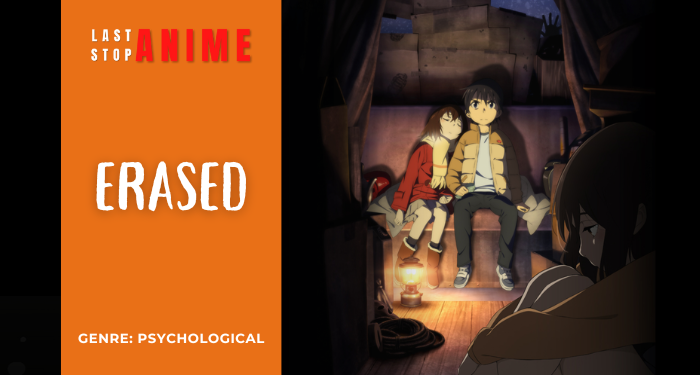 Erased is a great anime series. It's based on time travel. The main protagonist, Satoru Fujinuma, gains the power of 'Revival' by which he can go back in time to save many lives.
But, in order to do that, he has to save the life of his classmate, who was abducted and murdered.
Fans like its art, and some extra effects they added, like 'Revival,' are portrayed by showing blue butterflies. The characters are good too, and overall it's very enjoyable.
Yes, there are shows like Steins; Gate, another masterpiece with the same theme, but it's different from other such anime that is based on time travel. In addition, it has a dominant mystery genre which makes it different from others.
If you like mystery and detective shows, this one is recommended. You would like it. It was the most popular anime of 2016 when it was aired. It has 8.3 stars out of 10 on My Anime List and is also available on Netflix.
In my opinion, it is one of the best short anime to watch doesn't matter if you're a newbie or a veteran anime watcher.
7. No Game no life
Genre: Action, Comedy, Fantasy
Number of episodes: 12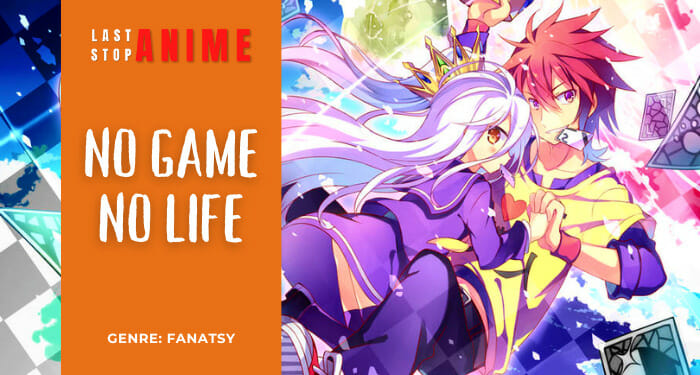 No game No life is a very good short anime series. It is about two stepsiblings, Sora and Shiro, who are high intellectuals and play games all the time.
One time, they get trapped in a fantasy world of games. This gaming world has strategy games like chess to settle a thing or to decide anything, like how wars do in modern society.
These siblings have a goal to save different types of races and bring them together. Hence, they try to become the new rulers of the enigmatic realm by playing games.
It's an interesting anime series and one such anime that have a very different art style. It's very colorful and vibrant, very beautiful to see.
No game No life is a very enjoyable 12-episode anime with 8.1 stars on My Anime List and is also available on Netflix.
6. Mob psycho 100
Genre: Action, Comedy
Number of episodes: 12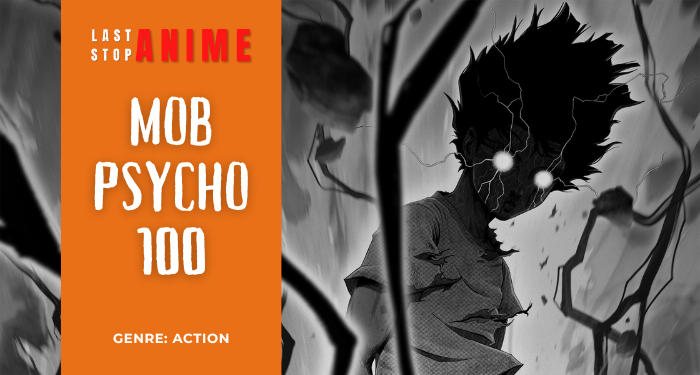 Mob psycho does not have a story, but it revolves around a boy named 'Mob' who wants to live a simple life. It's episodic in which Mob learns to control his powers and not go on a rampage.
Mob wants to impress his crush, but he can't unleash much power as they become out of control, making him a psycho, as the name suggests.
To control his powers, Mob starts to work under Arataka Reigen, a con artist claiming to be a psychic, who does nothing but use him for his own purposes and pay him less. It's an adventurous story of Mob on how he exorcises evil spirits with his powers.
Mob Psycho is the creation of the same artist who created one punch man. It was a very hyped anime, and the best directors directed its animation, so it has some best art and animation.
The story may seem very serious, but its comedy makes it a light-hearted series that can be best for one after a tiring work schedule.
This Short Anime has two seasons with around 12 episodes each and is rated 8.4 stars on My Anime List. This anime is also available on Netflix.
5. Death Parade
Genre: Psychological Thriller
Number of episodes: 12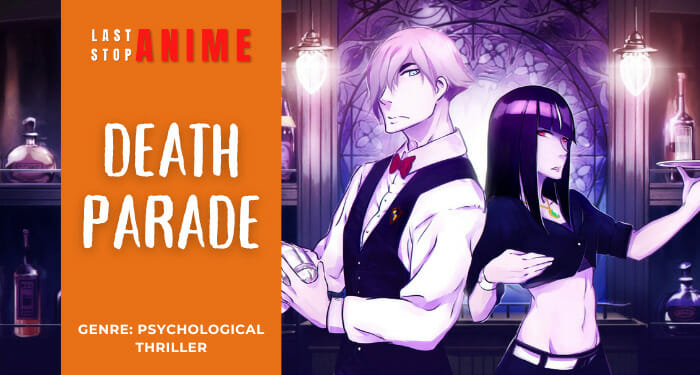 Death Parade is an episodic anime with no such story. In this anime, an enigmatic figure named Decim acts as an arbiter in a bar named Quindecim.
People after death enter this bar with another person who had died at the same time. Decim passes the judgment for these people.
The judgment is based on life-threatening games and decides if the person should be reincarnated or sent into a void, never to be seen again.
Though these 12 episodes are not based on a continuous story, watching different games and people realizing their true selves is interesting.
It's fascinating to see human emotion and action all in one. Not only this, but the soundtrack and animation are also good.
The opening of the Death parade "Flyers" by BRADIO is very popular. This whole anime is rated 8.1 stars on My Anime List and is available on Netflix.
4. KonoSuba
Genre: Comedy, Adventure, Isekai, Fatasy
Number of Episodes: 10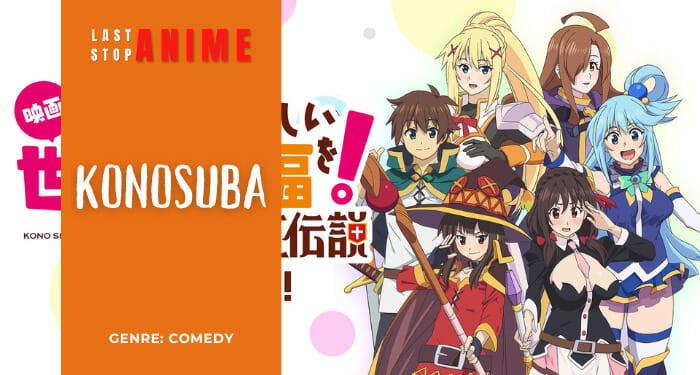 KonoSuba starts with the tragic death of Kazuma Sato, who was a good-for-nothing shut-in weeb. Then, a goddess offers him another chance at life in a magical world to defeat the demon king in that world.
Kazuma is isekai'd and reincarnated as a low-level adventurer. He forms a kind of dysfunctional party with Aqua, a useless goddess, Megumin, an archwizard who can use only one spell, and Darkness, a crusader who can not even hit a single target.
KonoSuba is one of the best comedy isekai anime I've ever seen. This short anime has 2 seasons with around 10 episodes each which you can watch as random as every second of it will make you laugh or at least smile.
3. The Promised Neverland
Genre: Psychological Thriller, Mystery, Sci-fi
Number of episodes: 12
The Promised Neverland is an awesome anime series. It's a worth-watching anime series with great characters. It can truly make you thrilled with suspense and horror.
It has small children being the main characters but is not a childish anime. Rather they are very talented, skillfully, agile, and highly intelligent.
It's been rated 8.5 stars out of 10 on My Anime List and is also available on Netflix.
The characters are perfectly written and adapted by the Cloverworks studio. Compared to manga, anime have adapted it very graciously.
The anime captures the thrill, chilly atmosphere, and expressions of all the characters. In addition, the music is very creepy, which adds to the gothic environment anime presents.
It's that good that anything more I say about this anime can be a spoiler for you, so I would recommend you to go and watch it directly; you won't be disappointed.
You will always be like, "What's going to happen next" and it will make you watch the whole season in one sitting. However, it's recommended that after season 1, you should move on to the manga.
2. One Punch Man
Genre: Comedy, Action
Number of episodes: 12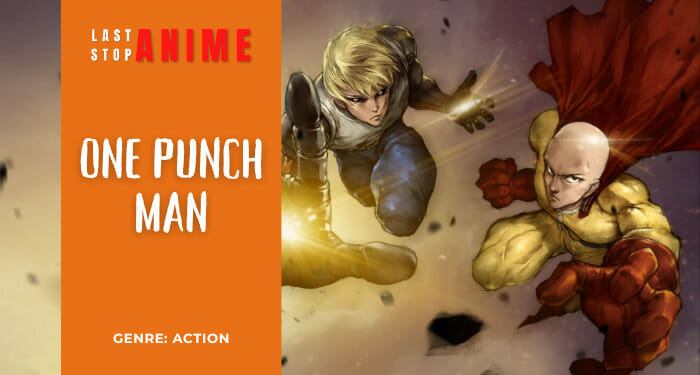 I think everyone is familiar with a figure that often goes around in memes. A bald guy with a straight face in a yellow outfit. Yes, that man is Saitama, the main character of One Punch Man.
He is the main protagonist and a hero just for fun. He seeks fun in everything; however, he manages to kill anyone with just one punch which makes it quite boring for him.
Things may be boring for him, but they are quite entertaining for the anime fans. Though it's predictable in the beginning, it becomes more interesting after the fifth episode. Introduction of new characters, villains, and more fights.
Also, madhouse studio did a great job with graphics and art style. Fight scenes have some good animation and are loved by fans a lot. They also appreciate background music.
It's an anime series with an 8.5 rating on My Anime List and is watched by almost every anime fan. It is also available on Netflix.
1. Spy x Family
Genre: Action, Comedy
Number of episodes: 12
Spy x Family is one of the best action-comedy shows. It's outstanding in its genre, nothing like a typical action-comedy. It's currently airing and still has 9.05 stars out of 10 on My Anime List. It is also available on Netflix.
It features a spy named Loid Forger, an assassin named Yor Forger, and a very small kid named Anya Forger, who Loid adopts for his mission.
Anya is a psychic, by the way. She can read minds and love watching Spy anime on TV. It's very funny when they all have to live as a family and work together for their own purposes.
They don't know about each other's professions except for the small girl Anya obviously, as she can read minds, but no one knows about her superpower.
It's a super cute anime without being cringe and comes under the must-watch category. It has everything from action to hilarious situations to very heart-touching moments. It's an imperfectly perfect anime.