Ao Haru Ride, also known as Blue Spring Ride, is an anime adaptation of a manga about a girl named Futaba Yoshioka wanting to meet and learn about what happened to her middle school childhood crush Tanaka-Kun because he has transferred to some other city.
Futaba starts showing her clumsy and rude side to her classmates and the boys around her because Futaba believes that boys are way too aggressive and harsh according to her taste.
They don't deserve to see her feminine and cute side. 3 years later, in high school, she meets Kou Tanaka again.
Still, she finds that he has lost his gentle and calm personality and is now changed into a savage and pessimistic guy and is known by the name Kou Mabuchi.
Later they both tell about their true feelings to each other, and with many ups and downs, they fall in love again.
Ao Haru Ride is a light-hearted anime packed with young love, romance, comedy, twists, and drama which keeps its viewers hooked to the screens and eager to know what happens next.
Anime Similar to Blue Spring Ride (Ao Haru Ride)
1. Horimiya
Genres: Romance, Shounen
Available on: Hulu, Crunchyroll
Horimiya, also known as Hori-san to Miyamura-Kun, is a high school teen romance anime consisting of the characters of two classmates, Kyoko Hori and Izumi Miyamura. Both of them have different personalities inside and outside the school.
Inside the school, Hori is an extroverted, popular, and intelligent girl with a nice friendly group, whereas Miyamura is an introverted loner.
Outside school Hori is a busy, messy, and responsible girl who has to work hard and take care of her brother, and Miyamura is a sexy tattooed and pierced yet gentle and polite boy.
Both of them, unknown of each other's appearance, meet outside school because of Hori's little brother, and they get to know each other.
As they start spending time at Hori's place, they get naturally drawn toward each other and slowly fall in love with each other.
There are many cute moments and quick romance in this anime which is praised by many viewers.
It also has many refreshing comedy elements, and the anime displays pure and blossoming love between the characters.
Overall it is a fun-filled, cute, romantic, entertaining, and refreshing anime. A must-watch if you are looking for anime like Ao Haru Ride.
2. Kimi Ni Todoke (From Me To You)
Genres: Drama, Romance, Slice of life, Shoujo
Available on: Hulu, Crunchyroll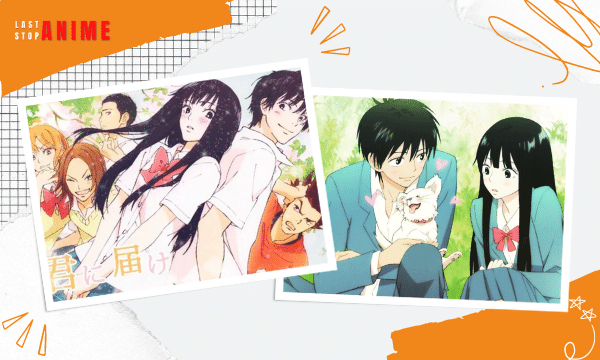 Sawako Kuronuma is a 15-year-old high school freshman who is a loner living a sad and dark life.
Her classmates misunderstand her as a person who can see ghosts and put a curse on people as her long dark hair and weird manner of speaking resembles the character of the horror show the ring, which is why her classmates call her by the nickname Sadako.
One day she meets Shota Kazehaya, and he falls for her in the first meeting as she tells him the way to school in the most polite way.
Kuronuma always wanted to make friends, and Kazehaya being the most popular guy with a sweet demeanor who is nice to everyone, helps her improve her image and make as many friends as possible by introducing her to new people.
Her life starts to change as she slowly becomes friends with her schoolmates and loses her ghost girl image.
Later she realizes that she has feelings for Kazehaya-Kun. After many misunderstandings, she gathers the courage to confess her feelings to Kazehaya.
He becomes her boyfriend, and the anime ends on a sweet note. Kimi Ni Todoke is a delight if you are looking for anime like ao haru ride.
3. Itazura Na Kiss
Genres: Comedy, Romance, Shoujo
Available on: Hulu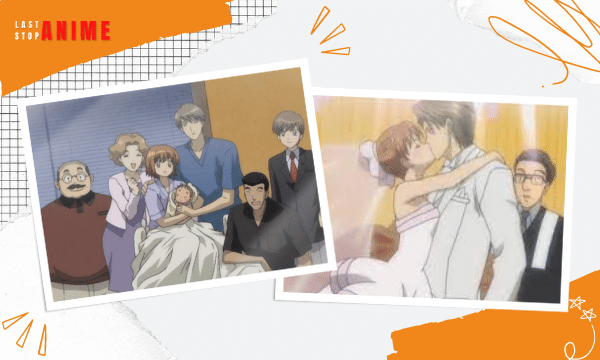 It is a romantic comedy, and its story centres on a high school girl named Kotoko Aihara, who is foolish, bubbleheaded, and initially mad.
She confesses her love to her senior Naoki Irie as she has been attracted to him since she saw him on the first day of high school.
Naoki, the hottie, handsome and popular boy who's good at sports, rejects her.
Later their destiny brings them together as Kotoko's house gets destroyed during an earthquake.
Until the rebuilding of their house, her family stays at her father's childhood friend's house, whose son was Naoki, and they realize that they are not complete strangers to each other.
Despite Kyoko's childlike and clingy behaviour, Naoki develops protective and romantic feelings for her.
Eventually, they marry after facing some challenges and have a beautiful girl named Irie Kotomi.
4. Hana Yori Dango (Boys Over Flowers)
Genres: Drama, Romance, Love, Shoujo
Available on: Crunchyroll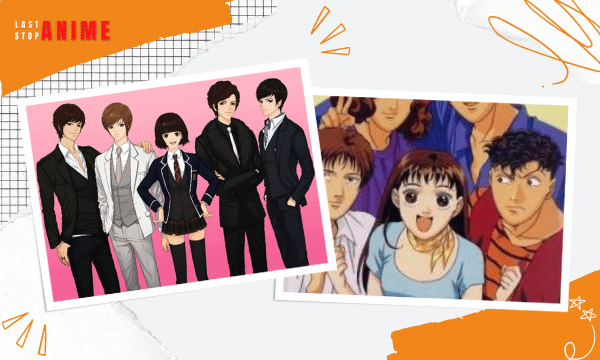 At the beginning of the anime Makino Tsukushi, a girl from a low-income family starts attending the very popular Eitoku Academy. She gets confused and feels very uncomfortable because of her rich classmates and the environment created by the group called F4 there.
F4 is a group of 4 richest boys who entertain themselves by bullying and abusing the school's students.
One day, Tsukushi's friend, Makiko, angers F4's leader Tsukasa Domoyoji when she accidentally falls on him.
Tsukasa starts bullying her, and to protect her friend Tsukushi kicks Tsukasa. She receives a red card from F4, and all the students start bullying her.
Slowly being impressed by Tsukushi's courageous behaviour, Tsukasa starts falling and greatly admiring her.
Tsukushi tries to distance herself from F4, but she fails and later falls in love with Tsukasa.
5. Shigatsu Wa Kimi no Uso (Your Lie in April)
Genres: Drama, Romance, Music, Shounen
Available on: Hulu, Crunchyroll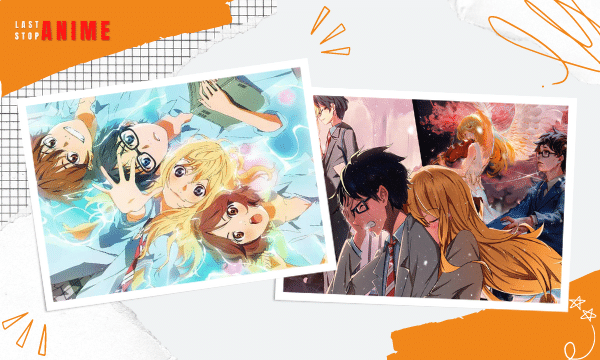 Your lie in April is a very musical yet romantic anime based on a true story. Kousei Arima is a very timid and sweet boy who is a child prodigy, also known as a "human metronome" for playing the piano flawlessly with utmost accuracy.
He had to practice under very strict conditions as a child as his mother was very strict. Because of this rigorous practice, he won many competitions as a child.
After the death of his mother, he underwent a trauma because of which his piano playing was interrupted as he could not hear the piano while playing it.
Kousei starts living a monochromatic normal life of an average high school student, and he never takes the stage again.
His life turns upside down when he meets the free-spirited violinist Kaori Miyazono.
The latter takes him back to the world of music. Kousei realizes that he loves her, and later during a performance, he finds out that she is anemic and needs her routine check-up as she collapses while performing.
Slowly her health deteriorates, and she undergoes surgery.
While performing on the stage with a friend, kousei realizes that he's playing the piano freely with the spirit of Kaori, and she has died during her surgery.
At Kaori's funeral, her mother gives Kousei a letter by Kaori in which it was written that she knew that she would die soon and how much she loved Kousei since the age of 5 when she first saw him performing on stage.
6. Kaichou wa Maid-Sama
Genres: Comedy, Romance, Shoujo
Available on: Hulu, Crunchyroll
All-boys school Seika high, full of impulsive, filthy, and inattentive students, changes to a co-ed institution.
Still, because of its low reputation, girls hesitate to take admission there. Misaki Ayuzawa joins the school and decides to reform the school, so the girls feel safe in the wild and rough environment.
All the teachers in the school support her completely. Misaki soon gains a lot of reputation by training, studying, and becoming the school's first female president of the student council. All the boys used to consider her a demon dictator who hated boys.
Even after having a tough dictator-like image, she used to work in a maid cafe to support her family and the most popular boy in the school, Takumi Usui, finds it out.
Instead of destroying her reputation, Usui visits the cafe regularly to tease Misaki, and soon he starts liking her as he finds her interesting.
7. Orange
Genres: Drama, Romance, Sci-fi, Love, Time Travel, Shoujo
Available on: Amazon Prime Video, Crunchyroll
The story centres around a girl named Naho Takamiya, who in the beginning receives a letter from her future 26-year-old self telling her to correct the mistakes she made in the past and to keep an eye on the newly transferred student Kakeru Naruse and take the decisions regarding him very carefully as Kakeru is hot there in the future.
With the help of the letter, Naho tries to protect Kakeru because she does not want to regret her decision again.
Kakeru joins the school, and even after knowing that he will not be there in the future, Naho falls in love with him.
Orange is an anime showing romantic high school life with a hypothetical twist that keeps the viewers emotionally hooked to the show.
8. My Little Monster
Genres: Romance, Comedy, Shoujo
Available on: Netflix, Crunchyroll, Prime Video
My little monster is a high school romance anime in which Shizuku Mizutani is uninterested and detached from her schoolmates and only cares about her grades and academic success.
Her cold and rude behaviour changes when she meets Haru Yoshida, a cheerful and mischievous boy who stops attending school after getting into a fight.
The only thing common between them was that neither of them had friends. When Shizuku tells him that she will be his friend, he confesses his own feelings to her, which completely surprises her.
Shizuku, being a loner her whole life, faces difficulty understanding her feelings for Haru.
Still, slowly, as their friendship progresses, she finds that there's much more in Haru than rage and violence. Soon she develops feelings for him, and Haru and Shizuku explore their relationship together.
9. Kono Oto Tomare!
Genres: Drama, Romance, Music, Performing Arts, Shounen
Available on: Netflix, Hulu, Crunchyroll
Kono Oto Tomare is a musical-themed anime adaptation showing high school life in its best way! Takezo Kurata, the only member left in the Koto club of the school, tries to add more members to the club to save it.
Still, no one is now interested in classical Japanese music, especially in koto, and the western musicians of the school tease and bully him.
Chika Kudo, a troublemaking student, shows interest in joining the club to fulfil his grandfather's dream. Because having no other member in the club, Takezo adds him to the club.
Soon music prodigy Satowa Hozuki joins the club. Because of very less members in the group, Hiro, Takenami, Akira, and a few more people join the group, and the members hope to go to the nationals.
There were many cute and romantic moments between Chika and Satowa and Takezo and Hiro. Still, the show is music-themed; there was more focus on the musical performances.
10. Wolf Girl and Black Prince (Ookami Shoujo to Kuro Ouji)
Genres: Comedy, Romance, School, Shoujo
Available on: Crunchyroll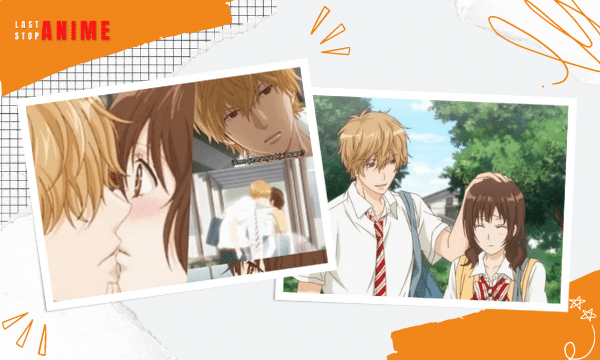 Erika Shinohara, to make new friends and fit in the group of her female friends who have boyfriends, lies about her romantic exploits.
When her female classmates ask for the picture of her boyfriend, Erika clicks a picture of any random handsome stranger whom her friends recognize as Kyouya Sata, a very popular boy whom the girls find very kind-hearted.
Erika Shinohara approaches him and asks him to pretend to be her boyfriend.
Still, he states a condition for her to be his "wolf girl" and behave like his pet. She finds out that the sweet-looking boy is actually very mean and dark in reality, but being forced by the conditions, Erika agrees to be his pet.
Kyouya and Erika face many challenges and difficulties as a high school couple.
Slowly, Erika finds Kyouka's real personality hidden behind that dark aura as she starts to fall in love with him. Kyouya also realizes that he has a soft spot for Erika and is in love with her.
11. Bokura ga Ita
Genres: Drama, Romance, Slice of life, Love, Shoujo
Available on: Amazon Prime Video, Roku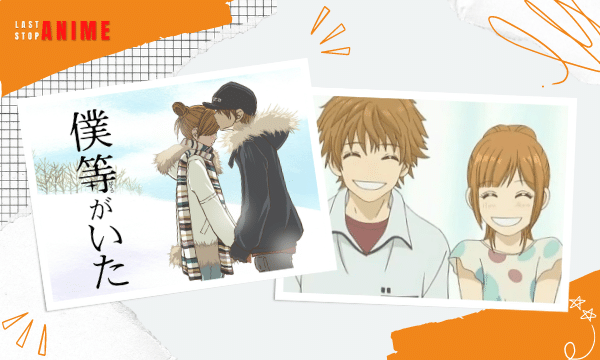 Nanami Takahashi, a first-year junior high school teenager, wishes to make new friends in her class quickly. Motoharu Yano, her schoolmate, was a super popular guy whom she hated because of his artificial and insincere nature.
However, soon she falls in love with him, but Yano is still stuck with his ex Nana Yamamoto as he lost her during a car accident.
He found his girlfriend with her ex-boyfriend at the time of her death and assumed she was cheating on him. Now he can't trust people easily. Nanami confesses her feelings to Yano.
Still, he is unsure about his feelings and rejects her but later realizes he loves her too.
Yano tells Nanami that he has slept with Nana's younger sister, Yuri Yamamoto, and he never talks about his feelings for his dead girlfriend.
Nanami asks Yuri Yamamoto about it and realizes that she can never make him happy and decides to leave him.
Even after so many difficulties and misunderstandings in the relationship, Nanami and Yano try to keep their relationship floating.