Japanese anime could sometimes have adult themes or be too complex for younger viewers. However, there are multiple classic anime with interesting characters which are family-friendly.
This genre of anime, often known as Kodomomuke Anime or kid-friendly anime, provides amazing fun adventures befitting for a younger audience.
We're here with a list of 15 Best Kids Anime One Must Watch so that you'll find the best choice for your younger one.
While the following anime are meant for kids, it doesn't mean that the elder viewers won't enjoy them. In contrast, these anime are termed Kodomomuke due to the lack of violence and complexity.
List of 15 Best Anime For Kids To Watch
15. Digimon Adventure
Genre: Adventure, Isekai
Episode Count: 54
Starting off the list is none other than the globally famed series- Digimon Adventure. This anime series compiles various adventures intended for children and adults alike.
Taichi 'Tai' Kamiya is a young boy who gets transported to the Digital World via Digivices. The Digital World is the home of Digital Monsters or Digimons.
Along with his six other friends, Tai tries to reason this phenomenon to get back home.
Nonetheless, Taki quickly learns that there's more to this world. So, the group of friends befriends Digimons to fight against the corrupted ones.
Hence, a journey of friendship and adventures begins to save the world from Devimon.
Why And Where to View Digimon Adventures?
It is a child-friendly show which showcases the value of true friendship.
The anime comprises multiple adventures for entertainment.
Various twists and turns to keep oneself hinged to the series.
The first season of the anime series is available on Hulu and Crunchyroll.
14. Hamtaro
Genre: Adventure, Slice of life, Pet, Comedy
Episode Count: 77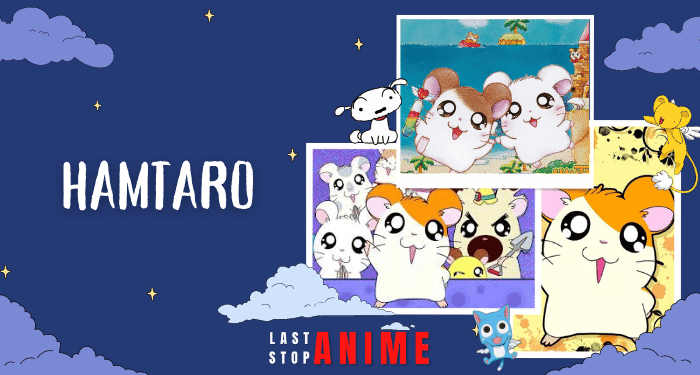 All adventures don't require battle sequences to capture one's attention. Hamtaro has proven this statement true.
Laura Haruna is a young girl who owns a pet hamster- Hamtaro.
Due to his curious nature, Hamtaro often escapes to the outside world, making new friends and going on adventures with his fellow hamster friends- The Ham-Hams.
Why And Where to View Hamtaro?
Hamtaro is a light-hearted series suitable for kids.
The anime features episodes with multiple amusing adventures of Hamtaro.
The characters of the anime are all interesting and unique.
The animation style is adorably apt for children.
In the US, one can watch Hamtaro with a subscription to Crunchyroll or could find it on archive.
13. Astro Boy(2003)
Genre: Adventure, Science Fiction, Superhero
Episode Count: 50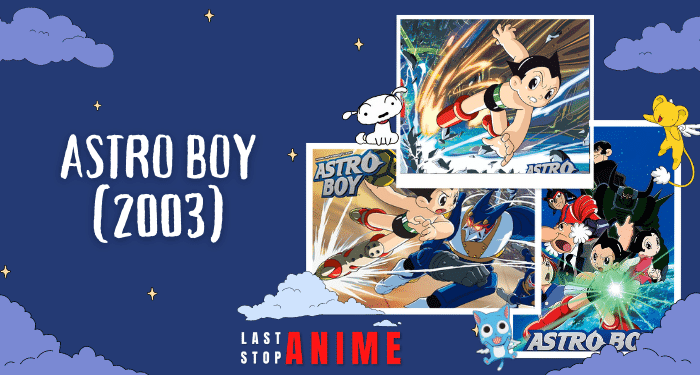 Astro Boy is a classic Japanese anime that dates back to 1963. Moreover, it was the very first anime that the Western World experienced.
There have been a couple of remakes of the original series. The latest one is the 2003 remake by Tezuka Productions.
Nonetheless, the anime is undoubtedly one of the best anime a child could watch.
The anime features the life of an android human Atom- Astro. Though he's a cyborg, Atom can behold human emotions and feelings.
Dr Tenma- Atom's creator has gone missing, and during his absence, Professor Ochanomizu takes care of Astro.
The story follows Atom fighting against the antagonist- Blue Knight, who's trying to free all robots from humanity through any means.
Why And Where to View Astro Boy?
It is a classic Japanese anime and a must-watch for any generation.
It has an immersing storyline that occupies a kid's interest.
The character of Atom is a friendly one with an honest attitude.
In most countries, the 2003 version is available with a subscription to Amazon Prime Videos. The whole season is also available on the Amazon Store.
12. Cardcaptor Sakura
Genre: Magical Girl, Romance
Episode Count: 70
Japan has produced numerous amusing Kodomomuke series, and Cardcaptor Sakura is one of the most well-known ones. It is a classic anime that dates back to 1998.
Sakura Kinomoto, the main character, is an elementary student who accidentally unleashes a set of magical cards (Clow Cards) around the world.
She discovers magical powers inside her after the incident. So she sets up on a journey to retrieve all the cards to avoid a catastrophe.
With each new card she finds, a new set of magical powers reside within her, which assists her in future endeavors.
Why And Where to View Cardcaptor Sakura?
The anime is a magical girl anime that is often popular amongst younger girls.
Since anime has an absorbing story, it captures one's attention straight away.
The anime's main characters show remarkable resilience and responsibility at an early age.
Owing to its popularity, the anime is available on multiple streaming platforms like Netflix, Funimation, tubi, Crunchyroll, and VRV. You can also purchase it on Amazon Store, PlayStore, and AppleTV.
11. My Neighbour Totoro
Genre: Fantasy, Adventure
Movie Length: 1hr 27min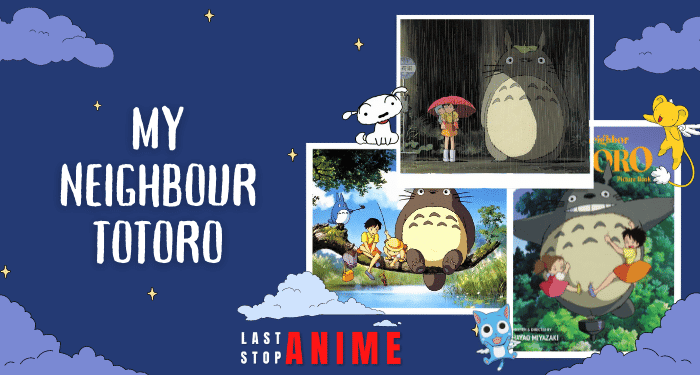 My Neighbour Totoro is a Japanese anime movie befitting for all ages. Whether an adult or a kid, this movie piques everyone's interest. Filled with amusing adventures, My Neighbour Totoro provides easy-going heartfelt content.
Mei and Satsuki Kusakabe are sisters who've moved to an old house near the hospital where their mother is admitted. Earlier, the house was inhabited by small spirits who are now relocating to another old one.
The younger sister Mei follows two small spirits, leading her to a larger bunny-like spirit. Mei names it Totoro and tries to introduce him to her family.
Later, the elder sister Satsuki also sees him while waiting for a bus in the rain. She offers Tororo an umbrella which he gladly accepts.
The movie follows up with some unordinary fantasy events between the sisters and their neighbor- Totoro, which are amusing to view.
Why And Where to View My Neighbour Totoro?
My Neighbour Totoro is globally renowned for its immersing story and the fun events it manifests.
Studio Ghibli has done marvelous work on this anime's animation and music composition.
The storyline is befitting for viewers of all ages, making it a family anime. Hence, the parents can enjoy it along with their children.
My Neighbour Totoro is only available with a subscription to HBO Max and Netflix. On the other hand, one can buy it on multiple platforms like AppleTV, Amazon Store, YouTube, Play Store, Vudu, Microsoft Store, and Redbox.
10. Silver Spoon
Genre: Comedy, Slice of Life, Coming-of-age
Episode Count: 22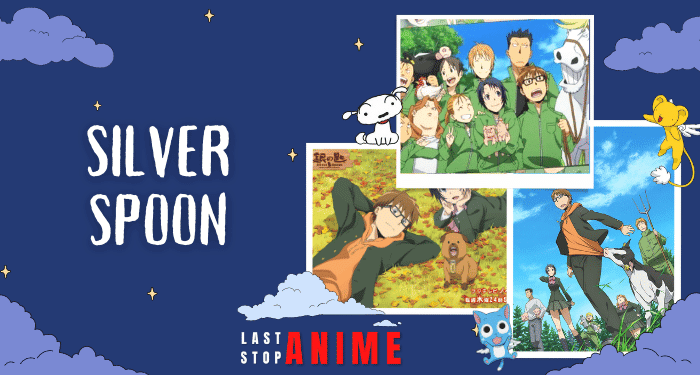 Amongst other names on this list, Silver Spoon may be the first one that showcases the life of a high schooler. Regardless, it is a good anime that could bring the whole family together.
Yuugo Hachike, the main character, enrols in Ooezo Agricultural High School to move away from his parents. However, he worries about his future throughout the series.
Over the set of episodes, Yuugo comes to understand the importance of agriculture amongst his peers and the world.
Slowly, Yuugo starts accommodating in this rural area and growing fond of this environment.
Why And Where to View Silver Spoon?
It is an easy-going lovable anime with fun comedic scenes.
Seeing the agricultural aspect of the anime makes one wonder about life in rural areas.
The characters in the anime are well written, which will provide a good influence on kids.
The anime features the value of friendship and a set of slapstick humor to keep one entertained.
Since the anime isn't very popular, it's only streaming on Funimation and Crunchyroll.
09. Pretty Cure
Genre: Magical Girl
Episode Count: 800+
Next on the list is Pretty Cure with over 800+ episodes and multiple anime movies, Pretty Cure has accumulated a huge fan base.
There are currently 19 seasons of the anime, with the first three sharing the same storyline.
Nagisa Misumi and Honoka Yukishiro are two middle school girls who've gained the powers to transform into legendary warriors known as Pretty Cure.
Their goal is to fight against the Dotsuke Zone, an evil force that has invaded the Garden of Light.
Why And Where to View Pretty Cure?
The anime contains numerous wholesome scenes to connect itself to the viewers.
All in all, the anime has multiple plot twists and numerous adventures to enjoy.
You'd never have a lack of Pretty Cure content. Apart from the 19 anime seasons, it also has several movies.
The anime is currently streaming on Crunchyroll. One can also buy it on the Amazon Store.
8. Doraemon
Genre: Comedy, Science Fiction
Episode Count: 1787
Next on this list is one of the best children's shows you might have watched as a child yourself. Doraemon is one of the most popular kids' anime that Japan has produced over the years.
The story follows the life of Nobita Nobi, who doesn't possess any extraordinary traits other than honesty and kindness. He's weak in studies and sports and doesn't have many friends either.
One day, Nobita gets a visit from his descendant, who brings along a futuristic robot- Doraemon. Doraemon is assigned to assist Nobita in getting a better life.
In doing so, Doraemon uses his futuristic gadgets, which follow up multiple amusing stories.
Why and Where to View Doraemon?
Doraemon is a smooth-going anime comprising multiple humorous episodes.
It isn't necessary to view the anime in continuation. Each episode portrays a different story.
The characters are lovable and form a connection with the children.
Owing to the sheer length of the number of episodes, no company in the US has decided to run the show. However, one can watch the Doraemon movies on Netflix in multiple regions worldwide.
07. Teasing Master Takagi-san
Genre: Rom-com, Slice of Life
Episode Count: 36+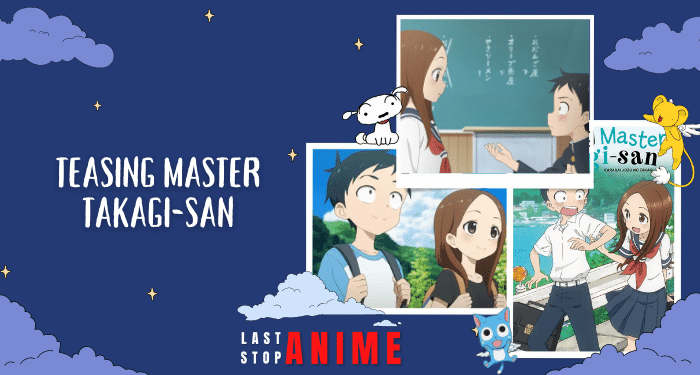 With a rising fan base, Teasing Master Takagi-san is yet another show your kid may like.
Following the story of two middle schoolers, Takagi and Nishikata, the anime embeds rom-com with wholesome content.
Takagi always teases Nishikata with humorous pranks. On the other hand, Nishikata tries to take revenge but fails constantly.
The teasing battle between the duo continues until they realize how close they're getting in terms of friendship.
Why and Where to View Teasing Master Takagi-san?
It is a wholesome anime comprising healthy interactions between the characters.
The pranks the duo plays on each other are entertaining and always make one laugh their hats off.
There are only a couple of seasons for now, but the increasing popularity promises a great future for this anime.
Owing to its immense popularity, the anime is streaming on Funimation, Crunchyroll, Hidive, and Netflix. You can also buy it on AppleTV, Microsoft Store, and Apple Store.
06. Little Witch Academia
Genre: Coming-of-age, Magical Fantasy, Magical girl
Episode Count: 25
Another eye-catching anime series with an entertaining story is Little Witch Academia. The series has proven to engulf its viewers with an immersing storyline.
Luna Nova Magic Academy is a school for aspiring witches. The main character- Atsuko "Akko" Kagari, is one of these students who desire to become a witch like Shiny Chariot.
However, Akko struggles to achieve her dream due to her non-magical background. The situation changes when Akko finds Shiny Chariot's magic relic- the Shiny Rod.
Now, Akko has to devote herself to promoting magic since the people of the world have considered magic outdated.
Why and Where to View Little Witch Academia?
With a simplistic storyline, the anime follows wholesome content throughout the series.
Comedic scenes pop up now and then to keep the audience entertained.
It's a limited series and hence won't consume much time. Parents can view this anime alongside their children without getting bored.
The US audience can view Little Witch Academia with a subscription to Netflix. Hence, the anime is easily available to the viewers.
05. Beyblade
Genre: Adventure, Comedy, Drama, Tournament
Episode Count: 357+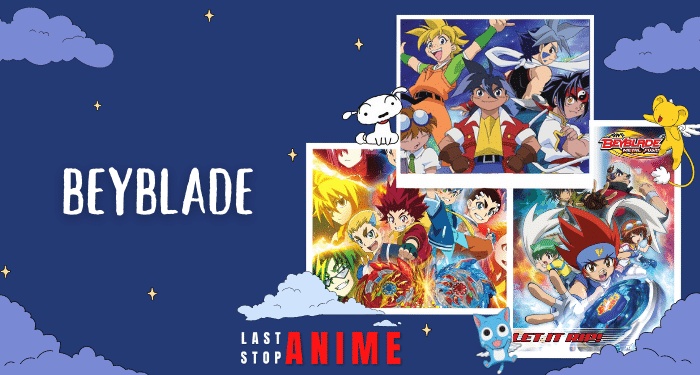 Following the amusing storyline of Little Witch Academia are the exhilarating adventures of the Beyblade series. The franchise is throughout the globe and has produced some fascinating anime series.
While the manga is successful on its own, the anime is on a different level.
Multiple storylines inside the Beyblade universe mostly follow the main character's story on his journey through a Beyblade Tournament.
While the younger people enjoy playing Beyblade, the older ones plot plans for world domination. Some Beyblades possess Bit-Beast, which assists the main character against the bad guys.
Why and Where to View the Beyblade series?
The Japanese series has some absorbing content that is extremely popular among kids.
The main character's adventures throughout the different stories are exciting and enjoyable.
There are several amusing characters that the children love to watch.
Owing to its immense popularity, different seasons of Beyblade are streaming on Netflix, Crunchyroll, tubi, PlutoTV, and Vix. The viewers can also buy the series on Amazon Store, Google Play Store, and Vudu.
04. Yokai Watch
Genre: Comedy, Supernatural
Episode Count: 214+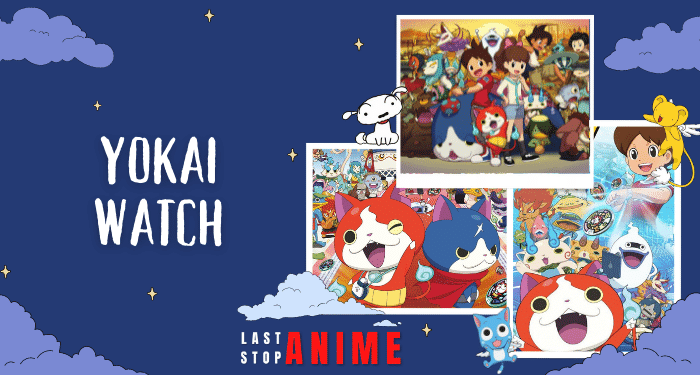 Unlike other anime that originate from manga, Yokai Watch is loosely based on a Nintendo video game. The anime exhibits numerous comedic adventures.
Well, the Japanese translation of Yokai is a mythical creature. The anime features Kate or Natie as the main protagonist who receives a Watch from Whisper- a Yokai Buttler.
While the watch helps the user to interact with Yokais, it can also be used as a medium to summon.
The main protagonist gets a medal after befriending Yokais, which they use to summon them. These summonses are used to battle other Yokai, befriend them, or help in daily activities.
Why and Where to View Yokai Watch?
It's a popular anime that has gained numerous followers in recent years.
The storyline is subtle and simple to understand.
The anime's character design is amusing and features amazing adventures for audiences of any age.
In the US, the anime is available on multiple platforms such as FuboTV, Hoopla, Spectrum, and Disney Now. Also, you can buy the series on AppleTV, Amazon Store, and Google Play Store.
03. Sailor Moon
Genre: Magical Girl, Adventure
Episode Count: 200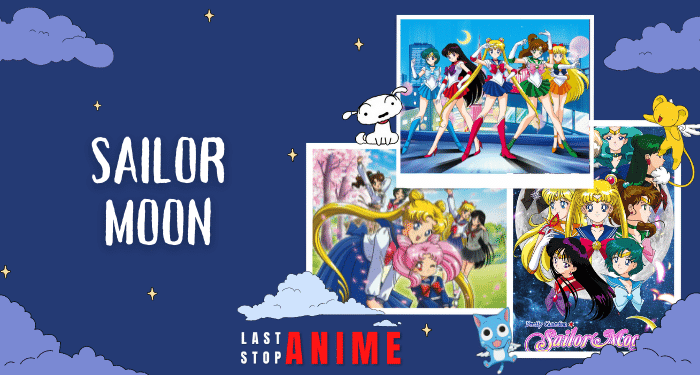 Indubitably, Sailor Moon is yet another befitting kids' anime. The anime is one of the most popular classics and has a huge fanbase.
Usagi Tsukino is a teenage girl who befriends a talking black cat- Luna. The black cat provides Usagi with a magical brooch that enables Usagi to transform into Sailor Moon: a soldier destined to save Earth from the forces of evil.
Moreover, other heroes, such as Sailor Jupiter and Sailor Mercury, help Usagi against the forces of evil.
Why and Where to View Sailor Moon?
There are multiple lovable characters throughout the anime.
Contains exhilarating battle sequences with a comprehensive storyline.
Comedic scenes are assured to make you laugh.
While the anime is streaming only on Hulu, you can also buy it on online platforms such as AppleTV, Amazon Store, and Google Play Store.
02. Haikyuu
Genre: Comedy, Coming of Age, Sports
Episode Count: 73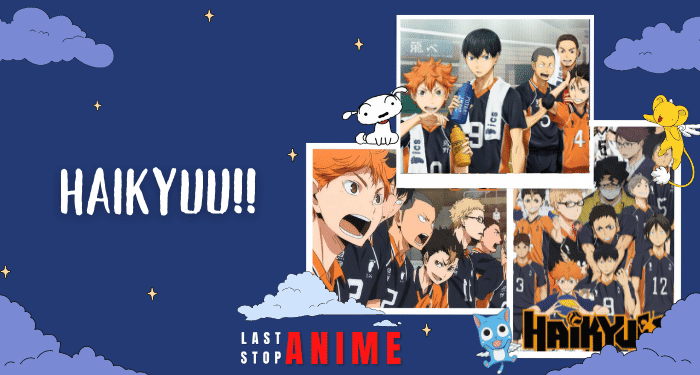 In the new world of anime, Haikyuu is no unknown face. There are multiple Haikyuu fans around the globe. The anime is appropriate for every age. Children can view Haikyuu with their families.
Hinata Shoyo is a high schooler who aspires to become a volleyball ace despite facing backlash due to his small height.
However, with sheer will and great determination, Hinata Shoyo can continue his journey with other members of his Karasuno Volleyball team.
Why and Where to View Haikyuu?
Haikyuu is appropriate for both adults and young ones.
With every scene, you can see the studio's effort while animating Haikyuu.
The great character development of all the characters in the anime.
In the US, Haikyuu is only streaming on Crunchyroll (4 Seasons) and VRV (3 Seasons).
01. Pokemon Series
Genre: Adventure, Comedy
Episode Count: 1200+
Finally, the best kids' anime is globally renowned amongst viewers of all ages. Pokemon is the best you can choose for your children and spend family time with.
In the world of Pokemon, humans co-exist with animal-like creatures called Pokemon, which exhibit natural powers. As a result, people often battle each other out.
Ash is a 10-year-old boy who aspires to become a Pokemon Master with his best friend- Pikachu. The duo goes through multiple regions in the Pokemon world to be the best.
There are numerous uncovered stories of the Pokemon waiting to be unveiled. Hence, an infinite number of possibilities drive this show.
Why and Where to View Pokemon?
The anime has been running for over two decades and has been one of the best fan-favorite series of all time.
The anime has infinite possibilities, which consequently bundles up multiple adventures.
It's a fun anime with exhilarating battle sequences that could keep anyone occupied.
Since Pokemon is extremely popular, it's available on multiple streaming platforms. It's available on Prime Video, Netflix, Tubi, Hoople, and Hulu. One can also buy the series on AppleTV and Play Store.