"Anime is for kids" is the general stereotype we have all heard from time to time. And we weebs know that the stereotype is not true.
While anime has various genres, from anime made specifically for children to anime that caters to a more mature audience.
Anime appeals to all age demographics but contains intense violence, profanity, nudity, and other content that children shouldn't likely watch.
Anime even has a specific demographic and genre called Seinen, made to appeal to a grown-up audience. On the other hand, Kodomomuke is a genre that focuses on kid-friendly anime.
Most of the time, anime fans will take gore anime scenes to prove the "anime is for kids" stereotype wrong. But this is not the only way to convince non-anime fans that anime is much more than cartoons.
Many manga series or anime shows have a much deeper storyline and focus on important issues like depression or bullying.
While some anime series are all about our daily lives and strong life lessons.
For the most part, we know some Shoujo and Shonen will be family-friendly. However, Shounen anime is frequently distinguished by perverted humor and overly romanticized ideas, which may not be to everyone's taste. In contrast, Shoujo anime can have intensely emotional or sad content.
NOTE: We are pretty sure you may have come across some posts that say "Anime to Watch With Family", and when you open the post, you are met with High School DXD, Boku No Pico, Food Wars, and other Ecchi anime. Well, this is not one of those posts. That means you won't be seeing gore anime like Elfen Lied, Future Dairy, Akame ga Kill! and other anime with such gore themes. We won't also be including anime with fan service for obvious reasons.
List Of Anime Shows That Are Family-friendly.
21. Sword Art Online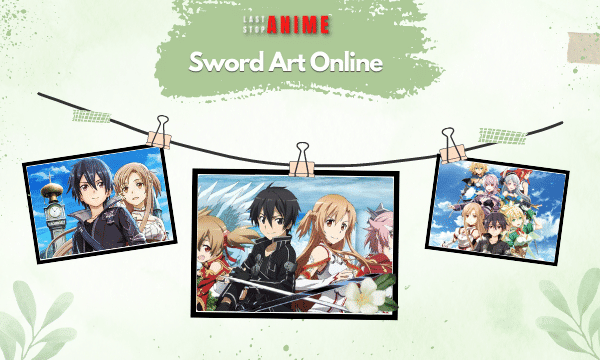 Episodes: 25
Status: Finished Airing
Genres: Action, Adventure, Fantasy, Romance
Where To Watch: Hulu, Netflix, Crunchyroll
Now, this show is set up in a video game. We get introduced to our main characters, and the story from here on out starts.
There's a bit of harem in the anime. Let's not forget Sugou Nabuyuki, the most hated anime character, who tried to forcefully marry Asuna.
Despite all this, Sword Art Online is a good anime to watch with your family.
20. My Hero Academia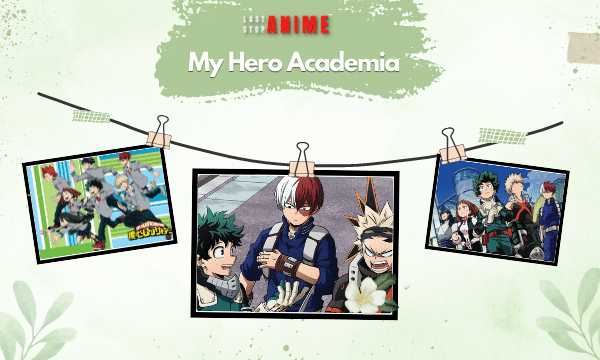 Episodes: 13
Status: Finished Airing
Genre: Action
Where To Watch: Crunchyroll, Hulu, Netflix
Another Shonen anime on the list. Like Sword Art Online, My Hero Academia is popular among anime fans. My Hero Academia contains fight scenes that might be a little too violent. Still, hey, we've all watched Marvel movies with our parents, so those fight scenes are nothing new.
It also contains precious lessons about patience, friendship, and protecting others.
Speaking of Marvel, My Hero Academia is heavily inspired by superhero comics from America. It has factors that you might be familiar with. Take, for example, tactical fights.
These fight scenes keep the audience glued to their seats. On the other hand, the characters are fantastic with incredible superpowers.
Our main character is Izuku Midoriya, who aspires to become like All Might, the greatest historical hero. He did, however, learn that he lacked quirks.
But owing to a fortunate encounter, his quest to become the world's toughest hero gets underway.
Nevertheless, it's a great anime to watch with kids or your younger siblings.
19. Flying Witch
Episodes: 12
Status: Finished Airing
Genres: Comedy, Slice of Life, Supernatural
Where To Watch: Crunchyroll
Flying Witch is an Iyashikei-themed anime. Iyashikei is a term used to describe anime and manga that "heals" the viewer by evoking feelings of serenity. Iyashikei anime generally caters to all age groups.
The way each episode plays out naturally and organically sends a very subtle but clear message that people—witch or not—are genuinely tied to the land, plants, wind, and sky.
In the chaotic world of anime, the Flying Witch is a respite of complete peace. However, its true magic lies in allowing the audience to consider the most basic moments in life and discover how enthralling they can be.
We follow a young girl, Kowata Makoto, as she settles back into life with her friends and family in a small village.
In short, the premise revolves around Makoto's way of living daily while simultaneously fostering her development as a flying witch's magical abilities.
She is guided by her friends and family, while we also get to know their personalities. The animation is top-notch, and most of the scenes are beautiful, especially the scenery filled with vibrant colors.
Since the anime does not include action scenes, profanity, or other absurd elements, you can watch this anime with your kids or your whole family without worrying.
18. Cardcaptor Sakura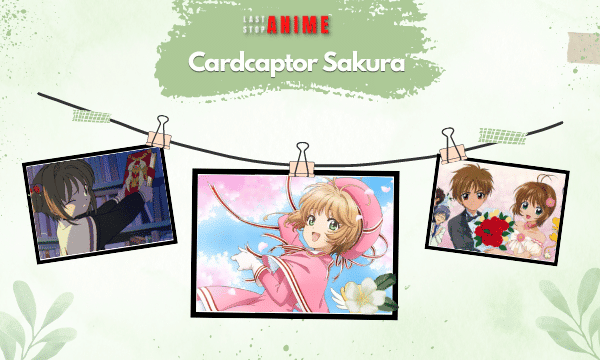 Episodes: 70
Status: Finished Airing
Genres: Adventure, Comedy, Drama, Fantasy, Romance
Where To Watch: Crunchyroll, Netflix
The iconic Cardcaptor Sakura anime, which gave the magical girl subgenre and anime in general new life, is another family-friendly anime.
It's a show with a plot that occasionally makes you stop and think. Another plus point is that its cast contains characters that are LGBTQ+.
If the LGBTQ+ element wasn't enough, Cardcaptor Sakura showcases a forbidden love relationship between a student and their teacher.
The protagonist, Sakura, has excellent character development later in the anime. Cardcaptor Sakura is a light-hearted Shoujo that even kids can enjoy.
17. Amaama to Inazuma (Sweetness and Lightning)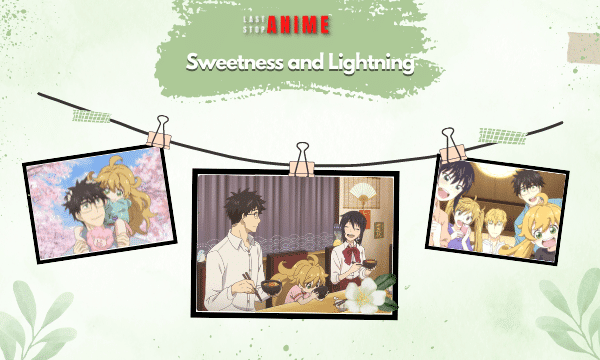 Episodes: 12
Status: Finished Airing
Genres: Comedy, Gourmet, Slice of Life
Where To Watch: Crunchyroll
Another anime that has an iyashikei theme is Amaama to Inazuma. Even though this show is Iyashikei-themed, it is suitable for kids as it portrays a good message of friendship.
While Sweetness And Lightning are suitable for kids, they are indeed best for parents, as parenting is the core theme of the anime show. The anime series revolves around a single dad, Kouhei Inuzuka, who works hard and cares for his daughter, Tsumugi.
He is working hard to support Tsumugi and lacks cooking skills, so he barely gets time to cook food for his daughter, and they end up having ready-made meals.
That's when Kotori Ida makes an appearance. This young girl is a high school student of Kouhei, and she joins her sensei and his cute daughter at the dinner table.
16. One Punch Man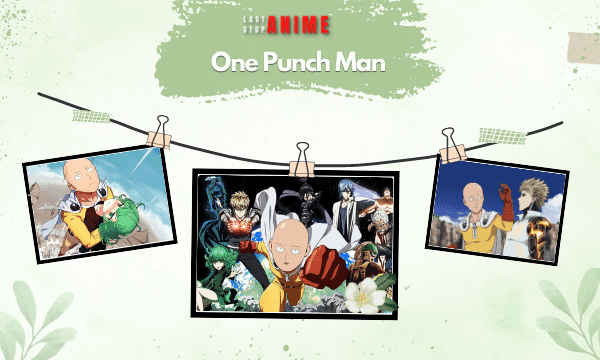 Episodes: 12
Status: Finished Airing
Genres: Action, Comedy
Where To Watch: Crunchyroll, Hulu, Netflix
One Punch Man is a short anime show that is funny and has great animation, as well as top-notch fighting sequences.
Everyone will undoubtedly find something to like about One Punch Man's first season, a real work of art. Saitama, the main character of One Punch Man, defeats every foe with just one punch.
Despite having an intense battle and overpowered villains, Saitama doesn't really feel terrified. What makes him terrified is that he missed the supermarket sale.
One Punch Man is made to mock superheroes and their clichés. The anime is fun to watch. The animation is so great that even older viewers won't leave their seats to miss an action scene.
OPM is one of the best anime with action and comedy you can watch with your whole family.
15. Koe No Katachi (A Silent Voice)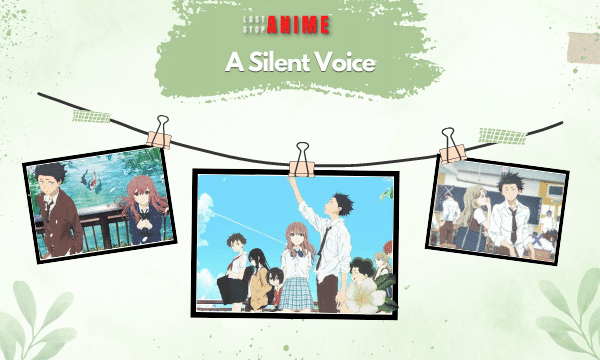 Episodes: 1 (Movie)
Status: Finished Airing
Genres: Drama
Where To Watch: Netflix
A Silent Voice is probably Kyoto Animation Studio's most famous work. A Silent Voice is a movie based on a manga series of the same name.
Koe No Katachi is both a heartwarming tale of forgiveness and a love story. The plot explores important issues like bullying, depression, and the feeling of living with guilt.
By the end of Koe No Katachi, you and your kids will have things to consider and various lessons to learn from the anime.
Shouya Ishida, back in middle school, used to bully his fellow deaf classmate, Shouko Nishimiya. But when the bullying gets extreme, Shouko transfers schools, and somehow Shouya becomes the next target of bullying.
Shouya, after getting bullied, suffers from depression and tries to end his life but fails. Shouya, after years, sees Shouko for the first time.
This begins his journey of redemption as he wants to apologize for his past actions and make amends for them.
14. Sen to Chihiro no Kamikakushi (Spirited Away)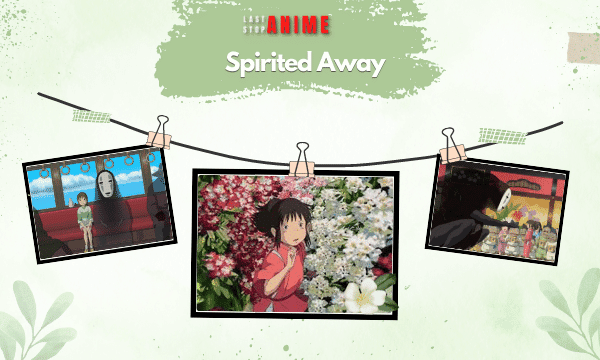 Episodes: 1
Status: Finished Airing
Genres: Adventure, Award Winning, Supernatural
Where To Watch: Netflix
In 2003, this masterwork from Studio Ghibli took home the Academy Award for Best Animated Feature. If we are talking about Spirited Away, art and animation are bound to be mentioned.
Spirited Away is rich in color and has a magical vibe that pulls the viewer in. The story starts with Chihiro, who lost her parents in the magical spirit world.
Despite her young age, Chihiro faces hardships with so much more ease and handles things quite maturely.
She is unsure what will happen to her and her parents when they are converted into pigs. But she finally receives assistance from other characters who want to help her get to know this world, which is different from hers.
We now view her as a strong person once she becomes familiar with the spirit world and is better capable of taking care of herself without the support of Haku.
It's easily one of the best anime to watch with family and friends.
13. Komi-san wa, Comyushou desu (Komi San Can't Communicate)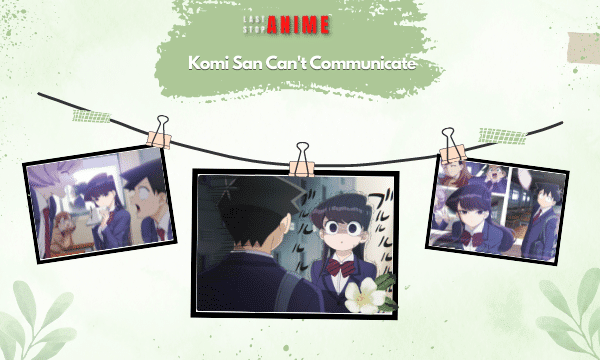 Episodes: 12
Status: Finished Airing
Genres: Comedy, Slice of Life
Where To Watch: Netflix
Komi San Can't Communicate the story of a gorgeous girl named Shouko Komi, who suffers from a communication disorder and severe anxiety.
Komi Can't Communicate talks about complex issues such as mental illness, anxiety, and, most importantly, empathy.
This show follows Komi as she wishes to make 100 friends. Still, due to her communication disorder and anxiety, she has difficulty making friends.
However, she makes her first friend. Tadano takes a step forward and communicates with her through writing. On the other hand, Tadano, rather than judging or making fun of her, helps her out, and he urges other people to be understanding and compassionate towards her.
Komi Can't Communicate an anime where kids can learn to empathise and get acquainted with mental illness. Whereas if you are watching the anime series with your family, they'll be familiar with the hardships of teenagers.
12. Sk8 The Infinity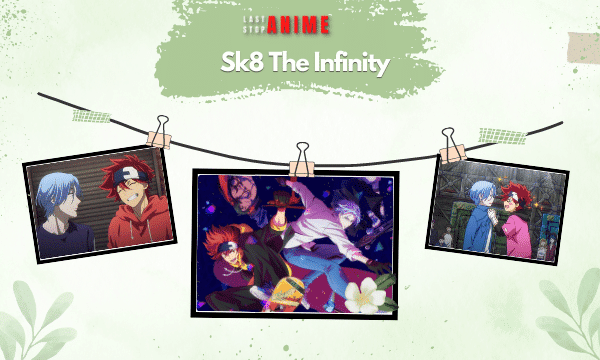 Episodes: 12
Status: Finished Airing
Genre: Sports
Where To Watch: Crunchyroll, Funimation
Two high school students, Langa Hasegawa and Reki Kyan participate in the "S," an underground skateboarding competition.
This anime imparts many valuable lessons, like the value of having a hobby and the importance of maintaining healthy friendships.
Sk8 The Infinity makes us question what happiness is and what it actually means for an individual. Reki, one of the main characters, defines his happiness by reaching to get his skateboard.
We see Reki beefing with other skateboarders in the first episode and losing badly. Despite losing, he doesn't lose his interest in skateboarding since it's his happiness.
You can watch this anime with your family. Since it teaches about maintaining healthy relationships while also putting emphasis on healthy communication.
11. Tamako Market
Episodes: 12
Status: Finished Airing
Genre: Slice of Life
Where To Watch: HiDive
Tamako Market is one of those anime that invokes a warm and fuzzy feeling among its audience. It doesn't have an actual plot; it's just a series of characters doing everyday things.
The story follows the daily life of Tamako, our main protagonist. We can see her kindness through her bond with her friends and family.
Her father is a mochi baker, and their shop is pretty popular in the shopping district. Another thing this show focuses on is maintaining relationships in a close-knit community.
One day, Tamako finds a talking bird addicted to Mochi and over-consumes Mochi to the point where he gets so fat he can't fly. He needs to lose weight to fly again and is accommodated at Tamako's place.
The anime is your usual KyoAni anime with cute girls doing daily life.
Tamako Market is an aesthetically pleasing anime you can watch with your whole family.
10. Gin no Saji (Silver Spoon)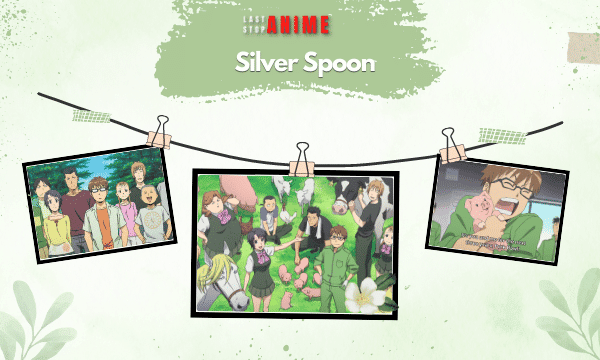 Episodes: 11
Status: Finished Airing
Genres: Comedy, Slice of Life
Where To Watch: Crunchyroll, Funimation
Despite being a hard-working and diligent student, Yuugo Hachiken finds it challenging to meet his parents' unreasonable expectations.
To get away from them and the city's competitive nature, he enrols in Hokkaido's boarding school, Ooezo Agricultural High School. The agricultural school serves as a means of escape for him.
Hachiken thinks he's smart and will perform better at the agricultural school. Still, things take quite a different turn when he's proven wrong.
The students at Ooezo Agricultural High School are all skilled. Compared to them, Hachiken stands out as an amateur.
Silver Spoon is a comedy anime that teaches about friendship, self-discovery, and self-acceptance. It has good messages while wrapping itself in the slice-of-life genre.
09. Death Note
Episodes: 37
Status: Finished Airing
Genres: Supernatural, Suspense
Where To Watch: Crunchyroll, Hulu, Netflix
Now we know this list is supposed to be kid-friendly or family-friendly anime, but how can we complete the list without mentioning the cult classic that got many of us into anime?
So you already know what the plot is and who the main characters are. We don't need to tell you guys. We actually need to tell you why you should watch this anime with your whole family.
Okay, so here it goes:
Good plot, and a solid storyline.
Have the most loved and popular cast.
Great plot twist that can keep you guessing what will happen next.
The ideologies clash between the characters.
Well, there you have it. The first episode is enough to glue you to your seats!
08. Akagami no Shirayuki-hime (Snow White With Red Hair)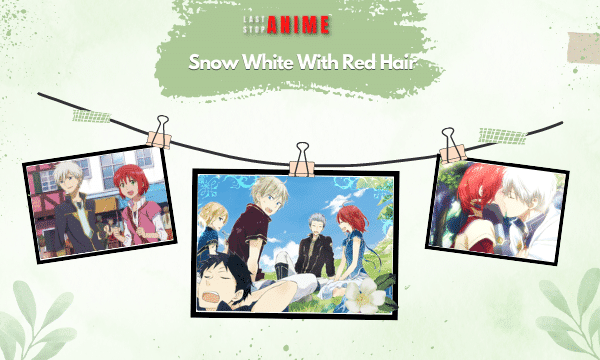 Episodes: 12
Status: Finished Airing
Genres: Drama, Fantasy, Romance
Where To Watch: Crunchyroll, Hulu, Funimation
The name Shirayuki, Japanese for "snow white," is given to our red-haired main female lead. Shirayuki works at a herbal shop as an apothecary.
Unfortunately, her peaceful life is disrupted when Shirayuki catches Prince Raji's eyes, who then tries to marry her forcefully.
Shirayuki somehow escapes Raji and chops her hair. She is then rescued by neighboring prince Zen.
Akagami no Shirayuki-hime is one of the best anime in the Shoujo genre. You can watch this anime with your family.
07. Bishoujo Senshi Sailor Moon (Sailor Moon)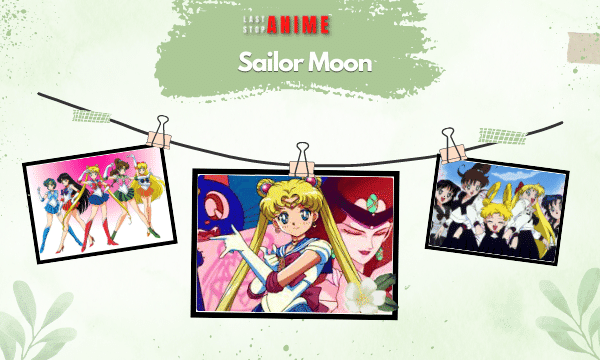 Episodes: 46
Status: Finished Airing
Genre: Romance
Where To Watch: Crunchyroll, Hulu
Sailor Moon is a classic anime and is loved by everyone, regardless of age. Sailor Moon is a perfect mixture of romance and comedy. Even though the anime is about superheroes, we see the characters winning fights through communicating rather than fighting.
The cast is super empathic and kind-hearted. Usagi Tsukino, our 14-year-old lead, experienced a life-altering encounter with Luna, a talking cat.
Usagi can transform into Sailor Moon, the commander of the Sailor Soldiers, thanks to Luna.
In addition to taking on the evil forces of the Dark Kingdom, Usagi must track down the other moon princesses.
06. K-on!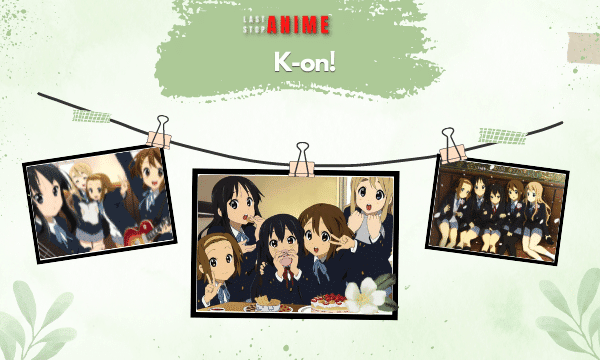 Episodes: 13
Status: Finished Airing
Genres: Comedy, Music, Slice of Life, School
Where To Watch: Crunchyroll, Funimation
You should probably watch this anime with your younger siblings because the plot is about cute girls doing cute things.
There's no actual plot in this anime, as it just follows Yui Hirasawa and other members of the Light Music Club. The story is simple; there's no intense situation.
This is a fun anime with music and a very slice of life. The jokes are not offensive or off-putting.
05. Captain Tsubasa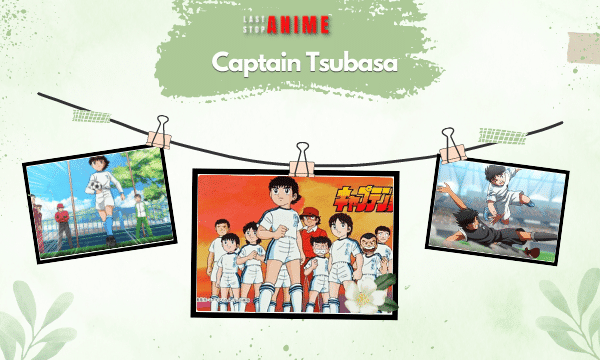 Tsubasa Ozora, an eleven-year-old soccer player, has always wanted to be the best in the world and win the World Cup. When he and his mother go to Nankatsu, he finds a thriving soccer environment and quickly gets involved.
Tsubasa trains as much as he can, always looking to improve, with his mother's encouragement. She shares the belief that her son will one day become a well-known soccer star.
Captain Tsubasa is a sports anime that even your family will enjoy.
04. Little Witch Academia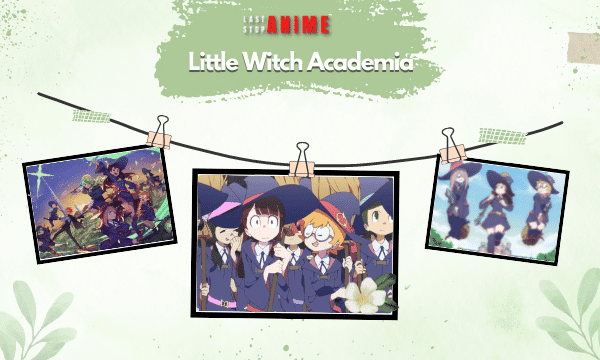 Episodes: 25
Status: Finished Airing
Genres: Adventure, Comedy, Fantasy
Where To Watch: Netflix
Little Witch Academia is one anime you can watch with your children. The animation is top-notch.
The story's protagonist is Atsuko Kagari, who, despite having no witch blood in her, desires to be a great witch. She draws inspiration from a witch named Shiny Chariot.
To achieve her dream, she enrolls in the Luna Nova Magical Academy. Although she finds difficulty understanding things at the academy due to her non-magical upbringing.
However, one day she finds a shiny rod, a powerful artefact left by Shiny Chariot. Through her journey, she met some fantastic people who befriended her.
Little Witch Academia relies on the message that working hard and believing in yourself can help you to achieve your dreams.
03. Barakamon
Episodes: 12
Status: Finished Airing
Genre: Slice of Life
Where To Watch: Amazon Prime, Funimation
Barakamon is a story about a man and a child. That means you can watch this and enjoy this anime's calm and refreshing breeze.
Our protagonist is a young calligrapher named Handa Seishuu. When a veteran calls his prize-winning work "unoriginal," Seishuu ends up losing his temper and punches him.
His father sends him to a small island as a punishment and a way to discipline him. He has difficulty settling into the tiny island as he is used to living a comfortable life in Tokyo.
While watching, your kids might root for Naru, his neighbors, and other children. But if we look at Seishuu from an adult's point of view, we can understand his struggles.
02. Natsume Yuujinchou (Natsume's Book Of Friends)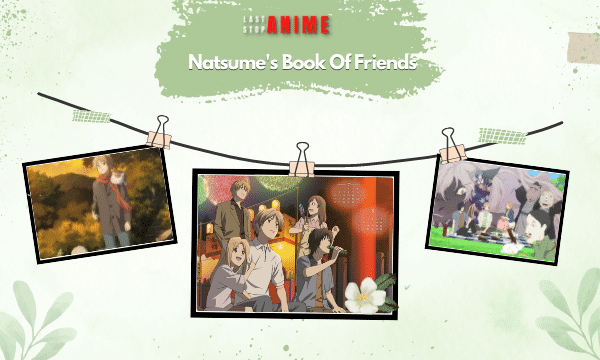 Episodes: 13
Status: Finished Airing
Genres: Drama, Slice of Life, Supernatural
Where To Watch: Crunchyroll, Funimation
Natsume's Book of Friends is a story about Takashi Natsume, a little child who, like his grandmother before him, can see ghosts.
Takashi finds out that his grandmother's "Book of Friends" contains the names of ghosts she imprisoned against their will after she passed away.
Takashi Natsume aims to retrieve every name of a youkai that his grandmother Reiko took and kept in the Book of Friends.
In exchange for having the Book of Friends after Takashi has passed away, the strong cat spirit Madara guards him.
Natsume Yuujinchou is one of the best anime to watch with your family as it teaches valuable lessons nearly every episode.
01. Haikyuu!!
Episodes: 25
Status: Finished Airing
Genre: Sports
Where To Watch: Crunchyroll, Netflix
Sports anime are usually a safe bet when it comes to watching anime with the family as they don't have any fanservice, severe issues or violent content. Also, Haikyuu is one of the best anime in its field.
Middle schooler Hinata Shouyou is inspired to play volleyball and strives to be one of its greatest players after watching the National Volleyball Championships on television. This marks the beginning of Hinata's journey, as he wants to be the next "Little Giant."
One of the good things about Haikyuu!! is that even if you don't know the rules, they explain them in the easiest way possible. The anime doesn't make its audience feel dumb for not knowing the basics.
We hope you liked the efforts we have put into the post. Do let us know if you have any suggestions/ ideas/ criticism or any topic you would like us to explore.