Demon Slayer or Kimetsu no Yaiba is one of Japan's most popular manga series derived from its sales of about 29.5 million copies. The entire series has more than 150+ million copies in circulation.
Moreover, it is also one of the most popular modern shonen anime of all time.
The demon slayer villains in Kimetsu no Yaiba are fantastic, and every one of the antagonists has fascinating backstories. While fans adore some of them, there are those that fans hate.
Animated by Ufotable, the first season was a super hit, followed by a record-breaking movie, Mugen Train and a Season 2, the entertainment district arc, with 15+ million viewers with TV broadcast every week.
Demon Slayer has been crowned as the most popular anime in 2021.
Where to Stream: Hulu, Crunchyroll, Netflix, Amazon Prime Video
Top Demon Slayer Villains Ranked (2023)
Demons In Demon Slayer
Demon Slayer has demons as villains who kill and eat humans using their peculiar blood demon art, making them creepy, unique, and unpredictable.
The twelve Kizukis, the most powerful ones, are handpicked by the demon king Muzan Kibutsuji himself.
Even in these twelve Kizukis, there are lower rank Kizukis and higher rank Kizukis. Lower rank Kizukis are indeed powerful demons, but the higher ones are beyond a Hashira level(top-level demon hunter).
Although Tanjiro is the most powerful demon, having sun breathing and immunization to the sun, not forgetting that he also had Muzan's every last drop of blood, which is way more than other upper-rank demons.
But we won't be including Tanjiro in this list as presently, in the human form, he hasn't been able to explore his full potential yet.
Same with Nezuko Kamado, judging from her blood demon art, the awakened form of her and immunization to the sun, she could have been one of the upper moons, but she wasn't shown at her full potential either to place her in this list.
Top 10 Demon Slayer Villains
Here are all the major villains of the show, ranked on the basis of the impact they made in the storyline. Let's start with the exclusive list of best Demon Slayer Villains.
10. Rui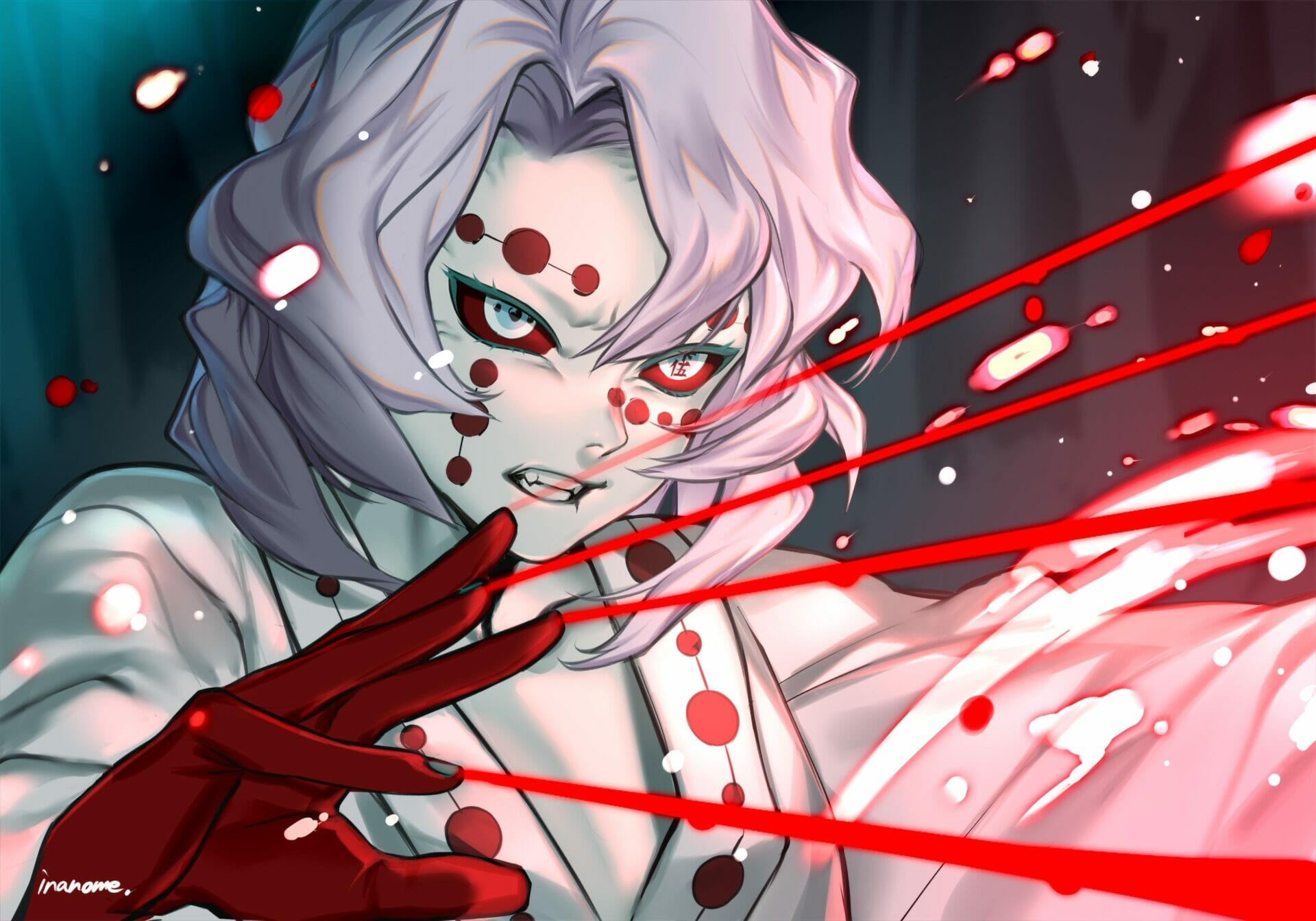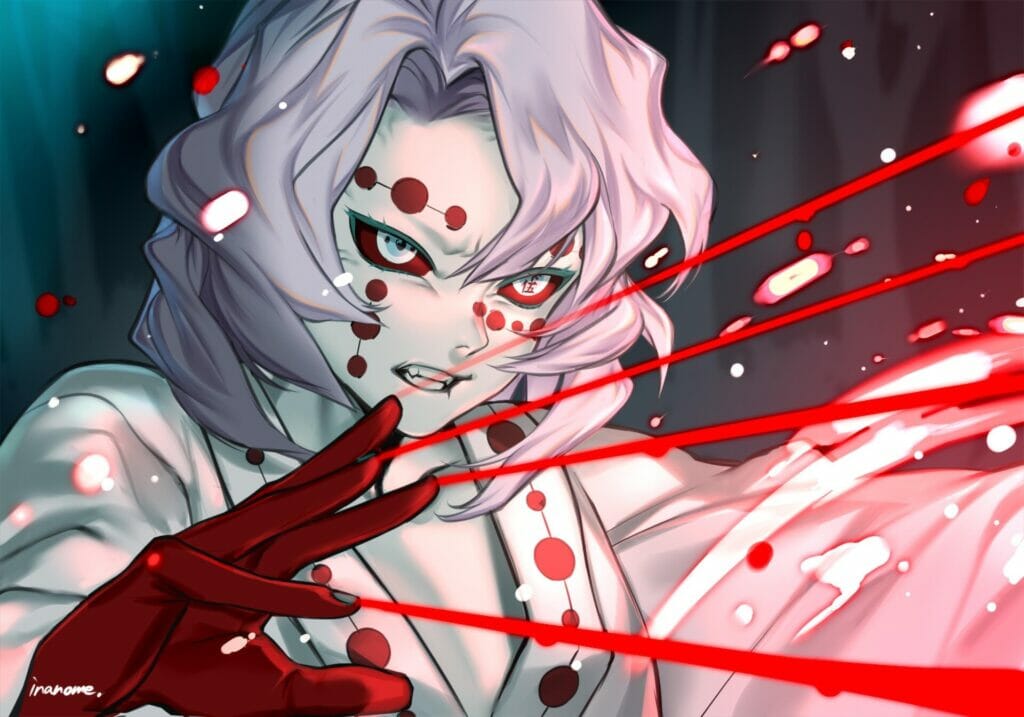 The lower rank 5 demon Rui was the first appearance of an actual member of Muzan's twelve Kizukis. This demon uses thread manipulation as his blood demon art.
He creates extremely thin, durable and sharp threads from his cells and demon blood, which can cut a Nichirin blade and block strikes from them.
He can also manipulate the threads as he pleases. Using his blood demon art, he transforms humans into demons and traps them as his family, the spider family.
He is powerful enough to push Tanjiro and Nezuko past their limits. However, they both were no match to him until the water Hashira Gyu arrived.
No matter how powerful he may be but he was not enough for a Hashira who killed him with one strike.
9. Enmu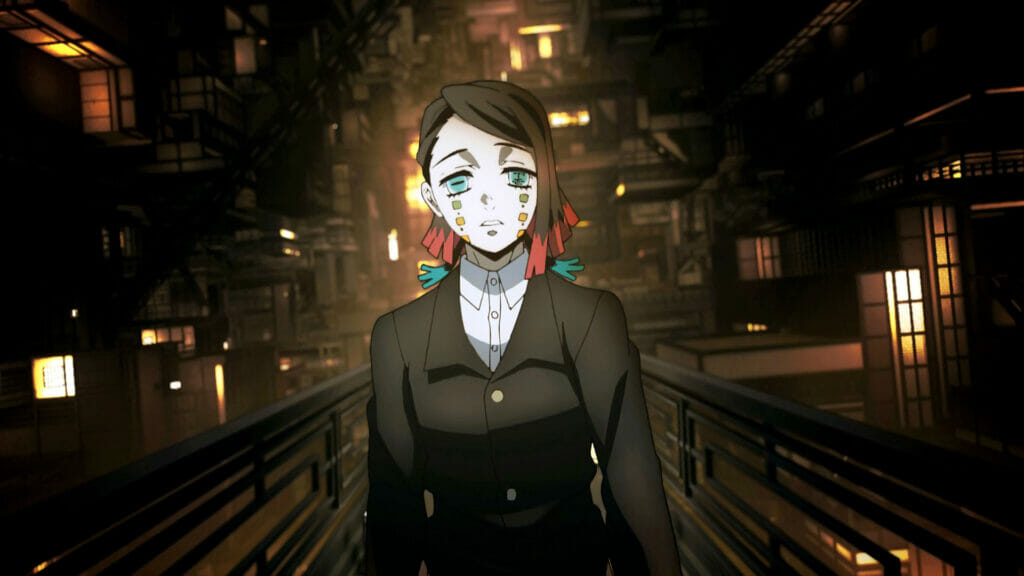 After the defeat of Rui, Muzan expressed his outrage on every low-ranked demon and killed them.
The lower rank 1 demon Enmu was given a second chance by Muzan after showing a complete submission to him, which made him worthy of his blood.
Enmu uses sleep inducement, which grants him the ability to force anyone into a deep sleep, ultimately killing them in their dreams.
He sets up a mirage of pleasant dreams for humans and then casts them into tormenting nightmares.
He appeared in the movie Kimetsu no Yaiba: Mugen train, in which he hijacks the train, targeting a lot of humans to consume in order to gain power.
The demon slayer, the flame Hashira, Rengoku were sent to this mission, but as Tanjiro wanted to talk with him, he ended up on the same train along with Inosuke and Zenitsu.
Enmu's technique is very clever however not strong enough against Tanjiro's spiritual energy. The demon himself was shocked to see Tanjiro wake up from his sleep.
Thanks to Tanjiro and Inosuke's ability, they were able to find his head that was fused with the train.
8. Gyokko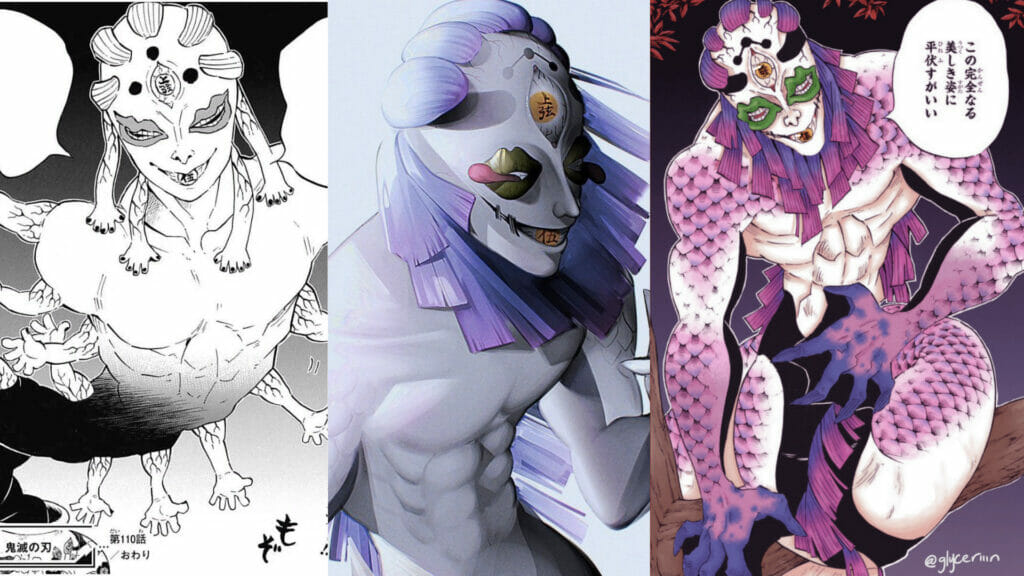 The upper moon 5, Gyokko, will be seen in the upcoming season 3, swordsmith village arc of Demon Slayer, along with upper moon 4, Hantengu.
Gyokko is obsessed with the artistic approach. He lives in a pot and switches to another one in no time, making him travel between places very fast, almost like teleporting.
His techniques are based on summoning numerous aquatic creatures like fish and octopus from his vases who possess different abilities and characteristics.
Some of them can shoot poisonous needles toward the target or leave behind dangerous acid once they are killed.
Gyokko can also manipulate and create water from his vases which he uses to suffocate his target by trapping them inside a solidified version of the liquid.
The 14-year-old wind Hashira Muichiro Tokito was able to eliminate Gyokko quickly, but only after recovering his memory and activating the flame mark.
7. Daki and Gyutaro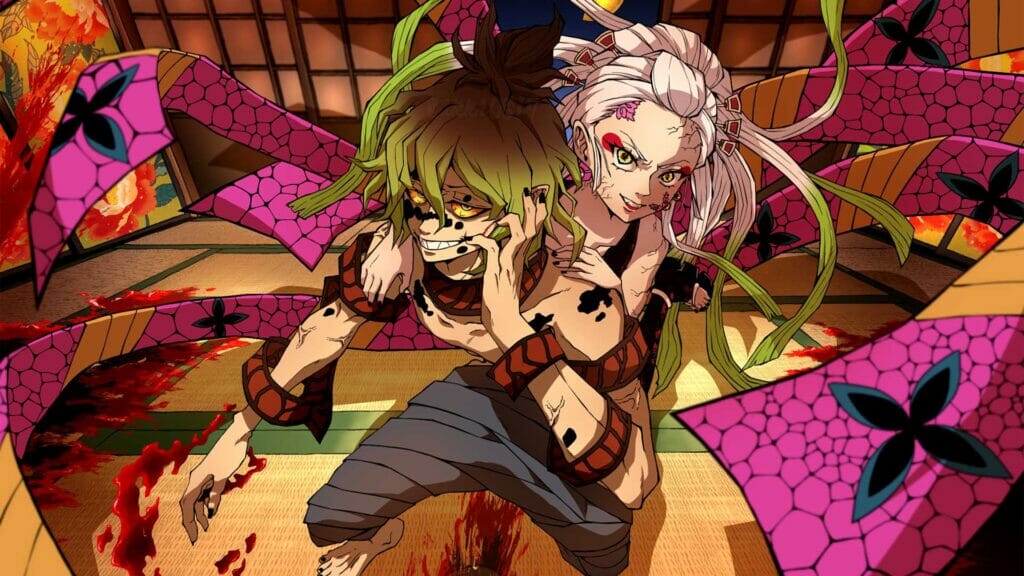 Daki and Gyutaro uphold the position of upper moon 6 among the twelve Kizukis. This brother and sister pair live as one and have one of the most tragic backstories.
They are the main villain of the entertainment district arc of the Demon Slayer series.
Daki uses Flash manipulation, through which she can manipulate her flesh into a cloth sash, which also complements her beauty and looks.
These cloth sashes look like tentacles, are very sharp as blades and are not easy to cut. She can also make a flash obi, which are living sash, to guard, protect, and monitor what she wants.
Gyutaro, on the other hand, emerged out of her. He uses blood manipulation as his demon art. Gyutaro manipulates his blood in various forms.
He is shown to generate them through his open wounds or scratching or directly through his veins. Gyutaro creates sickle-shaped blood as sharp as blades that can travel at a very insanely fast speed.
He can manipulate their shape, size and directions according to his own free will until they hit their opponent. Moreover, these blood sickles are coated with deadly poison.
They are one of the powerful members of the twelve Kizukis.
It took the collective efforts of sound Hashira Tengen Uzui, his wives, Tanjiro, Nezuko, Inosuke and Zenitsu, to figure out and finally defeat them by cutting their heads simultaneously.
It would've been impossible to defeat them with just one demon slayer, even if it would have been a Hashira, especially Tengen, as he is the weakest among other demon slayer corps.
In order to win, they had to cut the siblings' heads at the same time. But thanks to his and Inosuke's poison resisting ability, they could fight head-on.
Also, thanks to Tanjiro's Hinokami Kagura, Nezuko's awakened form and Zenitsu's new thunder breathing form, they were able to survive to fight head-on head.
6. Hantengu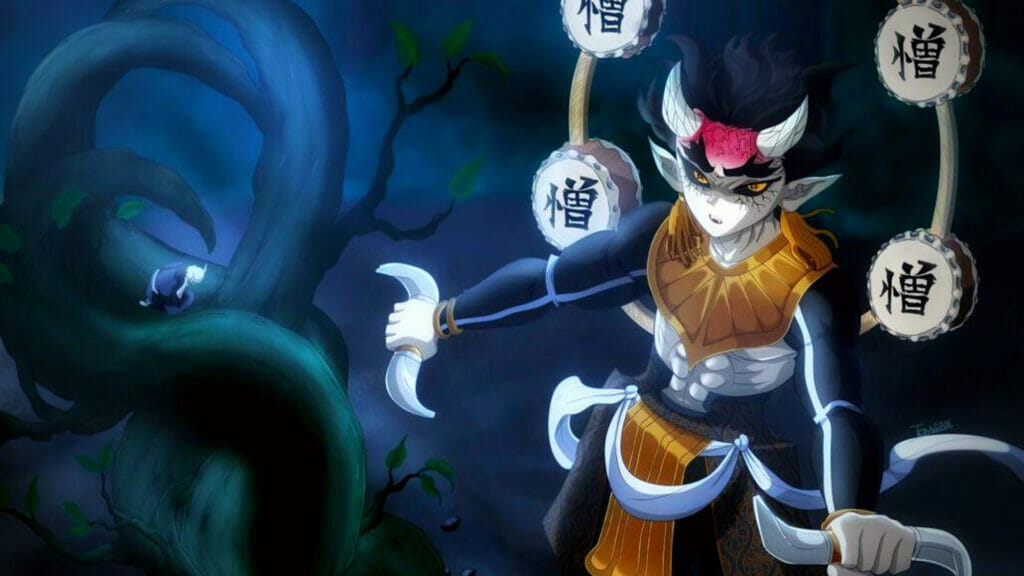 Hantengu is hard to believe in having a position as the upper moon by his appearance, but he is a very powerful member of Muzan's twelve Kizukis.
He uses Emotion manifestation to kill his opponents. With his power, he can create multiple highly powerful clones, each representing an emotion, their own personality and abilities.
The hardest part is that his main body lies in the smallest (mouse size), weakest and most fearful self.
Although it's already hard to figure out this, if anyone does and tries to dispatch it, his most powerful personality, Zohakuten (hatred), absorbs the other counterparts and becomes one excessively powerful demon.
It gave a hard time to the love Hashira Mitsuri Kanroji who fought with him during the swordsmith village arc. It took Tanjiro, Nezuko, Genya Shinazugawa and Mitsuri to defeat this demon.
Thanks to Tanjiro's smell ability, he was first able to figure out the main body, then found it and again found it inside the heart of its big form as he didn't die even when his head was cut.
5. Nakime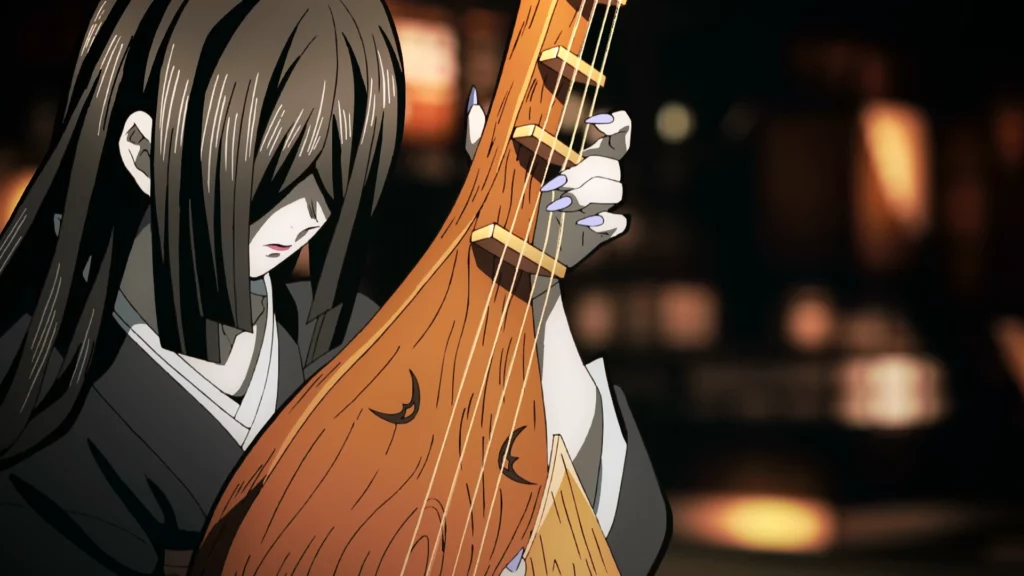 Nakime replaced the position of Hantengu. She is the biwa player shown every time Muzan held a meeting.
Although her demon art isn't considered much dangerous but it's a fact that no demon slayer corps could ever touch her.
She uses infinity castle, which gives her total domination over the extra-dimensional fortress where she resides.
With only a strum of her biwa, she can manipulate and alter the place as she likes. Maybe she doesn't directly harm, but one can end up anywhere if trapped in her castle.
Maybe it isn't dangerous, but neither love Hashira nor the serpent Hashira could reach her, individually or collectively.
Even in the end, the demon Yushiro controlled her mind to defeat Muzan Kibutsuji.
4. Doma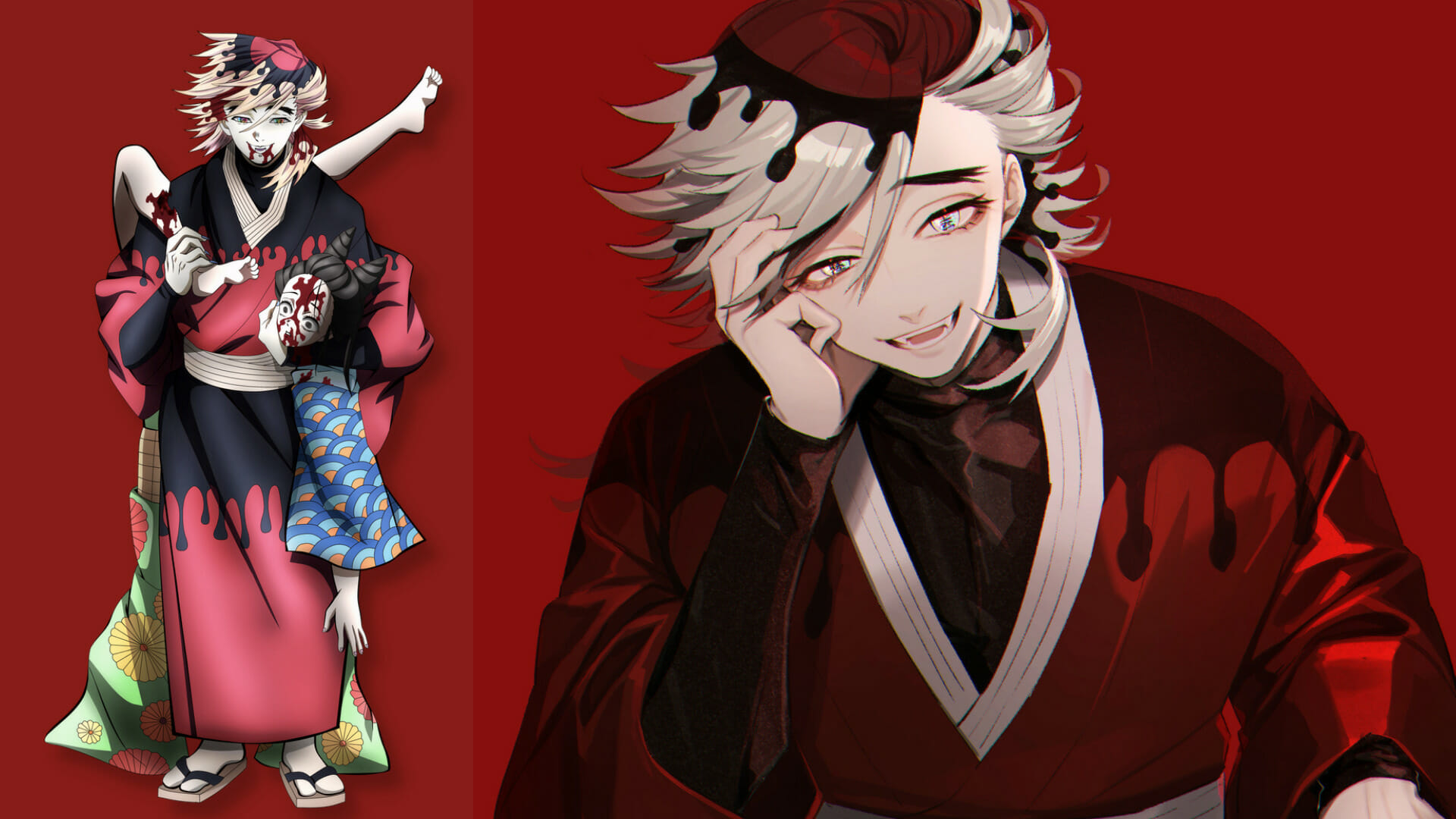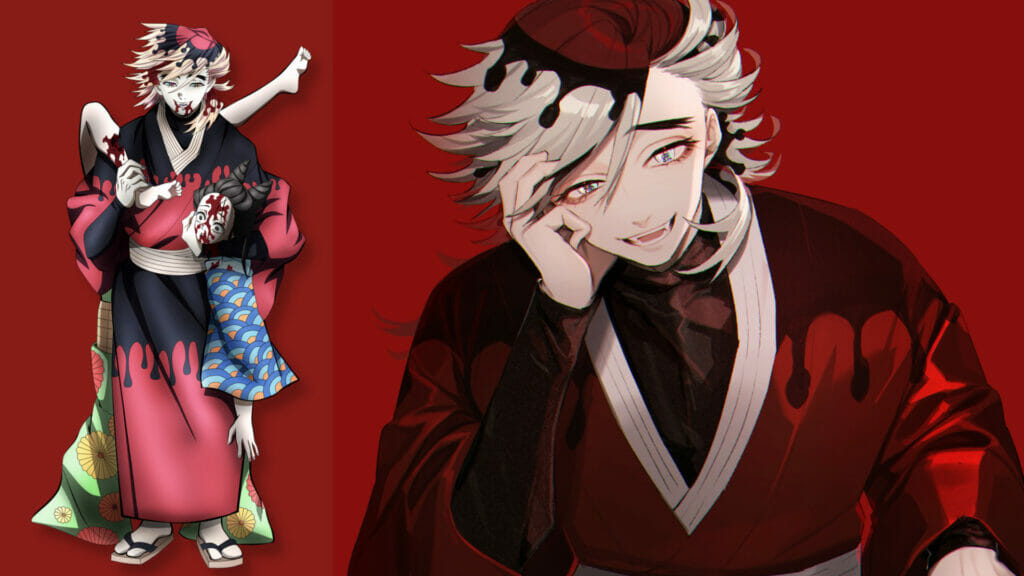 Doma is the upper moon 2 demon of twelve kizuki. He was poisoned by the insect Hashira Shinobu before he could reveal his complete form that why it's hard to place him on the list before or after Akaza.
His powers and character are tremendously evil regardless of his appearance and childish behaviour.
The main power of this demon is extremely powerful cryokinesis, in which he can generate ice and frost from his flesh and blood and can spawn and manipulate anywhere in his surroundings.
Not only that, it's hazardous if anyone inhales those ice particles he creates.
Moreover, he has immense mobility and regeneration power. He is responsible for the death of Shinobu, her sister – the flower Hashira – Kanae Kocho and Inosuke's mother.
Furthermore, judging by his rank and sadistic behaviour – unlike other demons, he is responsible for the death of many humans, including demon slayers.
He is one of the most powerful members everyone should fear.
His regeneration power is so terrifying that even after being beheaded by the Nichirin sword, he was close enough to grow it back, but he couldn't due to Shinobu's poison.
3. Akaza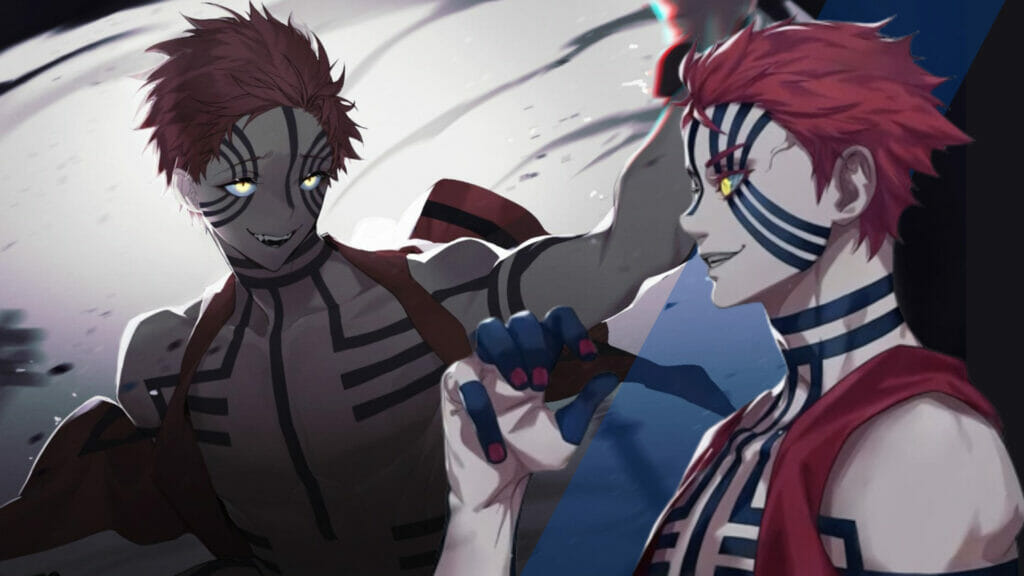 We already have seen in the anime how powerful Akaza is as the main villain in the Demon Slayer -The Movie: Mugen Train. It was just a little glimpse of his total powers.
He uses martial arts such as destructive death, his demon art that contains shockwave-like attacks and his Soryu style, which he manipulates in any form, at any distance.
These shockwaves are also combined with his punches and kicks to amplify their destructive capabilities in the battle, making it appear blue.
His superhuman strength and speed abilities make him a formidable opponent. In the manga, he was alive even after being beheaded.
He could have killed both Tanjiro and Giyu as well but decided to kill himself as he regained his memory. He also has one of the most tragic backstories.
Akaza's behaviour and wise spoken words also made him a fan favourite demon no matter how bad they curse him for taking the flame Hashira, Rengoku's life.
2. Kokushibo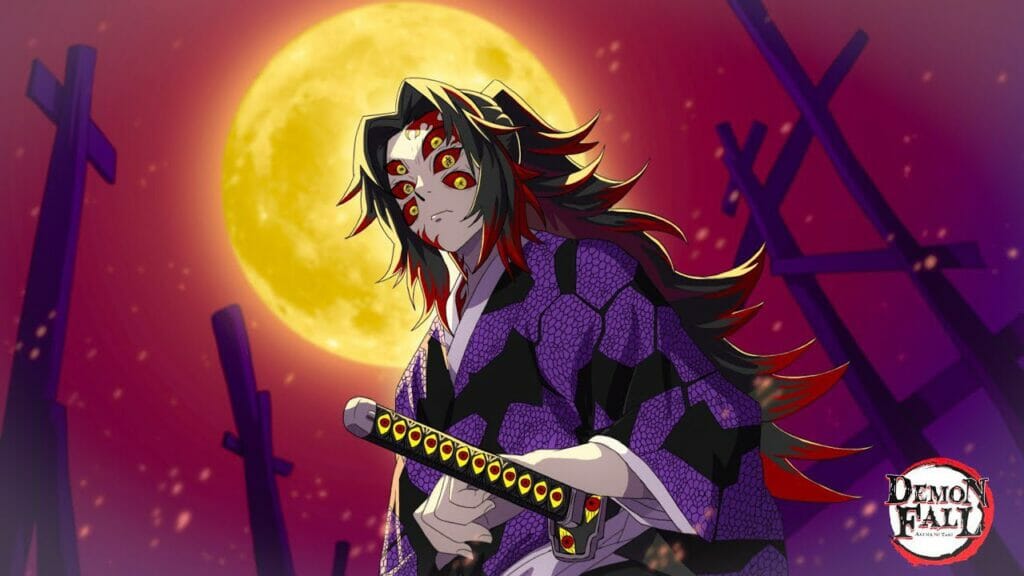 This is the upper demon 1 from the twelve Kizuki. The most powerful of all of the demons mentioned above.
It took the 3 strongest Hashiras (the stone hashira – Gyōmei Himejima, the wind hashira – Sanemi Shinazugawa and the mist hashira – Muichiro Tokito) and Genya Shinazugawa (who ate a little hair of this demon) to defeat him.
No, he too gave up on his life like Akaza when he realized what he had become in the process of becoming the most powerful samurai; otherwise, he could have killed all of them though Genya and Tokito were dead after the fight.
Kokushibo was once a demon slayer from the Sengoku era, the most powerful demon slayer after his twin brother and became a demon as he wanted to be the strongest and wanted to live forever.
He created the moon breathing technique when he was a human.
Being a demon, he is the strongest as his blood art makes him manipulate the shape and range of his sword slashes while using his moon breathing techniques.
He could create blades with his flesh that could pop out of his body at any point. His area covered speed and regeneration are incredibly powerful.
He was undefeatable among varied evil characters. He resented his brother his whole life and even ditched his family for the greed of power.
1. Muzan Kibutsuji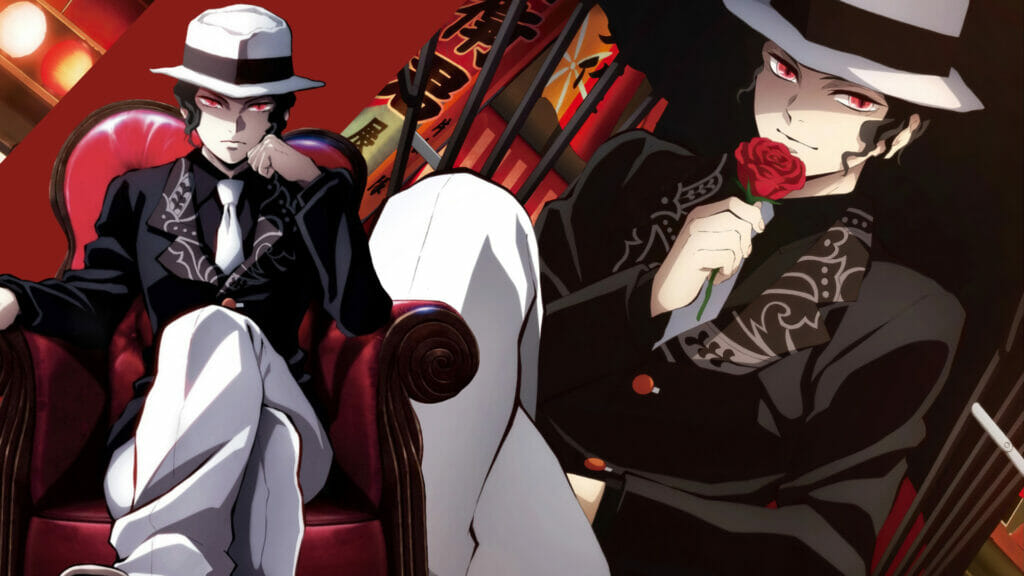 Muzan Kibutsuji is also known as the reincarnation of Michael Jackson because of his appearance. He is the demon king who killed the whole kamado family and turned Nezuko into a demon.
In Muzan's past, it was shown that he was dying as a young man, but a doctor saved his life by turning him into a demon, who he killed after a while.
Muzan is unrealistically powerful, with an incredible amount of speed and regeneration power someone ever had. Nothing other than sunlight could kill him.
He could alter and control his flash, limbs, and even his organs. He had seven hearts and five brains inside his body and could only be defeated if they all were attacked at the same time, which is impossible to do with his additional powers.
It was even hard to get close to him. The only person who had done this was Yoriichi, the sun breathing technique creator, the most powerful demon slayer in history.
He did it with his 13th form of sun breathing, which no one knows. Tanjiro was quick to find out the 13th form but was still unable to perform it but tried it repeatedly to buy time until dawn if he couldn't do it.
Additionally, even if the protagonist Tanjiro had done it, Muzan would have split into 1800 pieces to escape and regenerate even with one piece, just like when he did it in the fight with Yoriichi.
He was undefeatable. He was immortal. His only weakness was the sun which is why he was creating demons to find a solution against sunlight.
Even in the end, he was withstanding against 5 Hashiras, Tanjiro, Inosuke, Zenitsu and Kanao very easily.
Tamayo and Shinobu's four-element poison slowed and weakened him for the others to stop and bind him in one place until the sunrise, which was rising gradually, sending him straight to hell.
He is undoubtedly the most evil demon slayer villain in demon slayer kimetsu no yaiba.