Before you give our exclusively assembled and curated list ranking the best One Piece Anime Villains a read, how about a quick brush up on the deets of the anime itself?
One Piece is a Japanese anime that was first released on 20th October 1999. The storyline of One piece manga/anime is rooted in predominantly two-parent genres-Adventure fiction and Fantasy.
One piece's manga has 1034 chapters, accounting for the anime's 20 seasons. Eiichiro Oda is the creator of the manga series One Piece.
With a total of 31 story arcs, it is a banger to onset your journey into the anime world with. One Piece is the story of Monkey D. Luffy, a young lad whose body imbibes rubber properties after consuming a magical fruit known as Devil Fruit.
The series is about his journey along with his pirate crew (Straw Hat Pirates) searching for a treasure known as One piece.
Luffy draws his inspiration and vows to set on a bizarre and potentially dangerous expedition from a childhood idol and wanting to become the King of Pirates.
Now moving further, let's dive right into the amazing One Piece villains, their character persona, weaknesses and strengths.
Top One Piece Villains Ranked By Fans Likability
15. Smoker
Alternative Names:
Smoker The White Hunter
White Chase Smoker
Chaser, Smokey/Smoke Man
Vice-Admiral Smoker
Character Description:
A Marine officer, G-5 Marine's Head, he later gets promoted to Vice Admiral position. Smoker appears to be a chain smoker.
He plays a one-piece baddie in Loguetown Arc and Marineford Arc. Smoker assists Luffy in Arabasta and Punk hazard arc, making him a deuteragonist or a 'sidekick' character.
He is lawfully neutral in his approach, which is depicted when he cusses at the world government for falsely titling him as the 'hero' in the Alabasta incident.
Strengths:
Incredible innate physical strength (one of the few pirates apart from Admirals Aokiji and Kizaru to have defeated Luffy), his Devil fruit (Moku Moku no Mi) helps him transform into smoke.
His weapons include a large Nanashaku jitte strapped to his back, a Billower bike, Busoshoku and Kenbunshoku Haki.
14. Gecko Moria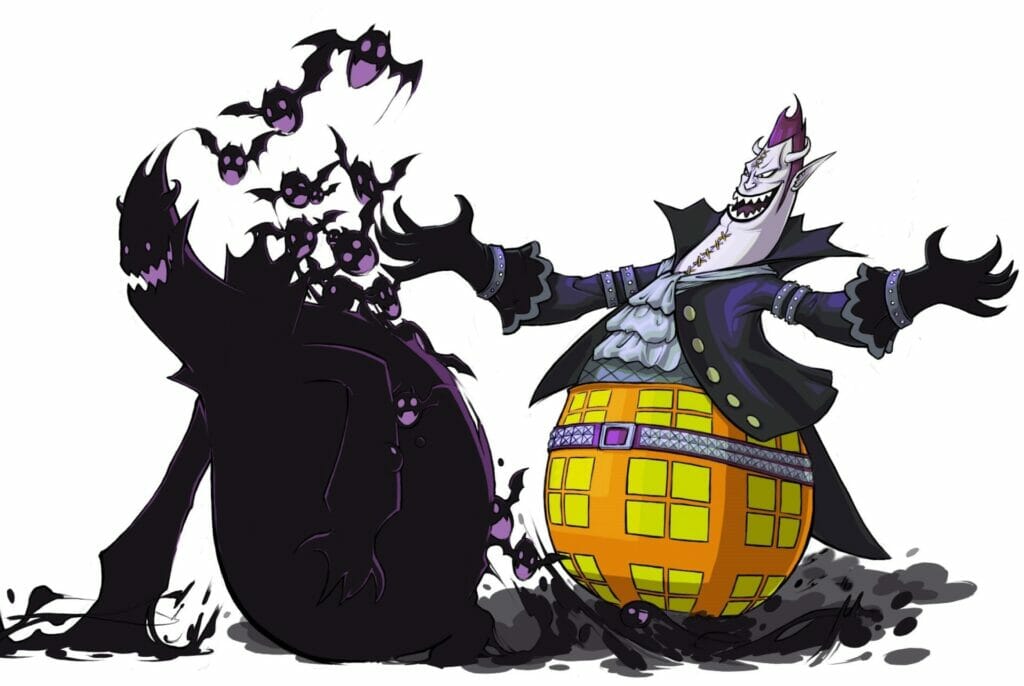 Alternative Names: Master Of The Deep
Character Description:
Resides on the largest ship in the One Piece world, "Thriller bark". Gecko Moria is the central antagonist of the Thriller bark arc. He was formerly a Shichibukai.
Gecko is utterly lazy to the point where he barely fights himself; instead uses his Paramecian fruit to control his subordinates to fight for him.
Moria, out of all One Piece antagonists, probably cares the most for his crew-mates; in fact, he was left traumatised after Kaido killed his crew-mates. Gecko is one of the most experienced pirates in the entire grand line.
Strengths:
Strategic planner, Knowledge about Mechanical stuff, Improved physical prowess, Willpower, Shadow-Shadow fruit which helps manifest and manoeuvre shadows as physical entities to his benefit.
Gecko can cut off the shadows of his opponents, which can put them in a vegetable state and make them vulnerable to sunlight.
His weapon is a giant pair of scissors which, when combined with his Devil fruit's powers, helps him cut people's shadows off them.
13. Magellan
Alternative Names: Warden, Vice-warden
Character Description:
Magellan was the chief warden of Impel Down, who later got demoted for being unable to prevent the jail's mass breakout caused by Luffy.
It's unfair to label Magellan as an antagonist in the One-piece series when he's just trying to protect civilians from criminals.
The tag of this one piece villain for him comes from his rife with straw hats over conflicting goals. Magellan takes his duty to guard Impel Down pretty seriously.
He doesn't shy away from poisoning troublesome prisoners, sometimes even people he isn't fond of, like Hannyabal. Magellan doesn't seem to have good self-control over his feelings for Boa Hancock.
Strengths:
Well obviously to tackle vicious piece villains Magellan ought to have some special powers and physical strength.
His physical capabilities may be witnessed in several episodes however the most iconic was him showing resilience to Monkey D. Luffy's Gear Second attacks, High-resistance to boiling and sub-zero temperatures of Impel Down.
Doku Doku no Mi, is a Paramecia-type of fruit that helps him create and control poison as well as attacks related to it (such as his lethal Hydra technique).
12. Kizaru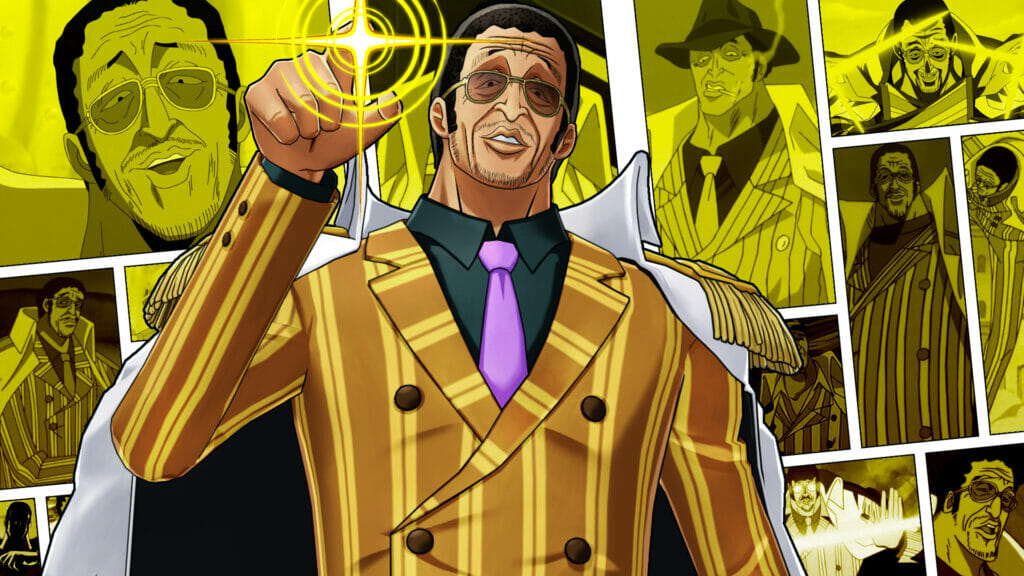 Alternative Names: Borsalino
Character Description:
An admiral in the Marines, Kizaru plays the secondary antagonist in the Sabaody arc while the main antagonist in Marineford Arc. Calm and sarcastic are the two adjectives that suit Kizaru's personality the best.
He doesn't leave any opportunity to flex his powers, whether destroying a mangrove tree on Saboady Archipelago or not fearing to tackle veteran enemies like Silvers Rayleigh, Benn Beckman, Marco, or even Whitebeard single-handedly.
He has tendencies of showing absent-mindedness amid combats. Kizaru is one of the strongest characters amongst one piece villains, proving in several battles against the Straw hats and other pirates.
Strengths:
Melee attacks, Heavy kicks, Natural perception and dexterity, Acute sense of hearing, His fruit (Pika Pika no Mi) helps him transform his body into light and manoeuvre it.
Along with that, he can shoot laser beams from the tips of his fingers and toes. Moving swiftly at a light speed is often in conflict with his general lazy nature. Proficient user of Hakis.
11. Aokiji
Alternative Names: Kuzan
Character Description:
One of the main one-piece villains in Marineford Arc and a minor one in Long Ring Long Land Arc. Before becoming a Blackbeard pirate, he was a former admiral and a part of the World Government.
A firm believer in "Merciful Justice." In a sense, Kuzan perfectly personifies a redeemable antagonist as he was more inclined toward the benefit of commoners rather than the World Government's agenda.
Kuzan became a wanderer after realizing how corrupt World Government is, thus standing firm for his ideals.
Strengths:  
Kuzan's physical prowess were well displayed in his battles against Whitebeard Pirates, Straw Hats and his duel against Akainu.
He has amazing navigational skills and terrific speed and agility. His Devil fruit (Hie Hie no Mi) helps him to metamorphose his body into ice and other techniques related to the fruit.
He is Well-versed in Busoshoku and Kenbenshoku Hakis.
10. Rob Lucci
Alternative Names:
The Pigeon Guy
Massacre Weapon
Character Description:
Rob Lucci is a primary antagonist of the One-Piece series. He was the main villain of the Water 7 arc while acting as a secondary villain in the Wano arc. He also plays the antagonist in some other arcs and One Piece movies.
Lucci was earlier a member of CP9(World Government headed secret assassin organization) and later was a part of CP0. He is a brutal, cold-hearted, sadist, and full of bloodlust in terms of personality.
Though most of the time he is emotionless, he hates being insulted or called 'gaki' (brat).
He detests any form of weakness, to the point that he even attempted to kill his friend and colleague 'Paulie' and maimed five hundred soldiers in the past.
Strengths:
Rob Lucci has brute strength that has been acknowledged by the Seven Warlords of the Sea themselves. He is the strongest member of CP9 with a Doriki of 4000.
He is the first villain to have brought Luffy to the brink of death. Lucci is believed to be strong enough to survive a Buster Call Attack.
He is also equipped with his Rokushiki skills, Cat-Cat Fruit Model: Leopard (Devil Fruit), which helps him transform into either a Leopard or a hybrid. Lucci is a proficient Armament Haki user too.
9. World Government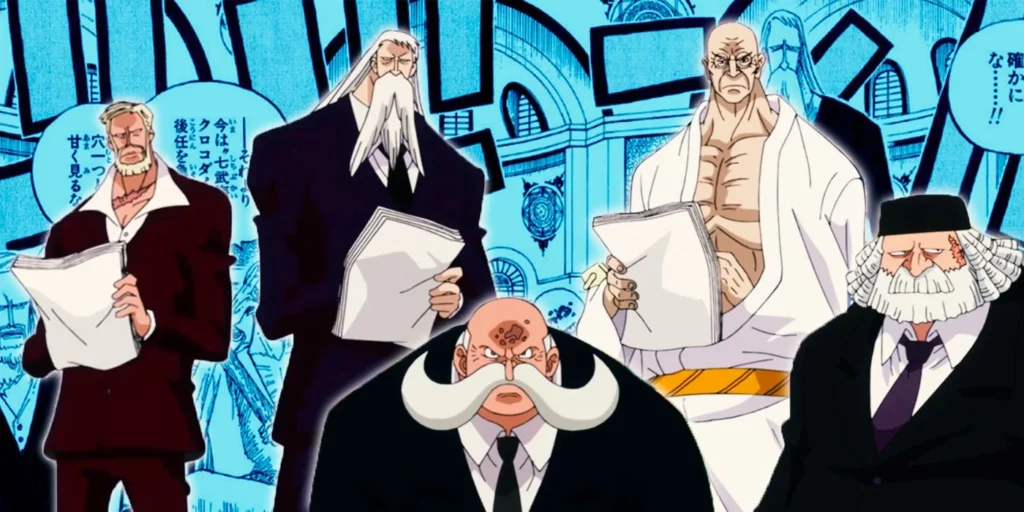 Alternative Names:
World govt.
The Government
Character Description:
The main antagonist of the one-piece franchise. Its foundation was laid by the alliance of 20 different kingdoms, who have ruled the piece universe for about 800 years.
This global regime is headed by the Five Elders or Gorosei. They have played an integral villain throughout the piece franchise, with several great villains up their sleeves.
Corruption is deeply entrenched in The Government and members who seek the prosperity and safety of civilians.
This organization has been a consistent antagonist in almost every episode, saga, movie and arc. Its purpose is to eliminate and kill anyone who opposes its authority.
The Government's execution of pirate king Gol D. Roger unleashed a Pirate era. It has a constitutive role in the shaping of one piece history.
Strengths:
Their strength is their influence and the people who work for them, such as Cipher Pol agents, Commander-in-chief Kong, Marines, SSG and Shichibukai.
8. Enel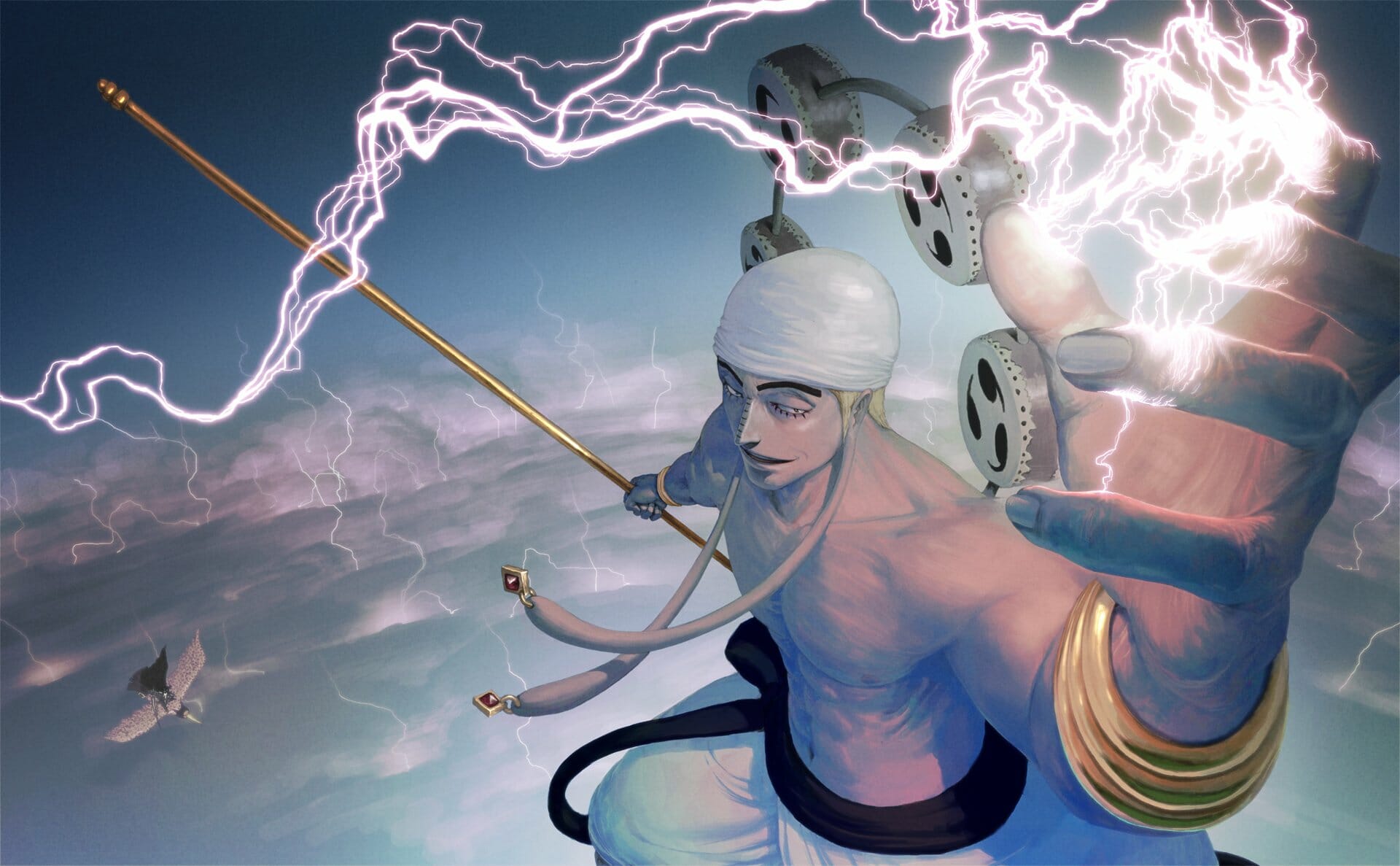 Alternative Names:
Character Description:
Eneru is the prime villain of Skypiea Arc and was formerly known as the God of Skypiea. Enel is a 'childish brat' who's full of himself as a one-piece character.
In his fight against Luffy, He underestimated his opponent, which caught him off-guard. He seems short on the concept of morality because, unlike some of our antagonists, Enel doesn't shy away from maiming people.
Strengths:
High and proven intelligence, Manipulative Skills, Nonosama Bo (a melee weapon which he can use combined with his Devil Fruit's powers), Amazing endurance, Mechanically, Meteorologically and Technologically Learnt, Goro Goro no Mi (his fruit which helps him use lightning-based attacks and transfigure himself into lightning). Enel has observation haki, which helps him foretell his opponent's move.
7. Kaido
Alternative Names:
Kaido of the Beasts
King of the Beasts
Hundred Beast Kaido
Lord Kaido
Strongest Creature in the World
Character Description:
Kaido is another major antagonist in the series. Yamato(his daughter) is his arch-enemy. He is the governor-general of Beast Pirates.
Kaido has this weird obsession with trying to kill himself and often tries to find creative ways to do that. He is a part of the Four emperors.
Kaido, in the past, defeated and killed all of Gekko Moria's crew (a solitary example of his strength and power).
He has an astounding army with over twenty thousand members, out of which around five hundred of them are devil fruits users.
One of his goals is to destroy World Government. Kaido is short-tempered, demeaning towards his opponents, a drunkard, and always seeking powerful contenders to join his crew.
In a sense, he is cunning and opportunistic, too, which is reflected when he allies with Big Mom and Big mom pirates just to kill them later after his plan to conquer the world succeeds.
Kaido poses as a hindrance for the Worst generation in his quest to get his hands on the One-Piece.
Strengths:
Kaido doesn't hold the title of 'Strongest Creature in the World' in vain; he has incredible physical strength and vigour.
My man here is all about brute power and endurance to pain or injuries, making his body almost indestructible.
Advanced Haoshoku, Kenbunshoku and Busoshoku user. He is a Kanabo Wielder and can transform into a serpentine Azure Dragon as well as a human-dragon hybrid.
More of his skills include Telekinesis, Breath Attack, Fire Manipulation, Electricity Manipulation, Air Manipulation and Animal Manipulation. He is physically resistant to Gamma Manipulation.
6. Big Mom
Alternative Names:
Charlotte Linlin
Evil God, O-Lin
The World's Strongest Hag
Character Description:
She is the top black hat of the Whole Cake Island arc and throughout the One piece franchise. She is the captain of Big Mom Pirates and queen of Totto Land.
The old hag is numb towards her husbands and children, and in fact, she might as well be more attached to the sweets and candies than her children. She goes berserk during her hunger pangs attacks.
Her personality can mainly be construed in 5 words- Eater, Cruel, Apathetic, Opportunist, and Manipulative, which is like almost every antagonist but on a different magnitude.
This woman is only attached to her childhood nurturer, Mother Carmel.
Big Mom is confusing enough to take the life of innocent people in her land if she doesn't receive the number of candies promised to her because, in her words, "A deal is a deal".
LinLin has some influential connections, like with Vinsmoke Judge(king of Germa kingdom).
Strengths:
Iron-like physical strength, she is no less than Kaido when it comes to superhuman physical strength. When combined with her Haki, her shrieking cry/scream can stall projectiles directed toward her.
Her devil fruit, Soru Soru no Mi, helps her steal the souls of her victims hence reducing their lifespan or ending it. With the help of this fruit, she can cast the stolen souls into creatures called 'homies'.
Her homies are all-purpose because they can act as both living and non-living things.
Special Homies is another strength she acquires when she combines souls with fragments of her own soul, who are far more potent than regular homies. A proficient Haki user and a skilled swordsman.
5. Crocodile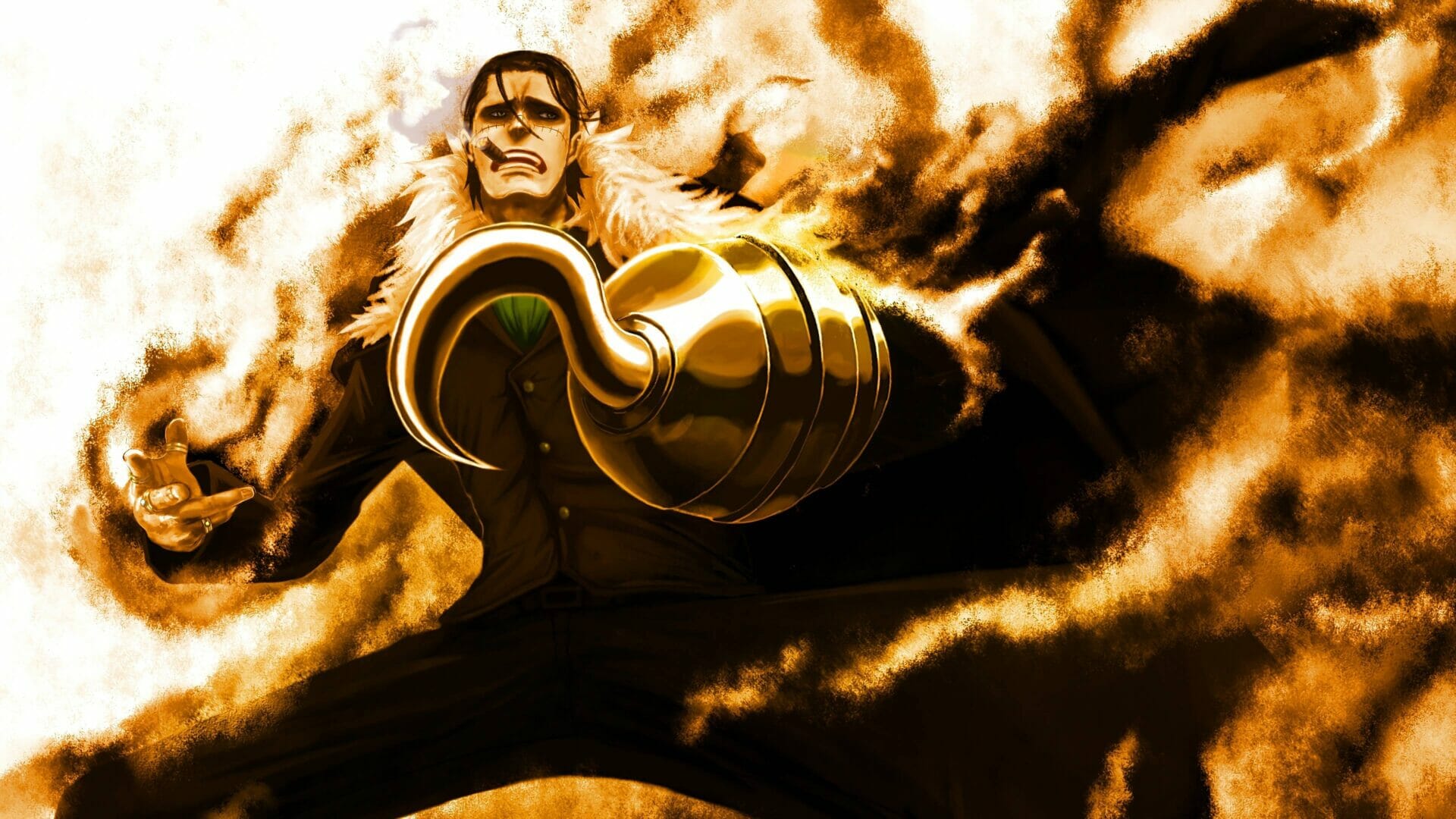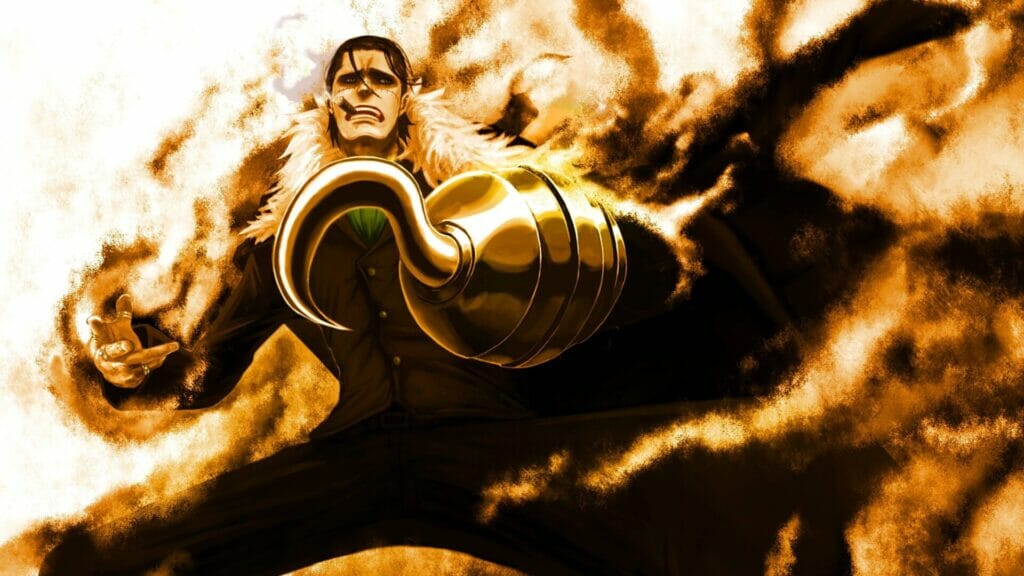 Alternative Names:
Mr. 0, Boss
Sir crocodile
Desert King
Character Description:
Crocodile is another primary antagonist of the One Piece Manga and Anime. He is also the prez of the crime organization, Baroque Works.
Formerly a member of Seven Warlords of The Sea, he lost his title of a Shichibukai after his defeat from Luffy.
Every One piece fan knows that Crocodile is the perfect concoction of a villain who is both 'sweet and sour'.
Though he has sadistic tendencies like many other villains in the One-Piece series, he has an adorably soft side. Crocodile loves animals and cares for them.
Sir crocodile is intolerant towards any form of cowardice. He is mature enough not to lose his head when he suffers a defeat from our rookie antagonist 'Luffy' and even saves him later from Mihawk and Akainu.
Strengths:
His remarkable speed and reflexes, intelligence, pragmatism, and deduction are other amazing aspects about him.
Suna Suna no Mi (logia-type fruit) equips him with powers to create, control, and transfigure his body into the sand at his will.
He can even suck out moisture out practically anything plus destroy, kill, mummify any biological object via dehydrating it.
4. Blackbeard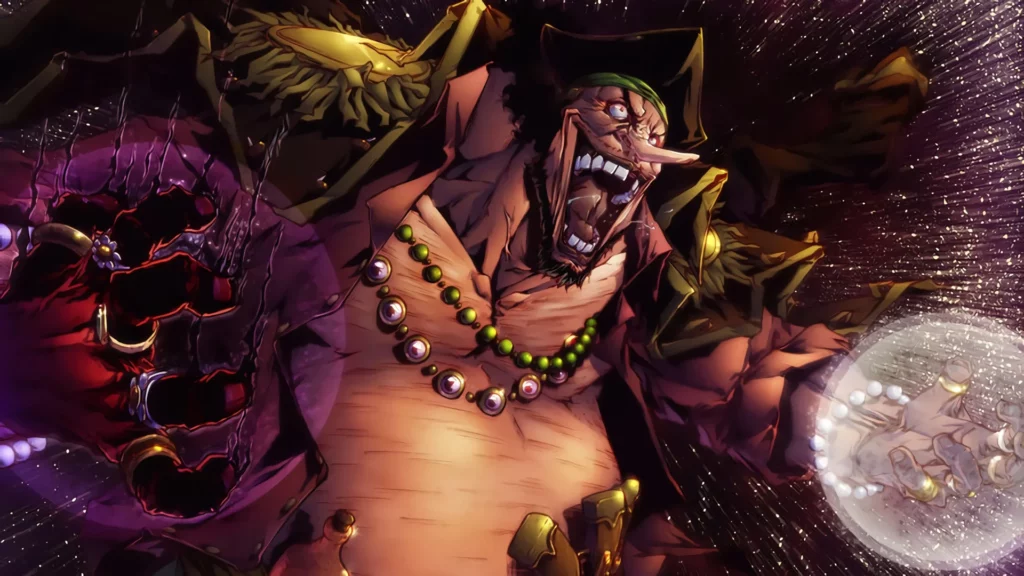 Alternative Names:
Marshall D. Teach
Teach
Captain
Rat
Admiral Teach
Character Description:
One of the strongest pirates of the One Piece series and the chief antagonist of the Summit War Saga. He, along with Akainu, holds the top spot as Luffy's archenemies.
He was once a part of Whitebeard pirates, who Blackbeard had betrayed and killed later after obtaining Yami Yami no Mi.
Blackbeard is also a part of the Worst generation. Blackbeard is power-hungry. He only sets himself to action if he sees an opportunity to expand or gain power.
He, weirdly enough, doesn't hold grudges against his enemies despite having the capability to easily wreck their existence which was seen in an episode when Magellan poisoned him and his crew, pushing them to the brink of death.
Other aspects of his personality include his conniving and calculated nature. He is one of the four emperors.
Strengths:
Strategic Master planner, Superhuman Physical strength. Blackbeard is the ONLY character to possess the power of two devil fruits in One Piece.
One being Yami Yami no Mi (helps him create, control, and transform his body into darkness), and the other being Gura Gura no Mi (obtained from the Whitebeard's body, the strongest fruit in Paramecia class which equips him with the power to cause earthquakes and emit brutal shockwaves).
These fruits have a lot more powers aligned to them. He is also an accomplished Haki user.
3. Akainu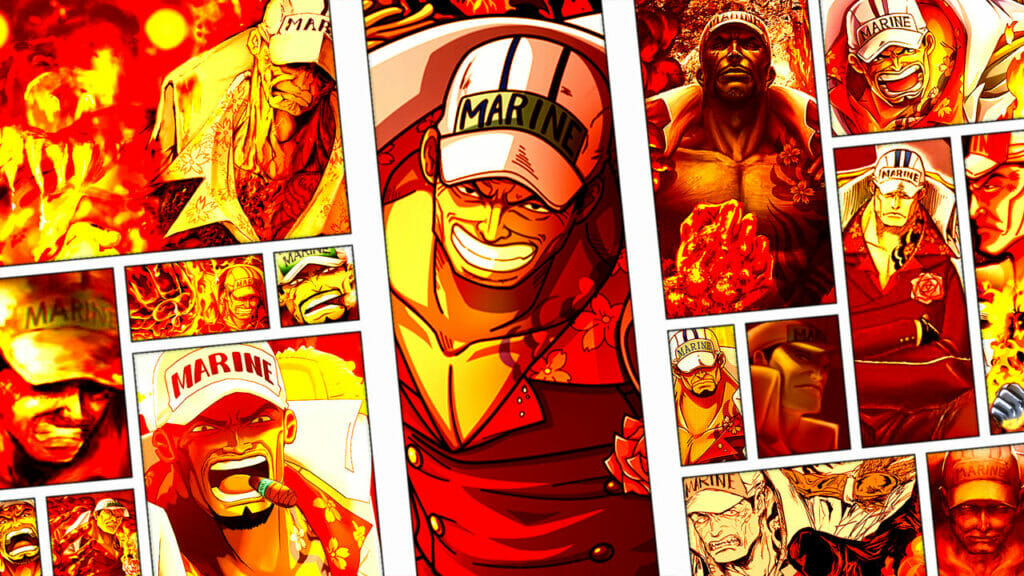 Alternative Names:
Character Description:
Sakazuki is the current fleet admiral of the Marines, succeeding the previous fleet admiral, Sengoku. An ardent follower of marine doctrine 'Absolute justice'. He is responsible for the death of Luffy's brother Portgas D. Ace.
He has extremist tendencies when it comes to literally 'hunting' down his enemies.
However, he is a hypocrite when he overlooks the miseries caused by 'Celestial dragons'. Akainu is persistent and merciless when it comes to achieving his goals.
Strengths:
Commendable physical brute (after all, he fought against Whitebeard face to face), Acute hearing sense and ability to detect underwater movements.
Magu Magu no Mi (Logia-type Devil fruit) allows him to create, control and transform his body into magma and helps him attain properties related to it.
Sakazuki used a dagger as his weapon when he was a child and a katana in his youth days as a Marine. He is a proficient Haki user.
2. Charlotte Katakuri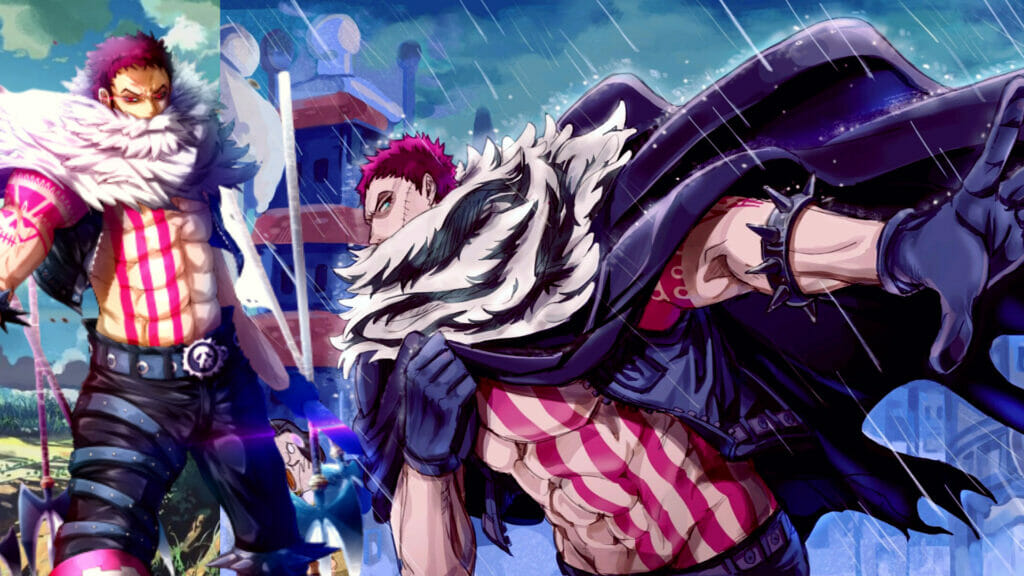 Alternative Names:
Dogtooth
Billion Berry bounty man
Future seeing man
The Pelican Eel
Character Description:
A member of Big mom pirates, he is one of the Three Sweet Commanders. Katakuri is Totto Land's Minister of Flour.
He is the calmest and most collected antagonist out of all the other villains in the One Piece series.
He is a typical family-oriented man who would go to any lengths to protect his close ones.
Since he used Kenbunshoku Haki a lot, he must maintain a calm demeanor. Katakuri detests any trouble or inconvenience and makes sure to remedy them at the earliest.
Strengths:
Katakuri's monstrous strength has been acknowledged ever since he was a child. He is skilled in hand-to-hand combatant.
His brute is reflected in his capability to use mere jelly beans like bullets, that too just by a flick of his fingers. Katakuri possesses amazing agility, reflexes, and durability.
Enthralling spearmanship and marksmanship. Katakuri's Mochi Mochi no Mi fruit helps him create, control, and transfigure his body in Mochi and combine it with his other attacks.
1. Donquixote Doflamingo
Alternative Names:
Joker
Heavenly Demon
Waka-sama
Doffy
Character Description:
Doflamingo has several titles linked to his character.
He was a part of Celestial dragons, King of Dressrosa, Underworld broker (where he went by the name 'Joker'), Captain of Donquixote Pirates, Shichibukai, Owner of SMILE factory; he held all of these positions formerly.
Currently, he is chilling as a prisoner in Impel Down. Extremely bloodthirsty and free-spirited, he absolutely hates betrayal of any kind by anyone.
Strengths:
Donquixote Doflamingo doesn't hold the top spot amongst other One Piece villains in vain.
To be the most formidable baddie, Doflamingo has superhuman endurance, strength, agility, durability, speed, and reflexes which are notches above the other villains in One-Piece.
In addition, he is endowed with some excellent leadership skills. Another aspect of his inhuman biology is his resistance to pain and heat.
Donquixote Doflamingo is equipped with the brains of a prodigy and combat experience.
He has mastered manipulation and psychological tactics that help him play with the 'psyche' of his enemies while helping him maintain his composure and a hella delicate mental tenacity in battles against his opponents.
Ito Ito no Mi, a fruit used by Doflamingo, helps him create and control strings. Though this power sounds nothing special, don't be mistaken because Doffy can use it to cut bodies, weapons, and even countries.
He can even control people using these extremely sharp strings. Doffy's Devil Fruit Awakening power helps him transform inanimate objects in his surroundings to maneuver them according to his will.
He is also a proficient Haki user. Doffy's weapon is a gold-plated flintlock pistol.