The story of My Hero Academia (or Boku no Hero Academia), follows Izuku Midoriya and his classmates pursuing their dream to become pro heroes. These high school students must overcome the hurdles necessary to learn what it truly means to be a hero – a simple setting for a story.
Well, then why is it as popular as it is? One of the obvious reasons is that My Hero Academia has a solid cast of characters. These mha characters and villains have diverse abilities, personalities, and ideologies.
Basing all the mha characters on popularity, character design, abilities, character development, involvement in the plot, etc., we have come up with the ultimate character ranking for you.
Where To Stream My Hero Academia: Crunchyroll, Hulu, Funimation, Netflix
Top MHA Characters Ranked As Per Likability
15. Ochaco Uraraka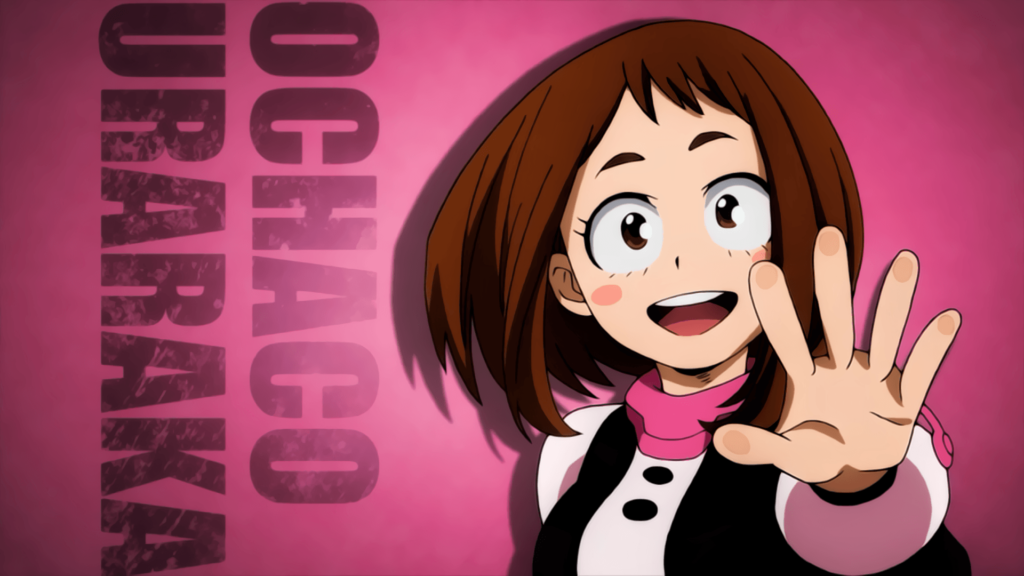 Hero name: Uravity
Quirk: Zero Gravity
Uraraka shines in her fight with Bakugo at the U.A. Sports Festival, despite having a disadvantage at close range against him.
Although she does not win, she forces Bakugo to give his all and firmly proves her strategic abilities through the fight.
During the USJ incident, she was able to stall the powerful villain Kurogiri, giving Hanta Sero and Rikido Sato a smooth opening to attack.
Uraraka is one of those characters from hero academia that you cannot help but adore. She is bubbly, bright, optimistic, and sometimes even comical.
She wants to become the hero for two reasons- she loves seeing people smile, and she needs money.
Uraraka greatly admires Izuku's hard work and devotion, and he is a source of motivation for her.
She likes him and has always supported him on multiple occasions- the highlight being, Izuku's return to U.A. and Uraraka taking charge to convince evacuees to let him stay and recuperate at the school.
14. Eijiro Kirishima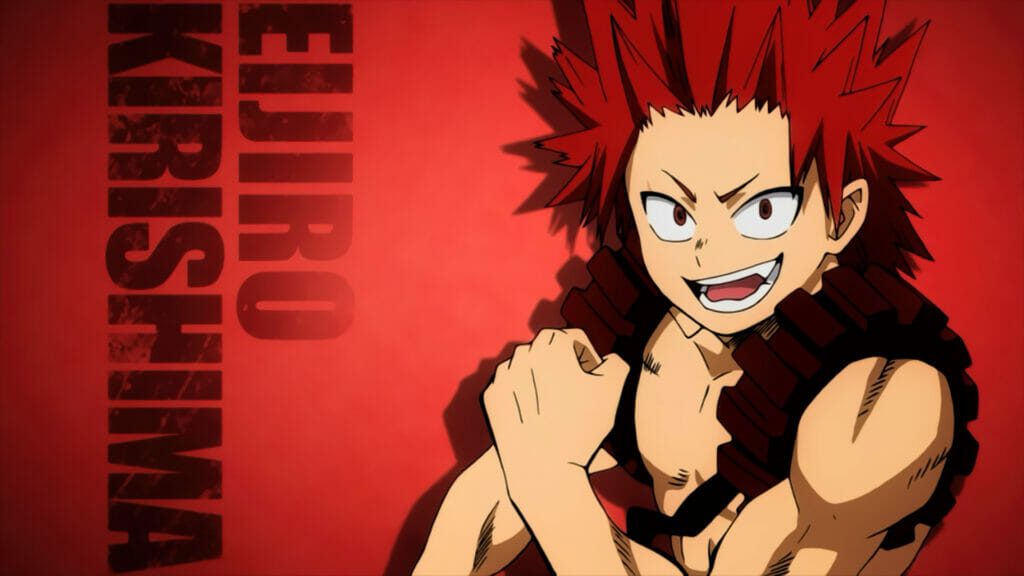 Hero name: Sturdy Hero: Red Riot (in honor of his idol hero, Crimson Riot)
Quirk: Hardening
Kirishima can make his body parts harden, causing a dramatic increase in his durability and physical strength. His build becomes rock-like and craggy, with several small blades protruding out of his skin.
Kirishima's quirk abilities are highlighted in his fight with Kendo Rappa to aid his mentor, Fat Gum, during the Shie Hassakai Raid.
One of his best moments in the manga is in Chapter 280 (titled "Red Riot, Part 3), when he succeeds in shoving a can of sedative down Gigantomachia's throat with the assistance of Tetsutetsu (a student of class 1-B) and Mina Ashido.
Kirishima is one of the most popular mha characters for understandable reasons. He is a friendly, easy-going, and cheery individual with a heart of gold.
Along with Denki Kaminari, he is now a close friend of Bakugo- that in itself is a massive feat.
13. Tenya Iida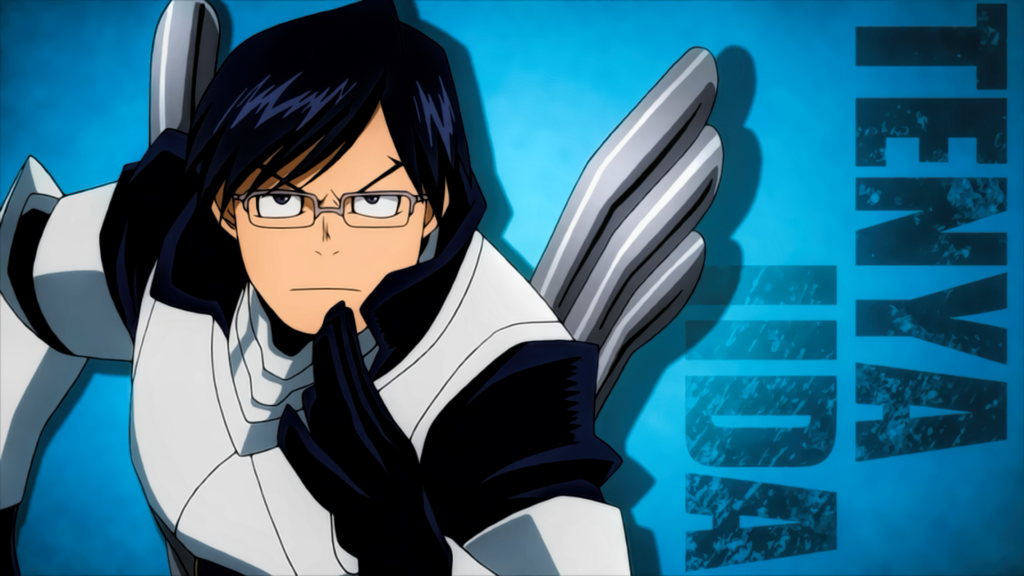 Hero name: Turbo Hero: Ingenium (or just "Ingenium", which is also his older brother's hero name)
Quirk: Engine
With multiple gears and exhaust pipes, Iida has engines on his calves, offering him immense velocity and kick-power. He recharges his engines by drinking orange juice and creating some sugar rush.
Iida is brilliant in academics, and his intellect also extends to the battlefield, as emphasized in the latter part of his fight with Stain alongside Izuku and Shoto.
In the manga, he takes on a Near High-End nomu, a tremendous feat, as his opponent was too problematic for even other pro heroes.
Iida is the class president of Class 1-A and is full of discipline and morals, and his actions set a good example for his classmates.
Ida can keep himself and his classmates calm through stressful circumstances, making him a capable leader.
12. Mirio Togata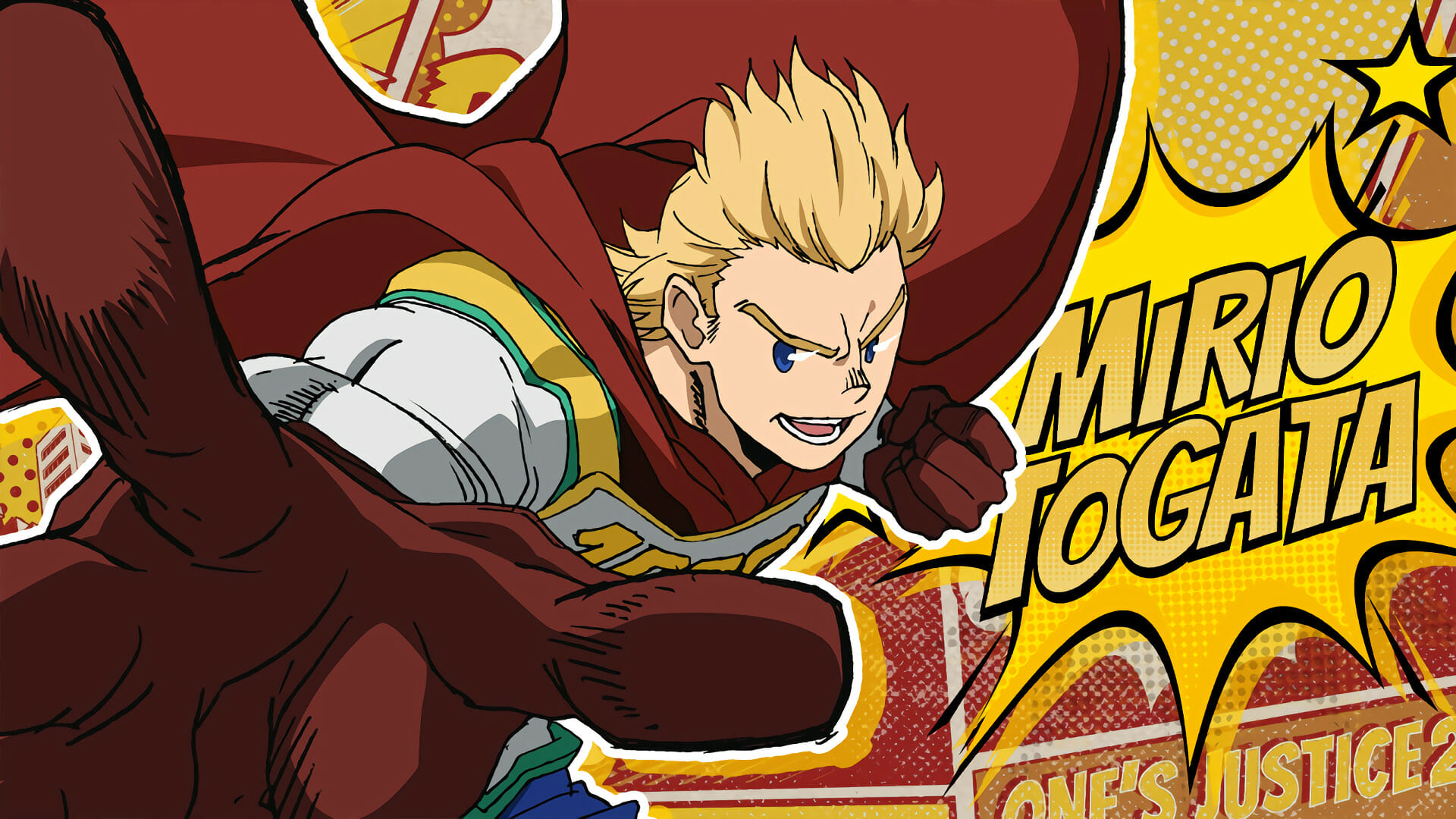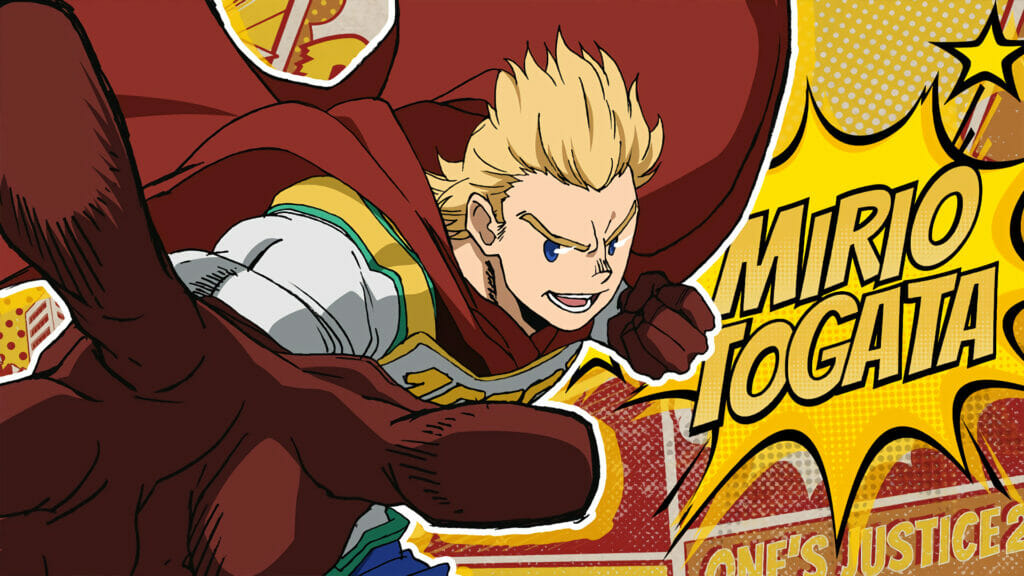 Hero name: Lemillion
Quirk: Permeation
Mirio's quirk grants him the ability to phase wholly or partially through solid objects or surfaces and even enemy attacks. He is intangible and numb to primary senses while the quirk is active.
Although extremely difficult to master, his quirk is first-rate, and Mirio has gained mastery over it.
Even after losing his quirk in his fight with Overhaul to protect Eri, he continues to fight impressively, showing that he is powerful and valuable in battle even without his quirk.
Mirio is a third-year, the top student of U.A and part of the school's Big Three. He is very friendly to Izuku and inspires him to become a better hero.
Mirio's strong sense of heroism, compassion and amiable personality make him one of the most beloved mha characters.
11. Stain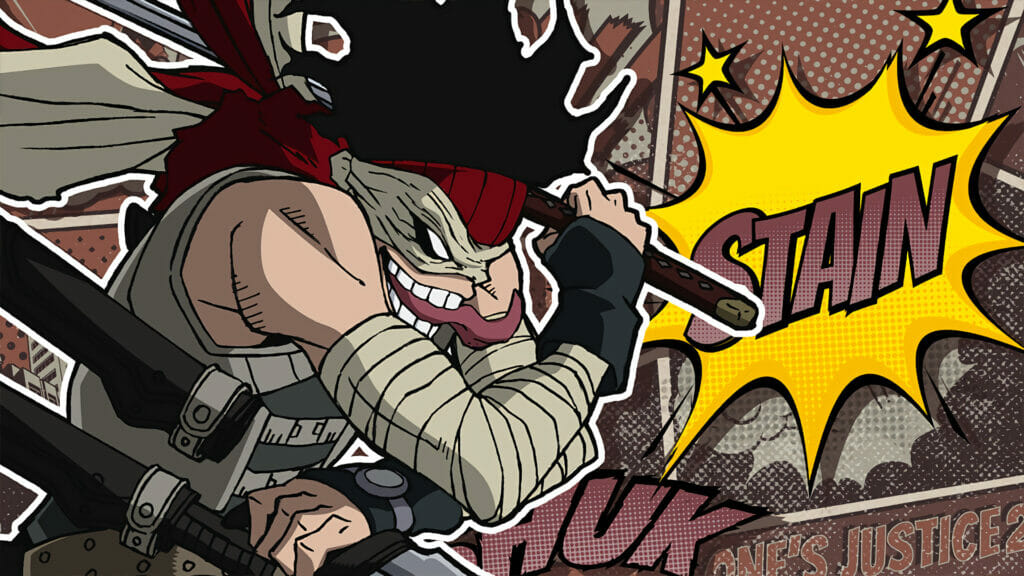 Real Name: Chizome Akaguro
Quirk: Bloodcurdle
Stain can temporarily paralyze his opponents by ingesting their blood. Executing this is always child's play for him as he is adept at handling sharp weapons and effortlessly cuts into his opponent's skin to obtain blood.
Stain, famous as "The Hero Killer," is the center of media attention as he goes around killing pro heroes that he deems pretentious and unworthy of the title of "hero."
He regards someone like All Might as a true hero and trusts him enough to give him top-secret intel before the final war.
Stain's ideology makes him an intriguing villain and a significant figure in the hero academia.
It appeals to other characters, such as Dabi and Toga Himiko, and gives shape to Shigaraki Tomura's rationales.
10. All For One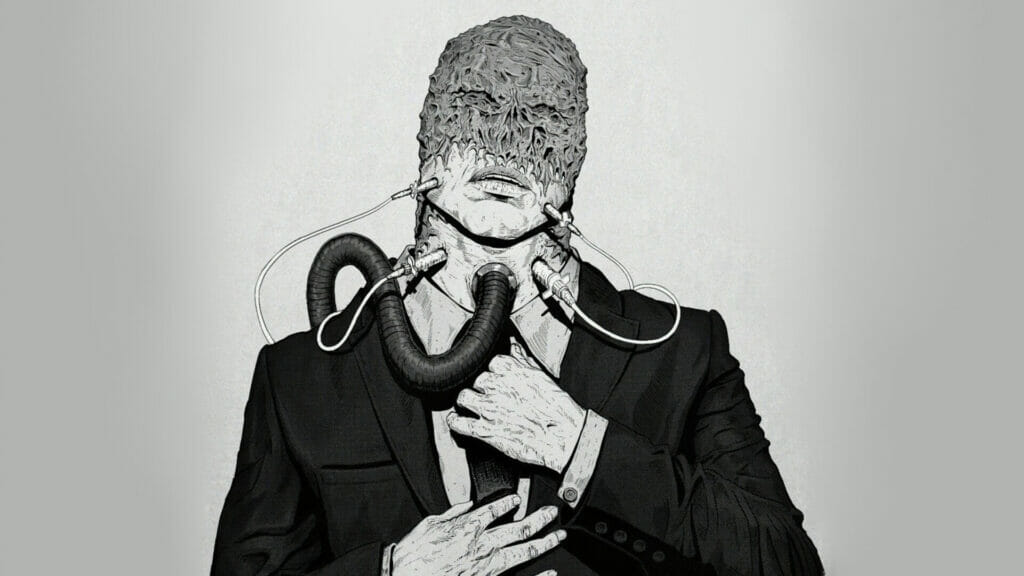 Real Name: Shigaraki (First name unknown)
Quirk: All For One
This quirk gives the ability to steal quirks from other people and stockpile them for later use. All For One can use multiple quirks at his disposal whenever he desires.
All For One is Shigaraki Tomura's mentor and the ultimate bad guy in My Hero Academia. He is intelligent, subtle in his ways, and shows up only when necessary.
He is obsessed with stealing his deceased brother's quirk, the only counter to his quirk: the One For All.
Because of his egotistical and selfish nature, he has no bonds and cannot conjure enough hatred inside him to manifest the full power of All For One.
He comes face to face with All Might in Kamino ward and is ultimately defeated. He ends up in prison but remains confident that his plans will come to fruition.
Later, all he had done for Tomura was to prepare him as the ideal vessel for All For One.
He constantly tries to take over him and steal One For All from Izuku himself, as seen at the beginning of the final war.
9. Enji Todoroki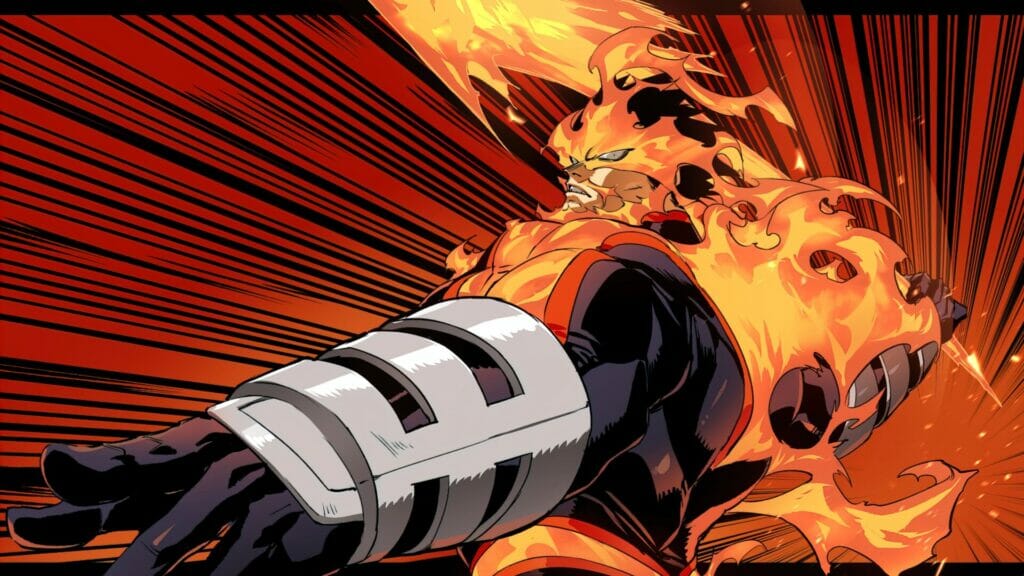 Hero name: Endeavor
Quirk: Hellflame
This quirk allows Endeavor to produce flames from his body, marking excellent offensive prowess. He has acute control over the intensity and temperature of his fire.
Endeavor is, the current No. 1 hero of Japan, is a beast in battle. He surpasses his limits in his fight with Hood (a High-end nomu) in Kyushu by unleashing an amplified version of his most powerful move, the "Prominence Burn."
Endeavor has undoubtedly been one of the best hero academia characters. Initially obsessed with surpassing All Might, his marriage and his children were all means for him to gain that power to reach his ambition.
After All, Might retired and Endeavor climbed to the No. 1 position, he finally has to let go of his dream and shifts his focus on mending his bonds with his family.
However, as Dabi says, "The past never dies." Endeavor's mistakes come back to haunt him years later as Dabi reveals his past, and the hero now must save his tarnished reputation and earn back people's trust.
Will Endeavor crack under pressure, or will he push through? We will have to wait and see.
8. Shota Aizawa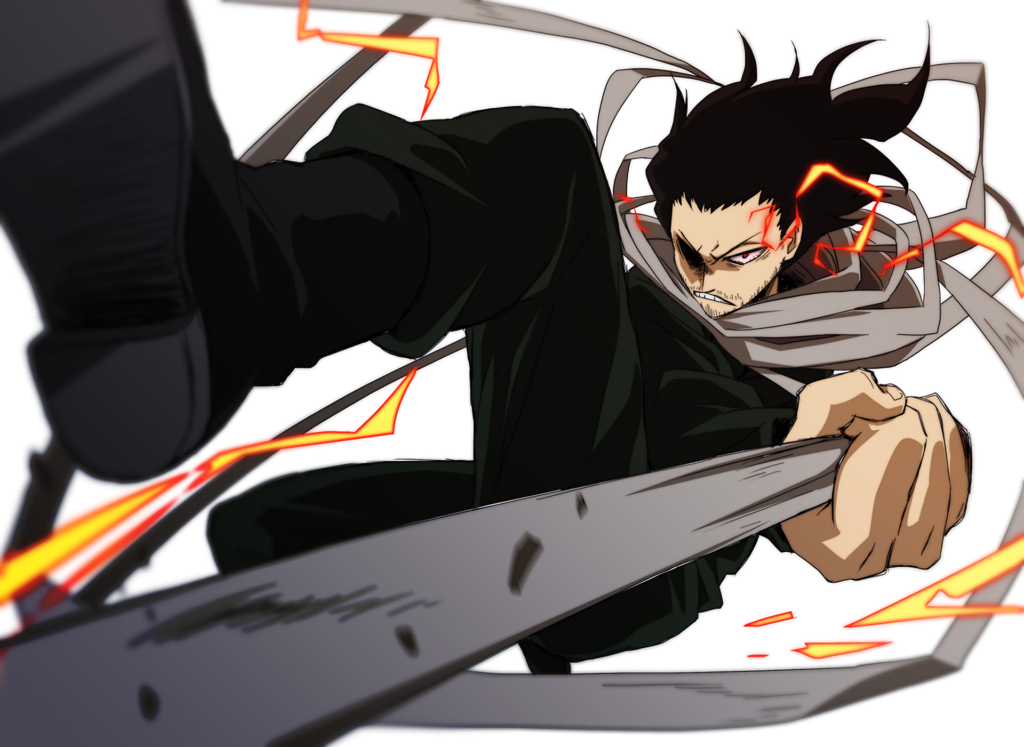 Hero name: Eraser Head
Quirk: Erasure
Aizawa can temporarily negate his opponent's powers by looking at them without blinking. He often captures his enemy with the binding cloth wrapped around his neck while using his power.
That Aizawa's quirk is an absolute nuisance to his foes has been established in every fight he has been in the hero academia.
During the heroes' face-off against Shigaraki Tomura, he erases the latter's quirk, effectively giving his teammates enough time to capitalize on the opening and bombard him with multiple attacks.
Aizawa is the homeroom teacher of class 1-A. He appears as one of those cold, indifferent, and impassive characters, but this is not the case.
He deeply cares about his students and would not see anyone hurting them (Flashback to when he tells Shigaraki, "Don't you dare lay a rotten finger on my students"; such a cool sensei).
7. Keigo Takami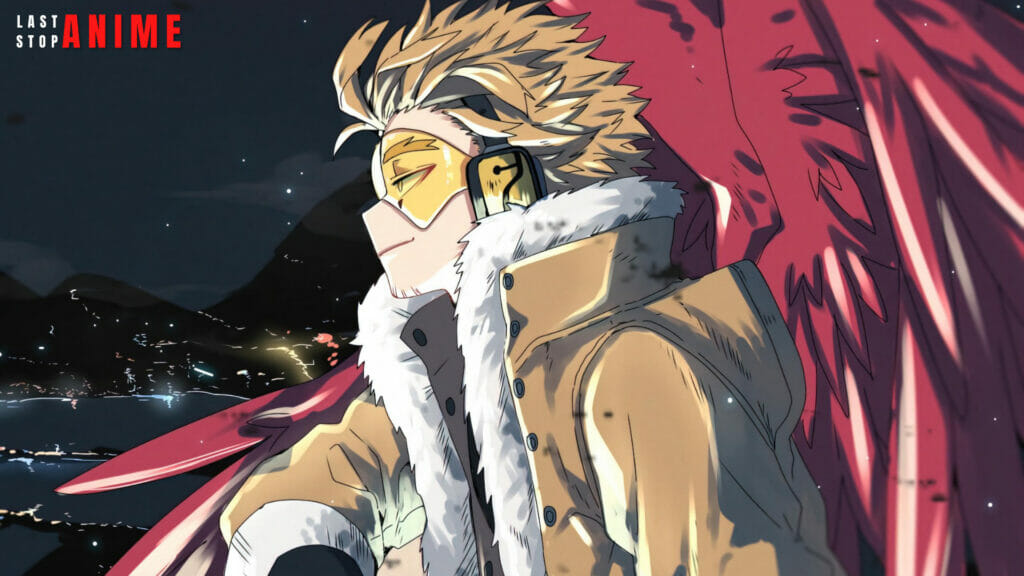 Hero name: Hawks
Quirk: Fierce Wings
Hawks has a pair of large red feathery wings on his back that he uses for multiple purposes- flight, carrying objects of varying sizes, throwing feathers as piercing projectiles for offense, and echolocation.
Hawks is currently Japan's pro hero No. 2 with Endeavour as No. 1. He tends to act laid-back on the outside while remaining vigilant.
Hawks is given a high-risk mission by the hero commission, tasked to infiltrate the League of Villains, earn their trust, and gather intel on their movements.
He manages to successfully relay his findings of the meta liberation army to the hero commission through Endeavor.
As crafty and deceitful as he has to be for his mission, Hawks is a good person at heart. He regrets deceiving Twice and being the one to kill him.
He also wishes he had time to train his student Fumikage Tokoyami apart from when he taught the latter to control Dark Shadow for flight.
Due to his impressive abilities and charming personality, Hawks has made his place in the fans' hearts in My hero academia.
6. Dabi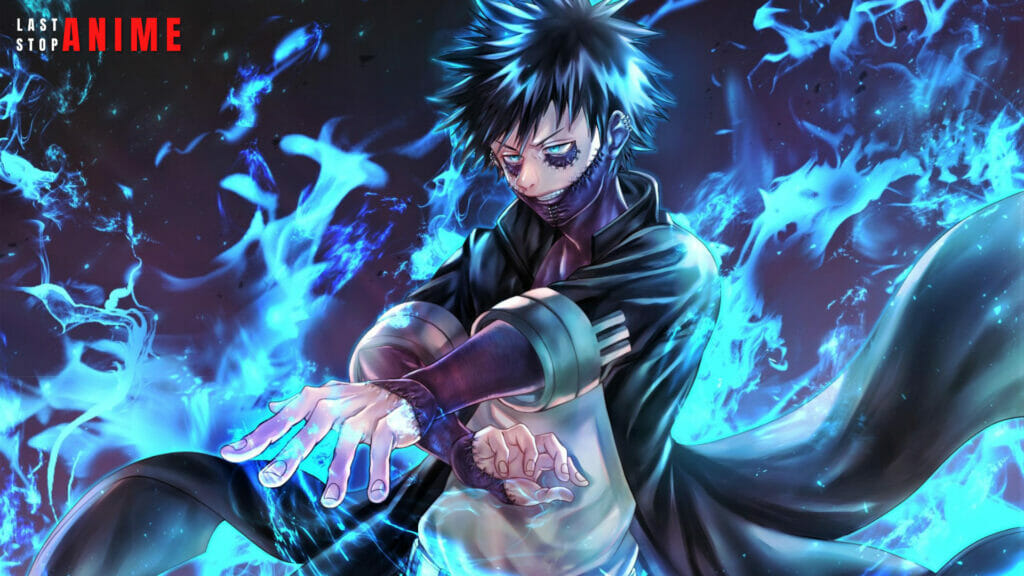 Real Name: Toya Todoroki
Quirk: Cremation
Dabi has terrific control over his power but overusing it can cause it to backfire (no pun intended) and burn his body badly. It was also the cause of his "death" due to him pushing his limits to gain his father's acknowledgment.
Dabi is a formidable force on the battlefield and comes out unscathed from almost every situation.
He follows Stain's ideals and League of Villains to achieve his goal of taking vengeance on his father, Endeavor, whose past mistakes had ushered Dabi to his miserable fate.
He also relishes the idea of inflicting pain on his youngest brother, Shoto, as seen during the Paranormal Liberation War.
There are numerous reasons why Dabi is arguably the fan-favorite villain of My Hero Academia. To start, he has a fantastic character design.
He remains mysterious for a large part of the series, so fans always want to learn more about him.
When we eventually see his story, we understand his motives and maybe not support him but can sympathize with him.
5. Shigaraki Tomura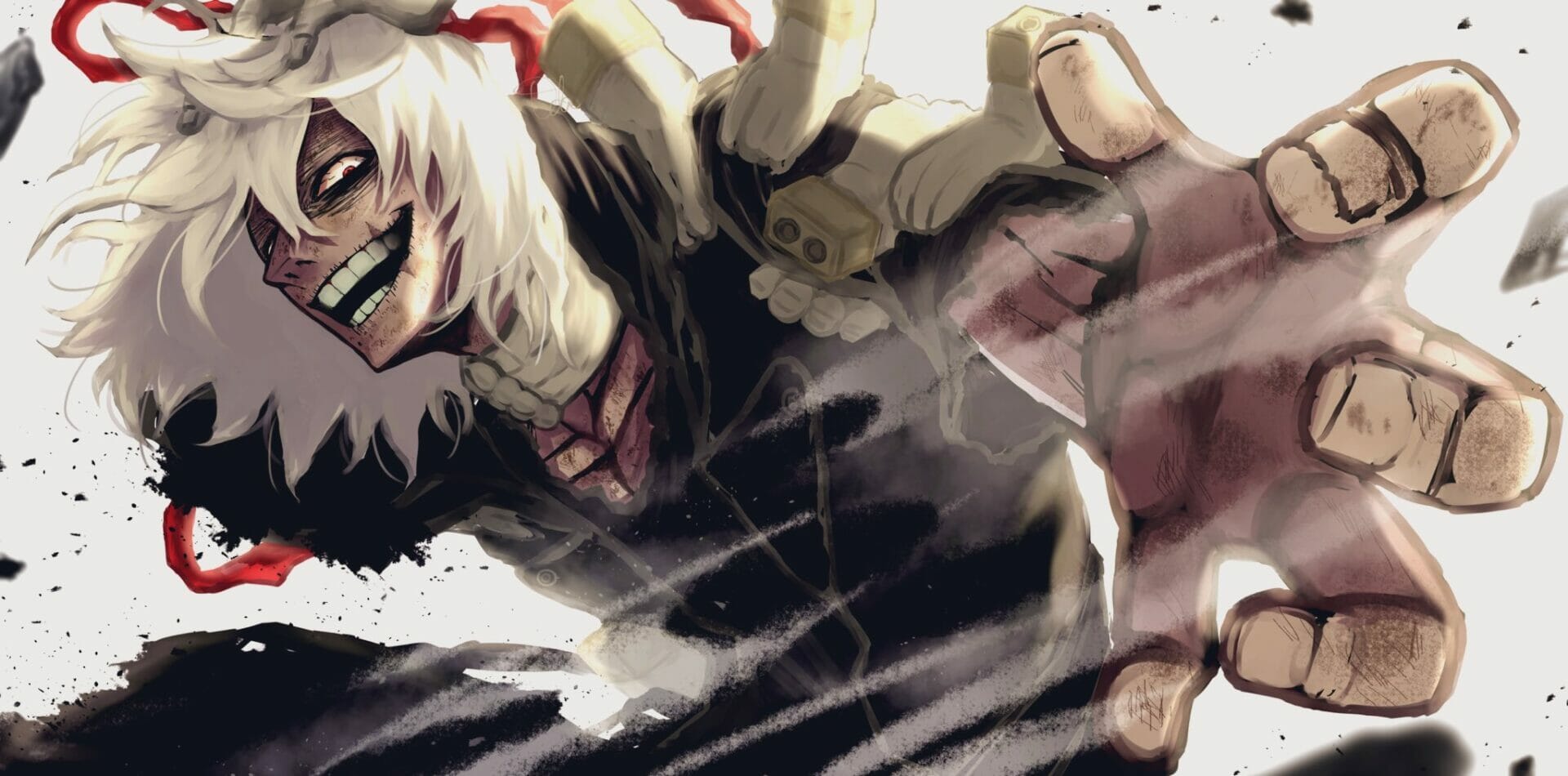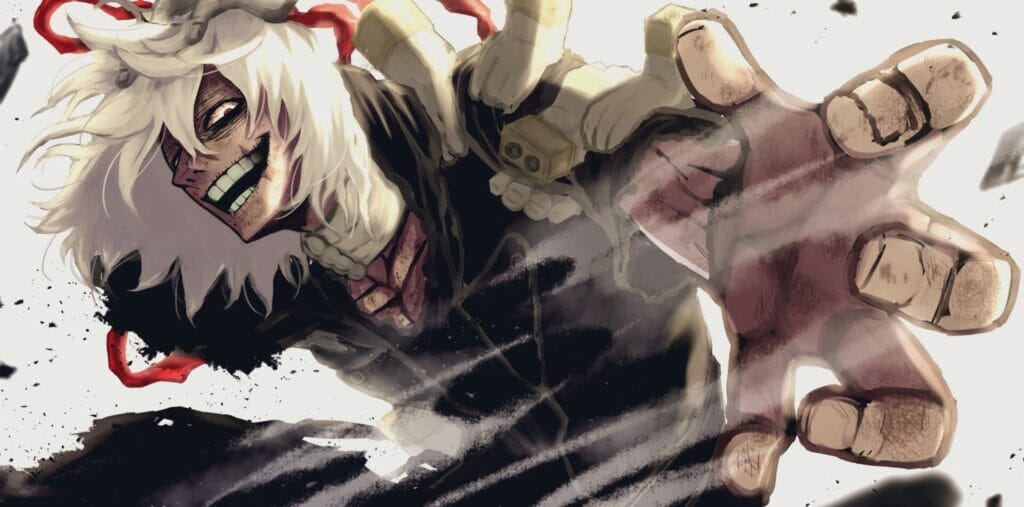 Real name: Tenko Shimura
Quirks:
Decay– Decay is a dangerous quirk, perfect for an equally dangerous villain. As its name implies, it causes any solid body that Tomura makes contact with to disintegrate.
All for One (later)– Granted to him by All For One, Tomura can use this power to steal other quirks and use them at will. It also feeds on his negative emotions and amplifies the will of his master inside him, dominating his consciousness.
Tomura expands his quirk, Decay, to ridiculous levels, as demonstrated when he wreaked havoc in Deika City and later in Jaku City.
After acquiring All For One, he becomes threatening. He goes to extreme lengths to take down his opponents to steal One For All from Izuku.
The power grows inside him to the point he enters a phase of an identity crisis, unable to discern himself.
A great villain can bring out the true essence of a hero, and such is the case with Shigaraki Tomura, the main antagonist of My Hero Academia.
His growth as a villain is astounding. Starting a bit shaky, he learns that he must have ideals to get people to follow him, and he slowly grows calm and collected.
He starts to conform in certain situations, placing mission over pride, and also understands the value of each member of his team.
He matures to become a perfect leader of the League of Villains and later the Paranormal Liberation Front.
4. Toshinori Yagi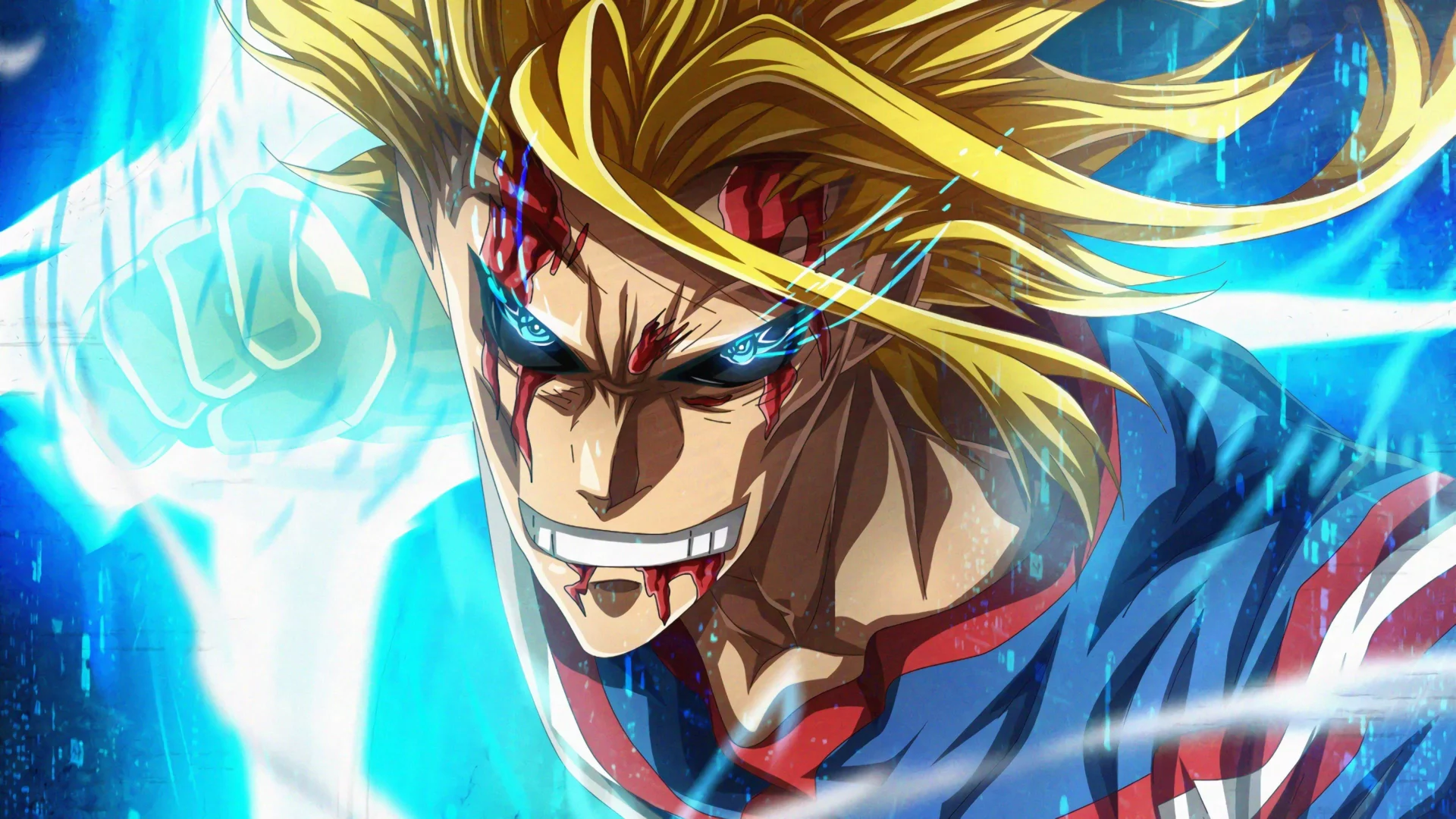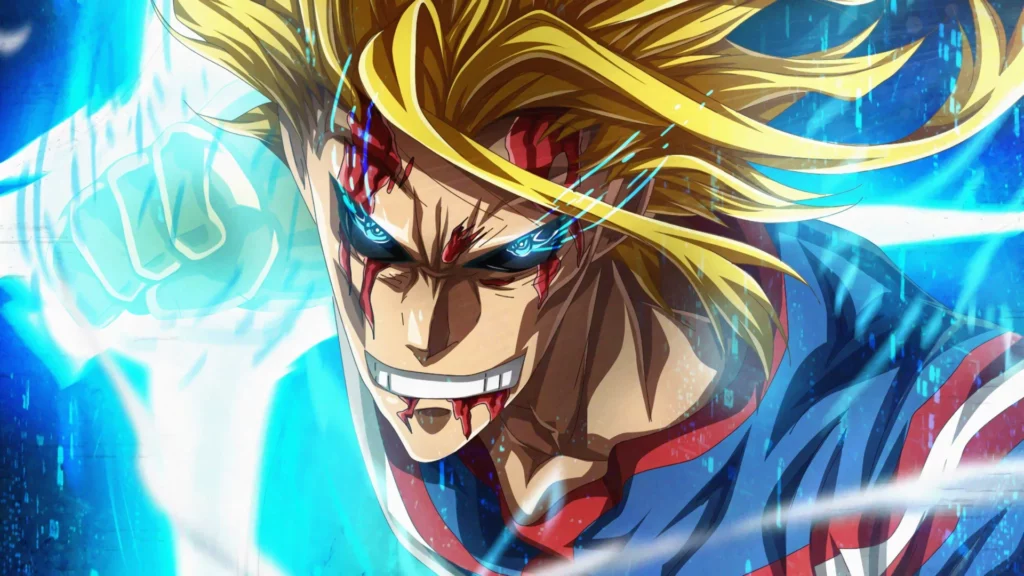 Hero name: All Might
Quirk: Born Quirkless (as revealed later); One For All passed down to him by his master Nana Shimura
The quirk has two primary abilities- passing down the quirk to another individual and stockpiling quirks of the previous wielders.
All Might is the eighth wielder of OFA. The power manifests in his body in the form of enormous enhancements to his physical strength and abilities like speed, endurance, and agility.
In the final battle of his career, he taps into 100% of his power to defeat All For One. He loses whatever remnants of One For All he had earlier and receives permanent damage to his body.
After his retirement, he focuses more on helping Izuku strengthen his quirk and training his other students at U.A, the next generation of heroes.
He also assists the police and other heroes with investigations and laying out battle strategies.
All Might is introduced to us as the then No. 1 hero and the "Symbol of Peace," who is always smiling and standing tall at the end of every battle.
He quickly establishes himself as a central figure in the show whose heroic deeds greatly inspire people, heroes, and civilians alike.
3. Katsuki Bakugo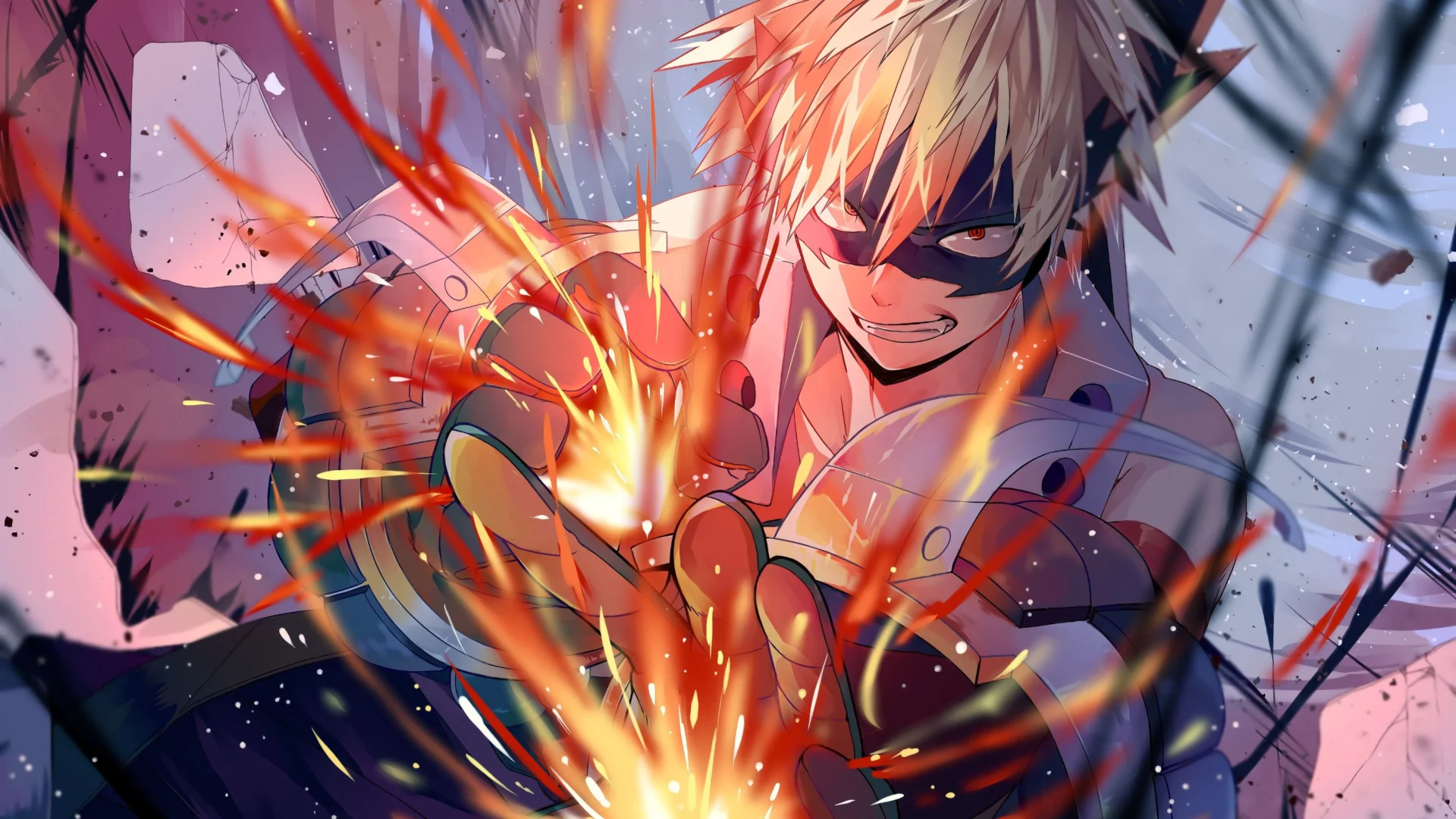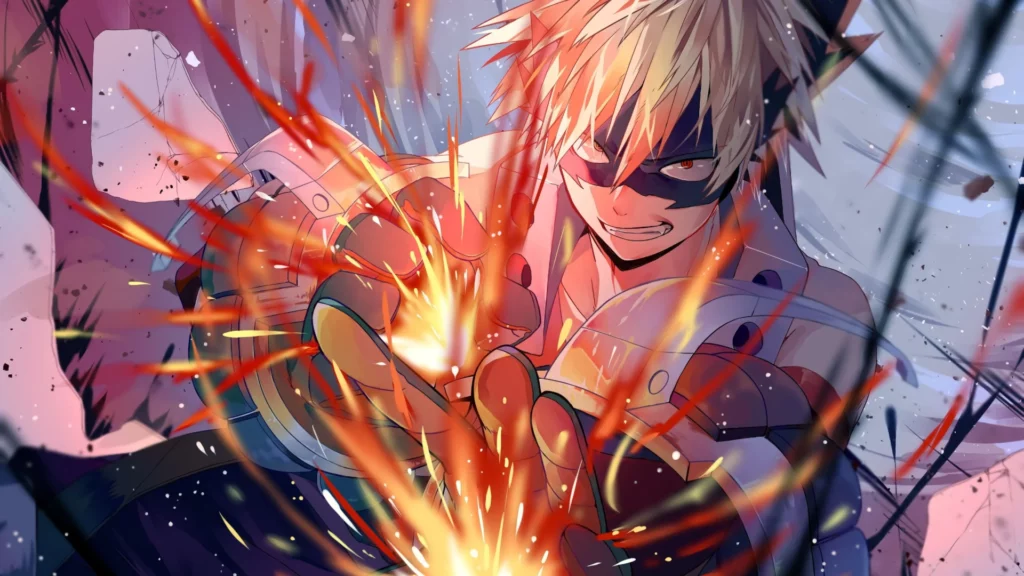 Hero name: Great Explosion Murder God Dynamight (you would expect nothing less from the flashiest character in the series) or just "Dynamight"
Quirk: Explosion
Bakugo can create explosions from his palms using the nitroglycerin-like substance in his sweat. He has a very offensive fighting style, but he can also use his ability to defend or thrust himself in the air.
Bakugo is one of the main characters of My Hero Academia and one of the strongest students in class 1-A.
He is loud, short-tempered, and almost always on the edge of verbal offense, yelling at everything and everyone in sight. He used to bully Izuku, failing to understand him and being annoyed by his mere presence.
Bakugo is also very prideful and considers it a strike on his pride when his classmates attempt to save him during the villain attack in the forest training camp arc.
Considering all these flaws, some people find it hard to understand why he is among such a liked mha characters. Well, yes, he has exciting abilities, and his outbursts are sometimes fun to watch.
But what genuinely makes Bakugo likable is how far he has come as a character.
He has learned to respect others, communicate with his comrades a little better, value duty over his pride, and, most importantly, come to terms with his insecurities.
There are two scenes in the manga that are particularly noteworthy – one when he takes Shigaraki's attack aimed at Izuku without a thought, and two when he apologizes to Izuku for how he has always treated him.
It is shown that Bakugo cares about Izuku, wants him to get stronger, and, like his other classmates, tells him not to bear his burdens alone.
2. Izuku Midoriya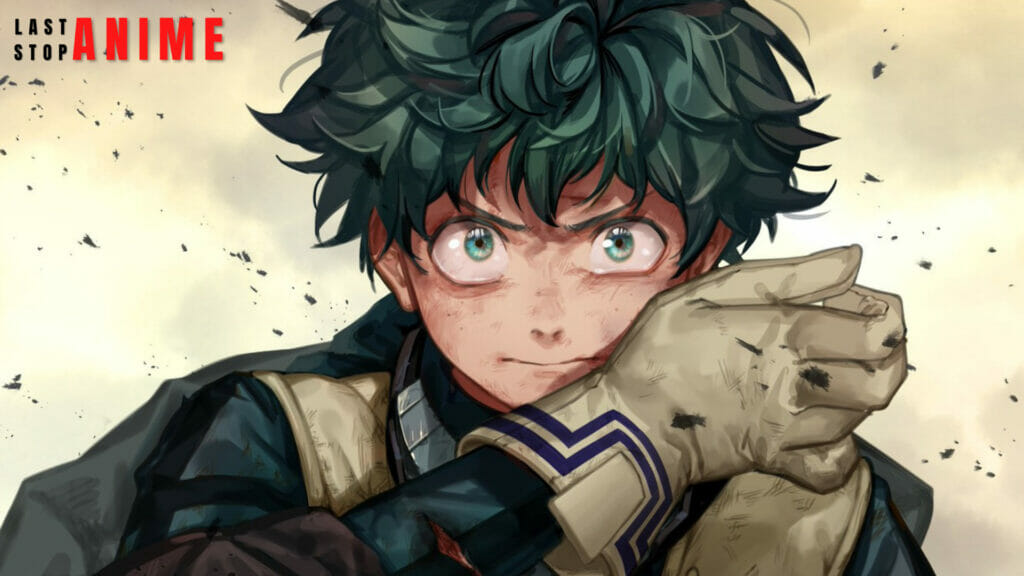 Hero name: Deku
Quirk: Born Quirkless; One For All passed down to him by All Might
Izuku is the ninth wielder of the quirk. It significantly heightens his physical strength, speed, and agility, but, Izuku's body is not resilient enough to handle it as successfully as All Might.
He has a tough time gaining control over it. Currently, Izuku can use the quirk at 45% power without damaging his bones.
He is also learning to operate the multiple quirks of the previous wielders stored in OFA, making him one of the most versatile fighters in the series.
Izuku Midoriya, the main character of My Hero Academia, was born quirkless. Having no potential power to protect others, he is brave to even dream of becoming a hero.
He is selfless and possesses the heart of a true hero. A critical aspect of his character is that he is very emotional, which can be received negatively by some fans as him being a crybaby.
Yes, he is more tender-hearted than many other shonen protagonists, but he is equally fierce and courageous and does not hold back when things are at stake.
As the story progresses, he is developed beautifully as a character, not just in terms of fighting abilities but also as someone who wants to become a true hero.
He, unlike before, understands how villains like Dabi and Shigaraki Tomura are born. He knows it is his duty as a hero to fight them and try to save them, no matter how wretched and far gone they may be.
1. Shoto Todoroki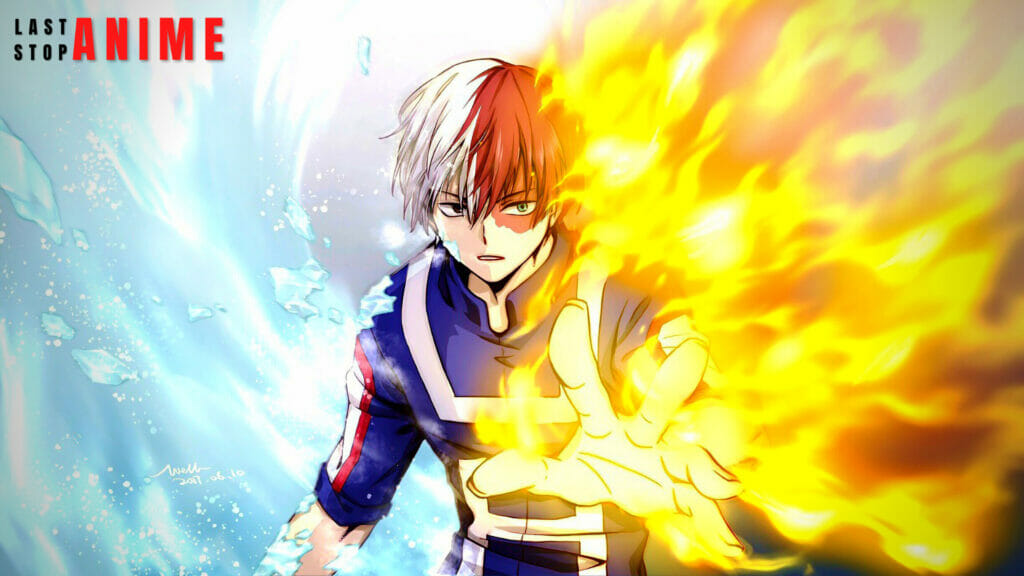 Hero name: Shoto (yes, that's… simply it)
Quirk: Half-cold Half-hot
Shoto can produce ice from the right side of his body (inherited from his mother) and fire from the left (inherited from his father Endeavour). He now uses the two abilities to unleash combo moves or switches between both.
The scale of Shoto's ice power and his control of it is remarkable- he can use it as precisely as to freeze the engines on Ida's legs and as aggressively as to nearly destroy an entire stadium.
Cool, right? (Again, no pun intended) He was initially reluctant to use his fire ability as a sign of resentment toward his father. But after his fight with Izuku at the U.A. sports festival, he began training his fire to gain more control over it.
Shoto's popularity needs no debate. There was a period when it seemed like the entire animanga twitter had his face as their profile picture. The likability of his character is exceptional.
He is certainly not a perfect individual, but he knows his shortcomings and does not hesitate to correct them. He was initially aloof and unapproachable.
But he eventually learns to communicate better with his teammates- as seen in the Final Exams Arc when he is teamed up with Momo Yaoyorozu.
Like Izuku says, Shoto is also very kind at heart. Although he has a traumatic memory because of his mother, he understands her state of mind at that time and holds no grudge against her.
He acknowledges his father's efforts to make amends and tries his best to forgive him, albeit gradually.
His character writing and immaculate development are why he is one of the most appreciated characters in My Hero Academia.
If you completed reading it here, then a virtual hug to you guys. Keep coming back!!