Hello, Dear Otaku! You have come to the right place to seek enlightenment on the best villains in My Hero Academia. Allow us to give you a brief background of the My Hero academia anime, especially if you have just started watching it.
The manga series was written and illustrated by Kōhei Horikoshi. Consisting of 33 volumes and 113 plus episodes, this Anime aired on 3 April 2016. It encompasses the Science Fiction and Superhero genre with its roots in Adventure.
The Anime revolves around Izuku Midoriya, a high school kid who feels the need to defend the seeming minorities in the world but does not hold any exemplary talent or superpowers to contribute to world peace.
Also known by the name Boku no Hero Academia is a story about a boy who wishes to become a superhero and idolizes a famous Japanese hero, All Might.
On being attacked by a villain, he decides to save his friend, Bakugo. All Might sees this display of selflessness, and he decides to help him get into a Super Hero academia.
Where To Watch My Hero Academia: Netflix, Hulu, Crunchyroll, Funimation
Well, I guess its time to talk about the incredible villains from My Hero Academia. Let's get started!
My Hero Academia Villains Ranked (2023)
12. Hero Killer Stain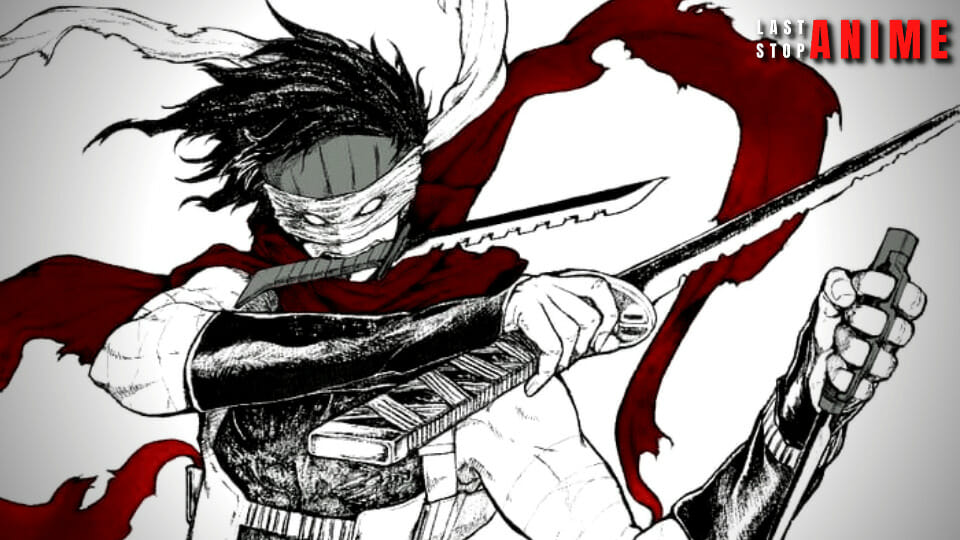 Real name: Chizome Akaguro
Stain is notorious for killing many pro heroes, and He is the primary antagonist in the Titular Vs. Hero Killer Arc. He has a hunch and is muscular and intimidating with a triangular nose.
Stain has a ruthless and cold entity with a sense of purpose of cleansing the society of false heroes. He believes that the ones who use the status of a hero to gain money or fame are not true heroes.
Hero Killer Stain took the law into his own hands and viewed only All Might as a true hero. \
He dislikes needless bloodshed and does not kill without cause. People fear him due to his murderous aura and blood lust. Despite being a villain, he helps those he feels are worthy of being called heroes.
Abilities:
He has claimed the lives of many false heroes, including 17 known Pro Heroes and 24 others, to the point that they become disabled beyond recovery.
His blood curdle quirk allows him to paralyze anybody whose blood sample he has for eight minutes. He carries a knife to surprise his opponents during a fight.
He convinced some fake heroes to rethink their actions and thoughts during an attack.
11. Kurogiri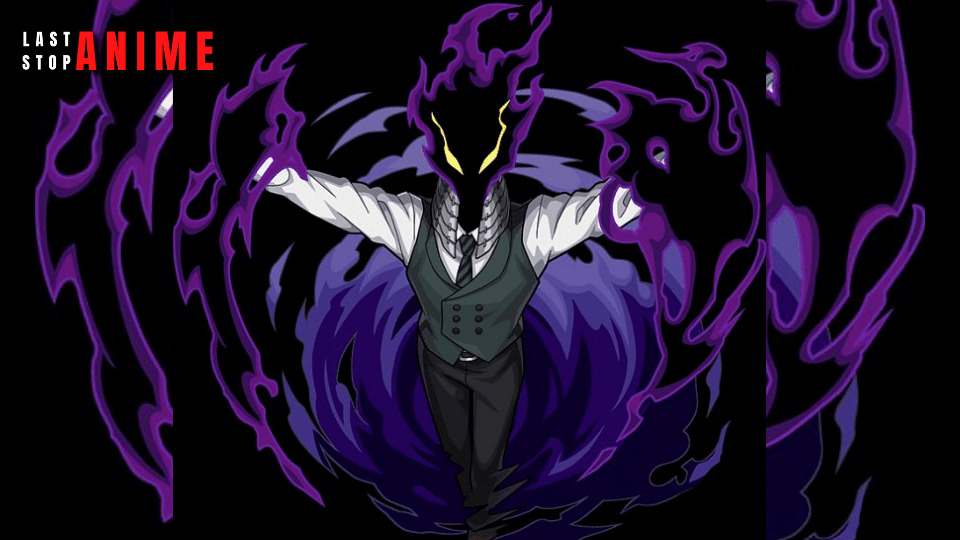 Real name: Oboro Shirakumo
He is one of the major bad guys in the hero academia universe. Kurogiri is a B-rank villain created by Doctor Kyudayi Garaki from the corpse of Oboro Shirakumo to protect Tomura Shigaraki.
His entire body comprises a dark purple mist complementary to his yellow eyes.
He is intensely loyal to All For One and Tomura. Kurogiri is polite to his enemies and formally introduces himself. He has a sinister mind which puts hero academia students in positions where they'd be tortured or killed.
Abilities:
Kurogiri can transport anybody to wherever he chooses to take them through a warp gate by producing a dark fog of mist.
He could use his tactics to turn his opponent's quirks against them, just as he used Thirteen's Black Hole Quirk against him.
10. Hood
Other Name: High End
He is one of the strongest High-end Nomus created by Doctor Kyudayi Garaki and is the primary antagonist in the Pro Hero Arc.
His skin is large and muscular and is purple in color. He has a long neck and yellow eyes.
Before being turned into a Nomu, he had distorted teeth and a tattoo on his shoulder.
He showed loyalty to his master and had a slurry speech. He'd get bored of heroes after having defeated them.
He'd protect his head, his weak spot in the battle. He could summon weaker Nomus to defeat lesser heroes.
Abilities:
Hood boasts a lot about his speed and swift actions. He has the ability to fly at high speeds using his transforming Arms and Shoulder-Mounted Jets.
He recovered from Endeavor's fire attacks through his multiple quirks.
9. Re Destro
Real Name: Rikiya Yotsubashi
Re Destro was the Grand Commander of the modern Meta Liberation Army, which he inherited from the villain Destro. He is the main antagonist of the Meta Liberation Army Arc.
Re Destro is an odd-looking individual with a prominent nose. He doesn't have eyebrows resulting from his quirk, which led to a receding hairline.
Re Destro acts as an easygoing person who helps people with different quirks. He is dissatisfied with the current hero society and points out its flaws by taking the help of villains.
He is seen as a bad guy, but he recognizes the threats of his shortcomings.
Abilities:
Re Destro activated his quirk using a single finger and completely destroyed Twice's clones.
His defensive capabilities included a lone finger and a hulking arm.
He had great endurance, leaving him unharmed after Tomura destroyed his entire tower.
He could dodge multiple assaults using his quick reflexes.
8. Nine
Real Name: N/A
Nine is the main villain of the My Hero Academia: Heroes: Rising. He is a man of fair skin and a reasonable height. Nine pursued his own beliefs, not just for himself but also for his teammates' Slice, Mummy, and Chimera.
He sympathized with others who went through oppression because he underwent a similar life and later came to an understanding with Doctor Kyudayi Garaki about his goal for an ideal world.
Abilities:
Nine used his air wall to negate attacks he didn't see. He possessed immense durability, through which he survived many attacks by All for One.
He was observant, which allowed him to execute his operations with ease. His quirks includes weather manipulation, allowing him to change the weather and bring thunderstorms instantly.
He could duplicate a weaker version of All for One. His bullet Lazer could easily pierce through the human flesh.
He could quickly heal any damage done by reactivating cells in his body. He could cause several large blue-dragon-shaped attacks from his back at his will.
7. Overhaul
Real Name: Kai Chisaki
Overhaul is the leader of the Shie Hassaikai and serves as the primary antagonist of the Shie Hassaikai Arc. He is a pale man with short hair and golden eyes.
He loses his arms to an escort in the villain's hospital but gains them back in a deformed way during a fusion with Shin Nemoto.
After his fusion with Rikiya Katsukame, his lower body transforms into that of a monster with a lot of muscle fibers protruding.
Kai Chisaki is a mysophobic, antisocial sociopath who wants to return to the world as it was before the quirks came into existence, as he believes they are derived from rats.
He is germaphobic and refuses to be present in unhygienic conditions, so he wears the doctor's plague mask.
He doesn't value humans and treats them as pawns for his self-interests. As a young Yakuza, he frequently fought with rival gangs and did not respect the Shie Hassaikai.
Abilities:
Kai Chisaki's Quirk allows him to disassemble and kill any individual or heal them by assembling their body parts. Kai can modify his surroundings.
The most noteworthy aspect of his intelligence is the Quirk-Destroying Drug he created from the DNA of Eri, whose Quirk can rewind a target into his previous state.
Overhaul also created an antidote to the drug, which would nullify its effect.
He has quick reflexes, which helped him in defeating Kendo Rappa.
He had great endurance and could endure severe injuries while being fully conscious.
6. Gigantomachia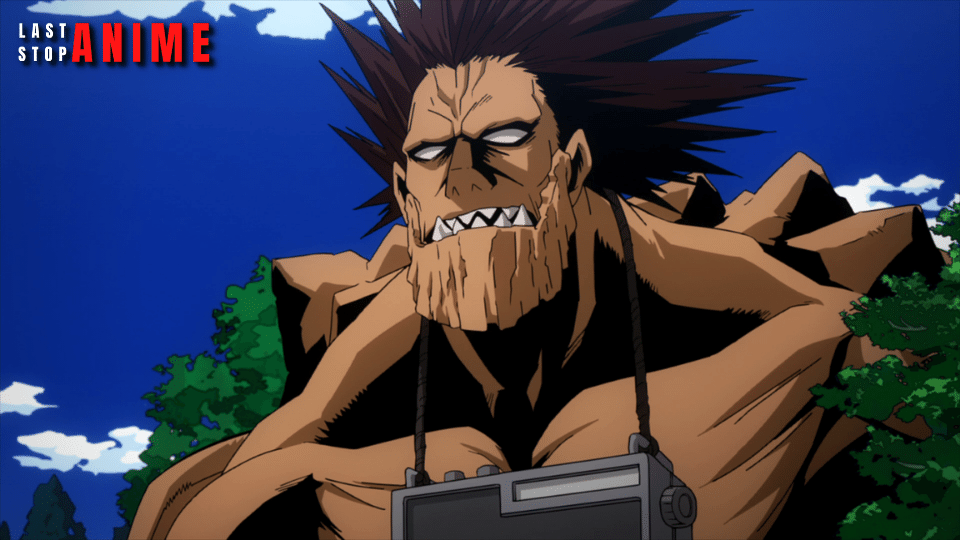 Real Name: N.A.
He is a villain associated with the League of Villains and is the bodyguard of All for One. Gigantomachia is one of All For One's faithful servants, later serving his successor, Tomura Shigaraki.
He is a large individual about the size of a tree and has spiky brown hair.
He is a walking calamity who lives and dies for his master. Merely All For One's voice can calm him down; such is his devotion towards him.
He seems to have a calm appearance but is quick to throw a fit of rage if not cooperated with.
Abilities:
He can convert his morale into physical energy. His pain blocker allows him not to detect and feel any pain.
He had a heightened sense of smell and hearing.
His quirk allowed him to survive on very little nutrition.
He could also harden his muscles exceptionally.
5. Destro
Real Name: Chikara Yotsubashi
He is the son of the Mother Of Quirks and the ancestor of Rikiya Yotsubashi. Destro is the infamous villain and the founder of the Meta Liberation Army.
He wore a long brown ponytail and had a black scar around his eyes.
He was mentioned by the Gentle Criminal, who is associated with Manami Aiba, who owns La brava's quirk, as the most dangerous villain.
Abilities:
His abilities are unknown, but they have been compared to that of All for One's.
He had immense leadership qualities, which he showed by leading the Meta Liberation Army.
4. Himiko Toga
Real Name: N/A
She is affiliated with the League of villains and later with the Paranormal Liberation Front.
Himiko features as the main antagonist in the Forest Training Camp Arc, Provisional Hero Licence Exam Arc, Shie Hassaikai Arc, and the Paranormal Liberation War Arc. She has a pale face with dirty ash-blonde hair.
She has fair skin and is prone to blushing. Her eyes are yellow in color with thin slits.
Himiko Toga is a very cheerful person who has a smiling face to the point that if she killed someone, she'd keep smiling, pointing toward her sadistic tendencies.
She is a mentally unstable character who is confused about the definitions of friendship and love.
When in love, she wishes to become like the person she admires, and her ways of showing affection include butchering and sucking the blood out of them.
She also genuinely cares for Izuku when she tries to understand and know more about him, showing that she isn't just a monster.
Himiko wants to make an easier life and looks up to Stain. She undergoes mood swings frequently.
When someone tries to get in between her object of affection, she does not think twice before killing them.
According to Re-Destro, her psychotic personality arose from suppressed emotions that her parents never termed as "normal." Her blood-related quirk is another cause that made her prone to commit crimes.
Abilities:
Not only can she contend with the pro-heroes, but she is a master at stealth and disguise. She is a peerless thief due to her shape-shifting quirk.
Himiko Toga used her swiftness to surprise Izuku with knife attacks and then used Eraser Head's Capturing weapon against the Pro Hero by rolling herself in it.
She can transform herself into the look-alike of the people she has ingested the blood of. The more she drinks their blood, the longer she can stay under disguise.
Her quirk underwent an upgrade which allowed her to take up the quirks of others.
She possesses capsules to store the blood, which she can consume later.
She has a blood-sucking machine that she can use to suck the blood out of her victim from a distance.
3. Dabi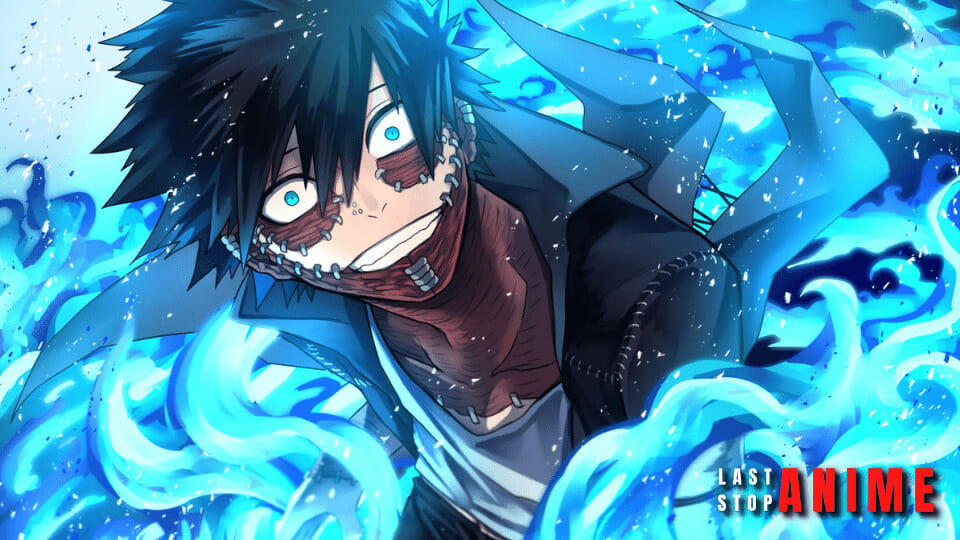 Real Name: Toyo Todoroki
He is the eldest son of the Pro Hero Endeavor, Enji, who drove him insane due to his neglectful actions, and turned Toyo into a villain to enact revenge.
He became associated with the League of Villains and later became one of the nine lieutenants of the Paranormal Liberation Front.
Alongside his teammates, he serves as one of the main antagonists in the Forest Camp training Arc, Pro Hero Arc, and Paranormal Liberation War Arc.
He is a pale, skinny, white-haired individual with red streaks at the crown and purple skin on the neck and torso due to losing control of his fire quirk at a young age, leading to severe burns.
As a child, he sought approval from his father, Enji. He'd train his quirk to become able enough to defeat All might and attain the position of the best Superhero.
He almost attacked his infant brother, Shoto, and his mother to try to seek attention from his father. Obviously, Enji's attention shifted to Shoto, and he trained him to become his successor.
Meanwhile, Dabi trained himself but could not get his father to appreciate him. This continuous neglect led him to become a villain in his own story. He gained the name Dabi, a pale-faced, stoic guy who barely shows any emotions.
His motive was to bring his father's reputation down and make him suffer for what he went through.
His apparent ideal is Stain, who wishes to fight against the superhero endeavor since no true hero exists, but Dabi uses Stain's principles to fulfill his malicious motives.
Abilities:
Dabi's Quirk finesse enables him to fly and hover in the air, much like his father and youngest brother.
He can engulf an entire group of enemies in a fire circle to overwhelm them.
Dabi can shoot fireballs and attack from a distance. He can resist overly cold temperatures, a power he acquired from his mother.
Dabi can endure a lot of physical damage while still being able to use his quirk. His enhanced stamina is an added benefit.
He has been entrusted with the strongest Nomu, " High End' called Hood.
2. All For One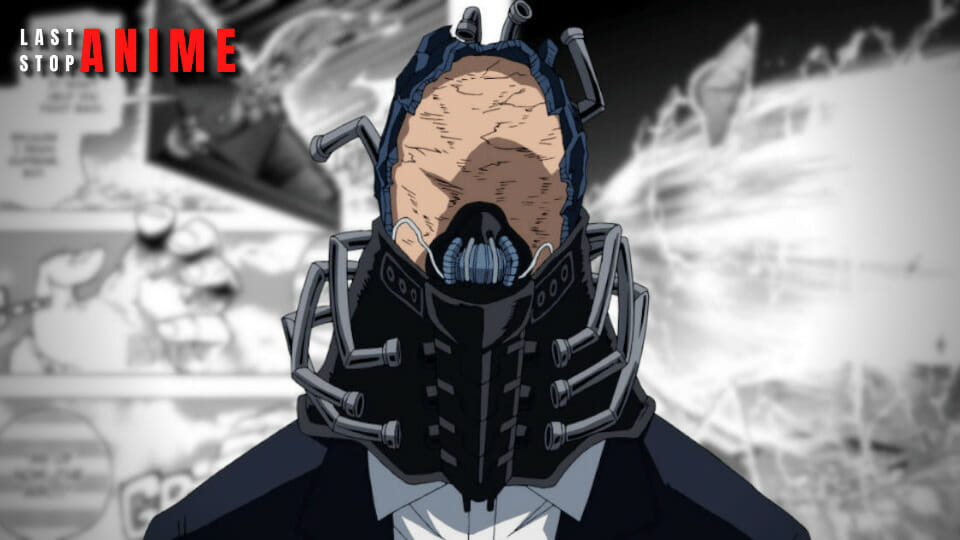 Real Name- Shigaraki
All For One is the overarching antagonist of the My Hero Academia seriesand manga. He is the former leader of the League of Villains.
He was imprisoned after his second defeat at All Might's hands until he escaped several months later, now single-mindedly focused on destroying Izuku Midoriya.
After being injured by All Might, his face is entirely made up of scar tissues. Earlier, he had white hair and luminous red eyes.
All For One is one of several villains who are sadistic by nature. He is a subtle and vicious character. He helps the ones who have helped him, and when they are of no use to him, he abandons them.
His followers purge anybody who tries to defy him. Due to his immense power, he is a calm individual.
He is selfish enough to leave no stone unturned to ensure that his ideal of the Symbol Of Evil lives on even after his death.
Despite his remorseless personality, he admits to having been suffering from nightmares in which the people whose quirks he stole hurl insults at him, which leaves him discouraged.
Abilities:
All For One is Japan's most dangerous villain. His Quirk allows him to steal other people's quirks and use them for himself.
He defeated most of the pro heroes, declaring himself unprecedented. He is extremely strong and can overpower All Might.
Despite his dirty state, he possesses an inhuman amount of durability.
Due to him being blind, his sense of hearing is overly developed ashe can sense vibrations in the air.
He is extremely fast and can travel at the speed of sound.
He has a black liquid that acts as a portal and is similar to Kurogiri's warp gate.
All for one can send a shock wave through his arm and walk through the air, disrupting radio waves and causing a communication error.
1. Tomura Shigaraki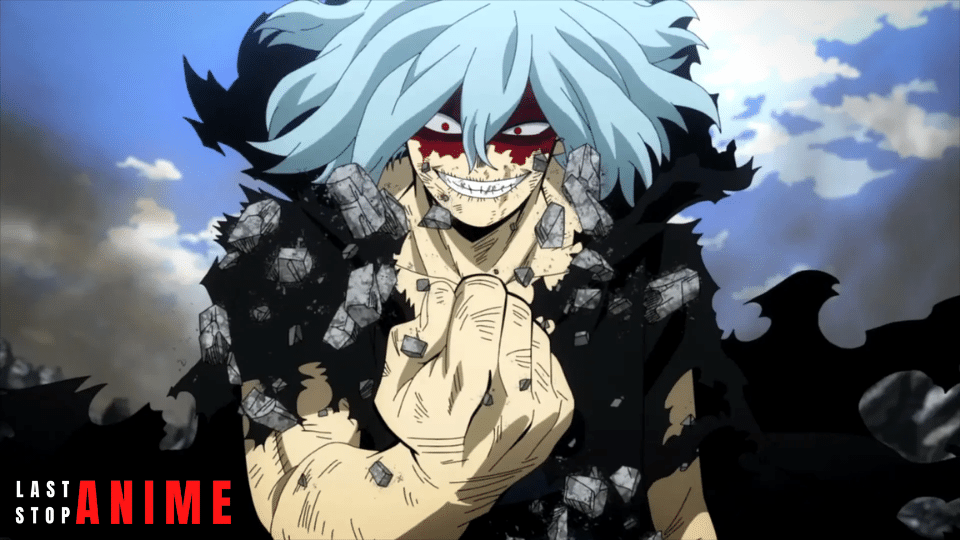 Real name: Tenko Shimura
He is one of the strongest villains in all of Japan and My Hero Academia anime and was believed to be able to surpass All For One.
He is the leader of the League of Villains, making his first major appearance as one of the main antagonists of the U.S.J. Arc.
His master, All For One, raised him to kill All Might, the "Symbol of Peace," ultimately destroying the society he represents.
He merged his organization and the Meta Liberation Army to form the Paranormal Liberation Front becoming its Grand Commander and later inheriting the All For One quirk.
Relatively normal as a child, he had love and compassion for his family; he wanted to take care of them and become a hero.
But the abuse inflicted upon him by his father turned him fragile psychologically. He would be afraid of his presence, and this traumatic response manifested in the form of his quirk destroying his household.
Shigaraki instantly regretted killing them but also felt that they were responsible for not taking any action against his father.
He felt rather calm after destroying them. As an adult, he is unable to cope with his feelings.
He is considered a man-child who can't stand anybody going against his will but subsequently adapts to a more calm behavior after several defeats and All For One's arrest.
Abilities:
Tomura could withstand a point-blank blast from Katsuki's explosion quirk.
He fights off Gigantomochia for a month and a half. Tomura appears to be able to move very quickly, which helps him touch his targets and affect them with minimal contact.
Stronger than his build and could choke Izuku with only four fingers, move freely in the air without arm movements, and surpass the power of All For One.
He could regrow his body parts like missing fingers and even lead them to become a large blob.
Tomura possessed the Decay Quirk, which allowed him to disintegrate whatever he touched with five fingers.
He could steal other people's quirks, blast explosions with his palm using pressurized air and reflect attacks on his opponents, marking oneself as the strongest villains.