Attack on Titan a.k.a. Shingeki no Kyojin a.k.a. AOT is a dark fantasy anime, with the first three seasons animated by Wit studio and the rest by Mappa. Also, you don't want to attach yourself to any particular Attack on Titan characters for too long, unless you want to cope with the grief and pain of losing those characters.
Attack on Titan is also one of the most popular anime series worldwide, with the Final Season Part 3 coming up in March 2023.
We've grown with Attack on Titan more than we can imagine. Attack On Titan comes with many lessons, harsh lessons that we don't get from most shows in the anime world.
Most stories focus on giving you a happy ending, but Attack on Titan lets you wonder what's happening next, all credits to the aot characters.
Last Stop Anime presents you with endless description for the 16 lovable characters from Attack On Titan written by Hajime Isayama.
1. Eren Yeager
Eren Jaeger is the main protagonist of the story. He is one of the best written main characters in the attack of titan and in whole anime history. He is a very deeply written character who will not be understood by everyone. It's very hard to write him into words, but I will still try.
Eren is a small boy living in the village of Shiganshina who joined the Survey corps after titans invaded his hometown and ate his mother.
He always wanted to join the Survey Corps to kill the titans who eat humans, and that incident made him frim over his dream. Armin and Mikasa are his best friends, like some trio of three.
Eren possesses three titans, two from his father, the attack titan and the founding titan, and the other wall harmer titan he gained in season 4 after eating Lara Tybur, who had it.
Fans believe he changed dramatically in attack on titan season 4, but I think he has always been like that. He never tolerated any wrongdoings, even when he was a small child.
Eren not only saved Mikasa, but he did not hesitate to kill one of her kidnappers. He had always aimed for freedom. After shaking hands with Historia, the royal blood, he saw what future lies ahead, which traumatised him. Who would not be?
Eren Jaeger is a person who is willing to risk his own life for the sake of his people, especially his friends. Eren is a rare protagonist who took violence as his key to freedom and mass genocide and finished 80% of the human population.
I do not support the genocide, but what he did will become understandable once the last season comes out. And even if it's understandable, it's unforgivable, and he paid for that by his death, which he has also foreseen.
Many people would not have noticed, but there was no Eren's point of view to the story we saw up until now in the anime. Eren is the best human who never "wanted to grab a knife", but he had to.
It was the destiny already written for him. Eren only had two choices either he chose that destiny and solved the problem or ended up like everyone else, either way, he would be dead, but he chose the path where at least he could save his people so that they could live peacefully.
2. Levi Ackerman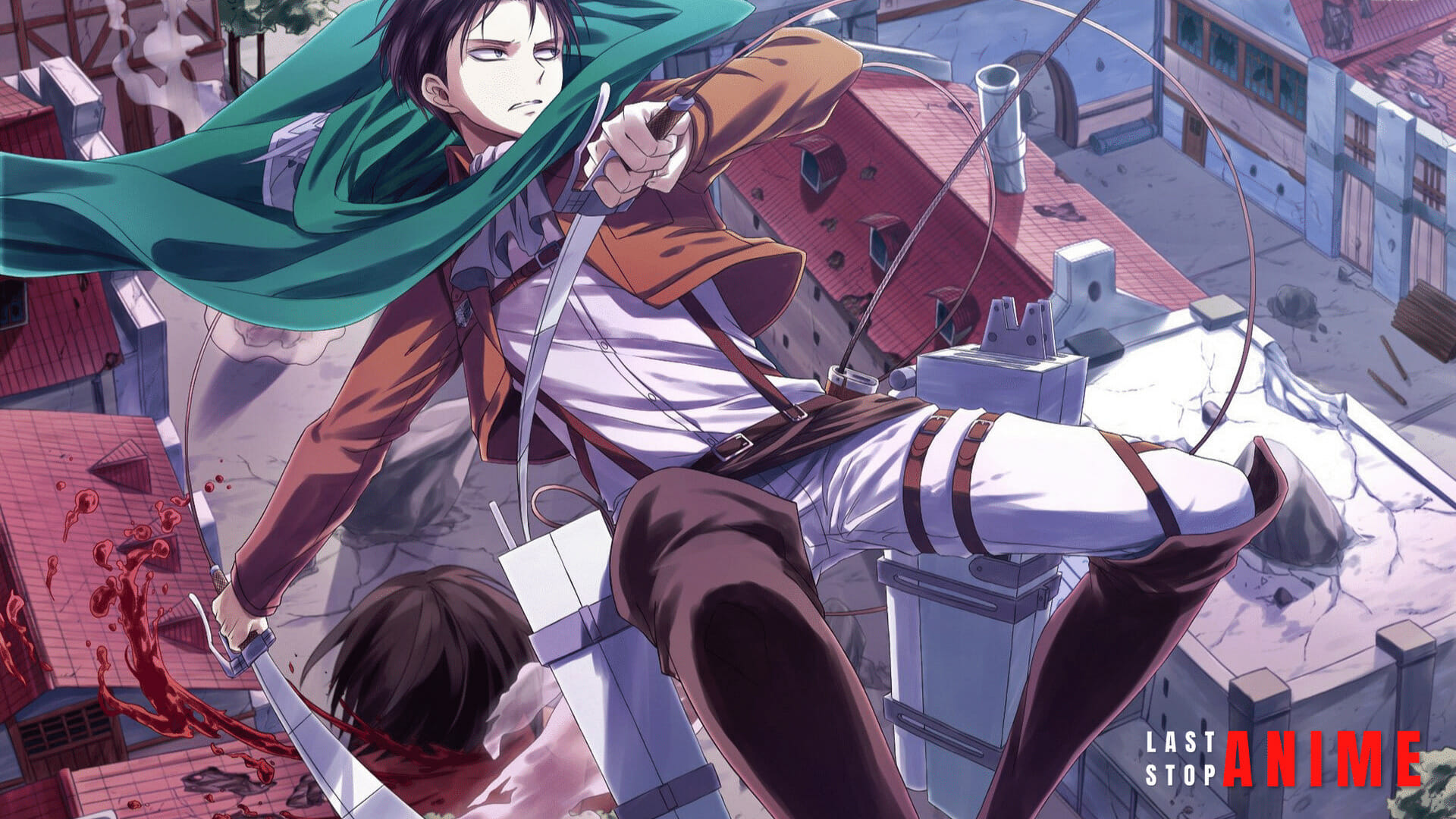 Levi Ackerman is the Squad Caption of the Special Operations Squad within the Survey Corps and is said to be humanity's strongest soldier.
He is the human who was even told to those nine titans to be careful. He can beat them all by himself, and we have seen it during his fight with the beast titan.
Levi is a man who lost everything, his friends, his squad and even his comrades who were there when he joined the team. He seems like a cold-hearted person, but he never shows those emotions.
His concerns and care lie within his icy eyes and can be felt by his words.
Levi Ackerman is a very cool and wise man, making him the most fan-favourite attack on titan's character. He was raised by Kenny Ackerman and taught how to live and fight for life.
Even being one of the secondary characters, he ruled the first three seasons of attack on titan. People who hadn't seen the attack on titan considered him the main character unless told.
He never supported Eren with his innocent killings shows how good of a human being he is.
3. Mikasa Ackerman
First of all, no, she is not an acquaintance of captain Levi; they just happened to share the same surname. But like Levi, she is a very cool, strong, popular and one of the most fan-favourite characters.
Mikasa's parents were killed by a few people who also kidnapped her in her childhood. Eren rescued her and made her realize her powers and who she is.
Mikasa always remained by his side and protected him from that day to the end. Though she joined the 104th training corps' because of Eren, she was ranked first in the class during her graduation.
Mikasa's stoic personality makes her appear distant and cold, but she is a lady who puts justice and truth over anything. She is the most liable, both as a person and as a soldier.
Mikasa is the kind of person who does what needs to be done, which makes her the most likeable character in attack on titan.
She is one of the main characters and best friend to Eren and Armin, though it was shown a romantic feeling toward Eren later on.
4. Erwin smith
Erwin Smith was the 13th commander of the Survey Corps for years. He took this position from Keith Shades as he suffered significant losses in his leadership. Erwin is a discerning, very intelligent and widely respected commander.
Erwin is a brilliant leader who is followed by every member of the Survey Corps even though they know they will lose their lives; that shows how trusted a man he is.
Erwin's statistics have always been on point. His plans are flawless, and it's not his fault that something unusual happens every time they go outside the walls.
Even in those situations, he remains calm and changes his plans like a pro. There is this incident where he ordered his man to advance even when his arm was inside a titan's mouth.
It was a hair raising moment that can make one feel goosebumps.
Erwin smith is a goal-oriented man and was smart even as a kid. He didn't enjoy killing his comrades, but he knew what needed to be done.
Erwin felt burdened with all the deaths that happened due to his orders. He felt responsible. We all can relate to how hard it must have been for him.
Erwin lost his life during the fight with beast titan. He knew it was a suicide as there was no way he could resist that, but as a commander, he placed his duty first before himself and died marching towards him with his newly joined corps, without even completing his personal dream, which he was chasing since the beginning.
5. Armin Arlert
Armin Arlert is one of the main characters in the attack of titan and best friend of Eren and Mikasa. He is not that physically strong, but his mind is very extraordinary.
Eren had always believed in his abilities. His have a very sharp and analytical mind. He panics a lot, but he gives the best orders when he starts thinking.
His predictions from his judgement have always been right throughout the anime. For example, Armin found out about the female titan and exposed her.
Armin's observation skills are very keen, which can be seen in the anime from time to time. He is the one who understands Eren the most and analyzes his actions. Armin is currently the owner of colossal titan and the 15th commander of Survey Corps.
Armin would have died in the battle but was saved by Levi by making him a colossal titan.
It was hard for Levi as he had to choose between Erwin and Armin, and he chose him, but Armin still thinks they should have saved commander Erwin instead of him. He is an innocent boy who always thinks that he is useless, but he doesn't know how many times everyone was saved because of him.
6. Hange Zoë
Hange Zoë is the squad leader of Survey Corps, in charge of the 4th squad. Not only this, she is a girl who does direct research on titans. Later, Erwin made her the 14th commander of the Survey Corps just before he died.
She had a very cheerful personality which got lost somewhere in Eren's mess. She got so much burden after being a commander. The timings were at their edge. Everything was in chaos.
New pieces of information, Eren's behaviour, war, etc. But still, in those situations, she did her best as a commander. She handled everything to her best as she could.
Hange is a very intelligent, brave and very strong character. One of the most markable moments is when she is so done with the priest Nick that she grabs his collar and threatens him.
Damn, that was one of her badass moments of her. She generally doesn't get this mad, but the priest was stubborn and wasn't telling the truth behind the walls that he had always known for years and could have saved so many lives and still can with just that one truth he wasn't telling even when got caught.
Another best thing about Hange is that she sets the best example for humanity by opposing the actions of Eren of mass genocide even when it was for their benefit, their freedom and peace.
If it was not for her research, they would not be able to fight titans until now and never get to know what lies beyond those walls.
7. Reiner Braun
Reiner Braun is the armoured titan who invades Maria of the Paradis island within the wall along with the former colossal titan Bertholdt hoover.
He is a Marley warrior who came on a mission on Paradis Island, responsible for the death of Eren's mother and Marco Bott. Later in the story, his true identity was revealed, which shocked the fans because he had genuinely become a friend to everyone.
Reiner becomes a warrior for his family, and where he couldn't stand a chance to become one, Marcel requested to make him the armoured titan to save his younger brother.
And in between proving himself worthy of that position and his true self, he lost his mind. He sometimes behaves like a man with a split personality which shows how mentally he must be suffering.
Reiner is a good person, but the situation was too messed up to know right and wrong. He resembles Eren and never wants to kill innocent people and children, but he does.
He just wanted to live in peace, and when he didn't get that, he just wanted peace even if that comes with death, but being the writer's favourite character, it never came.
8. Jean Kirstein
Jean Kirstein graduated with everyone else in the 104th training Corps led by Keith Shadis and ranked at the 6th position. He came from the Trost district of wall Rose. He admitted that he wanted a peaceful and safe life with a nice house, family, and reputation.
Jean originally wanted to go to the military police brigade and serve directly under the royal government. But he eventually joined Survey Corps and is currently a commanding officer of Survey Corps and leading a squad.
Jean is a blunt man because he speaks through his mind and can be trusted.
He is the writer's favourite character before Reiner. Jean has a great deal of sense to understand others and assess situations, basically a natural leader as described by Marco, who has a brilliant mind and was dead because he examined the situation beforehand, which came further in season 3.
Marco made Jean realise his potential. There were many instances where Jean proved to be the best person to lead the soldiers.
Jean is also a man of moral principle who could never kill; he initially prevented himself from killing the enemy soldiers but did for his friends and fellow soldiers.
But he still refused to kill children. He even refused Flock's suggestion to throw Gabi and Falco from the airship even when Gabi shot Sasha.
9. Grisha Yeager
Grisha Yeager has a long story and is one of the most important aot characters. He is an Eldian sent to Paradis by "the owl" to infiltrate the walls and take the founding titan from the royal family by the power of attack titan given to him.
Grisha had a wife back in Marley, Dana Fritz and a son named Zeke. He remarried in Paradis to Carla and has a son named Eren.
No one knew anything about him coming from Marley and his before marriage. He was just a doctor who came out of the forest and was helping the people of Paradis.
He documented all the Marley-Eldians, the past, and the titans in three books held in his house's basement. Grisha doesn't have any good personality to display.
He was a rather very weak-willed person and lacked self-awareness too. At one point, it was debatable what he did to the royal family and Eren but further in the story, it got cleared that right or wrong, Eren himself made him do that.
He didn't want to kill anybody. Yeah, there's nothing special about him, but it was him that humanity won, after all, no matter who persuaded him.
He was the one to give both the titans to Eren and documented everything; otherwise, it would be impossible to reach where they were. Yeah, it was destiny, but destiny still chose him, so he is a very important character.
10. Sasha Blouse
Sasha Blouse is the fandom's potato girl. She is one of the characters who affect the whole fandom with her sweet, innocent, kind and polite personality. Sasha is the one everyone wanted to protect the most but couldn't, and that's one of the saddest moments of the anime series.
No one can forget the fourth season, not only because of Eren's behaviour but also for the main reason she died. Fans were and always be angry and sad about this incident.
Sasha has a friendly and very fun-loving personality with a huge appetite. Her mind was always stuck-on food, food, and food; even when she was dying, she thought and talked about food.
Despite that, Sasha is very sensitive to ears and eyes. She can hear and tell something approaching from the miles. Not only that, she is a very sharpshooter and never misses her aim.
Sasha was a capable soldier and could not stand when others were in trouble. Agreeing with Jean, she did kill the enemy soldiers, but she could never bring herself to kill civilians and children.
When Gabi was in her sight, she didn't kill her and let her go, but Gabi was responsible for her death. She shot her, which will always be unforgivable no matter what.
11. Zeke Yeager
Zeke Yeager is the first son of Grisha from Dina Fritz which made him a member of the Royal family, which was unknown to the Marleys and half brother to Eren.
In Marley, he was the caption of the Warrior Unit, inheritor of the beast titan and assigned to the mission of getting the founding titan from Eldians of Paradis Island. His first presence in the anime was very intimidating.
He was the talking titan who was a lot more powerful than others, controlled other titans, used his brain, and attacked everything, including animals never seen before.
Zeke is an intelligent and curious man, but he is also a very cold, ruthless and sarcastic individual. He has killed human soldiers without hesitation and is responsible for Erwin's death.
Zeke made humans into titans and is also responsible for making a lot of Eldians, including Pixis and Falco, into titans. He doesn't even care about his own comrades and abandons them. He has threatened Reiner a lot of times too.
The only emotion he has ever shown was with Eren, the only person he truly cared about, as he thought they both were similar and were victims of his father.
If you think he cared about Eldians too, he pitied them. He wanted to sterilize them in the name of salvation, thus leading to their eventual extinction.
However, no matter how strong he is or how strong his royal blood makes him, you are finished if Levi got an eye for you.
12. Annie Leonhart
Annie Leonhart is the female titan. She graduated from the 104th training corps with 4th rank but chose to become a member of the Military Police Brigade. Annie serves as the main antagonist before her defeat and crystallization.
Due to her harsh upbringing, one can see Annie isolated from others, rarely smiling and always having an emotionless expression. She seems very cold, but it's only that she doesn't show her emotions.
She strongly opposed Reiner and fought with him when Macel was dead because of him and when Marco was being killed.
Annie cried in her titan form as well when she killed her own comrades herself and couldn't even get Eren easily so that she could go home.
She always remains calm and collected. Annie wants nothing from anyone. She just wanted to complete her mission and go back to her father.
Annie is very practical, self-aware and honest about her strengths and weaknesses. She has exceptional skill with swords and unarmed hand to hand combat, which is a very strong trait.
Annie doesn't seem to care about anything except herself, and she claimed it, but it was good to see her supporting the Survey Corps even after she found that her father could be dead by now; she for once acted selflessly.
13. Falco Grice
Falco is an Eldian who chooses to become a warrior candidate to save his love of life, Gabi, from inheriting the armed titan. He had this simple dream of living his life and raising a family with Gabi.
However, due to her, he got caught up in the whole mess, and in the process, he inherited the jaw titan from Porco Galliard.
Falco is not made for wars. He is quite a simple boy who does not want to fight in any case.
Falco is also very polite, respectful and understanding because even when he got to know that he had been fooled by Eren, he knew and understood that they were the ones to invade Paradis first.
Falco remains calm and humble in every situation and quickly thinks and improvises in any situation.
Although he is not physically strong, he can be very dangerous spiritually. He doesn't like to fight, but if pushed by hurting his loved ones, he will not resist.
I can tell you this as his first transformation was perfect and took place when everyone was in danger. His jaw titan even had wings, the only titan with the ability to fly.
14. Gabi Braun
Gabi Braun is not a favourite one; in fact, she is hated for taking the life of the fandom's girl Sasha, especially when she was right in front of Sasha's, and she chose not to shoot her down. No matter how much she is being cursed, it still can not change that she is a very well written character.
Gabi was the warrior candidate to inherit the armed titan. She is also the cousin of Reiner Braun. Gabi is a hard-working girl who is well devoted to her goal to kill every devil she has been taught about.
She never gave it a second thought and believed what had been taught to her. She wanted to prove herself and make her family proud like Reiner.
Gabi is very passionate and brave enough to put her life on the line for her goals. She is an incredible soldier without any doubt, and that to be at that age.
Her qualities make her shine, but they are her flaws too. She sometimes (well, most of the time for me, though) becomes overbearing and dominating, making her reckless and irritating.
It's a good thing that at least she learned the truth with her eyes. She finally admitted that there were no devils but humans like her, but it was too late.
Due to her grudge, she was wrong and shot both Sasha and Eren.
Yeah, I know she was a child and was taught lies in the name of right from every side. What she did was understandable, and it wasn't her fault, but fans can never forgive her for Sasha's death, including us.
15. Dot Pixis
Dot Pixis was the Garrison's highly ranked former Chief official of the southern territories and was given full authority in defence. Pixis's liked from the very start, from his first appearance in the story.
He was shown to serve his people and soldiers rather than play around with the King, even when he begged him to stay.
Pixis is a very calm and light-hearted man who understands everyone's fear and suffering of others. He is an effective leader and an expert strategist who carefully gauges a situation and smartly act on it.
His very wise move of using Eren and protecting him from stopping the breach led to the mission ending in success which further led to a ray of hope for everyone.
We would also like to mention that he is the man who doesn't give a damn about rules and protocols; if needed, he can give up on humanity too to bring a change in this world.
16. Pieck Finger
Pieck Finger is Marley's warrior who possesses the cart titan. She is also one of the fan-favourite characters because of her beauty and incredible intelligence.
She is also very sweet, kind and caring. Pieck became a warrior to get money for the treatment of her father. She has always performed her duty well.
However, what's the most likeable is that she always fought for her fellow comrades, she doesn't trust Marley, doesn't hold a grudge towards Paradis island, and genuinely wants Eldians to be freed, but she can never betray the people who fought with her and was always have been loyal with them.
Not only that, Pieck has always been quick to figure out any situation.
You may find her suggesting and telling things to her fellow warriors even in the middle of the fight.
The way she is always behind rescuing and sending supplies often could make her the most annoying character, but her easy going and good personality made her a fan favourite character because, in the end, she is also a victim of Ymir Fritz, King Fritz, Eldians and Marley, there are no grudges or ill intentions from her.