As we previously mentioned, as an entertainment medium, anime caters to almost everyone. The content, be it the storyline, the genre, or the concepts, nearly suits everyone's taste.
Though the common stigma about anime is that it's for children, the content of anime is mature. Anime fans can defend anime by showing series with gore and violence or touching upon sensitive issues.
Since anime is an entertainment medium and people around the world consume it, there are some chances or moments where an episode or an anime series might offend the people of certain countries.
Themes in some anime, including casual violence and disturbing scenes of pedophilia and incest, have led to their being outlawed in multiple countries around the world.
Anime is known to tackle several dark or taboo issues. Depression, suicidal tendencies, abuse, rape, and other things are some of the concepts that anime explores.
When tackling these issues, there's a high probability that the anime might go overboard with its content. This overstepping of boundaries sometimes result in getting banned in different countries.
Sometimes, anime includes objectionable material that some nations don't want broadcast to viewers, especially if it is geared toward a younger audience.
Certain countries claim that the shows on this list aren't even appropriate for adults. They are bad for society as a whole! So, how wrong must something be in order to be banned, and why?
List Of Top 16 Banned Anime
16. Serial Experiments Lain (Banned In Certain Countries)
Number of episodes 13
Number of seasons: 1
Status: Finished Airing
Genres: Avant Garde, Drama, Mystery, Sci-Fi, Supernatural
Mal Rating: 8.7
Where to watch: Crunchyroll, Funimation
The plot of Serial Experiments Lain is hard to summarize solely because of its deep and complicated themes and complex storyline.
Lain Iwakura, a 14-year-old student, receives an email from Chisa Yomoda, a classmate who has since passed away.
Even though Lain is unfamiliar with modern technology, she started to investigate the puzzle surrounding email, which led her to Wired (a communication network similar to the internet)
As Lain starts receiving more emails, Chise discloses that she is not dead but alive in the virtual realm. The meaning of identity, perception, and reality shift as more research is done, and Lain becomes entangled in these puzzling happenings.
The reason that got this anime banned is somewhat different from the others. Few countries have banned this anime simply because of its nature to transform one's perspective of the world.
Its thought-provoking plot raised many issues about the society we live in.
The anime shows the dark side of the internet and its negative impact on the minds of its users.
This banned anime also features a couple of depressing moments. This banned anime is also one of the best anime in the mystery genre.
15. Pokémon (Banned in Saudi Arabia)
Type: OVA
Number of episodes: 1215
Number of seasons: 25 + 23 Movies + 11 ONAs + 5 Specials
Status: Finished Airing
Genres: Action, Adventure, Comedy, Fantasy
Mal Rating: 7.36
Where to watch: Netflix, Amazon Prime
The simple exploits of a young boy named Ash Ketchum and his pet Pikachu in an adventure world were everyone's favorite anime as children.
Only a handful of anime is going strong now in the overly competitive anime world, and Pokemon is one of them.
The anime is still going strong after two decades. You might be thinking of Pokemon!? Why is the anime banned? It's a kid-friendly show targeted at a younger audience.
Saudi Arabian religious authorities said that Pokemon encourages gambling and propagates Jewish beliefs. Pokemon was also regarded as anti-Zionist by the administration and was even declared religiously deceptive.
Furthermore, they stated that the program promotes emblems of the Shinto Japanese religion and Catholicism, which they found too Zionist.
The General Secretariat of the Council of Senior Religious Scholars enforced the ban. Pokemon have been prohibited in Saudi Arabia.
14. Kinnikuman (Banned in France)
Episodes: 137
Number of seasons:
Status: Finished Airing
Genres: Action, Horror, Sci-Fi
Mal Rating: 8.34
Where to watch: Prime Video, Disney+, HBO Max, Apple TV+
Since his dad was the Muscle King, Kinnikuman is a superhero attempting to model himself after his dad. Surprisingly, one day it was disclosed that he was the prince of an alien planet.
To save the planet he resides on; he must compete in tournaments and win.
The plot of this banned anime was simultaneously simple, silly, and funny. So what got this anime banned in France?
The ban has nothing to do with the storyline; rather, it was a character that caused all the commotion. The way Brocken Jr. was portrayed got this anime banned.
France has very strict laws concerning the depiction of Nazis. His depiction as a "good Nazi" upset a lot of people.
To clarify, he dressed in a Nazi uniform because his father was a German Nazi, but he did not have any other views associated with the philosophy.
Eventually, the manga also altered his appearance, and he stopped donning Swastikas.
13. Parasyte: The Maxim (Banned in China)
Episodes: 24
Number of seasons: 5 + 9 Movies + 1 Special
Status: Finished Airing
Genres: Action, Comedy, Sci-Fi, Sports
Mal Rating: 7.25
Where to watch: Crunchyroll, HIDIVE, Netflix, Shahid
A parasite that feeds on humans for survival infected Shinichi Izumi, a 17-year-old high school student.
These extraterrestrial beings aim to fully control their host by attaching, but for some reason, the parasite could not fully dominate Izumi and became stranded in his right hand.
To protect themselves from humans and other parasites, Shinichi Izumi and the parasite Migi now need to learn how to live in harmony with one another.
The Chinese government did not state specifically why the anime was banned or that it could not be circulated online or in print.
One possible reason for such bans could be that China frequently bans shows with extreme violence, disturbing visuals, and unbearable gore scenes.
One of the reasons that anime got banned was the highly violent nature of the show.
China's Ministry of Culture has forbidden this animation from being distributed online or in print. According to Liu Qiang, this is the outcome of investigators' analysis and experts' assessments.
12. A Kite (Banned in Norway)
Type: OVA
Number of episodes: 2
Number of seasons: 1
Status: Finished Airing
Genres: Action, Drama, Hentai
Mal Rating: 6.54
Where to watch: Crunchyroll, Amazon Prime
Please Note: This OVA has been released in three versions: a censored version; a "director's cut," with an extra fifteen minutes of footage; and the original "uncut" version, which remains uncensored. The uncut version contains graphic sexuality and graphic nudity, which led to the OVA in its original state getting banned in many countries. (Info from MAL)
After her parents were killed, Sawa was placed under the care of Akai and Kanie detectives. The orphan underwent training and was transformed into an assassin who carried out each task flawlessly.
Despite being her guardian, Akai physically abused Sawa. He was no longer distinguishable from her targets in her eyes, and she wanted to escape the wicked guardian investigators.
Can she escape their clutches and carry on living the assassin's life?
The story revolves around a young girl who kills evildoers in society. Though the anime features excessive violence, that's not what got this anime banned.
The detective's guardianship of Sawa is the real issue. She was forced to become Akai's slave and forced into a sexual relationship.
Kite, however, does not make its audience uneasy because of the violence. Kite features a graphic sexual assault sequence that makes the viewer uncomfortable. Norway has strict rules for its child pornography laws.
As the protagonist is a young girl and the victim of child sexual abuse, the entire anime film got banned in Europe. Although anime is not prohibited in the US, most versions are censored.
The anime shows disturbing visuals and an intense storyline aimed directly at a mature audience.
11. Puni Puni Poemy (Banned in New Zealand)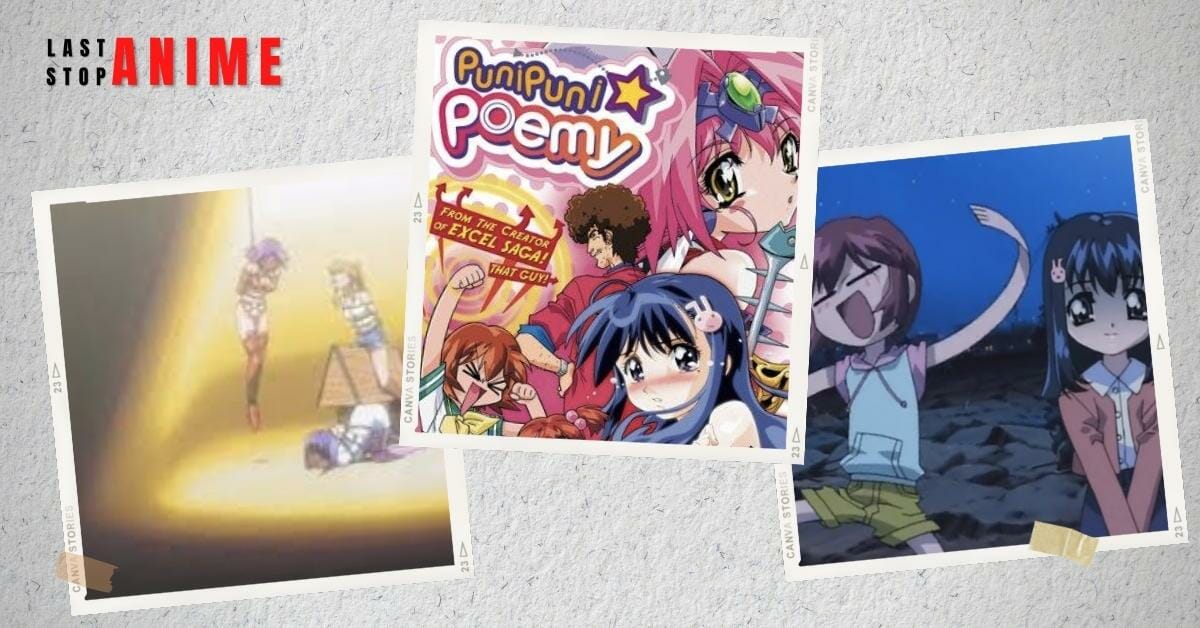 Type: OVA
Number of episodes: 2
Number of seasons: 1
Status: Finished Airing
Genres: Comedy, Sci-Fi
Mal Rating: 6.53
Where to watch: N/A
Note: This is a spinoff of Excel Saga anime
The 10-year-old Poemy Watanabe wants to become a famous voice actress in Tokyo. Despite her terrible voice acting, the girl always gives her best effort.
Her parents were slain by an alien one day, so the youngster transforms into a magical girl with a wand and saves the day.
Puni Puni Poemy is intended to be a parody of the magical girl genre. It accomplishes this by blending a weak plot, weak characters, unexpected fan service, and an excess of slapstick humor.
The ultimate result is a dubious anime that outdoes Excel Saga in terms of crudeness, featuring naked graphic scenes of very young characters.
Anime fans might think Puni Puni Poemy is targeted at younger viewers. However, due to the amount of sexual content in this anime, New Zealand decided to ban it. The anime shows extensive violence.
10. Theatre of Darkness (Banned in China)
Number of episodes: 130
Number of seasons: 10
Status: Finished Airing
Genres: Supernatural, Suspense
Mal Rating: 7.90
Where to watch: Crunchyroll, Hulu, Funimation, Netflix
Every week at 5 p.m., a yellow-masked older man tells numerous horror stories in a playground. The older adult, on the other hand, is no everyday person.
The man is carrying a Kamishibai, a traditional paper scrolling gadget, to enhance the story with visually appealing elements.
The stories became more horrific as the days passed, and the audience became engrossed in his captivating delivery.
Yamishibai: Japanese Ghost Stories is filled with terrifying supernatural themes that will keep you on the edge of your seat. Yamishibai is an anime series with a dark premise combined with a mixture of horror.
Although this anime is not banned as a whole, a few episodes were cut due to the terrifying content. Yamishibai: Japanese Ghost Stories is an original horror story that will send shivers down your spine.
09. Paranoia Agent (Banned in United States Of America)
Number of episodes: 13
Number of seasons: 10
Status: Finished Airing
Genres: Avant Garde, Drama, Mystery, Supernatural, Suspense
Mal Rating: 7.67
Where to watch: Crunchyroll, Funimation, Shahid
An unknown man causes chaos in Musashino City by moving around on rollerblades and smacking people with a golden baseball bat.
Detectives Keiichi Ikari and Mitsuhiro Maniwa ultimately decided to take on the case for investigation because it was almost impossible to identify the identity and motivations of the offender.
However, this did not stop the assaults, as more people preyed on the baseball bat. People start believing in the Little Slugger because of paranoia and hearsay. Can the detectives uncover the truth, or will paranoia devour them?
It's no surprise that Satoshi Kon is known for his works with dark themes and unpleasant storylines. This anime show was partially banned in Japan since the government deemed it too harsh.
Although Paranoia Agent is an award-winning anime, the series was momentarily banned in the United States due to the country's broadcasting restrictions related to suicide.
Later, the anime made a comeback and was released with an altered and censored version, which was allowed to air.
08. Excel Saga (Banned in Japan)
Episodes: 26
Number of seasons: 1
Status: Finished Airing
Genres: Comedy, Sci-Fi
MAL Rating: 7.49
Where to watch: Funimation, Crunchyroll
ACROSS was an organization dedicated to conquest. Its leader, Lord llpalazzo, aspires to rule the world and begins in Fukuoka. Excel and Hyatt, two organization recruits, were charged with carrying out llpalazzo's intentions for him.
They always fail to perform their jobs, so the disastrous adventures depicted as a satire on the various anime genres start on that day.
Excel Saga was partially banned. However, the final episode didn't make it to television. The final episode was censored in Japan because the government deemed it too long or too far.
The episode contains graphic violence, pornographic material, and both offensiveness and nudity. In some parts of Japan, it is even declared illegal.
What's fun about this ban is that the director, Shinichi Watanabe, purposefully banned the last episode from making the anime more unique.
Well, he got what he wanted, as the last episode is only available in DVD releases.
07. Osomatsu-San (Banned in Japan)
Number of episodes: 75
Number of seasons: 3 + 9 ONA Episodes + 5 Specials (18 Episodes) + 1 Movie
Status: Finished Airing
Genres: Comedy
MAL Rating: 8.51
Where to watch: Funimation, Crunchyroll, Netflix
The Matsuno clan comprises sextuplets (six identical siblings), each of whom has unique qualities that they maintain. These brothers were slackers who never worked for a living.
Even if they strive, their distinct personality characteristics will result in rejection. The show's protagonist was one of the sextuplets, Osomatsu, who was naturally self-centred. The protagonists of the story are Osomatsu and his five brothers.
Once again, the anime wasn't banned as a whole, but rather the first episode. The episode got banned since the anime series relies primarily on parody to make the audience enjoy the show.
For those who are not familiar, Japan has strict laws governing copyright. The anime series violates the law as the first episode parodies much well-known anime such as Dragon Ball Z, Naruto, Attack on Titan, and Sailor Moon.
As a result, the first episode got entangled in copyright, which ultimately led to its ban.
The episode is still not available on any streaming sites. The show is available on DVD, although it does not include the first episode.
06. Hetalia Axis Powers (Banned in South Korea)
Type: ONA
Number of episodes: 52
Number of seasons: 1 + 1 OVA Episode + 1 Movie
Status: Finished Airing
Genres: Comedy
MAL Rating: 7.29
Where to watch: Funimation
If you have watched Hetalia, you already know what this anime is about. For those who don't know, Hetalia is a story about countries now represented through the characters.
Hetalia is a parody anime of historical moments such as World War I and World War II. Since the anime is a parody, it mainly pokes fun at the events that occur.
It is fun and quite enjoyable, so why did it get banned in South Korea? Well, it's not technically banned, but the character that portrays South Korea is erased from the storyline.
As some of you might already know, Japan and South Korea are not on friendly or reasonable terms. The characterization of South Korea offended Koreans. Their traditional dress, Hanbok, was wrongly drawn, which enraged Koreans.
South Korea actually prohibited the show because it contained "offensive stereotypes" and was considered a "national crime."
Hetalia: Axis Powers remained on the air even though the character and allusions to South Korea were removed in response to the protest. The censored version of this anime is still accessible in certain regions of the country.
05. High School DxD (Banned in New Zealand)
Number of episodes: 48
Number of seasons: 4 + 3 Specials + 3 OVAs
Status: Finished Airing
Genres: Action, Fantasy, Romance, Ecchi, Comedy, Harem
MAL Rating: 7.34
Where to watch: Funimation, Netflix
On his first date, a high school student called Issei Hyoudou was killed by an angel. Later, he was resurrected by a devil named Rias Gremory to aid her in her escape.
Issei sees this as his second chance at life and is determined to succeed in this new angelic and demon realm. He then joins the Occult Research Club to continue his demonic escapades. Can the child adjust to his new life while keeping his identity hidden?
High School DXD is one of the most well-known Ecchi anime series, so its inclusion on the list is no surprise. The series' main character is a moronic pervert.
The anime series got banned in New Zealand because of the explicit nature of the show and its extensive use of sexual content.
As the anime series contains a lot of nudity and is exceptionally sexual, the New Zealand censor board chose to shut it down.
Another reason was that the cast of the series was young. New Zealand decided to ban the show because it was sexually exploitative of children.
04. Tokyo ghoul (Banned in China and Russia)
Number of episodes: 48
Number of seasons: 3 (Tokyo ghoul, Tokyo Ghoul √A, Tokyo Ghoul:re)
Status: Finished Airing
Genres: Action, Fantasy, Horror
MAL Rating: 7.79
Where to watch: Crunchyroll, Funimation, Netflix, Shahid
Ken Kaneki is a typical college student in Tokyo who enjoys reading. When the bashful guy finally has the opportunity to go on a date with his crush, she becomes a ghoul.
After that, Ken Kaneki's life is turned upside down, as he becomes half-ghoul, half-human.
People and ghouls were constantly fighting, but because ghouls mixed closely with humans, it was difficult to tell them apart.
This is where Kankei steps in, as he lives in both worlds and is the only hope for either side to avoid additional deaths.
Tokyo Ghoul is a best-selling manga series as well as a popular anime. So why did the Chinese government ban this anime?
The answer is simple because of the gory violence. The anime series also started a dangerous trend of sewing threads to resemble one of the characters in Tokyo Ghoul.
A district court in Russia has banned the anime series. According to the St. Petersburg judicial system, every episode of Tokyo Ghoul features brutality, murder, and violence.
Therefore, it cannot be allowed to influence the youths into repeating such horrific deeds.
03. Attack On Titan (Banned in China)
Number of episodes: 87
Number of seasons: 7
Status: Ongoing
Genres: Action, Military, Mystery, Super Power, Drama, Fantasy, Shounen
MAL Rating: 8.53
Where to watch: Crunchyroll
After witnessing his mother devoured by a massive Titan right before his eyes, Eren Jaeger vowed to eliminate all Titans and save humanity.
Eren then works closely with several well-known characters, such as Levi Ackerman, Erwin Smith, Mikasa Ackerman, and Armin Arlert, to unveil some shocking plot twists that appear throughout the series.
Another anime the Chinese government banned is Attack on Titan. Attack on Titan is banned in China due to its gory, nasty, and unsettling graphics. China believes it depicts excessive violence, which is harmful to young viewers.
Another important theme or aspect of Attack on Titan (particularly in later seasons) is opposition to authority. These anti-government ideas upset the country, resulting in their ban as a result of an unforeseeable chain of events.
02. Death Note (Banned in China)
Number of episodes: 39
Number of seasons: 1 + Special
Status: Finished Airing
Genres: Supernatural, Suspense
Mal Rating: 7.90
Where to watch: Crunchyroll, Hulu, Funimation, Netflix
No fewer than 40 different anime series were banned in China, based on a list released by Anime News Network. It's not surprising that China banned Death Note.
Death Note is one of the most popular anime on the planet. Despite being gory, bloody, and horrifying, Death Note is readily available on popular streaming sites such as Netflix.
Death Note is banned in China because of its subject. Death Note revolves around death and justice.
China describes Death Note as corrupting the minds of young people.
Death Note had a significant impact, and it wasn't just banned in China and several other countries. Students from all across the world created their own Death Notes and brought them to school.
Countries such as China, Mexico, and Russia banned Death Note, with their governments stating that the ban was approved to protect students' physical and mental health.
01. Mr. Arashi's Amazing Freak Show (Banned Everywhere)
Type: Movie
Episodes: 1
Status: Finished Airing
Genres: Drama, Horror
Duration: 47 min.
At number one, we have one of the most controversial anime movies of all time, Mr. Arashi's Amazing Freak Show. This anime film has an extremely dark, sad, and depressing storyline.
Midori is a little innocent schoolgirl living in Japan, but when her mother becomes ill, the poor child is forced to sell flowers before eventually ending up in a circus show.
What awaits her after her mother dies a horrible life in which the circus company tortures her in various ways. Can the young girl persevere and turn her life around?
This is the only anime on our list that got banned because of its plot. The 1992 anime shows many things that enraged many viewers.
Midori: Shoujo Tsubaki has not only child pornographic content but also animal violence. The animal violence sequence in Shoujo Tsubaki traumatized its viewers.
People found it repulsive and destroyed the majority of the film's copies.
Other Banned Anime You Must Checkout:
Record of Ragnarok (Banned In India)
Lilly Cat (Banned in United States)
Youjuu Toshi Wicked City (Banned in United States)
Elfen Lied (Banned in Russia and China)
Aesthetica of a Rogue Hero (Banned in China)