As one of the most popular martial arts anime out there, Baki is an exciting series filled with electric fight scenes and displays several martial arts techniques.
Being a huge franchise, the anime revolves around several stories, from underground battles to hand-to-hand combat against prison inmates.
Despite several over-the-top sequences and characters, Baki still focuses on more grounded martial arts rather than trying to make it too artificial.
The second season takes things to the next level as it follows a Chinese martial arts tournament where the strongest and most terrifying martial arts battle it out.
While embracing ridiculous fighting stereotypes and taking them to the next level, Baki fans are accustomed to continuously being on the edge of their seats.
With extremely unique and hard-working characters, Baki has some of the best fighters you will see in anime and an equally interesting grappler manga.
However, they might also struggle to find other fighting anime like baki, which is why we have made a list of 15 anime to watch if you are a fan of fighting anime and have a craving for a series similar to Baki.
15. Megalo Box
Number of Episodes: 26
Number of Seasons: 2
Genres: Sci-Fi, Sports
MAL Rating: 7.89
Where to Watch: Crunchyroll, Netflix, Prime Video, Hulu
Inspired by the father of boxing anime, Ashita No Joe, Megalo Box follows a world where boxing has evolved to a point where it features steampunk elements.
It follows a young man named Junk Dog, a highly talented fighter who is being forced to throw matches.
However, after an encounter with the champion, he has a drastic change of heart as he decides to channel his fighting spirit and work to the best of his abilities to fulfill his potential.
With his sights set on the very top while having an objective of beating the champion, Junk dog enters a world tournament to decide the strongest boxer.
While facing various tough opponents in a series of entertaining fights where we're even shown the effect it has on him mentally, there are an umpteen reasons for you to watch megalo box.
14. Street Fighter II: The Animated Series
Number of Episodes: 29
Number of Seasons: 1 +1 Movie
Genres: Action, Adventure, Drama, Mystery
MAL Rating: 7.04
Where to Watch: Crunchyroll, Netflix, Prime Video
As an alternate yet more entertaining version of the movie and based on the viral game, Street fighter ii tells us the story of two martial artists, Ryu and Ken.
Being close friends, they wish to improve their fighting skills by experiencing one martial art form after another.
However, when they're caught up in a sinister plot by a mysterious organization, they are forced to use their abilities while trying to stop the evil plot.
While there is a lot of story and relationships to be dissected, the anime essentially boils down to electrifying street fighting with excellent voice acting and music to complement it.
Anyone looking for an anime like Baki need not look any further as they can watch street fighter ii for the endless action they desire.
13. Hinomaru Sumo
Number of Episodes: 24
Number of Seasons: 1
Genres: Sports, Comedy, Drama
MAL Rating: 7.56
Where to Watch: Crunchyroll, Prime Video
As mentioned in the name, Hinomaru Sumo deals with the unique fighting style of Sumo, which is unlike any other due to having no weight classes.
It follows our protagonist, Hinomaru, a boy of young age who has already shown his talent in the sport.
Intending to reach the top in his field, he enrolls as a high school student in an underdog school with hopes of building it up to the point where it becomes a powerhouse in tournaments.
With a constant sense of suspense, a likable and hard-working protagonist, and an extremely entertaining action anime, you should watch Hinomaru Sumo if you wish to see gripping fights in a tournament format.
12. Air Master
Number of Episodes: 27
Number of Seasons: 1
Genres: Action, Comedy
MAL Rating: 6.98
Where to Watch: Crunchyroll, Prime Video
Air master is a unique series that distinguishes itself from other anime that focus on martial arts by centering around a female protagonist.
It follows a former gymnast named Maki who has decided to shift her focus towards street fighting while using the skills and grace she learned through gymnastics which gives her the title of "Air master."
It is an enthralling series where we see a high school girl breaking apart from her gender norms and beating up bullies.
With several comedic elements adding flavor to the fights and a badass protagonist, there are plenty of reasons to watch air master.
11. Ace of Diamond
Number of Episodes: 127
Number of Seasons: 2
Genres: Sports, Comedy, Drama
MAL Rating: 8.11
Where to Watch: Crunchyroll, Netflix
While this might seem like a weird addition to the list since Ace of Diamond is a baseball anime with no physical fights, it surprisingly has a lot in common with an anime like baki.
It tells us the story of Eijun Sawamura, a player with an unusual pitching style who joins Seidou high school to fulfill his dreams of becoming a baseball player.
With hilarious yet determined characters and a protagonist who has a never-give-up attitude as he strives to improve, anime fans will find that the Ace of Diamond and Baki are very similar at their core.
The matches are also extremely exhilarating as characters desperately try to beat each other.
Despite having several of the common elements of other sports anime, Ace of Diamond still managed to showcase its unique style.
10. Shootfighter Tekken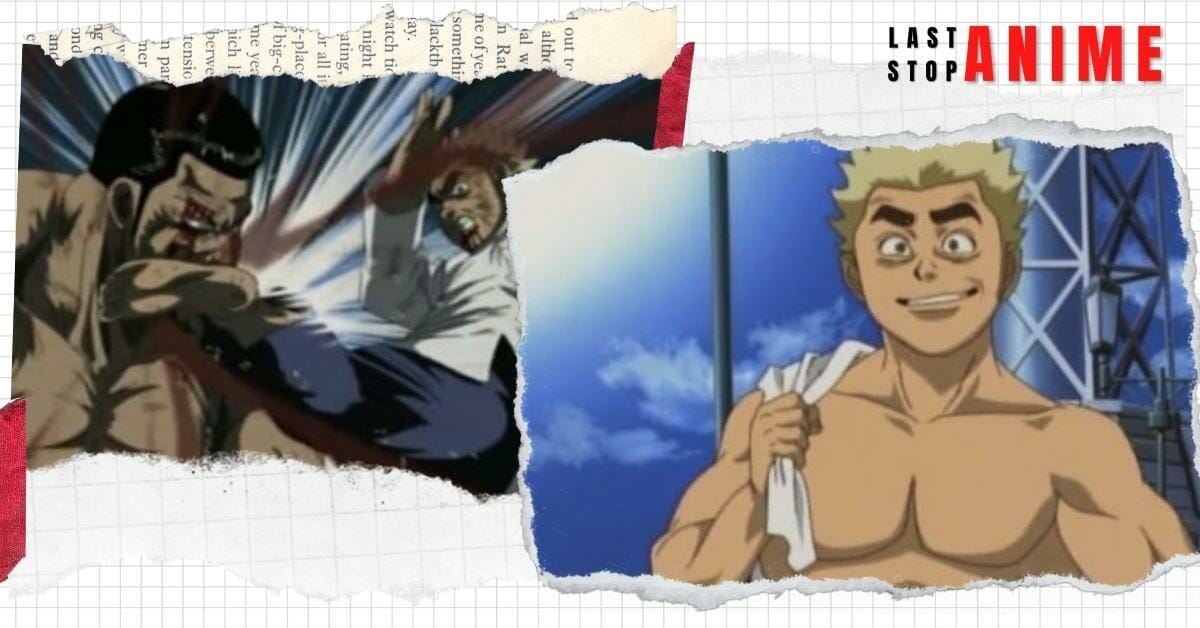 Number of Episodes: 3
Number of Seasons: 1
Genres: Action, Drama
MAL Rating: 6.91
Where to Watch: Prime Video, Disney+, HBO Max
Though it is a relatively short anime, Shootfighter Tekken has no shortage of explosiveness as it delivers electrifying and intense fights while holding nothing back.
It tells us the tale of the Nanshin shadow style of martial arts, which has a long history with professional wrestling as they had underground battles in order to decide which was superior.
While the former emerged victorious, the pro-wrestlers held a grudge as a man wished to destroy the nanshin shadow style.
The son of the previous victor and successor of the martial art takes it upon himself to defend it, leading to very realistic and exciting battles that retain our attention throughout.
9. Go!! Karate Club
Number of Episodes: 4
Number of Seasons: 1
Genres: Action, Drama
MAL Rating: 6.66
Where to Watch: No official Sites have this anime
Yet another short anime like baki that fans would enjoy is Go!! Karate Club.
It follows a newly enrolled high school student who wishes to join its karate club with a notorious reputation.
While dealing with several gangs and fighting between thugs, it also has an excellent character in the captain of the club, Takagi, who, despite appearances, is highly compassionate and caring.
Paired with his strength, this has earned him the respect of most in his community while also attracting challenges from everywhere.
It is a brutal and entertaining martial arts anime that is a delightful short watch.
8. Kenichi: The Mightiest Disciple
Number of Episodes: 50
Number of Seasons: 1 + 11 OVAs
Genres: Action, Comedy, Drama
MAL Rating: 8.06
Where to Watch: Crunchyroll, Hulu, Prime Video
Kenichi: The Mightiest Disciple, follows a weak high schooler named Kenichi, who is the target of bullies, constantly being beaten up without fending for himself.
On witnessing a girl who he met earlier defeating thugs easily, he approaches her while asking for advice.
She directs him to the dojo while telling him that he will be able to grow very powerful if he has enough determination and dedication and manages to survive the harsh conditions.
With this, the anime becomes a non-stop fest of fighting and intense action where we watch Kenichi become a protector of the weak and strive to maintain justice.
As Kenichi slowly gains a reputation for his strength, more and more people begin targetting him, which requires his training to level up so that he can keep protecting others constantly.
7. Karate Baka Ichidai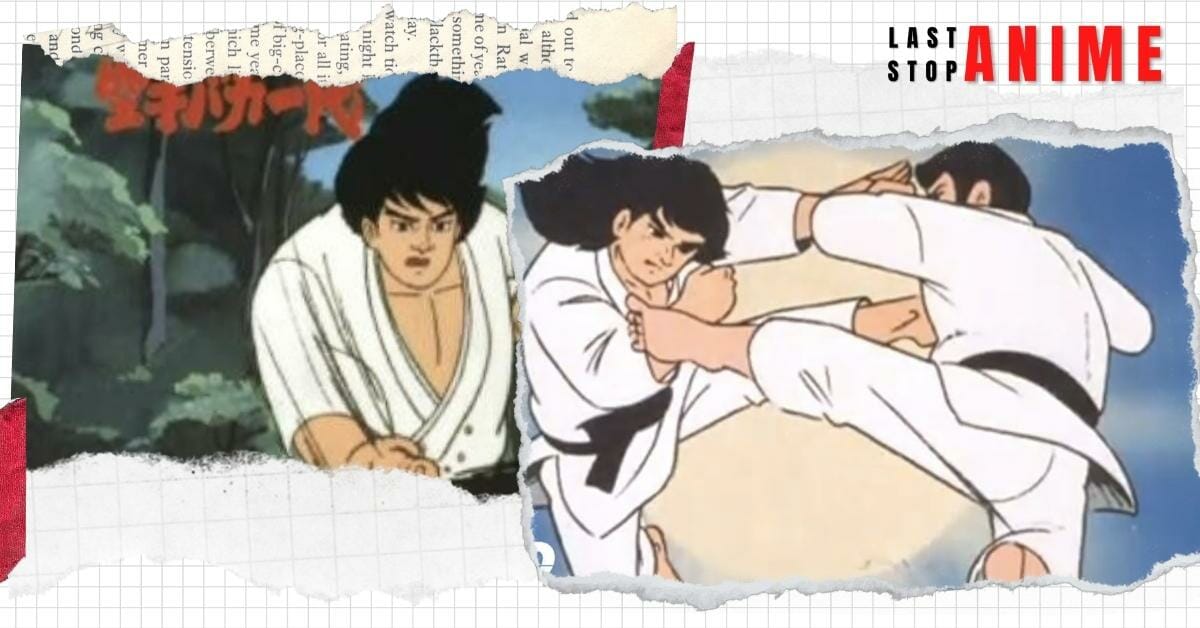 Number of Episodes: 47
Number of Seasons: 1
Genres: Adventure, Sports
MAL Rating: 6.62
Where to Watch: Hulu
Karate Baka Ichidai or Karate Master might seem off-putting due to how old it is, but it is an anime like baki that fans of fighting anime should try.
It has a violent protagonist who beats people up using karate and lives his life similarly to a hooligan.
On learning the story of Miyamato Musashi, the famous Japanese swordsman through a novel, he goes through a change while vowing to live his life differently and follow a similar path to that of Musashi.
It's a great anime about his transformation and the main character's newfound seriousness toward martial art.
Based on a real-life story, this series will give you a feeling of nostalgia while also engrossing you in its compelling journey.
6. Rainbow
Number of Episodes: 26
Number of Seasons: 1
Genres: Drama, Suspense, Thriller
MAL Rating: 8.48
Where to Watch: Crunchyroll
Rainbow is a brutal and dark anime that tells us about the lives of a few young criminals placed in the Shounan Special Reform School.
When placed in the same cell as a former professional boxer and getting abused daily, they realize how bad their situation is and want to improve it.
Using the boxer's wisdom through having been there longer, they begin to mature while forming goals and promise to meet each other once their sentences are finished.
While Rainbow isn't the first series you'd think of if you wish to see an anime like baki, it has a similar, brutal world while going more toward realism.
It gives you the same feeling of dread and thrill while also giving you a sense of satisfaction in rare happy instances.
5. Tenjou Tenge
Number of Episodes: 24
Number of Seasons: 1
Genres: Action, Comedy, Ecchi
MAL Rating: 6.88
Where to Watch: Crunchyroll, Prime Video, Tubi
Tenjou Tenge is an extremely fun anime that follows the main characters, Souchirou Nagi and Bob Makihara, who join high school with hopes of becoming the strongest fighters in the entire student body.
However, their plans become much harder when they realize that the school they've joined, Toudou Academy, is solely focused on martial arts and its revival in Japan.
In addition, the students of Toudou Academy can use supernatural abilities that put them head and shoulders above any other fighter.
With their sights set on beating all these powerful people and a renewed competitive spirit, our main characters begin their journey toward becoming the strongest.
With plenty of fights, comedic scenes, and fan service, Tenjou Tenge is a wild and entertaining ride you won't miss out on.
4. Record of Ragnarok
Number of Episodes: 12
Number of Seasons: 1
Genres: Action, Drama, Fantasy
MAL Rating: 6.65
Where to Watch: Netflix
Record of Ragnarok tells us of the epic tournament between famous historical figures and actual gods with the existence of humanity at stake.
When the gods lose faith in humanity and decide to destroy it, they are interrupted by a Valkyrie who proposes a tournament where 13 gods face 13 of humanity's strongest for survival.
With exhilarating battles between several gods such as Thor, Zeus, Shiva, and many more against Adam, Sasaki Kojiro, Jack the Ripper, and famous figures from all cultures, it is guaranteed to be a collection of incredible battles you won't want to miss.
3. The God of High School
Number of Episodes: 13
Number of Seasons: 1
Genres: Action, Fantasy
MAL Rating: 7.07
Where to Watch: Crunchyroll, Netflix, Prime Video
In a martial arts tournament called the "God of High School," we are told of a mysterious competition for students where the winner gets to have anything they want.
Pairing various martial arts while taking inspiration from the hyperbolized shonen combat staples popularized by Dragon Ball Z and other similar anime.
God of High School shows us exhilarating fights combined with fantasy elements while increasing the thrill and techniques we witness in every battle.
With its hilarious and likable cast of main characters and mysterious antagonists, it succeeds in being an excellent series for fans of fighting anime.
2. Fist of the North Star
Number of Episodes: 152
Number of Seasons: 2
Genres: Action, Drama, Sci-Fi
MAL Rating: 7.96
Where to Watch: Netflix, Crunchyroll, Prime Video
Fist of the North Star is among the greats in action anime and is known by almost every fan of the genre.
It follows a post-apocalyptic world where a martial artist named Kenshirou walks the vast land to defeat his rival and reclaim his fiancee.
On his path lie a barrage of enemies and never-ending challenges he is forced to defeat using his deadly fighting form, Hokuto Shinken.
With several masculine characters and its powerful, ruthless, and brave protagonist who eventually becomes the savior of that doomed world through several fights, baki fans will find many reasons to watch Fist of the North Star.
1. Hajime No Ippo
Number of Episodes: 126
Number of Seasons: 3 + 1 OVA
Genres: Drama, Sports, Comedy
MAL Rating: 8.75
Where to Watch: Crunchyroll
Hajime no Ippo is one of the products that the sports anime genre has to offer with its edge-of-the-seat fights and motivational moments.
It follows the protagonist, Ippo's journey into the boxing world as he goes from a bullied and shy young boy to a confident fighter.
After being rescued from his bullies, Ippo is taken to a boxing gym by his savior who is also extremely strong.
He shows his potential here with the punching bag, which stuns all around him by his power.
Living a hard life every day, he had already built up his strength, and despite his introverted nature, he had the potential to become powerful.
Seeing this, he is taken in as a boxer in the gym and trains to reach the top of his field.
The anime is inspiring, packed with action and extremely thrilling. You should give this a shot, even if you aren't a sports fan.