Anime, as we all know, has a plethora of genres. Currently, the most well-known genre is Shounen. We have seen anime getting released with the same genres.
Whereas we have Shoujo, one of the most cliched genres. The shoujo plot always has a rival that doesn't win, a childhood friend, a traumatic past (mostly abandonment issues), and a weak female lead, although Shoujo's target audience is young women.
There's a thin line between sibling complex and incest. With all these anime genres, we have the Incest genre to cross the line between the sibling complexes and focus on incestuous relationships.
Now we know that incest is a taboo topic and goes against our social norms. Incest has both an appeal to some audiences and the disgust of others. Anime isn't new when it comes to incest.
These anime don't necessarily focus on problems of incest; rather, they focus on the romantic aspect. Some of the anime on this list will have a gay or lesbian incest theme.
So today, we'll compile a list of Incest anime. Before we get started, we want to make one thing clear. We'll focus on anime, and this list will not include Incest Hentai.
Note: We do not promote incest. We make this list for people who enjoy watching incest anime. The list will mostly consist of family incest anime stories. They can be step-siblings or normal sibling love.
21. Kuro to Kin no Akanai Kagi
Genre: Romance
Episodes: 2 (OVA)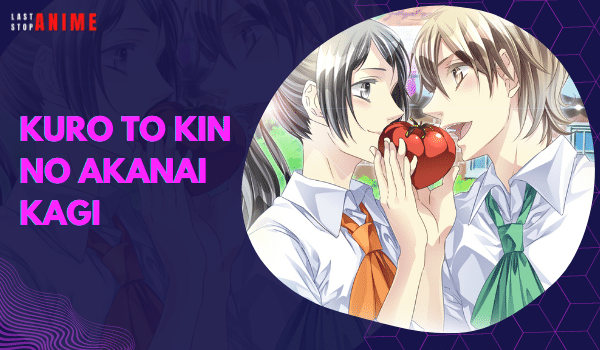 Kanada is a hermit who likes to spend most of her time alone at home. Her forte is her vivid imagination, which frequently results in various bizarre fantasies. In her dream one night, a strange cowboy dude approached and told her he was her heart's hero.
As a result of his encouragement, she decided to get a haircut the next day. Then, she encountered a handsome guy in the park who trimmed her hair, giving her the confidence to return to school.
Immediately following her haircut, a man walks up to Kanade, who reveals himself to be Sudou Yukio, a former classmate.
Kanade had liked him before and was glad to see her again. Kanade lives with Sonomura Ikuto, her non-blood brother.
Despite Ikuto's advice, Kanade set out to find the strange man who had cut her hair the day before. He identified him as Hasui Tomoomi, whom she met at the park.
He's a talented hairdresser who runs the Azalea salon in the neighborhood.
Kanade's homeroom teacher, Konno Chihiro, volunteered to help her with her schoolwork because she had been missing for so long.
What will Kanade's life be like now that these men surround her?
20. Tenshi Kinryouku (Angel Sanctuary)
Genres: Action, Drama, Romance, Supernatural
Episodes: 3 (OVA)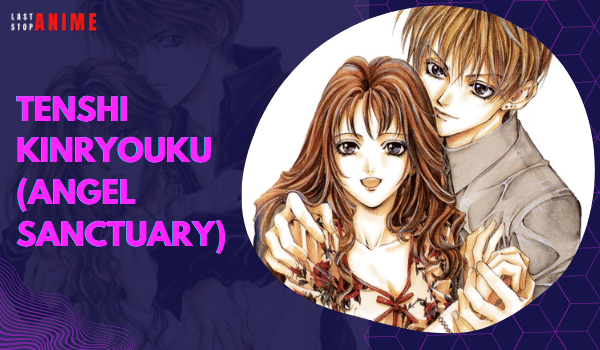 Our protagonist, Setsuna Mudo, is looking to make it through the day without getting into trouble with his bullies. It doesn't help that he's head over heels in love with Sara, his younger sister, whom he hardly sees once a month. But his existence isn't just about standing his ground.
Setsuna is confronted by a slew of mystical creatures, angels, and demons, all claiming to know his actual fate. Angels think he is the resurrection of their Lord Alexiel, while devils allege he led them into a war against God himself.
The ancient fight between Heaven and Hell flares as Setsuna fights with his existence in such bizarre times.
19. Papa to Kiss in the Dark
Genres: Boys Love, Comedy, Drama, Romance, Erotica
Episodes: 02 (OVA)
Munakata Mira has a crush on his father, Munakata Kyousuke, a well-known Hollywood actor. To the general public, they are both father and son, but behind closed doors, they are lovers.
Mira encounters problems when he becomes 15 and starts high school and when his childhood friend falls in love with him.
Furthermore, learning that he is adopted only adds to his anguish. And then there is another issue: Kyousuke is set to marry a well-known actress whose son appears to be interested in Mira.
18. My Little Sister Can't Be This Cute
Genre: Comedy
Episodes: 12
Kirino Kousaka has enticing charms and epitomizes the ideal student. However, no one is perfect, and she, too, is concealing a dirty secret. Her older sibling, Kyousuke, is the one who figures out what she's hiding.
Kirino puts Kyousuke under a restraining order and introduces him to the eromanga and incest world.
However, as the siblings spend more time doing such things, they become closer in ways they aren't supposed to.
17. Aki Sora: Yume no Naka
Genre: Romance, Ecchi
Episodes: 01 (OVA)
This anime is a 21-minute original video animation. Well, now you know what OVA means. Aki sora is incest in its pure form. Aki and Sora are blood-related siblings who love each other.
Sora, the main protagonist of Aki Sora, realizes he has romantic feelings for his older sister, Aki.
Aki becomes obsessed with her younger brother and seduces him. Since incest is a taboo and they know that society will object to their relationship, they keep it secret.
Aki Sora is borderline hentai and dives into the incest theme. This anime contains some enjoyable ecchi moments. What makes Aki Sora different is that they don't show Aki and Sora as step sisters or step brothers.
16. Onegai☆Twins (Please Twins)
Genres: Comedy, Drama, Sci-Fi
Episodes: 12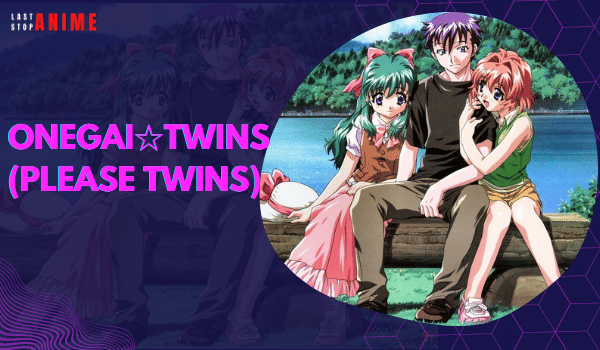 The story revolves around two twins who are seeking to find each other, as well as one stranger. All three kids were drawn together by an image of two kids nearby a house.
One is a girl, and the other is a boy. Their stunning deep blue eyes are the only distinguishing trait between the two children.
They were all drawn to the house after hearing about an alien UFO sighting on the news, and because they live together, they are romantically attracted to each other, but they can't decide if they are related.
15. Recently, my sister has been unusual
Genres: Romance, Comedy, Supernatural, Ecchi
Episodes: 12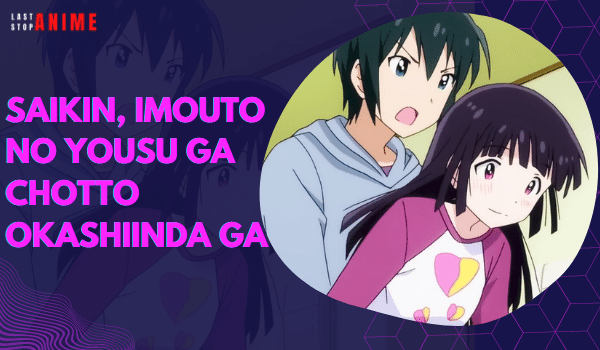 Saikin Imouto no Yousu ga Chotto Okashiinda Ga is a story of a family struggling to get life back on track. Mr. and Mrs. Kanzaki has a teenage daughter and a son, who will be present for their wedding.
Mitsuki Kanzaki is not overjoyed or enthusiastic. She has a history of missing and abusive father figures, so she is wary of welcoming her stepfather and stepbrother into her life.
After an accident leaves her in the hospital, Mitsuki is haunted by the soul of Hiyori Kotobuki, a young girl who fell head over heels in love with Mitsuki's stepbrother, Yuuya.
Because Hiyori's unrequited love for Yuuya prevents her from passing on to her afterlife, she must fulfill the ghost girl's wish in Mitsuki's body.
The series is filled with fan service and is hilarious at times. A decent show to watch. Since this is an ecchi anime, expect a lot of panty shots and weird camera angles.
14. I'm in love with my sister
Genres: Romance
Episodes: 1 (OVA)
Another Original Video Animation, Boku wa Imouto ni Koi Wo Suru, is a story of sibling incest. Boku wa imouto ni koi wo Suru is one of those basic incest-themed movies.
Yori and his twin sister Iku were affectionate as kids, but Yori has recently become distant toward Iku and prefers to avoid her. Iku was perplexed by Yori's behavior.
But in reality, Yori is in love with Iku, which causes him to distance himself from his little sister. He'd even applied to a boarding school in a different city, hoping to get away from Iku.
When Iku started talking about having a partner and going on dates, Yori lost his determination to keep quiet about his emotions. Yori revealed that he loves his little sister. They both continue their forbidden love.
13. To Love-Ru Darkness
Genres: Comedy, Ecchi, Sci-fi, Romance
Episodes: 12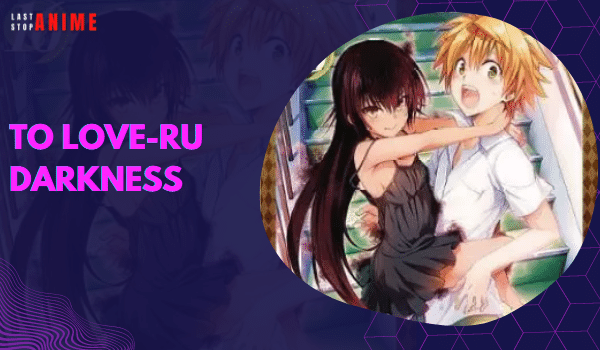 The issue swings even further out of hand as close encounters of the twisted type between the people of the planet Develuke and the people of Earth continue to grow.
Things ought to go well for junior princesses Nana and Momo when they attend Earth School, where LaLa, their elder sister, can keep a watch on both of them.
Things get complicated when Momo, on the other hand, intends to substitute Rito's connection with LaLa with some sisterly affection.
To Love Ru Darkness is filled with fan service, ecchi, and harems.
12. Because I Don't Like My Big Brother at All!!
Genres: Romance, Comedy, Ecchi
Episodes: 12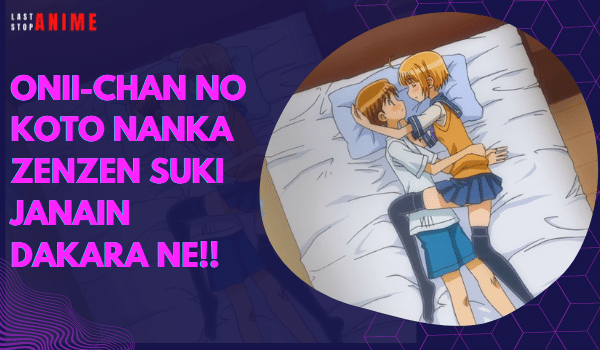 Nao Takanashi has a deep love for her brother. It's gotten to the point where it's bordering on incest. Well, it is incest. She has a solid brother complex, which results in her being rather possessive of him. She would rather her brother think of her as a woman than a girl.
Nao even broke into his room and started sifting through his stash of pornography, deleting any that did not involve incest.
However, something unexpected happens during her exploration and hunting for porn in his room.
She comes across his old photographs from his childhood. On the other hand, she does not appear in any of them. So what exactly is going on here?
Later in the show, we learn that Nao is adopted and they are not blood-related siblings, but this only worsens matters as she is now determined to have Shuusuke. Shuushuke, whereas, loves his childhood friend.
11. The Hill Dyed Rose Madder
Genres: Romance, Comedy, Ecchi
Episodes: 12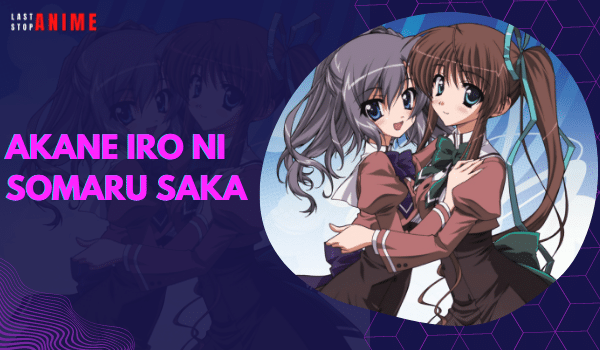 Akane Iro ni Somaru Saka is based on the same-named visual novel for the PC and PlayStation 2. Yuuhi Katagiri isn't just any girl; she's the Katagiri family's beloved daughter.
She's usually kept under constant watch, but one day she walks home alone from school. When a gang of boys begins harassing her, this becomes an immediate problem.
Junichi Nagase is the anime's main character. When he discovers Yuuhi in danger on his way home from the convenience store, he comes to her aid.
We find out afterward that she is his fiancée under the arranged marriage system.
They got off to a shaky start initially, but they quickly grew closer. On the other side, Junichi looks to be in love with his younger sister, Minato.
10. My Little Sister Is Among Them!
Genres: Romance, Comedy, Ecchi, Mystery
Episodes: 12
Shougo Mikadono's father recently died, so he should manage the Mikadono Group, his father's business. But, due to his father's will, he must first enroll in a private academy to obtain a large sum of money. Only after graduating from it can he become the business's successor.
In addition to that, he'll also have to find a suitable life partner there as well.
The academy boasts a sizable female populace, and many are drawn to him due to his surname. Among them is a female who is also his half-sister.
Now comes the plot twist. He doesn't know which of them is his long sister.
09. Sister Princess
Genres: Comedy, Drama, Romance, Slice of Life
Episodes: 26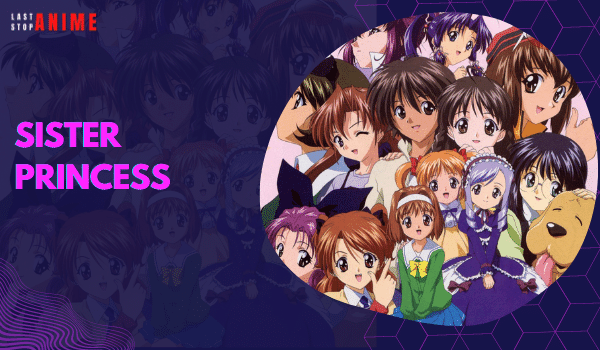 Due to a computer glitch, our main protagonist, Wataru Minakami, fails his high school entrance exams. But after blowing his high school entrance exam, Minakami gets an offer from a different school in Promise Island.
Minakami arrives at the site and is welcomed by a group of 12 adorable girls who allege to be his sisters and implore him to pay attention to them.
As Wataru grows closer to his newly discovered sisters, the question surrounding why they have been brought to the island deepens.
Sister Princess is your traditional harem and slice-of-life anime.
08. Onee chan ga Kita
Genres: Comedy, Slice of Life
Episodes: 12
Tomoya Mizuhara, our protagonist, is a 13-year-old teenage boy. But when his father suddenly remarries, Tomoya gains a big step-sister.
Ichika, his 17-year-old sister, is extremely clingy towards him, and her affections for him are frequently overwhelming and go against normal siblings' love.
07. Canvas 2: Rainbow Colored Sketch
Genres: Comedy, Drama, Romance, Slice of Life
Episodes: 24
The protagonist, Kamikura Hiroki, is a gifted artist and is considered a prodigy in certain ways. Hiroki's cousin, Elis Housen, was a child when her parents died in a vehicle accident. Hiroki then chose to look after her.
She refuses to use the color red in her paintings or freaks out anytime she sees it because of her trauma.
Ellis, now in Hiroki's care, becomes an excellent artist like him. Hiroki seems to have a complex history as well.
Even though he turned down a girl he liked as he realized his closest friend liked her, his best mate stole his painting to come out on top in a contest.
The incest takes place between Ellis and Hiroki. Ellis professes her love for her brother but gets rejected. She is still unable to reconcile her feelings after being rejected.
06. Citrus
Genres: Drama, Girls Love, Romance
Episodes: 12
Yuzu Aihara's mother remarries before her first year of high school. She was forced to switch schools as a result of this. Yuzu Aihara is an outgoing extrovert who loves socializing with new people, so she had no trouble switching schools.
This is a chance for her to socialize and make new friends while at the same time having a joyful experience. At her new school, she aspires to fall in love and have her first kiss.
However, Yuzu's dreams are shattered when she discovers that her hopes and vibe don't mix in at her new, extremely restrictive, all-girls school, which is overflowing with obedient and exceedingly talented grade ranks.
The gorgeous and intimidating student council president, Mei Aihara, is immediately drawn to Yuzu's flashy appearance and begins touching her body in an attempt to seize her smartphone.
When Yuzu gets back home, she learns that Mei is her step-sister. Mei gets mocked by Yuzu since she is aloof from her.
She pushes Yuzu to the floor and kisses her before she can complete her sentence, despite Yuzu's best efforts to free herself.
Mei hurries out of the room as quickly as she's done, leaving Yuzu to wonder about the significance of her first kiss and the riddles beyond her new sister's distraught stare.
Citrus is fast-paced. But it also has a stereotypical plot: girls from all girls' schools are lesbians or attracted to their classmates. We have seen memes on this topic, and they even made an anime.
05. Kiss x Sis
Genres: Comedy, Romance, Ecchi
Episodes: 12
Keita Suminoe is our protagonist. He's your average high schooler whose mother dies suddenly. Shortly after the demise of Keita Suminoe's mother, his father quickly remarries.
As a result of his father's remarriage, Keita has two attractive step-sisters. But it's not all joy and fun for his sisters, who are out there to get his attention.
The girls have been gripped by an incestuous obsession for their younger brother from their tragic first meeting, leading to a lifetime war for his affections.
Keita, who is getting towards the end of his middle school years, is working extremely hard in hopes of joining the same high school as Ako and Riko.
However, while doing so, he must reconcile his contradictory sentiments towards his siblings and either reject or accept his sisters' sexual approaches.
Fortunately for Keita—or perhaps unfortunately for him—his sisters aren't the only girls who are smitten with him, but there is no telling when the attraction of temptation will also overcome him.
04. The Testament of Sister New Devil
Genres: Action, Fantasy, Romance, Ecchi
Episodes: 12
Basara Toujo is taken aback when he knows that he will now be living with his two step-sisters because his father remarried. He seems to have no option but to take the Naruse sisters, Mio, a fierce redhead, and Maria, a little silver-haired beauty, into his home.
While his father is busy with work, he uncovers that both his sisters are from the demon clan. One of them is a descendant of the former demon lord. Basara acknowledges that he used to be a member of the demon-hating Hero clan.
On the other side, Basara has become attached to caring for his newfound sisters and plans to utilize his abilities to defend them, signing a master-servant agreement with Mio to keep a watch on them.
With the heroes monitoring his every movement and the rising menace of ferocious demons, Basara has to do the unimaginable to defend his newfound siblings.
In addition, the guardian is concealing his dreadful secret, which has plagued him since the beginning.
If you have watched High School DXD and loved it, Shinmai Maou No Testament is close to it. With harem and ecchi, this anime is borderline hentai too.
03. Koi Kaze
Genres: Drama, Romance, Slice of Life
Episodes: 13
Saeki Koushirou, the protagonist of Koi Kaze, works as a wedding planner, but his dating life is a massive failure. He has a difficult time committing to love because of his past.
As the son of a divorced couple, he continues to live with his father. His mother and sister exist but haven't seen him in years.
After getting ditched by his girlfriend, Koushirou's serenity is shaken by a fling with a female high school student, who sparks emotions in him.
She is, however, his sister, and no matter how hard he tries, he can't seem to shake his feelings for her.
02. Super Lovers
Genres: Boys Love, Comedy, Drama, Romance, Slice of Life
Episodes: 10
A Yaoi genre incest anime rather than your normal sibling incest anime. Haru Kaidou, the family's oldest son who resides in Japan, traveled to Canada after hearing that his mother was on the verge of dying.
Upon reaching there, he discovered that his mother lied to him to bring him there. But he's made to take responsibility for Ren Kaidou, his foster brother, a socially awkward kid who likes to be around dogs instead of people.
Haru has a tough time getting along with Ren at first because of his new brother's hostile demeanor, but their friendship strengthens through time.
Haru then assures Ren that they will live together in Japan after he graduates.
On the other hand, Haru loses all recollections of the summer they shared, along with the promise he made, owing to a sad tragedy.
Ren returns to Tokyo five years later, anticipating that Haru will keep his word. Ren, on the other hand, is just a random guy who claims to be Haru's brother to Haru.
The story of Super Lovers revolves around a step-siblings relationship with a massive age difference between Haru and Ren.
01. Yosuga no Sora: In Solitude, Where We Are Least Alone
Genres: Drama, Romance, Ecchi
Episodes: 12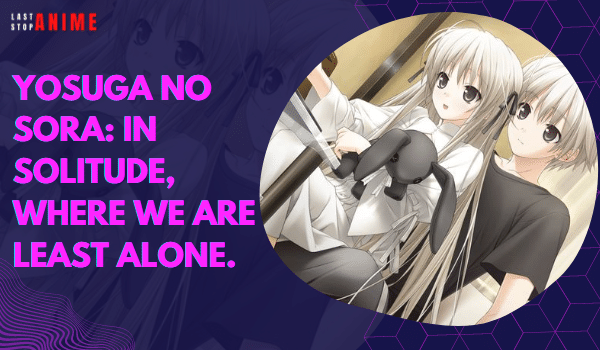 Based on a visual novel, this anime aired in 2010. The anime's plot centers around twins Haruka and Sora. Tragic events occur when their parents die in a car accident.
Haruka doesn't wish to live with his relatives. Sora doesn't like being separated from her brother, so she accompanies him.
To begin a new life, they return to their childhood home, a remote and scenic village where they lived four years ago.
On the other hand, returning to such an emotional place requires reminiscing all of the memories the two would have made together, whether joyful or painful.
Haruka and Sora's narrative gets more entwined as their lives are slowly influenced by gestures of kindness, compassion, envy, and probably even passion.
Yosuga no Sora is a good incest anime or can be considered one of the best incest anime.