As we all know, the anime world has something for everyone's taste. Every anime has cool characters, amazing fight scenes, great character design, and many humorous scenes added for comedic intent and evil association. One cool anime is Kill La Kill.
It was perplexing, thrilling, comical, vibrant, and darn refreshing to watch the plot of Kill la Kill take shape.
What started out as a simple vengeful story, with sketchy plot direction, an excess of fan service, and excessively flashy action sequences, concluded in a pretty solid and satisfying manner.
Even though Kill la Kill is enjoyable, it is nonetheless a series that values style over substance.
This is not to suggest that the series is superficial, but it's hard to ignore the plethora of girl's underwear camera angles and chokingly tight and revealing attire.
While there's plenty of wild fun in Kill la Kill, it's easy to overlook what ends up making this series so marvelous.
The truth is that Kill la Kill is a parody of several cliched archetypes in recent anime, which is part of its genius.
Everything, from the school setting to the characters and notions to the over-the-top action, is overblown to the extreme. The show never dwells on a specific event for too long and raises the stakes in every episode.
The fans of Kill La Kill were delighted when the anime series got a video game adaptation.
Overall, Kill la Kill is an amazing anime because of its art style, interesting characters, and stunning animation style.
But if you have completed the anime series and now you are wondering if there are any other anime like Kill La Kill, then you have come to the right place because today we are going to list down 11 anime like Kill La Kill.
11. Dead Leaves
Type: Movie
Duration: 52 min.
Status: Finished Airing
Genres: Action, Comedy, Sci-Fi
MAL Rating: 7.22
Where to watch: Amazon Prime Video, Tubi
Retro and Pandy form a friendship after awakening on an unfamiliar road with no clothing, shoes, or memories, and they embark on a life of thrill-seeking and violence.
Retro's wild shenanigans and Pandy's free-spirited character make them the ideal crime partners to wreak havoc wherever they go.
Retro and Pandy are sent to Dead Leaves, an elevated jail cell on the Moon, after an unintentional mistake lands them behind bars.
They quickly understand that the remaining inmates are replicas from genetic mutation experiments.
They flee from their cell and lead a prison escape together with the other captives because they have nothing better to do.
The chaotic duo starts their wild and baffling escape, carrying weapons with a crew of mutants and a desire for havoc.
10. Witchblade
Number of episodes: 24
Number of seasons: 1
Status: Finished Airing
Genres: Action, Sci-Fi
MAL Rating: 7.22
Where to watch: Funimation, Crunchyroll
Masane Amaha and her daughter Rihoko are fleeing from a government child welfare organization that wishes to separate Rihoko from her mother.
They are apprehended, and Rihoko is snatched away. All the while, Masane is attacked by an enhanced weapon that can impersonate a human.
When confronted with a threat, a faint glow emanates from her wrist, transforming her into a powerful being.
She trashes the weapon and finds herself at the core of a power dispute between two powerful groups because she wields the legendary Witchblade's most powerful power.
Because Witchblade is a western comic with the same name, it is notorious for its violent and Ecchi scenes.
There are a few Ecchi scenes here and there for the anime adaptation. But these Ecchi factors do not overshadow the plot of the anime.
The pacing of the show is excellent. It sometimes felt a little slow, unexpectedly throwing you on an emotional roller coaster near the end.
The characters pushed this show forward, especially the main protagonist, Masane.
Everything would have crumbled if she hadn't managed to grow.
She wasn't, however, alone; all of the supporting characters were fantastic and had distinct personalities that evolved.
09. Little Witch Academia
Number of episodes: 25
Number of seasons: 1 + 2 Movies
Status: Finished Airing
Genres: Adventure, Comedy, Fantasy
MAL Rating: 7.82
Where to watch: Netflix
Atsuko Kagari is introduced as she enlists in a mystical institute because of being influenced by Shiny Chariot, a well-known witch.
Although a few students despise Atsuko due to her lack of a magical background and outlook, the anime's main theme is Atsuko's determination to become a wonderful witch no matter what.
Little Witch Academia's worldbuilding is excellent, as it provides specific names for each spot in the show.
We learn about the origins of magic and how students at Luna Nova Academy should abide by rules, including not leaving the building without a permit and not going to areas that are off-limits to students.
The anime's animation style is pretty similar to Kill La Kill. Not only that, you'd be surprised to know that the two anime share the same studio, Studio Trigger.
Although Little Witch Academia appears to be more upbeat than Kill La Kill, both anime focus on the sacrifices required to reach the top.
The protagonists in Little Witch Academia are incredible and endearing in their unique ways. They also have wonderful on-screen chemistry with one another.
08. Kakegurui (Kakegurui – Compulsive Gambler)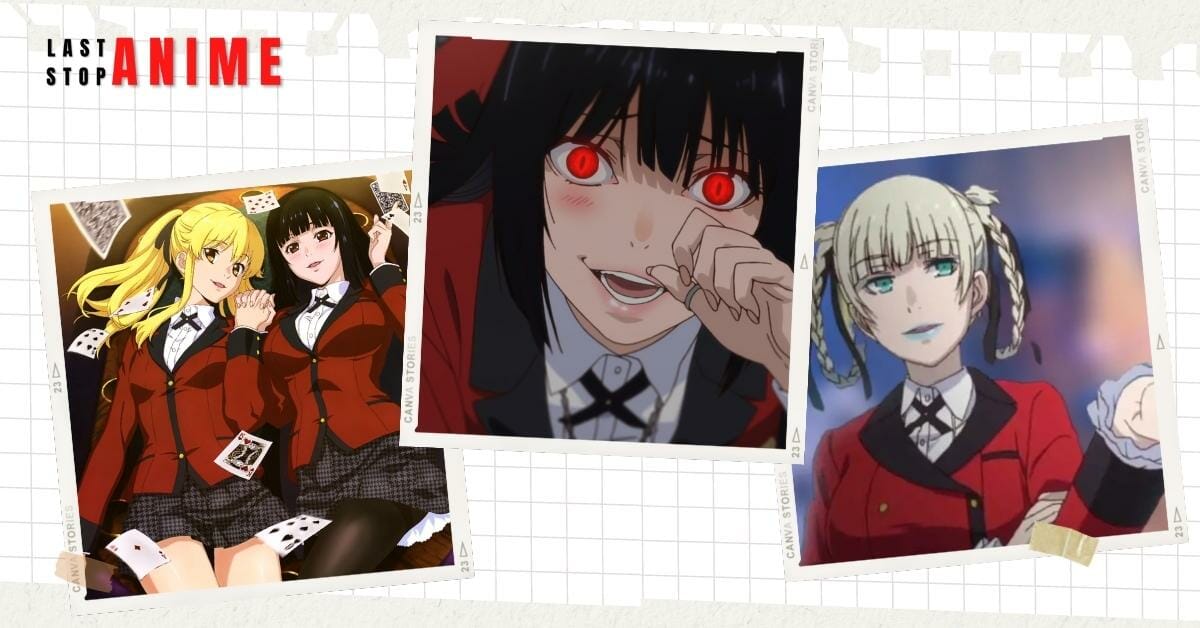 Number of episodes: 30
Number of seasons: 2 + 1 ONA (Kakegurui Twin)
Status: Finished Airing
Genres: Drama, Mystery, Psychological
MAL Rating: 7.24
Where to watch: Crunchyroll, Netflix
The story of Kakegurui follows Yumeko Jabami when she moves to a school where fiercely competitive gambling is the norm.
Yumeko, unbeknownst to the students, is a natural gambler.
The anime follows Yumeko's pursuit to conquer the student population and start competing against the student council, Kirari, through increasingly dangerous gambling games.
Kakegurui is another anime like Kill La Kill since it presents a storyline in which the female protagonist battles the school's ruling class independently before confronting the overall leader.
Both the shows include some fanservice, though Kill La Kill emphasizes it more than Kakegurui.
07. Space Patrol Luluco (Uchuu Patrol Luluco)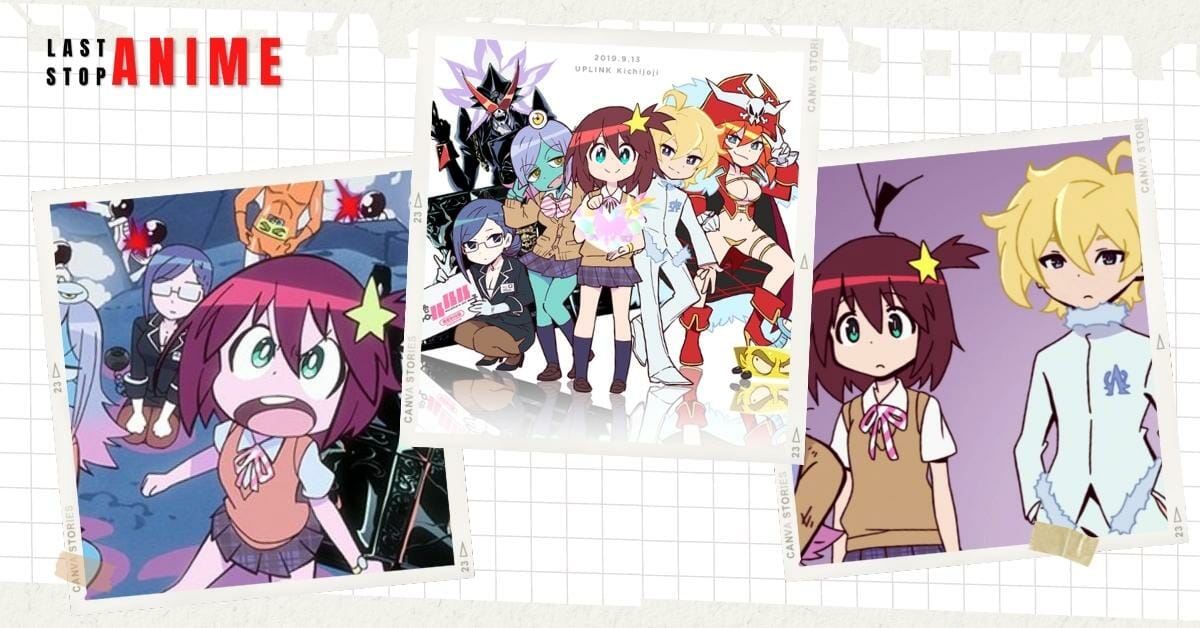 Number of episodes: 13
Number of seasons: 1
Status: Finished Airing
Genres: Action, Adventure, C0medy
MAL Rating: 7.55
Where to watch: Crunchyroll
Set in an alternate universe, Space Patrol Luluco is about Luluco, who lives in a universe full of humans and aliens. Her plans to lead a regular life are derailed when her father kills himself with alien technology.
Asking for help, she accepts a temporary position with the Space Patrol, where she must work to pay off her father's medical bills.
Galactic shenanigans and incredibly massive action setpieces ensue, providing Luluco with the opposite of a normal life.
Both anime are set in a school-like setting, which seems improved by the vibrantly colored art style and animation of the series.
On such a note, Space Patrol Luluco contains many endearing moments that captivate viewers.
In addition, there are several Studio Trigger anime cameos in Space Patrol Luluco—keep an eye out for the Kill La Kill crossover!
Since the anime share the same feel as Kill La Kill, you might not want to miss watching this anime.
06. Hells
Type: Movie
Episodes: 1
Status: Finished Airing
Genres: Comedy, Adventure, Horror
MAL Rating: 6.87
Where to watch: Crunchyroll
Amagane Rinne died in an accident while rushing to school. She found herself in a weird school… in Hell, surrounded by demons.
She starts to struggle and, wishing to return to the world she came from, befriends her demon classmates and forms an unusual bond with them.
Each scene serves a purpose and advances the fairly simple plot. Hells does an excellent job of establishing the characters and making you care about them.
The focus then shifts away from their individual stories and toward some larger biblical story.
It's unexpected to see anime with so much unique art and beautiful animation remains such a well-kept secret, especially modern anime.
Hell's underground world is crafted in a darkly comic style that most people can relate to.
05. Rolling☆Girls
Number of episodes: 12
Number of seasons: 1 + 1 Specials (12 Episodes)
Status: Finished Airing
Genres: Action, Adventure, Slice of Life
MAL Rating: 6.59
Where to watch: Funimation, Crunchyroll
The anime is set in a post-apocalyptic future in which Japan's political group has completely collapsed, and the country is divided into ten independent nations.
Each nation is ruled by a gang guided by a "Best," a self-proclaimed messiah with dangerous superpowers.
Nozomi Moritomo is just a "rest"—an ordinary girl who has recently joined the local gang as a rookie.
She wishes to support her childhood friend and role model, Best Masami Utoku, in the currently ongoing disputed territory.
When Masami is badly hurt and physically unable to battle, Nozomi decides to embark on a task to fulfill all of the pleas sent to Masami from across Japan.
She comes across Yukina Kosaka, an introverted girl without any sense of direction; Ai Hibiki, a cheerful girl who enjoys eating; and Chiaya Misono, a quiet girl who appears to be wearing a gas mask, along the way.
The four girls ride their motorbikes across the country, getting entangled in territorial conflicts, differences of opinion, and perhaps even strange conspiracies.
Rolling Girls and Kill La Kill are similar in anime because they both feature strong female protagonists and similar art styles.
If you want to watch an anime that features great action and focuses on deep themes, then you should give Rolling Girls a try.
04. FLCL
Type: OVA
Number of episodes: 8
Number of seasons: 3 (FLCL Progressive and Alternative)
Status: Finished Airing
Genres: Action, Avant Garde, Comedy, Sci-Fi, Psychological, Mecha
MAL Rating: 8.02
Where to watch: Funimation
FLCL focuses on Naota Nandaba, an ordinary teen who has desired to lead a normal life since his brother abandoned him to pursue his dreams.
Naota's wish, however, is crushed when he comes across a chaotic woman who runs over him with her motorbike and gives him an unusually shaped horn on his head.
Additionally, this takes Naota on one of the craziest journeys ever depicted in an anime regarding coming of age and chasing one's dreams.
Despite being fast-paced, the storyline beautifully explores the maturing concept and is supported by breathtaking graphics.
This show strikes the ideal tone between seriousness and humor. It accomplishes everything a great story should be: it makes you smile, think, and get pumped up; its visuals awe you, and it tells an elegant story with a perfect blend of science fiction and reality.
Although the characters aren't given much development in the OVA, they are diverse and start changing.
All teenagers face real, relatable problems and react to strange occurrences and difficult issues in the expected ways.
03. Needless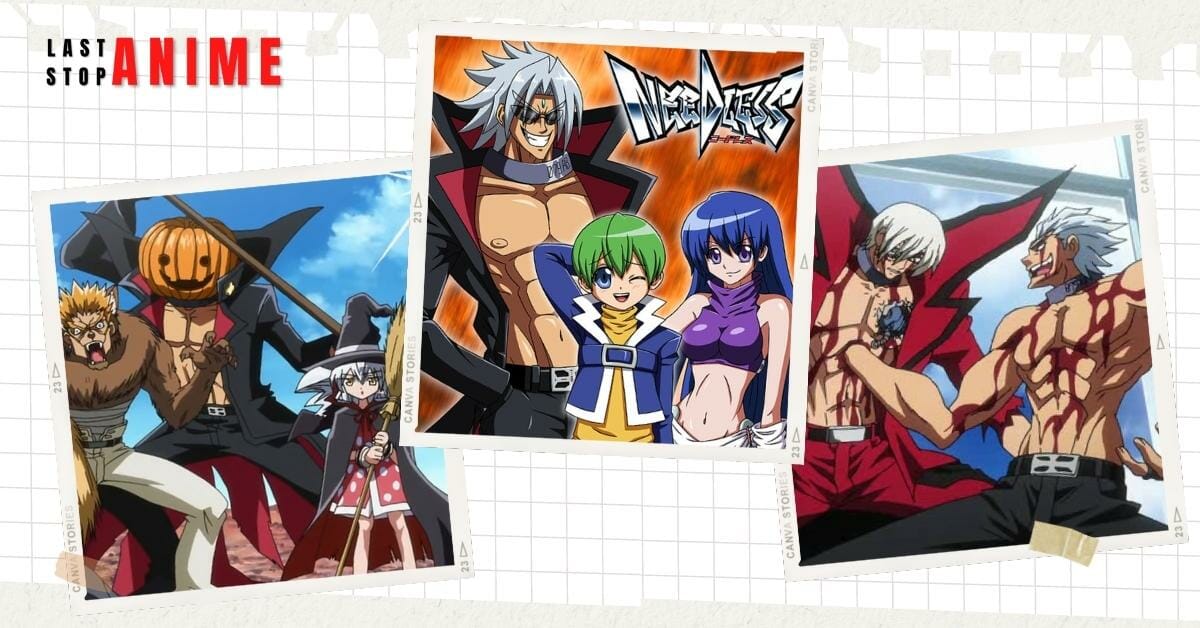 Number of episodes: 24
Number of seasons: 1 + 1 Special (12 Episodes)
Status: Finished Airing
Genres: Action, Ecchi, Comedy, Sci-Fi, Seinen
MAL Rating: 7.23
Where to watch: HIDIVE, Amazon Prime Video
Nobody could anticipate the impact World War III would have on Japan. While it formally ended in 2150, its clashes continue.
Throughout the nation, large, strange zones known as "blackspots" have popped up, packed with the contaminated shambles of metropolitan and rural areas.
Those stuck inside were trapped to prevent the spread of contamination, and their abilities began to mutate—whether they were shapeshifters, pyromancers, or gravity controllers—they all became known as the Needless.
What makes Needless a similar anime to Kill La Kill?
Needless is a Shounen spoof making it an anime like Kill La Kill. And the possible explanation for why it's "full of Shounen clichés" is that it tends to make fun of each genre's tropes by going over the top of them.
We have over-the-top action, great character designs, a distinct art style and one of the most bizarre adventures in the anime. There are some emotional moments.
The story seems almost non-existent, as one might expect from a show of this nature.
A mishmash of many old ideas thrown together in a basket to form a framework for action, humor, and continuous machismo.
The setting and background art is very enticing, and the character animation is smooth and quite good, trying to make many of the fight sequences look stunning.
02. One Punch Man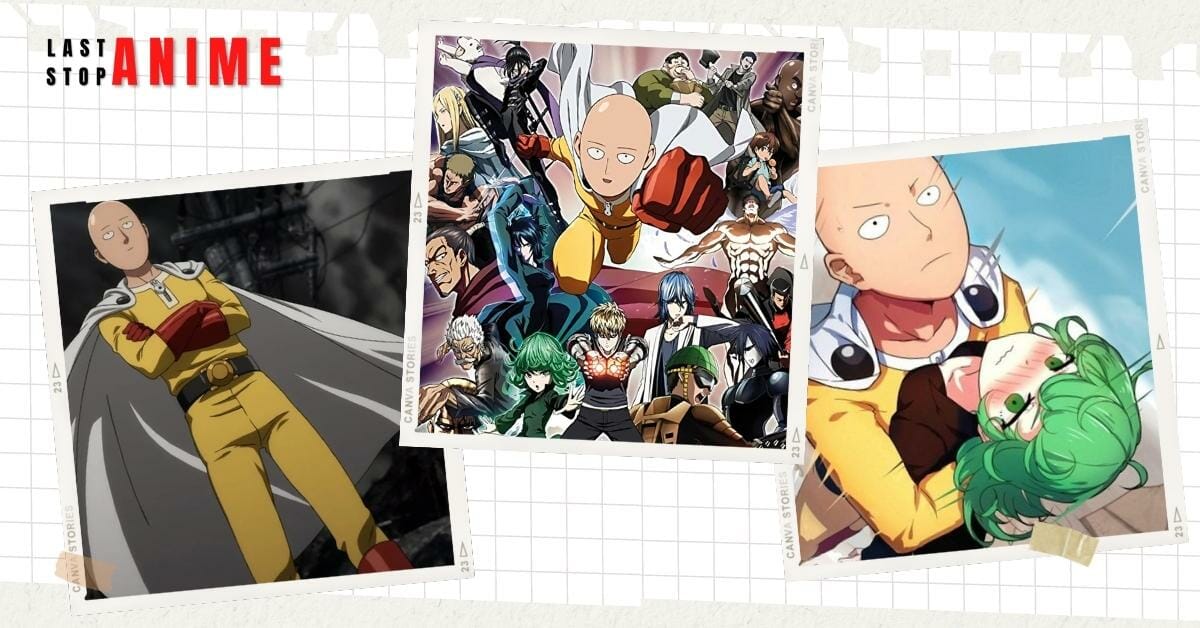 Number of episodes: 24
Number of seasons: 2 + 1 OVA + 3 Specials
Status: Finished Airing
Genres: Action, Adventure, Comedy, Sci-Fi
MAL Rating: 8.51
Where to watch: Funimation, Crunchyroll, Netflix
One Punch Man is notoriously famous as an action-packed anime. It also features a hype-boosting soundtrack that gets the audience pumped up for action sequences.
One-Punch Man follows Saitama, a superhero who has trained flawlessly to the point where he can take down any individual with a single blow.
As a result, he has lost his fight and overall enthusiasm for life. However, after meeting Genos, a cyborg who comes up with the idea that they should enlist in the Hero Association to help Saitama get the recognition he deserves, Saitama accepts his proposal.
Like Kill La Kill, One-Punch Man features mind-blowing animation and numerous hilarious scenes.
Both shows feature great characters with varying abilities and personas, making the resulting battles more than just entertaining brawls.
One Punch Man is an anime made to enjoy and have fun while watching, and the anime lives up to its reputation.
The anime has some raunchy jokes and a relatable main character.
01. Gurren Lagann (Tengen Toppa Gurren Lagann)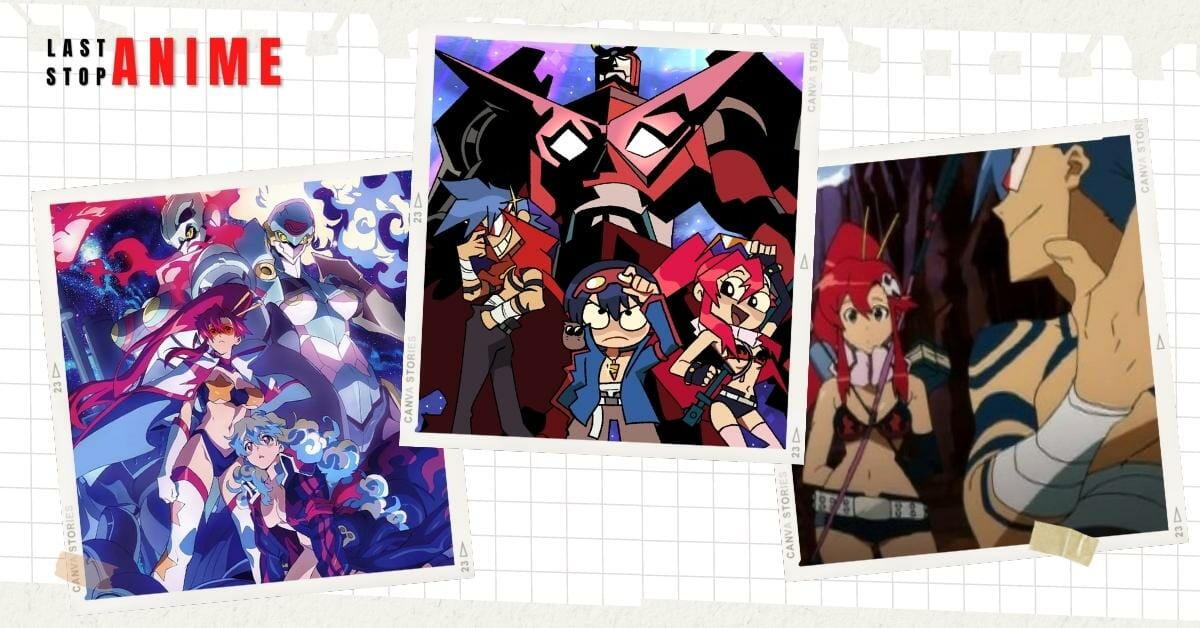 Number of episodes: 27
Number of seasons: 1 + 2 Movies + 1 OVA + 1 Special
Status: Finished Airing
Genres: Action, Adventure, Comedy, Sci-Fi
MAL Rating: 8.63
Where to watch: Funimation, Crunchyroll, Netflix
Gurren Lagann shows Kamina and Simon, two underground dwellers who locate a key and a wrecked wartime mecha.
Following their discovery, the two, together with a new female companion, encounter a few unexpected foes and set out with her to protect the surface world and civilization.
Tengen Toppa Gurren Lagann's animation and character designs are vibrant and alluring, similar to Kill La Kill.
The protagonists in both anime are endearing, and anime fans may grow attached to them by the end.
A common complaint aimed specifically at Kill La Kill was that it bore quite so many resemblances to Tengen Toppa Gurren Lagann, so fans could perhaps watch the original to discover where Ryuko and company took inspiration.
Both anime were made by the same director and had the same team to work on them, so the criticism they got was understandable.
Gurren Lagann consists of many unpredictable combat scenes and features unique art styles.
This is just one of those over-the-top anime with a fair chunk of fanservice that you must see at least once.
It was designed to be entertaining to watch, irrespective of which aspect you are interested in.
Other Anime Similar To Kill La Kill (Honorable Mentions):
Panty & Stocking with Garterbelt
Food Wars
Akame Ga Kill
Punch line