What comes to mind when you hear the word Doctor? Is a medical professional willing to assist? Or a deranged physician who wants your lovely eyes for his own?
In anime, medical workers are frequently healers rather than physicians. For example, you wouldn't refer to Orihime Inoue as a doctor in anime, would you? The same goes for our list!
In reality, some physicians are not even that. Faust is a medical professional (physician), although he is more of a pathologist than a healing professional. Operating on corpses isn't precisely therapeutic.
Well, it's a fact that most of the medical professionals on the list are psychos. Why? Who knows, maybe it was someone's childhood visit to the dentist.
Anime has produced a wide range of characters and villains. There have been magnificent martial artists, knights of devotion and honor, space and battlefield troops, and even lovely pre-teen girls bringing joy via cotton candy and music.
However, if there were ever an unsung hero behind many people's favorite shows, it would be the anime doctor.
They are the 2sd gods, or what we call them in layman's language, are medical professionals who perform the miracles that all anime characters desire and wish, whether it's rescuing their dying moms or simply bandaging a booboo.
This list will rank the finest anime doctors to honor the unsung archetypes that keep people from being proper someone else's character motivation.
16. Franken Stein – Soul Eater
Streaming on: Crunchyroll, Hulu, Funimation, Disney+
Dr. Franken Stein is an eccentric but talented anime doctor and meister known as the strongest meister who graduated from Death Weapon Meister Academy and was formerly Spirit Albarn's first weapon partner.
Being a scientist, he sees everything in the world, including himself, as an experiment.
As a child, he frequently attempted to dissect the people around him, only to be stopped by Spirit. This personality characteristic made everyone around him fearful of him.
Even as an adult, Stein maintained his unusual desire to dissect whatever piqued his interest; once, during a lecture, he attempted to have his students dissect an endangered species.
Stein is a lovely young man with silver-gray hair, round glasses, and a handsome face.
Stein's most distinguishing feature is the enormous screw-in bolt that runs through his skull. He frequently spins this screw to focus his mind or to be ready to fight an opponent.
The zig-zag stitching on Stein's torso and garments is another distinguishing feature.
He has sutures all over his body and clothing, and his residence is also covered with stitches. His doctor's lab coat is his most noticeable item of attire.
15. Johann Faust VIII – Shaman King
Streaming On: Netflix
Genre: Action, Drama
Faust VIII has a lot of physical characteristics that set him apart from the other characters in the Shaman King series.
He had bluish lips and large circles beneath his eyes from lack of sleep. His bone-like tattoo across his neck is another distinguishing feature.
He is also observed to be incredibly thin owing to starvation since he has not eaten anything since Eliza's death. During their first battle, he informed Yoh that he eats only what is necessary to be healthy.
These attributes, along with his height, give him an imposing demeanor.
Another distinguishing feature is the skin-like grey patch sutured to his chest and torso. This does not appear to impede him but instead makes him appear frightened.
Faust, according to Amidamaru, stinks of death.
Except for his beloved wife, Eliza, Faust is an exact and patient guy who thinks methodically.
While working, he does not accept distractions. An excellent example is Eliza, keeping the X-Laws at bay as he tries to save Jeanne.
Furthermore, she tolerates far less criticism, insults, or threats aimed at Eliza than she does. Despite this, he is unaffected when someone insults him.
14. Akiso Yosano – Bungo Stray Dogs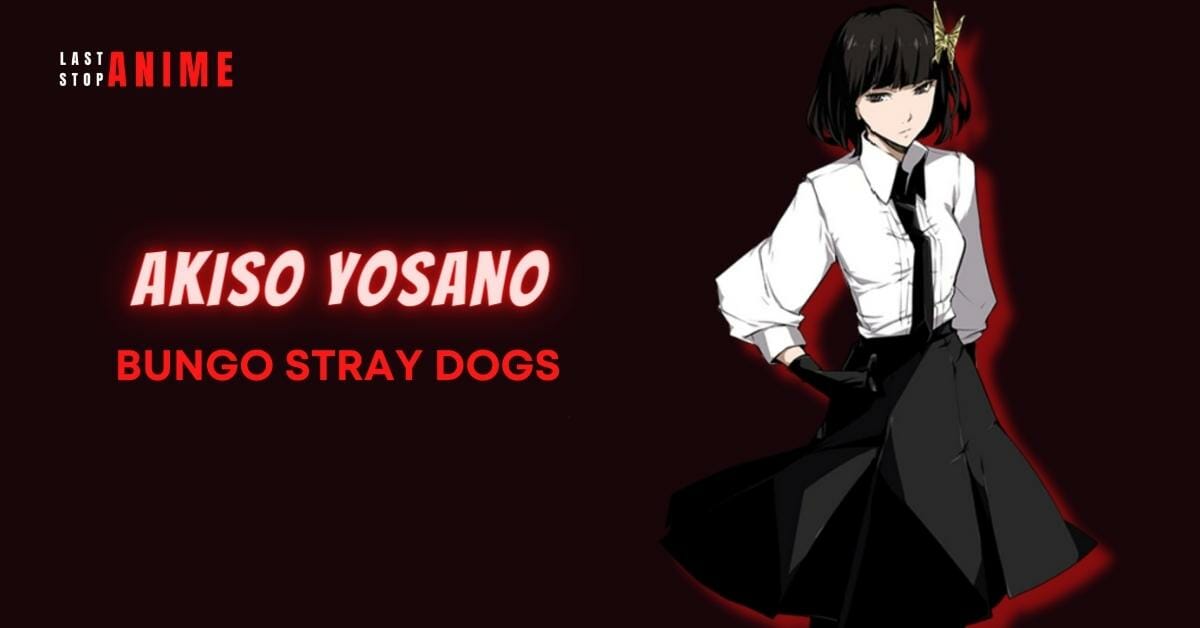 Streaming on: Amazon, Crunchyroll, Funimation, Netflix
Genre: Comedy, Fantasy
Yosano is a young woman who is concerned about her beauty.
Her hair is straight in shape and black in color, trimmed into a bob haircut that goes beyond her chin, and she has bangs on the forehead. Her eyelids are magenta.
She's dressed in a white button-up shirt with puffy sleeves that fall mid-forearm. Her blouse is tucked into a simple black skirt that extends above the knee.
She loved to wear gloves that extended past her wrists, a black tie, and black tights. Yosano also loved to wear red high heels with a golden butterfly hairpin on the left side of her head.
Yosano handles herself with elegance and grace.
She takes great pride in being a fantastic woman and a great medical professional, which is why she is easily annoyed by individuals who dismiss her in both capacities.
Akiso Yosano is a feminist who always thought they were equal, whether a man or a woman. She is nearly always presented as calm and relaxed.
Yet, when enraged, she is quite the power to be reckoned with, frequently retaliating cruelly.
She is addicted to giving painful experiences to people. Her violent urges are even worse because of her skills and abilities.
As a result, most agency members fled while she was there; Jun'ichiro Tanizaki explicitly urged rookie Atsushi Nakajima to avoid becoming hurt in any way to avoid suffering her unusual brand of "therapy."
13. Daedalus Yumeni – Ergo Proxy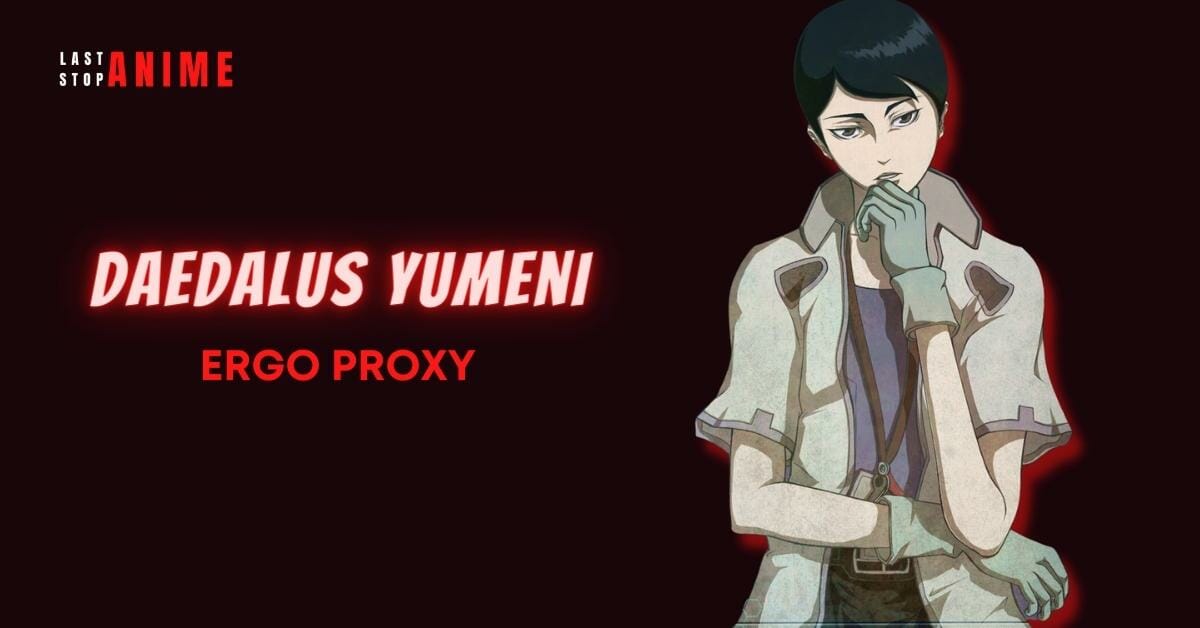 Streaming on: Crunchyroll, Hulu, Netflix
Genre: Action
Daedalus Yumeni appears to be a young boy no older than 13 or 14, or possibly a young lady, but it is later revealed in a chat with Raul Creed that he may be much older. Iggy lovingly refers to him as "The Prince."
Daedalus is the chief of the Health and Welfare Bureau.
He is responsible for the health of Romdeau's residents, supervising the population's production station, known as the Womb Room, and being one of the primary researchers on what was known as the Proxy Project.
Daedalus Yumeno is the Proxy Research Team's chief physician, the Director of Romdeau's Division of Health and Welfare, and Re-l Mayer's pediatrician.
He has two Entourages, Deleuze and Guatarri, who are modified AutoReivs.
Daedalus has an odd obsession with Real, and later in the anime series, Raul claims he's "lost it" while introducing Real. He has a keen wit and is even secretive.
12. Ogai Mori – Bungo Stray Dogs
Streaming on: Amazon, Crunchyroll, Funimation, Netflix
Genre: Comedy, Fantasy
Mori is a reasonably tall man with a slim build. He has chin-length black hair that is slicked back, leaving bangs on both sides of his face.
He usually dresses sharply, wearing a white button-up, a black pinstriped suit jacket, black shoes, and black pants. The shirt is tied with a purple and white striped tie.
He also loves to wear wears a black trench coat and a long, almost knee-length maroon color scarf that he drapes unfastened around his shoulders so that his shoulders are covered. He also had a pair of white gloves on.
Mori had a habit of having appeared as an ordinary, clumsy, and worried middle-aged man and then later revealing more of his true character.
He remained calm even when the other people trapped in Anne's room fled, staying together with Atsushi and Jun'ichiro Tanizaki and remaining calm when the latter was captured.
Mori subsequently demonstrates that he is not just brilliant at methods and planning but also a vicious and brutal individual capable of instilling dread in his enemies.
However, his cruelty is not for cruelty. Mori had a habit of constantly analyzing the benefits and their drawbacks and then giving the solution to the Port Mafia as a whole.
11. Angelina Dallas – Black Butler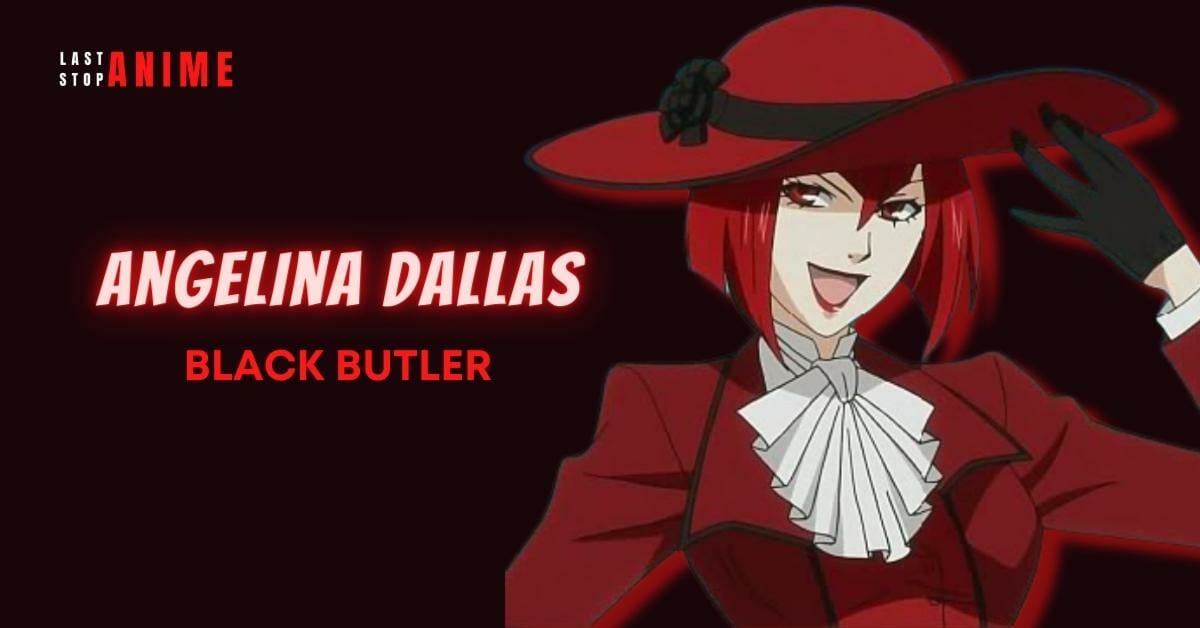 Streaming On: Crunchyroll, Hulu, Funimation, Netflix
Genre: Action
Angelina has red eyes and crimson hair dressed in a bob cut, befitting her title of "Madam Red."
She wears red lipstick and attire, including a red skirt, a red waistcoat, a ruffled white shirt, a red hat, and black gloves. She occasionally carries a crimson parasol.
While casually stroking Sebastian Michaelis' backside, she suggested he work for her because he was handsome. On another decision, she attempted to make Undertaker laugh by telling him a dirty joke.
Despite her crude personality, Angelina believes that ladies are more attractive if they act innocent, naive, fragile, and cheerful, especially around their lords; she had instilled this very concept into the young Elizabeth Midford.
Angelina fell in love with Vincent Phantomhive when she was fifteen but was disappointed to learn that her sister was marrying him.
She attempted to be pleased since she was extremely close to her sister and cared greatly for her.
However, after their marriage, she despised the color red again.
Despite her parents' wishes, she labored to acquire her doctor's license after Ciel and "Ciel" were born.
10. Danny – Angel of Death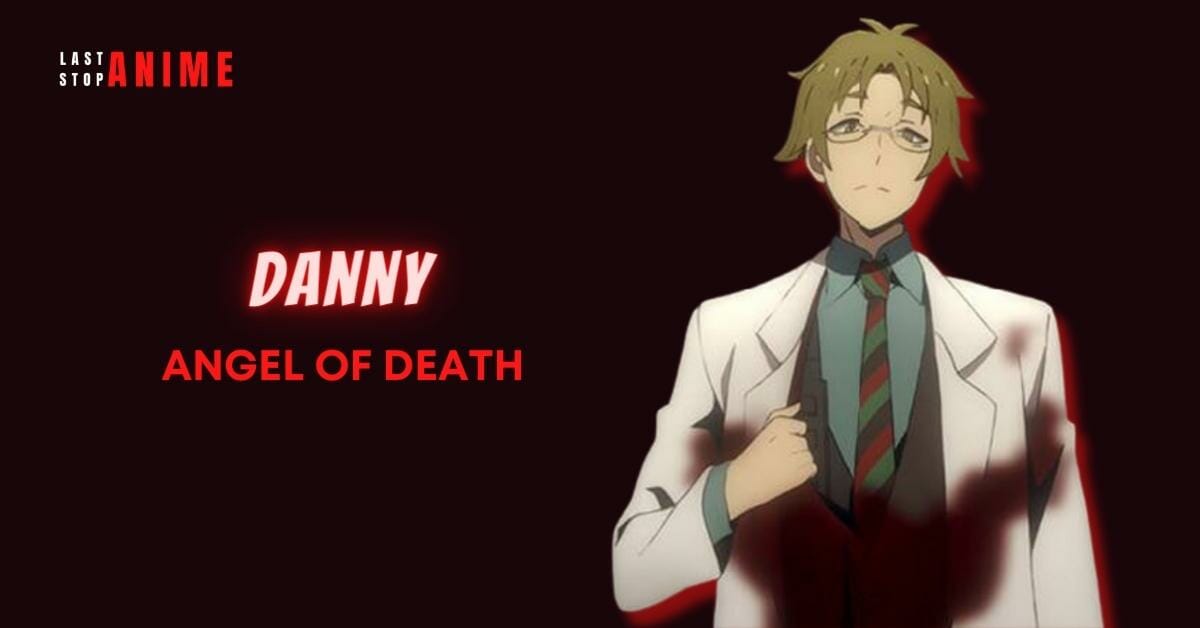 Streaming on: Crunchyroll, Funimation, Netflix
Genre: Fantasy, Action
Danny is a thin young man of ordinary height and frame. His olive-green hair is parted down the center.
Danny was born without a right eye. Thus he wears a dark-colored glass eye in its place. His left eye is golden brown. I love his character, and he is one of the best medical professionals in the anime universe.
Danny wears rimless, over-shaped spectacles in addition to his prosthetic eye.
Danny also has a unique glass eye with two different colored irises, one brilliant red and he is another dazzling green.
He looks to a doctor to aid Ray initially, the only exception being his continual need for Ray to care for her eyes.
Their time together was cut short when Rachel discovered and read a bible left by Gray.
Danny's fixation with eyes began as a toddler when he saw his mother's lifeless eyes[citation needed]. Danny began collecting them after that, and they were displayed on his floor.
Danny, born without a right eye, faced social discrimination and people avoided him because of his disability. His parents disagreed with him, and he experienced beatings from others.
This prejudice extended to his mother, who was blamed for having a disabled son.
Danny's infatuation with his eyes began with his mother's sorrowful gaze, which reflected nothing. He realized that his mother's blue eyes were lovely despite how empty they had become.
9. Rei Takashima – Deadman Wonderland
Streaming on: Amazon, Crunchyroll
Genre: Drama, Action
Rei works as a jail doctor. Many out there wouldn't be pleased in such a profession. She, on the other hand, loves it!
She gets to do things she enjoys, such as dismembering and torturing dead males, among other things.
Rei appears to be a serene and collected individual who enjoys assisting cheek-length hair, short, cheek length, and light brown, styled in a bob. She had brown eyes as well.
Rei is dressed in red lipstick, a lab coat, spectacles, and a short black dress with a beauty mark on the left side under her mouth. She looks normal but is a mad surgeon and an exceptional anime doctor.
Rei initially looked to be a regular, level-headed doctor, even expressing distant hints of concern for her patients.
She, on the other hand, gets a lot of joy from removing Deadmen's body parts when they lose a Carnival Corpse and becomes furious when she doesn't manage to take a non-regenerative organ.
Like most of the Deadman Wonderland personnel, she was a sadist. Rei can be solemn, quiet, and collected at times.
8. Heaven Canceller – A Certain Magical Index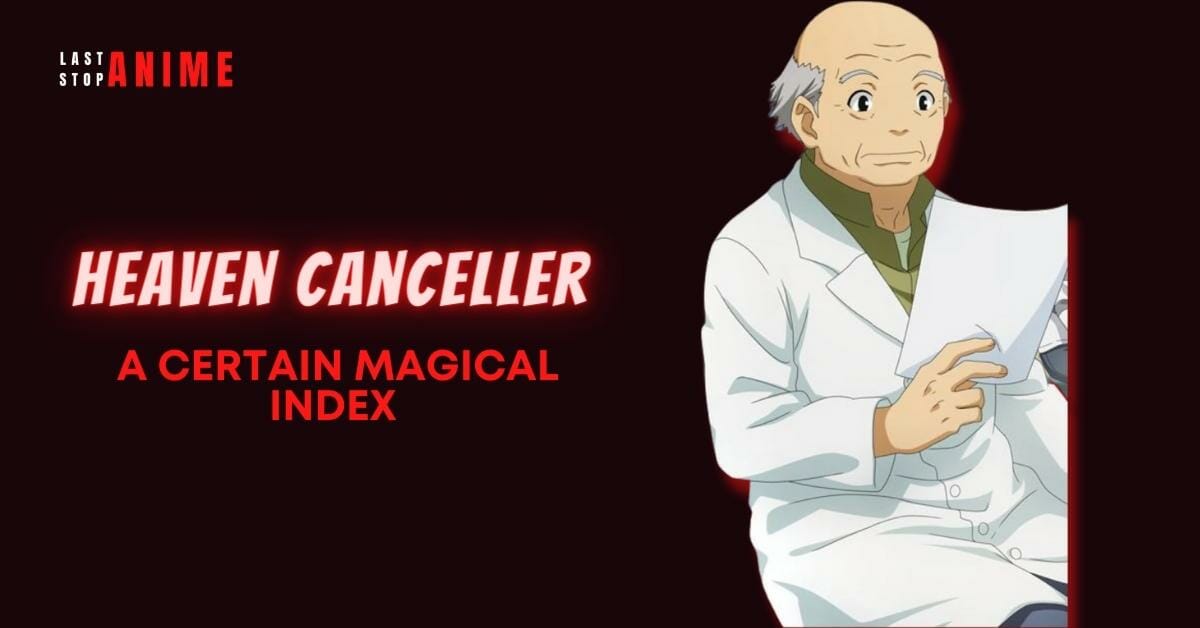 Streaming on: Crunchyroll, Hulu, Funimation, Netflix
Genre: Drama, Action
Heaven Canceller, "Rescuer from the Other World," also known as "The Frog-faced Doctor" by Touma and many others, is an unusually brilliant and friendly physician who is well-known among those who have been cared for by him or informed employees.
He is an excellent medical professional in the anime world. He may appear to be any other ordinary doctor.
Still, this medical genius also knows the General Director of Academy City, Aleister Crowley, since he oversees the machinery that extends Aleister's life while simultaneously supporting the city's foundation.
He has gone bald turned his remaining hair has become grey.
He is always shown wearing a doctor's uniform and appears to have a higher weight. His visage, which looks like a frog, into his trademark.
It should be mentioned that the doctor may even make fun of the fact that he has a frog sticker on his ID card. He enjoys being depended on by his patients and will try his utmost to meet their needs.
The doctor has rigorously kept the Hippocratic Oath, even though he refers to himself as Accelerator's "senpai" and claims to have lived through and witnessed far more darkness than Accelerator.
7. Recovery Girl – My Hero Academia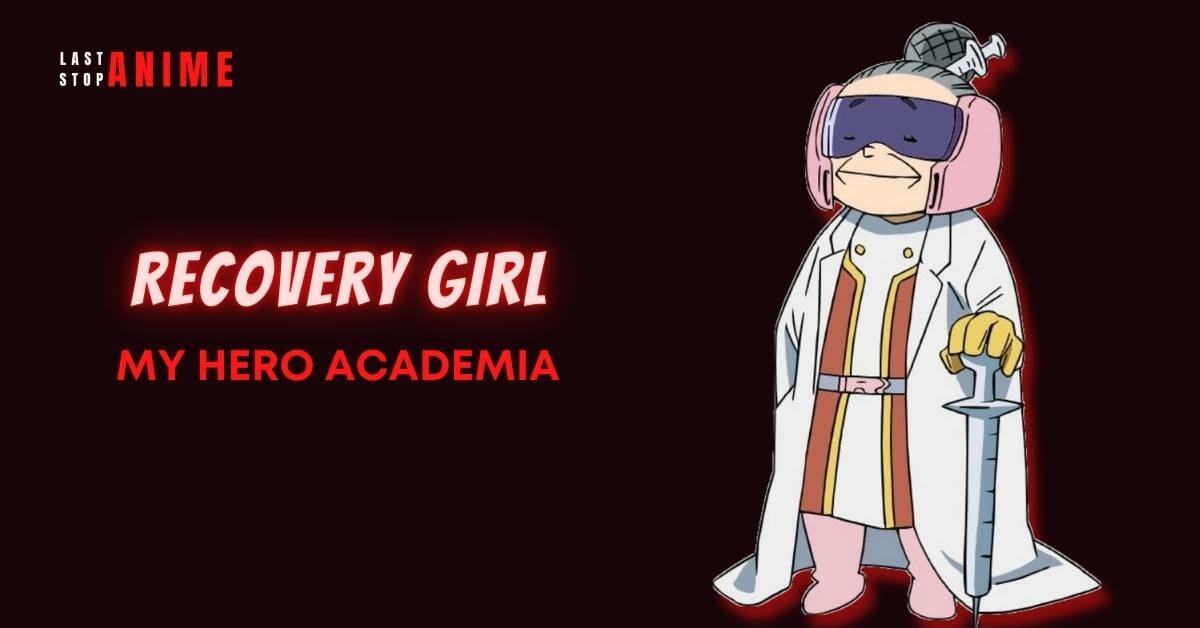 Streaming on: Crunchyroll, Hulu, Funimation, Netflix
Genre: Drama, Fantasy
Recovery Girl is a light of hope and support among the dangerous exploits of would-be heroes, proving that they really need to exist to justify everything in the series.
According to My Hero Academia, Recovery Girl is the primary reason the U.A. can avoid a slew of negative headlines and litigation since her mending power alleviates fears about pupils being gravely injured.
She is funny, and I love her as she is a very kind person and an ideal school doctor.
Without Recovery Girl continually repairing his constantly broken limbs, Deku couldn't train to his maximum potential.
Recovery Girl is a nemesis to villains and lawsuits alike. One can only hope that she is earning a reasonable wage.
Chiyo has a gentle and caring attitude and treats everyone with kindness, as seen by her habit of offering her patients sweets to quirk them recover from her Quirk's stamina-depleting effects.
Despite this, she has a severe and reproaching attitude toward irresponsible activity that might result in injury.
6. Orihime Inoue – Bleach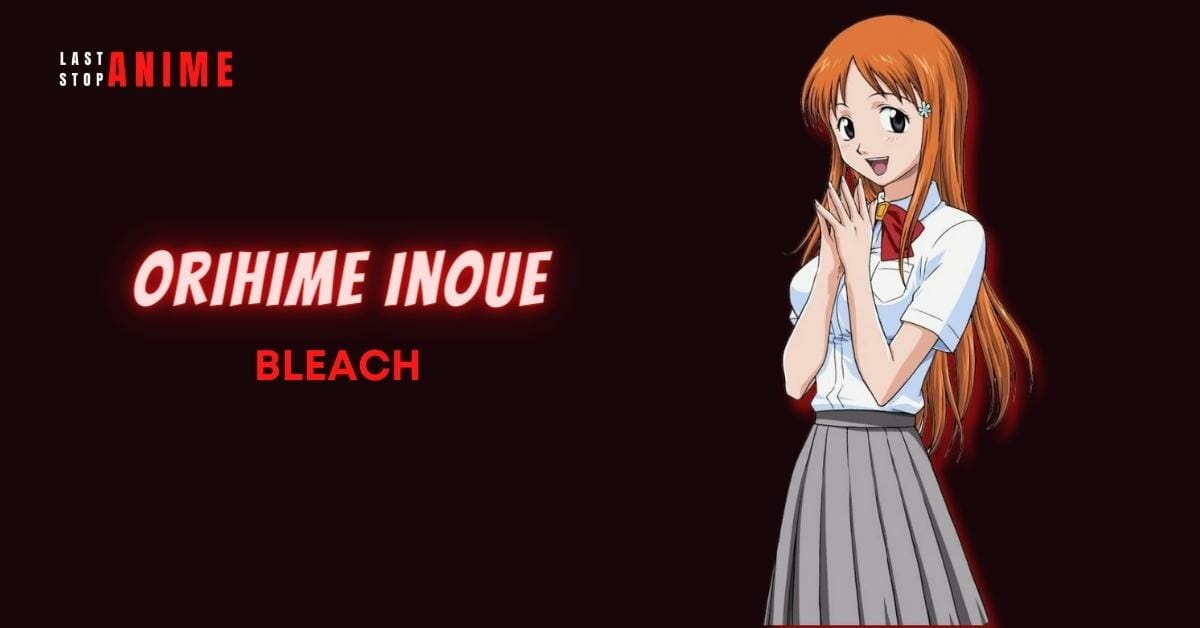 Streaming on: Crunchyroll, Hulu, Netflix
Genre: Drama
Healer characters are a peculiar breed. While they indeed stretch the definition of a medical practitioner, even the most generic ones play a crucial role in any adventurer's party.
Orihime Inoue is one of the most well-known and well-liked Japanese actors. He is also known to be one of the finest anime doctors in the whole anime world.
Early on in Bleach history, Orihime built up this inherent aptitude for healing that would eventually find her on the front lines of many of the struggles between real life and death.
Orihime is courteous. She comes out as naive and foolish, despite her outstanding academic performance.
Her culinary techniques can be regarded as awful, horrible, or odd to the point where, on the other hand, Rangiku Matsumoto's, no one would consider them delightful, and this is one of the series' recurring gags.
Orihime had a habit of rushing into situations without thinking, which could have had humiliating or even deadly results. She is one of the best anime doctors, and I love her.
She had a hyperactive imagination and got carried away fantasizing about absurd events, such as fantasizing about a date with Ichigo, which subsequently led to her becoming a boxing champion before being shot.
Her hair is worn long to remember Tatsuki Arisawa's commitment to protecting her.
5. Toshio Ozaki – Shiki
Streaming on: Amazon, Funimation, Reelgood
Genre: Drama
Rarely does a medical persona display grit and irreverence while being so loving.
Not only was that House-Esque figure turned into a greasy anime character, but he was also the main line of defense for a tiny community against a growing vampire menace.
He is one of the exceptional doctors in the anime world.
Imagine how difficult it must have been for the doctor who had to uncover that vampires were in their area.
Ozaki, on the other hand, not only handled the issue with unwavering professionalism but also with a chilling indifference to pity.
This man physically experimented on and dissected his vampire-turned-wife, who shared her personality and ideals in human form.
There's a subtle combination of true intellect and passion at work here, which has helped Toshio become one of the most fascinating physicians to ever wield a knife. The issue remains: what will he do with it?
Toshio is the most typical of the doctors we have here. He's solemn, a little sarcastic, and amusing. He is very committed to his work. An all-around nice man!
The only disadvantage is his determination to eliminate the Shiki. But, hey—it happens to the best of us; no one is immune!
4. Kenzo Tenma – Monster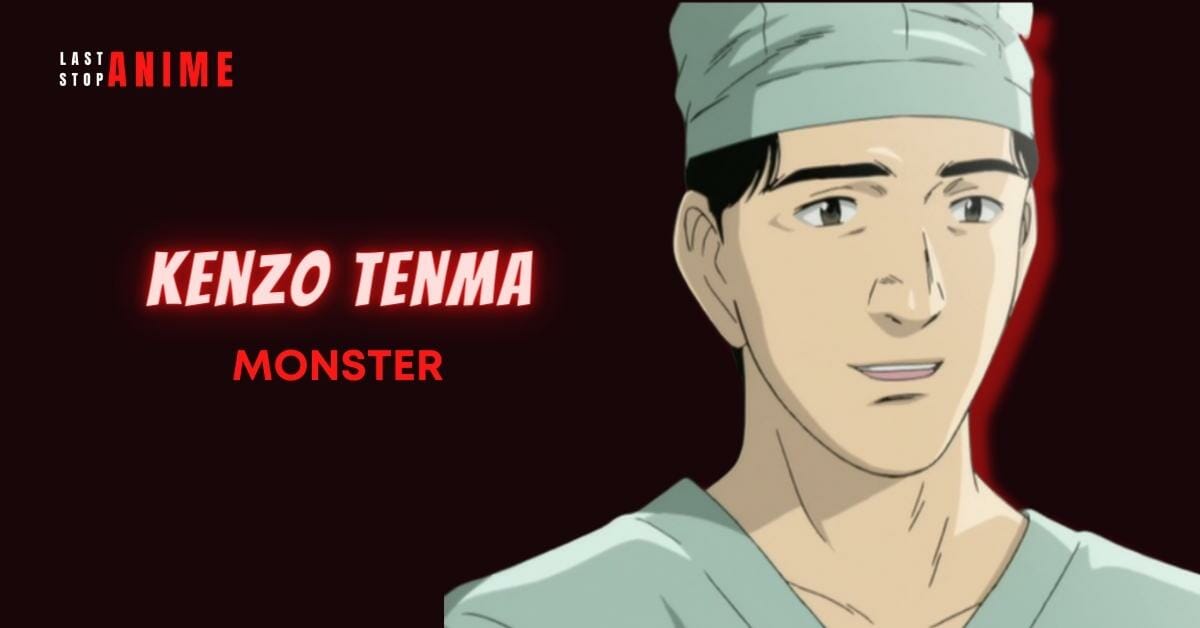 Streaming on: Amazon prime video, Hulu
Genre: Drama
Dr. Tenma is a medical prodigy who questions the ideals and obligations of a doctor.
Like many others on this list, Kenzo Tenma was a bleeding heart who tried to help after every session with pure ethics.
After being tested by the varied directors, Mr. Tenma re-dedicated his profession to pure ethics hospital's former directors.
However, those same ideals are tested when he discovers that he previously spared a now-raging, murderous madman.
Tenma is one of the rare species in anime who can assist and appreciate the worth of life and what it means to treat people responsibly while holding a scalpel in one hand and a pistol in Monster.
Kenzo Tenma from the monster is one of anime's most recognizable medical personnel. He was a neurosurgeon and a rising star, and everything appeared to point to his success.
However, because of an unfortunate error in patient management, he could not operate on specific patients, and the man died. That's depressing, isn't it? So, how did he deal with his loss?
After the whole thing, he… it, fortunately, you should go see it yourself here. I'm not going to pamper you any longer!
3. Tsunade – Naruto
Streaming on: Crunchyroll, Hulu, Funimation, Netflix
Genre: Fantasy, Action, Drama
Well, who doesn't know her? She is not only one of my favorite anime characters from Naruto but also one of the best anime doctors in the whole anime universe.
Few anime physicians have had the same prominence and impact as the Fifth Hokage of the Hidden Leaf Village.
Tsunade, the First Hokage's granddaughter, went off the prescribed path when she realized her skills were more valuable in helping ninjas than murdering them.
As a result, she became one of the most powerful and recognized medical practitioners, changing how the Hidden Leaf handles its batter may-beared ninjas.
Tsunade is the finest medic in anime, with hands that are powerful enough to sustain and protect her home community.
Naruto is well-known. You've probably heard of it even if you haven't seen it. On the other hand, Tsunade is the most recognizable healer in Naruto and undoubtedly one of the most well-known doctor in anime.
She is a Sanin, a gambler, the 5th Hokage, and many other things. But it's her unmatched healing talents that we're chasing here.
And boy, does she have some healing abilities! Her greatest healing skill may instantaneously cure any wound by employing her immense chakra. This is something that modern-day physicians would appreciate.
2. Tony Tony Chopper – One Piece
Streaming on: Crunchyroll, Hulu, Funimation, Netflix
Genre: Fantasy, Slice-of-life
Tony Tony Chopper is a fantasy for a multitude of reasons.
He should be grateful to the real witch and duck for making him such a successful anime doctor. He is also a cotton candy lover.
Tony is a medical doctor in the anime world of One Piece and is known for his medical treatment. He is also one of the fan-favorite character in anime.
Tony Tony Chopper's primary goal in the series was to cure any disease and heal people's body parts, between his search with his fellow medical and scientific professionals around the anime world and his need to cure the forever needy Straw Hat pirates crew.
Tony is the Straw Hat Pirates' purest and most innocent member, having trained on Drum Island.
He is a charming reindeer that ate a devil's fruit, allowing him to speak and even convert into a person!
Tony is also frequently mistaken for Snow Hat Pirates' pet; therefore, he gets a bounty of 100 berries. Also, his fur is exceptionally soft, as remarked often by female characters.
1. Nurse Joy – Pokemon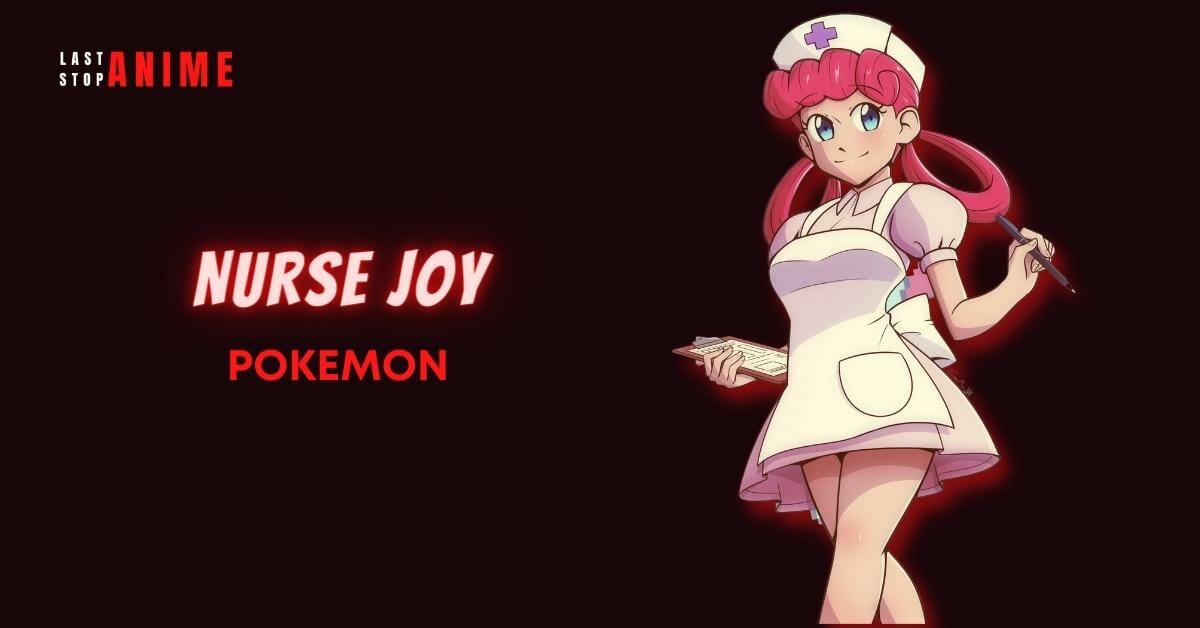 Streaming On: Pokemon TV, Disney+
Genre: Fantasy, Comic
Nurse Joys are some of the most famous and instantly known figures to put on scrubs, and they are an instant thrill to anybody who sees them.
Not only are they an essential part of a cherished franchise that many have known since infancy, but they have all famously and diligently tried to cure and even preserve the lovely mascots everyone has grown to adore.
Adding to that, they have a peculiar (if not downright handy) family back background, and one wouldn't mind having them work on real-world pets…if they knew how.
She is one of the most famous anime doctors in the anime world.
So I'm sure everyone watched Pokémon as a child and played the games.
And perhaps we've all heard the running joke about Nurse Joy and her many identical sisters. She isn't precisely a doctor.
Nurse Joys have a variety of personalities, and despite their similarities, they may be distinguished.