Anime have all kinds of characters, be it heroes or villains. Male and female both types of characters are equally popular among fans. Among all of these breathtaking characters, female anime characters have their own fan following. These Female anime characters are often called "anime waifu" by fans.
'Wifeu' is the word that comes from the English word 'Wife' when once said in an anime called Azumanga Daioh in 2022.
If you romanticize that word in the Japanese syllable katakana, you will get 'wifeu'. However, Japanese speakers never use that word. The real word for real wife is 妻 (tsuma/sai)
"Waifu" is the term used for fictional female characters, who fans find great and have affection for. They are also sexually attracted to those female characters.
Fans say they would marry their "anime waifu" if they became real. They are kind of their idol types, or you can say their personality is what they longe for and is special to them.
Here are some 36 best anime waifus of all time hand-picked by Last Stop Anime. Enjoy!
Are you a fan of anime and have your very own waifu that you would love to see come to life? Look no further than SoulGen AI Portrait Generator! Whether you want to create a stunning anime portrait or simply imagine what your anime waifu might look like in real life, SoulGen is the tool for you.
36. Touka Kirishima
Anime – Tokyo Ghoul
Touka leads two lives. One of a ghoul and another of a normal human being. As a ghoul, she can be very dangerous and cold, while she is quite a shy high school girl as a human.
Touka was a very rash and reckless girl, but she changed into a more dependable warm person, thanks to Kaneki.
Touka is serious, tough, and hard-working, trying to keep their place safe for both Ghouls and humans. She is very kind, gentle, and caring.
She can also be as threatening if you will provoke her or touch her loved ones. Her powers and strengths are great to make her a formidable opponent.
She can do anything for her close ones. When she was alone, she even ate human food that was not digestible by ghouls, just because her friend made it with love only for her.
She is extremely beautiful, and fans love her smile and loving nature.
35. Hinata Tachibana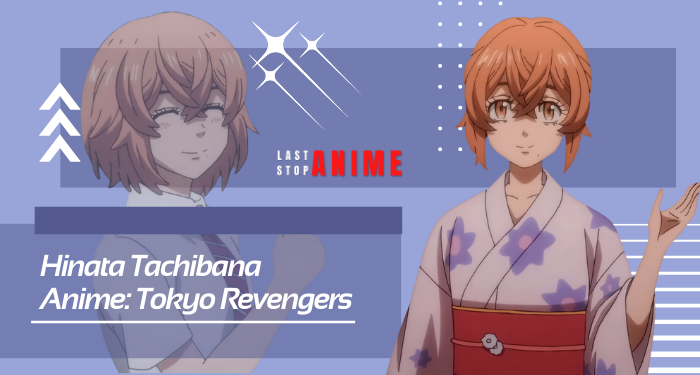 Anime: Tokyo Revengers
Hina is a very kind, caring, and strong-willed teenager. A anime waifu from Tokyo Revenegers. She has a bubbly personality and always a smile on her face.
She is an optimistic girl who knows how to lift a person when they become demoralized.
Hina has a very warm personality. She always remains by the main protagonist's side Takemichi and gives him strength.
She even slapped the dangerous Mikey for her love for Takemichi. The unbeatable Mikey was surprised by her slap's strength even though she is not a warrior or something.
Now, who doesn't want such a strong and supportive waifu like her who can make you smile and keep going?
34. Komi
Anime: Komi can't communicate
Komi is a high school girl with social anxiety who can't communicate. She doesn't utter a word. Komi is very beautiful with a cute personality.
Everything she does is very Kawaii. Despite her disorder, she tries to make friends and succeeds in making 100 friends.
She hardly talks in the whole anime, and if forced to, her voice shakes and vibrates like a phone.
But these flaws and her desperations to overcome that make her Kawaii, sweet and such a likable character.
33. Taiga Aisaka
Anime: Toradora! series
Taiga Aisaka is the main female protagonist of the anime. This anime waifu is short-tempered and gets upset and aggressive over small things about people except for her one friend and her crush.
Due to this behavior, she is called a "Palmtop Tiger" by people around her. She gives an image of a chaotic personality.
Either sweet and kind or brutal and cold. No in-between. She is remarkably strong in anime. Fans love her long wavy hair a lot.
32. Esdeath
Anime: Akame ga kill
Esdeath is tall, slender, and has beautiful blue eyes in a general's apparel and high-heeled boots. She also has a tattoo on her chest.
She was the high-ranking general, later becoming the leader of Jaegers under the prime minister's orders.
Esdeath is very manipulative and sadistic. She loves to enjoy putting her enemies in pain. She gets pleasure through their pain.
Esdeath possesses great charisma, able to inspire many to fight for her. She also gives full freedom to her subordinates, letting them do as they please, which shows their loyalty to her.
Esdeath loves to fight and has a special respect for strong opponents. She is shown to have a compassionate heart for her men and others close to her.
For fans who love the fighting type girls, she definitely deserves to be on the list of anime waifus.
31. Yor Forger
Anime: Spy x Family
They say find a woman who can do both! Yor Forger is exactly that woman. She is cute, beautiful, soft, and warm as a wife to Loid Forger and mother to Anya Forger.
On the other hand, she is an incredibly dangerous and alluring assassin.
During her appearance in the anime, she broke the internet and has already become one of the best anime waifus of all time.
As an assassin, her beautiful, elegant, and sadistic behavior takes the heart of fans. And as a wife or mother, her simplistic lady-like personality is just perfect for her to be on this list.
30. Shinobu Kochō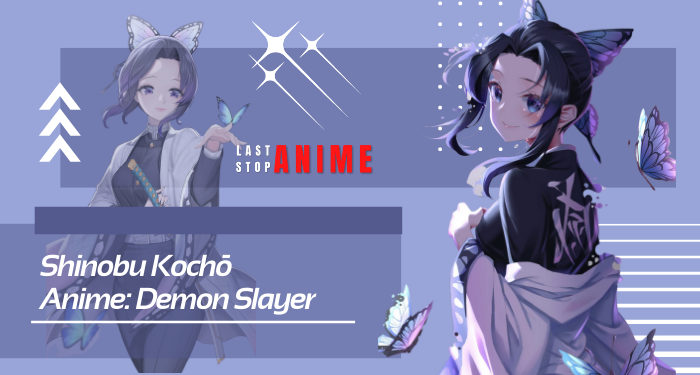 Anime: Demon slayer
Shinobu Kochō is the insect hashira in Demon slayer. She looks very beautiful in her demon slayer uniform, which resembles a butterfly. According to Zenitsu, Shinobu is so cute that she could easily make a living on her looks alone.
Shinobu always seems to be a bright and cheerful girl who has a smile on her face in whatever situation she is in. She is the type of girl to punch you with a smile.
Sometimes in the anime, Tanjiro sensed the anger behind that smile.
However, she is very caring and an expert in researching poisons and medicines. It's always the butterfly mansion where every demon slayer is treated.
She was also very compassionate after listing to Tnjiro and her sister Nezuko's story. Ah! She also loves teasing others, which is a very important trait to be included in the list of anime waifu.
29. Akame
Anime: Akame ga kill
Akame is an anime waifu from Akame ga kill. She is attractive and sweet. She appears to be serious and cold-hearted, basically an apathetic girl but revealed that she is just socially awkward.
Akame cares about her comrades and always be worried that one of her friends won't make it out alive.
However, while dealing with the enemies, she shows no mercy. She loves eating and is passionate about food.
Additionally, she loves cooking and is the best at it, and I think everyone loves a girl who can cook food to the point of considering her an anime waifu.
28. Lucy Heartfilia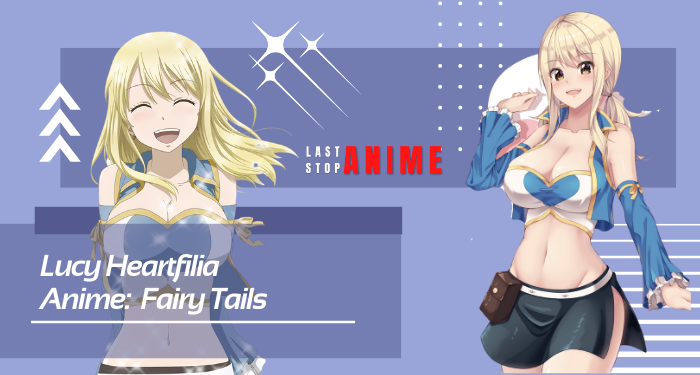 Anime: Fairy tail
Lucy is the main female protagonist of the Fairy Tail anime. She appears as a girl with blonde hair and brown eyes. Lucy is a clever, kind, and genuinely caring person.
She is the second character to have 10 out of 12 celestial spirit keys in fairy tail universe but never use them as a shield. Lucy befriends them and cares for them.
Lucy is very confident and takes pride in presenting herself as well as possible.
She is highly ambitious for her independence. Despite all these, she is intelligent and has high combat skills. Looking for a blonde anime waifu? Well, you found her.
27. Holo the Wise Wolf
Anime: Spice and Wolf
Holo, a girl from Spice and Wolf, is beautiful and cute. She is a demi-human wolf. She can take any form, human or a wolf.
In human form, she appears to be a 15-year-old girl with orange-brown hair and red eyes with her wolf ears and tail. She has a lovely figure.
She is a smart and confident girl. Holo is considered manipulative and flirtatious. She is good-humored and talkative.
Holo is a massive alcoholic and gets drunk every time. She also has a jealous side of her which makes her even cuter. Want a demi-human anime waifu? Well, we all want that.
26. Tohru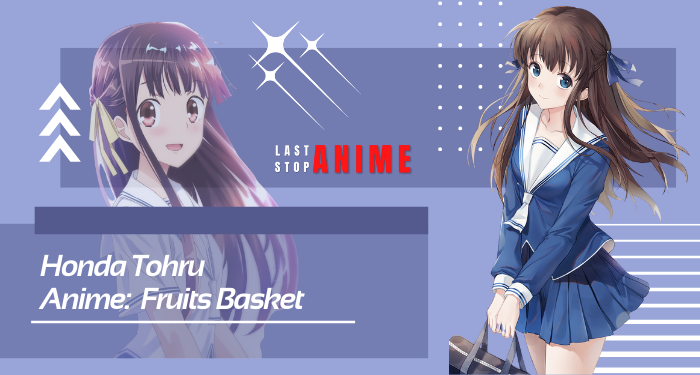 Anime: Fruits Basket
Tohru is one of the main anime characters of Fruits Basket. Her appearance is very lovely with long brown hair. Tohru loves cooking.
She is an independent girl. She is too kind, gentle, compassionate, and cheerful.
Tohru always tends to put others before herself. She holds no grudges for anyone, and self-sacrificing person. She is also very innocent, naive, and overly trusting.
25. Saber
Anime: Fate/Stay night series
Saber is one of the main characters of the fate series. She is the Saber-class Servant of Kiritsugu Emiya in the Fourth Holy Grail War and Shirou Emiya in the Fifth Holy Grail War. She appears very beautiful with green eyes.
There's a lot about her, But let's summarise. Saber is a strong-willed, confident, and competent girl. She speaks her mind when she has something to say.
She is courageous and determined and always stands by her man and supports him.
Saber is also a firm believer in justice. In addition, talking about her female side, she likes to go on dates and shopping like a normal girl.
She likes to help cook and loves to eat what you make. Saber qualifies to be a fitting anime waifu, and there's a lot more to her than just a swordsman.
24. Kaguya Shinomiya
Anime: Kaguya-sama: Love is war
Kaguya is the main female character of the anime Kaguya-sama: Love is a war. She is the vice president of the 67th and 68th student councils.
Kaguya comes from a wealthy family, but she does not want to be known for that. She was cold at first but changed into a warm and caring personality after joining the council.
Kaguya cares about her members and considers them her friends. She is in love with the main character and knows that he does too and always tries to make him confess.
Little things she does, like acting shy and turning red while blushing, make our heartthrob. She is an anime waifu who got beauty as well as brains.
23. Chizuru Ichinose
Anime: Rent a girlfriend
Chizuru Ichinose is the main female character of the anime. She is a high school girl chasing her dreams. She is very ambitious and hard-working.
Chizuru wanted to become an actress and work hard for that, that much that she gets sick occasionally because of her overworking schedule.
Chizuru is a very simple, cute, and adorable girl. Her cute smile must be protected at all costs. She is sweet and caring as well.
As a rental girlfriend, she performs her duty well. She is also a family-centric girl. An anime waifu you can rent for a day, isn't it amazing?
22. Rin Tohsaka
Anime: Fate/Stay night series
Rin Tohsaka is one of the three main heroines of Fate/stay night who acts as the Master of Archer in the Fifth Holy Grail War.
Rin is a young girl with aqua eyes and long wavy brown hair. She wears a Homurahara uniform which everyone loves.
Rin is wise, serious, resourceful, and a very competitive girl. She is highly admired at school. She is a model and an idol of the school.
Rin is loud, stinky, and bossy in private but usually means well to those she cares about.
She is a tough girl, quite fiery, perceptive, mischievous, and considerably aggressive person.
Though she does not have such a cute personality, fans find her quite the opposite of it. Another anime waifu from the Fate series besides Saber.
21. Kurumi Tokisaki
Anime: Date A Live franchise
Kurumi Tokisaki is the third spirit to appear in the anime and is named the worst spirit due to her brutal actions. Kurumi is a character hard to read.
However, the brutal actions mentioned are on those humans who are rapists or animal abusers.
Aside from that, Kurumi is a girl with astonishing beauty. She appears to be elegant and has a very polite manner.
Her right eye is red-tinted, while her left eye appears as a golden, inorganic clock face. The hands-on clock represents her remaining time covered by her hair and appears only when she comes in her spirit form.
20. Nico Robin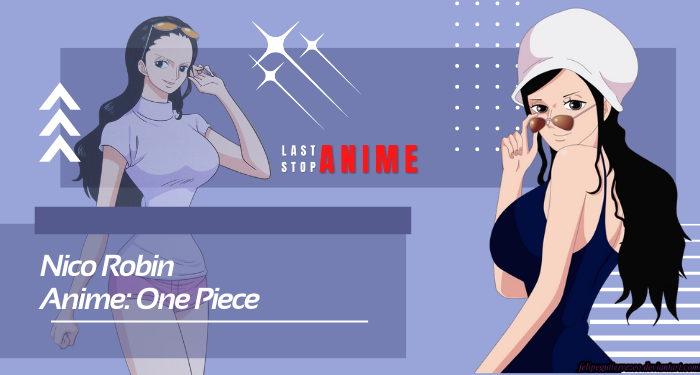 Anime: One Piece
Nico Robin is one of the main female characters of One piece. Robin is a beautiful, tall, and slim-dream woman.
She is cold and mean at first but slowly warms up. Robin is a calm, collected, and introverted girl but likes to hang out with her close ones.
It's just that she needs time alone for herself to increase her intellect through literature. Robin is smart, more mature, and wise than her crewmates. She is fearless, kind, and caring if she trusts you as a friend.
Nico values people close to her a little too much and would protect them no matter what. She also has a warm heart and a soft spot for animals and cute things.
Robin is an archeologist digging through the japanese history in one piece and is super powerful too. Isn't it a perfect combo for an anime waifu?
19. Yoko Littner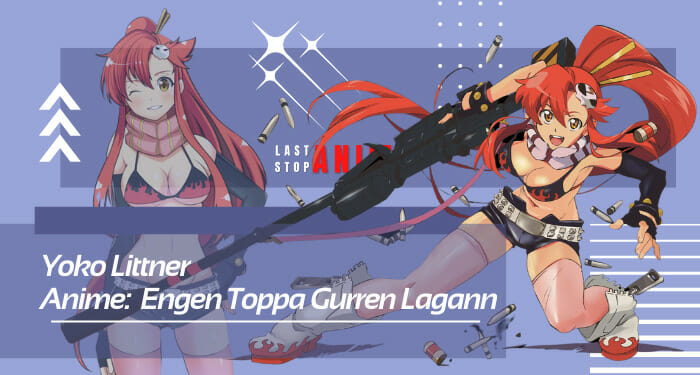 Anime – Engen Toppa Gurren Lagann Series
Yoko Littner is a fourteen-year-old girl who has been chasing the gunmen that crashed into Jeeha village.
Yoko is quite a mature and knowledgeable woman seeing her age.
She can sometimes be very irritable and aggressive but is kind and caring. Yoko can handle any situation head to head. She is also a competitive, protective and confident person. She is shown to dislike politics.
18. Erza Scarlet
Anime: Fairy Tail
Ezra Scarlet is an S-Class mage of Fairy tail Guild. She has cute looks and a well-shaped figure. Ezra is a very strict and impatient girl. She is confident, headstrong, and prideful of her guild.
She is an amazing leader and has a great sense of justice. Ezra is an awesome friend who treats her friends with great care and royalty and could die protecting them.
She can be girly and like sweet things and cute clothes. She is an anime waifu who will protect you as well as beat the shit out of you if you don't listen to her.
17. Rias Gremory
Anime: High School DxD
Rias Gremory is the main female protagonist of the anime High school DxD. She is a devil from the Gremory clan, a pure-blooded devil.
Rias is very beautiful with a perfect body figure. Her crimson hair adds to her beauty.
She is a kind and forgiving person who does everything to protect those important to her.
Rias is a powerful lady who looks after herself and can love you and support you in becoming a better person. She is a charismatic and reliable leader when it's needed to be.
Rias Gremory is one of the sexiest characters in the anime world. She is also the jealous type! Rias has a perfect and beautiful pair of oppai loved by both the protagonist and fans.
A beautiful, sexy, juicy from head to toe, anime waifu who is also a demon, oof too much to not be fall in love with her.
16. Yuno Gasai
Anime: Future Diary
Yuno Gasai is the main protagonist of the Future Diary series. She is the Second in the Survival Game and is the owner of the "Yukiteru Diary/ Diary of future love".
She is a young teenage girl with pink eyes and hair. Yuno's personality is ambiguous.
She can be a sweet, feminine, and shy girl, and on the other hand, she can be cold, ruthless, and calculating. She is considered an iconic character.
Yuno is an ultimate yandere. She is smart and clever too. A psychotic yandere anime waifu who will kill to protect you. Could we ask for more? I guess not.
15. Raphtalia
Anime: The Rising Shield Hero
Raphtalia is the main female character of The Rising of the Shield Hero series. She is the first real companion of the Shield Hero. Later in the series, she becomes the Katana Hero. Raphtalia is a beautiful young adult demi-human.
She is strong-willed, bold, and fiercely protective of her lover. Not just her lover but her friends too.
She is very supportive, someone who will never let you down and give up.
She is also shy and silky, which is cute. Raphtalia is an anime waifu who'll love to become your slave and do everything you desire, if you know what I mean.
14. Asuna Yuuki
Anime: Sword Art Online
Asuna is the main female protagonist of Sword art online. She is a girl with long, orange-brownish chestnut hair and hazel eyes.
Asuna originally did not care about dying in a game that changed drastically after meeting Kirito. She uses him as her lifeline and asks for help every time she wants.
Asuna is kind and caring and will not abandon anyone in trouble. She takes the game seriously and is proud of her kind personality.
Asuna further developed after meeting Yuuki. She looks too cute in her ponytail and her outfit. She is an anime waifu you'll love to marry in real life.
13. Megumin
Anime: Konosuba: God's Blessing on This Wonderful World!
Megumin is an Arch Wizard of the Crimson Magic Clan or Crimson Demon Clan in the KonoSuba Fantasy World. She is the first person to join Kazuma's party.
Megumin is a young girl who is loud and eccentric. She is quite childish and immature. She is very powerful and has zero control over her magic.
Sometimes she tries to appear cocky but can be easily flustered when put in a desperate situation, like hitting lightly. These traits of her make her a cute person to adore.
Being a part of a magic clan, Megumin is really intelligent and legit.
She also shows love and loyalty toward her friends and protects them if necessary. An anime waifu with only one magic spell attack, Explosion!
12. Miku Nakano
Anime: The Quintessential Quintuplets
Miku Nakano is one of the main female characters of the anime. She is the third sister of the Nakano Quintuplets and has a timid personality. The way her hair is styled makes her very cute and beautiful with the headphone around her neck.
Miku used to be an emotionless girl with low confidence and little faith in herself. She has a straightforward manner of talking and doesn't hesitate to confront others.
Miku is a huge history geek to that point that it affects her real-life actions. She has great acting skills and is always honest with her feelings.
She does not care about situations where her body is exposed. Miku is in every way a perfect anime waifu, loved by millions of anime fans.
11. Boa Hancock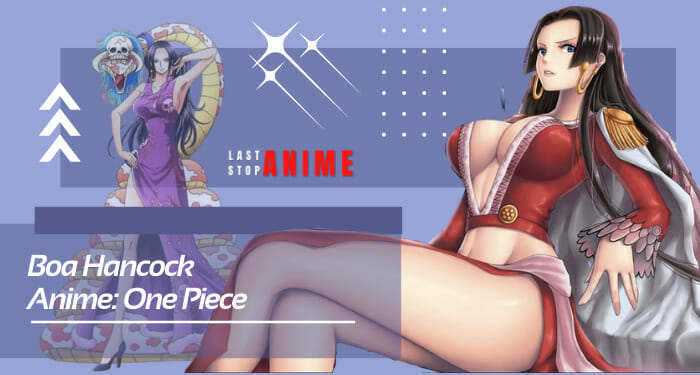 Anime: One Piece
Boa Hancock was one of the antagonists at first until she fell in love with the main protagonist Monkey D. Luffy.
Boa is considered the most beautiful woman with a well-proportionate figure. Boa appears to be selfish, pompous, and spoiled.
However, this all changes after she falls in love. She loves Luffy with great compassion. Even after being rejected so many times, she still loves Luffy and never gives up on him.
She has become a lot more soft and kind. She becomes shy and bubbly around her love, Luffy, while he is just as clueless. Boa is a very expressive woman.
Her eyes show everything, every emotion she is going through. Hancock is the most loved anime waifu in One Piece.
10. Emilia
Anime: Re:Zero
Emilia is the main female protagonist of Re: Zero. She is a half-elf. She is very beautiful with white hair and purple-blue eyes and appears to be in her teenage. Emilia's character develops throughout the series.
She is a kind and generous girl. Emilia is good-natured and likes to take care of other people but never admits it as she thinks this may make her selfish. She let Puck take care of her clothes and hair.
She is also very hardworking and worked hard to be the king of the Dragon Kingdom of Lugnica in the Royal Selection.
Subaru is in love with her despite her weaknesses, and so we are. She's an anime waifu for whom you'll do anything.
09. Marin Kitagawa
Anime: My Dress-Up Darling
Marin Kitagawa stood up as the best anime waifu in the winter of 2022 when the anime came out and remained there for a long period of time. Marin is incredibly beautiful with pretty eyes and blonde hair. The choker she wears adds to her beauty.
She also looks awesome in every outfit. Her figure is something that is admired a lot too.
She is an otaku and a cosplayer, so yeah, there is a lot of fanservice in the anime.
Despite her outer beauty, her inner side is as adorable. She is very kind, friendly, cheerful, and outgoing.
08. Hitagi Senjougahara
Anime: Bakemonogatari
Bakemonogatari is a fanservice anime with a little nudity and a lot of anime waifus but let's talk about Hitagi Senjougahara.
Hitagi is very beautiful with her long purple hair. Her hair is one of her likable traits. She is quite blunt and with a sharp tongue.
However, she is a cheerful girl with a good smile. She is an intellectual and uses stationery as her weapon.
Her head-tilt is quite famous. Fans consider her hot and think she would make a great anime waifu.
07. Shinobu Oshino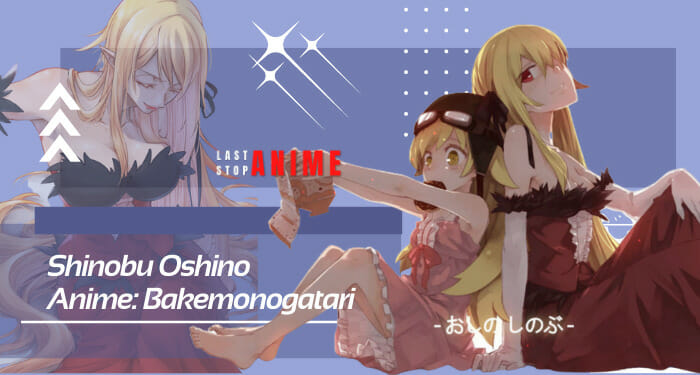 Anime: Bakemonogatari
Shinobu Oshino is a mysterious vampire girl among the anime waifus. She was formerly a human whose name was cursed, so she changed her name and met a purebred vampire who turned her into a very powerful vampire named Kiss-Shot Acerola-Orion Heart-Under-Blade.
Now she lives as a young girl of eight years with another new name and has lost most of her powers.
Though Shinobu looks like a small girl with yellow eyes, pointy ears, sharp fangs, and long blonde hair, her appearance changes depending on how much vampire power she possesses.
At first, she doesn't talk much but later reverts to her bright side. She is also a loyal, affectionate and jealous type of anime waifu.
06. Mikasa Ackerman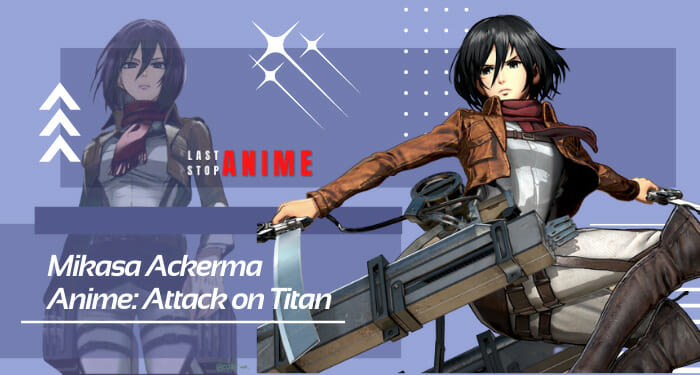 Anime: Attack on Titan
Mikasa is one of the main characters of Attack on titan. She is an incredibly strong woman. Mikasa loves the male main character Eren a lot and has protected him various times. And not only Eren, but she also saved many people's lives many times.
Mikasa is a tall and beautiful girl and seems intimidating to her comrades and even her enemies. She knows what she is doing and what she has to do.
She gets shy when it comes to love language, which is cute.
Apart from that, she is generally calm and collected in almost every situation and knows how to care for someone and fight for them.
She is too cool not to be falling in love with her. Mikasa is one of a kind anime waifu, and almost every one of us wants to marry her.
05. Kurisu Makise
Anime: Steins;Gate
Makise Kurisu is also one of the best anime waifus of all time since the anime came out. She always is at least in the top 5 positions in any female characters list.
Makise is a strong and independent female character and as interesting as the male characters in Steins; Gate.
She is genius, sensible, mature, calm, and collected. Beauty with a brain. Makise is also shown with cute, timid, and flustered expressions, which add to her waifu characteristics.
She is the tsundere of the anime, which is also said by the male main characters a couple of times. She is also the one to sacrifice herself for her loved ones, as shown in the anime itself.
04. Mai Sakurajima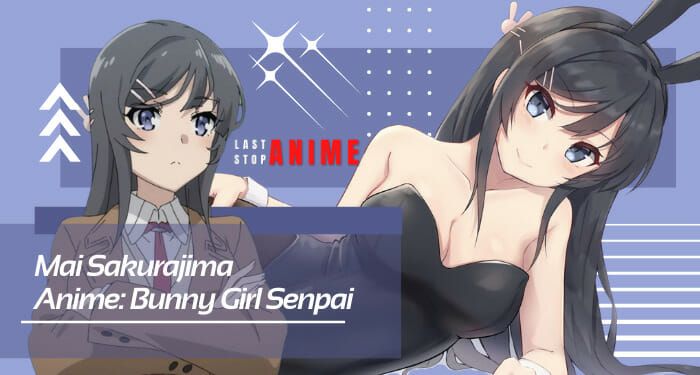 Anime: Bunny Girl Senpai
Mai Sakurajima, the main female protagonist of Rascals does not dream of Bunny girl senpai. She feels real is what fanboys like the most about her.
Mia is beautiful with black hair and blue-purple eyes. She is kind, helpful, intelligent, shy, sensitive, and pure-hearted.
She is also very mature comparing her age. Mai isn't harsh by default; she just gets annoyed at Sakuta's openly lewd remarks, although she also can't hide her flustered face.
Cute! Right? Just like normal humans, she has some anxiety issues and not so good background too.
03. Zero Two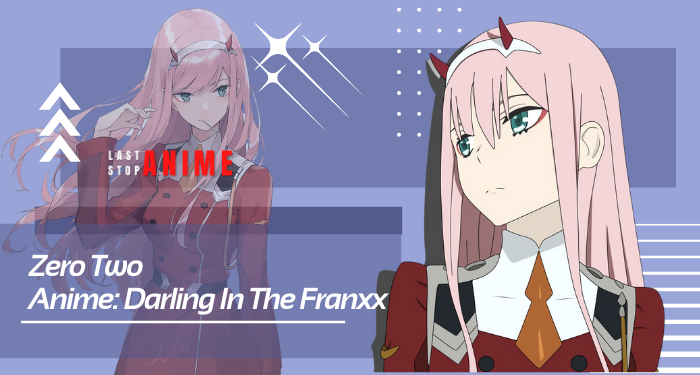 Anime: DARLING in the FRANXX
Zero two is created to be a waifu material, and she serves the purpose very right. She is a very popular anime waifu among fans. Zero is unbelievably beautiful with long pink hair and two cute little horns on her head.
She wears red eye makeup, which is liked by fans very much. Zero two is a fun-loving girl. She is wild and playful, even making some pervy jokes here and there.
Apart from being bold, kind, and helpful, she is an attractive girl. She is too cute to get mad with. Her smile is adorable too.
She is one of the anime girls to always compete within the top 3 or top 5 of any list of best anime waifus of all the time.
02. Hinata Hyuga
Anime: Naruto
Hinata Hyuga is a very loving character and the one who marries Naruto. She wanted to marry naruto since when they were kids and even gave Naruto unconditional love from a very young age, even when no one was with him.
Hinata is the kindest (always using honorifics while addressing people), loving, and supporting character.
She is very beautiful, soft-spoken, caring, hard-working, and never let you down the type of girl. Hinata always put forward others before herself.
She even jumped in the middle of a fight with the most dangerous man to save her love.
Hinata loves her family so much. She has always been fighting and training for them even though she didn't like it. Also, she agreed to marry Toneri when she was so in love with naruto to save her sister Hanabi.
She is just so precious and must be protected at any cost. She always remains on top of the list of any best anime waifus of all time.
01. Rem
Anime: Re:Zero
Rem is considered number one of the best anime waifus of all time among anime female characters or anime girls. Her cuteness and more understanding behavior make her the best waifu material.
Rem is a girl with short blue hair covering one eye and the same light blue eyes.
Although Rem and Ram are twin sisters, they have contrasting differences in their behavior and personality. Rem has a very warm personality.
She is very humble, supportive, and loyal. She can even fight for you and is full of sunshine.
Rem is very polite, although she sometimes acts without thinking. She supports Emilia, loves Ram, and protects Subaru yet remains humble.
Rem deserves to be on top of the list of best anime waifus in every possible way as she is the best girl out there in anime history.