If you're a newbie anime fan, you'll most likely be scratching your head when certain words pop up while discussing anime with other fans. The anime community frequently uses some specific anime phrases and terms that go right over the heads of new fans.
It is only natural as many anime fans come from diverse backgrounds and speak different languages.
That's why it might be convenient for you to familiarize yourself with the meaning and usage of basic anime lingo! Most of it includes popular Japanese words and some English words.
Some might refer to anime genres or something of anime culture, while the rest is common Japanese vocabulary that you hear in every other anime.
You do not need to speak Japanese to learn these words, as you'll hear them frequently in anime.
Let's look at 35 such words that come up quite often when there is a conversation about anime. So the next time you're chatting about your favourite anime shows, you no longer feel like a stranger to the anime world!
Anime genres
1. Shounen
The word shounen means young boy in Japanese, though it literally translates to "youth."
In the context of Japanese anime, shounen refers to the category of anime that aims at a young male audience (13-18 years). 
Shonen anime are generally coming-of-age stories that follow a young male protagonist with set goals and discuss themes of friendship, camaraderie, courage, and passion. In addition, there is usually a lot of action, adventure, and team spirit in these anime.
Some shounen anime are Naruto, Dragon Ball series, One Piece, and My Hero Academia.
2. Shoujo
The Japanese word shoujo translates to a young girl and refers to girls in the 12 to 18 age group.
You may have already guessed that the shoujo category targets a teen female audience.
The story usually observes a female protagonist on her journey to emotional maturity and almost always overlaps with the romance genre.
However, the focus is on her relationships with other characters and the struggles involved.
Some shoujo anime are Fruits Basket, Kaichou wa Maid-sama!, Ao Haru Ride, and Yona of the Dawn.
3. Seinen
While the kanji of the Japanese word seinen also means youth, the term refers specifically to young adult men, i.e., age 18 and above.
Since the seinen category targets the said age group, the protagonist is also usually a young adult man.
The story is more psychological and delves into darker and more mature themes than shounen and shoujo. Accordingly, action-seinen anime mostly contain graphic imagery, gore, and profanity.
Some seinen anime are Monster, Kaguya-sama: Love is War!, Parasyte: The Maxim, and One-Punch Man.
4. Josei
The Japanese word josei literally translates to a young woman and is used for young adult women, 18 and above.
Josei anime caters to young adult female audiences. The main character is a young adult woman, though that may not always be the case.
The story focuses primarily on the realistic affairs of adult life and deals with mature themes that resonate with the target audience.
These include work-life, interpersonal relationships, romance, emotional battles, etc.
Some josei anime are Nana, Chihayafuru, Nodame Cantabile, and Usagi Drop.
5. Isekai
The word literally means a different (i) world (sekai). The isekai genre of anime is considered a subgenre of fantasy. As the name implies, the story setting is a world other than the real world.
More often than not, the narrative begins with the main character unexpectedly getting transported, reincarnated, or captured in a parallel world of fantasy.
Some isekai anime are Re:Zero – Starting Life in Another World, Rising of the Shield Hero, That Time I Got Reincarnated as a Slime, and No Game No Life.
6. Mecha
The loan word mecha in Japanese most likely stems from the English word mechanism or mechanical.
When we speak of mecha anime, we are talking about anime featuring advanced mechanical objects or machines.
These include robots, androids, cyborgs, etc. though most of the time, it's mainly robots. Mecha anime generally have action-filled scenes involving massive robots.
The story itself may or may not necessarily revolve around said robots.
Some mecha anime are Code Geass: Lelouch of the Rebellion, Neon Genesis Evangelion, Tengen Toppa Gurren Lagann, and the Gundam Series.
7. Hentai
In Japan, the Japanese word, Hentai, is generally used to refer to somebody with perverted conduct. It literally translates to "strange attitude," but its usage is in the sense of "a perverse sexual desire."
Outside of Japan, the word commonly refers to anime with uninhibitedly sexualized characters and pornographic images.
Needless to say, the hentai genre of anime features highly erotic and sexually explicit art.
That includes what is commonly known as the "ahegao" face- characterized by an exaggerated flushed expression, rolled eyes, and a protruding tongue.
8. Harem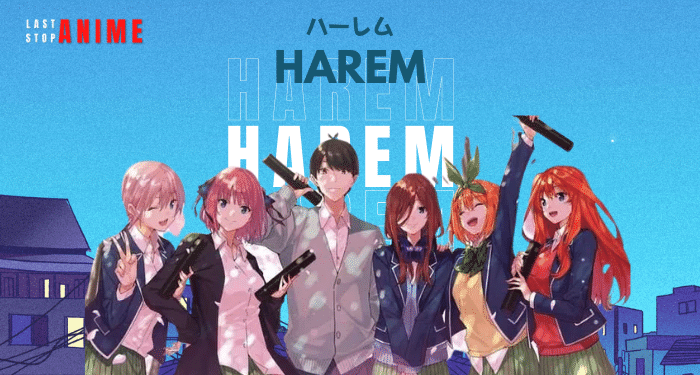 In an anime context, the Japanese word haremumono (harem works) or simply harem is a loan word from the Arabic language.
A harem story comprises a male protagonist with three or more female characters who are potential romantic interests.
Consider the opposite- a female protagonist and multiple male romantic interests. Now, this is what we call a reverse harem.
A harem story sometimes also features homosexual characters.
Some harem anime are The Quintessential Quintuplets, Nisekoi, Date A Live, and Ouran High School Host Club.
9. Ecchi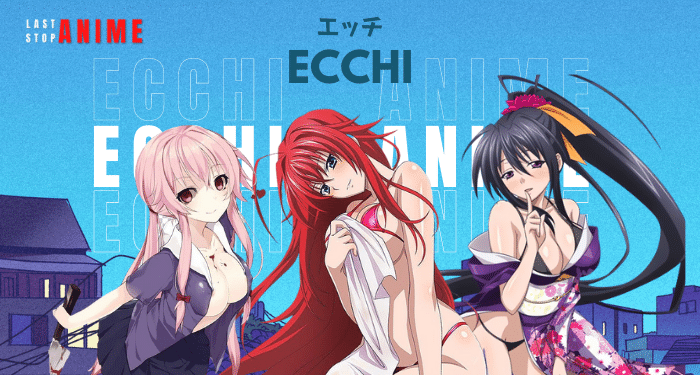 Ecchi is a Japanese slang used to refer to something or someone mildly perverted.
In the anime context, it is an explicit genre that contains suggestive imagery and lewd antics aiming to entice the viewers. For that reason, mild nudity and breast or underwear shots are typical.
Ecchi is seldom the center of a story but rather a secondary genre in the harem, rom-com, or drama anime.
Some ecchi animes are High School DxD, Kill la Kill, Food Wars, and the Monogatari series.
10. Yaoi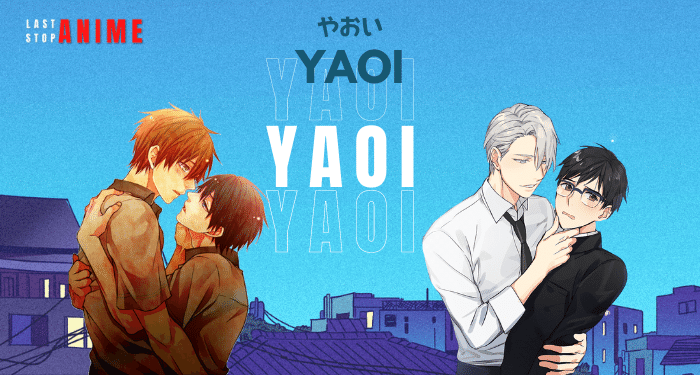 Yaoi (or Boys' Love) is a Japanese term used to refer to the genre showcasing sexual relationships between men. It may feature mild to heavy sexual imagery.
The writer is typically a female, and the genre targets a female audience.
One primary difference between Yaoi and Shounen Ai (which literally translates to Boys' Love) is that while the former focuses more on the physical part of the relationship, the latter focuses more on its emotional aspect.
Some yaoi anime are Doukyuusei, Sekaiichi Hatsukoi, Umibe no Étranger and Junjou Romantica.
11. Yuri
The Japanese term Yuri (less commonly known as Girls' Love) refers to anime that revolves around the sexual romance between females. They generally tend to have less erotic content compared to yaoi.
Yuri does not have a particular target audience though it is seemingly more popular among male fans.
The difference between Yuri and Shoujo Ai (which literally translates to "Girls' Love") is the same as described for Yaoi and Shounen Ai.
Some yuri anime are Citrus, Yagate Kimi ni Naru, Yuru Yuri and Maria-sama ga Miteru.
12. Manga
Manga refers to all types of Japanese comic books and graphic novels. If you are already familiar with anime, you must have already heard this word before since most popular anime titles are based on manga.
The kanji of the Japanese word "manga" literally translates to "impromptu (man) pictures (ga)." The kanji refers to manga starting out merely as whimsical drawings before expanding gradually to become what it is today.
The terms for Korean and Chinese manga counterparts also stem from the same root, called "Manhwa" and "Manhua," respectively.
13. Otaku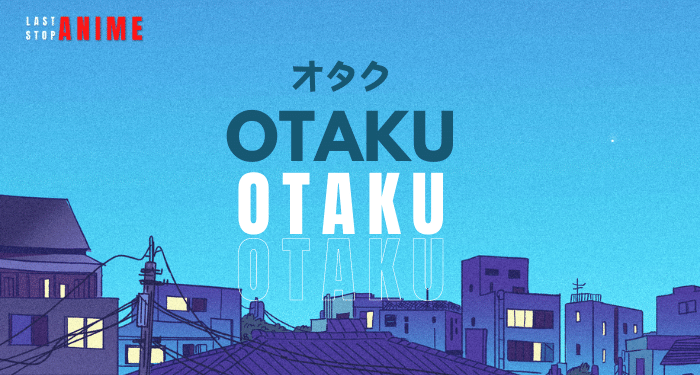 In Japan, the word "otaku" is used for a person obsessed with or highly invested in a particular hobby (anime, manga, video games, etc.) and has deep knowledge about it. It is somewhat equivalent to "nerd" or "geek" in English.
The slang usually carries a negative connotation in Japan due to its association with reclusive behavior.
However, considering that the word otaku literally means "house" (in an honorific way), its usage may have stemmed from the observation that otakus like to stay at home immersed in their hobby.
However, in the West, it simply refers to people who love anime and manga.
14. Waifu/Husbando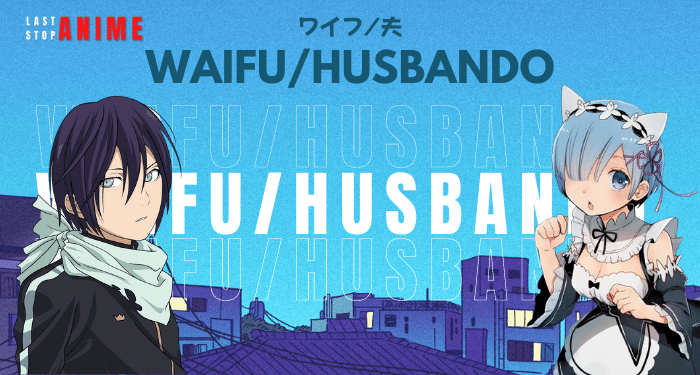 An anime waifu (derived from the English word "wife") is usually a character considered by the viewers as someone possessing the ideal qualities of a wife.
Typically, it is a good-hearted, beautiful, intelligent, loyal, and adorable female character, though it can vary from individual to individual.
As a result, you'll often stumble upon entertaining heated discussions regarding "who is the best waifu?"
Or sometimes you may see the word "husbando," the usage of which is essentially the same as waifu, but for a male character.
15. Chibi
Chibi is a Japanese slang that comes from the verb "chibiru," which means "to decrease in size by wearing out."
Depending on the intention, its usage can be positive or negative. For example, it is often used to refer to a short person or a small kid, either out of irritation or adoration.
In anime, it is a character design that is smaller, simpler, and cuter than your regular anime character.
Characters are often drawn as chibi for comic relief, to make them look adorable, or to emphasize certain emotions.
16. Moe
The Japanese term "moe" (also romanized as moé) refers to the feelings evoked in the audience by a cute, lovable, endearing, and comforting character.
For example, a magical girl like Megumin from the anime Konosuba.
Moe anime, manga, or games feature characters that elicit strong affection and a desire to protect them.
17. Seiyuu
The kanji for the word "seiyuu" is made up of two individual kanji: sei (voice) + yuu (actor)
Seiyuu is a voice actor who dubs for various kinds of production- movies, anime series, games, radio, advertisements, drama CDs, etc.
The word itself fell into common use due to the anime boom in the past years since anime fans are always curious to know the voices behind their characters and hold them in high regard.
18. Loli
Loli is a shortened form of the term lolicon, used to describe a female character who is cute and childlike, regardless of her age.
The word has an implicit sexual connotation due to its origin. "Lolita complex" is an attraction to young-looking females (particularly in older men).
The concept itself was born from Vladimir Nabokov's book "Lolita."
Although there are too many blurred lines regarding the lolicon subculture, it is controversial mainly for vaguely traversing between mere adoration and inappropriate attraction towards young girls (more precisely, pedophilia).
19. Tsundere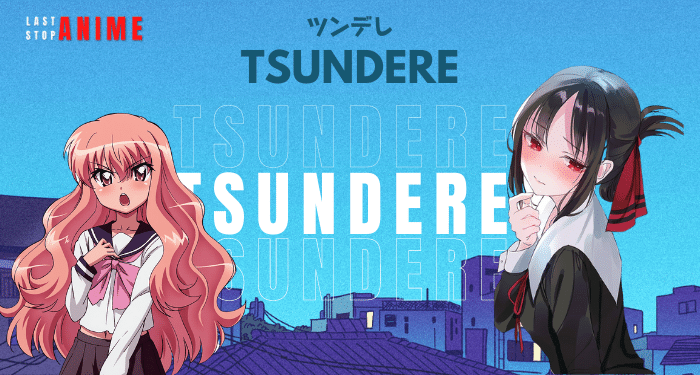 Tsundere is a character archetype in anime. It describes a character (more often, a female) with an irritable, cold and harsh behavior who gradually warms up and becomes expressive of their feelings.
The Japanese term "tsundere" comes from tsun tsun (withdraw in disgust) + dere dere (to become lovestruck)
Tsundere characters, usually, are not actually stone-hearted, just inexpressive and defensive of their feelings, which in turn makes them moody and sometimes hostile. These characters generally are very well-loved by fans.
20. Yandere
Yandere is a character that mostly appears shy, sweet, and kind initially, later revealing to be extremely possessive and obsessed, going to alarming extents to keep their admired one close.
The word has a similar structure to tsundere: yan (to become sick/insane) + dere dere (to become lovestruck)
Yandere characters are typically female, and the most fitting in this archetype is Yuno Gasai from the anime Mirai Nikki.
21. Weeb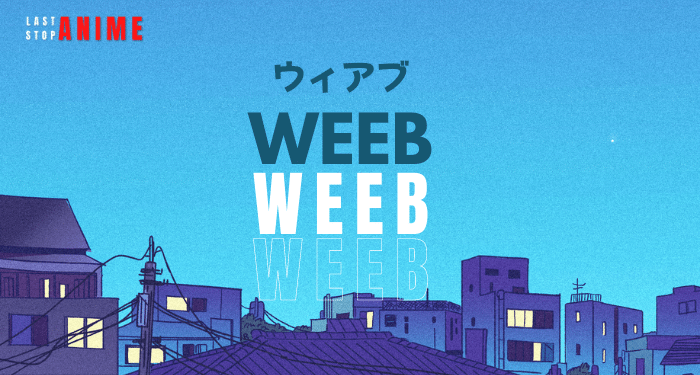 "Weeb" (or "weaboo") is a term used for a non-Japanese person who is so fascinated by Japanese culture (mainly anime culture) that they wish they were Japanese.
Somehow the nuance deviated to become a label for any anime-watcher, especially among those who held prejudice against anime culture.
The slang started as a demeaning tag, but many anime fans nowadays refer to themselves as weebs, embracing it, relieving the word of its derogative purpose.
Japanese words you'll often hear in anime characters
22. Baka
Baka is the Japanese word for "stupid," "idiot," or "crazy." The meaning can change depending on the context and nuance.
It is guaranteed that you'll hear this word in almost every anime, but it's better to avoid it if you're not well-acquainted with the person you're using it for or around.
Again, the word is used in various contexts, most often playfully among friends. Or at other times, in the sense of "very." For example, "Baka umai," which is "crazy good (as in delicious)."
Another word you'll hear often is "aho," which carries the same meaning but in the Kansai dialect of the Japanese language.
It is used in and around the Kansai region and is not as strong a word as baka. However, it is the opposite in the Kanto region (Tokyo), so one should be very careful while using it.
23. Senpai
The word senpai, in simple terms, means "a senior." It is used to address a superior at work, a senior in school/university, or any other activity.
It is also usually used as a suffix (like -san, -sama, etc.) after the person's name.
Several anime have a school setting which is why it is a recurrent word in anime.
You'll often see "notice me senpai" in internet memes or comments. Netizens jokingly use this phrase to say "please notice my existence" to someone they admire (generally a celebrity crush).
The word "kouhai" means the exact opposite, but it is never used to address a junior.
24. Nani
"Nani" in Japanese translates to "what" in English. So, as you would expect, it is a word you'll hear very frequently in anime.
Since it naturally accompanies a shocked reaction, it is a good source of meme material.
Of course, you might have even seen one before, like the evergreen meme from the anime Fist of the North Star (thanks to the ten thousand video edits and remixes that keep surfacing from time to time):
"Omae wa mou shindeiru (You are already dead)." "Nani (what)?"
25. Arigatou
Japanese culture has always given the utmost importance to voicing the feeling of gratitude. That's why you'll see at least one anime character saying "Arigatou" or "Arigatou gozaimasu (formal)" every episode.
As you may have inferred, "arigatou" is used to say "thank you." Though, to express a simple thanks, you can just say "doumo."
When you combine these two and say "doumo arigatou gozaimasu," it translates to "thank you very much."
26. Kawaii
Kawaii is quite a common Japanese word meaning "cute", "adorable," or "lovable," though it literally means "able to be loved."
It is used to describe people, animals, and even inanimate objects (for example, to refer to a pretty dress).
The word Kawaii is also considered an aesthetic in Japanese pop culture, which accentuates the quality of cuteness.
For example, Hello Kitty. You will frequently hear this word due to the widespread presence of cute characters in anime, manga, games, etc.
27. Sensei
Sensei is a very familiar word in the anime community. Since the word means "teacher", and well, there are a lot of famous senseis in anime.
You must have heard of at least one of them- Kakashi sensei from Naruto, Gojo sensei from Jujutsu Kaisen, or Aizawa sensei from My Hero Academia, to name a few.
Interestingly, the literal meaning of sensei is something along the lines of "someone who came before you."
This idea signifies that they have more experience and wisdom, which they administer in their teachings and endeavours.
That is why Japanese people also refer to doctors, novelists, martial artists, and other people of authority or respect as sensei.
28. Daijoubu
"Daijoubu desu ka (are you alright)?" is a sentence you'll often catch in anime. Dajioubu is a word that means "alright," or "fine," or "okay."
If you're distressed and your friend asks you whether something is wrong, you can reply with a "daijoubu" or "daijoubu desu (formal)" to reassure them.
It can also be used in response to an offer you do not wish to accept.
For example, if someone offers you coffee, you reply with a "daijoubu desu" to politely decline the offer.
29. Wakatta
"Wakatta" is the past tense form of the Japanese verb "wakaru," which means "to understand" or "to know."
The word Wakatta is used exactly in the sense of "I got it" or "understood."
It is normally used in a casual conversation, for example, with your friends, peers, or siblings.
The formal way to say it is "wakarimashita," a usual response to convey that you understood what you were being communicated (mostly an instruction or an order).
30. Yamero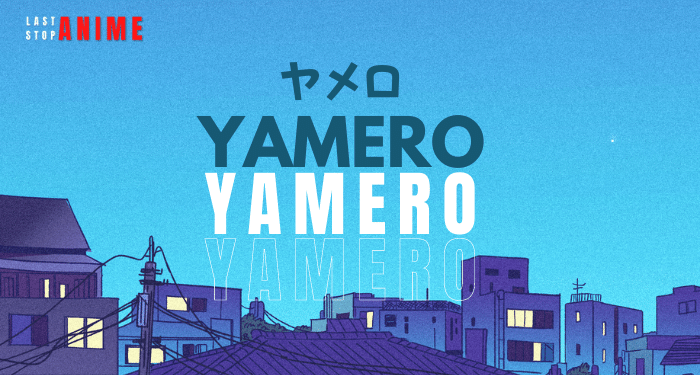 "Yamero" is an imperative verb, and it directly translates to "Stop!" It is a pushier, more aggressive version of "yamete" or "yamete kudasai (more polite)."
The word has birthed countless memes, from Lelouch of Code Geass to the famous screaming seagull.
If you hear "yamero" from an anime character, it's most likely that they're screaming, hence the inspiration for those memes.
Though in anime, it is often heard in intense or grave moments (flashback to episode 1 of Attack on Titan when Eren screams the word while you-know-what happens).
31. Onii-chan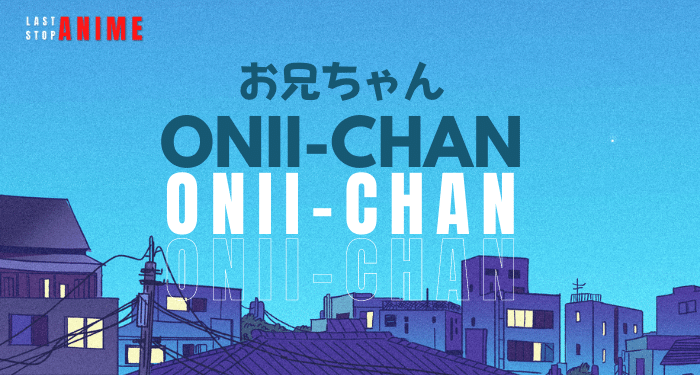 Onii-chan is another word you'll hear in a lot of anime shows. It is an affectionate way to address your older brother and indicates a very close relationship between the siblings.
For example, if you've seen Demon Slayer, you may recall Nezuko endearingly addressing Tanjiro as "onii-chan" (though she rarely ever speaks).
O (for politeness) + ni (elder brother) + chan (suffix)
Sometimes you'll hear onii-san ("san" being more polite) or onii-sama ("sama" is a formal suffix) in an anime, depending upon the closeness of the relationship and the family background.
32. Betsu ni
The word "Betsu ni" literally translates to "separately."
betsu (separate) + "ni" particle
However, in conversational Japanese, its usage conveys "not particularly," "not really," or "it's not like that." It is often used to wave off, hide anxious feelings, or avoid explaining something in detail.
For example, a friend asks you, "what are you worried about?" In this case, "betsu ni" as an answer would mean "nothing in particular" or "it's nothing."
33. Tomodachi
The word "tomodachi" simply means "friend." Therefore, one can refer to any friend as tomodachi, close or not.
This word is commonly used in almost every anime show, naturally, as most anime do feature friendships.
Another common word that you'll hear here and there in anime (more often in shounen) is "nakama." Nakama can also mean "friend," but its primary meaning is "comrade."
While we are on the topic, you should check out the underrated anime "Tomodachi Game" (Friends Game) that went under the radar of so many fans upon its release.
34. Sugoi
Sugoi is a highly versatile adjective, but it primarily acts as an exclamation. It roughly means "tremendous" or "incredible" and expresses awe, appreciation, fascination, and excitement.
When you say "Sugoi!" it can convey various emotions, depending on the context. When you say it to compliment someone, you are impressed by their skill or achievement.
It can also be used as: Kono (this) mise (shop is) sugoi (incredible)!"
Or, before an adjective to act as "very": "Kyou (today) sugoi (it's very) atsui (hot)!"
35. Kisama
For starters, it is crucial to note that this word should not be said in real life; it is only used in Japanese media.
But why? There are many reasons. In basic terms, it just means "you." But the usage is not as simple. Ages ago, the word was actually used in a respectful light.
Now, though, it is a whole different story, spoken very rudely. it means a lot of disrespectful things, for instance, "you bastard."
You'll only hear this word from an anime character when they are enraged and about to confront their enemy. So, one can see how bizarre it would sound for someone to utter it in their everyday life.
---
Some Other Popular Phrases
Tatakae literally means "fight" in Japanese- a word uttered by Eren from Attack on Titan while giving himself an intense pep talk in the mirror.
Dattebayo is a catchphrase that Naruto, from, well- Naruto, always uses to end his sentences. It is a made-up Japanese word unique to Naruto that gives more emphasis to his dialogues and also makes him sound animated and confident.
Yare-yare gives off the connotation of "good grief," or "well well," or "give me a break." It is trendy and sounds cool mainly because of Saiki from The Disastrous Life of Saiki K and Jotaro Kujo from JoJo's Bizarre Adventure, in which case, it is literally a JoJo reference!