Manga is a Japanese art of creating comics and books with illustrations. Manga is diverse with different genres, and one of these is Dark manga.
Sometimes these stories create hope, while at other times, it creates despair. Though it always continues to deliver entertainment to the world.
Dark manga may refer to many things that go beyond blood, guts and monsters. It could be intense, emotional, or psychological manga.
Dark manga is diverse and has various sub-themes, including sci-fi, horror, adventure, vampires, and supernatural themes.
Different manga artists, also called "mangaka", have their art styles, making every manga different from the other manga.
15. Psycho Pass
The new age always brings new stories, and this story is all about what price a government can pay to gain justice. If you wish to linger in the storylines, including mystery and madness, you should try Psycho-Pass by Midori Gotou and illustrated by Natsuo Sai.
This dark manga is different from others and is based on government policies.
Many of the officers are already latent criminals and are roaming around freely, and the question arises whether justice still prevails when the entire system is corrupt. There is a threat to life in such situations.
With this conception in mind, a female police officer named Akani Tsunemori is reluctant to abide by the new rules and soon finds out that the system used to judge the world is not applicable and cannot be followed blindly.
Several Mangas, including Dead Tube, explore the dark side of betting and wagering in this particular manga.
People compete and make money by having the most number of views by any means possible, wherein whoever wins gets the money, and the person who loses dies.
Another extremely popular manga and anime is Attack on Titan, which explores the theme of government being brutal and captative towards the people and natives of the place who are stuck inside a huge wall.
14. Ibarana no ou (King of Thorn)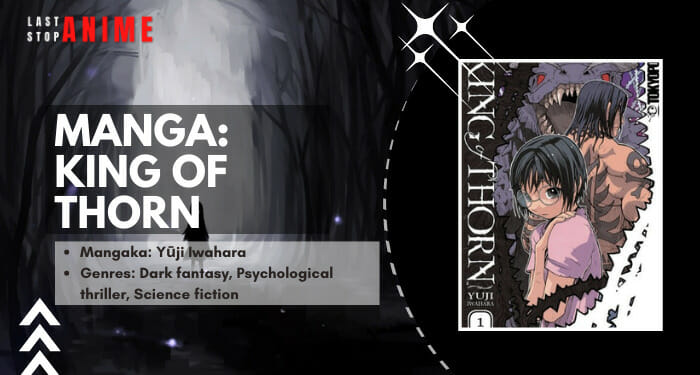 A tale of two twins separated by a deadly virus known as medusa. One of the siblings will be used to putting them in cold sleep for the future.
Ishiki Kasumi, a teenage girl who is also the protagonist and the sibling of Shizuku, is one of the 160 humans chosen for this experiment and is made to sleep inside a Cold Sleep Capsule Center (CSCC) inside an ancient castle.
As the name suggests, Medusa turned the people into stones after being infected by the same.
The story shows an uncanny resemblance to the curse of Medusa as mentioned in greek mythology. Medusa was cursed, and whoever looked at her turned into a stone.
Similarly, whosoever gets infected with the deadly virus turns into a stone in this manga.
Kasumi and others, on waking up, found out that they were not in the same facility as they used to be and were completely changed into a jungle.
The world is full of monsters and creatures unknown to Kasumi, who is still a child.
Little do we know that kusumi was dead throughout, and her sister Shizuku wanted her alive even at the cost of a world.
It is one of that dark manga that takes inspiration from the controversial experiments done by the nations in power to increase their work or arm force. The manga was later on converted into an anime as well.
13. Vampire Juujikai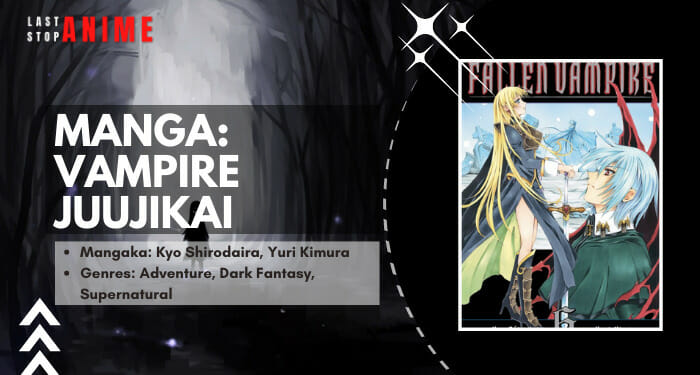 If you love romantic fantasy themes, you might like Vampire Juujikai. Based on the themes of Vampire, Vampire queen and half-vampire, this is a must-read manga for you.
With over 9 volumes of the book, it was published anywhere from 2003-to 2007. The storyline is by Kyou and Shirodaira, and the art and illustrations are by Yuri and Kimura.
The story revolves around a Vampire king who is out to find his Vampire queen and has to face many humans, aliens, and dhampirs.
However, the plot reveals its mystery gradually, which creates curiosity in the mind of readers and the urge to continue reading, and even the art is exceptional.
Even being based on the theme of blood-consuming creatures, it also allows users to assume the powerful vampire as a normal human being and connect with them and the story emotionally.
12. Pandora Hearts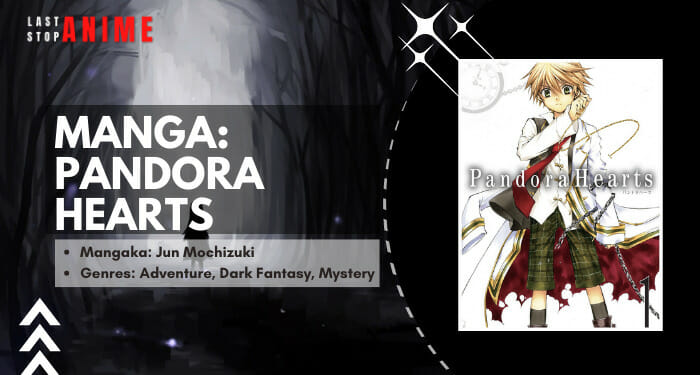 Pandora Hearts is not necessarily a dark manga but is based on the fictionary creatures known as chains which can be found only in the fantasy world or in fairy tales.
Oz Vessalius, an heir to the Vessalius family, is shaken when at his coming of age ceremonies, he comes to know that he is to be trapped in the abyss with the other creatures, which are monsters and are called chains.
Oz is later on saved by another creature or chain named Alice. The storyline has a very tragic end, and the organisation Pandora controls everything.
Jun Mochizuki's anime is another shonen serialised from 2006 to 2015.
The adaptation of pandora heart also got a great response from the viewers, but the series has still not come up with another season in animation.
11. The Flowers of Evil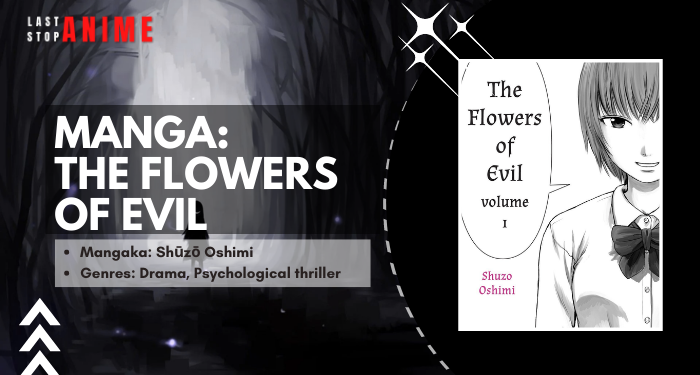 Another shonen by Shuzo Oshimi revolves around a middle school student Takao Kasugai, who is obsessed with books and especially Charles Baudelaire's Les Fleurs du Mal.
The story is set up in the town of Gunma Prefecture. The manga reveals the perverted nature of Takao as he steals the freshly worn clothes of Nanako and is caught red-handed by Sawa Nakamura.
The relevance of flowers of evil can be seen in different instances, one of which was when Takao falls asleep with Tokiwa after a few years and dreams of wilting the flower of evil.
He starts seeing the future with Tokiwa and sees that Nakamura is content with her life and moves away from the city. As soon as he wakes up from the dream, he starts writing it in a blank notebook.
This manga lets us discover our dark sides and realise how sinister our inner demons could be and how our heads can form illusions.
If one wishes to read something dark related to the fetishes, one must try this manga.
10. Another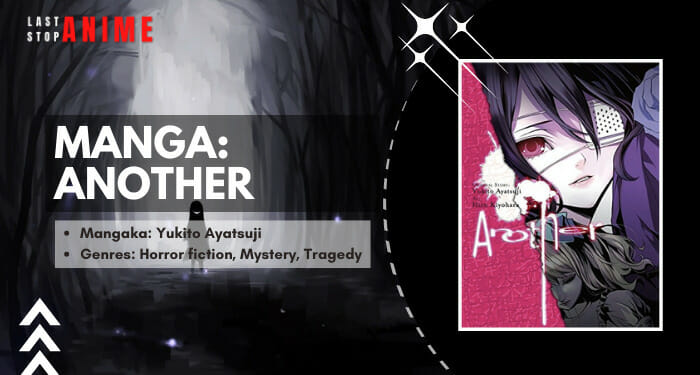 Not necessarily a manga, but for a Japanese novel by Yukito Ayatsuji, having 4 volumes is a horror mystery.
When a transfer student named Koiuichi Sakakibara comes to his new school, he feels something unusual and eree about the surroundings.
He meets a girl named Misaki Mei, who is supposedly dead, but all the students in the school start concealing the fact that she is dead.
It is later found out that Misaki had the power to see the colours of the dead, which means that she could distinguish the dead from the alive.
The mystery element is a great addition to the manga's main theme, which is gothic horrors.
A series was also broadcasted with the same name on Japanese television with 12 episodes.
09. Death Note
Once in a lifetime, we all think about killing someone who makes our life a living hell.
What if it comes true! What if you get a notebook that gives you the power to kill anyone you want to in the most convenient way. Well, this is the basic storyline of Death Note.
This is written by Tsugumi Ohba and illustrated by Takeshi Obata and revolves around the themes of justice and supernatural powers conferred to Light Yagami, a high school student by the god of death, Shinigami Ryuk, through the notebook named " Death Note".
Death Note had the power to kill a person if that person's name was written on the pages of the notebook. The western gothic art style of the manga makes it even more appealing in the horror genre.
The main theme of the death note, being justice, was displayed in the whole manga and was questioned on every step throughout the book.
Whether the justice administered by Light Yagami was correct or was he influenced by his human emotions and used the death note for personal satisfaction.
It was hard to tell whether it was him doing the justice or his subconscious asking him to do justice to people who, according to him, were wrong.
08. Tokyo Ghoul
A dark manga based on the concept of half vampires feeding on the human flesh is illustrated in the manga by Sui Ishida.
Ken kaneki, a student who is generally involved in his studies, comes in contact with a girl who, at first sight, seemed normal but turned out to have sinister deeds and left Ken Kaneki to die.
Ken Kaneki starts to transform in the most drastic ways and is now a fugitive on the run.
This used to be published in the Weekly Young Jump between 2014 and 2018 and was later made into a Netflix series. He is also hiding his identity from his best friend, Hideyoshi Nagachika.
Even though being a half-vampire, we could easily sympathize with him as he had to run from humans and other creatures to survive.
07. Jisatsu Saakuru Kanzenban (Suicide Circle)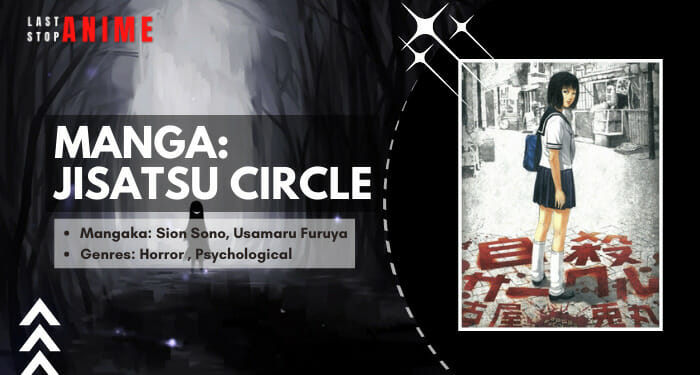 The storyline starts with a girl, "Saya", who survived while 54 girls jump in front of the moving train. Saya Kota is saved and starts making her suicide club.
This starts in Japan and eventually is spreading to every country. Conceptualised by Furaya and Usamaru, this manga is based on another movie with the same name but an even more disturbing story.
This is a psychological horror and unleashes a strange organisation called the Family Circle, which is somehow involved in the suicides. The manga was also adapted into a movie and anime.
06. Tajū-Jinkaku Tantei Saiko (MPD Psycho)
A brilliant dark manga by Eiji Otsuka revolving around the theme of sci-fi stories wherein we see that the manga's main character is suffering from Multiple Personality Disorders, the sequence of which can be found at different intervals we proceed with the story.
The main character named, Yosuke Kobayashi, is a detective.
While he was trying to hunt down the killer of his girlfriend, certain events led to the beginning of losing his sanity and developing Dissociative Identity Disorder, with the two main personalities being Kazuhiko Amamiya, a cool-headed detective and Shinji Nishizono, a toxic person, which eventually leads this manga into a sci-fi conspiracy thriller.
Later on, it was seen that yoshuke was induced with those two personalities artificially. The sci-fi theme is a great read as it is used along with mystery and thriller.
05. Kaiji (Gambling Apocalypse)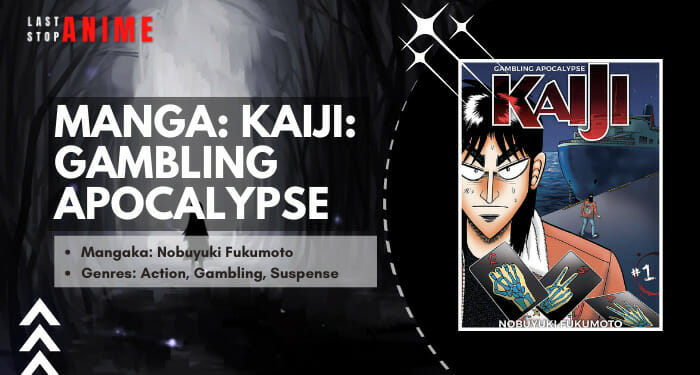 Unlike zombie apocalypse, this manga talks about the dark horrors created by the mafia in the life of the protagonist Kaiji Ito who, after graduating, fails to get a job and is trapped in the vicious life of gambling.
Kaiji is tricked by a con and pressurized by Yuzi Endo, a loan shark entering a gamble.
Afterwards, we see Kaiji's life taking a drastic turn and his world turning upside down when he starts losing his hearing and then his fingers in the fights.
Kaji in itself talks about the dark world of mafia and to what extent it can go, and how insignificant human life is.
It shows that the power so drives the present world, and even though one tries, its impossible for a mediocre to fight against the gangsters.
The writer and illustrator Noboyuki Fukumoto has talked about the vicious cycle of debt and shows how brutal this world is if you are alone and in despair.
There are 6 series of manga, and the first two have been adapted into anime.
A video game named Tobaku Mokushiroku Kaiji is a video game launched on the PlayStation by Kodansha in 2000.
Another game named Gyakkyo Burai Kaiji – Death or Survival was also launched on Nintendo in 2008.
Several other games included slot apocalypse and action games such as kaini – steel beam, Crossing of despair, etc.
04. Hellsing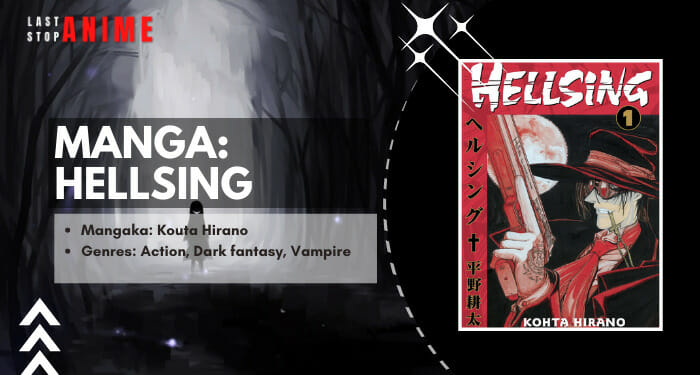 Talking about dark horror manga and not talking about vampires, demons and ghouls would be injustice towards manga. Western folklore is highly influenced by Hellsing, penned down and illustrated by Kouta Hirano.
The story talks about a group of vampires known as Hellsing Group, headed by Sir Integra Fairbrook Wingates Hellsing, son of Abraham Van Hellsing. He is on a mission to destroy the undead and other evils.
The story is filled with powerful vampires and exciting fights. It takes a pace when all of a sudden, vampire attacks are seen throughout England.
Hellsing was inspired by Bram Stoker's Dracula, a fairly western concept of horror being famous in American and English movies and books.
Even though both the series have a resemblance, both are still very different, as Allucard, the vampire king, is seen to be invincible. He can regenerate.
The elements of a mystery thriller are a great addition to the overall theme of the manga. The plot also focuses on World War 2 and how they survived for so long and came back for vengeance.
03. Scumbag Loser
Have you ever seen weird people lurking at you with indecorous gazes which can make any person uncomfortable?
Scumbag Loser, written and illustrated by Yamaguchi and Mikoto, starts with a different kind of dark setting, but fate turns when the main characters in this manga start showing their true colours.
The main character of the manga by the name Murai Masahiko has a strange fetish for smells, and this is why it became quite popular among teens due to its theme.
This manga is a perfect blend of supernatural psychological horror mysteries. Murai boasts about having a girlfriend who suddenly appears in the human form the next day even though she was dead 5 years ago.
He has to protect his own life from a monster in human flesh. However, Murai created his fate by killing the demons.
Originally released in 2011, this manga was a shounen and made us discover one of the different genres of manga.
A very distinct feature of this manga is that the mangaka has given weird and abrupt twists and turns to the storyline. However, the art might disappoint you a bit.
The horror element is present in a very low ratio, taking a potential series towards a weak point. However, if you look into the situation from another perspective, you will realise that Murai was indeed a pervert, and hence this might be taken as a dark truth of the world.
However, it was also seen that Murai still had a hope of getting out alive, which clearly shows how strong the survival instincts of humans are, which makes it perfect to be on this list.
02. Dorohedoro (Mud-Sludge)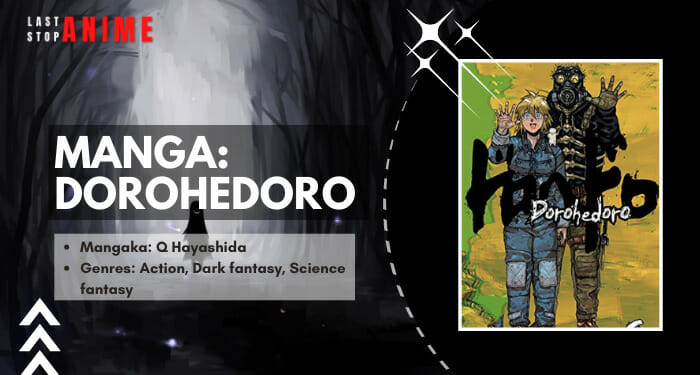 Are you a fan of bizarre futuristic stories and disturbing human experiments? If yes, this post-apocalyptic story written and illustrated by Q Hayashida is a great read.
With about 23 volumes released from 2010-to 2019, which were later adapted into a 12 episode long series, this series talks about brutal humanity and bloodshed.
The story revolves around one such character named Caiman, whose head is converted into that of a reptile and who has left his fate to die in this hell-like world.
But this turns into a boon, as he is protected from the powers of sorcerers and now is on a mission of killing the sorcerers with the hope of finding the one who did this madness to him with the help of an unlikely friendship with Nikaido, his friend.
With the increasing popularity of this, the fan does speculate upon different theories of manga and even anime. One of these theories includes the question about the true identity of Kaiman.
Moreover, Aikawa is seen to be resonating with the iconic look of Kaiman with the gas masks on.
01. Uzumaki (Spiral)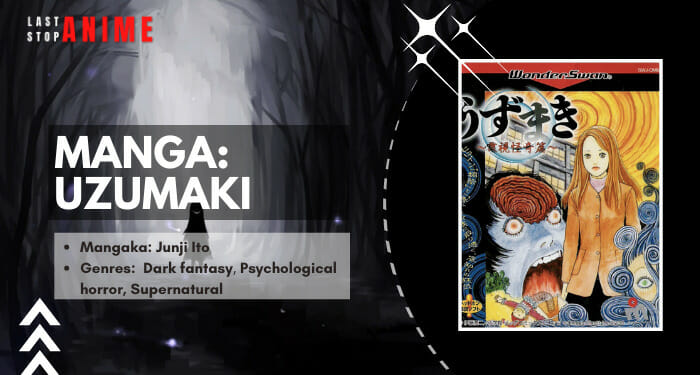 Ever thought about how it feels to be inside a spiral? If not, you must look into this weird masterpiece written and illustrated by Junijo Ito. The manga released during 1998-2000 is a psychological horror set up in the small town of Kurouzu-Cho, where characters start getting obsessed with strange spirals.
The manga was also adapted into two video games by the name of Wonder Swan. Overall, the storyline has a disturbing innocuous nature of generally found spirals, making it incumbent for us to turn the pages.
Uzumaki creates a psychological empathy in the readers' minds because even in this situation, the people were not leaving each other's side and were literally twisted and contorted together.
The characters have depth and never fail to make the readers emotional.
The spiral, seemingly hypnotic, signifies the terrors a human mind binds itself to, and eventually, we succumb to the spiral.
The spirals not only signify a curse put on the village but also signify how similar the lives of humans are, and all of us are stuck in the spirals of delusions and tensions.