Naruto is famous because it has a huge and devoted fan base worldwide and influenced popular culture. In addition, it has a strong and passionate fan base, and the series has sparked a ton of spin-off manga, anime, and other media.
Naruto is a Japanese manga series written and illustrated by Masashi Kishimoto. It was serialized in Shueisha's Weekly Shōnen Jump magazine from 1999 to 2014 and collected in 74 tankōbon volumes.
Naruto Uzumaki, a young ninja, wants admiration from his friends and aspires to become the Hokage, or village leader.
Along the way, he makes friends and enemies and becomes involved in conflicts threatening the world he knows.
The original Naruto series ended in 2007 and was followed by a sequel called Naruto: Shippuden, which aired from 2007 to 2017.
The series has been adapted into multiple anime series, films, and video games. Naruto has been a blockbuster series since its debut, thanks to its mixture of explosive action and clever use of ninja powers.
Its characters and topics have struck a chord with many fans, making it beloved and iconic.
The series delves deeper into issues such as the aftereffects of war, the cycle of hatred, and the value of forgiveness.
The mixture of ninja skills and thrilling action scenes, along with other components, have made Naruto a long-lasting success.
This has resulted in its immense popularity. It has also inspired other manga works. All these factors have contributed to Naruto's standing as an iconic manga.
During its 17-year run, many scenes from the manga were so memorable that they formed their own fan base.
Today we are listing some of the most memorable Naruto manga panels of all time.
This list will have some spoilers, so if you still need to finish Naruto, please watch out for spoilers.
List Of Best Manga Panels In Naruto
1. Attack of the Kyuubi!! ( The Nine Tails Attack!!)
Manga Volume: 53
Manga Chapter: 501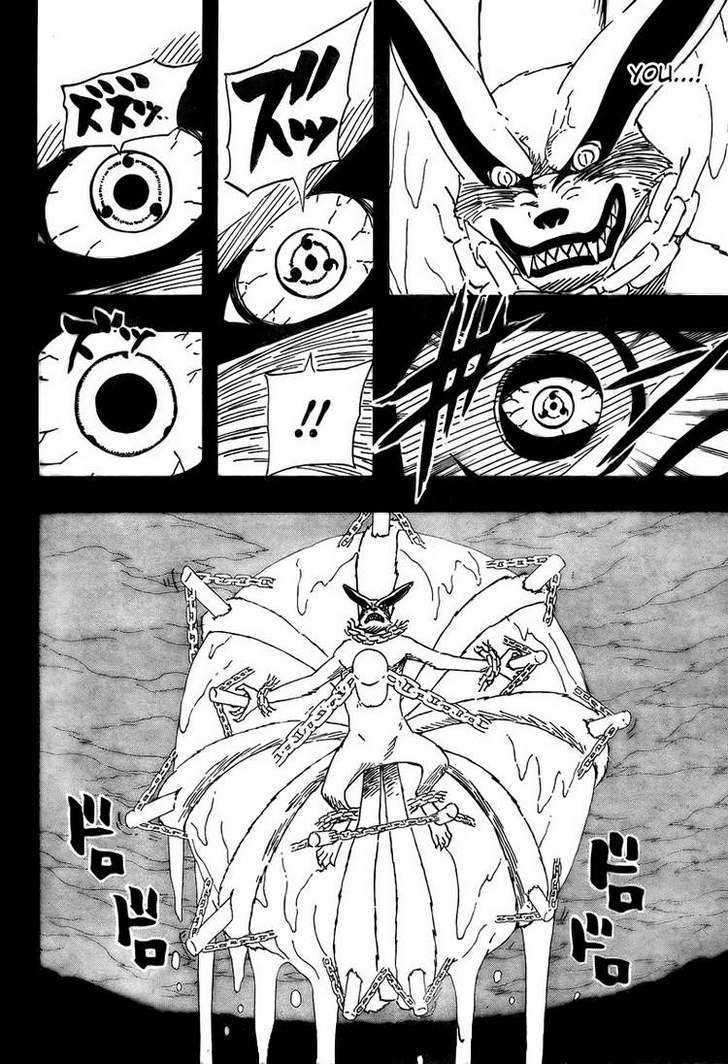 One of the most popular Naruto manga panels is the Kyuubi attack. In this scene, the Kyuubi attacked the village of Konoha, and Naruto's parents died trying to protect him.
This event profoundly affected Naruto and shaped his character for the rest of the series.
The nine-tailed fox went on a rampage, nearly destroying the entire village and killing many people in the process. In the end, he was finally sealed back in the body of Naruto.
The Battle of the Nine Tails is an important event in the Naruto series and serves as a backdrop for many of the story's themes and conflicts.
2. Naruto Defeats Pain
Manga Volume: 48
Manga Chapter: 447
The panel where Naruto finally defeats the villain known as Pain occurs during the "Invasion of Pain" arc.
After Pain and his minions attack the village of Konoha, Naruto sets out to defeat them and end the violence.
Naruto unleashes the full power of his Nine-Tails chakra and transforms into his "Nine-Tails Chakra Mode" form.
In this form, Naruto is able to withstand Pain's strongest attacks and deliver a powerful punch that destroys Pain's physical body.
Pain tells him that he was once a kind-hearted person who suffered a great tragedy and was driven to seek revenge.
However, after his defeat in battle, he confesses to Naruto and hopes that his defeat will help create a world where people can understand and forgive one another rather than seek revenge.
Naruto is moved by Pain's words and decides to spare his life, believing that he can change and become a better person.
After the battle, Naruto and the others return to the village to rebuild and heal.
3. Hinata's Confession To Naruto
Manga Volume: 47
Manga Chapter: 437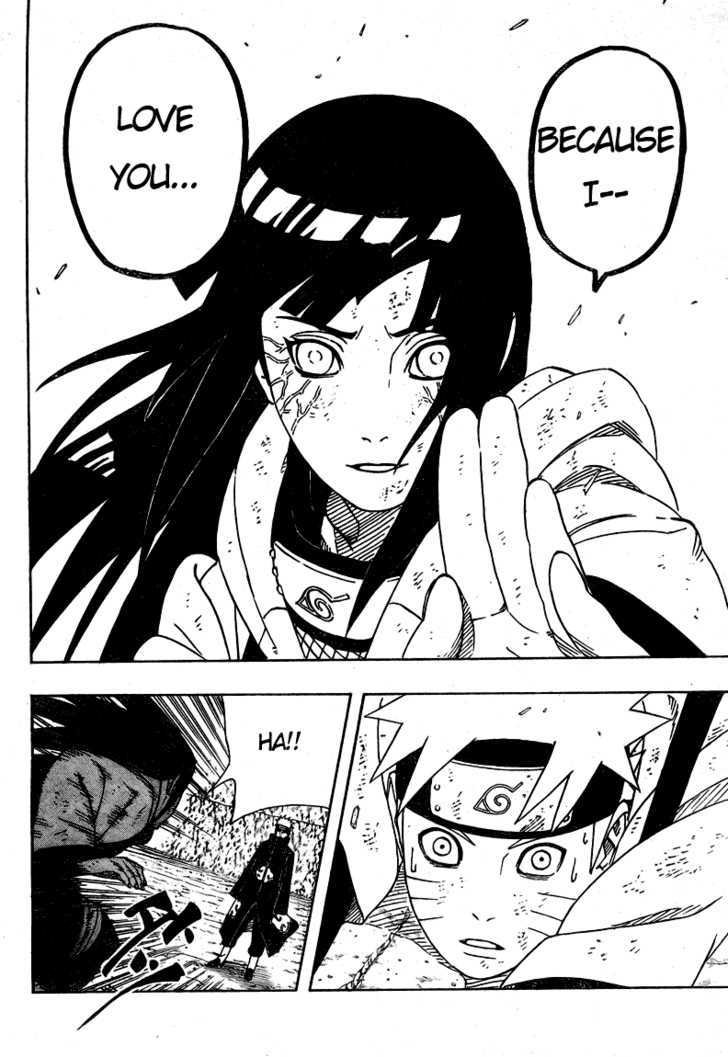 This manga panel made Hinata a favorite among the cast. Hinata confesses to Naruto after he has been gravely injured in battle and is on the verge of death.
She tells him that she has always admired his determination and perseverance and loves him for never giving up on his dreams.
Hinata confessing her feelings to Naruto marks the start of their romantic relationship and resolves a long-running subplot in the story.
It is also one of the most popular manga panels, as the audience witnesses Hinata admitting her feelings for the first time.
Fans have added this panel to their favorites. We are pretty sure you might add this to your favorite list too.
4. Itachi Gets Reanimated
Manga Volume: 61
Manga Chapter: 578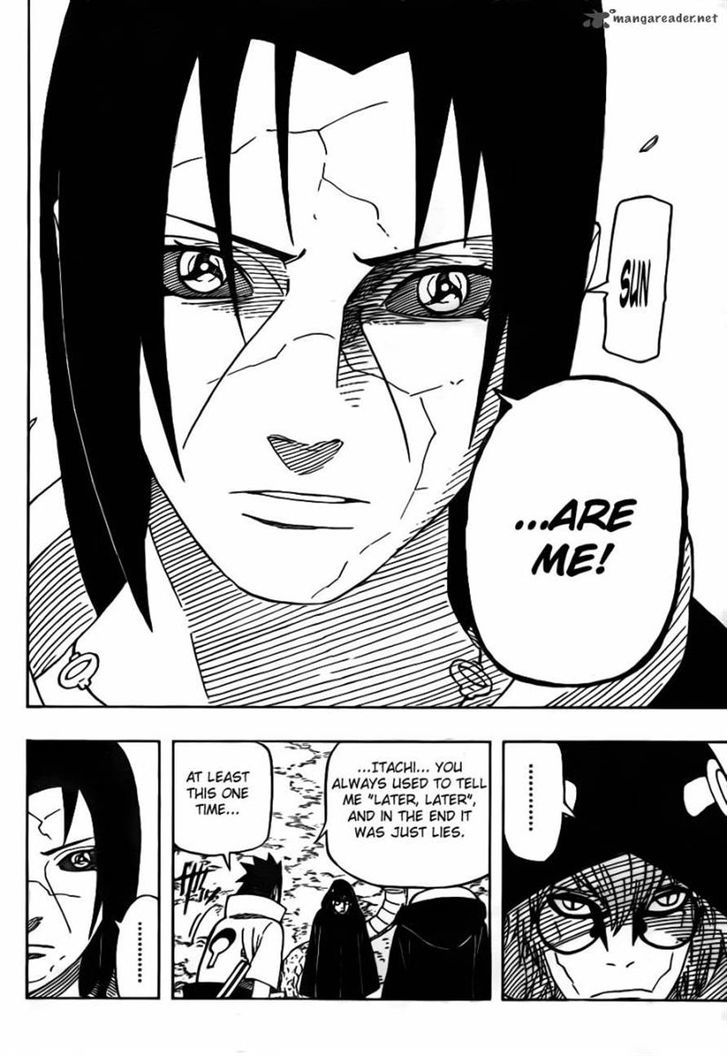 Reanimation is a forbidden technique that brings back the dead using body parts and a living person's life force. It is considered a forbidden technique in the manga series.
If someone is brought back to life through this technique, they will become a "zombie-like" being, with their body and actions controlled by the person using the technique.
Itachi Uchiha was a highly skilled and powerful ninja known for his intelligence, calm demeanor, and strategic mind.
During the Fourth Great Ninja War, Itachi faced Kabuto, who attempted to bring him back to life as a weapon.
Even after being controlled by Kabuto, Itachi overcame it and showed his strength, proving that he was still a strong opponent, even in death.
He lectured Kabuto on the weakness of the reanimation technique, explaining that the only thing that could overcome it was himself. viThis manga panel shows how cool Itachi is.
5. Naruto Meets His Mother
Manga Volume: 53
Manga Chapter: 498
In the Naruto manga, one of the most heartwarming moments is when Naruto finally gets the chance to meet his parents.
Growing up as an orphan, Naruto has never had the opportunity to see his parents and has always longed to know more about them.
When he finally meets his mother, it is an emotional moment that deeply affects Naruto and helps him understand his own identity and place in the world.
The panel is an emotional moment for Naruto and Kushina, as it allows them to finally meet and form a connection as mother and son.
She tells Naruto about his past and how proud she is of him. Naruto is able to ask her questions and learn more about his mother and their shared heritage.
It helps to further highlight the themes of family, belonging, and self-discovery in the story, leaving a lasting impact on the reader.
6. Rock Lee unleashes his full power against Gara in an epic showdown!
Manga Volume: 85
Manga Chapter: 10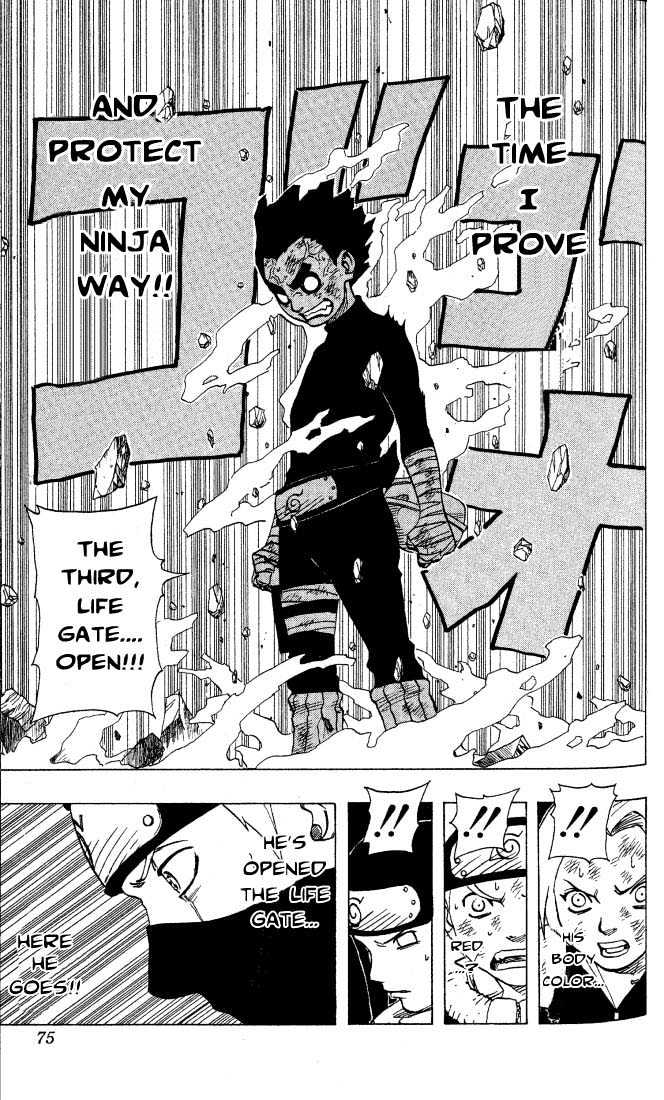 They both were locked in an intense battle during the Chunin exams. Rock Lee was looking dire, but he refused to give up.
He drew upon all of his inner strength and let out a fierce battle cry. His muscles tensed and bulged as he unleashed all of his power, determined to emerge victorious.
Gara, taken aback by Rock Lee's sudden burst of strength, struggled to keep up. But it was no use—Rock Lee was simply too powerful.
7. Itachi and Sasuke Final Goodbye
Manga Volume: 62
Manga Chapter: 590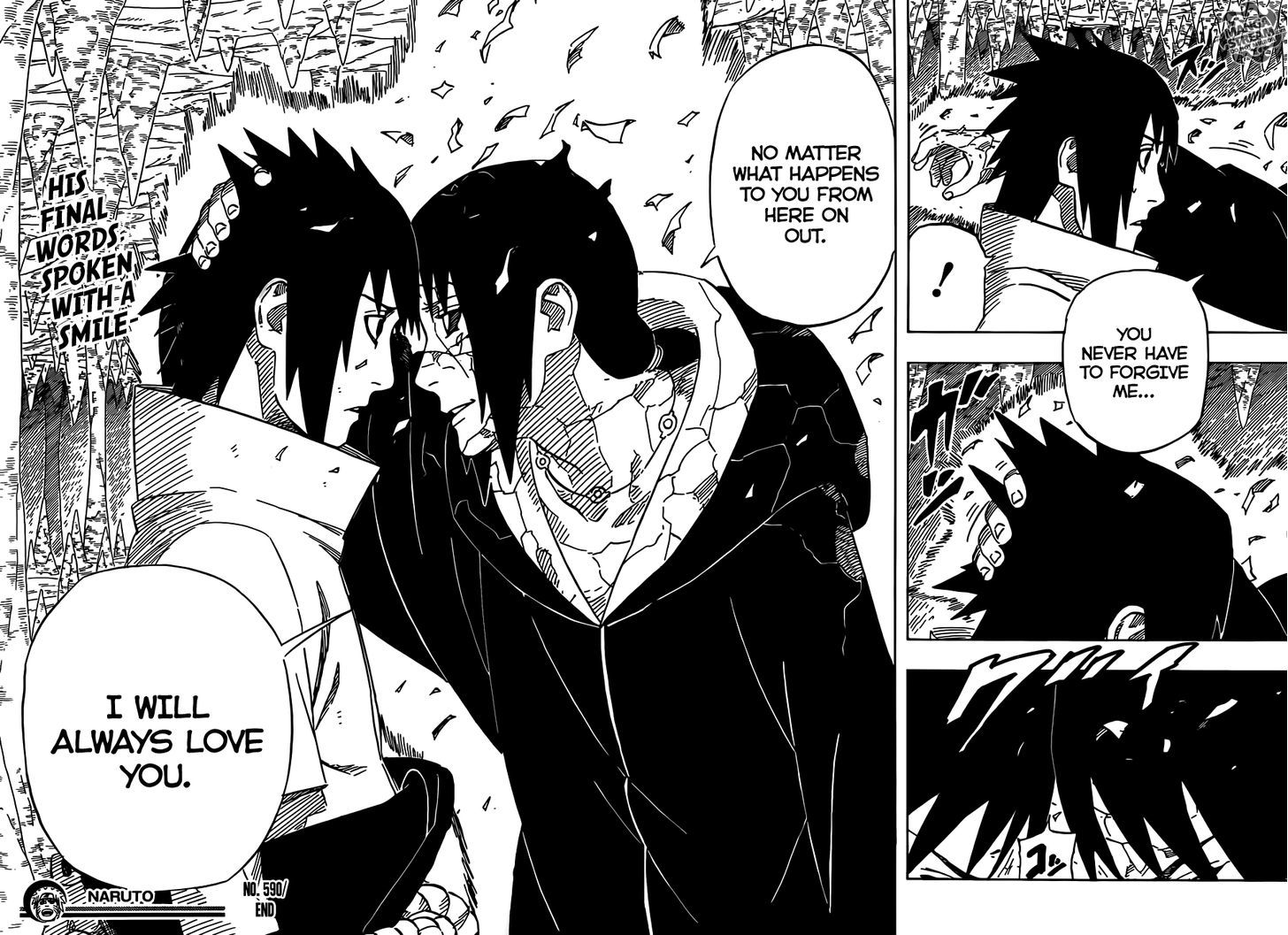 During the Great War, Itachi is brought back to life and finally reunites with his brother, Sasuke.
The meeting is filled with sadness as Itachi says goodbye to Sasuke and addresses the regret that Sasuke has felt for killing him.
Itachi comforts Sasuke and urges him to make his own decisions rather than follow in Itachi's footsteps.
The panel is extremely emotional for both characters and is one of the most moving scenes in the Naruto manga.
8. Sasuke falls victim to Itachi's powerful genjutsu!
Manga Volume: 42
Manga Chapter: 384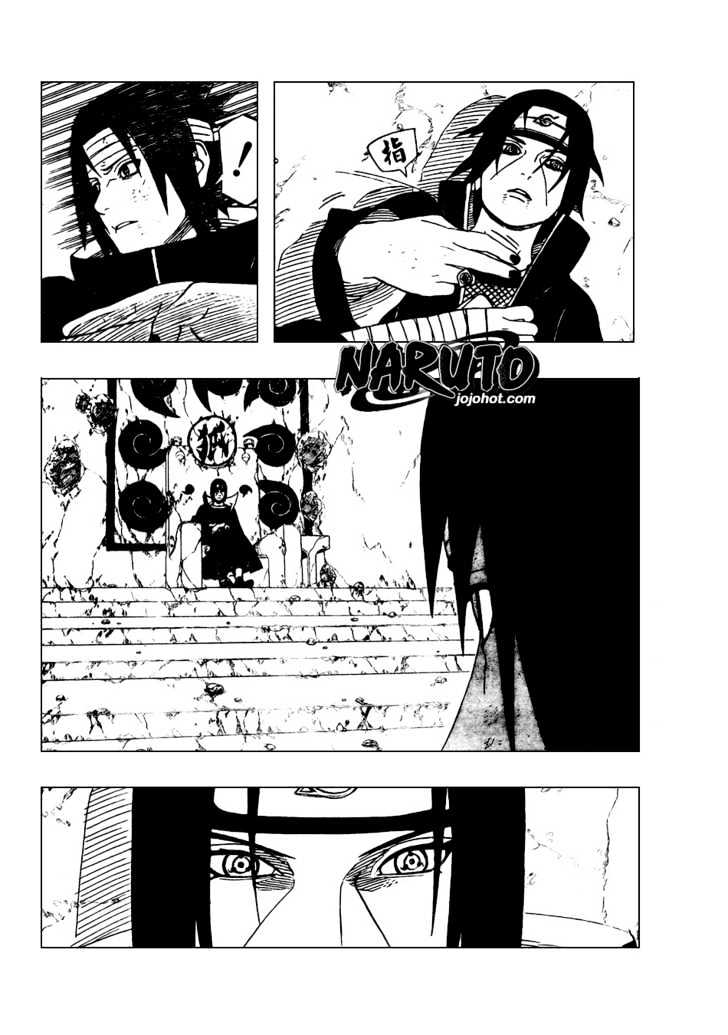 One of the most iconic and memorable moments in the "Naruto" manga occurs when Sasuke and Itachi engage in their final battle.
In this manga panel, we see Sasuke launching a fierce attack on Itachi, stabbing him with his sword in what appears to be a decisive blow.
But in reality, Itachi used his genjutsu abilities to create an illusion of the attack.
As Sasuke stands confused and bewildered, he sees Itachi sitting calmly on a chair, unharmed and relaxed.
With a final, mighty blow, he knocked Gara to the ground and emerged victorious.
9. Obito as Tobi
Manga Volume: 63
Manga Chapter: 605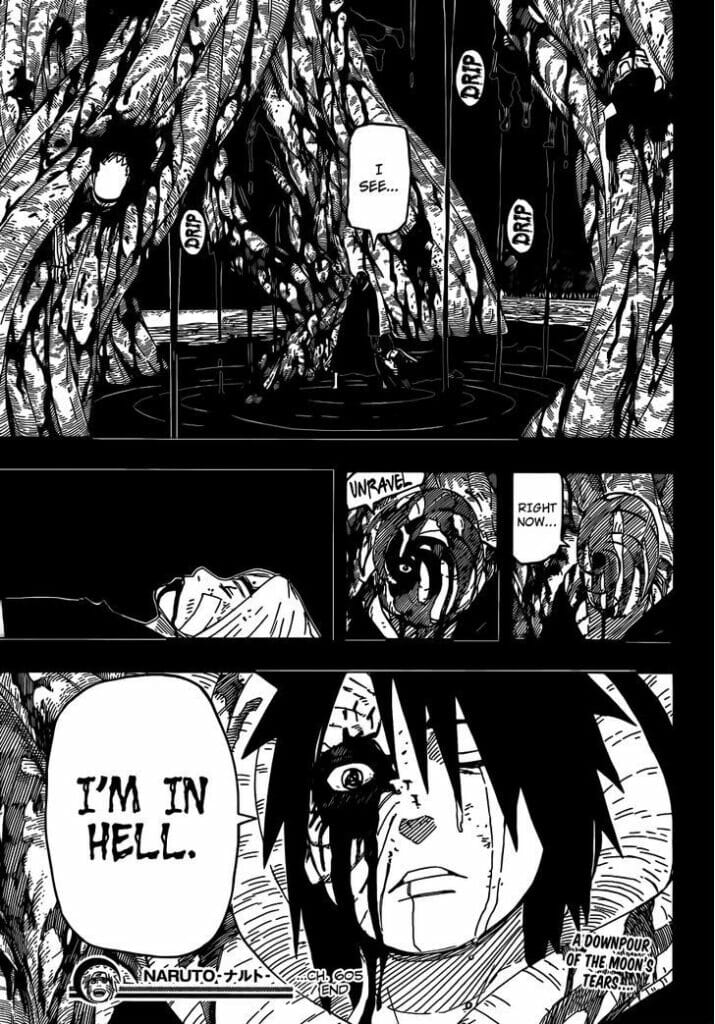 In this manga panel, Obito experiences a devastating moment in his life. He lost his physical body in an accident and witnessed his closest friend's death.
As a result of these events, Obito is considered dead by the world and is reborn as Tobi, a character-driven by a desire for revenge.
This panel is considered one of the darkest and most depressing in the manga.
The moment Tobi says, "I get it," "I'm in hell," brought some fans to tears.
10. Naruto goes berserk with the full power of the Eight-Tails in an epic transformation!
Manga Volume: 47
Manga Chapter: 439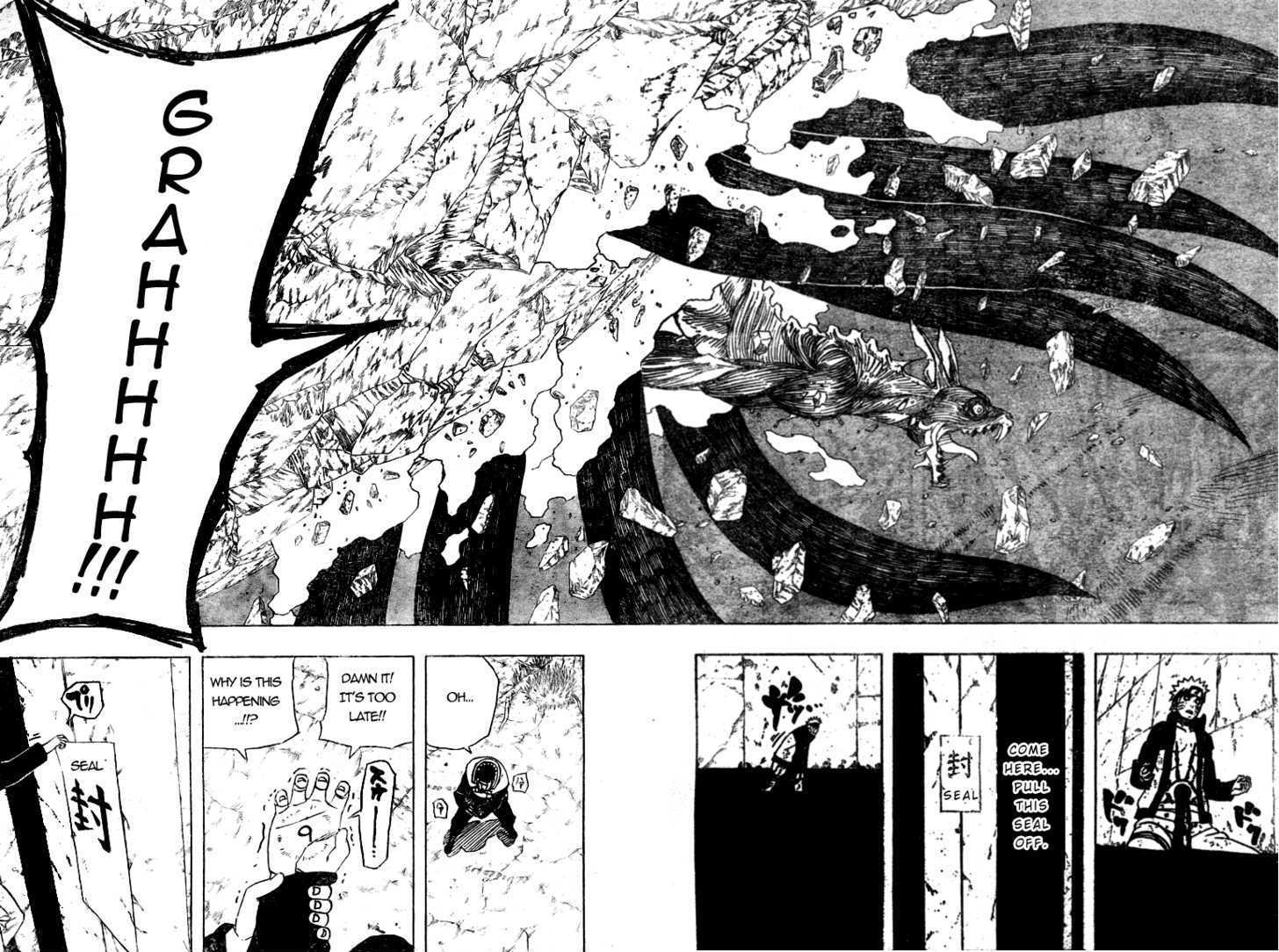 Naruto reaches new heights of power as he transforms into the Eight-Tails, bringing him closer than ever to becoming the legendary Nine-Tailed Fox.
Naruto's rage causes him to lose control, resulting in a destructive rampage.
In this epic moment, Naruto's rage takes over, and he goes on a rampage, showcasing the full extent of his strength.
This classic scene from the Naruto manga has stayed with fans and secured its position in popular culture.
11. The Sharingan eyes of Obito and Kakashi
Manga Volume: 63
Manga Chapter: 605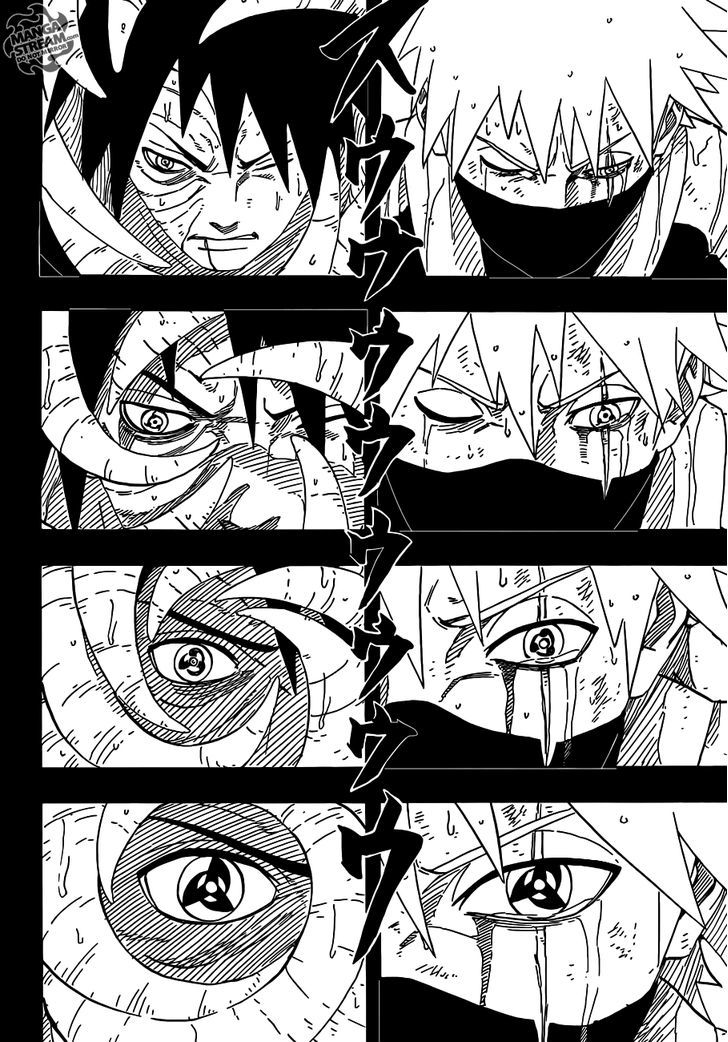 Obito and Kakashi are ready to unleash their full potential in their fight against each other now that their Sharingan has been activated.
The Sharingan allows them to see through their opponent's moves and predict their next assault, giving them a tremendous advantage in battle.
In this panel, we see the intense determination in both characters' eyes as they prepare to engage in combat.
Despite their rocky relationship, they are united by their shared love for their village and their determination to protect it at all costs.
As they come face to face, their Sharingan glowing brightly, we see the full extent of their power and their will to win.
As they face off against each other, Obito and Kakashi are not just fighting for personal gain or to prove who is the stronger ninja.
They are also fighting to honor the memory of their mentor and to live up to the expectations set for them by Minato.
12. Naruto vows to fulfill his promise to Sakura, no matter what!
Manga Volume: 21
Manga Chapter: 183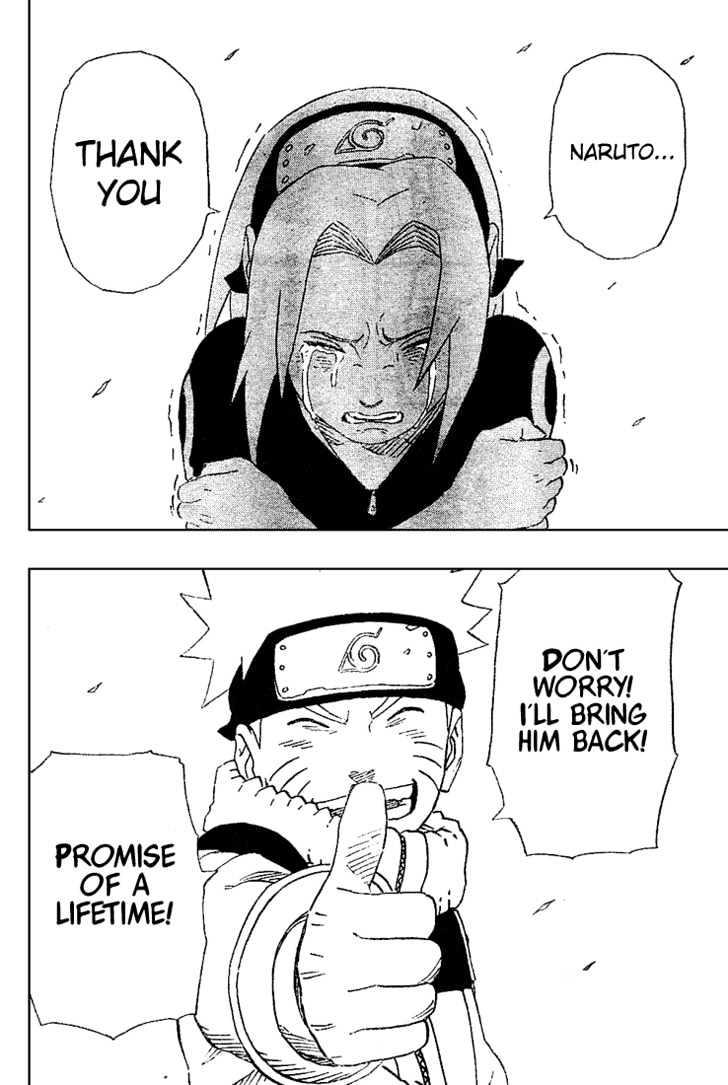 One of the most impactful moments in the "Naruto" manga and anime series occurs when Naruto makes a promise to Sakura.
He vows to bring back her beloved teammate, Sasuke, who has left the hidden leaf village to pursue his own path.
This panel is significant because it marks a turning point in the story, as Naruto and Sakura's relationship shifts from a simple friendship to a more complex bond.
This promise is a defining moment for Naruto, who has always struggled to prove his worth and be recognized as a powerful ninja.
It shows that he is willing to put his own dreams and desires aside to help his friends.
13. Kaguya's tears flow as she watches Naruto and Sasuke
Manga Volume: 71
Manga Chapter: 681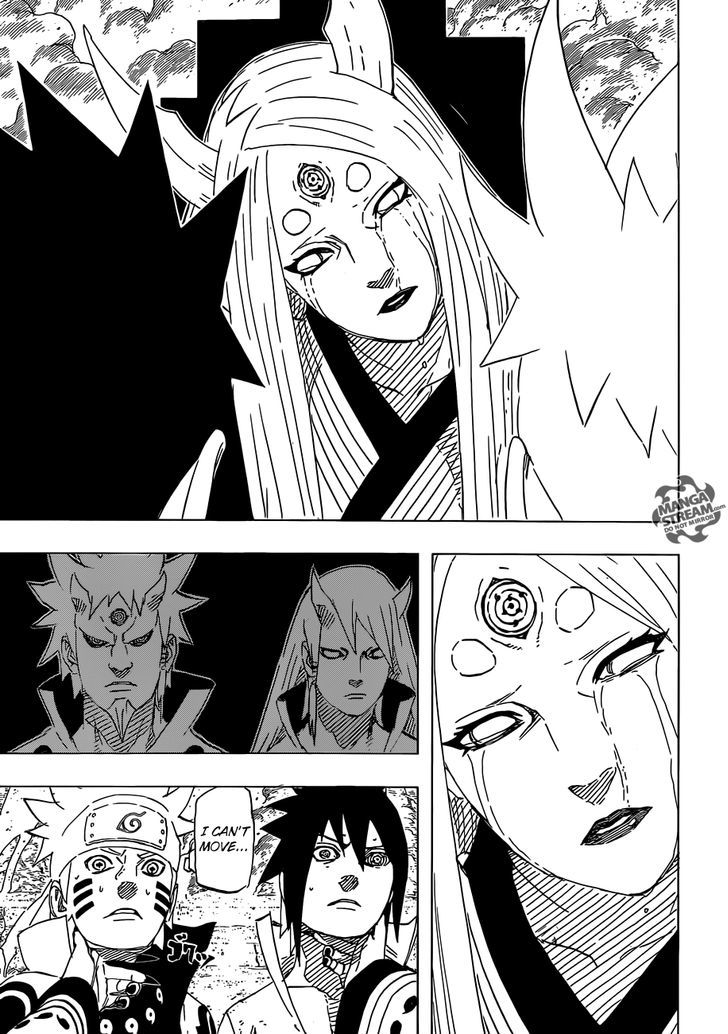 In the final stages of the Great Ninja War, Naruto and Sasuke team up to face off against Kaguya.
The powerful and mysterious villain has been the source of conflict and turmoil in the ninja world.
As they come face to face with her, they are surprised to see tears in her eyes, as Kaguya sees the images of her sons in them and is overcome with emotion.
Despite being the final villain and wielding immense power, Kaguya cannot hide her love for and attachment to Naruto and Sasuke, who have become like sons to her.
14. The Ultimate Showdown: All Hokage Reanimated
Manga Volume: 13
Manga Chapter: 117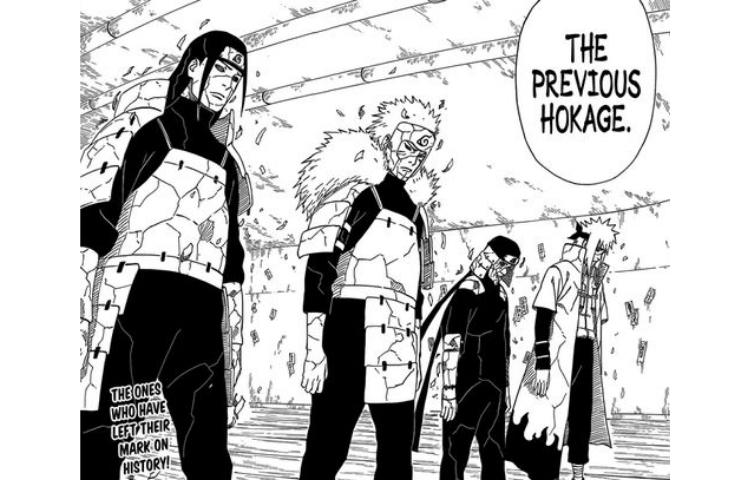 The Great Ninja War reached a boiling point when Orochimaru reanimated the four Hokage, the most powerful ninjas in history.
Their presence sent shockwaves through the room as every ninja present struggled to comprehend the sheer dominance on display.
The tension was palpable as the Hokage stood tall, ready to fight. It was a moment that will go down in history as one of the most epic and unforgettable in the world of Naruto.
15. The Ultimate Duo: Naruto and Kurama Join Forces!
Manga Volume: 60
Manga Chapter: 570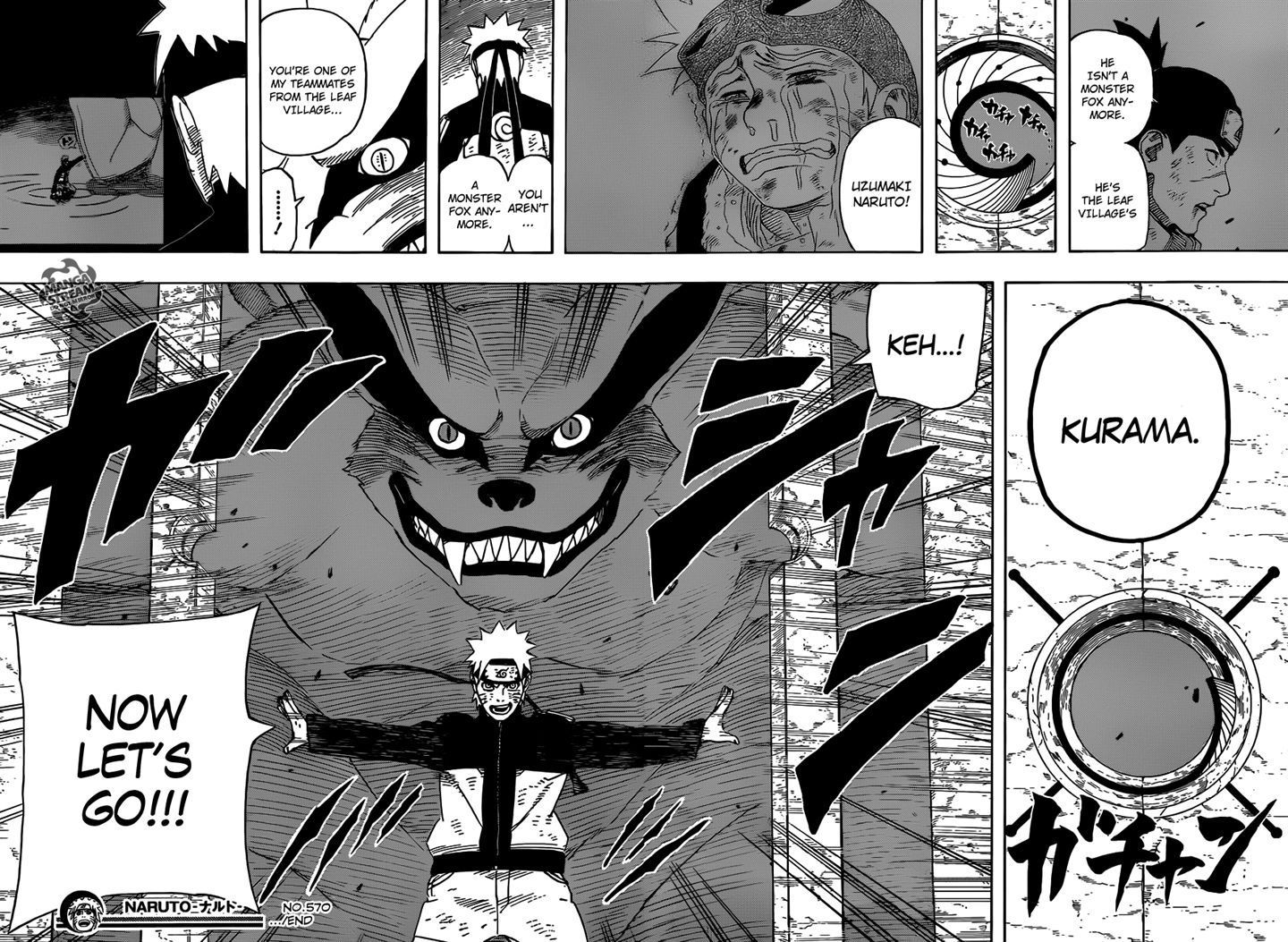 The moment Naruto fans had been waiting for since the beginning of the series had finally arrived: Naruto and Kurama had teamed up.
As the story reaches its climax, they finally put their differences aside and join forces.
The result is electrifying, as a new and formidable force is unleashed on the Shinobi world.
It's a moment that fans will never forget and a partnership that will go down in history.
Manga Volume: 1
Manga Chapter:3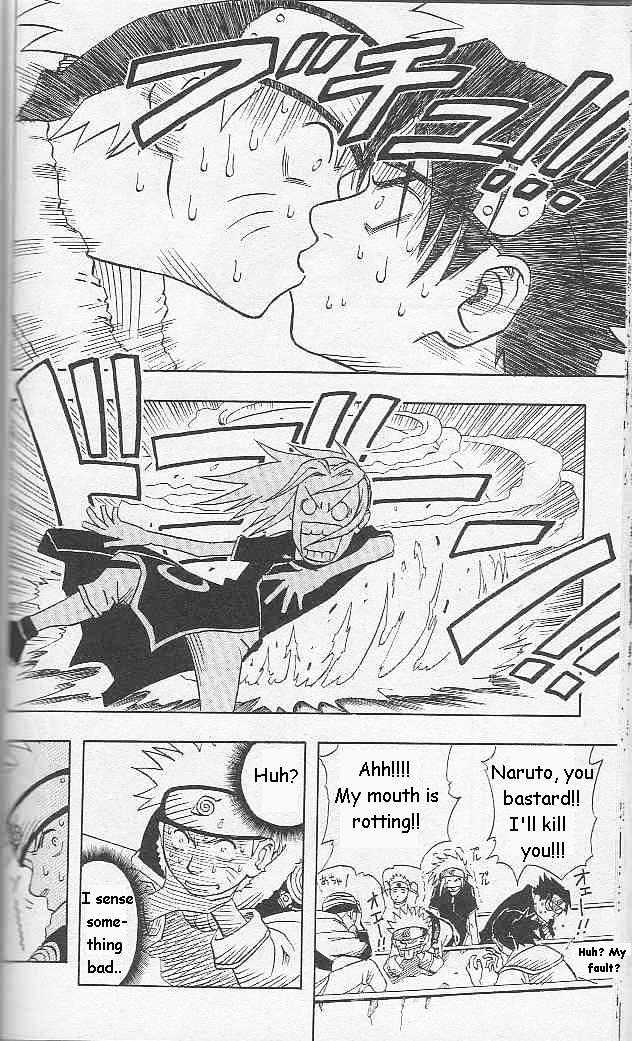 In one of the earliest and most amusing scenes in the Naruto manga, Naruto and Sasuke accidentally end up kissing each other.
It all started when an incident in class caused the two to accidentally smooch, much to the surprise and disgust of both boys.
The scene was humorous and lighthearted, and it remains a memorable moment for fans of the series. It is one of those panels that's hard to get over.
17. Naruto Confronts His Inner Demons
Manga Volume: 53
Manga Chapter: 495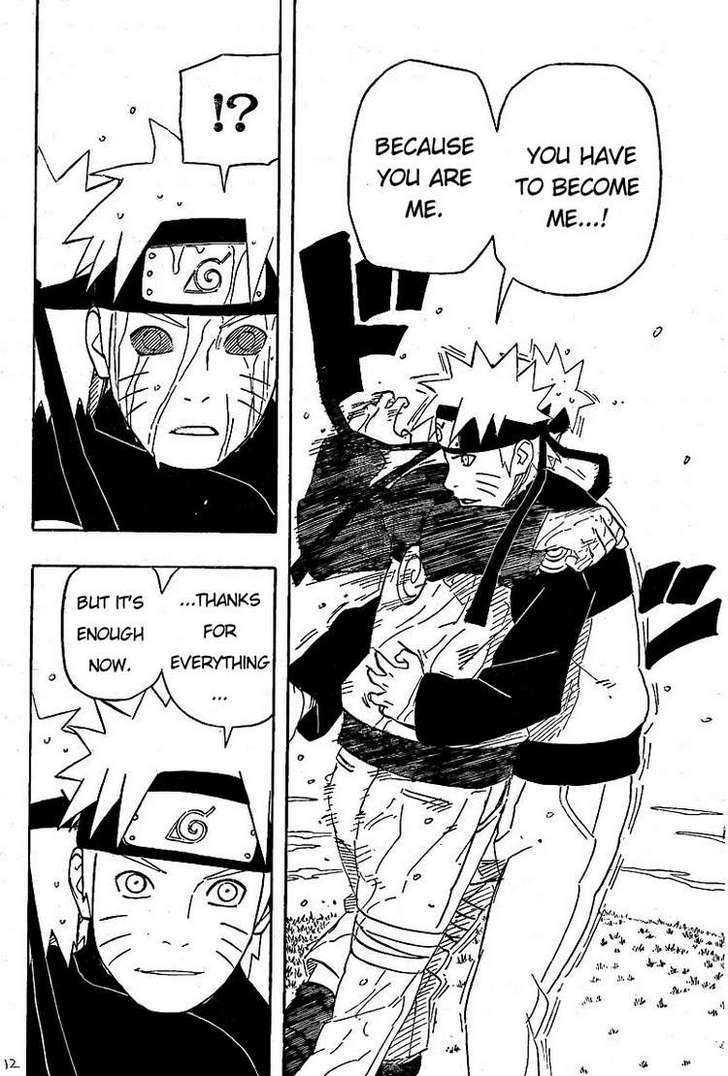 When fans saw the dark Naruto, all hell broke loose. To fully harness the power of the Kyuubi, Naruto must confront the darkness within himself.
He faces all the heartache, pain, and anger from his past and decides to let go of it all to find peace and light.
Naruto faces a tough journey as he struggles to conquer his inner demons and become stronger than before.
18. Invasion of Pain
Manga Volume: 46
Manga Chapter: 429
The attack on the Hidden Leaf Village by Akatsuki's Pain is a defining moment in the Naruto manga.
In the iconic panel, we see an aerial view of the village as it is about to be destroyed.
This event significantly impacts the village and its people, bringing them to their knees and forever altering the course of their history.
19. The Death of Jiraiya
Manga Volume: 42
Manga Chapter: 383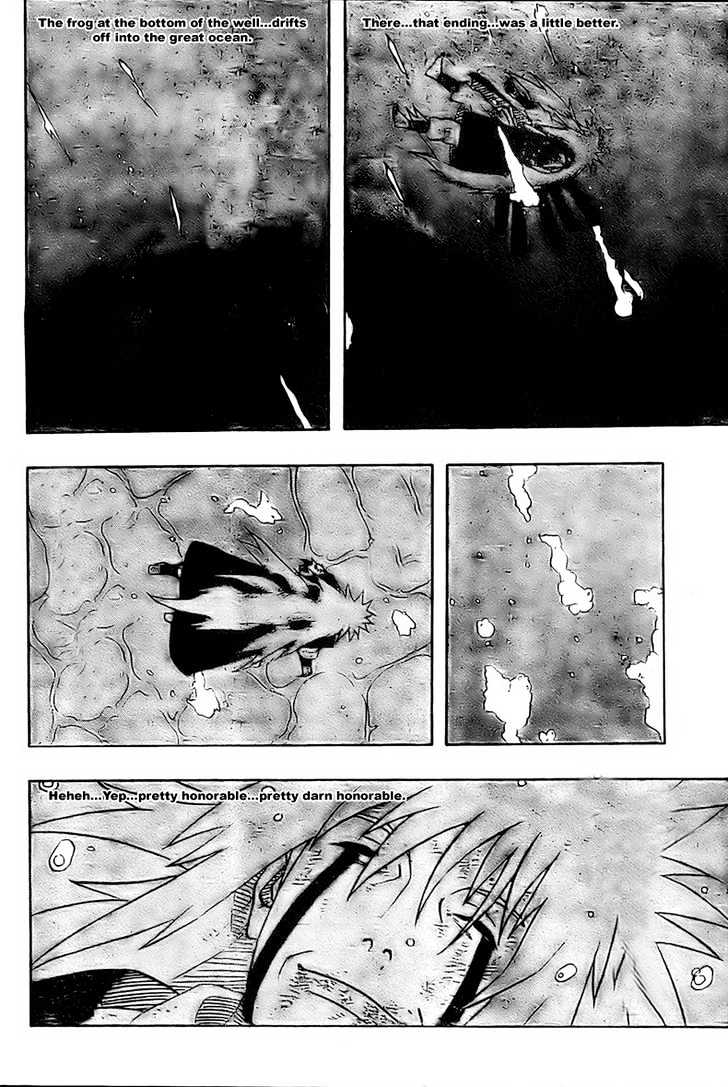 Jiraiya is killed by the main antagonist, Pain, while he is trying to gather information about Pain's true identity and motives.
Jiraiya's death is a significant moment in the series, as he is one of the main characters and a mentor to the protagonist, Naruto Uzumaki.