Nowadays, where the k-pop wave is steadily growing and captivating the world's eyes, webtoon is also gaining popularity among youth. Webtoons originated in South Korea and currently has the world's most extensive collection of digital comics.
These are also referred to as "Korean manhwa." Like Manga, Manhwa also refers to comic books, which are created in South Korea.
Any webtoon getting a k-drama adaptation sounds normal. It happened with highly popular webtoons such as True Beauty and Sweet Home, which garnered a great audience.
However, a webtoon is getting an anime adaptation…Ehh?….sound strange, right? It might not be now, but it caused many fans' noses to turn up earlier. Despite all that, it happened, fortunately. In 2016 the first-ever webtoon got animated and received a lot of attention.
The Japanese anime and manga industry has its fair share of fans. Still, the anime adaptation of webtoons has brought in a whole new audience.
We have listed down some webtoons that have got an anime adaptation. Therefore without further ado, let's get started.
List of Anime That Are Webtoons
1. Tower Of God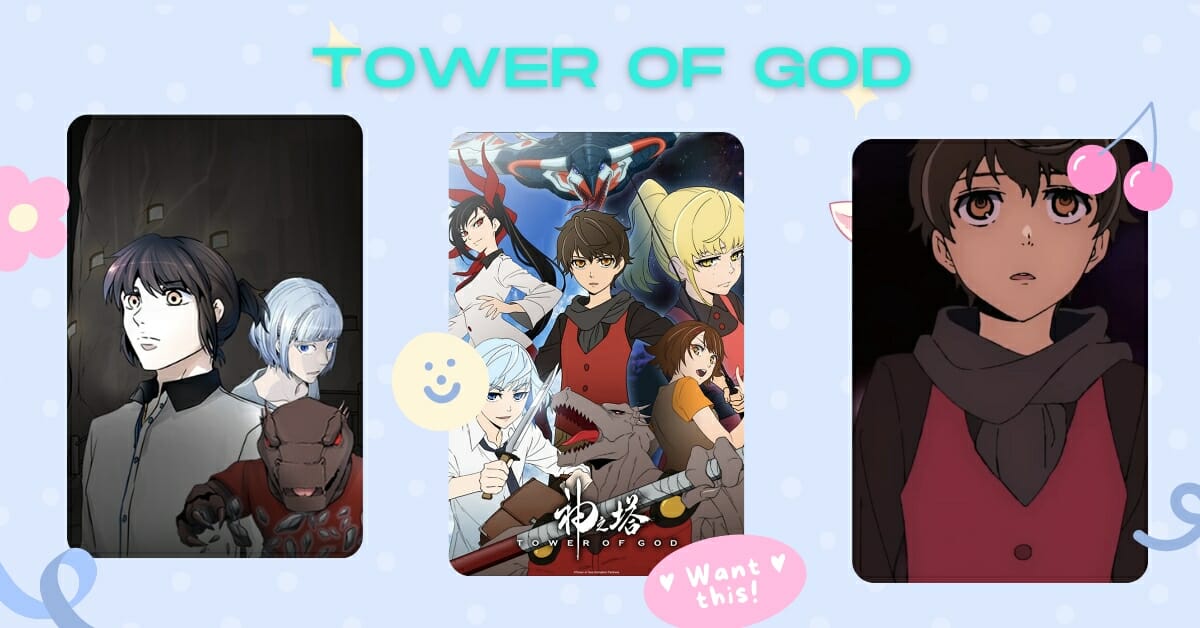 Genres: Action, Drama, Adventure, Fantasy, Mystery
Where to Watch: Crunchyroll, Netflix, Amazon Prime Video
No. of Episodes: 13
No. of Seasons: Season 2 announced (Not Aired Yet)
Studio: Telecom Animation Film
MAL Rating: 7.56
Tower of God is another brilliant anime with a deeply intriguing plot. It involves mystery, action, and distinct characters, making it worth watching.
Synopsis: The story follows Bam, a young boy who has lived alone for his entire life. However, a flicker of light shines after meeting Rachel, his childhood friend who is quite anxious to climb a tower.
The stated tower is not an ordinary location; it is full of mystery, adventure, and eerie creatures.
It calls forth individuals and satisfies the desires who reach the top, which is undoubtedly not an easy feat.
Despite all that, Rachel leaves Bam behind to climb it. Eventually, Bam also follows to meet Rachel again.
2. ReLIFE
Genres: Drama, Comedy, Romance, Slice of Life
Where to Watch: Crunchyroll, Netflix, Funimation, Amazon Prime Video
No. of Episodes: 13
No. of Seasons: Season 1 + 2 Specials
Studio: TMS Entertainment
MAL Rating: 7.98
ReLIFE is the first web manga to get an anime adaptation in 2016. It has wonderful animation and endearing characters that keep you hooked throughout the series.
Synopsis: ReLIFE narrates the life of a hopeless 27-year-old, Arata Kaizaki, who is dealing with the hardships of adulthood. Until he meets a man named Ryou Yoake, a worker at ReLIFE Research Institute.
Ryou offers Arata a life-changing mysterious pill that sends him 10 years in the past.
Currently, Arata is living a 17-year-old high school life. Since he is not aware of new school policies, it brings more struggle in his life.
Moreover, to add to his annoyance, Ryou keeps following him without any break.
ReLIFE focuses on providing a new life to Arata and not repeating his past mistakes that have led to his miserable life at present.
3. Noblesse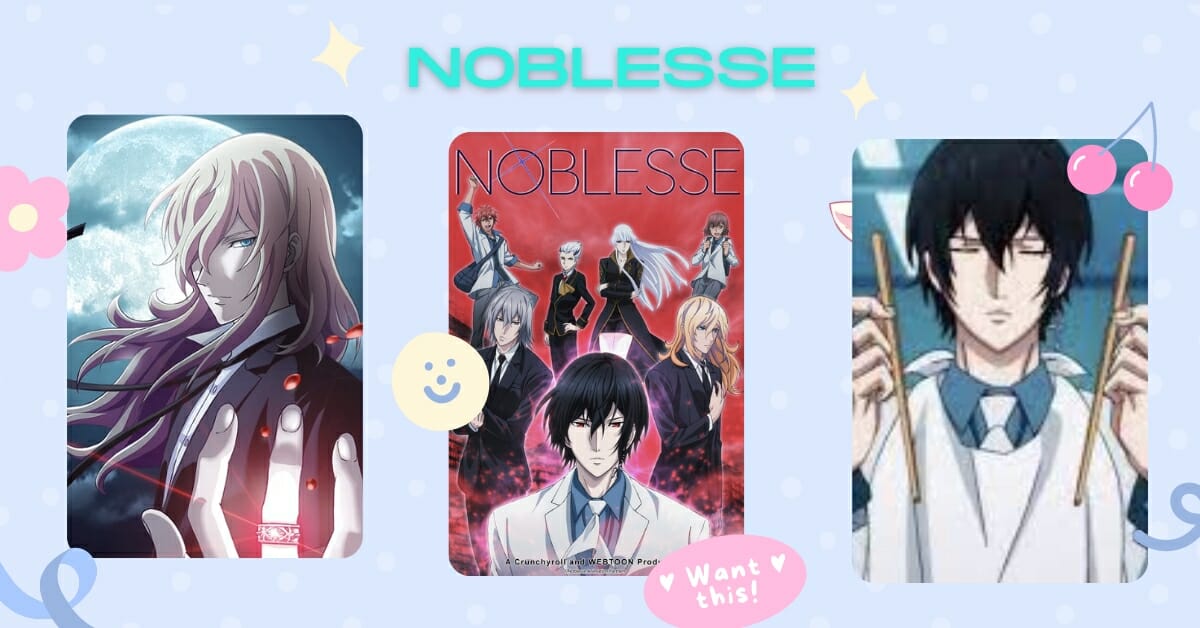 Genres: Action, Supernatural
Where to Watch: Crunchyroll, Netflix
No. of Episodes: 13
No. of Seasons: Season 1 only
Studio: Production I.G
MAL Rating: 6.88
Noblesse's main center of attraction is its eye-catching visuals and highly interesting storyline since the first episode. It is one of the Crunchyroll originals anime adaptations.
Synopsis: The story centers on the "Noblesse," who are strong beings existing amongst men. A noblesse Raizel is posed as a school student by his servant Frankenstein to protect him from a mysterious organization- Union.
During Raizel's rescue operation, M-21, a union agent tasked with finding the noblesse, joins the school as a security guard.
Later on, he also turns on the organization and follows Frankenstein.
Moreover, certain circumstances led the matter to turn more complex. When two enigmatic, powerful characters enter the school to investigate noblesse.
Watching how Raizel strives to blend in a while guarding his dear ones is fascinating.
4. Recovery of an MMO Junkie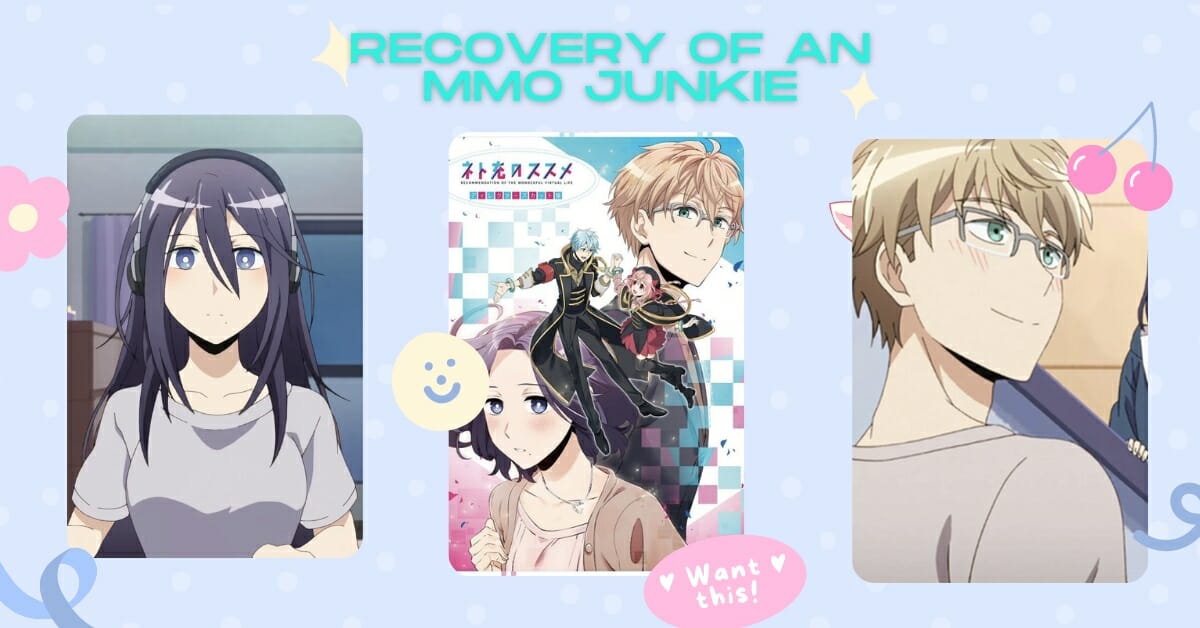 Genres: Comedy, Romance
Where to Watch: Crunchyroll, Amazon Prime Video
No. of Episodes: 10
No. of Seasons: Season 1 + 1 Special
Studio: Signal.MD
MAL Rating: 7.36
Recovery of an MMO Junkie is the anime adaptation of Web Manga written and illustrated by Rin Kokuyou. It was serialized in Comico and adapted into anime in 2017.
It is the second web manga that got an anime adaptation after ReLIFE.
Recovery of an MMO Junkie has an eye-pleasing art style and a good storyline. If you find the MMORPG theme fascinating, it is a must-watch anime.
Synopsis: It follows Moriko Morioka, a 30-year-old woman who has recently quit her job and is contentedly unemployed. Now, she focuses on online games 24/7, creating herself as a charming hero character, "Hayashi."
In the MMO Fruits de Mer, she meets a healer, Lily, and they instantly become close friends.
However, as she starts engrossing herself in her "new" life, she encounters Yuuta Sakurai at the convenience store one night.
The fact that this encounter is merely the beginning since destiny has bigger plans for them.
5. The God of High School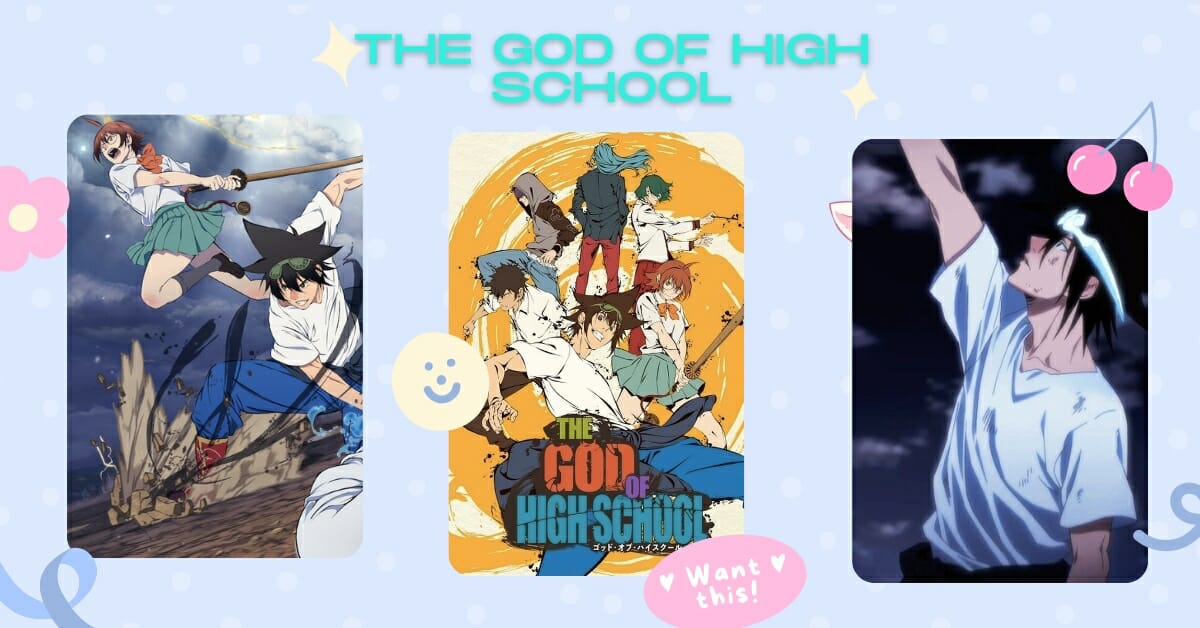 Genres: Action, Sci-fi, Supernatural, Fantasy
Where to Watch: Crunchyroll, Netflix
No. of Episodes: 13
No. of Seasons: Season 1 only
Studio: MAPPA
MAL Rating: 7.07
The God of High School also comes under Crunchyroll originals. It is an anime adaptation of Korean manhwa written and illustrated by Park Yong-Je.
It has action-packed fighting moments throughout the series.
Synopsis: The premise follows "The God of High School" tournament in which all the Korean high school students will participate.
Of them, only one will be the winner, whose wishes will be fulfilled as a reward. There are no rules to follow, and any means and tactics are acceptable in the quest for triumph.
Jin Mo-Ri, a taekwondo expert, is invited along with other great fighters specializing in martial arts. Mo-Ri befriends Han Dae-Wi, a Karate specialist, and Yu Mi-Ra, a swordswoman.
Furthermore, Mo-Ri and his friends come to terms with what it means to become the God of high school.
Note: Before moving forward, we would like to mention that the following anime adaptations have not aired yet. However, these are heavily hyped webtoons that are finally getting adapted, and not including them on the list would be a crime, so here we go.
6. Solo Leveling
Genres: Action, Adventure, Fantasy
Where to Watch: Crunchyroll (Not Available yet)
Author: Chugong (Story), Jang Sung-rak (Art)
Status: Not Aired Yet
MAL Rating: 8.70 (Manhwa)
Solo Leveling is a popular webtoon written by Chugong and illustrated by Sung-rak.
Following the announcement of its getting an anime adaptation, it brought a wave of happiness and excitement among fans.
Currently, Solo Leveling is scheduled to be released in 2023.
Synopsis: Solo Leveling focuses on a fantasy world with a plethora of magic and beasts. In the beginning, a mysterious gate emerged in the real world that united both realms ten years back.
Moreover, To fight those monsters, some individuals are granted superpowers and called "hunters." Sung Jin-Woo, a 20-year-old known as the weakest hunter of all, kills monsters in low-rank Gates.
However, his dismal life flips upside down when a certain mission goes terribly, and he wakes up in a hospital bed. He is offered to either attend a training program or receive a penalty.
Soon, Jin-Woo realizes this is a chance to become one of the world's strongest hunters.
7. Lookism
Genres: Action, Comedy, Drama, Supernatural
Where to Watch: Netflix (Not Available Yet)
Author: Park Tae-Jun (Story & Art)
Status: Not Aired Yet
MAL Rating: 7.91 (Manhwa)
Lookism is surely a highly anticipated webtoon anime adaptation of 2022.
It was going to debut on 4th November, but the launch has been postponed due to the Itaewon tragedy.
Synopsis: The story begins with Park Hyung Suk, a 17 years old high schooler who is ugly, heavier, and unattractive.
Bullies frequently choose to pick on him, especially Lee Tae Sung. After being fed up with bullying, Hyung Suk transferred to a different school in Seoul.
However, one day before his transfer, he awakens with a handsome, charming, and perfectly toned body. Moreover, his original body is lying in his room to complicate the situation.
The catch here is that while he sleeps in one body, he wakes up in the other.
Lookism follows Hyung Suk's journey as he tries to fit into his new popular lifestyle and unfolds the mystery of his second body.
In case we have missed something, or you want us to include something. Do let us know in the comments below.