Fans of the hit anime series Demon Slayer are eagerly anticipating the upcoming season, which will feature the highly anticipated Swordsmith Village Arc. This arc promises to showcase more intense battles between powerful demon slayers and their formidable foes, creating an even more thrilling viewing experience.
However, as with any major conflict, there will undoubtedly be casualties, and beloved characters may meet their untimely demise.
The recently unveiled trailer gives viewers a sneak peek into the upcoming battle between the demon slayers and the Upper Moons.
Each of these demons presents a formidable threat to the Demon Slayer universe, but their eventual defeat ultimately works in humanity's favor.
However, for devoted fans of the series, the demise of these powerful creatures brings a sense of sorrow, underscoring the high cost of this epic struggle for everyone involved.
Despite knowing that the elimination of the Upper Moons is for the greater good, their deaths remain a poignant reminder of the toll this conflict takes on both the heroes and their adversaries.
The characters in Demon Slayer often find themselves in life-threatening situations where they must either fight to survive or succumb to death.
Unfortunately, for fans of the show, it can be distressing to watch their beloved characters, whether they are demon slayers or demons, meet their demise. Death is a common occurrence in this anime, adding to the story's emotional weight.
Upper Moon Deaths In Demon Slayer Explained
What are the Demon Slayer Corps?
The Demon Slayer Corps is a group of people who safeguards humanity from demons. The Ubuyashiki family has headed the Demon Slayer Corps for a long time.
The Demon Slayer Corps consists of lower ranks slayers to Hashiras.
To join the Demon Slayer Corps, one must undergo the Final Selection, an entrance exam that takes place on a mountain inhabited by demons. The exam requires contestants to survive for seven days without any external aid or assistance.
What are the Twelve Demon Moons?
The Twelve Kizuki, also known as demon moons, are a group of twelve demons who directly serve Muzan (Demon King) and are recognized as his strongest allies.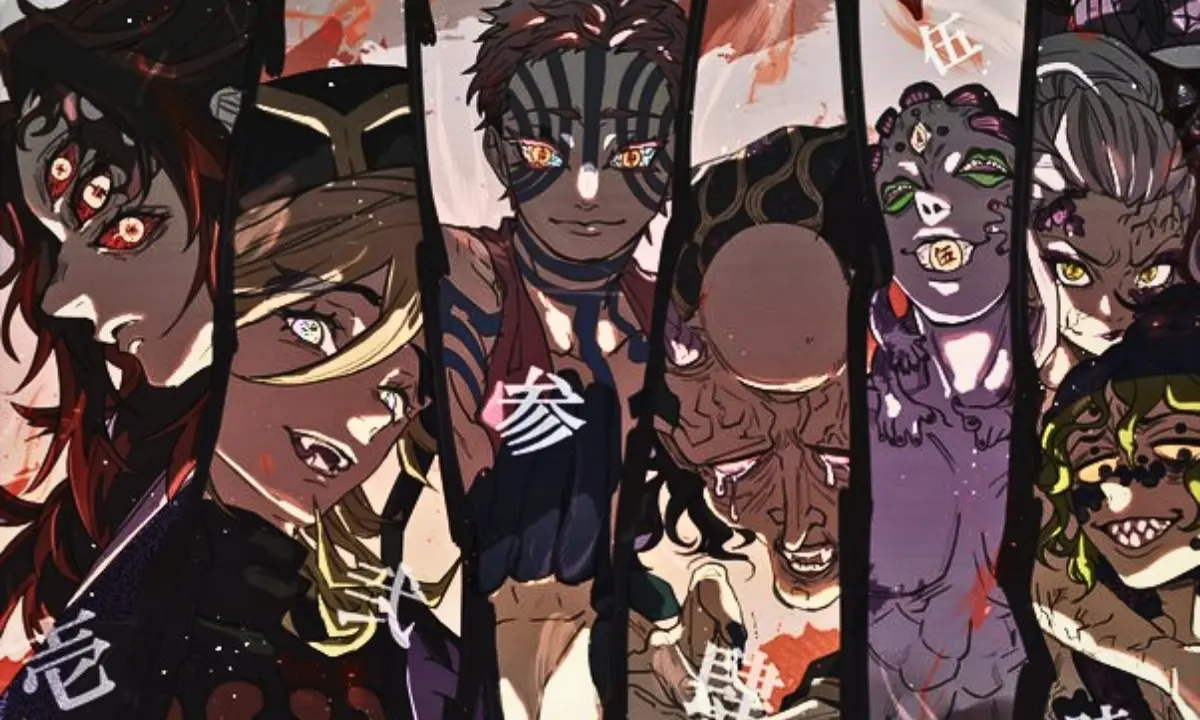 The group is divided into two categories, the Upper Moons and the Lower Moons. Enmu, one of the twelve demons, belongs to the Lower Moon category.
Muzan distributed his blood among the demons to enhance their strength and abilities. However, the amount of blood each demon received varied, with some receiving more than others.
Muzan favored the demons he believed to be stronger and bestowed a larger dose of his blood upon them.
Lower Rank members have their assigned number engraved into one eye to easily identify their rank. Conversely, Upper-Rank members have the kanji for "Upper Rank" displayed in one eye and their assigned number in the other eye.
Now that we know the Kizuki are a group of the twelve most powerful demons divided into two groups, let's get to how they die. In this blog, we will explain upper moon deaths and who killed them.
Disclaimer: This article contains major spoilers from the manga.
# Gyokko
Demon Rank: Upper Moon Five
Gyokko killed by: Mist Hashira Muichiro Tokito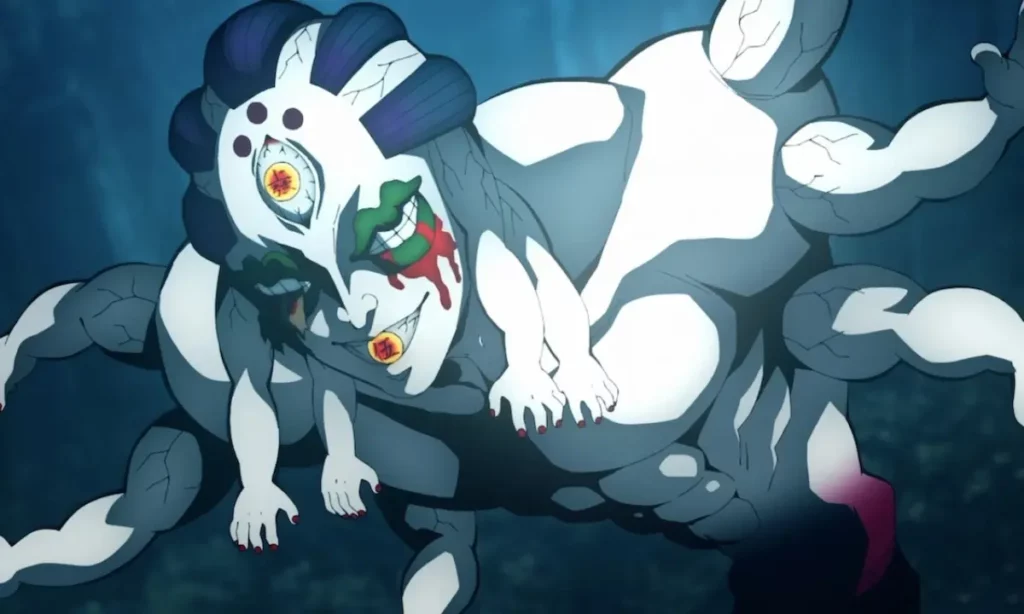 Gyokko, also known as Upper 5, is often regarded as the most forgettable member of the Upper Moon demons, who are considered the strongest among the demons. Despite his unique and peculiar appearance, he failed to make a lasting impression on many.
He managed to sneak into the Swordsmith Village by using his pot as a disguise. Later on, he engaged in a one-on-one fight with Muichiro Tokito, the Mist Hashira.
In this battle, the youngest Hashira unlocked his demon slayer mark and utilized the seventh form of Mist breathing to behead Gyokko swiftly.
Gyokko's defeat marked one of the rare occasions where a single demon slayer defeated an Upper Moon demon in a one-on-one battle.
He was among the two Upper Moons who met their demise at the hands of the demon slayers, signaling the gradual but sure downfall of the demon race.
# Hantengu
Demon Rank: Upper Moon Four
Hantengu killed by: Kamado Tanjiro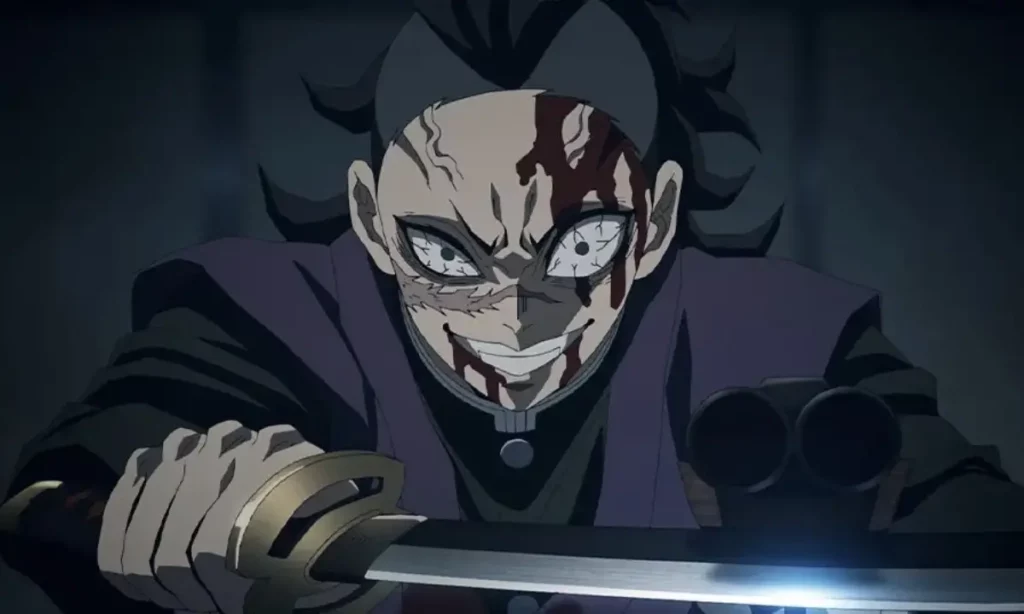 Hantengu, also known as Upper Moon 4, played a prominent role as the primary antagonist in the Swordsmith Village arc of the story. His unique ability allowed him to create copies of himself, which he used to engage in battles with the demon slayers.
Unlike many other demons in the story, Hantengu had no tragic backstory. He was a criminal during his human life and had no redeeming qualities.
Despite lacking a tragic history, Hantengu proved to be a formidable opponent for the demon slayers due to his exceptional combat abilities and knack for manipulating his environment.
In one of the most protracted battles of the story, he clashed with Tanjiro, Nezuko, Genya, Muichiro, and Mitsuri. Tanjiro ended his life by sacrificing his sister to defeat the demon.
Fortunately, Nezuko had already overcome her weakness to sunlight, enabling her to aid in their triumph over the adversary.
# Daki And Gyutaro
Demon Rank: FormerUpper Moon Six
Daki killed by: Inosuke and Zenitsu
Gyutaro killed by: Tanjiro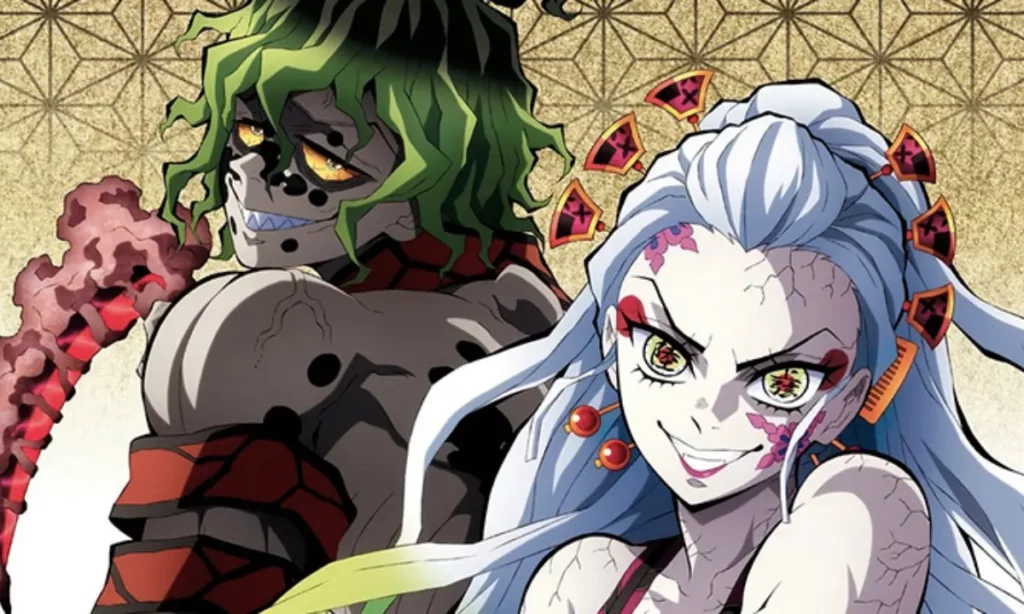 In the entertainment district arc of the anime, Daki met her demise at the hands of Inosuke and Zenitsu. During the fight, Zenitsu attacked her from the front and successfully cut her sash, while Inosuke, despite being injured, also contributed to her downfall by cutting her sash from the side.
On another front, it was Tanjiro who killed Daki's brother, Gyutaro, not Uzui. While in his demon form, Tanjiro used all his strength to decapitate Gyutaro's head.
Despite their imminent demise, the siblings bicker until the end. Their simultaneous deaths provided a fitting resolution for their characters, culminating in a poignant scene as they marched together towards the fires of hell.
# Kaigaku
Demon Rank: Upper Moon Six (Replacement for Daki and Gyutaro)
Kaigaku killed by: Zenitsu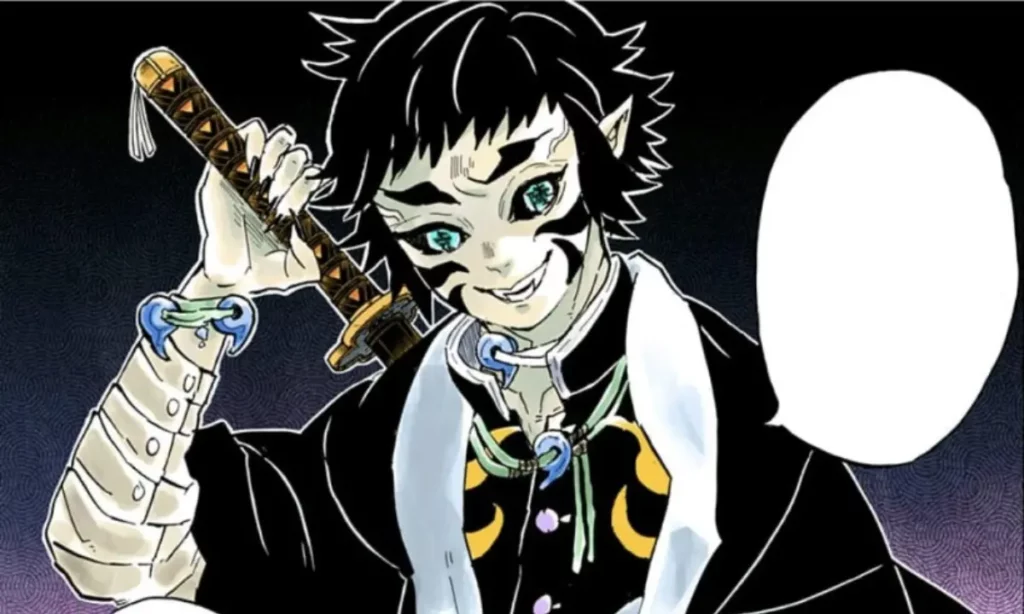 Kaigaku, a practitioner of the Thunder Breathing technique and Zenitsu's former senior was tragically transformed into a demon by Kokushibo (Upper Moon 1) during the Hashira Training Arc.
Upon hearing this devastating news, their teacher and the former Thunder Hashira took their own lives. Learning of this terrible event, Zenitsu felt compelled to confront Kaigaku and engage in battle.
Zenitsu engaged in a one-on-one battle with the new Upper Six and ultimately defeated him using a thunder-breathing form he had devised on his own.
He swiftly executed the 7th form of Thunder Breathing, known as Flaming Thunder God, and cleanly severed Kaigaku's head in a flash of lightning.
The brief confrontation between an Upper Moon and Zenitsu exemplified the zenith of Zenitsu's character development.
# Nakime
Demon Rank: Upper Moon Four
Kaigaku killed by: Muzan (Demon King)
Nakime is a character who plays a minor antagonist role in the Kimetsu no Yaiba manga and anime. Following the death of Hantengu, she was appointed as the new Upper-Rank Four of the Twelve Kizuki and pledged her allegiance to Muzan Kibutsuji.
Throughout the Infinity Castle Arc, she serves as a supporting antagonist.
The Biwa Woman, a new Upper 4 demon, met a gruesome end at the hands of Muzan. Despite being under the control of Yushiro, the only demon not created by Muzan, she was mercilessly killed when Muzan crushed her head.
As a valuable asset to Muzan, she possessed the ability to manipulate the entire Infinity Castle. The revelation that she only had one eye emphasised her frightening character design.
# Akaza
Demon Rank: Upper Moon Three
Akaza killed by: Died by suicide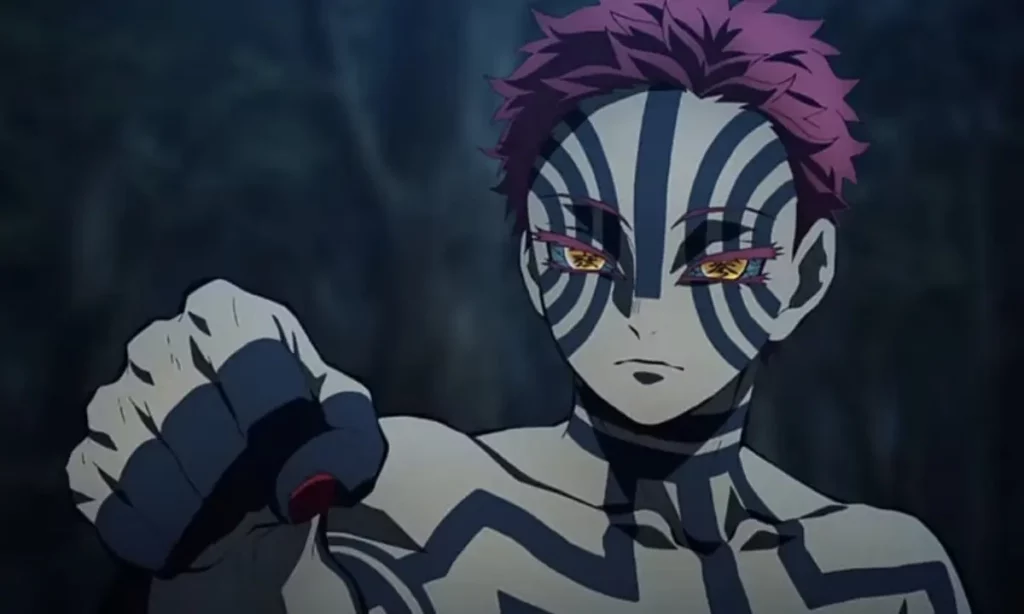 Akaza, formerly known as Hakuji, has never experienced a life free of suffering. He resorted to stealing to support his father, who was on the brink of death and suffered several beatings as a result.
Tragically, his father killed himself to prevent Akaza from continuing down a criminal path.
Later on, Akaza was taken in by a martial arts master who asked him to care for his sick daughter. Over time, Akaza and the daughter fell in love and became engaged. However, their happiness was short-lived when they were both killed by a rival martial arts dojo.
Akaza, also known as Upper Moon 3, was considered by many to be the greatest antagonist in the story due to his role in killing Rengoku Kyojuro in the Mugen Train arc.
However, perceptions of the character shifted dramatically after his backstory was revealed.
Despite being a villain, Akaza's tragic past garnered him a great deal of sympathy, making him one of the most relatable characters in Demon Slayer.
During the "Infinity Castle" arc, Akaza, a powerful demon, faces off against the demon slayers Giyu and Tanjiro.
However, during the intense battle, Akaza made a shocking decision and stopped his regeneration power, ultimately leading to his own demise.
Despite having the upper hand and almost killing Giyu, Akaza's memories returned, reminding him of his past actions and the countless lives he had taken in his pursuit of power.
Overwhelmed with guilt and regret, Akaza realized that he could no longer continue down his destructive path and chose to end his own life rather than continue on as a demon. The death of Upper Moon 3 was really shocking for fans as he has become one of their favorite.
This pivotal moment marked a powerful conclusion to Akaza's character arc and cemented him as a standout character in the series.
# Doma
Demon Rank: Upper Moon Two
Doma killed by: Former Insect Hashira – Shinobu Kocho , Kanao, Inosuke
Doma (Upper Moon 2), a dangerously powerful individual with a propensity for extreme behavior, could arguably be labeled as "the genuine demon" due to his tendency towards psychopathy in both his human and demon lives.
Doma also killed Kanae. Kanae lived a peaceful life with her family until one tragic day when Doma murdered everyone she loved.
Gyomei Himejima, the Stone Hashira, intervened and rescued Kanae, training her to become a Demon Slayer. Eventually, Kanae rose to the rank of Flower Hashira and took in a young girl, bringing her to the Butterfly Mansion.
Several years later, fate brought Kanae face to face with her family's killer once more. In a fierce battle, Doma defeated her but was forced to flee when daylight approached.
With her final breaths, Kanae provided her sister, Shinobu, with a description of Doma's appearance. Swearing to avenge Kanae's tragic fate, Shinobu vowed to hunt down and defeat Doma at any cost.
In a brutal confrontation with Shinobu, the Insect Hashira, Doma demonstrated a disturbing display of cruelty by assimilating her into his own body, leaving a lasting impression of shock and horror.
Unbeknownst to him, Shinobu made a sacrificial move by poisoning Doma in order to create an opening for Kanao to strike the final blow and decapitate him.
Though it was a difficult decision, Shinobu's actions were not in vain, as the poison weakened Doma, and Kanao was able to finish him off with the assistance of Inosuke.
Doma bears the closest resemblance to Muzan Kibutsuji among all the demons. He displays extreme unpredictable tendencies and lacks the ability to understand basic human emotions.
Fans of the manga may have been disappointed by the premature demise of Doma, as they feel that the author did not fully explore his potential. Despite possessing many lethal abilities, Doma was given limited screen time and was killed off early in the story. This left some readers wanting more from this intriguing character.
# Kokushibo
Demon Rank: Upper Moon One
Kokushibo killed by: Died by suicide
During the Infinity Castle arc in Demon Slayer, Kokushibo, the older twin brother of Yoriichi, proved to be one of the strongest demons after Muzan.
His battle against Sanemi, Gyomei Himejima, Genya Shinazugawa, and Muichiro was a standout moment in the series and widely considered one of the best fights.
Kokushibo developed an inferiority complex towards his brother, leading him to transform into a demon with the hope of surpassing him. However, his transformation did not result in the desired outcome.
In the climactic battle, Kokushibo had the potential to emerge victorious with his ultimate form. However, he consciously decided not to regenerate upon witnessing his monstrous appearance.
Seizing this opportunity, the other demon slayers relentlessly attacked until Kokushibo's body disintegrated completely.
Kokushibo's demise was a tragedy as he met his end consumed by unanswerable questions, despite his commanding presence and professional demeanor. He had the potential to be a more compelling final antagonist than Muzan.