Demon Slayer has taken the anime world by storm, captivating audiences with its stunning animation, gripping plot, and dynamic characters. One particular aspect that sets this series apart is its portrayal of female characters.
Often, anime overlooks or underdevelops female characters, relegating them to mere fanservice or two-dimensional props. But not in Demon Slayer. 
It is a welcome change to see female characters take center stage and be fully realized in their own right.
This empowers female viewers and shows male viewers that women can be just as capable and interesting as their male counterparts.
These women are not just sidekicks or romantic interests but integral parts of the story and deserve recognition for their contributions to the series.
PS: We won't be including Muzan. At the Demon Rank meeting, his beautiful feminine form appeared.
Though Muzan is a powerful demon (practically demon king) and can switch genders, technically, he is a guy, so we won't include him.
Apart from him, we won't include other background characters in the Mugen Train Arc.
Who Is The Most Powerful Girl In Demon Slayer?
Nezuko is the most powerful girl in Demon Slayer. Her exceptional physical capabilities are no joke; she is immune to sunlight like other demons.
Her supernatural abilities are a plus in fighting demons. With all these superhuman powers, ordinary demons cannot stand a chance.
Who Is The Female Villain In Demon Slayer?
Since Daki is one powerful demon and she was the main villain in the entertainment district arc.
Who Is Stronger: Nezuko or Kanao?
In terms of raw physical strength, Nezuko may have an advantage, but Kanao's speed and technique could give her an edge in a fight.
Ultimately, it may come down to the battle's specific circumstances and the strategies each character employs.
Nezuko, Tanjiro's sister, is considered to be one of the prettiest in the Demon Slayer universe. 
Who Is Tanjiro's Wife?
Tanjiro ends up marrying Kanao Tsuyuri, another skilled Demon Slayer from the Corps. 
List Of Demon Slayers Female Characters
15. Hinariro, Muka, and Suma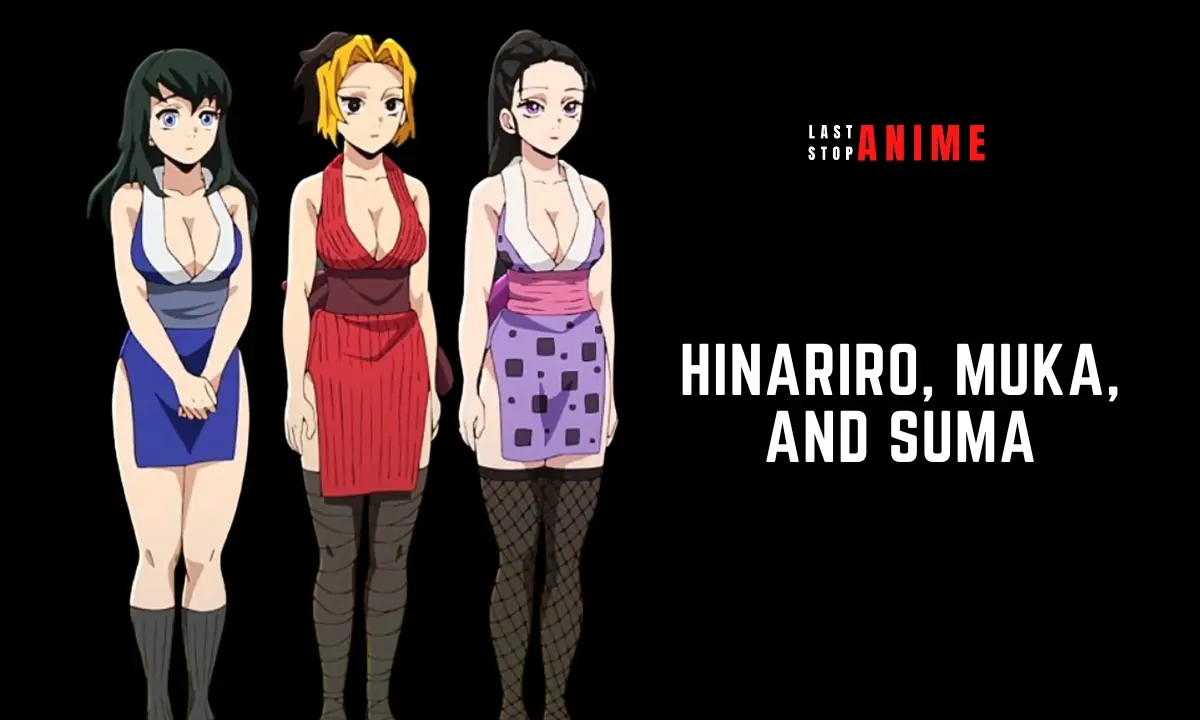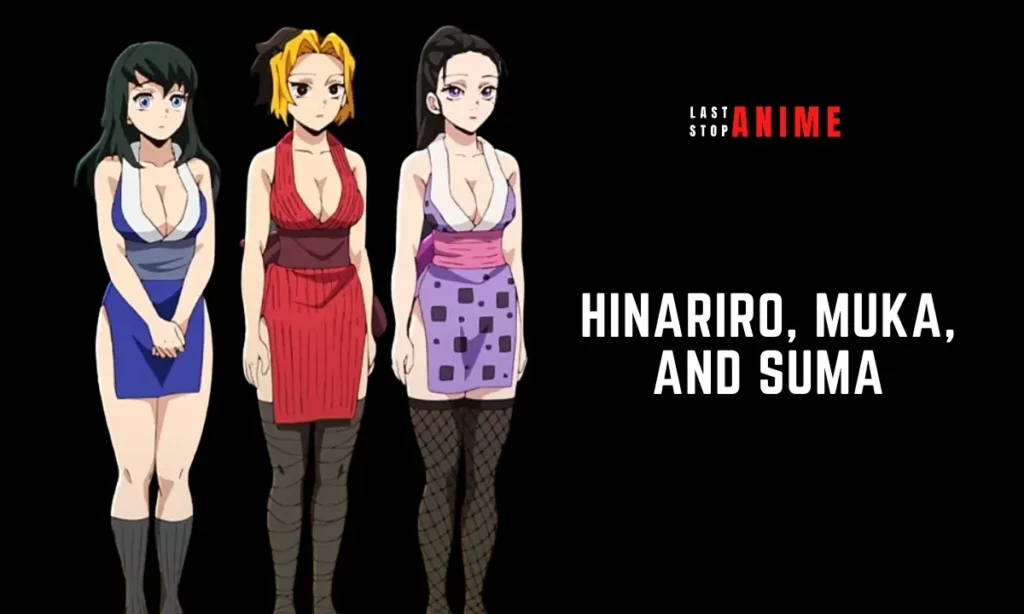 Despite lacking any superhuman abilities, Tengen Uzui's three wives possess a unique skill set due to their upbringing as kunoichi.
Their experience allows them to wield a kunai with precision, execute maneuvers, and fight with exceptional proficiency.
These abilities make them formidable opponents, even without possessing specific superpowers.
14. Makomo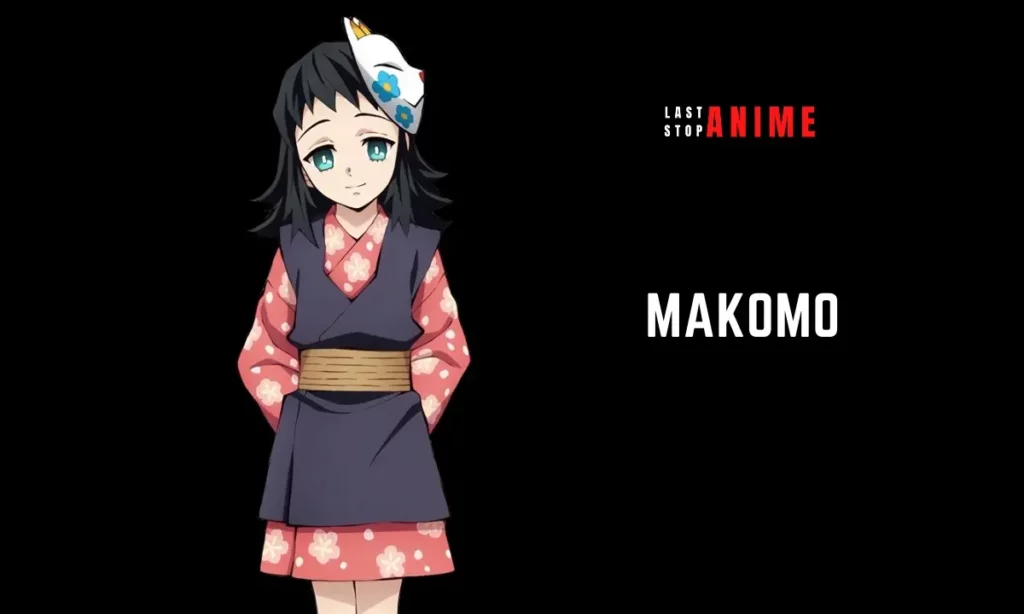 Makomo was once a pupil of Sakonji Urokodaki, where she mastered water breathing techniques. She imparted her knowledge of this technique to Tanjiro later on.
In addition, a demon once noted her remarkable agility after engaging in battle with her, as she effortlessly dodged all of his attacks.
This powerful morphed demon learned the ten forms of water-breathing techniques.
She can fight demons—well, not exactly fight- but she can easily massacre low-level demons.
One of the impressive aspects of the character is that, despite being a ghost, she took it upon herself to shield Tanjiro from the hardships she had faced in her own life.
This selfless act underscores the remarkable nature of her character within the series. This makes her one of the best female Demon Slayer characters.
13. Aoi Kanazaki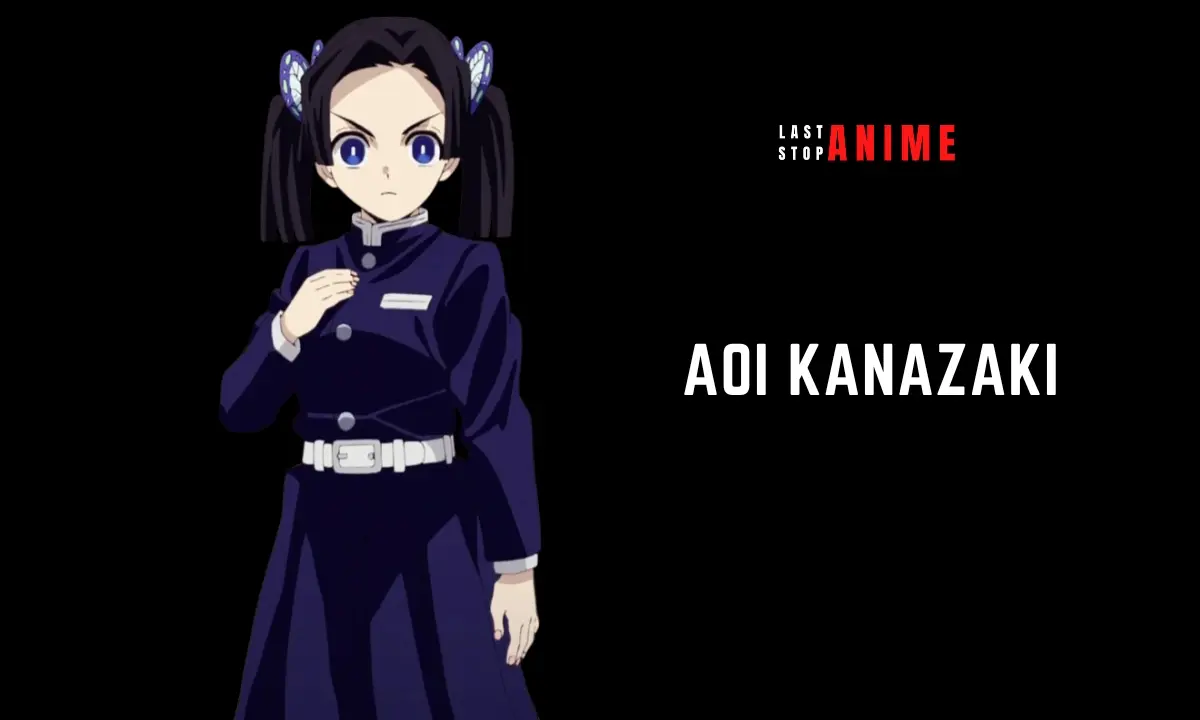 Aoi works at the Butterfly Mansion to treat injured Demon Slayers.
Shinobu Kocho was the mentor who trained Aoi, a skilled Demon Slayer residing at the Butterfly Estate.
Aoi is known for providing simple yet effective remedies to her fellow Demon Slayers in need.
She also practices the Water Breathing style, which she utilized during her Final Selection.
The Mizunoto, renowned for her extraordinary skills, surpasses the abilities of ordinary demons.
Despite her prowess, she remains grounded and firmly believes that her success in the Final Selection was merely a stroke of luck.
Her humility led her to abandon her training and devote herself to aiding her fellow Corps members.
All these make her one of the best female Demon Slayer characters.
12. Spider Demon Daughter
Spider Demon Daughter is a prominent character in the series, known for her role in the Mount Natagumo arc.
During this arc, the antagonist Rui sought to construct the family he had always desired, and thus he chose to adopt Spider Demon Daughter as his sister.
However, Rui's cruel and unkind nature towards his own family members prevented this forced relationship from lasting very long.
Despite this, the series continued to provide ample screen time for the sister demon to shine in her own right.
Although her interactions were primarily with Rui, her presence was significant to all who encountered her throughout the series.
Overall, Spider Demon Daughter remains a notable character in the show, beloved by fans for her unique perspective and an intriguing backstory.
Though this young girl may not be one of the strongest female Demon Slayer characters in the anime, she put up a great fight with other Demon Slayers.
11. Spider Demon Mother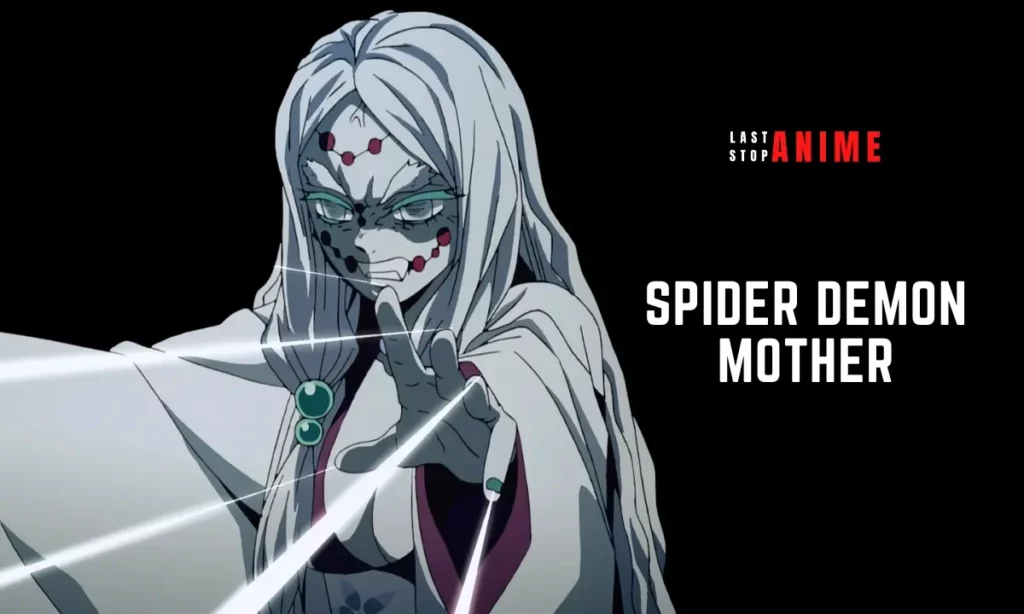 Next on our list is someone from the spider family. Yes, you guessed it right! It's the mother spider demon from the same family.
Her shape-shifting and transforming abilities are highly advanced, allowing her to alter her hair length and color, facial structure, demon markings, and even eye color.
Essentially, she is like a demon chameleon with the additional abilities of a spider.
In addition to her shape-shifting abilities, she can attack stealthily by creating small white spiders with red dots resembling her.
She commands these spiders to attach threads to her victims, making them appear as if they were caught in her web.
Spider Demon Mother was one of those demons who wanted to die and get freedom from Rui.
10. Susamaru
Susumaru's primary ability was to manipulate a group of Temari, traditional Japanese handballs, with a devastating force capable of destroying an enemy's limbs.
Furthermore, each Temari could autonomously pursue its target, making them even more challenging to evade.
Despite her considerable physical prowess, Susumaru's intellect was not on the same level as her strength.
The Asakusa Arc features a formidable demon with multiple arms who serves as the primary antagonist.
Despite not being a member of the Twelve Kizuki, she proves to be a formidable opponent for Tanjiro and Nezuko.
While Nezuko valiantly attempts to resist, she finds it challenging to keep up with Susumaru's impressive agility and power, while Tanjiro similarly struggles against her overwhelming might.
Susumaru is one the strongest female demon slayer characters with great supernatural powers.
09. Tamayo
Fans of the anime Demon Slayer will be familiar with the character Tamayo, who is both a healer and a demon.
Tamayo plays a crucial role as one of the series' most important female characters.
As the story unfolds, it becomes clear that without Tamayo's help, the Demon Slayer Corps would have had no chance of defeating the Upper Ranks or the ferocious demon Muzan.
Alongside Nezuko, Tamayo is one of the only demons cooperating with the Corps.
However, Tamayo is an invaluable ally despite her age and presumed lack of power compared to other demons.
Initially, she supported Muzan long before the formation of the Twelve Kizuki.
However, she eventually changed her allegiance and began fighting against demons.
Her Blood Demon Art is primarily designed to combat demons, enabling her to use her blood to cast unique spells.
These spells include inducing hallucinations in demons and forcing them to confess their falsehoods.
Tamayo's medical abilities are the source of her true power. She accomplished the seemingly impossible feat of transforming a human into a demon without the need for Muzan's blood.
Furthermore, she developed antidotes for injuries caused by blood demons, and even created a drug that could weaken Muzan and reverse the demon transformation process.
It would not be an exaggeration to describe her medical prowess as exceptionally dominant.
She is one of the most notable characters in Demon Slayer. Her gentle personality makes normal humans comfortable around her.
Though a healer, Tamayo is one of the strongest female Demon Slayer characters.
08. Kanae Kocho
Although she does not play a significant role in the main plot, Kanae, the deceased Flower Hashira, is one of the most cherished characters among the Hashiras in Demon Slayer.
According to the story, she met her demise due to injuries inflicted by Doma, the third most powerful demon in the series.
However, before her passing, she displayed incredible courage and resilience by holding her ground against Doma for hours until daybreak.
Despite being severely injured and defenceless, Doma could not defeat her and was forced to retreat when the sun rose.
Kanae is one of the strongest female characters in Demon Slayer Corps. She appeared as a supporting character in the series.
Even though she appeared briefly, her role as a courageous and loving sister resonated with the audience a lot.
07. Mukago
Mukago is a demon in the anime who is almost as unique as Nezuko.
According to Muzan, who can read minds, she had no interest in fighting the Demon Slayers Corps and was cowardly in her behavior.
Although her abilities were not shown in action, her rank higher than Kamanue and Kyogai suggests she was a powerful demon.
Kyogai, who had drum-based slashing techniques, easily overpowered Inosuke and Tanjiro during the Tsuzumi Mansion arc, so it is reasonable to assume that Mukago was also formidable.
Additionally, Demon Slayer featured formidable demons such as Susamaru and the spider clan members who were not part of the Twelve Kizuki.
This highlights the strength of demons beyond the twelve.
Mukago's power is undoubtedly remarkable, and, unfortunately, the fandom could not witness her abilities in action.
Due to her weak and cowardly personality, we didn't see her in action. But one thing is for sure: Mukago is one of the strongest female characters in Demon Slayer.
06. Nakime Otokawa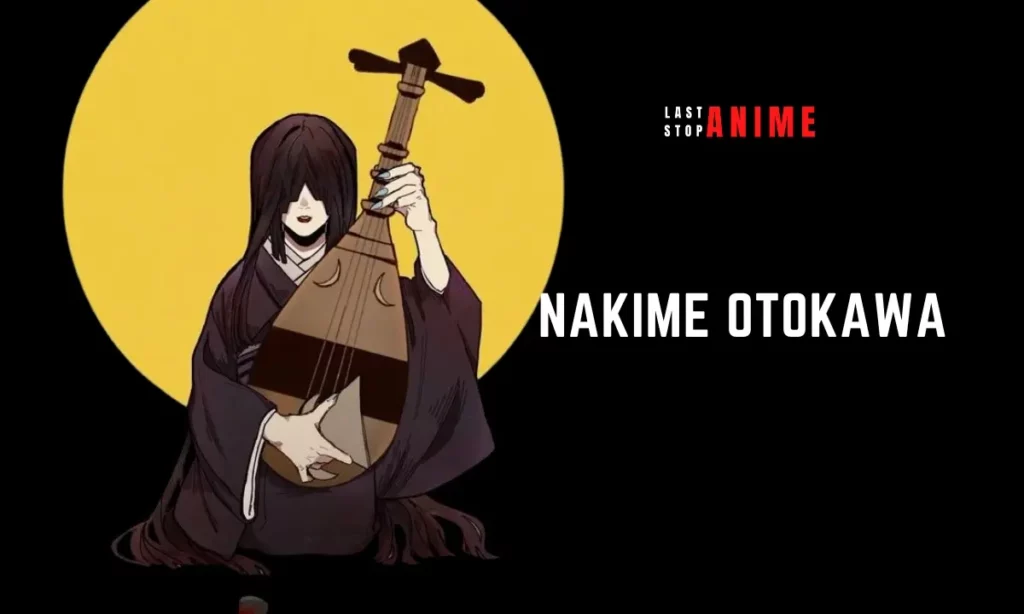 Nakime is a multifaceted female character in Demon Slayer who holds the fifth position in terms of power among the demons.
Although she doesn't engage in direct combat, her abilities are formidable enough that she doesn't need to.
She is the brains behind Infinity Castle, a dimensional plane where Muzan and the twelve most powerful demons convene.
Nakime wields the power to manipulate her dimension at will, allowing her to create an infinite number of rooms, continually alter the surroundings, set up looped portals, and even devise insurmountable puzzles.
Nakime proved to be an incredibly formidable opponent, as evidenced by her survival long after the demise of powerful warriors like Doma, making her the sole survivor of the Twelve Kizuki before the ultimate battle.
Despite her immense power, even Nakime fell victim to Muzan's brutality, as he ultimately had to take her life to ensure his enemies couldn't control her.
Had Nakime possessed more aggressive intentions in battle, her destructive capabilities could have been even more terrifying to behold.
05. Kanao Tsuyuri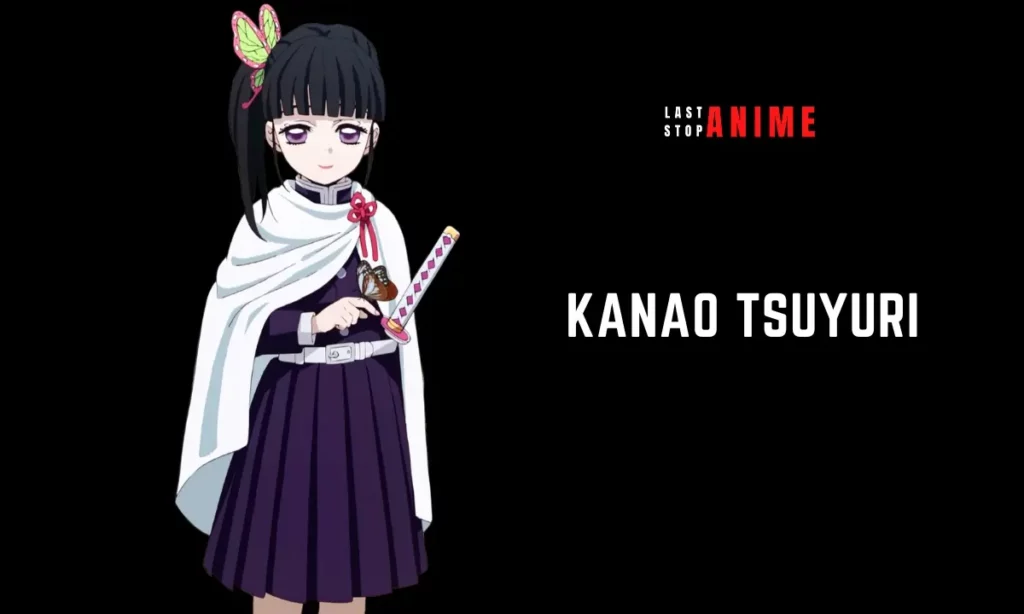 Kanao has faced many challenges in her life, which have left her appearing emotionless and uninvolved.
However, this exterior does not accurately represent the depth of her character.
Despite rarely speaking, Kanao has become one of the most captivating characters in the series.
As an apprentice to Kocho Shinobu, Kanao deeply admires her mentor and sees her as a role model.
Flower Breathing, the same technique employed by her elder sister Kanae, is just one of the many skills that she possesses.
Weaker demons can't even stand a chance against her superhuman abilities.
With an indomitable will and a remarkable sense, she exhibits an exceptional level of expertise that even Tanjiro, our protagonist, acknowledges as equivalent to that of a Hashira upon their first encounter.
Within the family, Kanao is highly respected by her peers, reflecting her dedication and training skills.
Though she may not always express herself openly, Kanao's quiet determination and unwavering loyalty to those she cares about making her a valuable group member.
Kanao Tsuyuri played a significant role in defeating Doma, the third strongest demon, by breaking his facade of understanding emotions.
Despite being injured and partially blind, she also played a crucial part in the final battle against Muzan.
Kanao's bravery and quick thinking also permanently saved Tanjiro from becoming a demon.
All these reasons make Kanao Tsuyuri one of the best female Demon Slayer characters.
04. Mitsuri Kanroji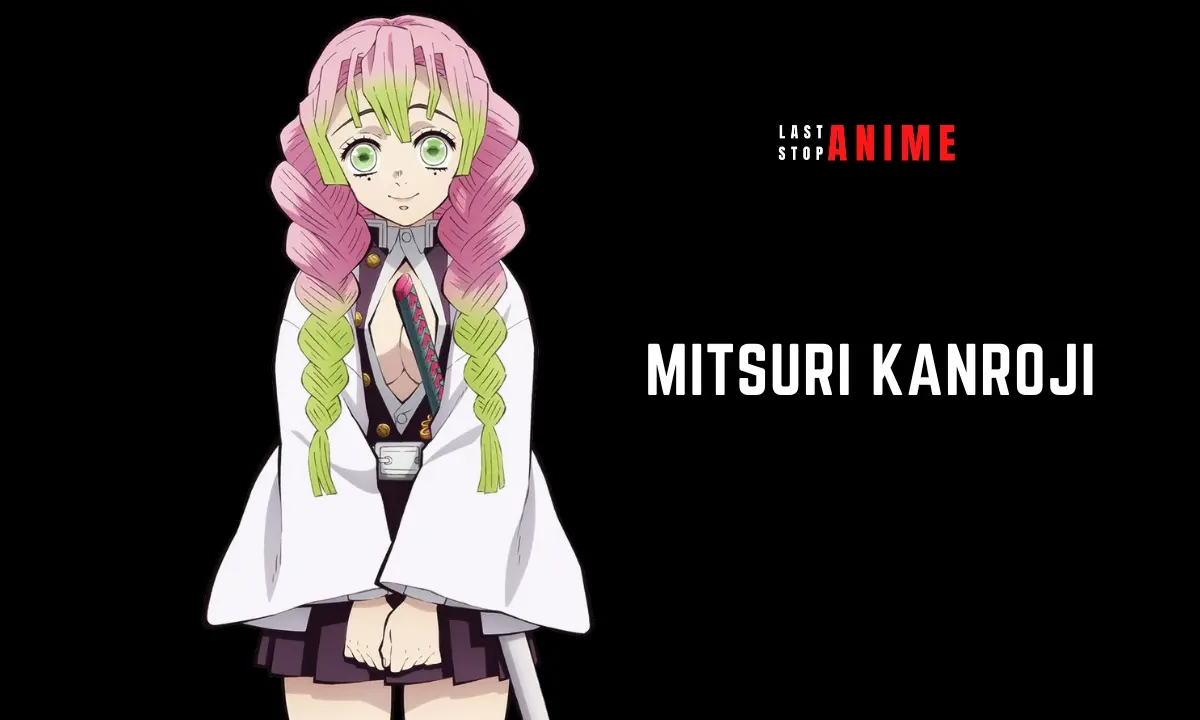 Hashiras are considered the most powerful swordsmen in the Demon Slayer universe, but Mitsuri stands out as one of the few with immense physical strength.
Despite her gentle and amicable demeanor as the Love Hashira, she transforms into an unstoppable force when confronted by demons.
Don't just take our word for it, as the upcoming third season of the Demon Slayer anime showcases her abilities in the midst of intense action.
Mitsuri Kanroji wields a unique weapon in her demon-slaying endeavours – an extra-long Nichirn sword that resembles a whip.
This weapon demands tremendous physical strength and exceptional flexibility to be effectively controlled.
In fact, no other individual among the members of the Demon Slayer Corps besides Mitsuri possesses the necessary skills to wield her blade without injuring themselves.
Mitsuri significantly contributed to the battle against some of the strongest demons in the Infinity Castle arc, including Gyokko, Hantengu, and Nakime.
Her unwavering determination and courage allowed her to face these formidable foes head-on and emerge victorious.
The Demon Slayer Mark only makes her one of the strongest female Demon Slayer characters.
Even Muzan, the strongest demon of them all, was caught off guard by Mitsuri's impressive display of combat skills towards the end of the manga.
Her achievements are a testament to her strength and unwavering spirit in the face of adversity.
Mitsuri Kanroji is one the strongest female Demon Slayer characters in demon slayer, or you can say she is one of the strongest in the demon slayer corps.
03. Shinobu Kocho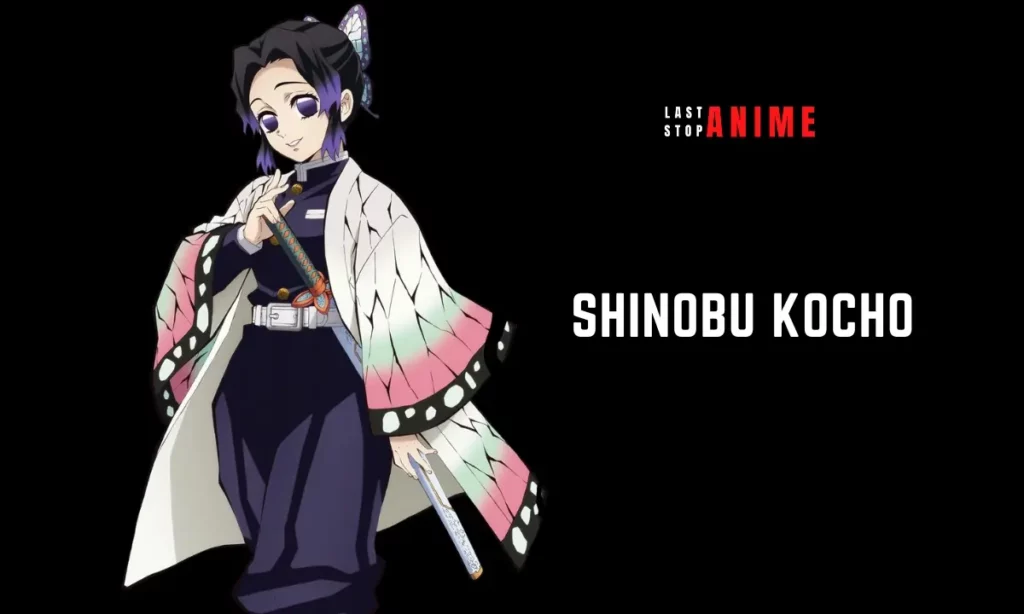 Shinobu is a prominent character in the second season of Demon Slayer, serving as the Insect Pillar for the Demon Slayer Corps.
Meanwhile, Shinobu Kocho is a striking young woman who maintains a serene smile even in the face of the most challenging situations.
Unlike many of her fellow demon slayers, she refuses to sever the necks of her demonic opponents, opting instead for inventive and agile methods of dispatching them.
With her signature butterfly motif and unparalleled talent, Kocho has established herself as an indispensable asset to the world of the Demon Slayer.
She is not only one of the main characters but also one of the most beloved characters in the anime.
Anime fans worldwide find her attractive and strong among other Demon Slayer corps members.
Shinobu Kocho, despite being human, is one of the strongest female Demon Slayer characters.
02. Daki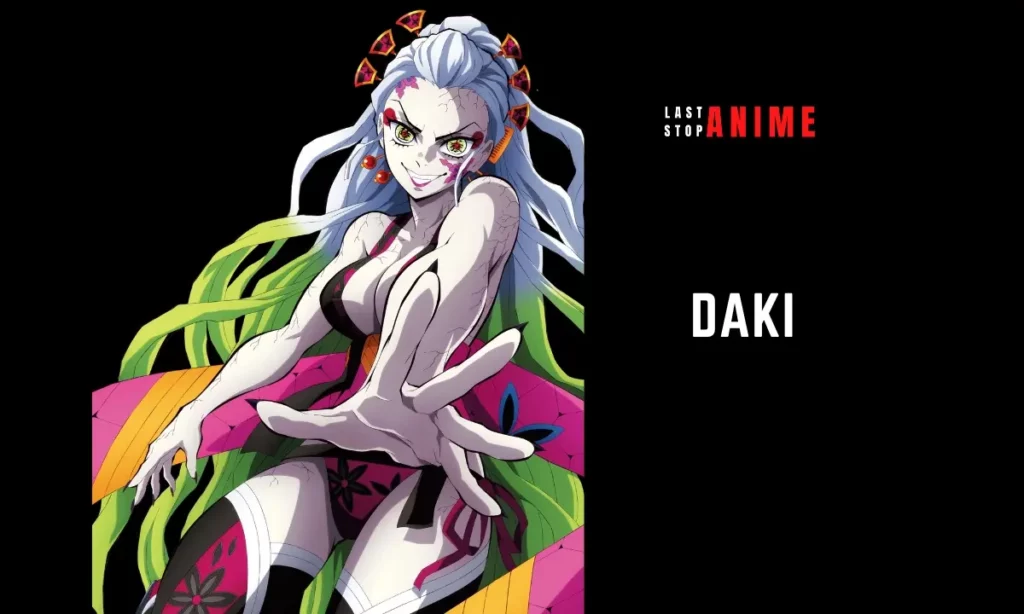 Rank: Upper Rank Six (Upper Moon)
Daki, a demon acknowledged by Muzan as "special", possesses formidable power.
She demonstrated her dominance by overpowering Tanjiro Kamado, Nezuko Kamado, Zenitsu Agatsuma, and Inosuke Hashibira, all of whom are skilled fighters, and maintaining her advantage over them.
Daki, together with her brother Gyutaro, holds the position of Upper Moon 6 as part of the Twelve Kizuki.
With her remarkable abilities, she was able to defeat Tanjiro's entire squad with ease. However, her demeanor is often marked by rudeness.
This characteristic suits her well, given her occupation in the entertainment district, where beauty is the ultimate currency.
In this realm, having a sharp tongue and a tough attitude is crucial to assert dominance and gaining respect.
Although she asserted herself to be one of the Supreme Moons of the Twelve Moon Demons, it is important to note that her current rank and position were obtained due to her brother's exceptional powers and abilities, which amplify her own.
Her powers increased drastically after devouring seven Demon Slayers. From a young age, she has had diverse personality traits.
01. Kamado Nezuko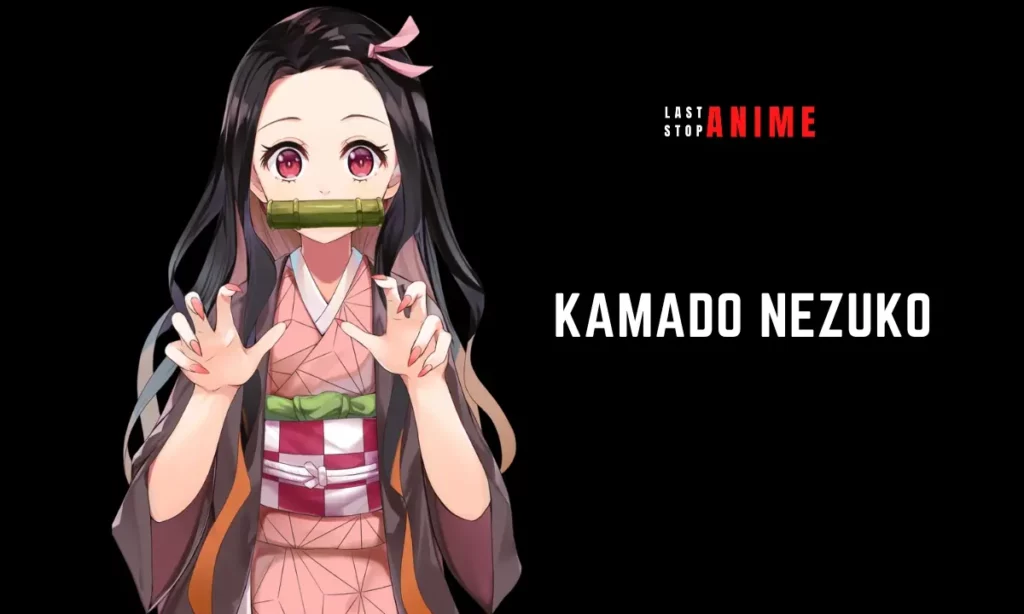 Nezuko, the manga series's deuteragonist and primary female lead, is Tanjiro Kamado's younger sister.
She has a fair complexion and is depicted as a youthful girl with long, dark brown hair that cascades down her back and ends just below her waist.
Nezuko possesses various demon abilities, including the power to manipulate her physical form and age.
Additionally, she possesses remarkable regenerative capabilities, which are typical of demons.
But her powers don't stop there; when fully unlocked, she can also manipulate and solidify her own blood at will.
Nezuko possesses immense strength, having successfully defeated formidable demons such as Daki, Gyutaro, Susamaru, and even Hantengu, who is ranked fourth among the Upper Ranks.
Unlike other demons who require human flesh and blood to regenerate and increase their power, Nezuko is self-sustaining and requires only sufficient sleep to restore her energy.
Although her combat abilities are not exceptional, a well-rested Nezuko is a force to be reckoned with and can hold her own against nearly anyone.
Fortunately, she aligned herself with the Demon Slayer Corps rather than Muzan. Nezuko is one of the strongest female characters in Demon Slayer.