Demon Slayer: Kimetsu no Yaiba is popular anime that tells the story of a young boy named Tanjiro who sets out on a journey to become a demon hunter after demons brutally murder his family.
In a world where demons roam the land and prey on humans, Tanjirō sets out on a journey to save his younger sister Nezuko from becoming a demon and to avenge his family's death.
With the help of a mysterious demon hunter named Tomioka Giyuu, Tanjirou sets out on a journey to hone his skills and become the strongest demon hunter in history.
Along the way, he will meet other demon hunters, each with unique abilities and stories, as they battle against the demons that threaten humanity.
Together, they will face the ultimate test of strength and courage in the epic anime series Demon Slayer: Kimetsu no Yaiba.
With its fast-paced action, intricate plot, and well-developed characters, Kimetsu no Yaiba has quickly become a fan favorite among manga and anime enthusiasts.
The series has been praised for its unique blend of fantasy, horror, and action elements as well as its compelling storyline and emotionally resonant themes.
With years of experience and expertise, these demon slayers are the best in the business. They are dedicated to protecting innocent lives from the dangers of the supernatural world.
With stunning animation, compelling characters, and a heart-pumping storyline, Kimetsu no Yaiba is a must-watch for any anime fan.
In Demon Slayer: Kimetsu no Yaiba, there are many strong and admirable male characters.
However, the best of the best stand out for their fascinating power, unique abilities, personalities, and impact on the story.
So today, we are making a list of the best demon slayer male characters. This list will include demon slayer corps as well as upper moon demons.
Who Are All The Male Characters in Demon Slayer?
The main male characters in Demon Slayer: Kimetsu no Yaiba are:
Tanjirou Kamado
Inosuke Hashibira
Zenitsu Agatsuma
Tomioka Giyuu
Kyojuro Rengoku
Sakonji Urokodaki
Tengen Uzui
Gyomei Himejima
Genya Shinazugawa
Sabito
Who Is The Hottest Male Hashira?
According to fans, the hottest male Hashira in the Demon Slayer: Kimetsu no Yaiba series is Tomioka Giyuu.
Who Is Best Boy in Demon Slayer?
Best boy is a subjective term and can vary depending on personal opinion. However, some popular choices among fans of the manga and anime series Demon Slayer: Kimetsu no Yaiba include Inosuke Hashibira, Tomioka Giyuu, Tanjirou Kamado, and Sabito.
Is Hashibira Inosuke A Girl?
Despite appearances, Hashibira Inosuke is a girl. He is known for his wild and aggressive personality and unique appearance, including a boar's head mask that he always wears.
Please note: Demon Slayer characters on this list are placed randomly and do not follow any order.
Enmu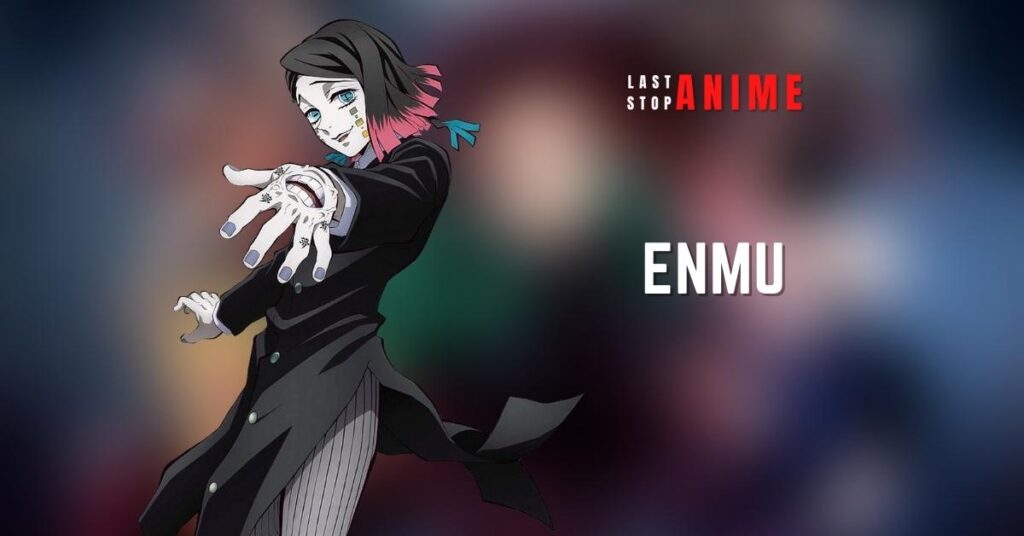 Although he is of a lower rank, he is one of the strongest demons in Muzan's army, and he has the ability to manipulate the entire train. With Muzan's blood, his strength and capabilities went off the charts.
Despite being unable to defeat Hashira or the other three demon slayers, he could still make multiple individuals disappear before the Mugen Train Arc.
In the movie Demon Slayer: Mugen Train, Enmu demonstrates his abilities by taking hostages aboard a train and transforming the train into an extension of his own body through his Blood Demon Art.
Additionally, Enmunu possesses the ability of Dream Manipulation, allowing him to control the dreams of those who are asleep.
Zenitsu Agatsuma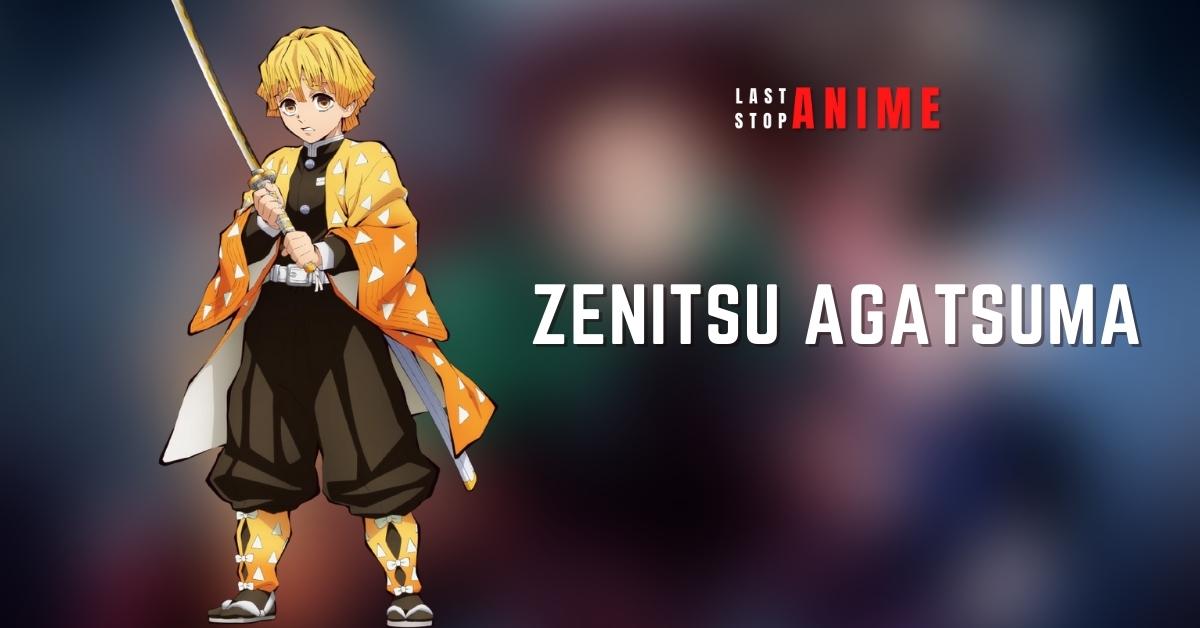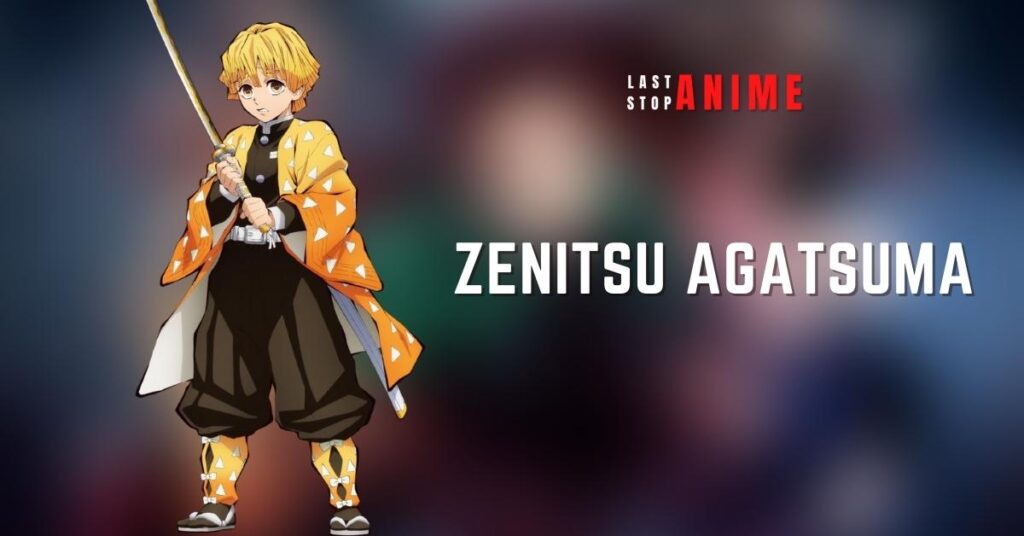 Zenitsu Agatsuma may be older than Tanjiro, but he often appears younger due to his tendency to flee. Despite this, Zenitsu is skilled with a weapon, thanks to his training under Jigoro Kuwajima.
Zenitsu has a distinct appearance, characterized by his fair skin, golden eyes, and bright yellow hair (caused by being struck by lightning) styled in a bowl cut. This design gives him a childlike appearance, which aligns with his personality.
Despite being a polarizing character, Zenitsu's humor adds to the memorable moments in Demon Slayer.
Zenitsu was trained by Jigoro Kuwajim, who was the former Thunder Hashira.
Despite only being able to master one form of Thunder Breathing technique, he could use it effectively in every battle.
This allowed him to fight against demons on an equal footing and ultimately survive, which is quite an impressive accomplishment.
Genya Sanemi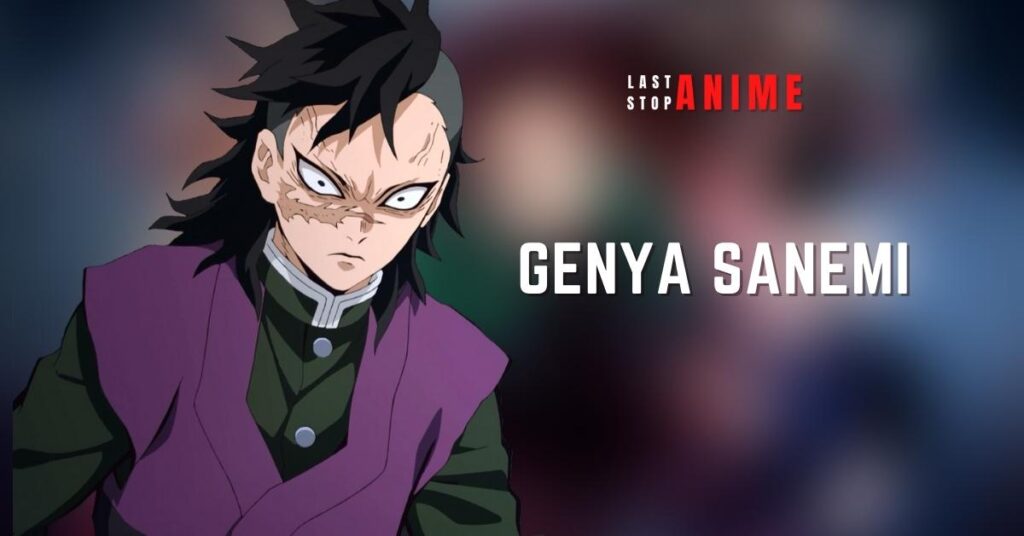 Genya, a character with a tragic backstory, had to witness the murder of his siblings at the hands of his demonized mother.
He also witnessed the death of his mother at the hands of his only remaining brother, Sanemi.
Despite being unable to use Breathing Techniques, Genya is a formidable fighter who can absorb demon powers.
Initially, Genya can be difficult to work with due to his hot-headed nature. However, as the series progresses, he becomes more sociable.
Tanjiro Kamado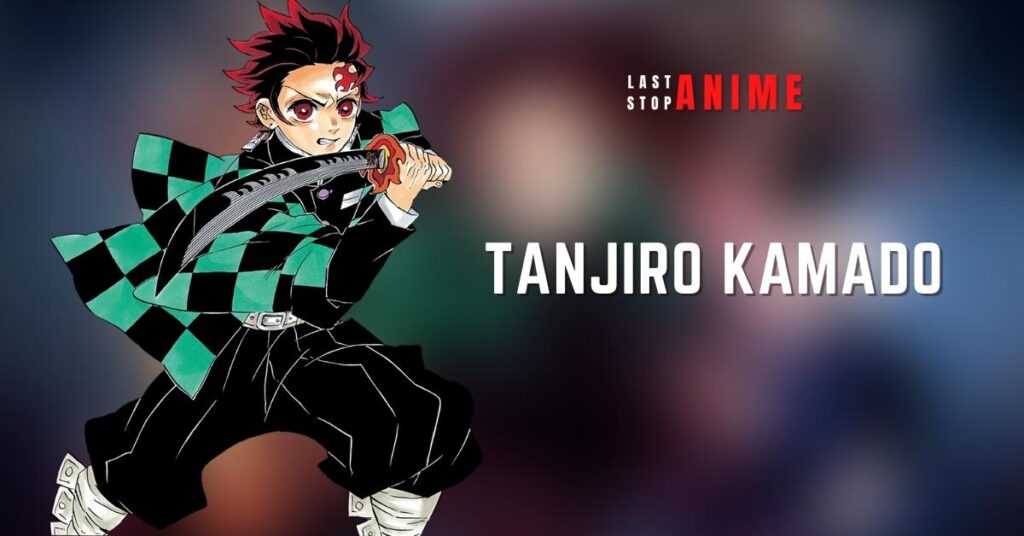 He is kind and compassionate, always willing to help others. His strong will and unwavering determination make him a powerful force on the battlefield.
Tanjiro is compassionate, but he is not afraid to make difficult choices.
He understands that demons must be defeated and that taking lives is necessary to protect those he cares about.
His primary motivation is to protect his sister, and he will not hesitate to do what it takes to ensure her safety.
He possesses unique abilities but is not as powerful as the other Hashira. Although he wields both the Water and Sun breathing styles, his strength and endurance are not on par with those of his Hashira peers.
Within the Demon Slayer Corps, he possesses exceptional swordsmanship skills.
He has an acute sense of smell and is the only member of the Corps to have personally encountered Muzan, enabling him to identify him even in a crowded area.
As a relatively new member of the Demon Slayer Corps, he has the potential for growth and development in strength. He is even regarded as the best boy in the anime Demon Slayer.
Shinazugawa Sanemi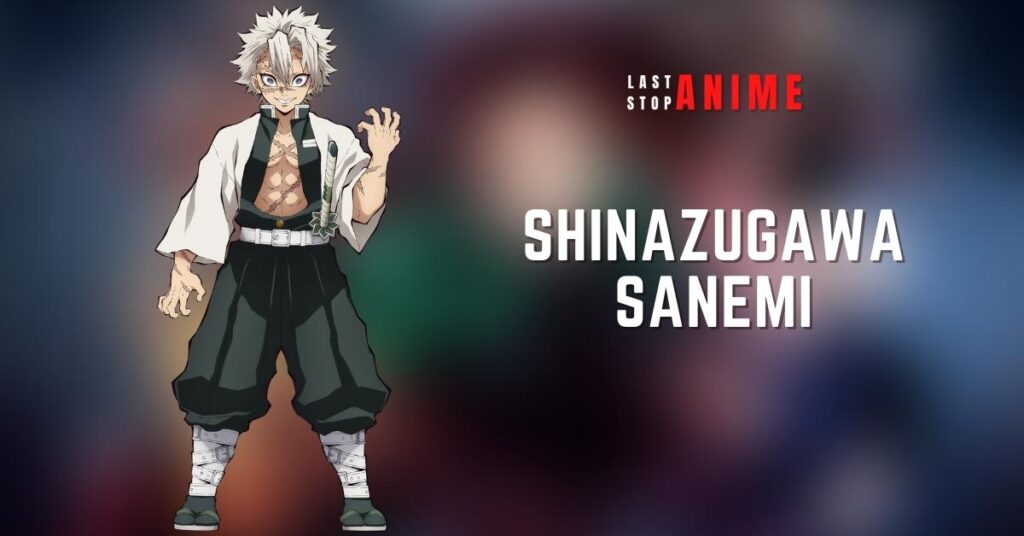 The Wind Hashira appears to be a formidable and intimidating opponent, with a gaze capable of striking fear into enemies' hearts.
Fans are eager to see the full extent of the damage he can inflict with his attacks, both in the manga and the anime, where his visuals will be brought to life.
Sanemi's strength does not come solely from his marechi blood, which allows him to make demons drowsy and defeat them easily.
During the Infinity Castle Arc, he defeated multiple demons. He even went head-to-head with the powerful Upper-Rank One, Kokushibo.
Sanemi is also a skilled swordsman, highly respected within the organization. He was praised by even the formidable Kokushibo during their battle.
Hotaru Haganezuka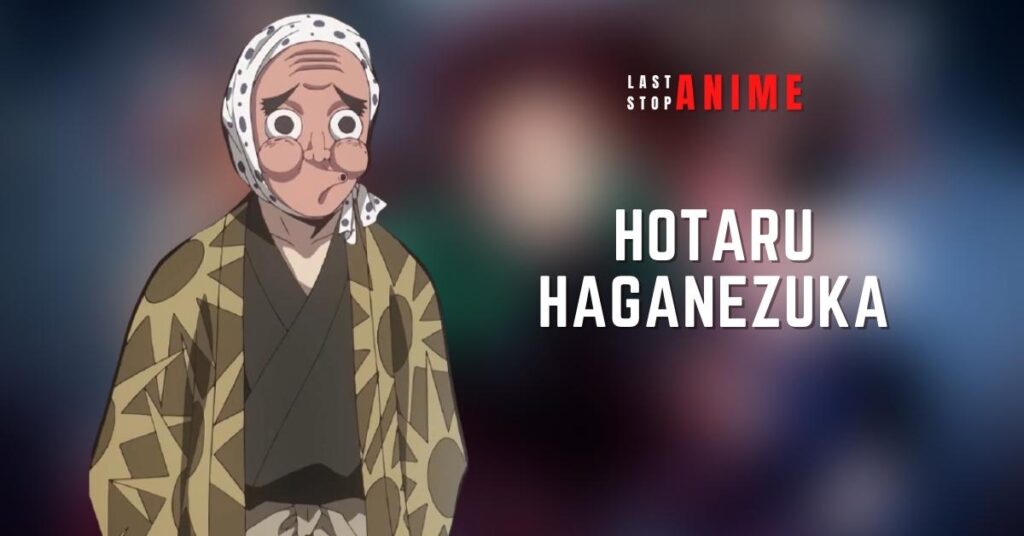 Hotaru was born in the swordsmith village and was trained to become a skilled swordsmith. He was assigned to make Nichirin Swords for the Demon Slayer Corps, which he took on with great pride and dedication.
However, he was deeply obsessed with perfection and believed that the swords he created were not good enough.
This led him to wear a mask that covered his face and to chase Tanjiro relentlessly, as he believed that Tanjiro had broken one of his swords.
Despite his eccentric behavior, Hotaru's talent as a swordsmith was undeniable, and he was respected by the members of the Demon Slayer Corps for his skill and dedication.
Eventually, his true face was revealed to the audience, and they were surprised to find that he was handsome and charismatic. In the upcoming Swordsmith Village Arc, fans will get to see his face.
Akaza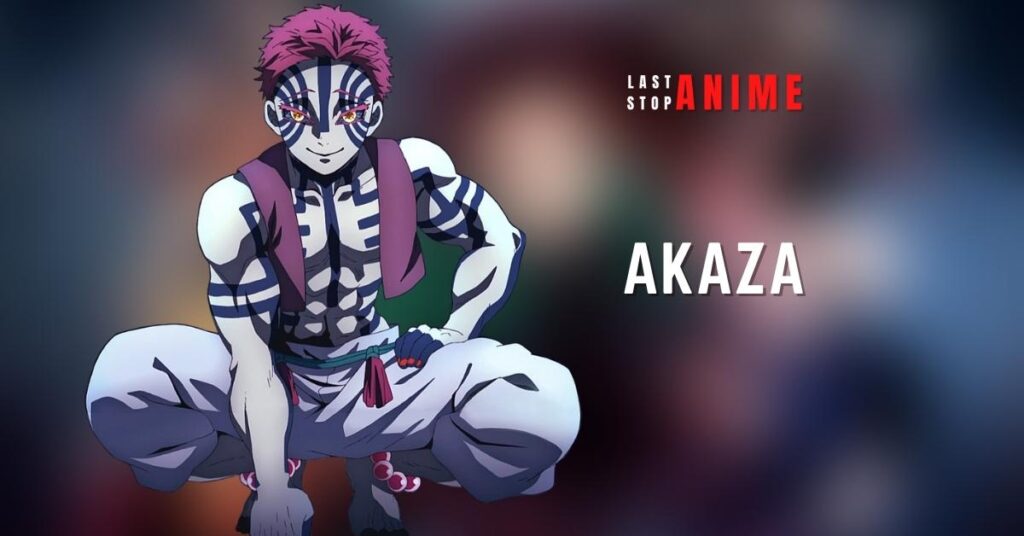 The introduction of Akaza, the Upper-Rank Three Demon in Demon Slayer: Mugen Train Arc, has left a lasting impression on viewers.
His intense battle with Rengoku, the Flame Hashira, was a visual masterpiece that ultimately resulted in Rengoku's untimely death.
Despite being responsible for the deaths of several Demon Slayers, including the powerful Kyojuro Rengoku, it is clear that Akaza should not be underestimated.
He is bound to have a significant impact on the story's events to come.
Akaza's "Blood Demon Art" is called Hakai Satsu, or "Destructive Death."
It is a form of martial arts that combines the manipulation of powerful shockwaves with the mastery of Soryu-style martial arts that he learned as a human.
He is one of the fan favorites demon slayer male characters.
Kokushibo
Kokushibo, also known as Michikatsu Tsugikuni in his human form, was a powerful demon and the strongest lackey of Muzan. He was the older twin brother of Yorichii, the strongest demon slayer to have ever existed.
It took a combined effort from four demon slayers, including three Hashira and a lower-rank demon slayer, to defeat him.
As a human, he was already skilled and could awaken his Demon Slayer mark.
As a former Demon Slayer, Kokushibo utilizes a technique known as Moon breathing or tsuki no kokyuu, in his practice.
In addition to this, as a demon, he possesses a special ability called Crescent Moon Blades, which is part of his Blood Demon Art.
This skill complements his Moon breathing, enabling him to simultaneously generate and control numerous sharp blades. The blades emerging from his flesh katana are crafted in the shape of classic crescent moons.
As a demon, he was known for his viciousness, killing all Sun Breathing-style users and assassinating the Oyakata.
Yoriichi Tsugikuni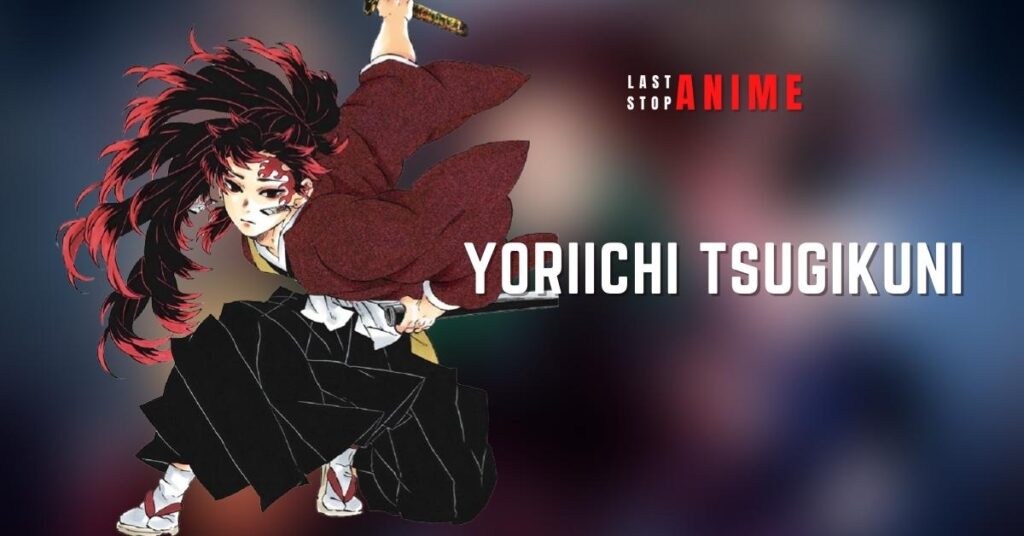 The man who left a lasting impression on Muzan, the strongest demon for 400 years, must have been incredibly powerful. His legacy and the fact that he is still remembered and feared 400 years after his death are testaments to his strength.
Yoriichi is the legendary demon slayer and the strongest demon slayer in the entire Demon Slayer anime.
Furthermore, his intelligence and creativity in developing the first-ever breathing style that assisted demon slayers in defeating demons are a testament to his intellect.
Even in his 80s, despite being blind, he faced his elder brother and almost defeated the second-strongest demon, Kokushibo. Yoriichi is one of the best demon slayer male characters.
Gyomei Himejima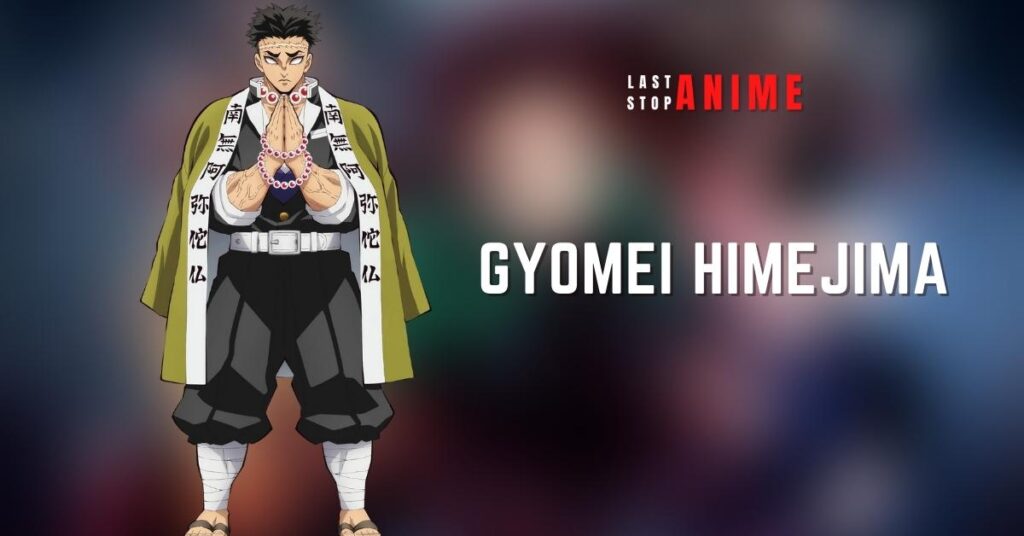 Gyomei Himejima is one of the strongest demon slayers, after Yoriichi, of course! Despite being the most powerful demon slayer in the demon slayer corp.
Gyomei Himejima, known as the Stone Hashira of the Demon Slayer Corps, is a formidable force to be reckoned with.
As the tallest and strongest Hashira of the Corps, his impressive physique, spiked hair, and a scar across his forehead make him impossible to overlook.
Gyomei (before becoming a Demon Slayer) and Stone Hashira raised nine orphan children in a temple plagued by demon attacks.
He protected them by using Wisteria incense as a deterrent. However, he was falsely accused of murdering seven children and was imprisoned.
Fortunately, Kagaya Ubuyashiki, known as Oyakata-sama, intervened and cleared his name.
This led Gyomei to become a Demon Slayer and only two months later, he was given the title of Stone Hashira, earning the reputation of being the strongest of all Hashiras.
He played a crucial role in defeating the powerful demon Muzan and the Upper-Rank One, Kokushibo, without which the Corps may have suffered a severe setback.
Doma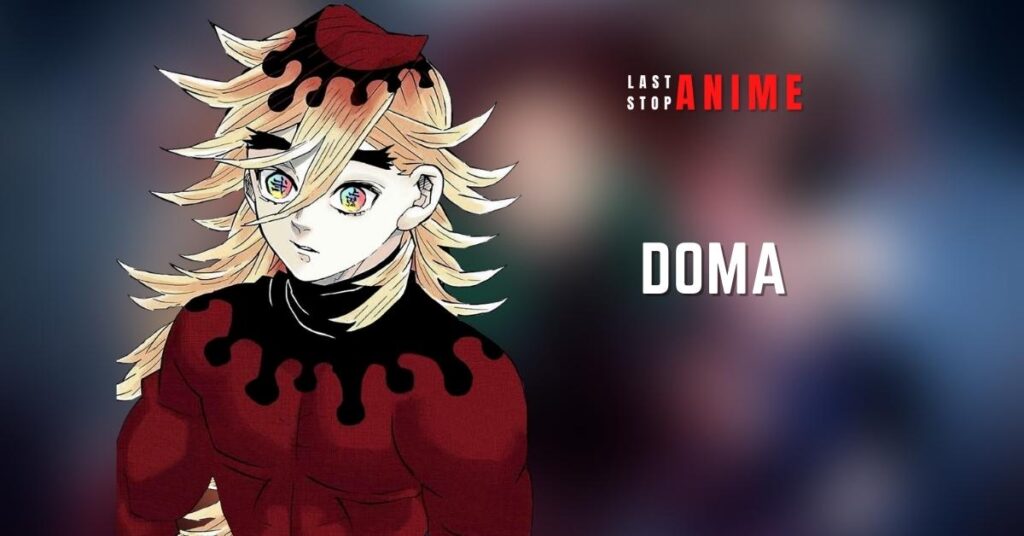 Demon Slayer: Mugen Train, the anime adaptation of the Entertainment District Arc, concludes by introducing Doma, the Upper Rank Two demon among the Twelve Kizuki.
"Kizuki" refers to a group of demons who possess exceptional proficiency in utilizing the blood demon arts. The name literally means 12 Demons of the Moons.
Doma, from Upper Moon Two, is known to be one of the most formidable and strongest demons in existence. Doma is the leader of the Eternal Paradise Faith, a cult that worships him as a deity.
The cult also took in Hashibira Inosuke's mother, Hashibira Kotoha. However, demon Doma eventually killed her when she discovered he had consumed his followers.
His tall, athletic build and toned muscles give off an air of strength and fitness. Doma's Cryokinesis, a blood demon art, is considered one of the most deadly in the demon world and is a major asset in his arsenal.
Kyojuro Rengoku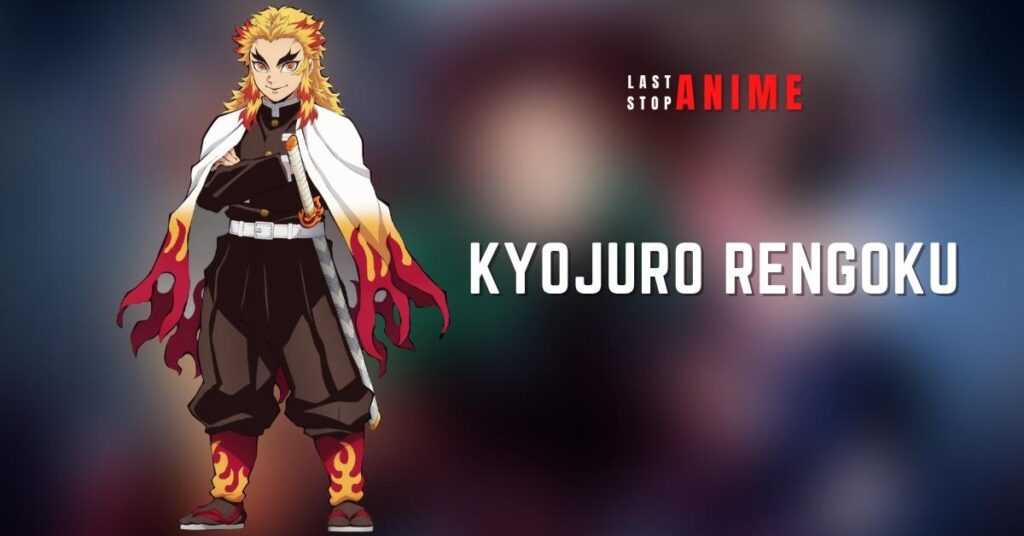 Kyojuro Rengoku, also known as the Flame Hashira, is a member of the Demon Slayer Corps in Demon Slayer: Kimetsu no Yaiba.
He is known for his powerful "Flame Breathing" technique and fierce fighting style.
He is a charismatic and confident leader respected and admired by his comrades.
Despite his fearsome reputation, he has a kind and compassionate heart. He will always go out of his way to help others.
Giyu Tomioka
Tomioka Giyuu is a skilled and powerful demon hunter from Demon Slayer: Kimetsu no Yaiba. He is known for his calm and collected demeanor and his mastery of the "Water Breathing" technique.
He has a strong sense of responsibility and is always willing to harm himself to protect his comrades.
Despite his stoic exterior, he has a deep bond with his fellow demon hunters and will do anything to keep them safe.
During his battle against Akaza, Giyu activated his Demon Slayer Mark. The mark, which appears fluid-like on his left cheek, enhances his water-breathing style.
This mark complements his water-breathing technique and, when activated, grants him increased speed, precision, and endurance.
This was on full display as he engaged in a lengthy battle with the Upper-Rank moon demon.
Tomioka is one of the most popular Demon Slayer characters.
Tengen Uzui
This man, known for his flamboyance, possesses impressive skills with dual Nichirin Cleavers. He was able to defeat Daki despite being poisoned by a demon.
Tengen Uzui demonstrates remarkable strength, stamina, and endurance, likely due to his background as a former shinobi. He also employs his shinobi skills in combat against demons.
Tengen, a former Sound Hashira, has an increased sensitivity to sounds. In the Entertainment District Arc, he utilized this skill to determine that no more civilians were remaining inside the house of Daki.
During the battle with Daki's brother, Gyutaro, Inuyasha used his heightened sense of hearing to his advantage. By listening to the sound of Gyutaro's attack, he perceived it as a kind of music.
This allowed him to hear the demon's blows as notes in a song and use the rhythm to time his counterstrikes, ultimately leading to a full-blown attack.
Muzan Kibutsuji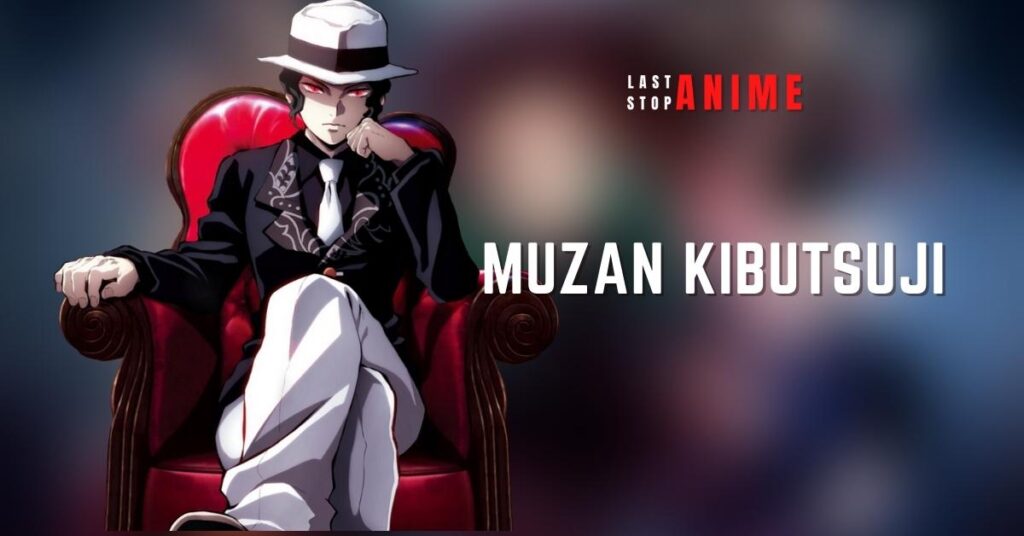 Muzan Kibutsuji, the primary antagonist of Demon Slayer, is a captivating character in the show. Heis a formidable demon which has existed for over 10,000 years and continues to wreak havoc on the world.
Although he has not appeared frequently in the anime, his ruthless behavior towards his own powerful lieutenants is striking.
His demon abilities include quick regeneration, making him virtually unbeatable by even the strongest demon slayers.
Furthermore, he has the power to create and control other demons. His fearsome reputation extends to humans and demons, who both worship and fear him as a god-like figure.
Killing Muzan Kibutsuji is considered nearly impossible by those who know of him.
Despite his immense power, it is unclear how Tanjiro and the other Demon Slayers will be able to defeat him. However, there is potential for the characters to grow stronger and put up a formidable fight.
Muzan Kibutsuji, believe it or not, is one of the most popular Demon Slayer male characters.
Inosuke Hashibira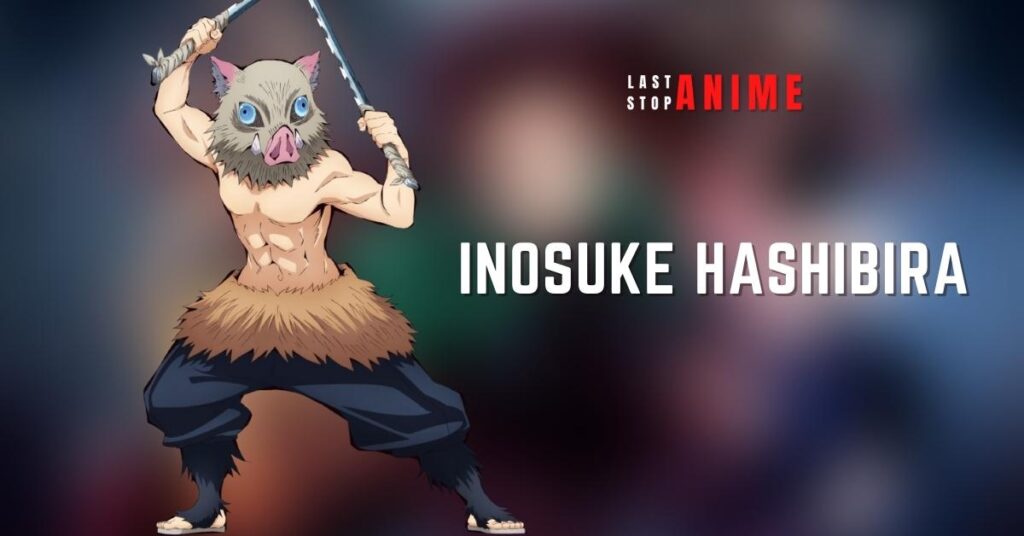 Inosuke Hashibira, also known as the "Boar Mask," is a fierce and powerful demon hunter with "Beast Breathing."
He is known for his impulsive nature in battle, often charging in without proper consideration.
Despite his formidable fighting skills, his tendency to overestimate his abilities can land him in dangerous situations.
He is constantly seeking out opponents to test his strength against. Inosuke's upbringing by boars is evident in his choice of headwear.
Due to his unique upbringing, he struggles to understand human social norms, emotions, and customs.
However, through his association with the Demon Slayer Corps, he gradually learns and adapts to these aspects of human society.
He is one of the most beloved characters in the Demon Slayer series!