Prison school is one of the most hilarious and fun anime ever released. With its use of crude and sexual humor and a hilarious cast of characters, it is no surprise that the anime has gained so much acclaim throughout the years.
The story takes place in an all-female boarding school with a new policy allowing male students to enroll as well.
We follow the five boys that are the only ones from their gender who were able to get into the school in the new semester.
When a plan of peeping into the girls' bath fails, they are surprised when they get put in their school's jail without contact with the outside world.
In addition to this, they are tortured in perverted ways every day by members of the student council, which tests their tenacity and loyalty to each other.
It sets new standards for ecchi comedy anime while having raunchy humor that everyone can understand rather than aiming for adult-like humor.
In this article, we shall suggest the best anime like prison school, that young audiences and everyone can enjoy.
11. Armed Girl's Machiavellism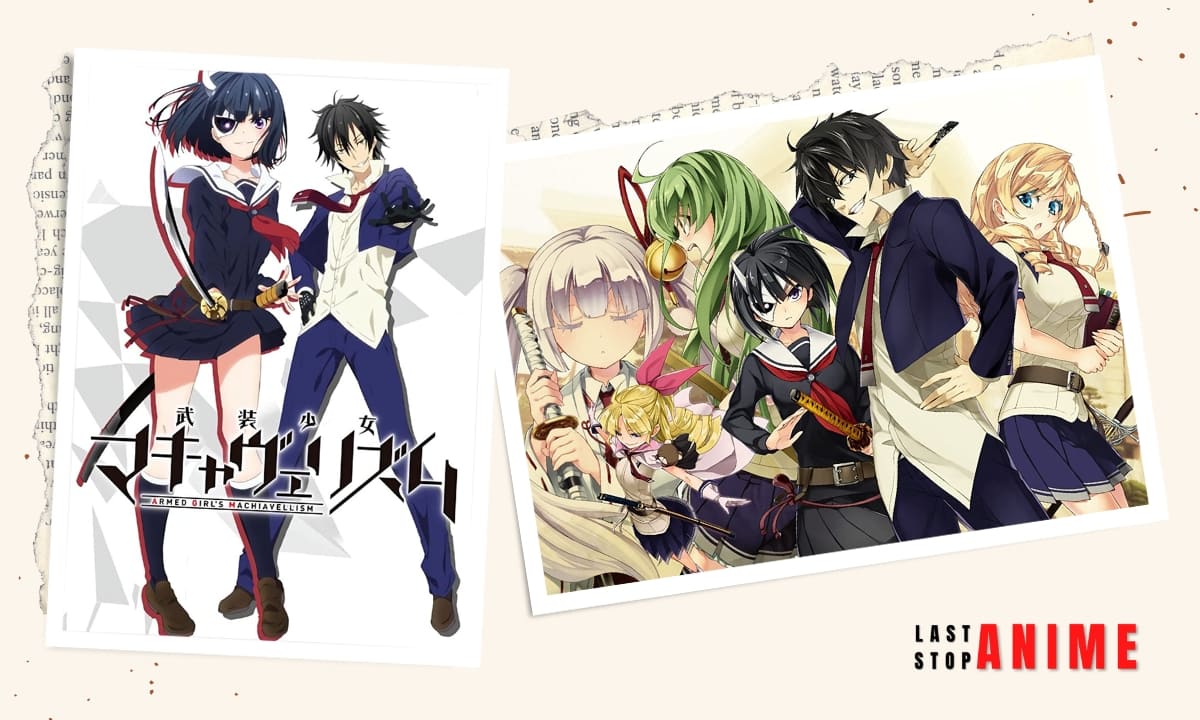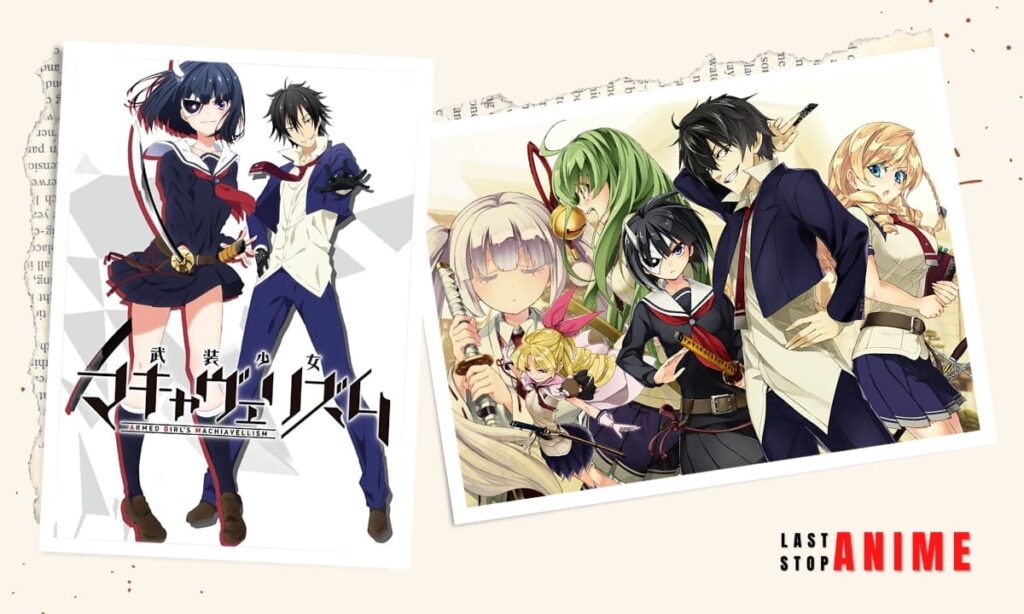 Number of Episodes: 12
Number of Seasons: 1 + 1 OVA
Genres: Action, Comedy, Ecchi
MAL Rating: 6.89
Where to Watch: Crunchyroll, Prime Video, HIDIVE
Armed girl's machiavellism is a weird and extremely funny series filled with ecchi humor and action.
Like Prison school, it has a school setting where an academy only meant for girls gets turned into a co-ed.
However, to appease the girls' fear, they were allowed to bring weapons to protect themselves.
This eventually led to them using weapons to enforce justice and maintain students' peaceful lives by handling troublemakers.
Ironically, this leads to a lot of injustice and foul play as several female students unfairly use their advantages to beat down male students while forcing them to wear girls' clothes.
The male protagonist, a boy named Fudou, seems to fit all these criteria as he is forced to enroll into the school after getting into a brawl.
Rather than just going with the rules of the school, he decides to challenge the system and hold true to his ideals instead of just living in fear of the laws of the school.
This leads to many entertaining conflicts between the students and an eventual harem that forms for our main character, only to add to the fun.
Armed Girl's Machiavellism manages to create a joyous experience for its viewer with several female characters with notable appearances and a likeable male protagonist.
10. SHIMONETA: A Boring World Where the Concept of Dirty Jokes Doesn't Exist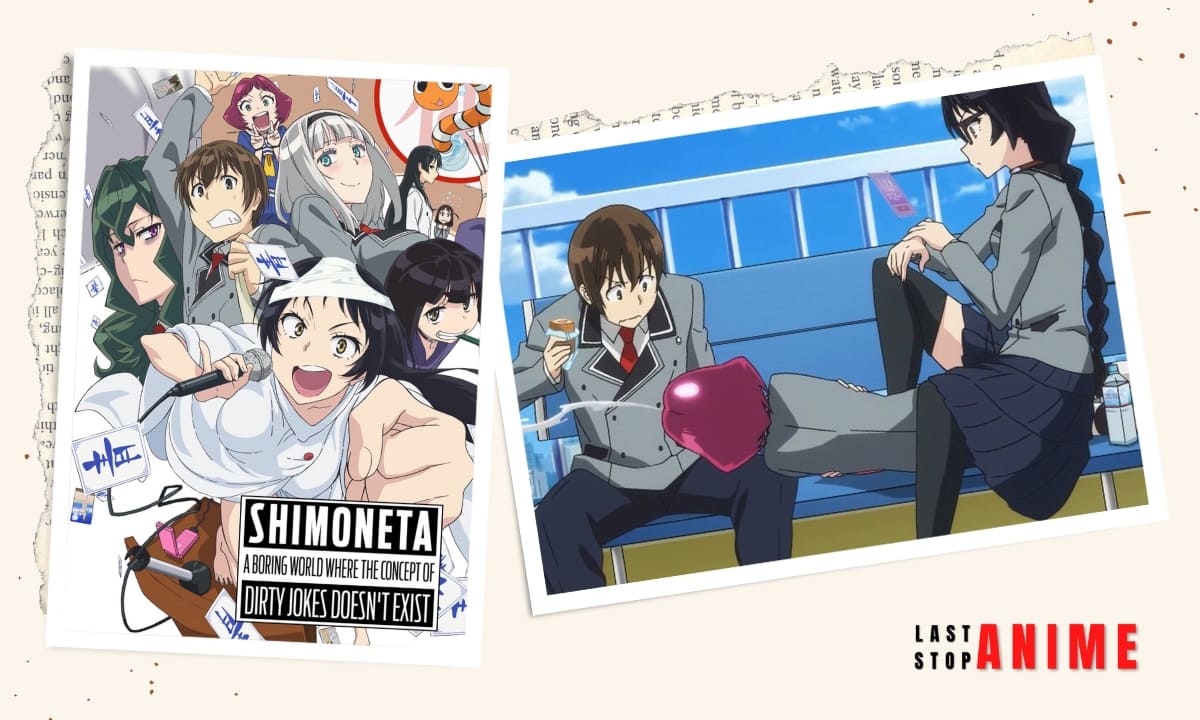 Number of Episodes: 12
Number of Seasons: 1
Genres: Comedy, Ecchi
MAL Rating: 7.24
Where to Watch: Crunchyroll, Prime Video
Known for its sexual humor and outrageous gags, Shimoneta is an anime like prison school with an equally unique plot.
The title gives away the crux of the anime as it takes place in Japan, where obscene and sexual things from perverted magazines to even jokes, have been banned due to its new morality laws.
The story introduces us to a boy named Tanukichi, a new high school student who likes his childhood crush, the student council president.
However, he is surprised when he finds out that the school's vice president has a secret identity where she acts as a "sex terrorist" and spreads lewd material with the help of a criminal organization.
Our main character is roped into this due to his unconventional background as the son of a man who opposed the laws.
He is shocked as he discovers and watches the hidden sides of the student council members and other students.
The series capitalizes on its self-aware humor while fully embracing its ridiculousness.
With every female character in Shimoneta being quirky and its ecchi humor, it makes for an unforgettable experience.
9. Punch Line
Number of Episodes: 12
Number of Seasons: 1
Genres: Action, Comedy, Ecchi, Sci-Fi, Supernatural
MAL Rating: 6.92
Where to Watch: Crunchyroll
MAPPA studios is known for its experimental and out-of-the-ordinary projects, and Punch Line fits all those criteria perfectly.
It is a ridiculous superhero story that follows its protagonist, a boy named Yuuta, who gets into an accident and has his soul separated from his body by a cat spirit.
In his new form, he tries regaining his body but realizes he has several abilities, the weirdest being that he gains powers by seeing panties.
However, an asteroid will hit the earth if he sees panties once again.
With the new friends he makes, they uncover a dangerous organization which has disastrous motives.
Hence, Punch Line follows this young boy's bizarre quest to stop this world-ending organization while trying not to end the world himself by seeing panties.
While this plot seems utterly stupid, the anime presents it very convincingly, and every anime fan is thoroughly entertained at every moment.
8. Highschool Of The Dead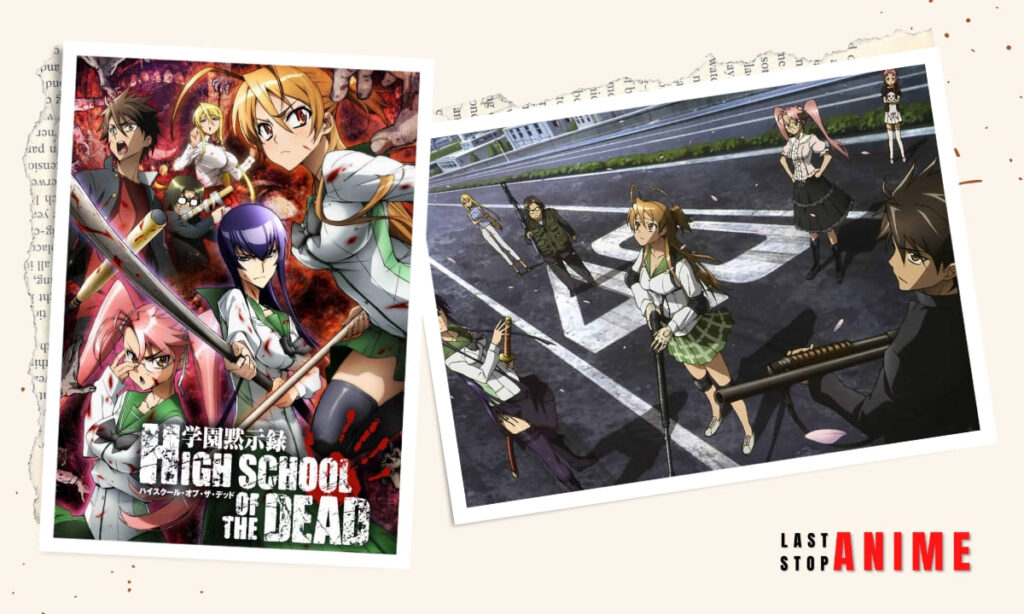 Number of Episodes: 12
Number of Seasons: 1
Genres: Action, Horror, Supernatural, Ecchi
MAL Rating: 7.08
Where to Watch: Crunchyroll, Prime Video, Hulu, HIDIVE, Vudu
For anyone who enjoyed the lewd and ecchi scenes in Prison School but wants it in a post-apocalyptic world with intense action sequences, Highschool of the dead is the perfect anime.
It follows a young man's journey with his friends through a world being invaded by the dead.
Highschool of the dead has a great cast of female and male characters who work together to escape from their school when a zombie invasion happens.
Our main character, a boy named Takashi, is forced to kill his best friend and strives to protect the girl he loves.
In the process, he runs into other interesting people in his school who also face their battles against the zombies.
As they struggle for survival, each of them uses the skills they have at their disposal to defeat enemies they encounter.
In addition to the gory action, the beautiful ladies in the anime are also heavily infatuated with the main character, making it more appealing to fans.
7. Nanbaka
Number of Episodes: 25
Number of Seasons: 2 + 1 OVA
Genres: Action, Comedy, Drama
MAL Rating: 7.33
Where to Watch: Crunchyroll, Prime Video
Nanbaka is a hysterical series that shows the exploits of a group of prisoners.
The story takes place in a formidable prison known as Nanba where prisoners known to escape easily are placed.
Nanbaka centres around four prisoners who share the same cell and are particularly infamous for being too slippery to hold in prisons.
With each of them having their own distinctive and over-the-top personalities, we see them making the daily lives of the prison guards hell.
The anime shows a light and fun side of prison life while making fans love its weird scenery.
It is far from the average spectrum and goes big with everything, making us crave every new episode.
For anyone looking for an anime similar to Prison School but with a story that can hold its own, Nanbaka is what you are looking for.
6. Detroit Metal City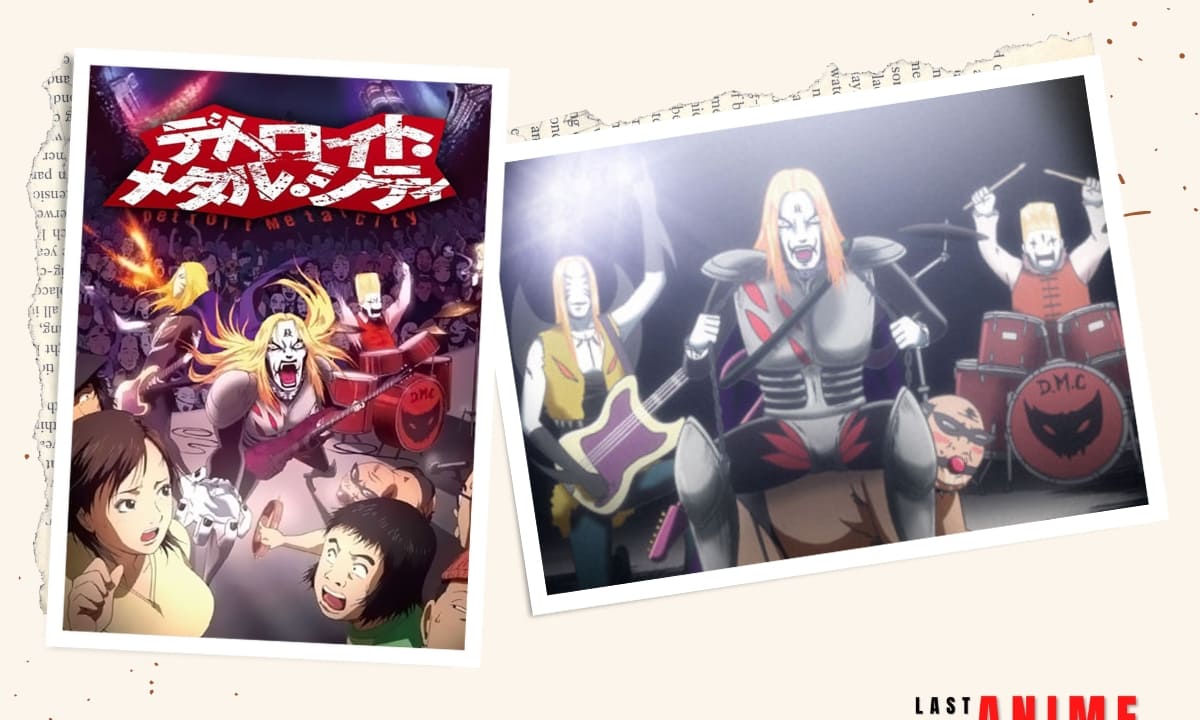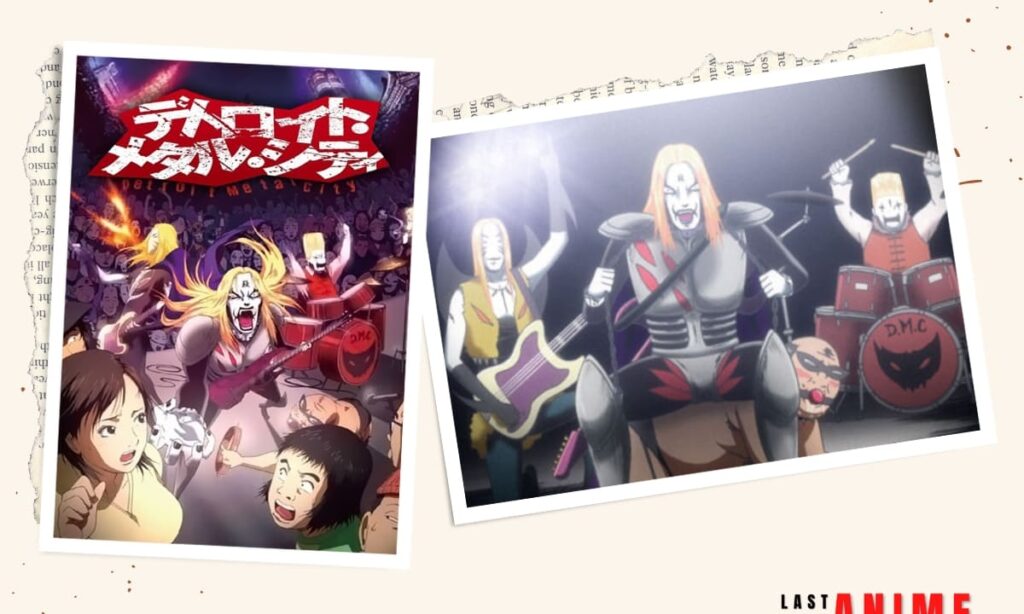 Number of Episodes: 12
Number of Seasons: 1
Genres: Comedy, Music
MAL Rating: 8.11
Where to Watch: Crunchyroll, Prime Video
Detroit Metal City is an audacious and bold series that uses gags and dark comedy in a very clever way.
This comedy anime uses several tropes from metal music while taking us on a journey through the life of the lead singer of a band named DMC- Detroit metal city.
While initially, the male protagonist seems to be portraying an evil and demonic person with a very extravagant personality, in reality, he is the exact opposite.
Souichi, the lead singer, is a young man with a very average college life and is extremely normal.
The persona he puts up heavily based on his issues with his ordinary life is expressed through his music.
He has no choice but to quit as he needs it to make ends meet and struggles to maintain his life.
While he is extremely popular in one, he is very normal in the other and is busy trying to win over a girl he likes.
The series has a lot of adult humor that might not be able understandable to younger audiences. Still, it is one of the best comedy anime ever for those who can get it.
5. Kakegurui
Number of Episodes: 24
Number of Seasons: 2
Genres: Drama, Mystery, Thriller
MAL Rating: 7.25
Where to Watch: Netflix
One of the great things about Prison School is the various themes and genres it covers.
For those that love its intensity and high stakes, Kakegurui is an anime that they will love equally.
It has a school setting where people from extremely rich backgrounds study together.
Due to this, they make use of their benefits and turn the school into a gambling den filled with ridiculously high stakes at night.
The story is told from the perspective of a girl named Jabami Yumeko, a new transfer student.
She is a beautiful girl who also looks naive and easily influenced by others, so the school might seem like a bad place for her.
However, soon this is proven wrong as we see her true nature as a young professional gambler who is extremely crazy about anything related to gambling.
Unlike the others who play in order to win, Yumeko is a girl who finds a thrill in just playing the game and is extremely fearless no matter how dangerous it gets.
With its psychological battle of wits that engrosses the viewers, pretty characters and great animation, which is characteristic of MAPPA, Kakegurui is an anime worth your time.
4. KonoSuba: God's Blessing on This Wonderful World!
Number of Episodes: 20
Number of Seasons: 2 + 2 OVAS
Genres: Adventure, Comedy, Fantasy
MAL Rating: 8.12
Where to Watch: Crunchyroll
Widely considered one of the best comedy anime ever to be made, Konosuba takes place in an Isekai world filled with magic and other fantasy elements.
It follows a high school student who is reincarnated here and tasked with defeating the demon king.
While being given a choice of taking one thing with him to this new life, he chose the goddess who was presenting him with the choices herself. However, to his disappointment, she turned out to be useless.
In this new world where he has no knowledge and an ally who wouldn't help, the protagonist, Kazuma, begins by earning money to pay for his expenses rather than leave on an adventure.
Konosuba takes a different route to every Isekai trope that we know of.
Rather than seeking glory, the main character is extremely pragmatic while considering issues like living expenses and food.
In addition, he is extremely funny, and the friends he meets along the way only add to this air of comedy.
This anime adaptation has the perfect blend of adult-like humor and plain dumb, hilarious scenes that leave us in tears.
3. Golden Boy
Number of Episodes: 6
Number of Seasons: 1
Genres: Adventure, Comedy, Ecchi
MAL Rating: 8.03
Where to Watch: Crunchyroll
Golden Boy is such a relic of the past that it can be considered one of the greatest comedy anime of its time.
The protagonist of Golden Boy, Kintarou ooe, is a man in search of his perfect employment position and works for any job he gets.
During this, he gets into several adventures and runs into gorgeous women who manage to get his interest.
While there are only a few episodes, every new episode differs from the one before while dealing with various stories.
With its provocative humor and loveable protagonist, Golden Boy is a gem in the comedy genre.
2. Great Teacher Onizuka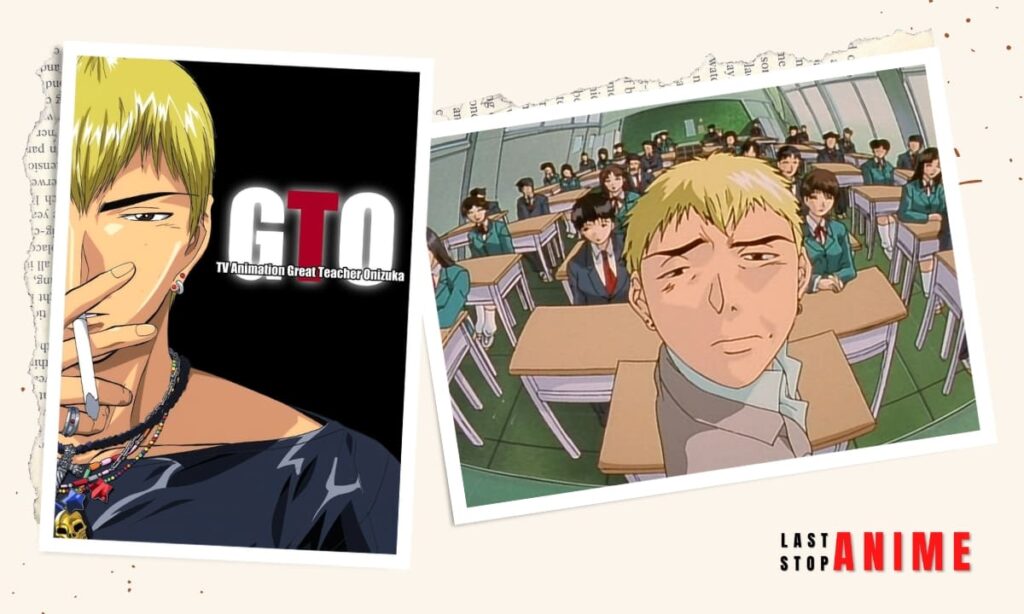 Number of Episodes: 43
Number of Seasons: 1
Genres: Comedy, Drama
MAL Rating: 8.69
Where to Watch: Crunchyroll, Netflix, Prime Video, Tubi
Great teacher onizuka is yet another blast from the past and one of the most recognizable comedy anime out there.
It follows Onizuka himself, a delinquent and gang leader who passes his days in leisure while looking at girls in a perverted way.
When he learns that becoming a teacher can help him get girls, Onizuka endeavours not to become just a typical teacher but the best high school teacher in Japan.
After landing a job, he is faced with no easy task as he is put in charge of a notorious high school class that keeps insulting their teachers.
The great teacher onizuka, however, is no ordinary man and uses his own creative methods to positively impact these kids' lives.
He manages to win the kids over with his fun and approachable nature. He helps in making them become respectable people.
Onizuka's development from an unlikeable man to a person who actually went on to care for his students, paired with the comedy of the anime is amazing to witness.
1. Grand Blue
Number of Episodes: 12
Number of Seasons: 1
Genres: Comedy
MAL Rating: 8.43
Where to Watch: Prime, Video
The best anime like prison that any anime fan can watch right now is undoubtedly Grand Blue.
It follows the life of Iori, a young man who moves to his uncle's scuba diving shop in a coastal town for his new college life.
He soon finds out that he will not be having a peaceful life in his new surroundings as he finds naked and muscular men from the diving club in the place he's supposed to say.
Through this, they get along to several hilarious misadventures that make us continuously laugh.
In addition to their eccentric behaviours, Grand Blue allows a proper amount of time to its actual plot, which follows diving and Iori discovering the world's beauty underwater.
Grand Blue only keeps increasing the quality of its humor and the development for its characters, who are all very memorable.
Grand Blue is the perfect series for anyone who wants to have a good time without wanting to deal with the dramatic elements anime is known for.
---
Will Prison School Have A Season 2?
After a very successful first season and an OVA that proceeded with it, Prison School has jumped off the radar with no news about whether or not a second season will be produced.
While an anime adaptation can span several seasons due to a lot of content left to cover from the manga, J.C. Staff, which animated the first season, has revealed no news regarding the franchise's future.
Having been over 7 years since the first season's release, it's safe to say that we will not be receiving a second season anytime soon.
However, as we've seen in the cases of Bleach, The Devil is a Part-Timer and several other anime, hiatuses can last a long time between anime seasons.
In conclusion, while all hope is not lost for the second season of Prison School, fans shouldn't hold their breath expecting it to happen in the immediate future.