Manga, which refers to Japanese comic books or graphic novels, is becoming increasingly popular day by day, spreading its limbs to different parts of the world.
Anime, standing as the west's favorite Japanese pop culture, draws a lot of manga readers. Why? You will find that the most popular anime titles are adaptations of manga series. Most of the time, anime viewers look to read the original manga to continue the story rather than waiting for the next season.
Shows like The Promised Neverland and Tokyo Ghoul dice out many crucial segments and plot points from the anime. As a result, viewers choose to read the original manga to understand the story better.
Japanese manga primarily differs from western comic books in the aspect of genre diversity. Unlike western comics having a narrow target audience, manga caters to audiences of diverse age groups and backgrounds.
Most Japanese comics fall under one of these categories of demographics – Shonen, Shoujo, Seinen, Josei and Kodomomuke.
Interestingly, many manga series are well-loved by manga readers from varied age groups regardless of the target demographic.
For example, Attack on Titan, a shonen manga, is all-the-rage among adults as it contains dark and complex themes.
In simple words, there is no hard and fast rule to reading manga. It is because, despite demographic tags, most manga span a multitude of genres and deal with various themes.
If you want to wet your feet in the manga world, any one of the following manga series can be a good starting point, depending on the genres and themes that interest you.
14. Fruits Basket
Genres: Shojo; Drama, Romance, Comedy, Supernatural
Status: Completed (23 volumes)
Takaya Natsuki's Fruits Basket is one of the most popular shojo manga series of all time, with a very successful anime adaptation.
Synopsis:
Fruits Basket follows Tohru Honda, a high school girl, an orphan who lives in a tent in the woods. The property belongs to the Sohma family, that later take her in and hire her as their landlady.
Tohru later learns that thirteen Sohma family members are cursed and can turn into animals of the Chinese zodiac when hugged by the opposite sex or under distress. 
As the story progresses, Tohru develops bonds with other members and realizes their sufferings.
With a resolve to break the curse and free their burdens, the young girl may be the one to mend their hearts.
Why you should read Fruits Basket:
Intriguing story premise
Incredible emotional development of all the characters
The perfect balance of romance and comedy
Beautiful depiction of themes like friendship and love
13. Berserk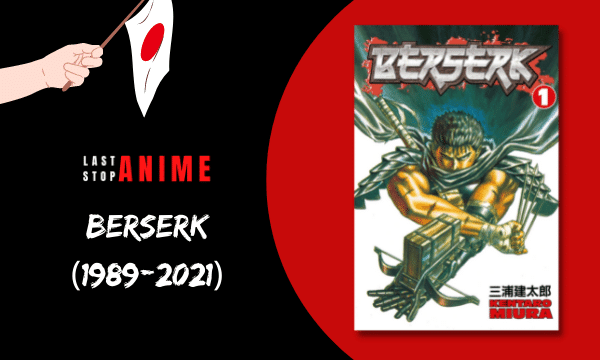 Genres: Seinen; Action, Dark Fantasy, Horror, Drama
Status: On hiatus (41 volumes)
Berserk, by the great manga artist Kentarou Miura, is a name familiar to all manga fans. It is the highest-rated manga on MyAnimeList, and for many, it is the greatest manga ever without room for debate.
Berserk may not be the best manga for beginners as it contains a lot of gore and graphic imagery. But if you're up for it, you're in for a wild ride.
Synopsis:
Guts is an ex-mercenary, now known as the "Black Swordsman," who has only one thing on his mind: vendetta.
Having a rough life growing up, when he finally meets someone he admires and trusts, this person stabs him in the back, stripping him of everything precious to him, including his love.
The betrayal brings forth a never-ending wave of tragedies for Guts, fueling his hatred and unshakeable resolve to avenge himself and his lover.
Why you should read Berserk:
Masterful storytelling
One of the best art styles in all of manga
Exceptionally well-written characters
One of the best protagonist-antagonist duos ever
12. Given
Genres: Music, Boys' Love, Drama
Status: Ongoing (7+ volumes)
Given by Kizu Natsuki, is probably the most well-known name in BL manga and, the anime is a feast for music lovers. It is also the best manga for beginners who are BL fans.
Synopsis:
Mafuyu Satou is a second-year high school transfer student who keeps to himself. Uenoyama Ritsuka is a guitarist, another student in the same year who takes naps during his free time in an unvisited staircase in school.
One day, he sees Mafuyu asleep in his favorite spot, holding a guitar with broken strings. Unable to bear Mafuyu's glum expression, Uenoyama fixes his guitar.
Mafuyu, impressed by Uenoyama, asks him to teach him how to play the guitar.
Here begins their beautiful journey, one discovering his voice through music and the other seeking his lost passion, developing meaningful bonds along the way.
Why you should read Given:
A heavy and emotionally stirring story
The beautiful art style and amazing character designs
Well-developed and lovable characters
Music tied with emotional recovery and growth
11. Dragon Ball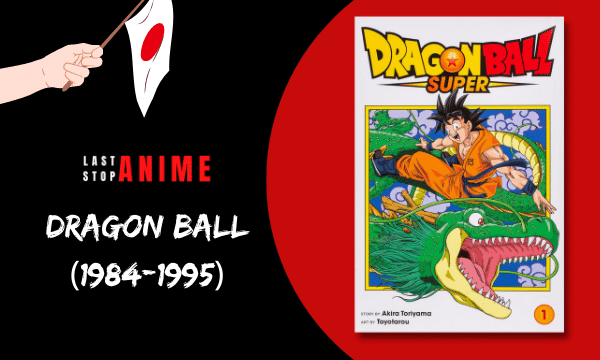 Genres: Shonen; Action, Adventure, Martial Arts, Science Fiction Comedy
Status: Completed (42 volumes)
Dragon Ball represents the essence of shonen, and it has paved the way for more manga under this genre and other genres to make their way into the western market.
Written by Akira Toriyama, it is the second-best-selling manga series and has a legendary status in the manga/anime community.
Synopsis:
Part one of Dragon Ball follows Son Goku, a young boy who possesses one of the legendary seven dragon balls.
He joins Bulma, his new friend, on her journey to find the rest of the dragon balls, entering a world swarming with enemies who share the same goal.
To protect himself and his allies, Goku is continuously training, enhancing the mysterious extraordinary strength he possesses.
Part two, called Dragon Ball Z, follows our protagonist Goku as an adult in his endless endeavors to protect his loved ones and, basically, the entire planet.
Why you should read Dragon Ball:
Innumerable compelling action sequences
Many likable characters
Excellent protagonist-deuteragonist dynamics
A gripping adventure-driven story
10. My Hero Academia
Genres: Shonen; Action, Superhero, Science Fantasy
Status: Ongoing (34+ volumes)
Horikoshi Kohei's My Hero Academia, serialized in the Weekly Shonen Jump magazine, is insanely popular around the world.
With an equally successful anime adaptation, the manga quickly became the face of new generation shonen.
Synopsis: 
In the world of MHA, individuals have unique abilities called "quirks." Interestingly, our main character, Izuku Midoriya, is born quirkless yet dreams of becoming a pro hero like All Might, the world's #1 hero.
Things take a fortunate turn when Izuku meets All Might. He acquires a quirk of his own, allowing him to apply for U.A. high, a school that admits budding pro heroes.
Now Izuku has to work harder than everyone else to gain control of his newfound abilities to achieve his goal of becoming the world's greatest pro hero.
Why you should read My Hero Academia:
Top-notch action scenes
A large cast of very well-written heroes and villains
Great artwork
A brilliant portrayal of friendship and camaraderie
9. Chainsaw Man
Genres: Shonen; Action, Thriller, Comedy horror
Status: Part 1 completed (11 volumes)
Chainsaw Man by Tatsuki Fujimoto is one of the most talked-about Shonen Jump manga of recent years.
The sheer absurdity of the plot mixed with incredible storytelling has made it a massive success. The anime adaptation of this manga is one of the most anticipated in 2022.
Synopsis:
Denji is an easy-going teen with simple teenage dreams. The reality, however, is his enemy. To pay off debts, he is forced by the yakuza to kill devils with the help of his pet devil, Pochita.
In an unexpected turn of events, he merges with Pochita and turns into a chainsaw devil, enabling him to convert his body parts into chainsaws.
Catching wind of his powers, the devil hunters recruit him from a scene, triggering a chain of even more unpredictable circumstances for Denji.
Why you should read Chainsaw Man:
Wildly unpredictable plot
Over-the-top and bizarre action-packed fight scenes
Realistic, raw, and unorthodox artwork
Remarkably well-written characters
8. Monster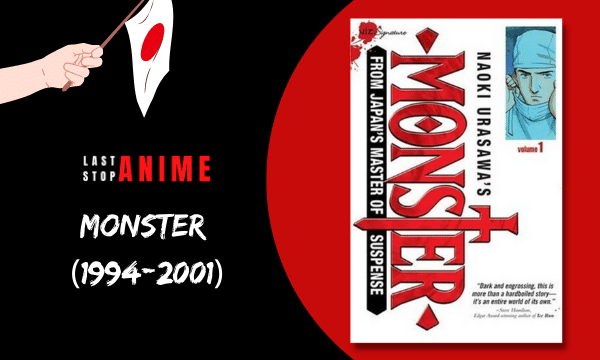 Genres: Seinen; Psychological thriller, Crime, Suspense
Status: Completed (18 volumes)
Monster is Naoki Urasawa's most acclaimed work. It is regarded as one of the best manga ever as it deals with multiple mature themes almost flawlessly.
Synopsis:
Kenzou Tenma is a highly-esteemed Japanese neurosurgeon in Düsseldorf, Germany. One pivotal incident entails him staking his career by saving a little boy's life instead of the city mayor.
This decision results in the hospital director stripping him of his position and Tenma losing his reputation.
Years later, when Tenma has finally regained his lost prestige and is at his career peak, he again finds himself in a muddle.
This time, it is a string of crimes, in the center of which is the same boy he jeopardized his career to save nine years ago.
Why you should read Monster:
An extremely engaging story with excellent plot structure
One of the best antagonists in manga/anime
A rich study of the human mind and societal reality
Well-written complex characters
7. Spy x Family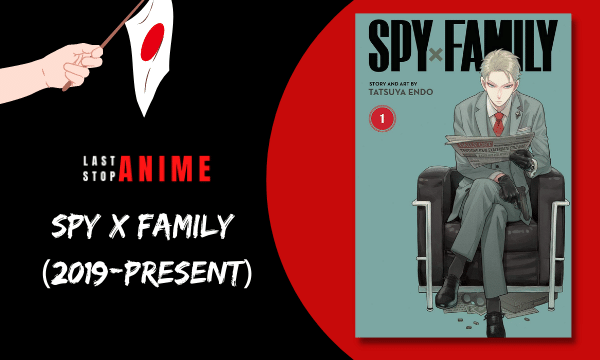 Genres: Shonen; Action, Comedy
Status: Ongoing (8+)
The Spy x Family manga by Tatsuya Endou took off soon, post its publishing, and its popularity skyrocketed with its anime adaptation in 2022. 
The manga is relatively new compared to other manga on this list and particularly easy to get into. It is the ideal manga for beginners.
Synopsis:
To secure peace between the Westalis and Ostania, Westalis' best spy, Twilight, is assigned to investigate a high-ranking Ostanian politician.
He must form a pretend family and enroll his child in the same school as his target's young son.
Twilight, now Loid, adopts a little orphan girl, Anya. As circumstances demand, he also enters into a sham marriage.
But here's the twist: Anya is an esper, and the wife, Yor, an assassin. Hereon, unexpected events lead to entertaining scenarios, with all three hiding their secrets for their own reasons.
Why you should read Spy x Family:
Plenty of comedy with a fair share of heartfelt moments
Unique story premise
A comforting and heartwarming read
Golden combination of humor and action
6. Demon Slayer 
Genres: Shonen; Action, Dark Fantasy, Adventure
Status: Completed (23 volumes)
Demon Slayer, written and illustrated by Koyoharu Gotouge, is a manga series with an exceptionally successful anime adaptation.
Having serialized in the Weekly Shonen Jump magazine, it became one of the most popular manga series among manga fans in a relatively short period.
Synopsis: 
Our main character, Tanjiro, is a young boy who lives with his mother and siblings in the mountains. After his father's demise, he has taken on the role of the breadwinner of his family.
One morning, upon returning home from work, Tanjiro lays his eyes on the most dreadful sight- his family lying lifeless in cold blood.
Not only that, the only one left alive, his younger sister Nezuko has now turned into a flesh-eating demon. 
Tanjiro instantly leaves home with Nezuko on his back to find help, moving forward relentlessly, with overwhelming despair but an unfaltering vow to turn his sister back into a human.
Why you should read Demon Slayer:
Unique art and character designs
Numerous thrilling fight sequences
Extremely likable characters
Beautiful depiction of bonds between siblings and friends.
5. Tokyo Ghoul
Genres: Seinen; Action, Supernatural thriller, Horror
Status: Completed (14 volumes)
Sui Ishida's Tokyo Ghoul is the best choice for manga beginners who can stomach gore and is easy to get into because of its length.
You can also check out the sequel series Tokyo Ghoul:re to continue the story and the light novels to gain more insight into the characters' lives.
Synopsis:
Tokyo is infested by man-eating beings called "ghouls" that camouflage as humans and attack when night creeps in. The Counter Commission of Ghoul (CCG) is an organization responsible for exterminating these ghouls.
Ken Kaneki is a regular university student whose life turns upside-down when his date turns out to be a ghoul preying on him.
After sustaining life-threatening injuries in the altercation, he goes through surgery and later realizes that he has turned into a half-ghoul. 
Craving for human flesh and struggling to save his humanity, Kaneki is caught miserably in a cruel world between ghouls and humans.
Why you should read Tokyo Ghoul:
Compelling story
Exquisite art style
Beautifully drawn characters
Well-developed side characters and an exceptionally well-written main character
4. One Piece
Genres: Shonen; Adventure, Action, Comedy, Fantasy
Status: Ongoing (100+ volumes)
One Piece by Oda Eiichiro is part of the Shonen Jump's Big Three and is the best-selling manga of all time.
The sheer number of volumes may seem overwhelming, and it demands commitment, but every minute spent on the manga is worth it.
Synopsis:
Monkey D. Luffy is a lively, funny, and good-hearted young man whose body has acquired rubber-like properties after unintentionally consuming a "Devil Fruit."
He may seem dull-witted due to his disposition, but he's very adept in battle and has a one-track mind on becoming the King of the Pirates.
The One Piece is the greatest treasure of the seas, left by the previous King of the Pirates, Gol D. Roger, prior to his execution by the World Government.
The story follows Luffy's quest for a crew and their departure on a long, rip-roaring journey to the Grand Line in search of the One Piece.
Why you should read One Piece:
Marvelous world-building
Brilliantly laid-out plot structure
Extremely likable characters
Incredible storytelling
Fantastic fight sequences
3. Death Note
Genres: Shonen; Psychological thriller, Suspense
Status: Completed (12 volumes)
Death Note, written by Ohba Tsugumi and illustrated by Obata Takeshi, and serialized in the Weekly Shonen Jump, is regarded as one of the best manga of all time.
Even after almost two decades, its popularity is ever-increasing. Death Note is the perfect manga for beginners due to its concept and story length.
Synopsis:
Light Yagami, Japan's top high-school student, one day comes across a mysterious notebook called the "Death Note." Not soon after, he learns that whoever's name is written in the Death Note dies.
After verifying it and realizing its potential, Light, who has a strong sense of justice, gets hell-bent on ridding the world of all criminals under the name "Kira."
The government appoints their best detective, L, to unveil Kira's identity. After this ensues, an exhilarating cat-and-mouse game of wits between Light and L that keeps you on your toes the entire time.
Why you should read Death Note:
Jaw-dropping plot twists
Impressive battle of brains
Highly engrossing plot
One of the best protagonist-antagonist duos in manga
Excellent execution of themes like justice, good and evil
2. Attack on Titan
Genres: Shonen; Action, Thriller, Dark Fantasy, Drama
Status: Completed (34 volumes)
Not only is Hajime Isayama's Attack on Titan one of the most popular manga series, but also its anime episodes are among the highest-rated on IMDb. If dark and heavy themes fascinate you, this manga is the ideal choice.
Synopsis:
Humanity lives confined within towering walls to shield themselves against gigantic human-like creatures that eat humans, called titans.
Peace was finally at the door after over a century until one day, when titans breached the outermost wall, causing havoc in the outer city of Shiganshina.
On that day, Eren, his adopted sister Mikasa, and friend Armin realize the brutal reality of their world.
After a terrifyingly traumatic incident, Eren is overcome with rage and swears to wipe out every single titan in existence.
Why you should read Attack on Titan:
Very engaging plot with bone-chilling plot twists
Highly action-packed fight sequences
Extremely well-written layered characters
Deep exploration of themes like freedom and conflict
Very well-laid plot structure with exceptional story-telling
1. Naruto
Genres: Shonen; Action, Adventure, Fantasy
Status: Completed (72 volumes)
Masashi Kishimoto's Naruto is part of the "Big Three" of the anime and manga world, alongside One Piece and Bleach. It is one of the best-selling and most popular manga series of all time.
Synopsis:
After the Nine-Tailed Fox demon attacked the ninja village of Konohagakure, The Fourth Hokage (the village leader) sealed the fox inside the newly born Naruto to subdue it.
Flash-forward twelve years, Naruto Uzumaki is a headstrong, bright, and playful boy who has but one goal: to become the village Hokage and get acknowledged by the villagers who have forever shunned and feared him but first, he must make comrades, take on high-risk missions, and confront unthinkable adversaries to get to the very top!
Why you should read Naruto:
Well-interwoven sub-plots within the main plot
Highly exhilarating tactical fight scenes
Immaculate story-telling
Very well-written characters
Arguably the best villains in manga