Astrology is the study of zodiac signs to explain human affairs and earthly happenings by observing celestial bodies.
The world of anime is great and has such a diverse nature that everyone can find something they can enjoy.
Zodiac Signs In Anime
Anime always strikes a balance, as they have some great characters that capture fans' hearts and some that disgust the fans just by hearing their name.
Fans love to share their personality, zodiac sign, or sometimes even birthday with their favorite anime characters.
But in the same way, they can also feel disgusted if they ever share their zodiac sign with a character they hate.
Let's be honest: who would want to share their zodiac sign with Minoru Mineta from My Hero Academia or Shinji Ikari from Neon Genesis Evangelion?
Fans don't want to share their MBTI personalities or other related topics with them simply because of their behavior and amusing antics.
Astrological Aspects In Anime
The astrological aspects of anime characters' zodiac signs and personality traits are not the only things seen in the anime; rather, astrology is sometimes used as a power system in some anime.
Consider Sailor Moon: The Sailor Guardians represent a planet, and their personality types are strongly associated with their respective zodiac signs.
Then we have another instance of Saint Seiya. Cosmo, or shōuchū (Kosumo), is a distinctive characteristic of Masami Kurumada's Saint Seiya series.
It is a mysterious energy and the driving force behind all superhuman acts done during the course of the series.
We all know that there are 12 zodiac signs and many characters in anime. Still, several characters meet the personality traits of each zodiac sign, even the ones we didn't see coming. Some characters on the list might even surprise you.
As we have already covered anime characters that share specific zodiac signs, today we are making a list of anime characters that best represent zodiac signs.
This list can help you figure out which anime character your zodiac sign most closely resembles.
1/12. Aries: Erza Scarlet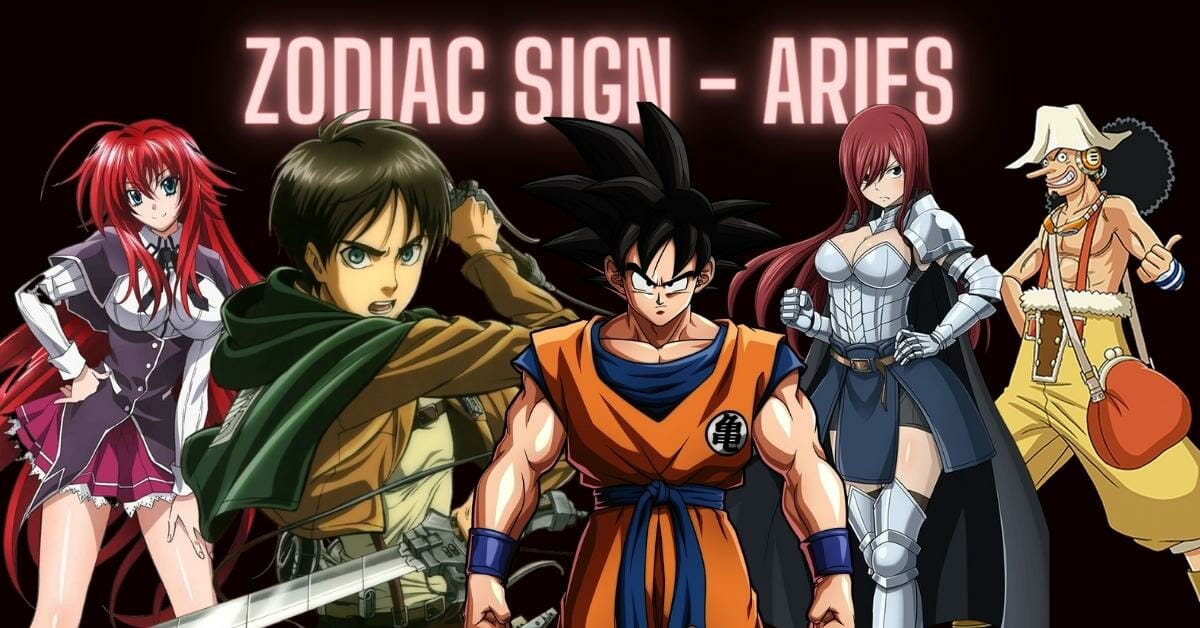 They have an unquestionably energetic presence and are fiercely competitive, often to the point of being argumentative.
Aries individuals are passionate, active, and constantly ready for an adventure. They are the exact opposite of their opponents in that they are exceedingly helpful and loyal to their loved ones.
Erza Scarlet is an aggressive person with a fiery temper. Her flamboyant demeanor inspires terror, but that fear should not be misconstrued as malice.
Whether in a vocal rant or engaged in combat, Erza is driven to achieve her goals and attracts attention.
Some Other Aries Anime Characters: Usopp (One Piece)
2/12. Taurus: Gon Freecss
Taurus people are normally independent and self-sufficient, but when issues arise, they don't hesitate to rely on numerous people.
It is wonderful that they won't allow anything to stand in the way of their objectives, but this attitude also invites danger.
His unbreakable resolve gets him even in the most difficult circumstances. While it frequently results in victory, it has also led to close calls with death.
He also has a short fuse, which comes out when his skills are challenged. As a result, he makes mistakes by not carefully considering his actions.
Some Other Taurus Anime Characters: Luffy (One Piece)
3/12. Gemini: Itachi Uchiha
Itachi Uchiha from Naruto perfectly portrays the double aspects of a Gemini zodiac sign.
Uchiha maintains a fine balance, but when it comes to Sasuke, he can be seen as cold, harsh, and distant. Itachi continuously tries to put Sasuke down.
On the other hand, he is just an older brother who is pained and traumatized. Someone who seeks to bear the burdens of the world's evils on himself.
Itachi is the type who would get to the heart of any problem.
His loyalty as a ninja of the Hidden Leaf Village was no joke, which is another great personality trait of a Gemini. Itachi Uchiha is one of the best Gemini characters.
Some Other Gemini Anime Characters: Osamu Dazai (Bungo Stray Dogs)
4/12. Cancer: Usagi Tsukino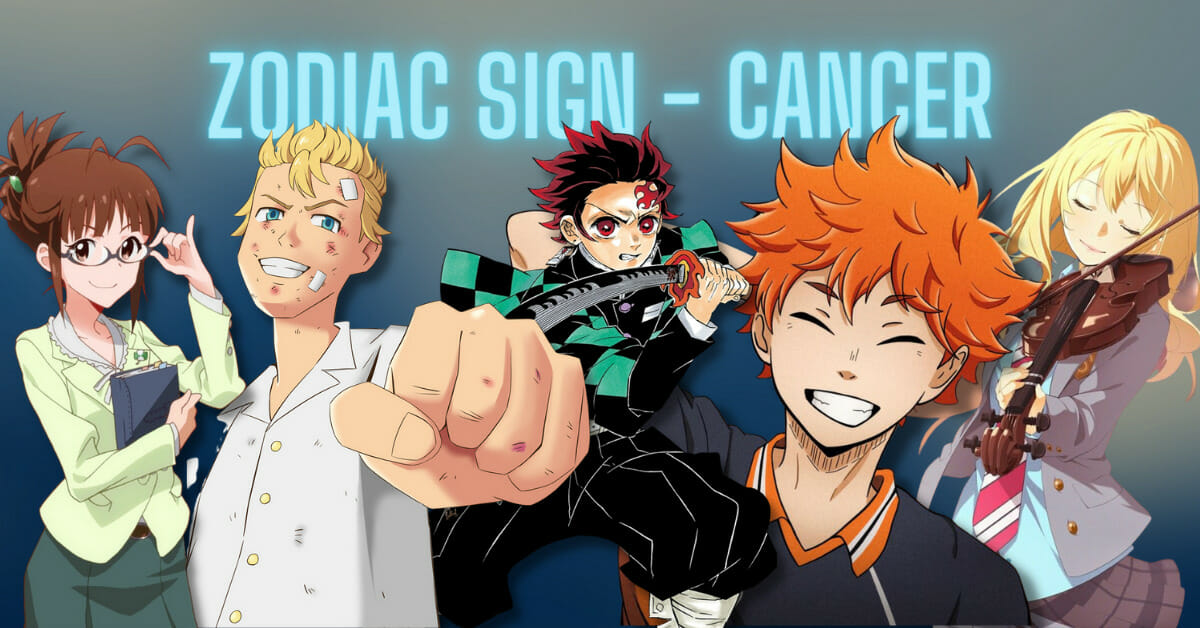 The second water sign in the zodiac calendar is Cancer. They don't always have the best tools to deal with the hard truths of life.
Cancer signs have a strong attachment to individuals they care about. Still, suppose they don't believe that the warmth they provide others is appreciated. In that case, they can easily turn manipulative and self-pitying.
Usagi Tsukino, better known as Sailor Moon, is a perfectly represented Cancer sign.
Others take advantage of her thin skin because she is famous for her emotional outbursts.
Her compassion is communicated through her dedication and devotion to the people she loves.
She defined herself as a "crybaby." She's loyal to her friends and isn't afraid to go to extreme lengths for them.
She is a hero and a high school student who strives to reach out to other students and make friends rather than believing the rumors.
Some Other Cancer Anime Characters: Kaori Miyazono (Your Lie in April)
5/12. Leo: Faye Valentine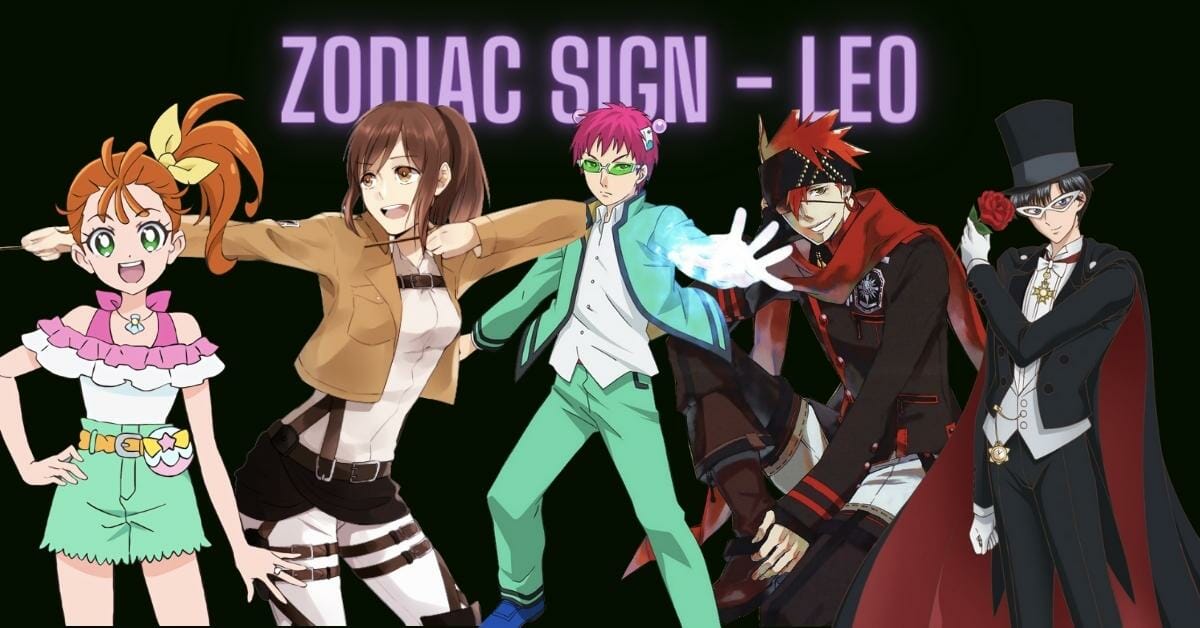 Faye Valentine is the quintessential example of the zodiac sign Leo because of her outspoken demeanor and good looks.
Faye is the main protagonist who is not trying to escape her past. She wishes to learn a bit more about herself!
The Leo zodiac sign can handle anything life throws at them because of their fire and bravery.
They are risk-takers who thrive when allowed to be unpredictable, even in dangerous situations.
Leos are difficult to ignore because they are confident and have an unmistakable dramatic flair that makes them stand out.
She's the type of person who wants to discover more about herself and her desires.
Faye Valentine is the epitome of the Leo personality type. She's fun to be around. For her, the meaning and stories of her life are determined by former lovers.
Some Other Leo Anime Characters: Mamoru Chiba (Sailor Moon)
6/12. Virgo: Kaworu Nagisa
Kaworu Nagisa, a Virgo, understands the value of hardship and success. He's not hesitant to dive headfirst into a project, no matter what it takes.
Kaworu Nagisa is a conscientious and dependable person by nature who would take on even impossible tasks.
The Virgo zodiac sign takes its responsibilities very seriously.
Virgos are realists who want to perceive the world as it is rather than as they wish it to be. They prefer reality over anything.
They may have a tendency to be reserved and timid. Still, everyone admires them for their quick wit, patience, loyalty to those around them, and other qualities.
He frequently gives the impression of being unaware of and removed from his surroundings, much like Rei, but he is more at ease speaking his mind.
Some Other Virgo Anime Characters: Tenya Iida (My Hero Academia)
7/12. Libra: Erwin Smith
This air sign, symbolized by the scales, revolves around balance.
Libra signs are honest and tactful and always on the lookout for justice. They easily form pictures for their next move.
People with the Libra zodiac sign have sharp minds and are motivated by people who have interesting stories to tell. Erwin's ability to see through things is remarkable.
Erwin Smith is composed and calm. He is extremely fluent, and his charisma helps recruit others to fight alongside him.
Many people think of Erwin as selfish because of his apparent willingness to risk the lives of his soldiers without hesitation. Still, it appears he cherishes his colleagues and his friends.
Some Other Libra Anime Characters: Momo Yaoyoruzo (My Hero Academia)
8/12. Scorpio: Tengen Uzui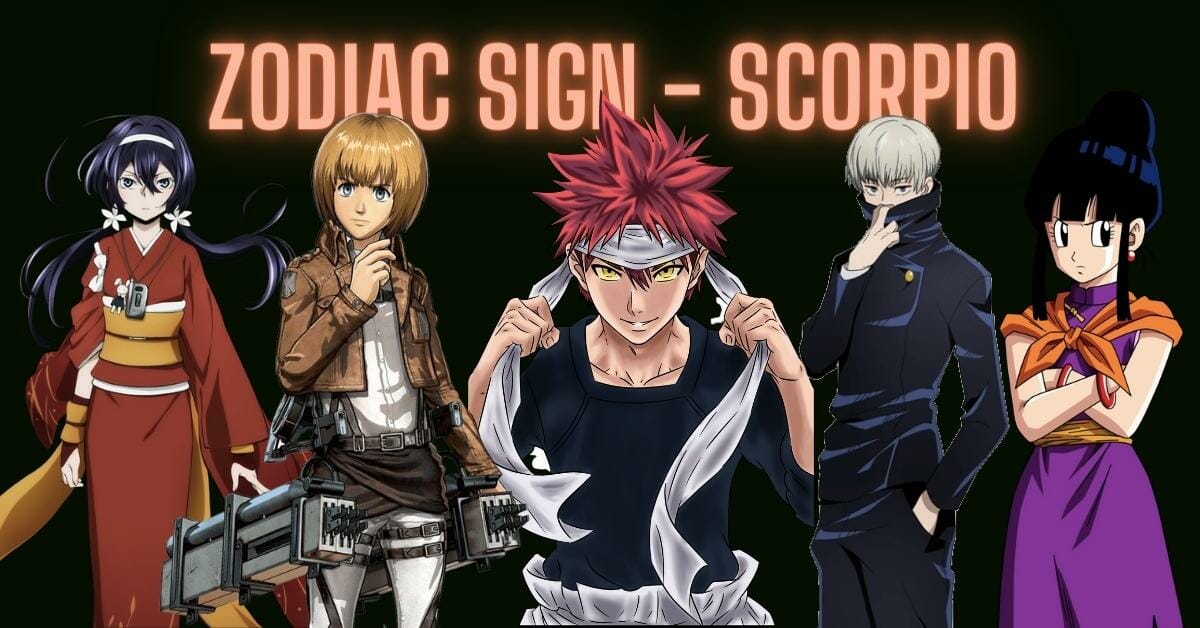 Scorpios are inherently passionate and forceful, with an aura of intensity around them.
Scorpions are confident and daring. They are loyal, yet they can also be skeptical. Their mistrust of others can lead to strange conduct.
This Sound Hashira has a stubborn nature, which is very obvious while watching the series.
Tengen's power enables him to quickly assume command of any situation. His attraction to everything flashy corresponds to his flamboyant personality.
Tengen is alluring, similar to the sensual water sign Scorpio, and his three wives confirm this. His rash behavior can work against him in combat.
Some Other Scorpio Anime Characters: L Lawliet (Death Note)
9/12. Sagittarius: Mai Sakurajima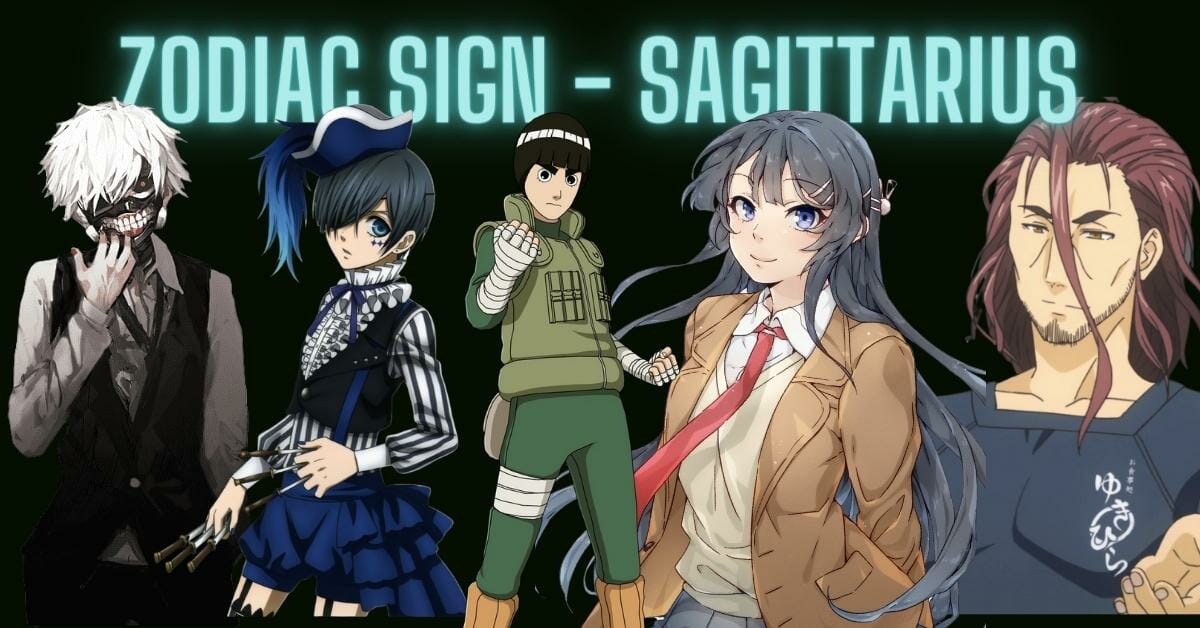 The free spirits and thrilling nature of Sagittarians are well known. When faced with situations that don't benefit them, Sagittarians frequently become emotionally detached.
They tend to be playful and enjoy taking chances, yet they can also be distant. They are forthright and don't hold back while expressing their strongly held ideas.
Because Mai has "puberty syndrome," she is somewhat out of touch with reality.
Her choice to arrive at school wearing only a rabbit costume reflects Sagittarians' brazen and occasionally irresponsible character.
Some Other Sagittarius Anime Characters: Ken Kaneki (Tokyo Ghoul)
10/12. Capricorn: Shoto Todoroki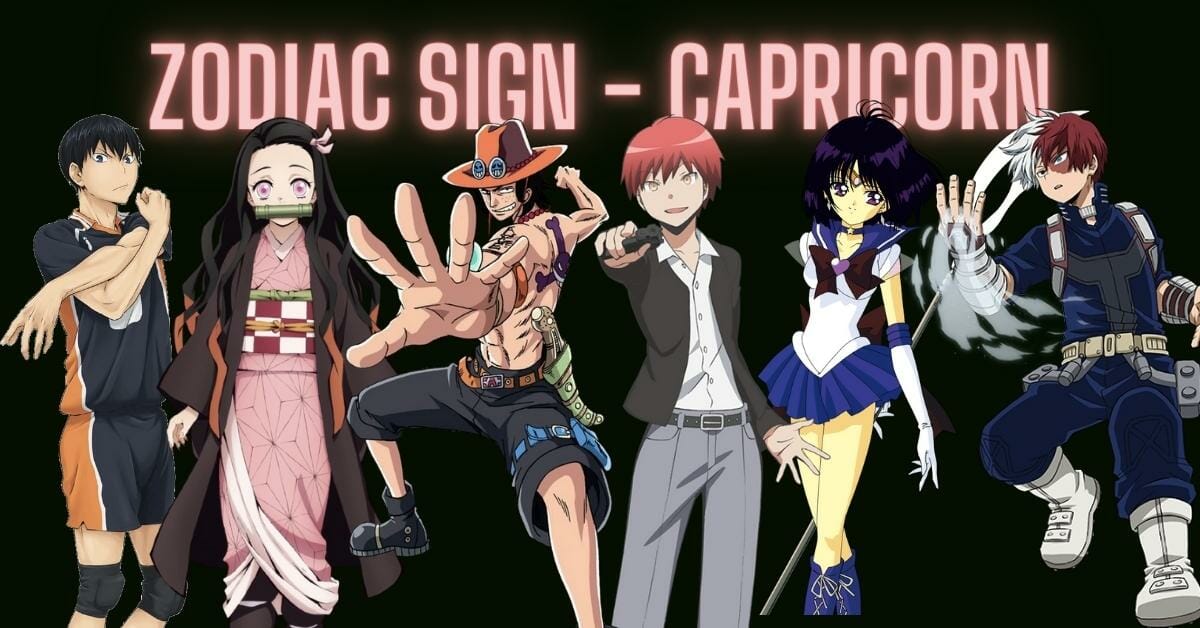 Capricorns are traditional and orderly by nature. Capricorns could even emerge strict due to their prudence and strict discipline.
They are known for their ambition and hard work. Nothing can stand in their way of achieving their goal.
As an earth sign, they are grounded in and focused on reality. They think realistically and will proceed to devote their undivided attention to something.
They will do everything they can to see it through if they have a goal.
Shoto Todoroki has always been guaranteed great things.
He struggles to open up because he is naturally stoic and pessimistic.
Todoroki is capable of maintaining his composure in the face of difficulties. His self-control guarantees his success.
Shoto values growth and strives to achieve his objectives. He does not allow his hatred for his father to impede his progress.
Some Other Capricorn Anime Characters: Rukia Kuchiki (Bleach)
11/12. Aquarius: Mikasa Ackerman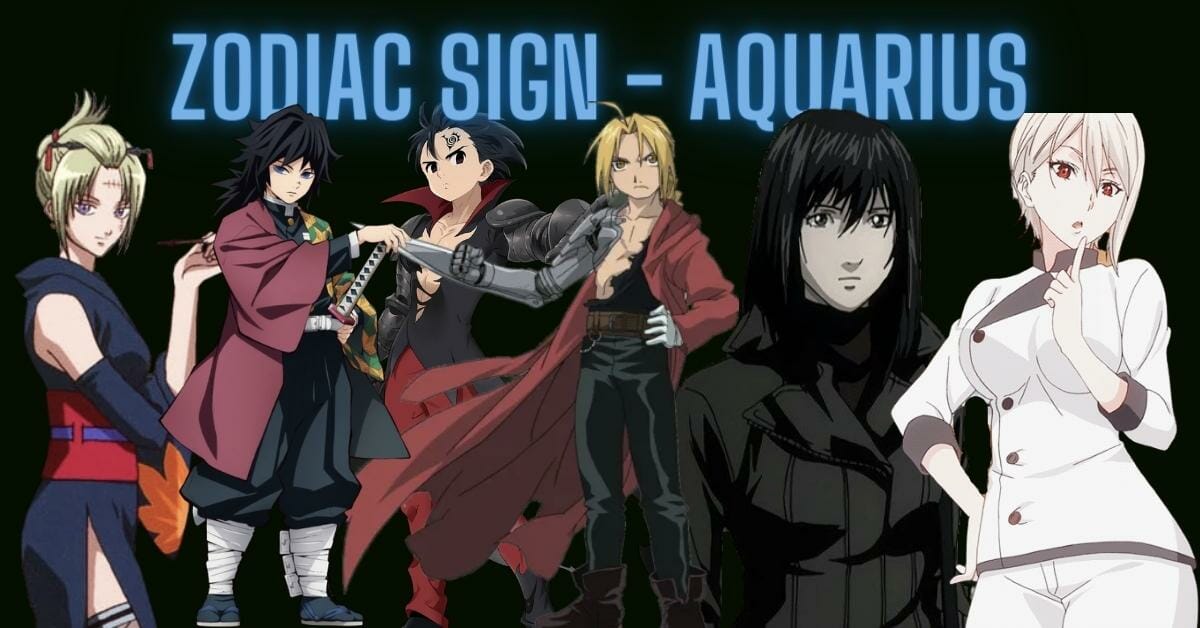 People with the Aquarius zodiac sign are commonly considered the zodiac's flower children.
They are always thinking about the future and how they may alter it for the greater good—even if that shift comes at a cost.
Individuals with Aquarian signs have difficulty forming and maintaining strong relationships and can appear snooty and egomaniacal.
Even in difficult situations, she keeps her cool. Mikasa is fiercely protective of her friends, whom she considers her only family.
She has a soft corner for children as well. Her loyalty towards her friends is absolute.
Mikasa is not completely emotionless. She can become impulsive and make rash decisions when her loved ones are threatened.
Some Other Aquarius Anime Characters: Edward Elric (Fullmetal Alchemist)
12/12. Pisces: Nana Osaki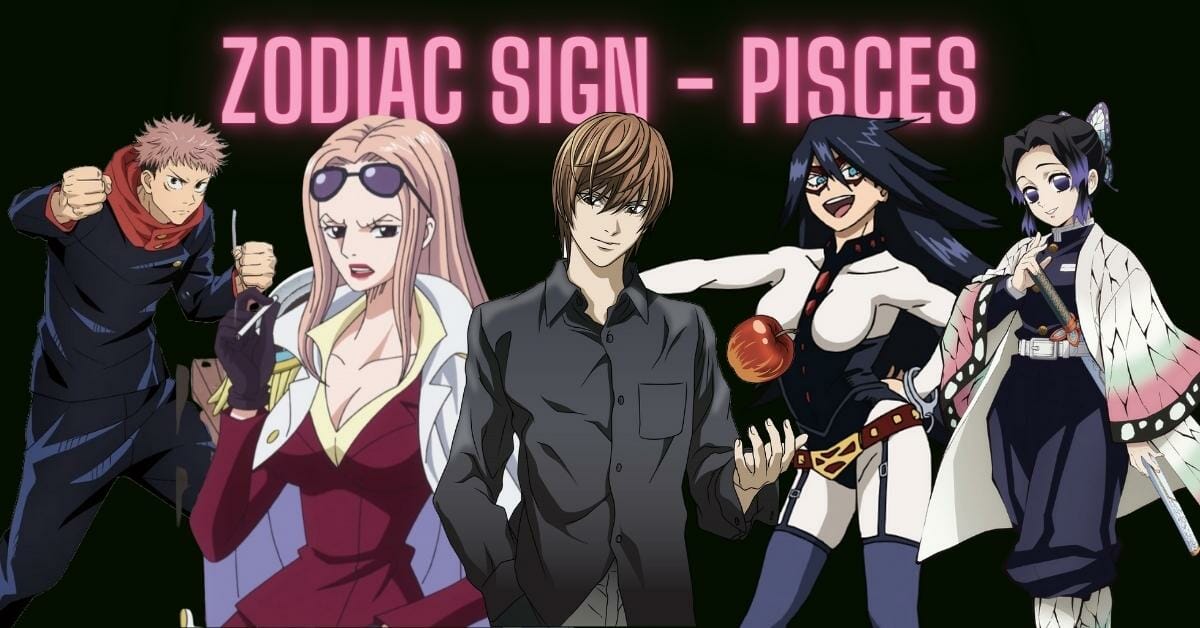 The Pisces sign has internalized what the other signs have gone through and has an excellent grasp of how life works.
Individuals of this mystical water sign naturally tend to help others, but they don't always have the easiest time being vulnerable.
The most sympathetic astrological sign is Pisces, which represents its people. Everyone in their close surroundings should be content.
Despite not having the best start in life, Nana Osaki has never allowed her history to stand in the way of her ambitions.
Nana might also be irritable and need to be in charge. Despite being in a hard shell, Nana tends to become detached from reality just as easily.
Some Other Pisces Anime Characters: Light Yagami (Death Note)