Tsurune: Kazemai Koukou Kyuudou-bu or simply Tsurune. It is a sports anime that follows a high school archery club and their journey to compete in the prefectural tournament.
The anime was produced by Kyoto Animation and aired from October 2018 to January 2019. It received positive reviews for its realistic portrayal of archery and its focus on character development.
The story centers around a first-year high school student named Minato Narumiya, who was once a talented archer, primarily in Japanese archery, but now struggles with a traumatic experience from his past.
Along with his new teammates, Seiya Takehaya, Ryohei Yamanouchi, Nanao Kisaragi, and Kaito Onogi, Minato aims to regain his confidence and find joy in archery again.
It is quite an exciting and fun ride, and if you particularly liked Tsurune, here are some anime like Tsurune which will hit that same school sports anime series hunger in you. (No Particular Order)
# Chihayafuru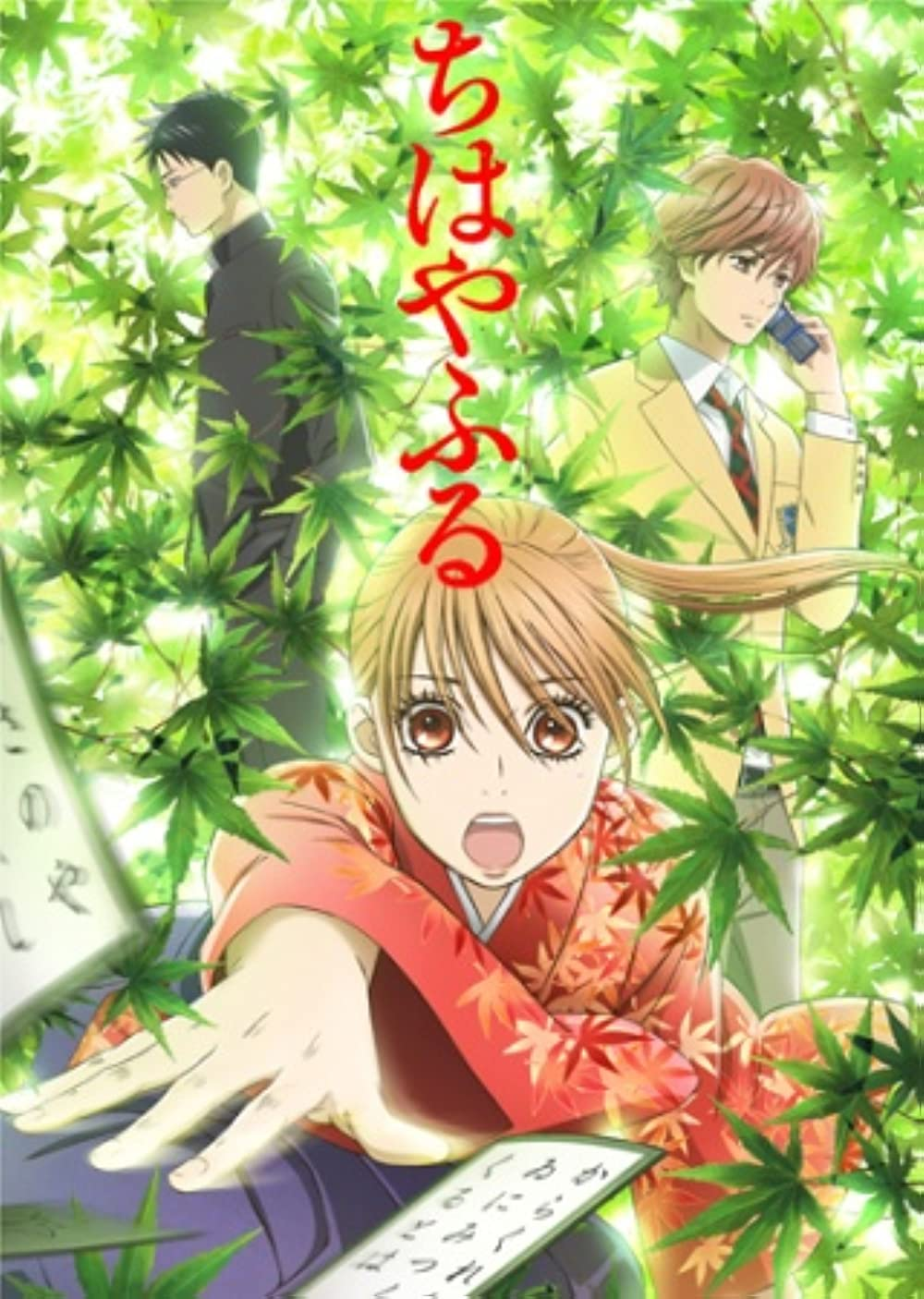 Japanese title: Chihayafuru (ちはやふる)
Genres: Shojo Anime, Romance
Where to watch: Crunchyroll
MAl Ratings: 8.19
Chihaya Ayase wanted to see her sister become a famous model. Still, everything changed when she stood up for a bullied classmate and discovered the game of karuta.
Karuta is a card game that involves memorizing poems and requires quick reflexes, a good memory, and determination.
Chihaya, her childhood friend Taichi, and her classmate Arata joined a karuta club and set out to become the best female player, the Queen of Karuta.
They faced challenges and worked hard to achieve their goals while strengthening their friendships.
The manga won the second Manga Taishou Award and the 35th Kodansha Manga Award in the shoujo category. Chihayafuru has become so popular that it boosted interest in competitive karuta.
The manga has sold over 4.5 million copies and has been praised for combining elements of sports and literature.
And with a manga with such high accolades, you better believe that the anime is no less impressive. It is known for its beautiful, intricate character designs and vivid, colorful backgrounds.
The characters are drawn with detail and expressiveness that brings them to life on the screen, with dynamic and fluid movements during karuta matches. It very well highlights the theme of traditional Japanese sports with its mythical card game.
# Free!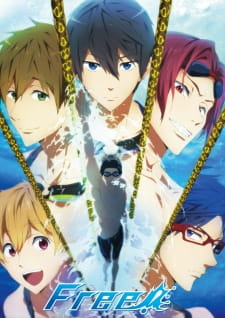 Japanese Title: Hepburn: Hai Supīdo!/ Iwatobi Swim Club
Genre: Sports anime
Where to watch: Crunchyroll
MAL Rating: 7.33
Haruka Nanase has an unbridled love for water and an insatiable passion for swimming. In his younger days, he and his three friends, Rin Matsuoka, Nagisa Hazuki, and Makoto Tachibana, emerged victorious in a relay race.
But as fate would have it, the four went their separate ways soon after. Fast forward to high school, and they reunite.
Still, Rin is cold and distant to his childhood friends, with his sights on proving his superiority over Haruka in the water.
Determined to recapture the magic of their childhood triumph, Haruka, Nagisa, and Makoto create the Iwatobi High School Swimming Club. Still, they need one more member to participate in the upcoming tournament.
Rei Ryuugazaki, a former track team member Nagisa convinces them to join their cause. As they train tirelessly and the tournament day draws near, the four boys form a deep bond, but they know that only one team can emerge as champions.
Will they be able to settle the rivalry between old friends Haruka and Rin and claim victory? Find out yourself.
It captures the feel and flow of a good sports anime perfectly, and like Tsurune: Kazemai Koukou Kyuudou, it also has a beautiful art style and well-written main characters.
# Hajime no Ippo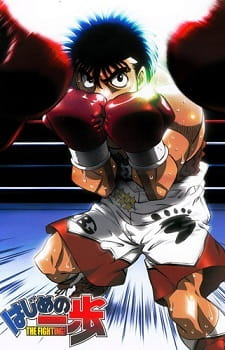 Japanese Title: Hajime no Ippo: The Fighting!
Genre: Sports, Boxing
Where to watch: Crunchyroll
MAL Ratings: 8.76
As his father is away, Ippo Makunouchi, a teenager, pitches in to help his mother manage their fishing boat rental business. But with his meek personality, constant exhaustion, and the pungent odor of the sea, Ippo becomes an easy target for relentless bullies, who pummel him daily.
One day, Mamoru Takamura, an up-and-coming boxer, rescues Ippo from a brutal beating and recuperates him at the Kamogawa Boxing Gym.
Takamura and his fellow boxers, Masaru Aoki and Tatsuya Kimura, are astounded by Ippo's lightning-fast punches, honed from years of laborious work at his family's demanding enterprise.
After a brief apprenticeship with Takamura, Ippo impresses the other fighters in a practice bout with boxing prodigy Ichirou Miyata. In Miyata, Ippo finds a fierce competitor.
In Genji Kamogawa, the gym owner and a former boxer, he finds a mentor. As Ippo embarks on his boxing journey, he faces several formidable adversaries, each more powerful than the last.
From triumph to defeat and back again, the determined young man undergoes rigorous training in his quest for greatness. With his unyielding determination and indomitable spirit, Ippo seeks to conquer the boxing world.
With an extreme sport like boxing, you might wonder how Hajime no Ippo is an anime similar to tsurune, but there are reasons why you would enjoy it. It has similar training and hard work tropes with the same personal struggles of the main character.
Still, Hajime no Ippo adds interesting tropes like intense focus and a main character with a short stature competing in a highly physical sport like boxing.
# Battery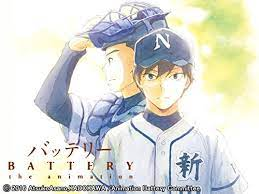 Japanese Title: Battery
Genre: Sports anime
Where to watch: Amazon Prime Video
MAL Rating: 5.71
Don't let the low rating fool you; while it starts slowly, "Battery" follows the story of Harada Takumi, a talented middle school pitcher who moves to a rural town where his grandfather resides.
Harada soon finds himself in a new school, playing for a less-than-stellar middle school baseball team. He meets Nagakura Gou, a catcher with a reserved demeanor, who has a passion for the game that matches Harada's.
Together, they form an unusual battery and embark on a journey to help their school team win.
If you're a fan of sports anime, especially those that focus on middle school baseball teams and high school students, "Battery" is a must-watch.
The series delves into the complexities of team dynamics, individual aspirations, and the pressures of competition. The characters are well-developed, and their struggles on and off the field will keep you invested until the end.
Overall, "Battery" is an emotionally charged and thought-provoking series worth your time.
# Run with the Wind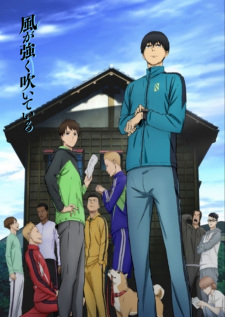 Japanese Title: Kaze ga Tsuyoku Fuiteiru
Genre: Running, Sports anime
Where to Watch: Crunchyroll
MAL Rating: 8.39
Kaze ga Tsuyoku Fuiteiru is a captivating sports anime that tells the story of a university long-distance running team working towards competing in the Hakone Ekiden relay race.
The anime is driven by its focus on teamwork, perseverance, and friendship. One of the main characters, Kakeru, was involved in a car accident in the past that left him with performance anxiety.
His fateful meeting with the other characters leads to him joining the team and confronting his anxieties through running. Each team member has a unique backstory and motivation, making their individual progress and growth all the more meaningful.
The anime explores the struggles and motivations of each elite runner, adding depth and complexity to their relationships.
The animation style of Kaze ga Tsuyoku Fuiteiru is visually stunning and immersive and captures the elite runners well. The dynamic character designs and detailed backgrounds bring the story to life, complementing the series' intense action sequences and emotional moments.
The anime's strong attention to detail adds to the overall viewing experience. It makes the world and characters feel realistic and believable.
If you enjoyed Tsurune, you would likely enjoy Kaze ga Tsuyoku Fuiteiru. The anime's emphasis on teamwork, personal growth, and achieving goals through hard work and dedication will resonate with anyone who enjoys inspiring sports stories.
Whether you are a fan of running or simply looking for an engaging and well-crafted anime, Kaze ga Tsuyoku Fuiteiru is definitely worth checking out.
# All Out!!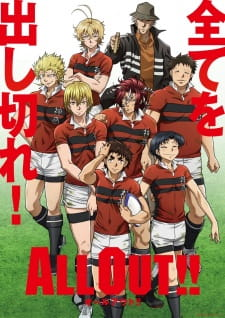 Japanese Title: オールアウト!!/All Outt!!
Genre: Sports, Team sport
Where to Watch: Crunchyroll
MAL Rating: 7.05
All Out!! is a thrilling sports anime that centers around a high school rugby team and their journey towards becoming the best in the country.
The anime's focus on character development and the bonds between teammates is reminiscent of Tsurune, making it a must-watch for sports anime fans with a strong emphasis on personal growth and teamwork.
The series follows the journey of Kenji Gion and his teammates as they navigate the physical and mental demands of rugby, learning to rely on each other and overcome personal struggles in order to succeed.
The anime's attention to detail and immersive animation style help bring the world of rugby to the screen. The dynamic character designs and fluid action sequences create an exciting and visually stunning viewing experience.
The anime also does an excellent job of exploring the physicality and mental fortitude required to play rugby at a high level, highlighting the importance of teamwork and support in overcoming adversity.
Overall, All Out!! is a captivating sports anime that offers a thrilling mix of action and character development. Fans of Tsurune and other sports anime with strong teamwork and personal growth themes will find much to enjoy in All Out!!.
With its immersive animation style and engaging characters, the anime will leave a lasting impression on anyone who watches it.
# Haikyuu!!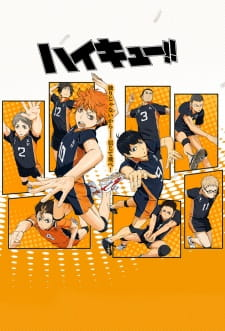 Japanese Title: Haikyuu!!/ ハイキュー!!
Genre: Sports, Team sports
Where to Watch: Crunchyroll, Netflix
MAl Rating: 8.44
We all knew this anime, Haikyuu!! about a Karasuno High School volleyball club. Hinata joins the High school and joins the volleyball team to get one step closer to his dream of becoming a professional volleyball player.
He makes close friends, and Hinata's conviction isn't shaken until he learns that Tobio Kageyama—the prodigy who humiliated Hinata's middle school volleyball team in a crushing defeat—is now in the same high school and, the worst part, on the same volleyball team!
This dysfunctional high school team goes on to participate in an inter-high tournament. Hinata must smooth out his differences with Kageyama to fulfill his desire to leave a mark on the realm of volleyball—so often regarded as the domain of the tall and the strong.
Only when Hinata learns what it takes to be a part of a team will he be able to join the race to the top in earnest?
If you enjoyed Tsurune, you would enjoy Haikyuu, a high-energy sports anime with engaging storylines, character development, impressive animation, and an exciting soundtrack.
It features a diverse cast of characters with unique personalities and motivations, and the series explores personal growth, teamwork, communication, and overcoming personal obstacles.
# Hanebado!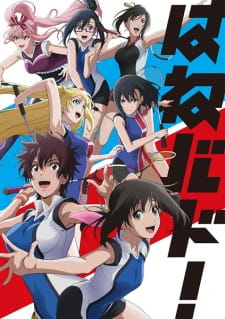 Japanese Title: The Badminton play of Ayano Hanesaki!/ はねバド!
Genre: Sports
Where to Watch: Crunchyroll/ Funimation
MAL Rating: 6.85
Nagisa Aragaki's love for badminton twists into a bitter obsession after a devastating 21-0 loss at the National Junior Badminton Tournament.
She tears members of her high school badminton club and forces others to quit, leaving the club's future in jeopardy.
However, Olympic-level player Kentarou Tachibana arrives as the new head coach and brings a secret weapon: Ayano Hanesaki, the girl who defeated Nagisa six months prior.
But Ayano is not the same rival Nagisa remembers, as she's become conflicted about Badminton. With the club's future at risk, Nagisa must confront her fears of inadequacy, help her troubled rival, and lead Kitakomachi High School's girls club Badminton to victory.
If you enjoyed Tsurune, you might like Hanebado! as it also focuses on a high school sports team and explores themes of personal growth and teamwork, this time with Badminton as the sport.
The series features intense matches and character-driven storylines, particularly with the protagonist Nagisa's struggles after a crushing defeat.
# Yuri!!! on Ice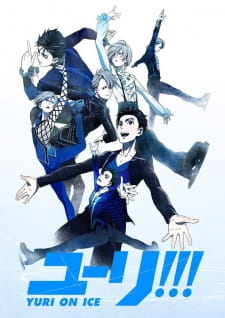 Japanese Title: ユーリ!!! on ICE
Genre: Sports
Where to Watch: Crunchyroll, Funimation
MAL Rating: 7.90
After a devastating loss at the Grand Prix Finale, Yuuri Katsuki, Japan's once most promising figure skater, returns home at age 23 to assess his future options.
Struggling with his love of pork cutlets and tendency to gain weight, his dreams of success in skating seem to be slipping away.
However, when a video of him performing a routine executed by five-time world champion Victor Nikiforov goes viral, Victor appears at Yuuri's house and offers to be his mentor.
As he sets out to make a comeback, Yuuri faces fierce competition from the rising star of Russia, Yuri Plisetsky, who's determined to defeat him and win back Victor's attention.
Despite featuring different sports (figure skating on the one hand and archery on the other), Yuri!!! On Ice shares some similarities with Tsurune. Both series explore personal growth, overcoming obstacles, and the importance of mentorship and teamwork.
The main characters in both shows struggle with self-doubt and must overcome personal challenges to succeed. Both shows also feature stunning visuals, intense musical scores, and high-stakes competitions, leaving viewers on the edge of their seats.
While the sports may be different, fans of Tsurune may appreciate the similar themes and emotional impact of Yuri!!! On Ice. (And it has pretty boys, so that's something for the female watchers)
# Slam Dunk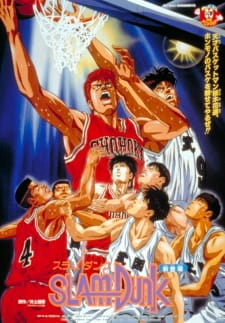 Japanese Title: スラムダンク
Genre: Team sports
Where to Watch: Crunchyroll
MAL Rating: 8.54
Hanamichi Sakuragi enrolls in Shohoku High, hoping to get a girlfriend and break his rejection record of 50 consecutive times in middle school. However, his reputation precedes him, and he is avoided by most students.
When a girl named Haruko Akagi approaches him and asks if he likes basketball, he immediately falls for her.
He attempts to impress her with a slam dunk, only to fail spectacularly. But when Haruko tells the basketball team about his physical abilities, Hanamichi finds himself drawn into the sport he once hated and the camaraderie and competition it offers.
While the sports and settings are vastly different (basketball versus archery), both share similar themes of personal growth, overcoming obstacles and the importance of mentorship and teamwork.
The main characters in both shows initially have negative attitudes towards their respective sports but eventually, find passion and purpose in them.
Both shows also feature intense competition, high stakes, and memorable rivalries that add to the drama and excitement of the sports.
Fans of Tsurune may appreciate it for its themes of personal growth and teamwork, as well as its memorable characters and thrilling basketball games.
# SK8 The Infinity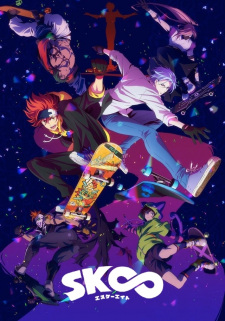 Japanese Title: SK∞ エスケーエイト/ SK8 the Infinity
Genre: Sport
Where to Watch: Funimation
MAL Rating: 8.03
Reki Kyan's passion is the very specific sport of skateboarding. Still, he can no longer practice after a devastating loss and a broken arm. That is until he meets Langa Hasegawa, a half-Canadian, a half-Japanese boy with no skateboarding experience but a hidden talent.
Desperate for money, Langa agrees to a bet that involves skating in an illegal underground race. With Langa's unique abilities and a surprise card up his sleeve, Reki might just have a chance to win the race and reignite his love for skateboarding.
The skill moves done and used by the characters look almost like rhythmic gymnastics.
SK8 the Infinity shares some similarities with Tsurune regarding its sports focus and the relationships between the characters.
Both anime explore the personal struggles and anxieties that come with competitive sports, as well as the bonds that form between teammates.
SK8 the Infinity also features unique and visually stunning sports sequences that can appeal to fans of Tsurune's archery scenes.
If you enjoyed the themes of determination, friendship, and personal growth in Tsurune, then SK8 the Infinity may be a must-watch.
---
Honorable Mentions:
Baby Steps
Yowamushi Pedal
Hoshiai no Sora