Nyanko days contains a simple yet heart-touching story which is good entertainment if you want to spend your time. Nyanko Days was released in 2017, and it only has 12 episodes, so if you have already watched it and are eager to find more anime like that, you have come to the right place.
This story is about a high school student named Yuuko Konagai, she tends to be socially awkward and shy, so social interactions are horrible for her.
Yukko is a mediocre student who gets decent marks in his exams, but besides studies, she does not have many friends in her class, but this does not bother her as much, but she loves cats very much.
After a hectic day at school, she returns home, meeting her cute kitten Maa, Shi, and Ro. She was only friends with cats, but one day she met a girl named Shiratori Azumi, who was also a cat lover, and soon they became best friends.
Nyanko Days is highly popular among kids, but as we live in the internet age, everybody has access to these series, so it has become quite popular in the Adventure and comedy genres.
This anime might not have a complex storyline, but the simplicity and emotions shown in this anime are quite interesting. These anime are popular with kids, so if you have a small kid in your home, let them watch these anime.
If you loved this series, we have listed down some of the anime like Nyanko days.
9 Anime like Nyanko Days Worth Watching
9. Bananya
Season: 2
Genre: Adventure, Comedy
Status: Finished airing
Where to watch: Crunchyroll
MAL Ratings: 6.75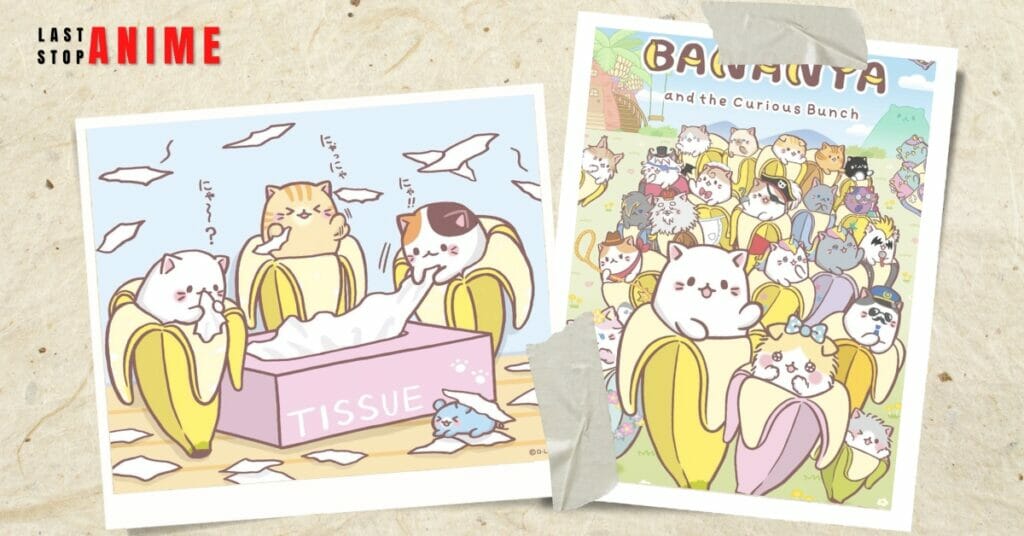 Bananya has a unique and beautiful storyline which could make you wonder about many things on this planet.
This story revolves around a new species of adorable cats inside of bananas. Bananya has a lifelong dream to bathe in chocolate with his bananya cat friends. Still, many obstacles cannot turn this wish into reality.
Until that moment comes in the life of Bananya, they are living as best as they can in a normal household.
This is considered one of the kids' top favourite anime shows, and the whole family can enjoy it. The comedy and light jokes are the favourite parts of this show.
These two anime are almost the same because of the genre.
Most kids preferred to watch these shows because of the colourful effects of the show and simple and simple storyline.
8. Magical Nyan Nyan Taruto
Seasons: 1
Genre: Adventures, Mystery
Status: Finished airing
Where to watch: Crunchyroll
MAL Ratings: 6.19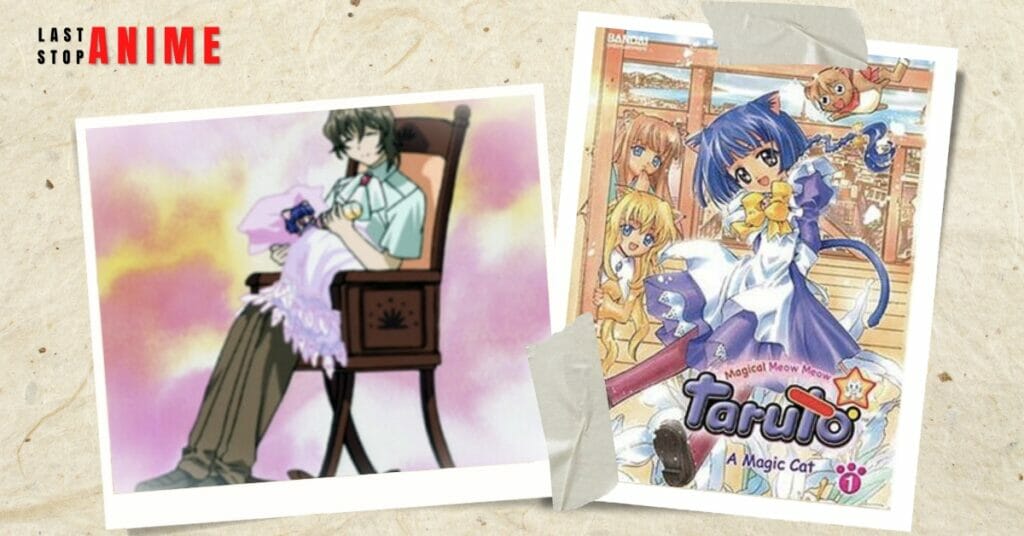 Magical Nyan Nyan Taruto starts with the story of an adorable little catgirl named Taruto, who is escorted to a new house in a huge city with a human owner.
Taruto is very social, and she makes new friends every day. She also explores her new home town with curiosity in her mind.
One day, in reality, Taruto is a legendary princess with many special magic powers in her arsenal, but none of her friends believes that she is capable of magical powers.
On the other hand, Taruto is determined to prove that she is capable of magical tricks and powers, so she tries everything to make them believe what she truly is.
In both of these anime, the central figure shown is a cat, so there are many incidents where you may find a similar approach to the storyline and in the character arc.
7. Frame Arms Girls
Season: 1
Genre: Magical, Mysterious, Comedy
Status: Finished Airing
Where to watch: Crunchyroll
MAL Ratings: 6.38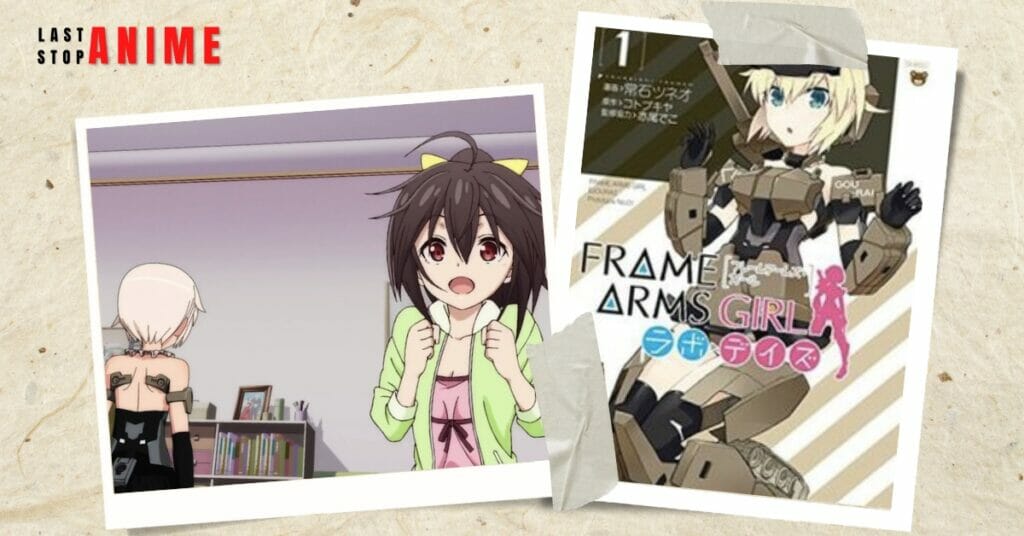 Frame Arm Girls starts with a girl named Ao, a first-year high school student, when a mysterious box arrives at her home.
Inside the box, she finds a robot named Gourai, capable of movement and combat, known as Frame Arms girl. The robot possessed an extremely powerful AI, which allowed her to form a personality.
After the activation of Gourai, more and more boxes were delivered to Ao, which contained intelligent AI-based robots.
Ao then started learning more about the Frame Arms Girls and tried collecting as much data as possible. Meanwhile, Frame Arms Girls also learned what it means to be human.
This story is the same as Nyanko days because the protagonist in this anime is also a young girl who is trying to find something mysterious, so the anime's tone is almost the same.
6. Yuyushiki Nyanyashiki
Season: 1
Genre: Animation, Comedy
Status: Finished Airing
Whete to watch: Crunchyroll
MAL Ratings: 7.36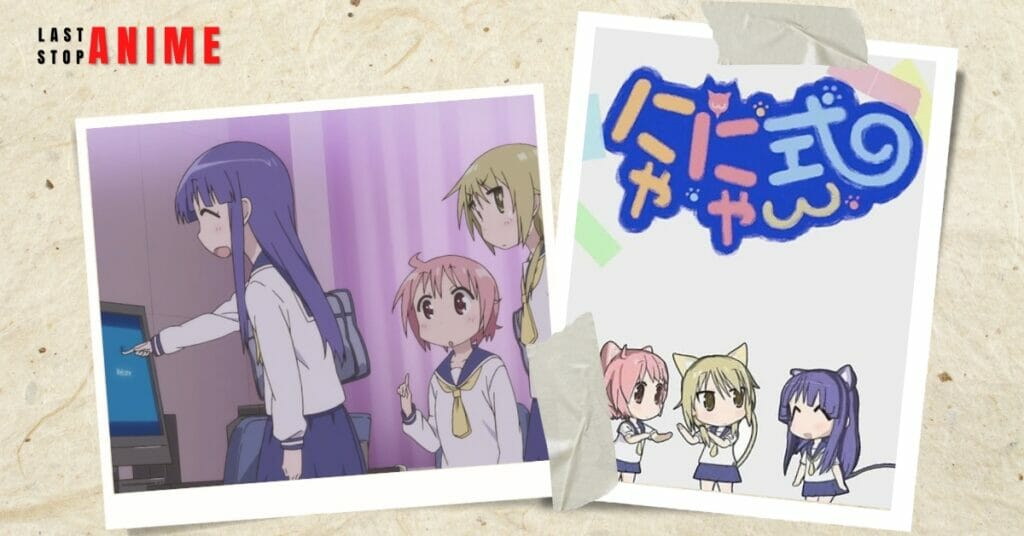 Yuyushiki Nyanyashiki revolves around the daily lives of three high school girls.
Yuzuko is very intelligent but also very childish, Yukari is kind but airheaded, and Yui is quite mature but irritated simultaneously. All of them are part of the School's Data processing club.
As these girls spend most of the day on useless discussions one day, they occasionally come up with topics to research while in their clubroom.
With a total of 6 episodes, this anime is the top favourite among young girls.
This anime is like Nyanko days in animation because it had the same animation.
5. Donyatsu
Season: 1
Genre: Sci-fi, survival
Status: Finished Airing
MAL Ratings: 7.30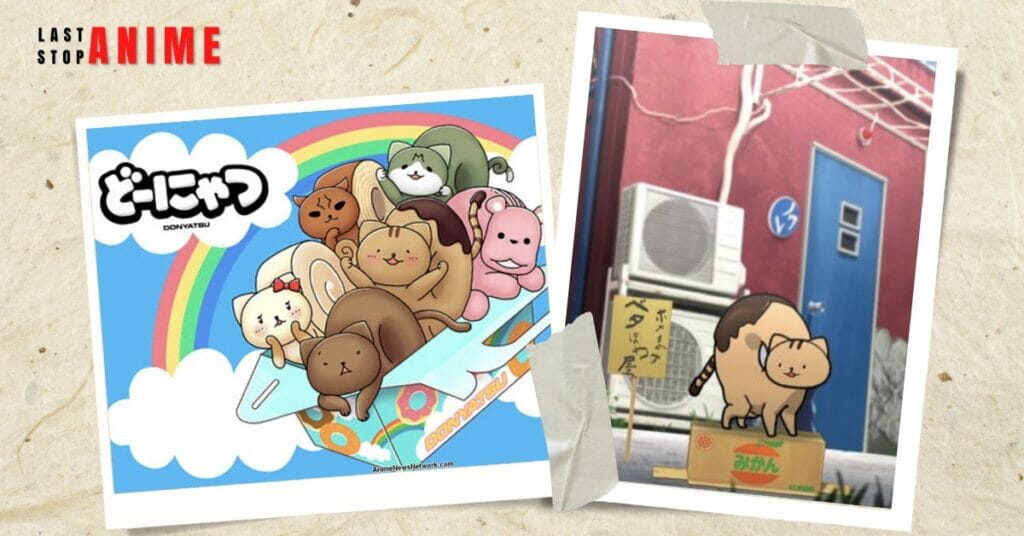 This story sets in the summertime, sometime in the 21 century, when Tokyo's Shinjuku ward has become a wasteland.
No human beings left because a catastrophe occurred, and all of them were gone.
There is only a strange creature called Donyatsu, a half-cat and half-doughout hybrid, and Begaru, a feline bagel composite.
This anime does not have any human beings, but it is sci-fi, where you can experience what it is like to live alone without humans.
The command subject between these two anime is that the animals try to discover things about society and human.
4. Shiba Inuko-San
Season: 1
Genre: Fantasy, Adventure
Status: Finished Airing
Where to watch: Anime tube
MAL Ratings: 5.71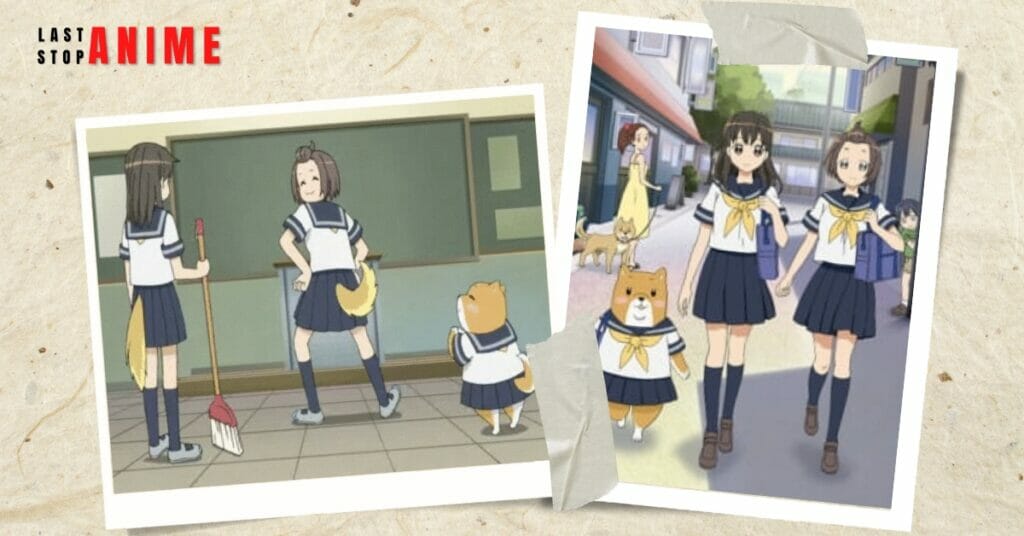 Shiba Inuko-San's protagonist is also a high school girl named Chako Ishibashi.
She is an average student in her school but is a kind, introverted person, so she does not have many friends.
Chako's life is also very normal, but one thing in her life is strange. In her school, the student sitting next to her desk does not look human; instead, she looks like a Shiba Inu.
Everyone loves Shiba Inu because of her polite and well-meaning mannerisms of both a dog and a human.
Chako thinks daily that it is normal for Shibu to come to school without obligation because she is not a human.
Chako will go to any extent to find his adventure; you can join her in her journey.
3. Shugo Chara
Seasons: 2
Genre: Adventure, Fantasy, Magical
Status: Finished Airing
Where to watch: Crunchyroll
MAL Ratings: 7.40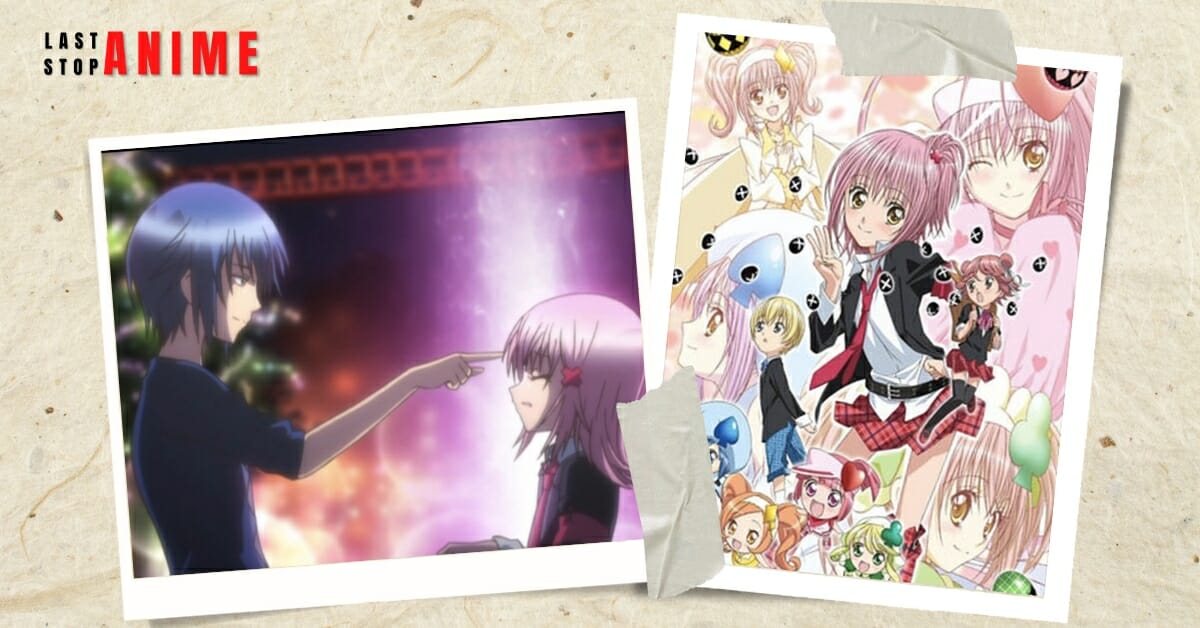 Shugo Chara is created by two manga author duo Peach-pit. The story revolves around the central character named Amu; she is an elementary school girl and quite popular in the school.
At first, her peers refer attitude as cool and spicy but speculated many rumours about her personal life to despise her.
In real life, Amu is a shy girl who has trouble showing her true personality, so she keeps her distance from all her peers.
One night she wishes to show her true self to the whole world, and the next morning she finds three brightly coloured eggs in her bed.
These eggs hatch three fairy tale guardians who say they can help Amu to show her true self. Amu quickly accepted the offer, but after that, her life became more complex, so will you join Amu to see who she is?
If you loved Nyanko days, then Shugo chara will be a must-watch for you because the storyline is simple, but Shugo Chara is a bit more complex than Nyanko days.
2. Chi's Sweet Home
Season: 2
Genre: Adventure, Comedy
Where to watch: Amazon prime video
MAL Ratings: 7.84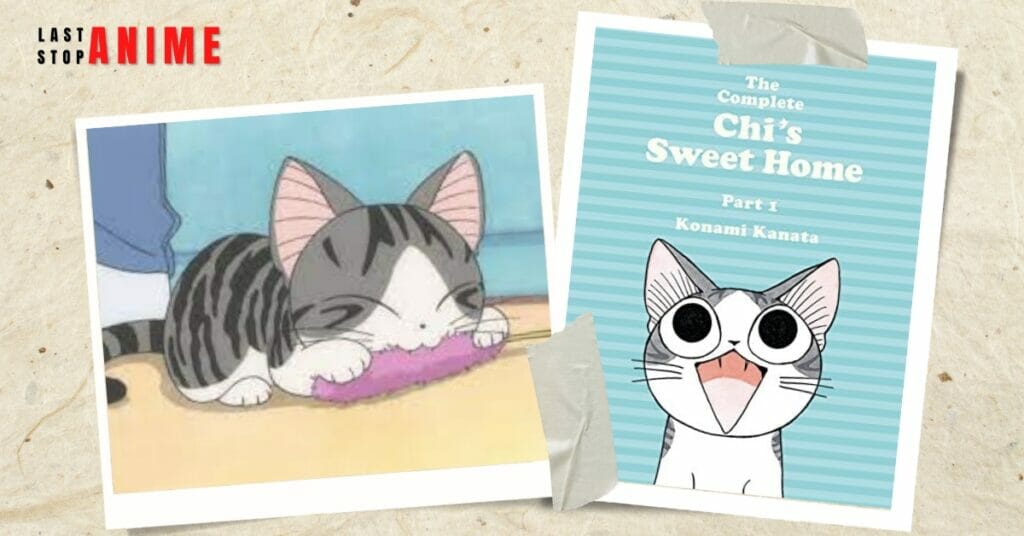 As you already guessed, most of the anime we mentioned has an animal character.
Chi's sweet home is also about a kitten named Chi who wanders away from her mother and siblings while enjoying walking outside with her cat family.
The kitten was so small that she did not recall her home, so she could not go home. A young boy finds her in the streets and takes her to his mother.
The boy lived in an apartment where cats were strictly prohibited, so they tried to find a new home for his cat.
At last, the family decided to keep the cat as a pet. Chi then became a part of their family, and soon enough, he found many different things about humans and their society.
These two anime's central characters are cats who are around human beings and trying to cope with them, so the tone is the same between these two anime.
1. Pan De Peace!
Season: 1
Genre: Adventure, Friendship
Status: Finished Airing
Where to watch: Crunchyroll
MAL Ratings: 5.63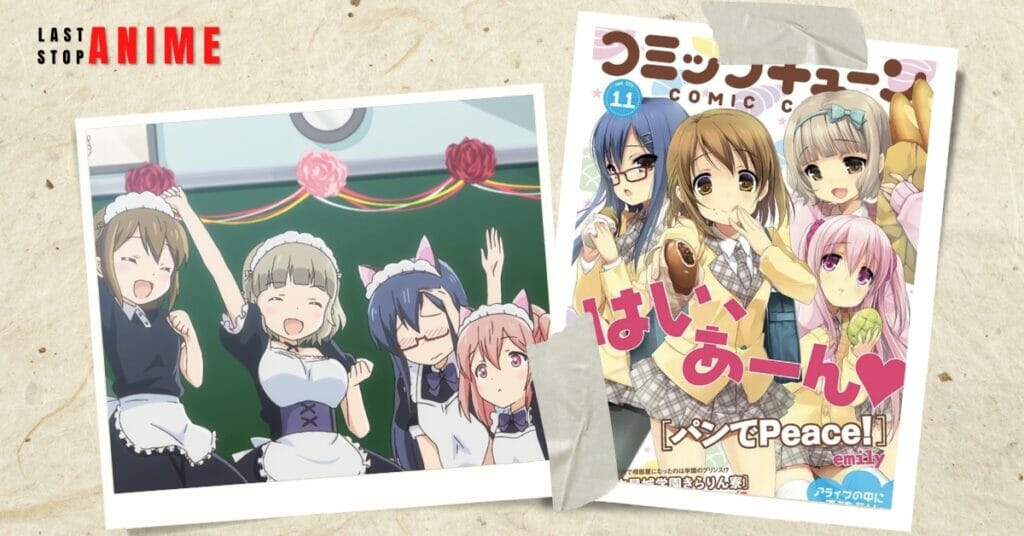 Pan De Peace! is a story about a girl named Minami Tani obsessed with bread. She befriends two friends named Yuu Aizawa and Upbeat Fuyumi.
Her friends share the same hobbies as Minami, so they become good friends. After that, Minami befriends a girl name Noa, who uses bread as her self defence.
As time goes on, they strengthen their friendship and form a group through this unusual motility.
After forming the new group, they go out to try every bread available in this world and on this path, their friendship will grow stronger.
If you loved Nyanko days and have yet to watch this anime, there is something wrong with your watchlist. Join Minami on her adventurous journey towards love for her food.
In Nyanko days, there is a strong bond of friendship between the characters, and you will feel the same emotion with Pan de peace, where they also embrace friendship.
Other Anime Like Nyanko Days
School days
Scum's wish
Boarding school Juliet