Anime has been around for decades and continues gaining popularity worldwide. Anime movies are getting more theatrical releases than ever, thanks to the growing anime community.
When someone mentions anime, we think that they are referring to Japanese animation without much thought. Most of the time, we are correct, but there are times when they are talking about anime from other countries.
Yes, there are anime that are not Japanese. Anime that is produced and released in Chinese is called Donghua. At the same time, Korean anime adapted from webtoons and manhwa are called Aeni.
South Korea is popularly known for K-Drama and K-Pop, which are popular among teens and grown-ups. At least for now, South Korea may not be able to gain the first spot in the animation department since its main focus is K-drama and K-Pop.
More often than not, some romance webtoons get K-Drama adaptations, while those in action genres are left behind.
The recent news of Solo Levelling getting an anime adaptation might change the game for Korean anime. Aeni, while not as popular as its Japanese counterpart, has some good anime to keep fans entertained.
Today we are rounding up the 15 best Korean anime to watch. This list will also include Korean animation movies. Some anime may be in the Japanese dub, while some may be in Korean. So let's get into the list.
List of Best Korean Anime (Aeni) To Watch
15. Pucca
Episodes: 26
Status: Finished Airing
Genres: Comedy, Romance
Where To Watch: Netflix, Amazon Prime, Yidio, TubiTv
Pucca is an 11-year-old girl whose father is a Chinese noodle shop owner. She also has an unrequited love for the ninja Garu. He makes a valiant effort to fend off Pucca's advances and frequently does not reciprocate her love.
Pucca takes extreme measures to kiss Garu, leading to numerous amusing scenarios.
Pucca was insanely popular in South Korea, Japan, and China. It also had its merchandise, like keyrings, greeting cards, etc.
Pucca is one of the best Korean anime if you want to get started and want to watch something light-hearted and funny.
14. Semi Wa Magic Cube (Semi and the Magic Cube)
Episodes: 26
Status: Finished Airing
Genres: Action, Comedy, Fantasy
Where To Watch: N/A
Though set in a fantasy world, the anime also mixes comedy, suspense, and adventure elements. As the name suggests, the story revolves around Semi and a magical cube.
It centers on Semi and genius teacher Wai as they get caught in a time-traveling adventure to prevent Evil X from using the magical cubes' abilities for his ends.
Before being suddenly thrust into a miraculous time travel, they were leading typical lives. She and her companions must stop them, but they must also use their intellect to solve arithmetic problems.
The main characters are the selling point of this Aeni, making it one of the best Korean anime.
13. Sinbi Apateu: Ghost Ball Bimil (The Haunted House: The Secret of the Ghost Ball)
Episodes: 24
Status: Finished Airing
Genres: Action, Mystery
Where To Watch: Netflix, Roku
A 102-year-old goblin named "Shinbi" is the main character in The Haunted House, which follows him as he works with the Koo siblings to try and expel all the demon ghosts from the globe.
The main protagonists are the two siblings, Doo-ri and Ha-ri. In the purportedly eerie Shinbi apartments, they live there with their parents. The rumors are accurate. In addition to multiple persistent spirits, the building is also home to a goblin Shinbi.
Shinbi depends on the residents of the building for energy, so if they flee in fear of the ghosts, he won't be able to survive. Therefore, when Ha-ri and Doo-ri encounter him, he makes them a deal: expel a spirit in exchange for one wish.
Following that, the plot moves forward in the usual monster-of-the-week manner while gradually developing an overarching storyline that builds on the unexpectedly complex emotions displayed by the guest characters.
At first, one might think this is a kids' show, but as you delve into the anime, you'll realize the anime has a lot more to offer than your average kids' show.
12. Mari Iyagi (My Beautiful Girl, Mari)
Type: Movie
Episode: 1
Status: Finished Airing
Genres: Drama, Fantasy, Slice of Life
Where To Watch: Amazon Prime Video
Nam-woo, an office worker, is taken back to their final summer together when he gets a present from his childhood friend Jun-ho. The final few days before Jun-ho left for boarding school in Seoul were spent returning to their homeland, a small fishing community.
However, an abandoned lighthouse transports him to a fantastical world where a mysterious flying girl named Mari lives. The young boy can find comfort in this other realm, where he gradually learns more about himself.
The 26th Annecy International Animated Film Festival's Best Feature Film Award went to My Beautiful Girl, Mari.
11. Dae Jang Geum: Jang Geum's Dream
Episodes: 26
Status: Finished Airing
Genres: Adventure, Comedy, Gourmet
Where To Watch: N/A
Jang Geum's Dream is a Korean anime based on the famous historical Korean drama Jewel in the Palace and follows the main character Jiang Geum as she pursues her dream of becoming a palace chef.
Because of her kindness and wit, she makes friends there quickly. She encounters corruption everywhere, making life in the Palace anything but simple.
In contrast to the source material, which features murder and corruption, the anime is a funny series aimed at a young audience. The anime is a beautiful presentation highlighting Korean principles, traditions, and cuisine.
Both the plot and the character growth in this anime are quite excellent.
10. Dwaeji-ui Wang (The King of Pigs)
Type: Movie
Episodes: 1
Status: Finished Airing
Genres: Drama, Suspense
Where To Watch: AppleTv
This one is a psychological thriller movie. As a psychological thriller, Dwaeji-ui Wang explores some pretty dark issues.
Depression and violence are given because you can't explore the dark side of the human world without these two. Another important issue that Kings of Pigs sheds light on is social status.
Kyung-min (Oh Jung-Se) kills his wife because his business is unsuccessful. He searches for Jong-Suk (Yang Ik-June), an old middle-school classmate while trying to control his rage.
Although Jung-suk currently works as a ghostwriter on an autobiography, his ultimate goal is to publish a novel. They crossed paths for the first time in 15 years.
While denying their current circumstances. Kyung-min and Jong-suk start talking about their middle school years. They were grouped in middle school according to their grades and income; at the bottom were Kyung-min and Jung-suk. Their nickname was "pigs."
They were oppressed by an elite known as the "dogs," but they were powerless to stop the dogs after being labeled pigs.
Chul (Kim Hye-na), the pig king, then appears. Chul-yi becomes increasingly important to Kyung-min and Jong-suk.
Kyung-min now takes Jong-suk to the grounds of their middle school, who then tells him the gruesome details of what transpired 15 years ago.
Bullying and social hierarchy are topics covered in the universally known story. Both the execution and the viewing experience of these topics are excellent. The hierarchical structure is a significant theme in the movie, and how it is difficult to break it.
The character development is top-notch. It is not unexpected that they developed into who they are given their high-stress levels, suffering, horrible childhood, and physical abuse by several people.
The only effective rebellion against the system that anyone can mount in this story is a futile act of disobedience that ultimately accomplishes nothing.
The King of Pigs is a sad, angry, and cruel film. It's not the best anime, but it's undoubtedly one of the best Korean anime.
09. Shining Star
Episodes: 52
Status: Finished Airing
Themes: Idols (Female), Music
Where To Watch: N/A
Shining Star is co-produced by S.M. Entertainment, which is a well-known idol agency in South Korea. S.M. Entertainment is mainly known for its artists and their quality songs. S.M. Entertainment is also part of the Big 3.
The main character of the anime series is Nara, a regular girl who chooses to enroll in the exclusive Shining Star School, where every girl aspires to become the best idol, known as "Muse."
However, she must first look for those who intend to bring her down.
The plot, particularly in the first season, is very predictable: a regular girl with big goals aspires to be an idol but faces numerous obstacles in her path. While attending a renowned idol academy, she makes friends, enemies, and romantic interests along the way.
Shining Star gives us bits and pieces of Korean idol culture, unlike the more typical Japanese culture.
The anime is about school life of Nara and how idols are trained. The sound is one of the best aspects of this anime.
The songs are good since the anime is co-produced by S.M. Entertainment, and they are one of the strong points. The anime features some K-pop songs from S.M. Entertainment. It combines some of SMS's most significant singles with some deep cuts by artists including Boa, Red Velvet, Girls Generation, f(x), Exo, H.O.T. and others.
Shining Star is one of the best Korean anime, not only for anime fans, but fans of K-pop can also enjoy it.
08. Ghost Messenger
Type: OVA
Episodes: 2
Status: Finished Airing
Genres: Action, Supernatural
Where To Watch: Amazon Prime Video, 9Anime
In the World of Death, entities that are invisible to mortal people use cutting-edge technology to regulate the life and death of all Earthly life forms. The spirit of a mortal is called forth to join the ranks of the Dead when their day comes.
When certain wandering souls defy these directives and choose to stay in the physical world, the ghost messengers are dispatched to intervene. Ghost Messengers are "through" entities that can freely move between the worlds of the dead and the living.
They are also equipped with the technology needed to apprehend renegade spirits and transport them to the World of Death.
A powerful ghost messenger named Kang-Lim accidentally gets stuck in his soul phone, which the messengers use to apprehend ghosts while on a mission to retrieve spirits.
A young child finds Kang-Lim with extraordinary psychic abilities who can see ghosts.
A connection is established between Kang-Lim and the human boy known as "Little Kang-Lim," They work together to maintain order as the world grows more unpredictable as an unknown entity starts releasing mythological demons to upset the balancing act of the realms of the dead and the living.
Ghost Messengers' core theme is to explore neither too lightly nor too severely the traditional Korean element of death and how the living remember and grieve the deceased and to ponder how a child would change while going through such scenarios.
As a result, the world of Ghost Messenger is based on the traditional Korean understanding of death. Although there are more apparent differences than similarities, many characters in Ghost Messenger are named after individuals from traditional Korean folk tales.
For instance, Mago is derived from the Korean mythological goddess Mago. Kanglim is related to the protagonist of the Korean Grim Reaper, whereas Yeom-Ra inspires YUMLA.
07. Saibi (The Fake)
Type: Movie
Episodes: 1
Status: Finished Airing
Genres: Drama, Suspense
Where To Watch: 9Anime
The story takes place in a small village where Min-Chul wants to expose church elder Choi, who is trying to defraud the residents.
The unscrupulous church's key organizers, Choi Gyeong-Seok and Reverend Sung have it all set up so they can rob the villagers who will be relocated off their money.
A local troublemaker named Min-Chul learns of their scheme and tries to uncover the truth, but few listen to him because of his reputation. But Choi Gyeong-Seok and Reverend Sung want to exact revenge.
Saibi portrays a darker aspect of society, including cults, con artists, drunk drivers, and domestic abuse. It places a lot of emphasis on the concepts of right and wrong and the lengths you go to convey your thoughts.
06. Nobelesse
Episodes: 13
Status: Finished Airing
Genres: Action, Supernatural
Where To Watch: Crunchyroll, HBO Max
To avoid being seen by the Union, a shadowy organization out for Rai's blood, his servant Frankenstein enrolls the "Noblesse" Cadis Etrama di Raizel, commonly known as "Rai," in Ye Ran High School.
Rai begins his life as a student, getting to know his peers and the things people do daily. However, his new life is anything but calm, and Rai soon finds himself having to defend his new companions from the Union, who had kidnapped them.
As a result of a suggestion made by the institution's director, who happens to be none other than Frankenstein, M-21 joins the security team at Ye Ran High School due to a suggestion made by M-21.
Although M-21 poses as a prim and proper employee, his past connections to the Union and the unavoidable repercussions of betraying the group have bound him. Regis K. landegre and Seira J. Loyard, two nobles investigating the noblesse, enroll at the same school, adding to the complications.
Rai is compelled to maintain his secrecy while defending everything he values while the Union searches for M-21 to get information about their lost spies.
05. Yobi, The Five Tailed Fox (Cheonnyeon-Yeowoo Yeowoobi)
Type: Movie
Episodes: 1
Status: Finished Airing
Genres: Drama, Fantasy, Sci-Fi
Where To Watch: Crunchyroll
The main character of Yobi is a nine-tailed fox with the ability to take on several forms, including that of a human.
Kumiho is a well-known character in a famous Korean folk tale who are typically portrayed as magical creatures who assume female form to seduce and prey on humans.
But this time, instead of a nine-tailed fox, our hero is a youthful, good-hearted fox with only five tails. Five-tailed Yobi, orphaned by fox hunters, now lives in the forest with some stranded aliens and is separated from humans.
Yobi is forced to travel into the human realm to rescue one of her alien friends who a villager has kidnaped. In the village of Geum Yee, a student at a school for kids with behavioral problems is one of the many people Yob encounters.
A fox hunter and a mysterious shadow man are after Yob because she is interested in Geum Yee. Despite this, she joins the students and enjoys the pleasures of campus life.
04. Wonderful Days (Sky Blue)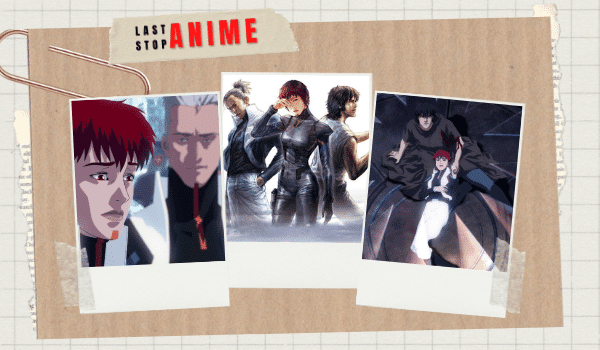 Type: Movie
Episodes: 1
Status: Finished Airing
Genres: Action, Drama, Romance, Sci-Fi
Where To Watch: N/A
Wonderful Days, which takes place in 2142, shows how environmental pollution has completely devastated the Earth. Only a few people survived the collapse of the Earth's ecology and human life as we know it is practically gone.
A city called Ecoban was built to deal with the disorder. The city generates energy from the same pollution that led to the catastrophe.
Although the initial concept was somewhat effective, it also produced an elite group of individuals in addition to a new source of energy.
This elite group of people who consider themselves above the law will not admit survivors from outside the city unless they are forced to serve as laborers.
A young man by the name of Shua is one of the residents of the desert region outside of Ecoban. Due to his love for his childhood friend Jay, despite the difficult life he leads, he tries to live it to the fullest.
A love triangle develops because, unfortunately, Jay might be more interested in her security commander, Cade, than in Shua. Shua has to deal with his broken heart in addition to figuring out how to live among the ruins of the once-beautiful planet Earth.
03. Seoul-yeok (Seoul Station)
Type: Movie
Episodes: 1
Status: Finished Airing
Genres: Horror, Suspense
Where To Watch: Amazon Prime Video
If you are familiar with Train To Busan, you must watch this since it is a prequel.
Hye-sun is attempting to leave her life as a prostitute. Suk-gyu, her father, is attempting to contact his daughter, who is currently estranged.
Both of their plans are derailed by a zombie epidemic that requires all of their resources to survive before any of them can do what they set out to do.
02. The God Of High School
Episodes: 13
Status: Finished Airing
Genres: Action, Fantasy, Sci-Fi, Supernatural
Where To Watch: Crunchyroll
The story centers around Jin Mori and the martial arts tournament he participates in. The competition known as "God of High School" has begun determining which Korean high school student will make the best combatant.
There are no restrictions on the kinds of weapons, martial arts techniques, or ways to win. The reward? Make one wish, and the winner will get whatever they want.
Our main characters, Jin Mori, Han Dae-Wi, and Yu Mi-Ra, participate in the God of High School Tournament. The fights will be the most brutal Mo-ri has ever engaged in since he knows that no two opponents will be the same. However, he is utterly thrilled by this possibility rather than concerned.
The competition presents itself as a transparent test of combat prowess. Still, there is a hidden agenda at play—one with Korean presidential hopeful Park Mu-Jin watching every match with eager anticipation.
The true meaning of becoming the God of High School will be revealed to Mo-Ri, Dae-Wi, and Mi-Ra.
01. Kami no Tou (Tower Of God)
Episodes: 13
Status: Finished Airing
Genres: Action, Adventure, Drama, Fantasy, Mystery
Where To Watch: Crunchyroll
The promise of fulfilling their greatest wishes draws special people, known as "regulars," to a god tower. Everything awaits those who reach the top, including fortune, fame, power, and anything that surpasses them.
Bam was a young boy who had spent his entire life in a dark cave with a dirty cloth and a light out of reach. His life transformed when a girl named Rachel approached him via the light.
He got to know Rachel well and learned much from her about the outside world. But his world crumbles around him when Rachel informs him that she must leave him to ascend the Tower.
He fixes his gaze on the Tower and swears to pursue her no matter what. As a result, a miracle happens.
Bam's quest, which began when he opened the Tower's gates on his own rather than being chosen by it, is now underway. His sort, described as "Irregulars," have caused the Tower's foundation to tremble each time they entered it.
Like Sword Art Online, the series follows the story of a protagonist who levels up while battling monsters in dungeons. Although there are elements of Death Parade and Tower of God, there is a connection between the towers' game concept and the party games played in Death Parade.
The Tower of God has a mystery plot half the time, and you'll keep wondering who's the creator behind the "Tower." The original storyline introduces various interesting characters that viewers will either love or dislike.
Tower of God is one of the best Korean anime you can watch and enjoy, and it is faithful to its manhwa.
Honorable Mentions
Element Hunters
Hammerboy
Madang-eul Naon Amtalg (Daisy: A Hen into the Wild)