While anime is often associated with the Japanese anime we all know and love, it extends far beyond that.
Since it is the Japanese term for animation, several other countries have also had their fair share of great anime series.
American anime, in particular, is something most of us grew up with while imparting many values to us.
Since we have gotten used to calling Japanese animation as anime, we might initially feel uncomfortable in addressing American series under the same classification.
However, with the characteristic style and themes we love from Japanese anime inspiring several of these, we have slowly seen the rise of American anime.
While it is clear how anime-influenced animation in these, they are able to stand on their own feet while gaining the adoration of both kids and adults alike.
Furthermore, as we see anime influence the world and many generations on a daily basis, there are several animated series, especially from America, which significantly contribute to this.
List Of Best American Anime To Watch
15. Winx Club
Number of Episodes: 208
Number of Seasons: 8 + 4 Specials
Genres: Action, Adventure, Comedy, Thriller
IMDB Rating: 6.1
Where to Watch: Netflix, Prime Video
With its unique art style and fantasy elements, Winx Club has won over several anime fans while also having a very popular live-action adaptation.
The story focuses on a young girl named Bloom who attends a school for fairies to perfect her craft in magic.
From the first episode, we can sense that we are in for a fun ride as we see our protagonist befriending several other teenage girls. At the same time, they all work towards becoming stronger.
Furthermore, using their powers doesn't only stick to the classroom. Still, we also see them facing several foes as the story takes place on a large scale with many dimensions.
Additionally, Winx Club has exciting music that enhances the fight scenes and several interesting characters we grow to love.
Western animation, which clearly shows us its Japanese influences, also helps us connect with the scenes' emotional impact more.
Reminiscent of the magical girl anime that we've all come to love, the anime serves as a pleasant surprise to anyone trying American cartoons.
14. Steven Universe
Number of Episodes: 160
Number of Seasons: 5 + 1 Movie
Genres: Action, Comedy, Sci-Fi, Drama, Adventure
IMDB Rating: 8.2
Where to Watch: Hulu, HBO Max
As one of the many hits from Cartoon Network, Steven Universe is a unique American anime with an individualistic art style, a wide range of diverse characters, and a well-written coming-of-age story following its protagonist, Steven.
It follows a group of heroes named Crystal gems who are tasked with protecting humanity from monsters and any other threats.
Upon inheriting a magic gem from his mother, Steven Universe, a young boy, also joins the group.
However, life is challenging for him as he is still figuring out the full extent of his powers.
The American anime doesn't stick to plain fight scenes either, as it has a lot of great storytelling that expands the world while building anticipation through its mystery.
Unsurprisingly, this was a fan-favorite anime in American countries as well as around the world and is definitely worth watching.
13. Vixen
Number of Episodes: 12
Number of Seasons: 2 + 1 Movie
Genres: Action, Adventure, Superhero
IMDB Rating: 7
Where to Watch: Prime Video, HBO Max
While the famous DC character has been shown several times in different forms in media, many who have watched Vixen agree that this is one of the superior versions.
It follows a costumed hero fighting crime and striving to uphold justice.
Following the death of her family in Africa due to corruption, our female protagonist gains the power to borrow the abilities of any animal on earth.
Using this, she combats injustice to ensure no one has to experience what she did.
With a cast of all-star characters from the superhero universe, the anime shows an action-packed adventure filled with several dramatic moments.
Moreover, the animation is also straightforward to the eyes and engrosses us further.
In addition, a diverse cast and an inspiring main character who teenage girls can look up to make Vixen a very enjoyable series.
12. Voltron: Legendary Defender
Number of Episodes: 78
Number of Seasons: 8
Genres: Action, Comedy, Mecha, Drama, Adventure
IMDB Rating: 8.1
Where to Watch: Netflix
Made by Studio Mir, known for its excellence in making American anime shows, Voltron: Legendary Defender manages to live up to its high expectations.
It follows a group of five teenagers who are dragged into a huge war with the whole world's survival at stake.
As the teenage heroes commandeer robotic lions while becoming intergalactic warriors fighting spectacular battles against an evil army, the anime is a treat for mecha and sci-fi anime fans.
Our main characters go from naive children to dependable teenage heroes who carry unimaginable burdens.
The five teenagers even teach valuable life lessons to adults as they tell us the importance of teamwork and persistence as they control the robotic lions together to defend their planet.
With thrilling fight scenes, likable characters, and an unpredictable plot, Volton the legendary defender is one of those anime shows you definitely want to check out.
11. Samurai Jack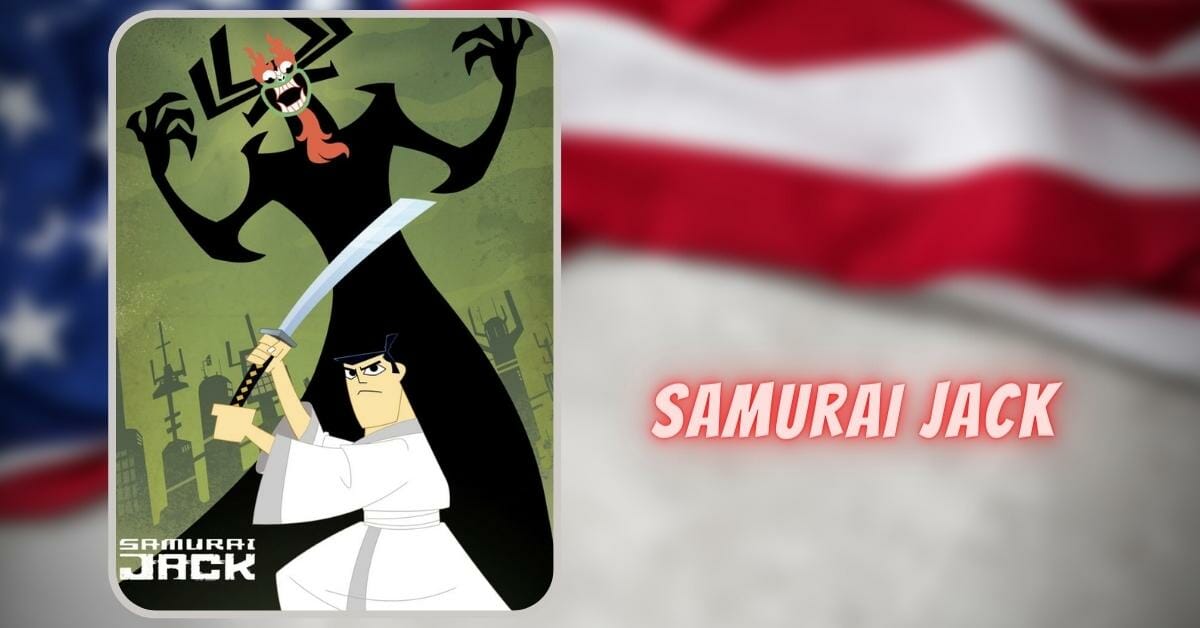 Number of Episodes: 62
Number of Seasons: 5
Genres: Action, Comedy, Sci-Fi, Drama
IMDB Rating: 8.5
Where to Watch: Prime Video, HBO Max
Even though Samurai Jack might put off several people due to its older animation style, its story more than makes up for it.
With a protagonist of the same name, it might seem similar to a regular action animated series, similar to the many examples in Japanese anime.
However, we are soon shown that this is not the case as we see the young man try to avenge his father, who was killed by a mysterious demon.
Jack is sent to the future before he can defeat the demon. In this dystopian world, the demon rules over everyone.
As he tries to go back to his own timeline and set things straight, a plethora of hurdles and challenges come his way.
Struggling with his new life in modern society, where people's everyday lives are hell, Jack realizes he is the only person who can oppose the demon's tyranny.
With the series spanning over 16 years, Samurai Jack is a wonderful tale where we follow the main character on his journey of revenge, filled with action and building relationships.
10. She-Ra and the Princesses of Power
Number of Episodes: 52
Number of Seasons: 5
Genres: Action, Comedy, Drama, Adventure
IMDB Rating: 8
Where to Watch: Netflix
At first glance, She-Ra and the Princesses of Power could be considered just a sequel of similar quality to the 1985 version with the same name, which was plagued by negative reviews.
However, and fortunately, the newer spin-off version manages to avoid the fallacies of its predecessor while delivering a magical girl anime series that could even stand on par with the popular Japanese anime Sailor Moon.
It follows its protagonist, Adora, who transforms into the princess of power, She-Ra, after coming across a magic sword.
Using this power, she leaves her home upon finding it evil and joins the rebel forces in the civil war against the authoritarian government.
In her new surroundings, She-Ra helps rebuild the rebellion's power and uniting various magical princesses.
While the comic strip is great on its own, this cartoon shows us the joy of watching anime with its vibrant animation, diverse characters, and dedicated voice actors.
9. Dota: Dragon's Blood
Number of Episodes: 24
Number of Seasons: 3
Genres: Action, Fantasy, Adventure, Drama
IMDB Rating: 7.8
Where to Watch: Netflix
Based on the popular video game, Dota: Dragon's Blood is a fun and gory animated series while being set in a dark fantasy world.
The epic fantasy adventure follows a dragon knight by the name of Davion who goes around hunting dragons to make the world safer.
However, he merges with a dragon when caught up in an unavoidable situation.
Because of this, it gives him great power that helps him continue his endeavors more efficiently but also causes doubt in himself as he has become what he hates most.
With a style very similar to Japanese animation, the anime explicitly shows the world's brutality.
While playing the video game would give you a better understanding of the characters, you can still jump into the anime directly.
As the voice actors elevate every scene and the dark fantasy world is a welcoming change from the usual animated series.
8. Young Justice
Number of Episodes: 98
Number of Seasons: 4
Genres: Action, Adventure, Sci-Fi
IMDB Rating: 8.7
Where to Watch: Prime Video, HBO Max
Young Justice is an enjoyable and fresh superhero animated series that tells the story of a new group made up of new characters and sidekicks of the Justice League.
As they operate under their superior team, the constraints placed on them are much lesser, which gives them much more flexibility in operating in their superhero work.
The anime shows teenagers facing threats that could harm the entire world and normal everyday life issues.
Due to this, we get a glimpse of both aspects with drama that is very appealing to teens.
Young Justice might give us the impression that it's a rip-off of the original Justice League, but the anime is a pleasant surprise.
With a new set of interesting characters with unique personalities, Young Justice provides a much-needed change from the classic superhero shows out there.
7. Family Guy
Number of Episodes: 397
Number of Seasons: 21 + 2 Movies
Genres: Comedy
IMDB Rating: 8.2
Where to Watch: Prime Video, Hulu, Disney+
Known as one of the most outrageous yet funny animated series ever made, Family Guy is already extremely popular among Sitcom fans.
Following the adventures of the Griffin Family, it keeps raising the bar with its jokes while often toeing the line of being canceled for its extreme comedy.
Audiences are often fooled by the characters' kiddish designs, only to experience humor that might be too much for adults.
The humor stays up-to-date and clever while using sarcasm cleverly and manages to stand out even among the several American anime shows which use the contrast of animation to deliver adult comedy.
With a unique cast of characters who are all memorable, the series might not remind you of Japanese anime, but it is definitely one of the greatest accomplishments in American anime.
6. The Dragon Prince
Number of Episodes: 36
Number of Seasons: 4
Genres: Action, Adventure, Fantasy, Comedy, Drama
IMDB Rating: 8.3
Where to Watch: Netflix
The Dragon Prince follows the journey of half-brothers Callum and Ezran as they embark upon the dangerous task of bringing peace to the human kingdom.
They are accompanied by an elf and a baby dragon prince himself to bring the conflict between humanity and mystical creatures.
While being one of the best fantasy anime shows to come out in recent times, it is highly engaging while telling the story of a world filled with wonder.
The anime holds nothing back while showing humanity's greed as they wish to learn dark magic fuelled by all other magical life.
This drives a wedge in the continent, resulting in humans being driven away.
However, never giving up on their selfish pursuits, they returned later while throwing the world on the brink of a disastrous war.
On discovering a secret that could alter this, our main characters take on a treacherous journey where the entire world is at stake.
With some fabulous voice acting, adequate use of humor, and one of the best-written worlds, not just in American anime but in general, this is one series you don't want to miss.
5. The Legend of Korra
Number of Episodes: 52
Number of Seasons: 4
Genres: Action, Adventure, Fantasy, Comedy, Drama
IMDB Rating: 8.4
Where to Watch: Netflix, Prime Video
Set 70 years after the events of Avatar: The Last Airbender, The anime follows its titular protagonist, a girl named Korra.
We see her travel to Republic City to master the final among the four elements, Air.
She forms several bonds in her journey while Korra learns to polish her ability from Avatar Aang's son.
As she gets caught up in several political situations during her time in republic city, her abilities will constantly be tested as the world keeps modernizing and expanding.
The Legend of Korra is an aptly named title since we see the growth of a young girl bearing the weight of expectation from many.
As the world of avatar anime keeps increasing with many exciting new characters and settings being introduced,
The Legend of Korra carves its own way out in American anime rather than be in the shadow of its predecessor.
In addition, we are also shown a set of exciting new powers. At the same time, they are used in the exhilarating battles we've gotten accustomed to from the avatar franchise.
With enough nostalgia to get us started on the anime and great quality of writing to keep us going, the legend of Korra is a must-watch for fans of Avatar: The Last Airbender.
4. RWBY
Number of Episodes: 106
Number of Seasons: 8
Genres: Action, Adventure, Fantasy
IMDB Rating: 7.7
Where to Watch: Crunchyroll, Netflix
Even among the most conservative of fans, RWBY is a rare exception where despite being an American anime, it is considered among the Japanese ones.
The anime follows the story of four girls, Ruby, Weiss, Blake, and Yang, whose names make up RWBY.
In a fictional world, these four are trained from a young age to become warriors.
These Warriors, known as Huntresses, are tasked with protecting the world from monsters known as Grimm.
While we see life in the academy where they're trained, we also get an insight into their characters' differences.
Coming straight out of school and being required to face several antagonists and monsters, we see the bond between the girls grow stronger as they work together as a team.
With some stunning and unique animation styles, American anime is unsurprisingly adored by fans across the world.
3. Castlevania
Number of Episodes: 32
Number of Seasons: 4
Genres: Action, Adventure, Fantasy, Drama, Horror
IMDB Rating: 8.3
Where to Watch: Netflix, Prime Video
The Tale of Dracula had been told many times before Castlevania, which made fans have low hopes for the American anime series.
However, as soon as the first episode came out, fans took back their words as they saw this fantastic adaptation of the video game franchise.
Set in eastern Europe, we are introduced to the unapproachable Dracula, who finally finds love from a kind and caring woman.
But fate does not want them to be together as his wife is accused of being a witch and is burnt at stake.
Following this incident, Dracula is extremely enraged and unleashes his army of demons on the country and descends it into chaos through his hatred for humans.
The series shifts focus after the horror and damage the wrath of Dracula causes to a group of heroes, all of whom are trying to stop this disaster and defeat Dracula.
With extremely satisfying fights, dedicated voice acting, and a cast of loveable and well-known characters, Castlevania only keeps improving in quality through the seasons.
2. Teen Titans
Number of Episodes: 65
Number of Seasons: 5 + 1 Movie
Genres: Action, Adventure, Sci-Fi, Superhero
IMDB Rating: 7.9
Where to Watch: Prime Video
Teen Titans is one of the classics in American anime, aired on Cartoon Network and was a big part of many childhoods.
It follows the basic tale of a group of heroes who team up to defeat a powerful villain but deliver it in a really enjoyable way.
Dealing with humor but equally adult and dark scenes, the superhero anime revolves around the lives of Robin, Starfire, Cyborg, Raven, and Beast Boy.
While it currently has a live-action version airing, the original still makes us feel nostalgic and invested in the journey and progression of the characters.
As they defeat villains, they also deal with the struggles of adolescence.
We see them grow from a group of individuals who struggled to get along to a respectable team who people entrust their life to.
While Teen Titans is an anime you might have watched as a kid, it is still a lot of fun when you revisit it later.
1. Avatar: The Last Airbender
Number of Episodes: 61
Number of Seasons: 3
Genres: Action, Adventure, Fantasy, Comedy Drama
IMDB Rating: 9.3
Where to Watch: Netflix, Prime Video
Similar to Dragon ball or Fullmetal Alchemist for Japanese anime and Mo Dao Zu Shi for Chinese anime, Avatar: The Last Airbender represents American anime to the rest of the world.
It is arguably the most famous American anime ever made and is considered a classic by many.
It is set in a world with four elements that also affect the division of nations: the Earth kingdom, Air nomads, Fire Nation and Water Tribes.
Those who can manipulate these elements in each nation are known as benders.
Avatar: The Last Airbender revolves around the journey of Aang, a young boy who wishes to master all the elements.
Through this, he would become a peacekeeper for all who would put an end to the fire nation's war and their dictatorship.
Avatar: The Last Airbender is an unforgettable journey that can be enjoyed by fans of all ages.
In addition, it has an extremely well-written cast of characters and innovative and exciting fight sequences.
While it is classified as an American anime, it is one of the most influential shows around the globe and a significant part of many people's childhood.