Through the years, several anime have gained a reputation for their perverted and ecchi moments that act as fan service towards audiences. Among these, High School Dxd has managed to stick out from the rest of the crowd by being extremely fun and having an enjoyable story.
It follows the life of Issei Hyodou, an average high school student who is extremely perverted and dreams of being surrounded by beautiful girls.
After being invited on a date by a good-looking girl, he thinks his dreams are close to being achieved when she attempts to kill him while revealing herself as a fallen angel.
Right before succeeding, Issei is saved by a devil he recognizes as a beautiful red-haired girl from his school.
This ropes him into the world of angels and devils as he serves under the girl, whose name is Rias Gremory, while trying to achieve his goals.
High school Dxd is filled with pretty girls and lots of fanservice which is extremely satisfying to viewers leading to its popularity.
With its high-octane fights, likeable protagonist and supernatural themes, it has grown to be one of the best ecchi anime and a very good anime in general.
Is High School DxD 18+?
Anyone who has watched High school DxD would easily agree that the anime series is meant for young adults over the age of 18.
This is due to the frequent nudity and sexual themes in the anime.
A certain level of maturity is definitely required to fully appreciate the adult elements of the anime as well as the beautiful young women.
While it is also one of the most fun experiences any anime-watcher will have, this is not a series you would want to watch around others because of its many ecchi scenes.
In this article, we will recommend anime like High School DxD with a similar tone, story and characters that fans can enjoy.
15. Demon King Daimao
Number of Episodes: 12
Number of Seasons: 1
Genres: Action, Comedy, Fantasy, Ecchi
MAL Rating: 6.75
Where to Watch: Crunchyroll, Prime Video, HIDIVE
For anyone looking for a harem anime like high school dxd, where there are a lot of fight scenes and a main character surrounded by beautiful girls, Demon King Daimao is what you are searching for.
It follows its protagonist, a young man named Akuto, who dreams of making a peaceful world and joins a magic academy to help achieve them.
However, after a prophesy that says he is destined to become a demon lord, he finds it exceedingly hard not to be distracted by those around him.
With several girls with unique personalities that follow him and his newly awakened powers, Akuto comes across several hilarious misfortunes in his daily life.
With an enjoyable story, cool main character and lots of nudity, Demon King Daimao keeps the viewer interested through every episode.
14. Sekirei
Number of Episodes: 25
Number of Seasons: 2 + 2 OVAS
Genres: Action, Comedy, Ecchi
MAL Rating: 7.05
Where to Watch: Prime Video, Vudu
Sekirei is yet another engaging anime that manages to keep the viewer's complete attention for both its seasons.
It follows a boy named Minato who keeps failing his college entrance exams.
Due to failing to become a college student, all those around him have a very low opinion of him despite the fact that he is very smart.
While struggling to decide on his future path, he runs into a strange girl who is revealed to not be from the human world.
In addition to this, she is also taking part in a huge battle for survival against others similar to her who have superhuman powers.
By kissing Minato, she involves him in this battle while awakening powers inside him.
Together, they fight against other supernatural beings who constantly threaten their life.
From the description of the plot, it is safe to say that Sekirei is anything but boring and is very satisfying to fans with its action sequences and likeable characters.
13. Osamake: Romcom Where The Childhood Friend Won't Lose
Number of Episodes: 12
Number of Seasons: 1
Genres: Comedy, Romance
MAL Rating: 6.07
Where to Watch: Crunchyroll
Very few embody the fun and pleasure derived from a harem story anime more than Osamake.
The story begins as we are introduced to the protagonist and his childhood friend, who is in love with him.
Unfortunately, the boy, a young high school student named Sueharu, cannot reciprocate this as he already has his eyes on another girl.
In another surprising twist, Sueharu is shocked when he finds out the girl he likes is in a relationship already.
From a plan formed by his childhood friend, they decide to get revenge while having ulterior motives of their own.
This twisted tale of romance and comedy is extremely joyous to watch while following almost every trope in a harem anime to perfection.
With a school setting and hilarious coincidences that disrupt the normal life of the characters, this is one anime like high school dxd that you need to try.
12. Campione!
Number of Episodes: 13
Number of Seasons: 1
Genres: Action, Comedy, Fantasy, Romance, Ecchi
MAL Rating: 6.94
Where to Watch: Crunchyroll, Prime Video
Based on the light novel, Campione is a unique series filled with exciting supernatural elements and one of the best anime that ecchi-lovers can watch.
The story revolves around a young boy who gets roped into a battle and is forced to fight heretical gods while travelling to fulfill a promise to his grandfather.
Through this, he becomes a god slayer who has to live a new life as a savior of humanity.
In this new world so different from the one we know, where heretic gods keep fighting and causing disasters to humanity, this god slayer needs to defeat them with the help of his followers, a group of beautiful girls.
For anyone who loves anime that has supernatural elements and a unique story, Campione! is worth the watch.
11. Haganai: I don't Have Many Friends
Number of Episodes: 24
Number of Seasons: 2 + 2 OVAS
Genres: Comedy, Romance, Slice of Life, Ecchi
MAL Rating: 7.17
Where to Watch: Crunchyroll, Prime Video, Hulu
With its surprisingly relatable story and unique characters, Haganai stands out from several other anime in its genre.
It follows a transfer student named Kodaka who wishes to be friendly with other students but is isolated due to his different appearance.
His boring school life changes when he notices a young girl speaking with her imaginary friend near him.
As fellow loners, they strike up a conversation and decide to open a neighbor's club where fellow loners can join them.
Through this, we witness the hilarious events that take place in the lives of the club members, who each have distinctive personalities.
While the ecchi scenes might seem over-the-top, the anime is still grounded and speaks on real life issues that affect socially inept children.
10. Omamori Himari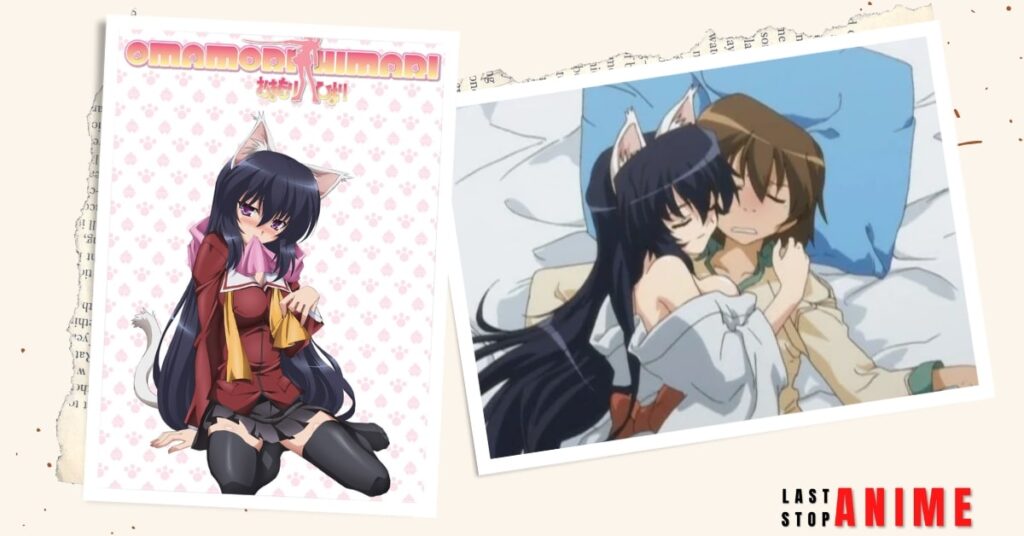 Number of Episodes: 12
Number of Seasons: 1
Genres: Action, Comedy, Romance, Fantasy, Supernatural, Ecchi
MAL Rating: 6.85
Where to Watch: Crunchyroll
Omamori Himari is an anime like high school dxd that is filled with fan-service while having a story that dives into several genres to increase the satisfaction of the viewer.
It follows a young boy named Yuuto who loses his parents in a car accident and is cared for by his neighbours.
After being saved by a mysterious girl when attacked by a supernatural creature, it is revealed that he comes from a family of demon slayers that used to protect the world.
With this revelation, Yuuto is roped into this world while meeting one beautiful girl after the other that always hangs around him.
With his newfound friends, they need to face threats in their dangerous world.
Omamori Himari has many different kinds of women with memorable personalities and more than enough ecchi scenes to keep us engaged.
In addition, the plot also relies on mythological elements to add some extra flavour for fans.
9. Monster Musume: Everyday Life with Monster Girls
Number of Episodes: 12
Number of Seasons: 1 + 2 OVAS
Genres: Comedy, Romance, Fantasy, Ecchi
MAL Rating: 6.98
Where to Watch: Crunchyroll, Prime Video, Vudu
Monster Musume is a series that fully embraces its perverted nature and makes us wonder how it isn't hentai.
This only means that the show is extremely appealing to an adult audience that enjoys the various kinds of ecchi scenes the show produces.
We are introduced to a young boy named Kimihito living a normal life.
This is changed when the government plans on having other species apart from humans living and getting accustomed to society.
Kimihito is surprised when he is assigned to a supernatural creature named Miia, who lives together with him.
From this moment, a series of sensual misunderstandings keep happening between them, leading to several perverted scenes.
With more mythical creatures showing up in every episode, the steaminess of the series only keeps increasing as each woman has her own intentions with our protagonist.
8. Otome Youkai Zakuro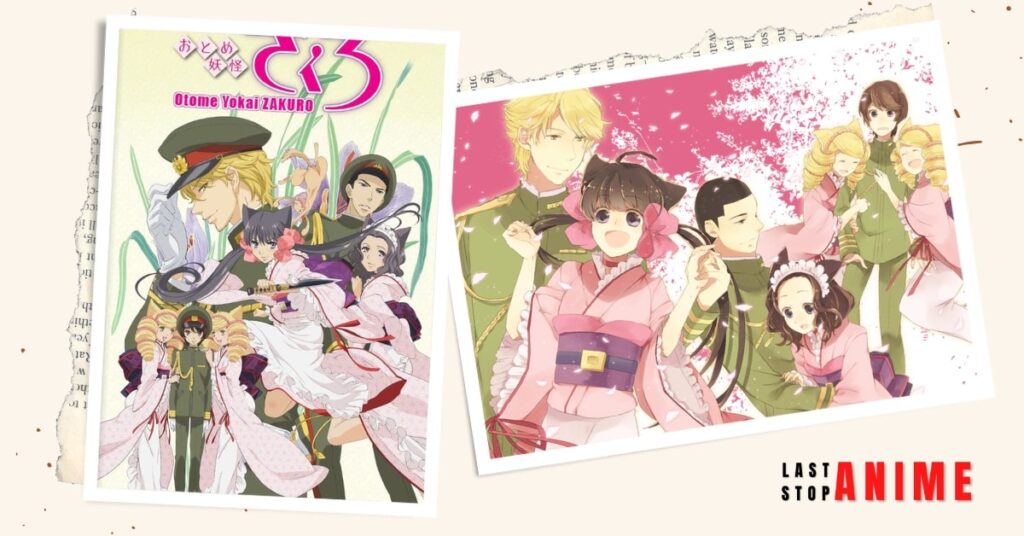 Number of Episodes: 13
Number of Seasons: 1
Genres: Romance, Supernatural
MAL Rating: 7.44
Where to Watch: Crunchyroll
With an eye-catching story that involves history and several likeable main characters, Otome Youkai Zakuro manages to be a very interesting anime that gains the attention of several fans.
It follows a military officer who is generally calm and collected but fears supernatural existences known as Youkai.
As if life was playing a cruel joke on him, he was assigned to handle cases related to the paranormal along with a few other officers.
Due to the lack of a Youkai academy, they soon learn that there is much they do not know about the spirits as they have various experiences with them.
The story is a much needed breath of fresh air while presenting us a cast of diverse characters, such as a youkai woman who cannot stand humans who accept jesuit practices.
Both humans and youkai work together while gradually learning a lot from each other.
The anime is also often mistaken for a Shoujo due to its designs and huge role of romance. However, it is still a very enjoyable watch.
7. Strike The Blood
Number of Episodes: 24
Number of Seasons: 1 + 37 OVAS
Genres: Action, Fantasy, Supernatural, Ecchi
MAL Rating: 7.05
Where to Watch: Crunchyroll
Strike the Blood follows a high school student named Kojou who lives in the demon district of Itogami Island.
His ordinary life is upturned when an incident leads to him getting supernatural powers.
Things get worse when he is feared to be an extremely powerful vampire, and a group known as the lion king organization sends a young girl to spy on him.
However, things aren't that simple as they are forced to work together to protect their beloved hometown from outside forces that threaten them.
While initially, they seemed like sworn enemies, we also see them gradually grow closer and come to have feelings for each other.
With its high school setting and a powerful main character who saves the day, Strike the Blood might seem stereotypical. However, it is still one of the best anime for those looking for a good time.
6. Date A Live
Number of Episodes: 46
Number of Seasons: 4 + 2 OVAS + 1 Movie
Genres: Comedy, Romance, Sci-Fi
MAL Rating: 7.17
Where to Watch: Crunchyroll, Prime Video, Tubi
With multiple seasons, video game franchises and a movie, Date a Live has become one of the most popular harem animes in the current generation.
Similar to other harem anime, it has a serious and equally ridiculous premise that manages to get the viewer invested.
It follows a boy named Shidou who lives with his younger sister and lives normally.
Following a large disaster, however, he discovers a mysterious girl, later revealed to be a spirit causing it.
He gets stuck between this girl and an anti-spirit team that wishes to eradicate these existences.
When Shidou does not wish this on the girl, he discovers another group that hopes to save these spirits.
After joining them, he finds a way to save them from being linked with dating them and making them fall in love with him.
With this unique solution, we see his journey of becoming a "serial killer" in the hearts of beautiful ladies with alluring designs and personalities.
5. To Love Ru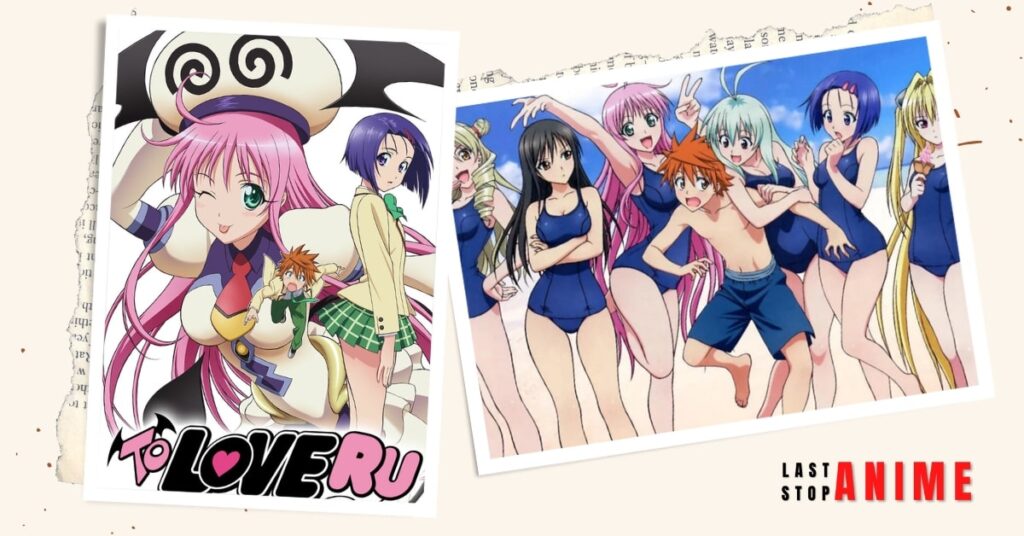 Number of Episodes: 64
Number of Seasons: 4 + 16 OVAS
Genres: Comedy, Romance, Sci-Fi, Ecchi
MAL Rating: 7.00
Where to Watch: Crunchyroll, Prime Video, HIDIVE
To Love Ru is one of the greats in ecchi anime while never failing to entertain different generations of anime fans.
The story introduces us to an innocent high school student named Rito who struggles to confess his love for a girl he's liked since a young age.
His life completely changes when he has a coincidental meeting with an alien girl with very high status.
He is even more surprised when the girl wishes to marry him to escape an unwanted political marriage.
As Rito tries to juggle the two girls in his life by running away from one and confessing to the other, he is constantly met with obstacles as girls keep adding to his harem.
With several hilarious and perverted scenes that keep the watcher entertained, To Love Ru is one of the best anime like high school dxd you can't miss out on.
4. Testament Of Sister New Devil
Number of Episodes: 22
Number of Seasons: 2 + 3 OVAS
Genres: Action, Fantasy, Romance, Ecchi
MAL Rating: 6.72
Where to Watch: Crunchyroll
Testament of Sister New Devil is the best anime that anyone who watches anime for perverted reasons can find.
The series has its main story as a subtext while completely focusing on the beautiful girls and high levels of nudity.
We are told the story from the perspective of the seemingly regular Basara, a boy who is shocked when his father introduces two pretty girls as his step-sisters.
It is soon revealed that the girls are anything but normal, as they are powerful demons.
In yet another surprising twist, Basara reveals that he is part of the hero clan and the two are meant to be sworn enemies.
Having already formed feelings for each other, they form a master-servant contract and decide to protect themselves from outside threats.
3. Food Wars!
Number of Episodes: 86
Number of Seasons: 5
Genres: Cooking, Ecchi, Comedy, Slice of Life
MAL Rating: 8.17
Where to Watch: Crunchyroll, Netflix, Prime Video, Hulu
Food Wars is an exhilarating series that excites us through its delicious food and perverted moments with women.
It revolves around a boy named Souma, who is extremely talented in cooking and works at his father's restaurant.
After his father says he's leaving on a trip, Souma decides to enrol on a prestigious culinary school known for its high level of competition.
Watching Souma constantly defy expectations while climbing over each hurdle is a journey you won't want to miss out on.
In addition, the ecchi scenes in the anime usually signify a food explosion that happens to a character, which is a creative way of presenting fan service to viewers.
2. Highschool Of The Dead
Number of Episodes: 12
Number of Seasons: 1 + 1 OVA
Genres: Action, Horror, Supernatural, Ecchi
MAL Rating: 7.08
Where to Watch: Crunchyroll, Prime Video, Hulu
Fans of survival horror stories will completely fall in love with the dark world of Highschool of the Dead.
It follows a group of high school students who are stuck in the middle of an apocalypse when the walking dead attack the world.
Having completely different personalities, they are forced to set their differences aside while working together to survive.
We are introduced to everything from martial arts to gunfights as the students form connections and defeat those who threaten them.
The steamy scenes between characters that happen in the process only add to this fun-packed and thrilling ride.
1. Prison School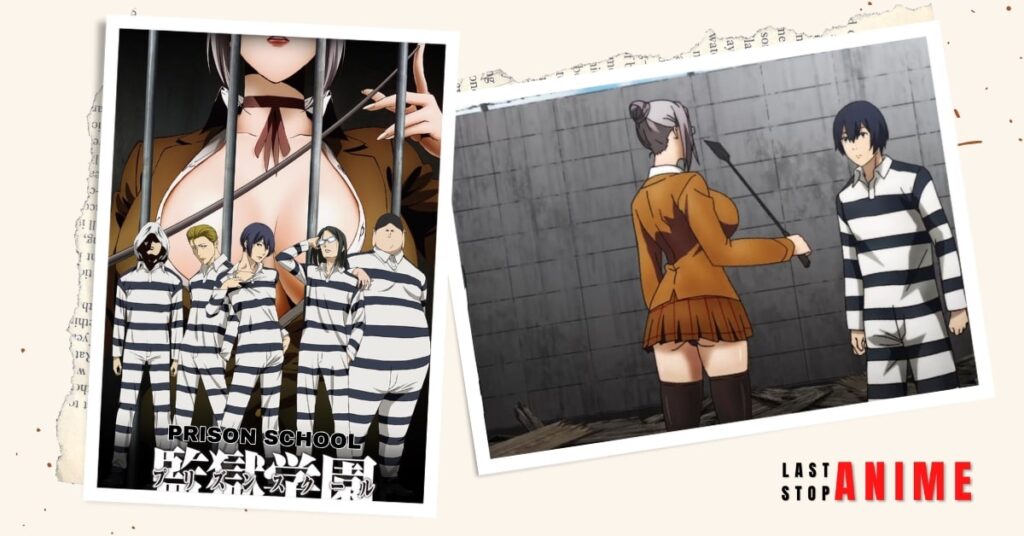 Number of Episodes: 12
Number of Seasons: 1 + 1 OVA
Genres: Comedy, Romance, Ecchi
MAL Rating: 7.61
Where to Watch: Crunchyroll, Prime Video
Prison school is one of the funniest animes ever made and arguably the best anime fans of High school dxd can watch.
It is set in a girls-only boarding school that was recently made into a co-ed that allows boys.
When a perverted plan to peek into the girls' bath by 5 boys in this school goes wrong, they are placed in the school's prison. Members of the student council continuously torture them.
We watch these boys deepen their bonds while trying to survive in new and harsh conditions.
Prison School is filled with dirty jokes and an amazing cast that has us laughing throughout every episode.
This is one anime that any fan looking for a great experience should watch at least once in their life.
---
Is Season 5 Of High School DxD Cancelled?
With its extremely successful 4th season concluding nearly 5 years ago, fans are dying to find out whether they will ever get a 5th season of High School DxD.
They need not fear, however, as there has been no latest anime news of season 5 being cancelled.
Season 5 of High School DxD was assumed to have been released sometime in 2021 but was postponed due to the covid restrictions.
As the previous season created several questions and the novel storyline is not yet completed, there is no reason to believe that we will not get a season 5 anytime soon.
While there is still no official announcement, according to several rumours, fans can expect the 5th season of the loved harem anime sometime between late 2023 to early 2024.