Get ready to be amazed by the PikachuJet, a special Boeing 787 Dreamliner that has been transformed into a vibrant showcase of Pikachu and other beloved Pokémon characters.
In a delightful collaboration between All Nippon Airways (ANA) and The Pokémon Company, this remarkable aircraft has taken flight with the goal of promoting tourism between Japan and India.
Picture yourself on board, surrounded by the cheerful presence of Pikachu and its charming companions, as you embark on an unforgettable journey. Let your imagination soar as you enter a world where Pokémon and aviation unite, creating an enchanting and unique travel experience.
Fasten your seatbelts, because the PikachuJet is here to whisk you away on an adventure like no other!
The PikachuJet NH made an electrifying entrance at Indira Gandhi International Airport in Delhi, causing quite a stir with its thunderous roar. As the plane touched down, a crowd of excited fans erupted into cheers, eagerly hoping to catch a glimpse of the beloved Pokémon. It was a moment filled with anticipation and joy.
Capturing this thrilling moment, Hiroshi Suzuki, the Ambassador of Japan, took to social media to share the captivating images of the Pokémon-adorned airplane.
With great enthusiasm, he tweeted, "Welcome #Pikachu to India! I am thrilled by the first flight of PikachuJet by #ANA to #Delhi! The Delhi sky is about to shine brightly with the spirit of #pika-pika!" 
It's clear that the arrival of the PikachuJet has sparked excitement and brought a wave of happiness to all who witnessed this extraordinary event.
The skies of Delhi are now graced with the vibrant presence of Pikachu, spreading its infectious energy to all who lay their eyes upon it. Get ready for a magical adventure as the PikachuJet soars high, leaving a trail of smiles in its wake!
The much-anticipated Pikachu jet embarked on its inaugural flight on June 4th this year, soaring from Tokyo Haneda International Airport to the vibrant city of Bangkok.
As per the official website of the airline, the Pikachu Jet is not alone in its airborne adventures.
Joining Pikachu on this remarkable aircraft are beloved flying Pokémon like Charizard, Latias, Latios, Vivillon, and many others.
These captivating creatures from the Pokémon world accompany Pikachu on its high-flying journey, spreading joy and wonder to passengers on board.
But the surprises don't end there! As passengers gaze at the Pikachu Jet's engines, they might just discover some hidden Pokémon nestled within, adding an extra touch of enchantment to this extraordinary flying experience.
The grand arrival of PikachuJet in Delhi sparked a massive celebration. As the plane touched down, water cannons sprayed an exuberant welcome, and the flight crew received a traditional Indian greeting with open arms.
The media frenzy captured every moment, with newspapers and magazines showcasing the PikachuJet's debut on their front pages.
The PikachuJet's touchdown in Delhi is a vivid testament to the surging craze of Pokémon in India. This incredible game has swept the nation, captivating a whole new generation of Indian kids and introducing them to the wonders of Japanese culture. The PikachuJet stands as a remarkable symbol of this delightful cultural exchange, set to spread joy and excitement throughout India.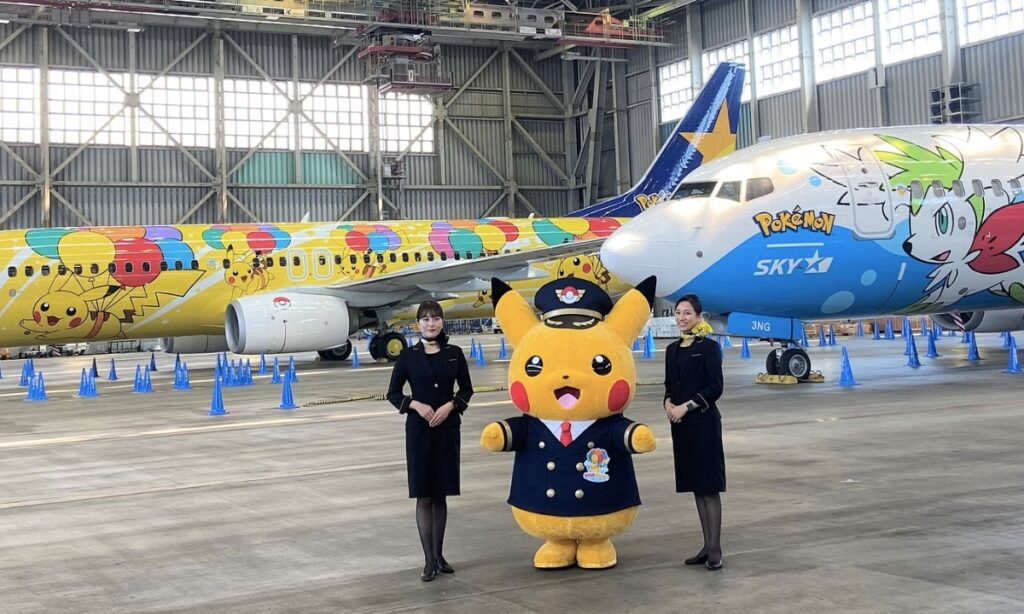 Pokémon liveries are no ordinary paint jobs on aircraft; they're extraordinary artworks inspired by the beloved Pokémon franchise. The trend kicked off in 2010 when All Nippon Airways (ANA) adorned their Boeing 747-400 with a captivating Pokémon livery. Since then, numerous airlines have joined in on the fun, spreading Pokémon magic across the skies.
You'll find these fantastic liveries on various airlines, including:
· All Nippon Airways (ANA)
· Scoot
· AirAsia
· Virgin Australia
· Hawaiian Airlines
· Singapore Airlines
These vibrant liveries bring iconic Pokémon characters like Pikachu, Charizard, and Eevee to life on the exteriors of aircraft.
You can spot them on magnificent planes like the Boeing 747s, Boeing 777s, and Airbus A380s, adding an extra touch of magic to the flying experience.
Let's talk about "Rayquaza" for a moment. Its name combines "ray," a dazzling beam of light, and "quasar," a distant and brilliantly shining celestial object. Rayquaza's design draws inspiration from Japanese dragons, featuring a sinuous emerald body covered in green scales.
This mighty Pokémon boasts striking red-tipped fins adorning its back and head, along with two arms sporting three pristine white claws. As a fearsome Dragon/Flying-type Pokémon, Rayquaza has captured the hearts of countless Pokémon enthusiasts worldwide.
For passengers aboard the Pikachu Jet NH, get ready for an unforgettable flight full of fun and surprises. The aircraft is decked out with delightful Pikachu decorations, transforming the plane into a Pokémon paradise.
Passengers will receive charming Pikachu tags, colorful stickers, and even special Pikachu-themed boarding passes as souvenirs.
ANA aims to make flying an enjoyable and exhilarating experience with this extraordinary flight, ensuring a memorable journey for all passengers on board.
ANA, in collaboration with The Pokémon Company based in Roppongi Hills Mori Tower, Tokyo, Japan, is thrilled to announce its partnership to introduce the Pikachu Jet NH to India.
Prepare for an extraordinary journey, as passengers will be treated to a one-of-a-kind, top-notch flight experience, complete with exclusive Pokémon merchandise.
To enhance the Pokémon-themed ambiance, ANA has curated a special boarding music selection that will transport passengers straight into the captivating world of Pokémon. As passengers step aboard the aircraft, they'll be greeted by lively melodies and the familiar sounds of Pokémon.
This carefully chosen music will not only help passengers unwind and enjoy their flight but also evoke the spirit of fun and excitement synonymous with the Pokémon franchise.
Just within a day of being shared, this incredible post has already amassed an impressive 88,000 views! Not only that, but it has also received over 2,500 likes, showcasing the immense excitement surrounding this news. The comment section has been buzzing with reactions from enthusiastic fans.
Let's dive into some of the fantastic responses:
One individual couldn't contain their excitement and exclaimed, "This is so cool!" Another person expressed their surprise, saying, "There's a Pikachu flight?! Amazing!" A third commenter shared their joy, saying, "Wow. That's just so awesome. I showed it to my little sister, and she loved it to bits." Then, a heartwarming remark from another commenter, "Lovely, happy design. One of my kids, when they were younger, adored the Pokémon series. This is a wonderful idea!"