Ever since its glorious inception in March 2018, Jujutsu Kaisen has swiftly ascended the ranks, earning a place among the pantheon of best-selling mangas throughout time—while the anime itself boldly shatters records, notably epitomized by the remarkable triumph of the prequel film, Jujutsu Kaisen 0.
This release aligns perfectly with the astounding lineup of anime in 2023, including the highly anticipated Demon Slayer Season 3 and the climactic final chapters of Attack on Titan.
Jujutsu Kaisen Season 2 is just a few months away, poised to grace our screens in July. The eagerly anticipated anime will delve into one of the most enthralling story arcs from the manga.
Amidst this star-studded array, Jujutsu Kaisen has the potential to shine brightest. The anime's captivating narrative and compelling characters have garnered immense popularity.
To get a refresher before Jujutsu High reopens its doors, you can refer to our comprehensive guide
It covers everything from release dates and tantalizing trailers to understanding the role of the Jujutsu Kaisen movie within the series.
Moreover, we even have insights from the CEO of animation studio MAPPA regarding the upcoming season. Prepare yourself for another thrilling journey into the world of Jujutsu Kaisen.
Jujutsu Kaisen Season 2 Release Date: When Will It Air?
Fantastic news! The highly anticipated Jujutsu Kaisen Season 2 is set to grace our screens on July 6, 2023. The official Jujutsu Kaisen Twitter account confirmed this exciting release date back in March, accompanied by an extended teaser trailer that's sure to get fans even more thrilled.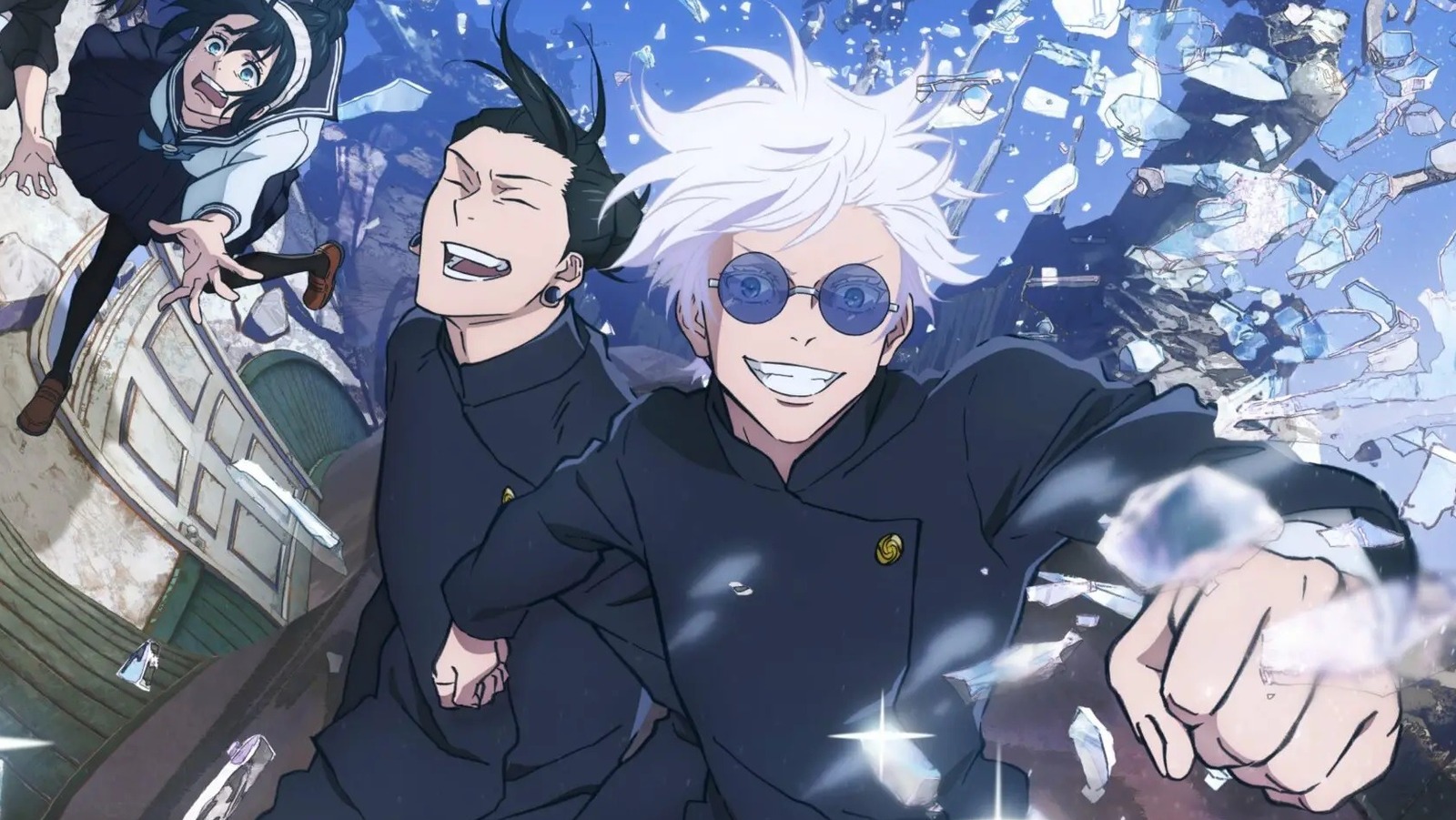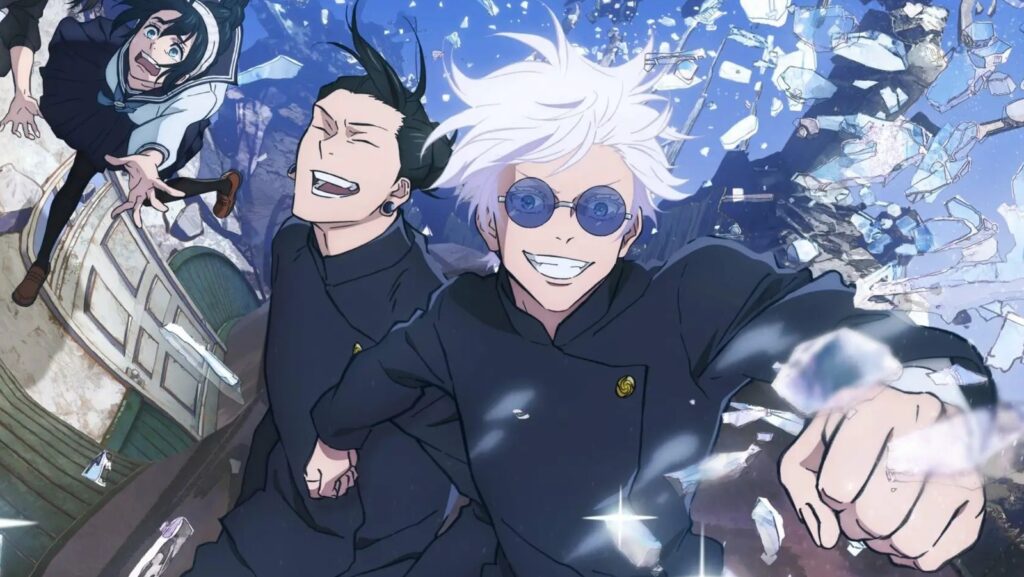 This announcement follows earlier revelations about the new season's structure. During a 10th-anniversary event for production company TOHO in September 2022, it was disclosed that Season 2 would be divided into two halves, known as cours.
Each cour will focus on different arcs from the manga, employing a split-cour approach.
This release schedule bears resemblance to other beloved anime shows like SPY x FAMILY, ensuring fans will have ample content and thrilling storylines to savor. Get ready to embark on a remarkable new chapter of Jujutsu Kaisen!
Jujutsu Kaisen season 2 Trailer
On March 24th, 2023, we were granted our first glimpse into the captivating world of Jujutsu Kaisen Season 2. The teaser trailer unveiled a mesmerizing sight: a glimpse into Gojo's youthful days, alongside the introduction of his fellow classmates.
With exhilarating action sequences and Gojo's undeniable charm, this upcoming season promises to be an absolute thrill ride. Take a look at the trailer below to witness the excitement firsthand.
Moreover, a second trailer for Jujutsu Kaisen Season 2 has been unveiled, showcasing glimpses of the Hidden Inventory and Premature Death arcs.
Although currently only available in Japanese without English subtitles, the trailer offers a tantalizing glimpse of what lies ahead in the new season.
Notably, the trailer is accompanied by the captivating music of the new opening theme, "Ao no Sumika" by Tatsuya Kitani. Prepare yourself for an enthralling continuation of the Jujutsu Kaisen saga.
The Story Line For Second Season of Jujutsu Kaisen
The first season of "Jujutsu Kaisen" drew its source material primarily from four captivating arcs of Gege Akutami's manga: "Fearsome Womb," "Vs. Mahito," "Kyoto Goodwill Event," and "Death Painting."
However, the upcoming second season will focus on fewer arcs, with one of them being considerably longer than the others.
As announced on the official "Jujutsu Kaisen" website, Season 2 will adapt two significant manga arcs: "Gojo's Past" and "Shibuya Incident."
The "Gojo's Past" arc, featuring two mini-arcs known as "Hidden Inventory" and "Premature Death," dives into the intriguing backstory of Satoru Gojo.
Set in 2006 during Gojo's second year at Tokyo Jujutsu High, it delves into his and Suguru Geto's endeavors to deliver the Star Plasma Vessel to Master Tengen.
The anime will focus on "the story of how Gojo and Geto parted ways," according to the show's website. This arc provides a deeper understanding of Gojo's character and sheds light on crucial events from his past.
The second arc, the epic "Shibuya Incident," takes center stage in Season 2 and spans an impressive 57 chapters of the manga, equivalent to over 1200 pages of material.
This grand-scale story unfolds on Halloween, as unsuspecting individuals near Shibuya Station find themselves trapped under a mysterious curtain. It becomes evident that a sinister plot is underway.
Gojo ventures into Shibuya alone, unknowingly falling into a trap laid by Geto, Mahito, and other cursed spirits.
Itadori, Fushiguro, Kugisaki, along with the students and sorcerers of Jujutsu Tech, gather together in Shibuya, preparing for an extraordinary and monumental battle about to take place. Brace yourself for an intense and captivating continuation in Season 2 of "Jujutsu Kaisen."
A Few Key Characters In Jujutsu Kaisen Season 2
As Jujutsu Kaisen shifts its focus towards Gojo, the supporting cast undergoes a slight transformation compared to Itadori's companions in the first season.
Alongside the familiar faces of Gojo and Geto, it's time to acquaint ourselves with the new characters set to debut this season. In the accompanying image, from left to right, we are introduced to: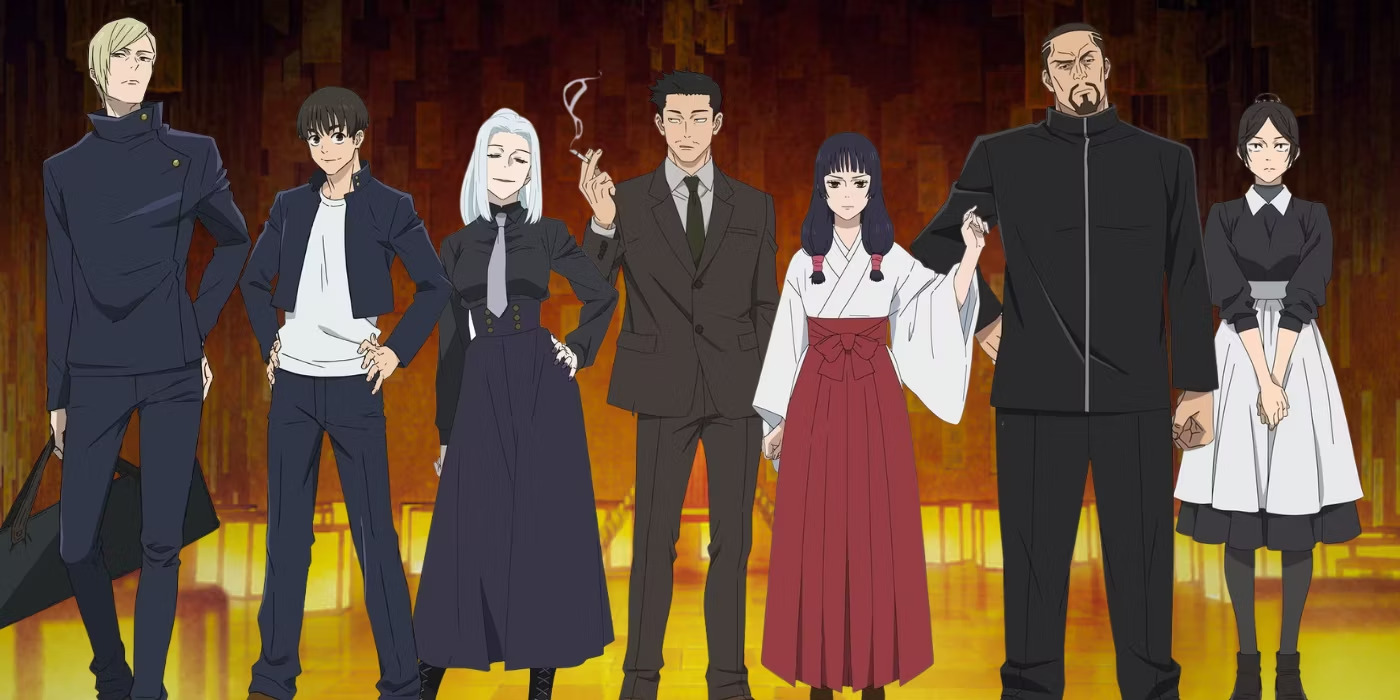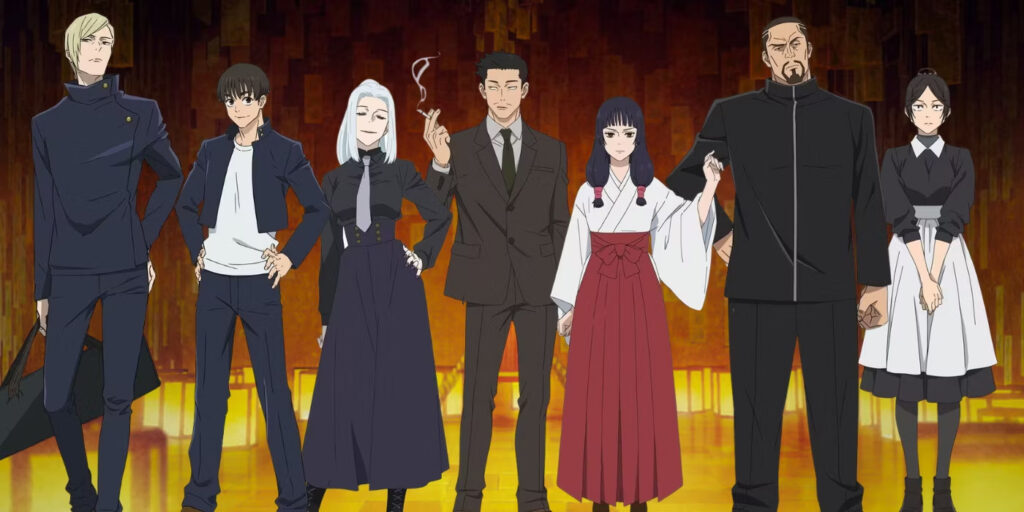 Kento Nanami: A skilled sorcerer known for his pragmatic approach and expertise in Cursed Technique. He brings a calculated and analytical mindset to the battles.
Yu Haibara: An enigmatic character whose abilities and motivations are shrouded in mystery. They add an intriguing and unpredictable element to the narrative.
Mei Mei: A sorcerer specializing in Cursed Tools and long-range attacks. Mei Mei's sharp wit and resourcefulness make her a valuable asset in combat.
Shiu Kong: A sorcerer with immense physical strength and agility. Shiu Kong's martial arts prowess and acrobatic abilities contribute to the dynamic action sequences.
Utahime Iori: A talented singer and sorcerer who uses her voice as a powerful weapon. Utahime's melodic abilities hold immense potential in combating curses.
Masamichi Yaga: The principal of Tokyo Jujutsu High, a prestigious institution for sorcerers. Yaga's wisdom and guidance play a pivotal role in shaping the events of the story.
Misato Kuroi: A student at Tokyo Jujutsu High, Misato possesses unique abilities that make her an intriguing addition to the cast.
Other Characters in Jujutsu Kaisen Season 2
In addition to the existing cast, Jujutsu Kaisen introduces two intriguing characters in Season 2.
First, we have Riko Amanai, a classmate of Itadori, Fushiguro, and Kugisaki. Riko brings a new dynamic to the story, and her presence promises to add depth and complexity to the narrative.
Another fascinating addition is Toji Fushiguro, a mysterious individual assigned with the task of assassinating Riko. Interestingly, Toji Fushiguro is none other than Megumi's father, creating a captivating twist that intertwines their lives in unexpected ways.
Yuta Okkotsu, the main character of Jujutsu Kaisen 0, is set to play a significant role in the main Jujutsu Kaisen series.
The manga strongly hints at his eventual appearance in the main show, and a post-credits scene in the Jujutsu Kaisen 0 prequel movie further solidifies this notion.
Prepare to embrace these new characters as they join forces with Gojo in the enthralling second season of Jujutsu Kaisen.
How Many Episodes Will Jujutsu Kaisen Season 2 Will Have?
The first season of Jujutsu Kaisen concluded with the gripping Death Painting Arc, which encompassed chapters 55 to 64 of the manga. As for the highly anticipated second season, it has been confirmed that it will kick off by adapting the Gojo's Past Arc, which spans chapters 65 to 79 of the manga.
Indeed, Jujutsu Kaisen Season 2 will prominently feature the highly anticipated Shibuya Incident Arc, encompassing chapters 79 to 136 of the manga.
Without delving into spoilers, this arc revolves around a pivotal event known as the Shibuya Incident, where a plan is set in motion to seal away Goto. Spearheaded by the enigmatic and powerful Satoru Gojo, this operation involves a newly formed cursed alliance.
Excitingly, it has been confirmed that the Shibuya Incident Arc will span two entire cours, indicating that the upcoming season of Jujutsu Kaisen is expected to consist of approximately 24 to 26 episodes.
This extended episode count allows for a more comprehensive and immersive adaptation of the arc, ensuring that fans can fully immerse themselves in the unfolding events and intricate storytelling of this significant storyline.
What Happened In The First Season of Jujutsu Kaisen Anime?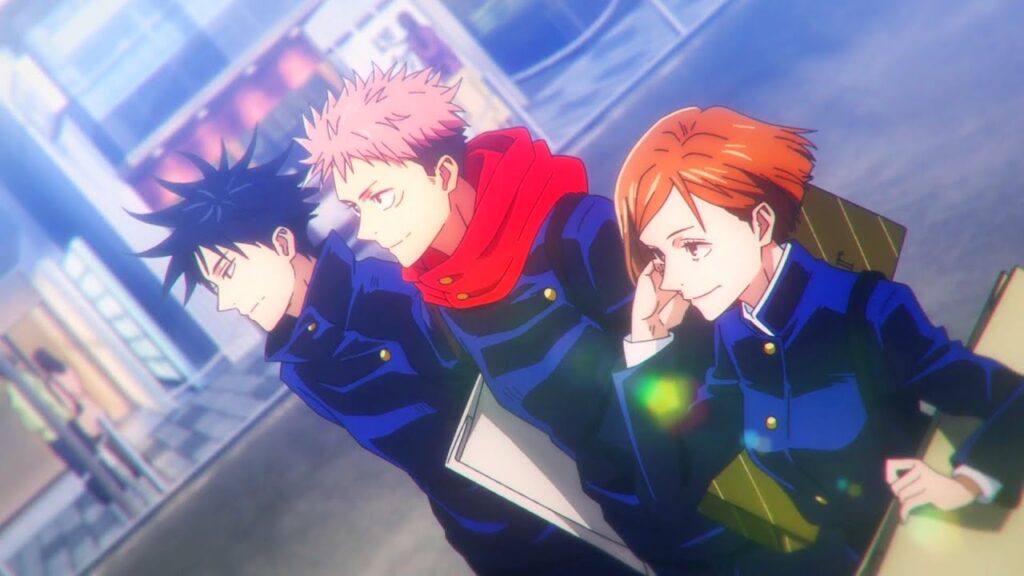 Jujutsu Kaisen, an exhilarating shonen battle anime, is based on the captivating work of author Gege Akutami.
The story revolves around Yuji Itadori, a high school student who embraces his dying grandfather's last words: "Always help others" and "die surrounded by people."
In a world inhabited by cursed spirits, Itadori's involvement with the Occult Club inadvertently attracts dangerous spirits to his school. Through a series of unexpected events, Itadori becomes the vessel for the formidable curse, Ryomen Sukuna.
The second arc of Jujutsu Kaisen focuses on Itadori's training to become stronger, and the season concludes with a tantalizing introduction of Yuta Okkotsu.
Intriguingly, Itadori manages to maintain control over his body, leading Satoru Gojo to extend an invitation for him to join Jujutsu High School.
In exchange for his freedom, Itadori agrees to assist in hunting down curses. Together with Gojo, Megumi Fushiguro, and Nobara Kugisaki, they form a formidable team dedicated to safeguarding the world from mystical threats.
Fans were delighted by the release of the film, Jujutsu Kaisen 0, in 2021. Serving as a prequel, the movie follows Yuta Okkotsu's journey as he trains under the guidance of Gojo and gains a deeper understanding of cursed spirits. His mission is to free his friend, Rika Orimoto, who has fallen victim to a curse.
As our anticipation for Jujutsu Kaisen Season 2 grows, exciting news emerges, unveiling a thrilling aspect of the upcoming season. We discover that Season 2 will delve into Satoru Gojo's early years, shedding light on his formative experiences before the events of Season 1.
This promises to be a captivating journey, delving deep into the enigmatic character's past and providing us with an intriguing exploration of his origins.
Do I need to watch the recent prequel movie Jujutsu Kaisen 0 movie before season 2?
Speaking to Crunchyroll, Otsuka stated, "We would like to leverage that success for season 2, but we are not going to be doing the same thing and repeat ourselves."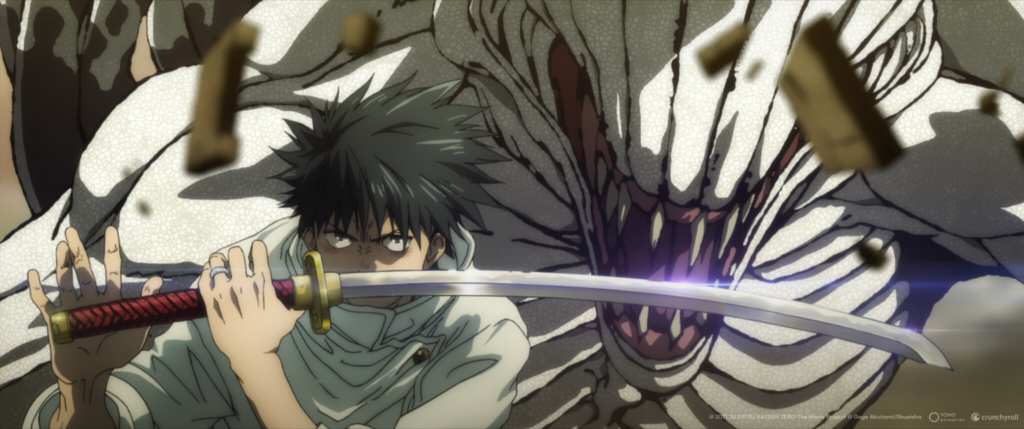 While it is not essential, we highly recommend watching the Jujutsu Kaisen 0 movie, as it serves as a prequel to the main series. The film focuses on Yuta Okkotsu, a skilled swordsman who will have a more significant role as the Jujutsu Kaisen anime progresses.
Yuta is also a beloved character from the manga, making it worthwhile to discover his story and understand his popularity.
Where to Watch First Season of Jujutsu Kaisen?
For those who wish to catch up on Jujutsu Kaisen before the highly anticipated Season 2, there's good news. The entire first season consisting of 24 episodes is readily available to watch on Crunchyroll.
By accessing Crunchyroll's platform, you can easily dive into the captivating world of Jujutsu Kaisen and follow the thrilling journey of Yuji Itadori and his comrades as they confront powerful curses and navigate the complex realm of jujutsu sorcery.
MAPPA CEO On Jujutsu Kaisen Season 2 (Note for Anime Fans)
In an assurance to the fans, Manabu Otsuka, the CEO of animation studio MAPPA, expressed that Jujutsu Kaisen Season 2 would not simply be a continuation of the same formula.
Acknowledging the tremendous success of both the first season of the television series and the accompanying movie, Otsuka emphasized their intention to leverage this success while delivering a fresh and exciting experience in the upcoming season.
This statement reflects the studio's commitment to innovation and pushing boundaries, ensuring that Jujutsu Kaisen Season 2 offers a distinct and captivating narrative that expands upon the foundation established in the previous installments.
Otsuka's message to the fans is clear: Season 2 aims to achieve even greater success and present significant growth, delivering an even more remarkable and thrilling experience for viewers.
With this assurance, fans can eagerly anticipate a fresh and exhilarating continuation of the Jujutsu Kaisen saga in the upcoming season.